A Gentleman's Dignity: Episode 2
Hello! Javabeans and Girlfriday have kindly let me recap the hilarious, sometimes eye-roll-inducing drama that is A Gentleman's Dignity. I've missed this community and I'm happy to be back for more fun, smexy times with you all. I know I'm really behind. I jumped on the bandwagon kind of late but I'll be working hard to catch up as soon as possible.
EPISODE 2 RECAP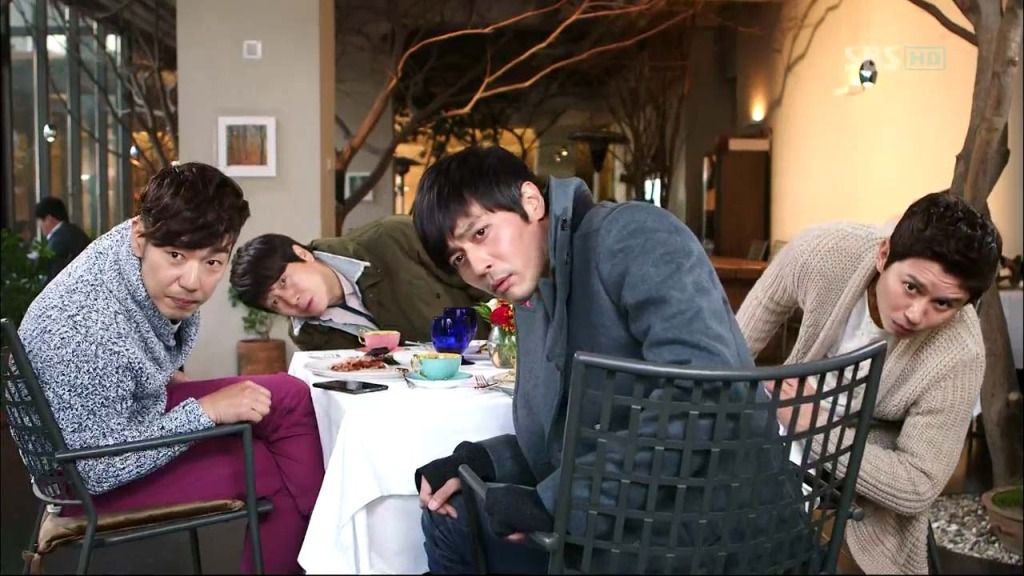 The gentlemen sit at brunch and trash-talk an old classmate as Do Jin intently studies Tae San. Do Jin remarks that they've reached an age where one can't even pick up the signals of a secret crush.
Tae San asks Do Jin if someone likes him and Jin and Jung Rok both ask: Is she pretty? Haha. Oh. How shallow can you get?
Apparently much more. The guys cut off Do Jin's words about Confucian maturity to ogle at a long-legged model who just happens to drop something on the floor, giving them an extraordinary view of her back end.
At the office, Do Jin stares at Tae San's gloves and thinks back to how lovingly Yi Soo stroked them, which spurs him to arrange them…neatly.
Yi Soo rolls around restlessly in her bed and tells Se Ra that she's in no mood to cook today. Can't they just order something? She also asks if Se Ra knows anything about Kim Do Jin.
Se Ra rattles off a bunch of characteristics: he's good-looking, skilled at work and getting girls, selfish, arrogant, and cold. Ah. The perfect formula for a rich bad boy. All he needs is a sad childhood or a long-lost first love to fit the cliché exactly.
Yi Soo finds herself fretting the entire day between her two choices with Do Jin, concerning her students' case: negotiation vs. explanation. After throwing a piece of chalk to wake up Dong Hyub, she turns to the blackboard to see the words "negotiation" staring at her. Later on, she encounters an ad poster that also suggests "negotiation."
She takes this as a sign and rounds up the four troublemakers. They go to Do Jin's office and Yi Soo flashes a glare at her students, which prompts them to apologize for the beating incident.
Do Jin scoffs that she must be an amazing teacher to take care of her students' problems, even when she can't manage her own affairs. After he goes into his office, Yi Soo scream-asks her students why they had to fight in the first place. Kek.
Yi Soo goes to Jung Rok's café and asks him what kind of coffee a picky, arrogant man would drink. He responds that he knows someone exactly like that; he usually orders an Americano with three extra shots. Do Jin is a dark man indeed.
She recalls Do Jin's question whether she likes Tae San as she waits for the coffee order. She had given him a dumbfounded look, which he took as her answer. She throws a small fit of embarrassment, which draws the attention of nearby customers. Hahah. She's so cute.
In Do Jin's office, she offers him some coffee and he grudgingly takes the Americano with three shots. She asks if they can have a talk and he tells her to sit down. Are you going to make her wait every single time she visits you just so you can secretly admire her prettiness? Girl's got a life too, just saying.
Do Jin asks if she really doesn't remember their first meeting. She replies that she really wants to, which hurts his ego. He abruptly gets up because he has some pre-arranged appointments to attend and leaves her fuming.
She writes a series of notes on post-its, which range from "please call me later" to "I shall call you" to "I'm a teacher and you are a…" to "XX kind of bastard." Heh.
She ends up with a pile of crumpled post-its and tells herself to let it go. He knows what her butt did last spring. ROFL. She sweeps the pile of used post-its into her bag, along with Do Jin's special pen.
As Yi Soo walks home, she sees Do Jin in Jung Rok's café. They lock eyes and both recall the day in the rain when they saw each other for the first time. Just like last time, Do Jin's girlfriend(?) covers his eyes with a "guess who it is." (How is that even remotely cute…)
Do Jin rips her hands away to keep his smoldering stare and Yi Soo leaves a post-it on the window of the café saying, "I hope that your next pre-arranged meeting will be with me. I'll wait for your call."
Yi Soo comes home to find Se Ra in club clothes to go meet Tae San. She informs Yi Soo that she's dressed up to fight with him, which…I don't really understand but okay. She saunters out and Yi Soo receives a message from one of her old students. She'll be landing in Korea soon.
The message sender (IM ME AHRI) sits on a plane and glances at her neighbor's computer screen. A scene from Secret Garden plays and the guy offers one of his headphone buds. She exclaims that the writer is so good. Lol…okay…
When Tae San gets word that Se Ra has come huffing and puffing to the construction site, he prepares for battle with a hard hat and snazzy sunglasses. He tells Se Ra to leave if she's expecting an apology for their fight from before.
Se Ra bristles at his coldness and responds that there's a long line of guys with diamonds, cars, and apartment keys for her at any time. She turns to leave but ends up stepping in a pool of muddy water. Tae San swoops her up in his arms and walks across the water, which ends up in a make-up make-out session.
Yi Soo meets Me Ahri at the airport and exclaims that she really has turned into a goddess. Where did all the weight go? The guy from the plane shows up behind them, indicating that he's someone to keep an eye on. I shall dub thee Vampire Boy for now. Interestingly, Vampire Boy has a picture of the four gentlemen and a woman in his wallet. Curious.
Me Ahri tells Yi Soo that she doesn't want to go home quite yet. We learn that she is Tae San's younger sister and that she dislikes her brother's girlfriend. Also, she has a major crush on Yoon.
At Yi Soo's house, Me Ahri and Se Ra pick a fight with each other. Se Ra comments that Me Ahri is quite demanding for a guest, which Yi Soo attributes to her own lessons on expressing feelings and thoughts boldly. Hahahah. Like teacher, like student?
Do Jin shows up at Yi Soo's house and commands her to give him his pen back. She's offended by his accusations and declares that she'll show him everything in her bag. She turns her bag upside down and out falls her wallet, keys, and Do Jin's pen. The crumpled post-its also rain down. Kek. I don't know why I find this part so funny.
Do Jin picks up some of her post-its and one reads, "You make me wait? You XXX." LOL. She hurriedly grabs the rest of her stuff and asks him to go outside so they can talk. She leaves behind one note, which states, "You look like a XX…."
Yi Soo jumps up and down, wondering how one person can bring such misery and misfortune. She goes outside, only to see that Do Jin has left.
When she calls him, he informs her that all thoughts of negotiation have flown out after seeing the post-its and stolen pen on her floor. Aw. Poor baby has his pride hurt.
Later, Yi Soo rolls around in frustration as Me Ahri silently takes her phone. After sending a couple of messages in an aegyo-fied tone to Yoon under Yi Soo's name, she cautiously hands the phone back to Yi Soo. Yi Soo shoots Me Ahri a death glare and wonders if she should kick her out, which Se Ra readily agrees to.
Yi Soo informs Yoon that she's still in the process of working things out with Do Jin, which makes him chastise Do Jin at the lounge where the men have gathered for a drink.
However, the only thing Do Jin notices is that Yoon has been text-messaging with Yi Soo the entire time. Hee. I love petty jealousy. As Do Jin and Yoon banter back and forth, Tae San looks for Jung Rok's phone, only to drop it when it rings and the name "Wife/Witch" pops up on the screen. LOL.
The boys play hot potato until Do Jin picks it up and puts it to Yoon's ear. Puhahaha. The boys freak out to realize that she's on the way to the bar to check up on her husband, who's nowhere to be found.
Yoon buys some time by telling her they've moved locations for another round in the opposition direction and they all scramble to head to the other bar. When Jung Rok's wife shows up, she finds the four men cheering over drinks. As soon as she leaves, the boys start to beat Jung Rok. Hee.
The next day, Me Ahri and Yi Soo walk home when Se Ra texts that she and Tae San are on their way. They see Tae San's car and Me Ahri tries to find a place to hide behind a moving truck. Can't you just…run around the corner?
Yi Soo rushes up to the couple and tries to distract Tae San from turning around. Se Ra suggests that he stay over for dinner and a sleepover, which prompts Yi Soo to exclaim that she's a light sleeper and the walls are thin. Hahahaha! Awkward…
At the baseball field, Do Jin complains that they should go golfing instead of playing baseball. Yoon says that Tae San should learn golf too, which makes Tae San exclaim that Yoon is supposed to be on his side!
Do Jin asks why Tae San gets so nervous whenever Yoon has a different opinion from his on any matter, to which Tae San replies that Yoon is the smartest one of the group. Do Jin bristles at the indirect put-down and notes that his grades were similar to Yoon's when they were growing up. Hahaha. He's such a little baby sometimes.
Yoon points out that Do Jin has tons of knowledge but lacks wisdom. Lol.
Jung Rok sits in the stands finishing up a phone call when he notices Me Ahri's presence. He tries to charm her but she flatly turns him down, saying that his face says that he's married. Bahaha.
She walks down the stairs and waves at the guys on the field, which leads to three looks of confusion. Do Jin and Yoon try to figure out who she is while Tae San wonders when that little troublemaker got back from the US.
Me Ahri runs up to give Yoon a hug (and leaves her older brother hanging, aww) as Jung Rok emits an "Oh Ma Gah…" Do Jin asks her what she did to her face (lol) and Jung Rok scolds Do Jin for his harsh words. That's no way to talk to your friend's sister…pft. You pedobear.
Tae San informs Me Ahri that Yoon has been using her room for the past year so she'll have to use the guest room. He avoids her questions about what happened to Yoon's apartment, which tells us something unhappy occurred that we have yet to discover.
Yoon and Do Jin walk home as Do Jin comments that Me Ahri has grown up well. The fact that Yoon is her first love hangs around in the air until Do Jin offers to have him stay at his house for the time being. Ack. Bromance, I heart thee.
Yi Soo and Do Jin meet up for dinner where she apologizes for accidently taking his pen. However, another girl and Tae San soon join them and Do Jin explains that Yi Soo had something to tell him, the other girl missed him, and Tae San was a pre-arranged meeting. You poo-fly.
Yi Soo starts to walk out only to have Tae San grab her arm, which Do Jin notes with a narrowed eye. He continues to throw barbs at Yi Soo until she snaps at him to leave her alone.
Tae San comes out to warn Do Jin to settle the case quickly or else. He mentions the pen recording of Do Jin pleading with the high schoolers, which shuts him up good. Puhaha. I love how he can become less than two inches tall around his friends.
Yi Soo tries to get Do Jin to negotiate a settlement, but he continues to be a poo-fly by "signing" contracts on gravel and coffee cups every time she tries to meet him at the construction site and Jung Rok's café.
That night, Yi Soo somehow accidently sends a message to Do Jin that was meant for Tae San. The message, which states that Do Jin is a bad man who doesn't seem keen on settling the case, starts off a cute conversation between Yi Soo and Do Jin who use an unknowing Tae San as their messenger.
Do Jin: Tae San, Ms. Seo seems to be talking trash about me behind my back. Isn't it better if she just complained about me to my face instead of being a coward?
Yi Soo: Tae San sshi, I think Do Jin sshi has a big misunderstanding with me. Should I meet with him to clear it all up?
Do Jin: I'm going to [this address]. Do you think Seo Yi Soo will come if I ask her to?
Yi Soo: I'm on my way to meet Do Jin sshi!
Do Jin: Hey Tae San, do you think Yi Soo will buy me dinner [rice] if I negotiate this case?
Yi Soo: If he's willing to settle, forget dinner, I'm ready to grow a rice field for him!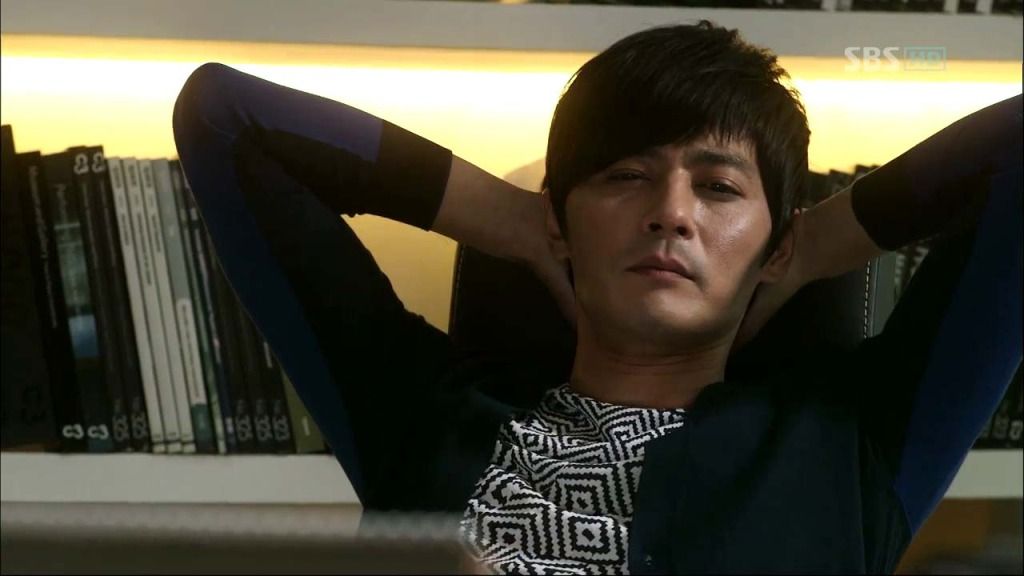 The two go out for dinner and Yi Soo asks why he's so adamant about eating together and he tosses out that it's the only way he would be able to see her. He also adds, "I fell for you at first sight." Eee! Unfortunately, the confession goes right over Yi Soo's head.
Do Jin asks why she likes Tae San so much and she replies, "I liked him the moment I saw him. And the more I saw him, the more I liked him. Now, I like him even when I don't see him." Aw. Do Jin's pride (and maybe heart) is further crushed when she asks him to mind his own business and keep her crush a secret. Uh-oh.
Do Jin brusquely tells her that he sent the negotiation papers already. He thanks her for the wine and stalks out, leaving her confused. Later that night, Do Jin loses sleep over their conversation.
The next day, Yoon sits with a client in his office. She thanks him for his help with a box of Valentine's Day chocolates. She starts to bat her eyelashes and comments that he is so sexy in the courtroom and then incredibly boyish outside of it. Alright. Courtroom scenes with Yoon please. Like. Now.
Me Ahri comes to visit Yoon in his office and asks him for a dinner date, which he flatly declines. He explains that he has a family dinner, college reunion meeting, and a party with his baseball team that he has to attend tonight. Wow. You really don't want to spend any time with her, do you? What are you so afraid of??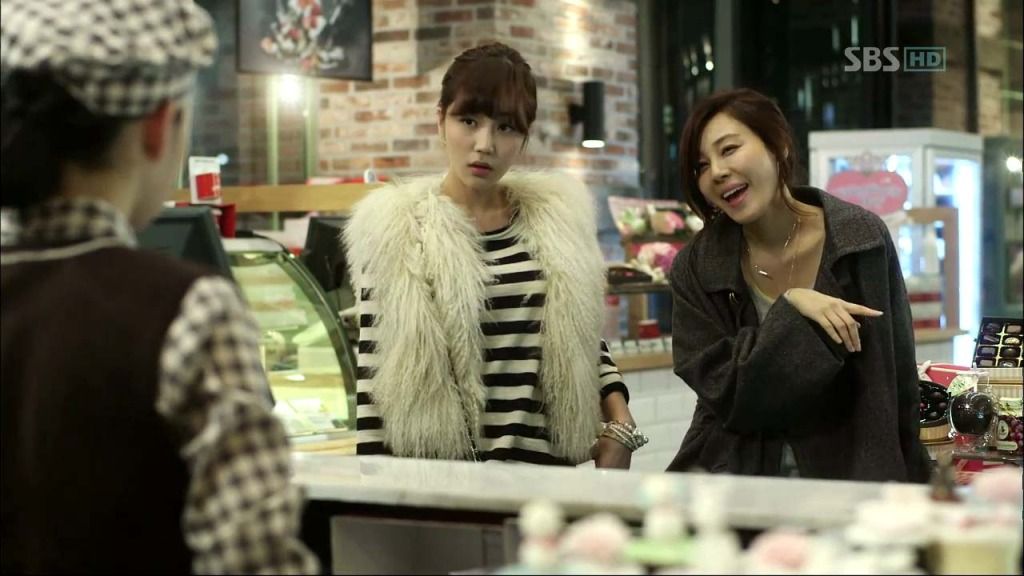 After Yoon's rejection, Me Ahri drags Yi Soo out to have a drink. The girls sigh over their pathetic love lives and Me Ahri becomes determined to confess her undying passion for Yoon after getting really drunk. Yi Soo scolds her, saying that he'll think of her as an easy girl.
Me Ahri responds that guys like easy girls and Yi Soo questions her sanity. Lol. I love their dynamic. Me Ahri offers the Valentine chocolates she bought for Yoon to Yi Soo and they sob-feed each other. Hahah, aw.
The two drag their drunken selves into a chocolate store with Me Ahri complaining that Yi Soo ate the chocolate for Yoon. Yi Soo offers to buy new ones for Yoon and Me Ahri puts on a mischievous smile. She asks the store clerk for the most expensive chocolate set and starts to write a card to Tae San in Yi Soo's name. LOL, uh oh.
The next morning, Yi Soo receives a text message stating that the chocolates she sent to Tae San's office will be arriving shortly. Her drowsiness instantly abates and she panics. She calls Do Jin and asks if he's at the office and he replies that is.
Do Jin sees a large basket of chocolate roses on Tae San's desk, which he promptly moves to his own desk. LOL. When Yi Soo arrives, she frantically searches Tae San's desk for the chocolates she sent but doesn't see them anywhere.
At the same time, Do Jin proudly looks over "his" basket of chocolate roses and tells Yi Soo that he always receives way too many chocolates on Valentine's Day. Sometimes he doesn't even know who the sender is. Bwahah. Yi Soo belatedly realizes that those are her chocolates and tells him that those are from her. ROFL. Oh man. This is priceless.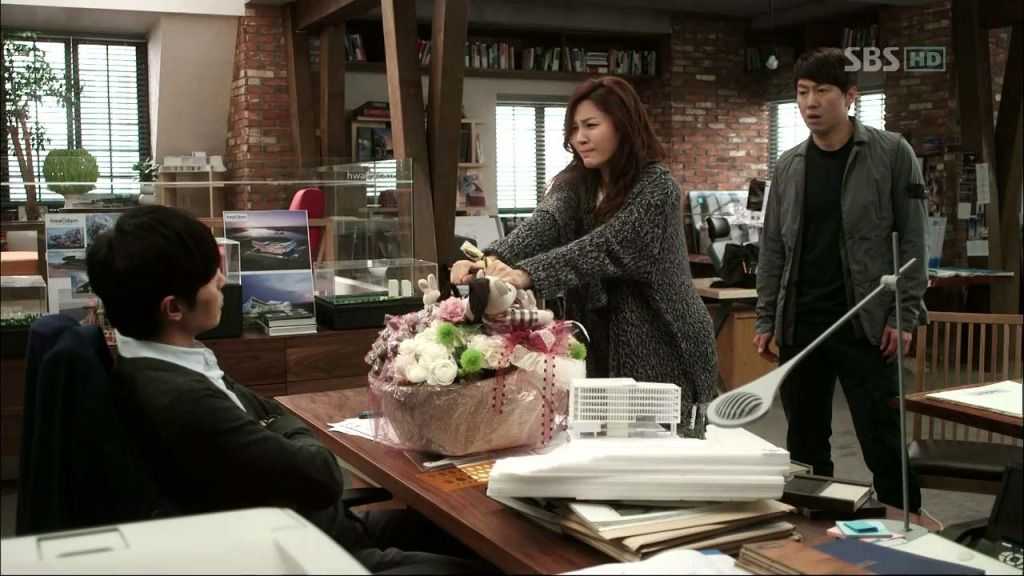 Just then, Tae San waltzes in. He states that it's a wonderful surprise to see her this early in the morning (Goodness me this is why she likes you. You're too dang nice.) and Yi Soo flushes at his compliment. Do Jin's jealousy meter rises and he states that Yi Soo brought chocolates for Tae San. And Poo-fly strikes again!
Tae San asks if it's true and Do Jin replies that he doesn't lie. After all, if they're not for you, then who are they for? Suddenly Yi Soo blurts out that the chocolates are for Do Jin. She confesses her love for him, saying that even among a hundred men, she would choose him.

COMMENTS
Woot! I love where this is going. I didn't expect Do Jin to confess so quickly and it's also interesting to see Yi Soo use her own confession to her advantage. We know Yi Soo is just lying to cover up her crush but it's too early to tell whether or not Do Jin is being genuine or not. We've seen very few instances in which he has been serious, so it makes sense for Yi Soo to not believe anything he says.
There's a great selection of dramas out there right now and I'm trying to squeeze in as many as I can between sleeping, eating, and other obligations. Out of them all, I particularly liked the breezy tone of this drama. There is also the superstar that is Jang Dong Gun who is pulling off Do Jin almost effortlessly.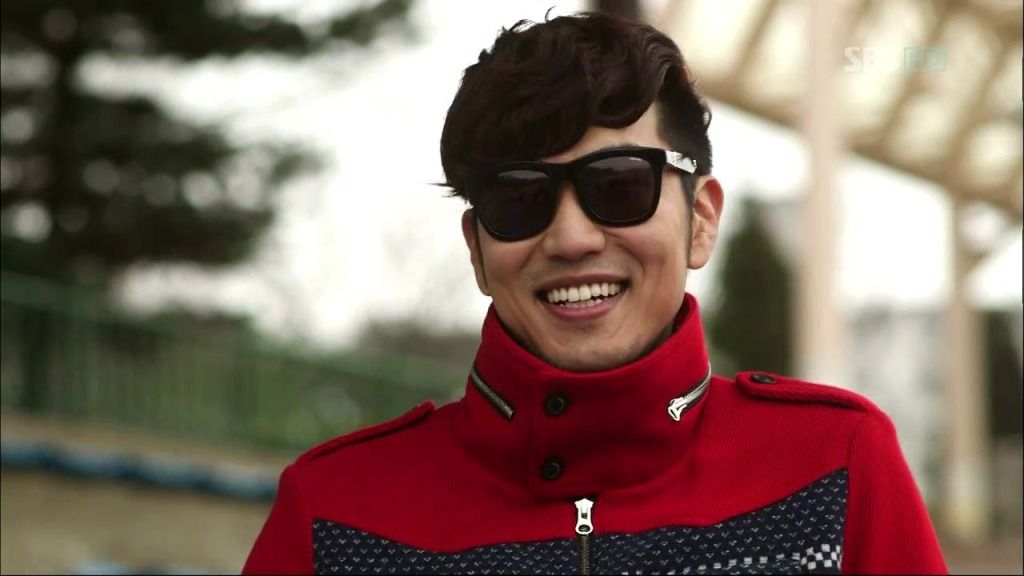 I've seen more of Jang Dong Gun's big blockbuster movies than his older dramas so it's both thrilling and jarring to see him in a role that can veer off into jerk territory. It's the same feeling I have towards Lee Jong Hyuk, who has always been "sexy villain" in my eyes. It's strange to see him so goofy and childish, which probably prevents me from disliking his a-hole of a character.
I've been familiar with Kim Su Ro through his film roles but his appearance on SBS's variety show Family Outing has put a certain image of him in my head that's been hard to erase for several years now…much like how I will probably never be able to take Lee Kwang Soo in a serious role unless he does something drastic. Ah, the pitfalls of actors on variety shows.
As a result, I can't bring myself to see him as this smooth guy who can make a girl's knees weak. I actually feel a little bad because he is a good actor and he fits the tough yet nice character well. Unfortunately, his storyline interests me the least. It also doesn't help that I find Se Ra ridiculously insipid, which I know is the point of her character. I just don't really care for her…yet.
It's only the second episode so I won't go on and on. I really like how the relationship between Yi Soo and Do Jin is growing and I'm excited to see more of Do Jin's petty jealousy. Dear drama, please don't burn me in the future for falling for you this quickly. Please.

RELATED POSTS
Tags: A Gentleman's Dignity, featured, Jang Dong-gun, Kim Haneul, Kim Min-jong, Kim Su-ro, Lee Jong-hyuk