A Gentleman's Dignity: Episode 4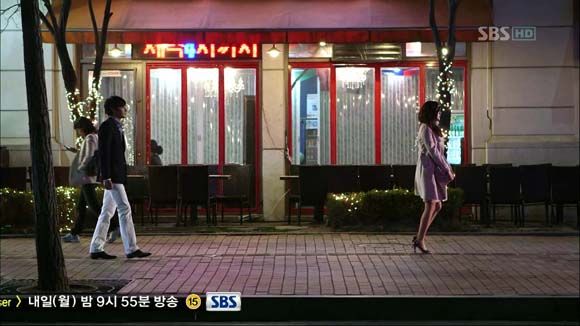 Apparently creepy is the name of the game. Our hero channels…dare I say it…Twilight's Edward Cullen by watching a woman sleep for 5 hours. It's one of those things that should be romantic but really ends up giving you goosebumps.

EPISODE 4 RECAP
We find our main characters dressed in high school uniforms trying to nominate themselves as sacrificial lambs for a recent bout of trouble they've run into. Aw. In the end, they decide to suffer together.
Cut to the four being scolded for watching an adult movie. Bahahah. Their teacher tries to figure out who instigated this master plan and glares at Jung Rok first, who ends up confessing that he pulled his friends into watching the movie.
The other three step up to confirm that Jung Rok was the one who started everything. LOL. He tries to get out of doing push-ups on the ground when the teacher is distracted but Do Jin tattletales on him. Kek. What happened to "dying" together?
In the present, Tae San and Me Ahri come home in unhappy moods from a lunch date. Se Ra apparently left the meeting early without any explanation, and Tae San scolds Me Ahri for being rude. He asks her what she said to make Se Ra leave, but only receives a slammed door for an answer.
Meanwhile, Do Jin sits with Yi Soo after his confession. She barely has time to register his words before her blind date shows up. The poor guy gets left behind as Do Jin drags Yi Soo by the wrist away from the table.
Yi Soo freezes at their close proximity in the revolving door as they head outside, but quickly brushes off any sign of attraction before Do Jin says anything.
She snaps that he must have a fun time joking around at her expense like an elementary student. Do Jin replies that he wouldn't have interrupted her blind date if he was joking about his crush on her.
Yi Soo mutters that it's hard to believe someone who avoids marriage because he doesn't want to share his money with his wife and kids. He realizes that she's quoting from the magazine article he was featured in and wonders why she's playing so hard to get when she's obviously interested in him.
She changes the subject and asks what he'll do if she dislikes the fact that he likes her. He answers that she never asked Tae San's permission to like him, but she rationalizes that she at least hides her crush, which makes him ask how he found out about it then. Hee. Do Jin can be a poo-fly, but at least he's a charming one.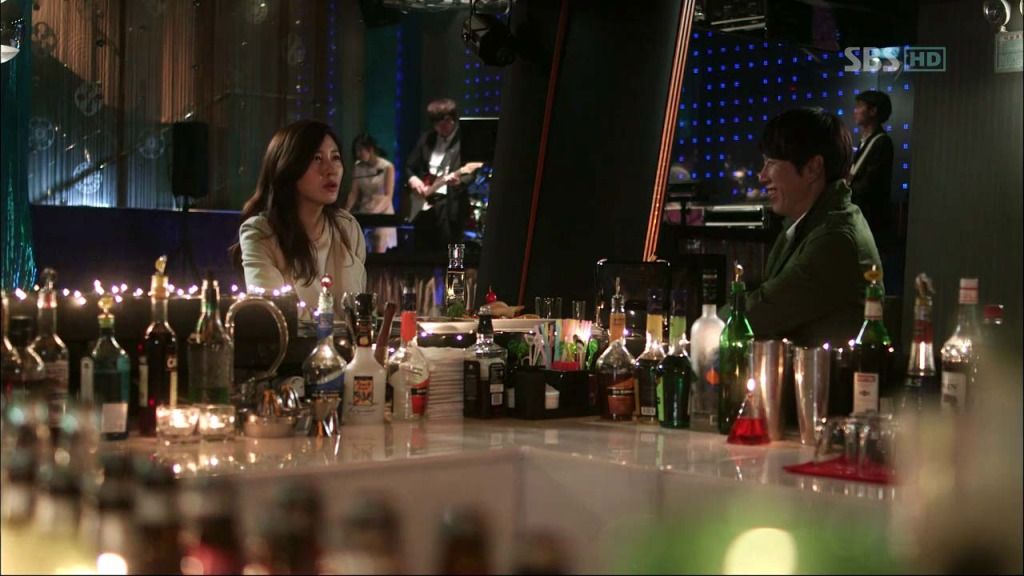 Yi Soo finds Tae San waiting outside her house for Se Ra. The two decide to go out for drinks and Tae San brings up the first time he saw her at the baseball field as an umpire. He admits that he thought she was incredibly pretty. Oh no. Stop it. You're not helping her get over you.
He asks her if the "20 second guy" she fell in love with at first sight is Do Jin but she replies that it's not. Suddenly, Tae San excuses himself, saying that he knows where Se Ra might be. He tells her that he'll pay for everything and that he'll see her soon. When he leaves, she turns to the bar with a dejected look on her face, which doesn't go unnoticed by Jung Rok.
Tae San and Se Ra go to a café after he finds her at the golf range. She confesses that she doesn't think Me Ahri will ever like her. At her comment, Tae San holds up his hand and points to the lines in his hand, saying he has three women in his life: his mom, his sister, and Se Ra.
He assures her that whatever happens, Se Ra is a part of his hand, which makes her important in his life. Aw. This guy is way too good to be true. He asks if she knows that it's their anniversary soon. He can get anything for her as long as it's not a luxury bag. Also, she doesn't need any jewels because she has enough "twinkle" for the both of them. Lol. He's such a smooth talker.
Do Jin arrives at Jung Rok's bar to see Yi Soo drunk-singing to CN Blue's "Intuition." She catches him staring at her mid-verse and she crinkles her face in embarrassment. How did he know she was here? He sees that she's emptied a bottle of whiskey and Jung Rok adds that it's her second bottle. Dang. Girl's got a strong liver.
Yi Soo tells both friends that she knows a smarmy café owner who looks exactly like Jung Rok. Hee. Do Jin says he'll take care of Yi Soo, who starts to carry out her "punishment" by praising his intelligence and making a heart at him with her hands.
Later that night, Yi Soo wakes up and tries to find some water. She sees a water bottle on a table in front of her and then gets a greater surprise when she realizes Do Jin is watching her. She tries to scream but Do Jin stops her; he already knows that she's shocked. There's no need to wake up their neighbors.
He informs her that they're at a hotel and that she was at the bar 5 hours ago. She then deduces that he's been watching her all this time and he coolly admits that he was. Gah. At least he's honest.
She puts on her teacher persona and explains that she's grateful he took care of her but he should have brought her home. He laughs and replies that there isn't a guy who brings a drunken girl back home quietly. Hey. Yes there are. Probably.
He explains that she blacked out after coming out of the bar and that he had "no choice." Uh huh. Sure. She replies that she'll be leaving now and that they won't see each other ever again, only she can't find her bag. Thus Do Jin ends up driving her home, but it's a while before she gets out of the car because she wants to avoid being seen by her neighbors.
At school, Yi Soo talks about Socrates and his view on living an ethical life. Strangely, her students start to ask if coveting a friend's boyfriend or if drinking with a man and going to a hotel room with him are part of living an ethical life. Hee. The period bell wakes Yi Soo from her daydream and she reminds her class to come to their one-on-one conferences.
Later, she talks with Dong Hyub and asks why he didn't write anything for "future career goal" in his college application. He tells her he has one thing in mind: Seo Yi Soo's younger husband. D'aw. He gives her a can of coffee and tells her not to daydream during class.
Me Ahri gives Yi Soo a high school picture of Tae San during a dinner date. She also pulls out a picture of Yoon and they fawn over how young and pretty the boys used to be. Me Ahri reveals her master plan on how to get Yoon to fall in love with her. She plans to sue various people for ridiculous reasons and spend more time with him. Lol.
Unfortunately, her plan falls flat when Yoon charges her $500 dollars an hour of his service. Hehe. Yoon finds her antics cute and secretly smiles to himself as he and Do Jin wait for their cars in an auto repair shop. Do Jin slyly asks Yoon what's so pretty about Me Ahri and the words "her lips and nose" slip out before Yoon catches himself. So he does have feelings for her! Yay.
A pair of gorgeous shoes is delivered to Yi Soo and Se Ra almost turns green from envy. She snipes that Yi Soo's mystery man must have a lot of money, seeing as how he sent her a pair of $1,300 heels. Yi Soo balks at the price and heads to Do Jin's apartment the next day to return them.
She chides him for sending such a burdensome gift and claims that he's just boasting to her about how much money he makes. An offended Do Jin calls for the girl he slept with the night before, which takes Yi Soo off-guard. Uh ohs.
He takes away the shoes from Yi Soo and tells the other girl to keep them. She asks who Yi Soo is and scoffs when Do Jin replies that it's the woman he's currently in love with.
Yi Soo is shocked at how unapologetic Do Jin is about sleeping with girls in front of his so-called "crush." He responds that she shouldn't expect him to stay loyal to just her, especially when she's still hung up over another man.
He informs her that his apartment has a free delivery service the next time she wants to return something. He then opens the door for her and slams it shut when she leaves. And he wonders why she doesn't like him?!
Tae San, Jung Rok, and Do Jin meet to discuss Yoon's housing situation. He apparently moved in with his mother-in-law, who had called Jung Rok and requested that he try to convince Yoon to leave.
Yoon's mother-in-law informs him that she doesn't want to see Yoon anymore. She reasons that her daughter has been dead for four years and Yoon still has his entire life ahead of him. In addition, his friends have taken all of his furniture; there is no room for him in this apartment any more. ::tear::
Yoon finds the boys unpacking his belongings when he walks into Do Jin's apartment. A slight tense atmosphere begins to form before Tae San quickly suggests a trip to the department store since Do Jin only has one set of dishes for himself.
Soon the boys are happily shopping and a store employee mistakes them as two sets of couples. Heheh. I'm all for a Do Jin/Yoon alternate coupling.
Jung Rok comes home to find a table setting for dinner and he frantically racks his brain to check if today is a birthday or an anniversary. It turns out to be "I found your wedding ring you bastard" day when Jung Rok finds his ring in his rice.
He SWALLOWS the ring to avoid another fight, which ends up in a hospital visit. The X-ray shows that the ring will have to come out naturally and Jung Rok tells his wife that she's inside his heart. Puhahaha. Will he ever grow up?
His friends bully him into taking laxatives and sign individual contracts for Mrs. Jung Rok, stating that they will not hang out with Jung Rok after a certain period of time. The things we do for love and friendship.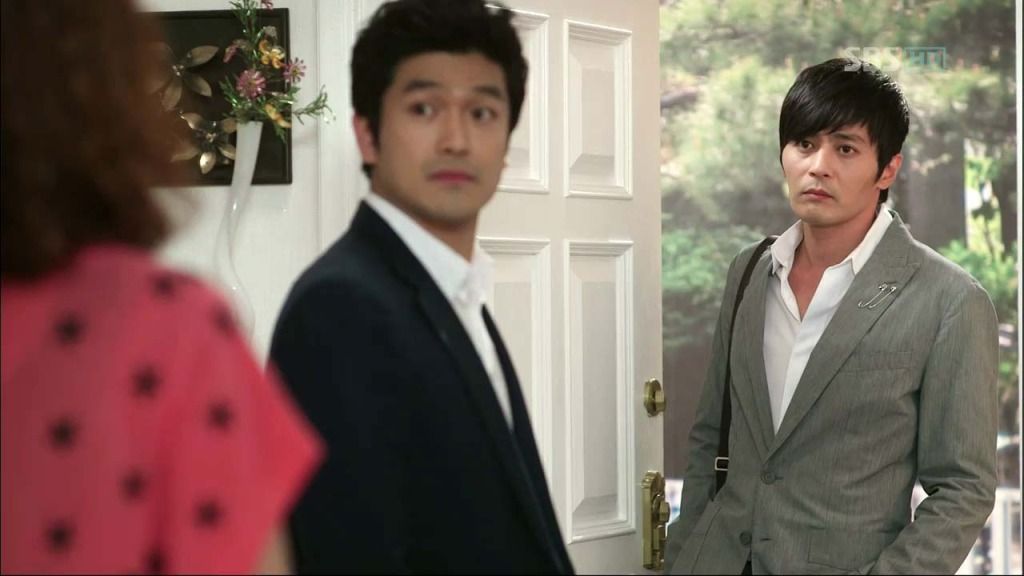 Yi Soo freaks out when she sees a stranger in her kitchen in the morning and Se Ra rushes out of her bedroom to assure her that the man is just a friend; they had some wine yesterday.
While the story is plausible, Yi Soo warns Se Ra that she needs to stop acting so carelessly. She goes as far to say that Se Ra is a bad girlfriend, but before Se Ra can make a comeback, she receives a text message from Tae San. Do Jin is on his way to complete a special mission for him.
Do Jin arrives before Se Ra's friend leaves and Se Ra quickly covers up by telling Yi Soo that she should walk HER friend outside. Sigh. Pushover Yi Soo walks the man out to his car and they part ways with awkward bows.
She sees Do Jin smirking, having caught her in the lie and she quietly requests that he keep this little event a secret. He doesn't know why he has to; he's not a gentleman.
Yi Soo agrees; no gentleman sleeps with other women after confessing his love to someone. He responds that he's no longer at an age where he throws everything away for a girl, especially when he knows she won't return the favor. He has his own way of expressing his feelings and he politely asks her to understand that.
At the office, Do Jin asks Tae San why he dates Se Ra if Yi Soo is such a great person. Tae San replies that he only sees Yi Soo as a human, not a woman. Does she have to prance around in heels and skin-tight dresses for you to notice her?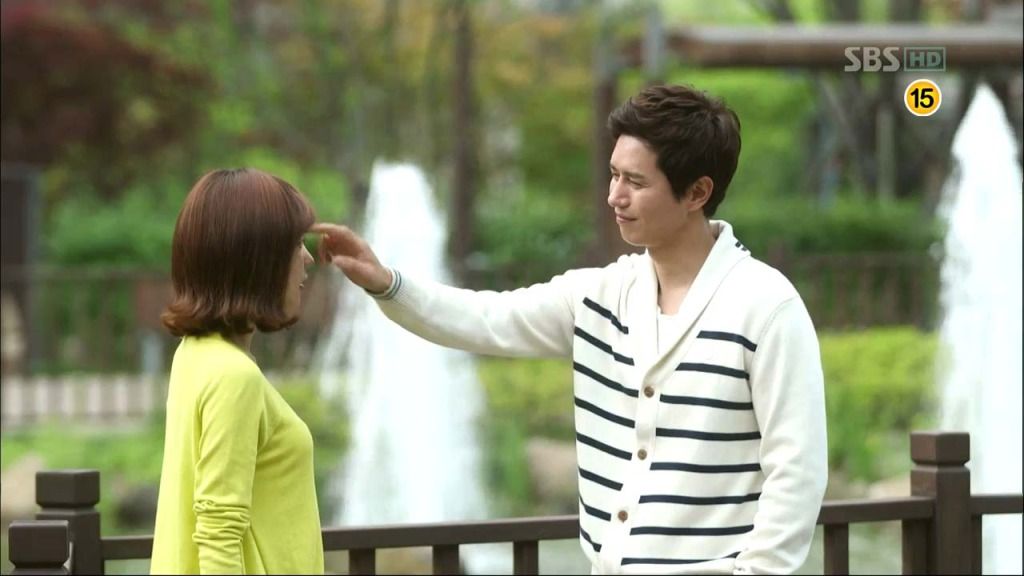 Yoon meets Me Ahri during his break and she presents him with a spoon that he left behind at Tae San's apartment. She asks why he hasn't said a word about how pretty she's gotten and he replies that she looked better before, even if she was 15 kilograms overweight.
She claims that he's lying. How can he possibly think she was better before? Is his memory failing him? She recalls the times when he would call her "piggie" during their tutoring sessions. Aw. She lost weight for you!
He responds that she's just a skinny piggie now and tells her that the spoon isn't his. When she pouts in annoyance, Yoon brushes the hair out of her face and tells her to go home; it's getting dark. How can she NOT have a crush on you? I want you for myself and I've only known you for 4 episodes.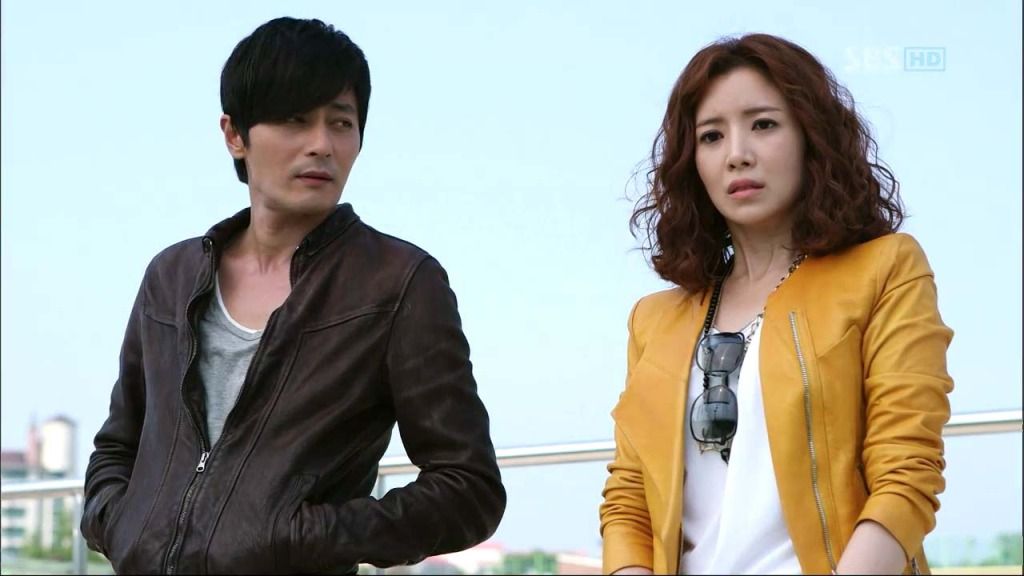 Se Ra tags along to watch a baseball game and ends up holding Yi Soo's stuff as she rushes off to start umpiring. Se Ra accidently drops everything as she walks to the field and ends up seeing the high school photograph of Tae San.
It's not until Se Ra sees the numbers on Tae San's back that she starts to put the puzzle pieces together. She recalls the baseball gloves that she found under Yi Soo's bed and her face falls, which Do Jin notes curiously. Se Ra lets out a sigh and wonders why she didn't see before how good Tae San and Yi Soo look together.

COMMENTS
I've mentioned that I didn't care much for Se Ra and Tae San's storyline and that still holds true. I concede that Tae San is overwhelmingly sweet and an amazing boyfriend but my problem lies with Se Ra. I don't really see what makes him love her so much. But that might be the point the writer is trying to make with the Tae San and Se Ra relationship; nobody can control whom he or she falls for.
We're getting glimpses of Se Ra's weaker side and we see that she lacks self-esteem in certain areas. The realization that Yi Soo is an unselfish, nice friend who deserves a great man like Tae San makes her aware of how unfit she is for Tae San. What she'll do with that insecurity is unclear but I pray that she doesn't hurt either person too badly.
Se Ra might be aggressive and controlling but at least she's direct and honest. It makes me wish Yi Soo had more of a backbone because the "I'm such a victim" card gets tiring, especially when she's supposed to be a beautiful, smart woman with a great job. I get that she's our sacrificing, kind-hearted heroine but I wish she wasn't such a pushover. How do we root for someone who gets dragged here and pulled there by other people all the time?
Speaking of which, I initially thought Do Jin's decision to sleep with other women after confessing to Yi Soo was idiotic. Isn't this the guy we're supposed to root for? However, his conversations with Yi Soo made me backtrack and think from his perspective. He's right in that a lot of women unconsciously expect guys to stay loyal to them even after rejection.
Like Yi Soo, I've felt twinges of betrayal when someone I rejected ends up with someone else, which is both wrong and unjustified. Maybe it's a pride thing. Do Jin technically doesn't have any obligation to be Yi Soo's back-up boyfriend.
Do Jin is at an age to know that throwing away his pride, money, and other relationships for one girl is foolish; he probably did that for past loves and found himself lonely and hurt anyway. There really isn't a law that prevents Do Jin from sleeping with other girls even when he likes Yi Soo. But the problem that arises from his careless actions is that Yi Soo doesn't believe that his love confession was genuine and I don't blame her. Heck even I was left wondering why I wanted Do Jin to have Yi Soo in the first place.
We know that his interest in her is serious because we see him beyond the cool, unaffected façade that he puts on in front of his friends and Yi Soo. But it's understandable that she feels that he's playing around with her. He's being hot and cold because he's unsure of how to deal with his feelings for her. Maybe he's afraid of opening his heart because he's been badly burned before.
Yet he has to have her because she's probably the only girl who's ever rejected him and he can't stand "losing" to Tae San. He probably thinks that he can just have a fling with her and end his obsession if they end up together but the more Yi Soo resists, the more he'll find himself caring for her. Heheh. I'm excited to see Do Jin's jaded take on relationships change as he breaks his own rules for Yi Soo.
Jung Rok. Oh Jung Rok. He really needs to grow up. It's to the actor's credit that I still like him and think he's hilarious. However, there are only so many situations that can arise before I ask myself why his wife doesn't just divorce his ungrateful, unfaithful ass. Maybe she will later. I wouldn't mind seeing him homeless and suffering, if only to get a different side to his character.
Lastly, we know Yoon's wife died and it's heartbreaking to see him so attached to his mother-in-law. He feels a sense of duty to her because he's the only "child" of hers left who can take care of her, but I'm glad that she let him go in the early stages of the drama. He does have more than half of his life ahead of him and he deserves another chance at love. He can always run off with Do Jin (which I support all the way) but someone would probably hunt them down.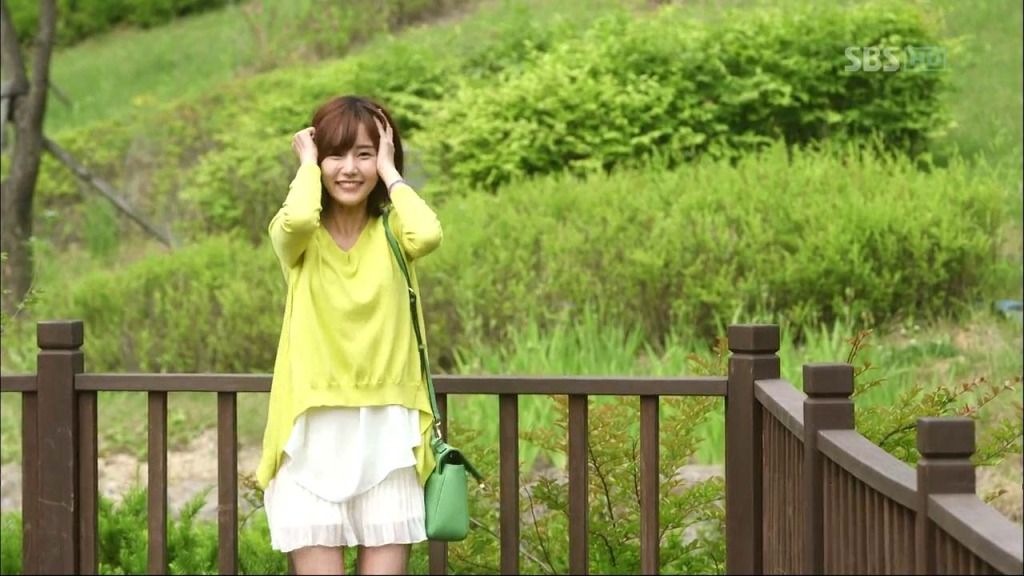 RELATED POSTS
Tags: A Gentleman's Dignity, featured, Jang Dong-gun, Kim Haneul, Kim Min-jong, Kim Su-ro, Lee Jong-hyuk