A Gentleman's Dignity: Episode 8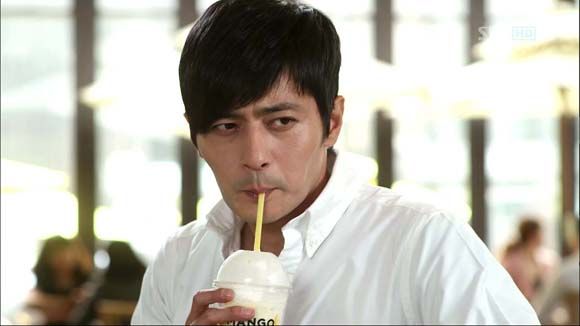 It seems the constant "Mango Six" product placement ads are working; I always crave large fruit smoothies whenever I watch this drama. There's a little less funny but Jung Rok's ridiculous antics prevent the drama from melting into a puddle of angst. Rock on, trophy husband. Rock on.
EPISODE 8 RECAP
It's 1993 and the boys are on a group blind date with three average-looking girls. The guys realize that only one lucky guy will be dateless and not have to deal with the "unattractiveness" so they have a competition to see who can be the suckiest catch.
Jung Rok cheerfully announces that he's always been in last place in school ranking systems while Yoon pulls the mama-boy act. PUHAHAH. Tae San pretends to have a muscle spasm disease and Do Jin suddenly develops a lisp. Puhlenchie puhlie (french fry), anyone?
Just then, a fourth girl shows up and apologizes for being late; her tutoring appointment went into overtime. She introduces herself as Kim Eun Hee and the boys stare at her with hearts shooting out from their eyes.
Before Yoon's birthday party starts, Jung Rok brags to his friends that he spent the night with Eun Hee on an island once when the boats stopped running. However, Tae San and Yoon both claim that Eun Hee was with them that particular night. Uh, okay. You guys couldn't all have been with her…unless she has two evil clones. One of the models asks who Eun Hee is and the three guys say that she was their first love.
Yi Soo ignores Do Jin's gazillionth phone call and opens her new laptop. She draws back in shock and disgust when her laptop's wallpaper shows a picture of Yi Soo in a bikini photoshopped into the blanket on Do Jin's bed. Eh. That's a tad creepy.
Do Jin calls again and she throws her phone onto her bed in frustration. It bounces off the bed and ends up on the floor, causing her to crouch down and pick it up. She remembers that Tae San's gloves are still under her bed and pulls them out while Do Jin calls yet again.
Me Ahri cries as Tae San drags her out of Yoon's birthday party, but Yoon stops them. He tells Tae San that they should talk another time; there's no need to treat her like this in front of strangers. Yoon glances at Do Jin who stands up and gently leads Me Ahri out.
Jung Rok escorts the other women to their cars while Yoon and Tae San stand in silence. Outside, Do Jin tells Me Ahri that he'll take her wherever she wants to go and she murmurs that it's strange for him to be so nice, with a small smile.
She tells him that she's okay and that he should go inside to make sure Tae San doesn't beat up Yoon. She starts to walk away and Do Jin asks where she's going. Me Ahri fights tears as she turns around and replies that it's only ten; she's not a little kid. Aw.
Yi Soo meets Se Ra at the front door which makes for an uncomfortable moment of silence. Se Ra asks to sit and talk but Yi Soo replies that Se Ra should say what she wants now. She was on her way out. Can you feel the frosty tension yet?
Se Ra apologizes for her behavior by saying that she overreacted. Yup. Read it again. She apologizes. Se Ra tells her that she's sorry for not saving Yi Soo's pride and then thanks her; this situation has made Se Ra realize how much Tae San means to her.
Yi Soo accepts the apology on the condition that Tae San remains unaware of their fight. She also says that she can move out tomorrow if Se Ra wants but Se Ra replies that she can't pay back Yi Soo's deposit yet.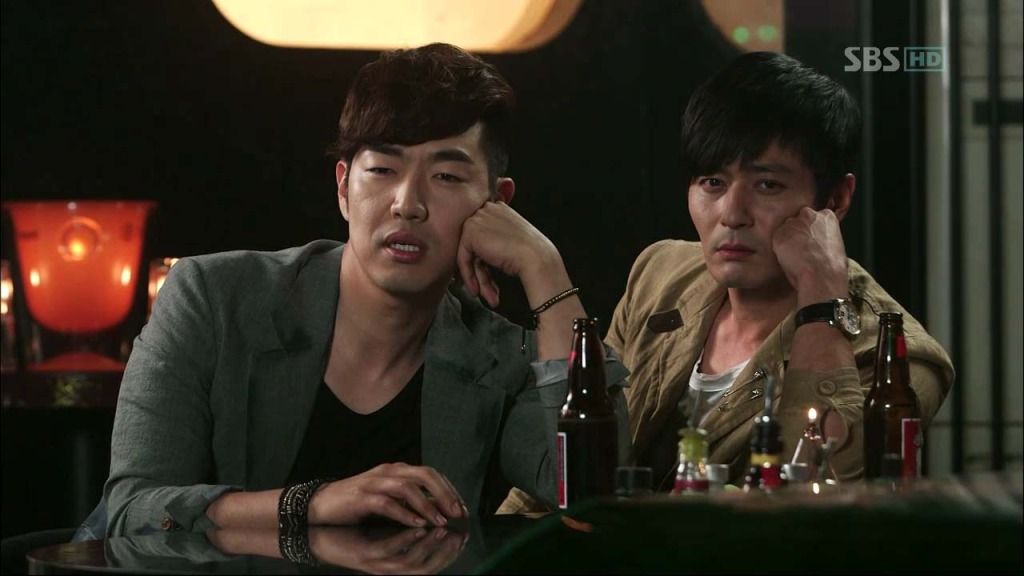 Yi Soo walks outside and ends up throwing Tae San's gloves into the donation bin sadly. She heaves a heavy sigh before returning home.
Jung Rok and Do Jin observe Yoon and Tae San as they drink separately in a booth. Do Jin asks who Jung Rok would support if the two guys got into a fight and Jung Rok automatically picks Yoon. Yoon knows the contents of Min Sook's will. Bahahah.
Jung Rok asks who Do Jin will root for and Do Jin replies that he supports Jung Rok all the way. Hahah. They're a pretty cute bro couple too.
Tae San tells Yoon that he trusts him to do the right thing and Yoon replies that there is no need to worry. He's trying his best to stay on the "moral" path. Noooo Yoon! There is no moral path. Your heart usually trumps morals anyway! This is what happens when you're too smart. Stop thinking.
Jung Rok wonders where Me Ahri went and Do Jin replies that she's probably with the one person who never picks up his calls. His prediction turns out to be correct as Me Ahri and Yi Soo discuss tonight's events at a sauna. Hee.
They sigh at how complicated their relationships can be and Yi Soo announces that she's going to go to sleep first. As she sleeps, Me Ahri stealthily texts Do Jin with Yi Soo's phone that they're at a sauna. The boys arrive to pick them up and they all end up staying at the residence hotel.
At the hotel, Me Ahri and Do Jin head up first so she can use the bathroom. Jung Rok and Yi Soo formally introduce themselves and walk into the hotel lobby after the car is parked.
Unfortunately, Min Sook notices the two together as she leaves a meeting with her friends and she assumes the worst. Uh oh. She follows them up to the hotel room and angrily pushes the doorbell.
Yi Soo opens the door and finds Min Sook in the hallway with laser beams shooting out of her eyes. A storm's coming and Yi Soo just walked into it without any protection.
Min Sook tries to get Yi Soo to admit that she's here to sleep with Jung Rok, with her intimidating airs. Jung Rok comes out of a room and Min Sook snaps that she wants to hear what his excuse for being at a hotel with another woman is; he can't possibly be having a party with his friends, can he? Where are all the people?
At that moment, Do Jin enters the living room and Min Sook blinks in confusion. Me Ahri also enters and Min Sook finds herself caught with her foot in her mouth. She quickly lets out a nervous laugh and regains her composure by introducing herself.
Jung Rok assumes that Min Sook was searching for him because she was worried (hah) and starts to inform his wife about the huge accident Me Ahri caused at Yoon's birthday today. He even goes through a fast-forwarded reenactment. Lol.
Min Sook states that she'll make sure everyone is given the best service at the hotel and leaves with another apology to Yi Soo. Jung Rok follows her out eagerly as Yi Soo bursts out laughing, saying that she saw Min Sook at Yoon's office on Christmas Eve with divorce papers. Now she understands why Min Sook was there.
Jung Rok comes back with his shoulders hunched and he picks up the phone to order a bunch of room service as a form of petty revenge. Hehe. Me Ahri claims that she's tired and Yi Soo tries to follow her inside but is stopped by Do Jin who pleads with her to drink with him. She reluctantly(?) stays outside.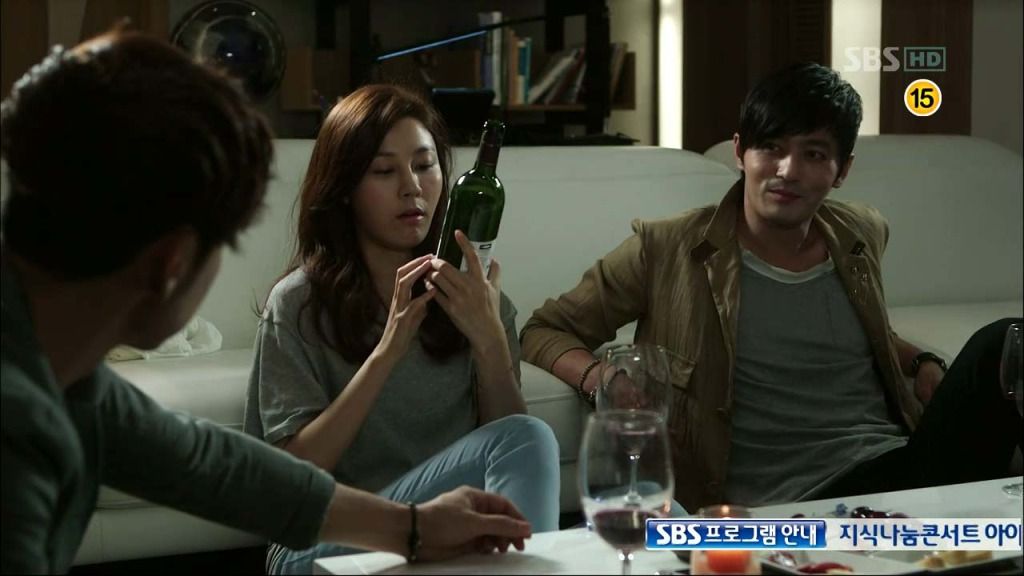 As they drink, Jung Rok informs her that Do Jin designed the wine's label. Do Jin smiles proudly and pretends to be modest but Jung Rok says now Yi Soo will never drink that wine again. Hahah. You are such a (lovable) butthead.
Do Jin sends Jung Rok signals that he should go inside and sleep, only Jung Rok keeps asking what will happen if he sleeps right now. Yi Soo declares that she's going to sleep soon too and Do Jin protests; who will carry him to his bed if he gets all drunk…
Yi Soo hisses at him to shut up and Jung Rok puts on an "I knew it" face. Yi Soo did seem to know her way around this building better than he did. Hehe. He asks if they're dating and Yi Soo stammers no. At that moment, Jung Rok gets a phone call and he quickly announces that he's going to sleep.
He heads into the room and Do Jin keeps Yi Soo from going inside. Does she know how long he's been waiting to be alone with her? Rawr. He holds her hand to prevent her from leaving (swoon) and he asks if she met a younger boyfriend yet. She replies that she's only thought about meeting one.
Do Jin asks if one usually gets angry over little things because of other people. She should know since she's an expert at unrequited love, right? She wonders what makes him so upset and he replies that he doesn't understand why she doesn't like him.
He questions if she thinks he's good-looking and she immediately states yes, but he's not her type. He replies that there are guys who fit the taste of every women in the universe. Kek. She laughs that it's good to see him with such confidence.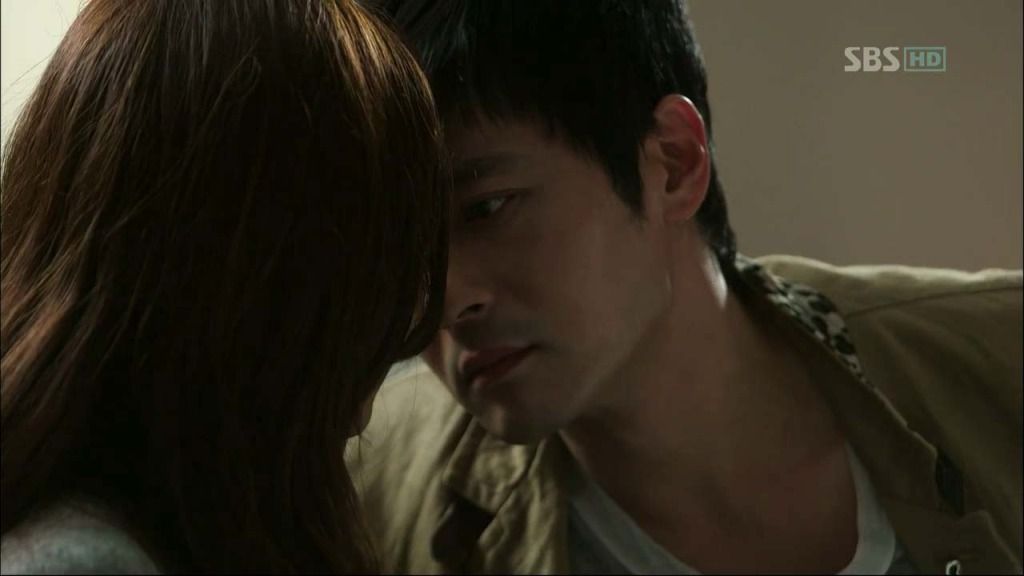 He asks her to follow her feelings instead of her brain once in a while. If not, blame it on the alcohol. She also has a third choice and can follow his lead. He leans in for a kiss but gets interrupted by Jung Rok who enters the room again. AGH! You are so not lovable right now. GO BACK INSIDE.
Yi Soo pretends to sleep and Jung Rok mentions that Do Jin should send her inside. Do Jin replies that he's going to use the main bedroom with her and Jung Rok shrugs okay. Hm. I forgive you a little bit, Jung Rok. Stay outside.
Do Jin carries Yi Soo inside the bedroom while she shoots him looks of despair. Oh please. You know you like it. ::wink::
He plops her down on the bed and she squeals that Jung Rok is going to misunderstand that she's sleeping with him. Do Jin replies that it's not a misunderstanding if they really sleep together though. Hehe.
She begs for him to take her to Me Ahri's room but Do Jin refuses, claiming that she's way too heavy to hold again. He texts nonchalantly and she messes up her hair like she just woke up and zombie-walks to the other room.
Do Jin comes home the next morning to find Yoon in a flower apron setting the table for breakfast again. ::tries not to squeal:: However, Yoon's food turns out to be less tasty than it looks and he slowly hands a disappointed Do Jin some store-bought bread. Heh.
At Jung Rok's café, Do Jin complains about Yoon in an apron pretending to be his wife. He tells Jung Rok that Yoon needs to start dating again but Me Ahri cuts him off by slamming down his drink.
She tells him to shove all ideas of setting Yoon up on a blind date out the window. Jung Rok murmurs that Do Jin has ticked off Park Min Sook Jr. and Do Jin wonders if she spit in his drink. She makes a move to spit now and he quickly steals it away. Hee. They are way too adorable.
The three banter back and forth and Tae San watches them sadly from his car. He gives up trying to call his baby sister and drives away. Ack. It feels wrong to see a dejected Tae San.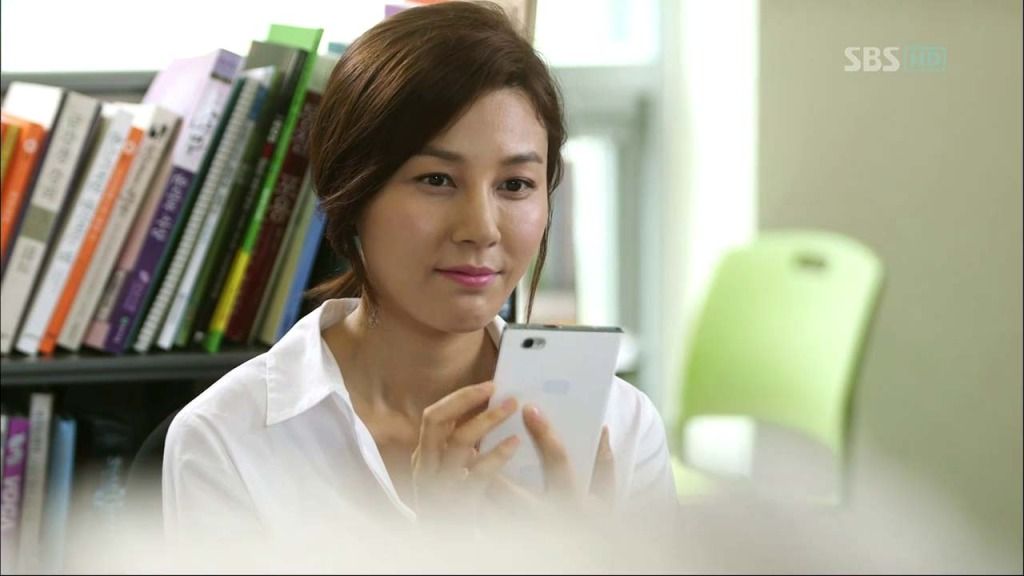 Yi Soo turns on her phone at school and looks at the text messages she missed last night. She sees that Do Jin had sent her a bunch of messages addressing Tae San and commenting on how pretty Yi Soo is and that she wants him to pick her up. So that's who he was texting yesterday.
The last message states that if he picks up her up, he doesn't know what he'll do when he sets her down again. She blushes and holds back a little smile.
Tae San and Do Jin are mailed a list of building code violations from the client who injured their employee. They search for violations in the buildings the client owns and present them to him when they meet. They blackmail him into cancelling his complaints and leave the meeting high-fiving each other. Heh.
Yi Soo gets a phone call that Se Ra is in the hospital after collapsing from exhaustion. She rushes over and scolds Se Ra for not taking better care of her health. Yi Soo calls Tae San to inform him that Se Ra is sick.
He remains aloof and tells her that he will pretend not to have gotten this call before hanging up. Yi Soo pretends that he had just told her that he's out of town but Se Ra sees through Yi Soo's act and sobs into her pillow.
Me Ahri stares at the bag she created for Yoon but quickly hides it when Tae San enters after knocking. He admits that he really missed her when she was gone and begs her not to make him send her away on a plane again. My heartstrings are pulled tight as he leaves and she blinks away tears.
Yoon practices pitching into a basket but keeps missing. He stretches and gears up to throw another ball but stops when he sees a squatting Tae San with his catcher's mitt held out in front of him.
Tae San makes a bunch of signs with his fingers and Yoon asks what he's signaling. Tae San responds that he wants to know what Yoon is doing by himself. He then makes different motions and translates those signals as congratulating Yoon on his birthday.
They head to Jung Rok's bar so Tae San can buy drinks, and they find Do Jin by himself. As they sit, Jung Rok runs up and demands to know how much money they're going to give at his funeral. Wha?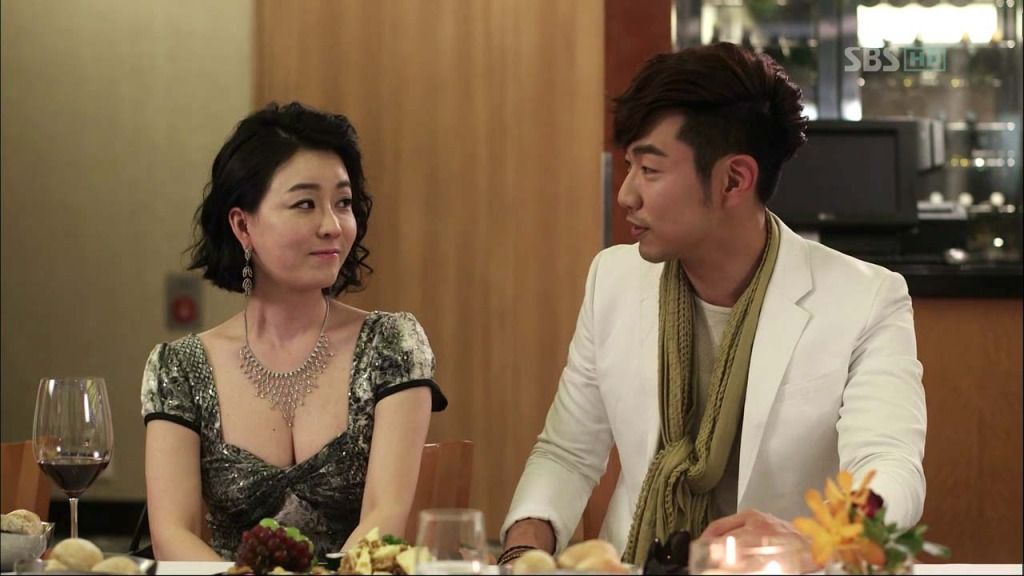 Jung Rok asks if they could give the money to him now so he can divorce his wife. HAH! They respond that they're not sure if they'll attend his funeral since they're all so busy (aw sad) and that he's on his own if he divorces Min Sook. The most they will give him is 100,000 won (or $100) each. Keke.
Just then, Min Sook texts Jung Rok that he needs to get his butt over to a meeting she's having with her frenemies and their husbands. He claims that his friends are dead to him as he rushes out to the restaurant where Min Sook waits impatiently.
He arrives in style and acts the perfect, loving husband role so convincingly that Min Sook's friends convulse from jealousy. Min Sook smiles in satisfaction.
Yi Soo calls Me Ahri to meet her over the weekend but Me Ahri responds that she can't talk right now. She's currently at Yoon's office to drop off his birthday present. She presents it to him proudly but he commands her to take it back. Ugh. Stop being so mean to her. You're supposed to be the nice one.
Yoon's evil colleague comes in to deliver lunch that was sent to him from a woman named Lee Mi Kyung. When she leaves, Me Ahri demands to know who that woman is; why does he accept this lunch but not her present? He gravely responds that Lee Mi Kyung is his mother-in-law. Oops.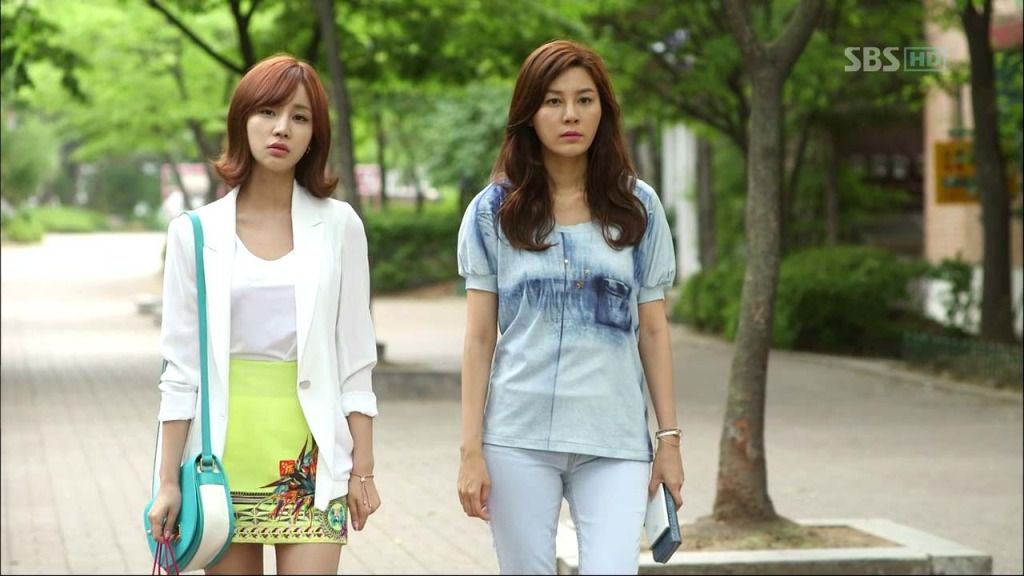 Over the weekend, Me Ahri presents Yi Soo with Tae San's high school yearbook and Yi Soo tapes his picture back into its original place. Me Ahri looks at her in surprise and asks if she dislikes Tae San now.
Me Ahri claims that she's on Yi Soo's side more than she is on Tae San's or Se Ra's sides but Yi So responds that she's on Se Ra's side. The two women walk outside and Me Ahri comments that one can never really take back the feelings for a person once they're given.
Yi Soo tells Me Ahri that she hid her love because it could have hurt Tae San if he found out about it. Me Ahri replies that Yi Soo really is more mature and adult-like than she is. She gives Yi Soo a smile and a wave before running off to work.
Do Jin calls Yi Soo again but all she can do is stare at her phone when his name shows up on the screen. He ends up texting her out of frustration.
Tae San, Ms. Seo isn't picking up my calls. I shouldn't ask why she's not picking up, right? Unrequited love…it's a little…sorrowful…
She reads the text but Do Jin is left waiting for a response for hours before going to an art gallery to meet Tae San. Tae San informs Do Jin that he's going to finish the kitchen this week in order to surprise Se Ra while she's gone. Do Jin's eyes light up and he comments that Yi Soo will be alone for a week then.
Tae San nods and says that means he'll be alone with Yi Soo as he finishes the kitchen. Do Jin's smile leaves his face and he not-so-subtly asks if Tae San needs help. Tae San responds with a question of his own: does it bother Do Jin that another man will be with Yi Soo?
They finish shopping and Tae San gives Do Jin the plan for the kitchen. He says that he can't do it because he knows Yi Soo likes him…but Do Jin already knew that, didn't he.
Tae San asks why Do Jin didn't tell him about Yi soo's crush before and the atmosphere between them gets tense. Do Jin carefully responds that nothing would have happened if Tae San knew. It's not like he'd waver in his feelings for Se Ra.
But Tae San's answer implies otherwise. He asks what if his feelings did waver, which makes Do Jin look up at him in alarm. However, before Do Jin can respond, Yi Soo shows up and wonders what the two guys are doing outside her house.
Comments:
Tae San has been the reliable, good-natured friend but he's also not a pushover. He can be cruel if he wants to be, like when he indirectly tells Yi Soo that he prefers Se Ra over her. I suppose that it's refreshing to see a slightly darker tone to his character. I can appreciate that he's flawed and acts on his own selfish desires because that's what humans do.
Still, I find that Tae San is my least favorite of the F44 because he has a tendency to get very passive-aggressive. He is a sweet boyfriend to Se Ra and he obviously cares a lot for the people around him, but I also think he feels a sense of self-entitlement. When Do Jin drives him to Jung Rok's bar, Tae San keeps asking if Yoon really stopped him from dragging Me Ahri out and sending her home.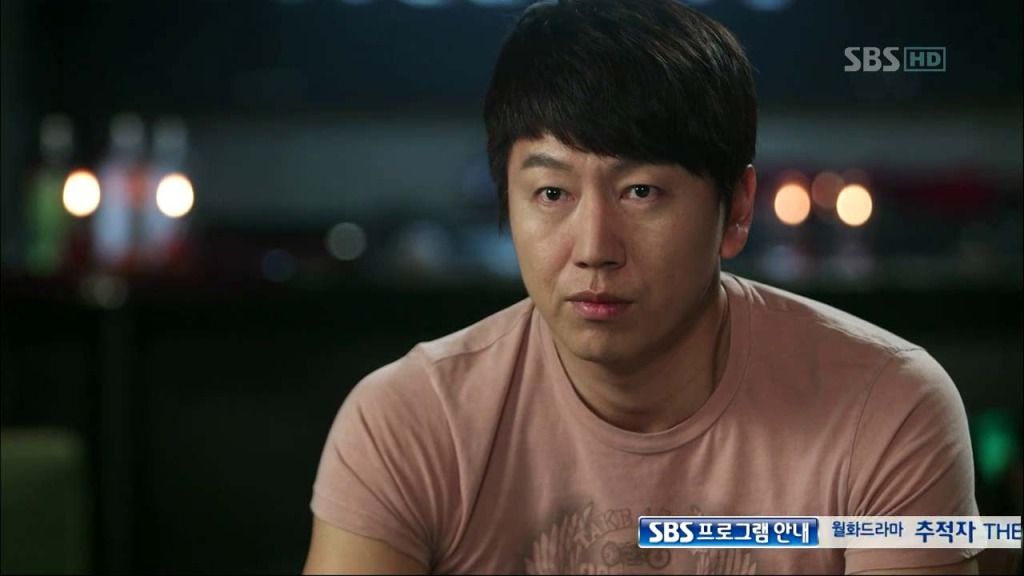 Do Jin gently reminds him that Me Ahri isn't a child but Tae San only cares about how Yoon stood up to him. He focuses on how other people have wronged him more than the mistakes that he has made. He tells Me Ahri that it'll hurt him if she acts on her feelings for Yoon because he'll have to send her back to the US, which will make him lonely. In the end, it's still all. about. him. As a result, sweet Yoon will take the noble idiot route to preserve Tae San's peace of mind.
I talked about the age difference between Me Ahri and Yoon a little bit before and there are many happy couples that have age differences larger than 16 out there. I think Yoon and Me Ahri are adorable together and her innocent, sunny disposition balances out his more serious personality.
She loves him unconditionally and has stuck with her feelings for him for years, which is something that I admire. She's 24, which is an age to go on group blind dates with her friends and meet new people, but she doesn't because she remains strictly loyal to Yoon. The difficulty of their romance blossoming really starts with Yoon's inability to take what he wants.
His reasons for not following his heart are understandable; he's a widow, much older than Me Ahri in terms of age and maturity, and he's best friends with her overprotective brother. We haven't even brought up her parents who will probably show up later to throw hissy fits at their relationship. Yoon is also still caught up in this duty that he feels towards his mother-in-law and his late wife.
He could still be dealing with lingering feelings for his wife and doesn't want to "betray" her by moving on. Yoon is so caught up in trying to please everyone that he ends up hurting himself. What happens if, God forbid, Me Ahri finally gives up on him? Will he actually step up to the plate and work to get her back? Or will he just let her slip by without even trying?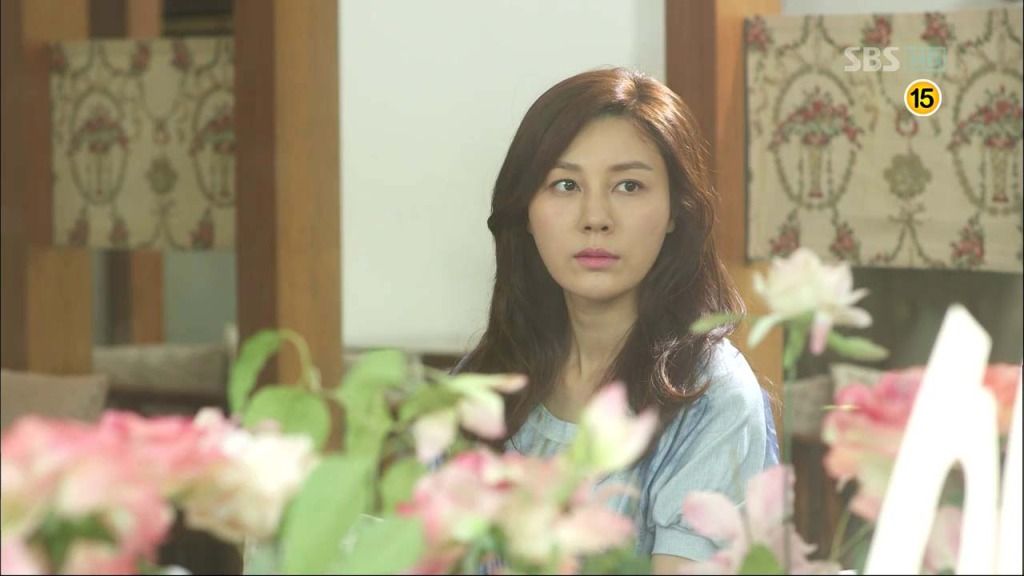 The drama is taking a more realistic approach to Yi Soo's crush on Tae San and it makes sense that she distances herself from Do Jin as she tries to piece her heart back together. I think she's also still not sure whether or not Do Jin really cares for her, which comes partially from Do Jin's tendency to talk in a sarcastic way about everything. It is also gratifying to see Do Jin not get the girl for once.
However, I'm getting a little tired of the slow pace and I'm praying that Yi Soo acknowledges her feelings for Do Jin soon…like maybe this weekend. This drama works best when it's light-hearted because the plot is relatively shallow and uncomplicated. There is no political event or matter of life-and-death that makes prolonged angst understandable. I hope that it picks up soon.
Discussion question of the day: what's your favorite F44 pairing?
RELATED POSTS
Tags: A Gentleman's Dignity, featured, Jang Dong-gun, Kim Haneul, Kim Min-jong, Kim Su-ro, Lee Jong-hyuk