A Gentleman's Dignity: Episode 9
This episode gives a great reversal and there's some good drama that got me howling at my computer screen while wishing the episode wouldn't end yet. It's a quite dangerous situation, really. This is how addictions begin…
EPISODE 10 RECAP
Jung Rok joins Tae San and Yoon in front of a locker room mirror and stars to pull out bottle after bottle of skin care products. Tae San and Yoon start to mock him for his girly tendencies but Jung Rok remains unruffled; a man's gotta do what he has to do to stay handsome.
Do Jin enters the scene but abruptly puts his hand behind his back when he sees Yoon and Tae San making fun of Jung Rok. The guys catch Do Jin's strange movement and make him show off what he's hiding, which turns out to be a pink eye brow shaper. Lol.
Jung Rok tries to take the tool away from Do Jin as Tae San and Yoon slink back to the counter to steal some of Jung Rok's lotions. Heh. You sillies.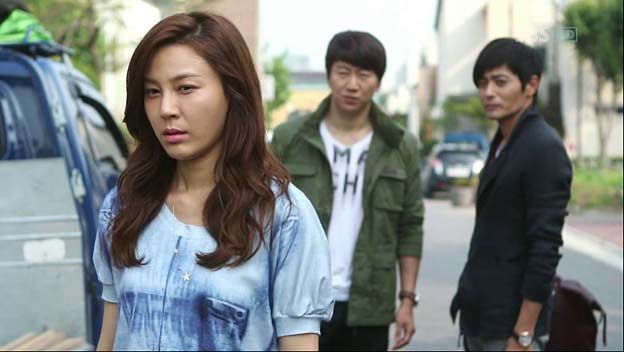 Yi Soo interrupts Do Jin and Tae San's conversation and Tae San quickly informs her that they're here to finish Se Ra's kitchen. He makes up an excuse to explain why Do Jin will be finishing the project and Yi Soo absentmindedly nods while congratulating Tae San and Se Ra's one-year anniversary since they started dating.
She ignores Do Jin as she walks past the men but he calls out to her, saying that it's nice to see her too. Yi Soo forces herself to turn around and greets him coolly before heading inside.
The guys watch her go inside and Tae San wonders if Yi Soo heard them talking. Do Jin playfully responds that they might finally go for the same girl after 40 years and Tae San replies they already fell for Eun Hee at the same time before.
Do Jin stiffens at Tae San's words and quickly changes the subject. He asks what Tae San means to do about Yi Soo and Tae San says that if he were 20 years old, he would meet both women without thinking. If he were 30, he would have met both women after thinking for a little bit.
Now that he's 40, however, he's going to stay with Se Ra because she stands by him even though she probably wavers in her feelings from time to time.
After Tae San leaves, Do Jin asks the construction workers to leave and heads inside the house. Yi Soo asks how long the kitchen work will take and Do Jin responds that it'll take at least a week. She heaves a sigh and then walks into her room to change.
She comes out in work attire and asks what she should do to help. He responds that she should sing because she has such an amazing voice. Hee. She ends up holding a bunch of nails in her hands for him to look through and he takes the chance to trace his fingers along her hands.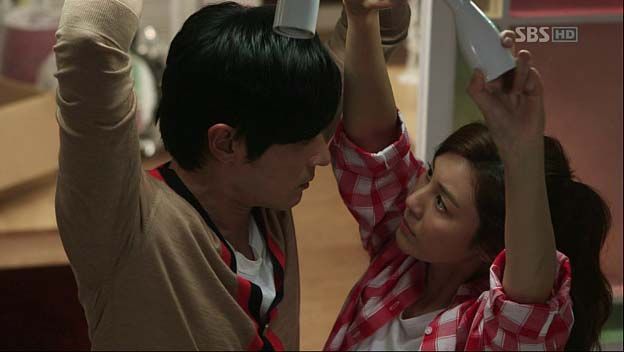 Do Jin asks her to hold a piece of wood still so he can drill it in place. She grabs it and then he puts his arms around her to drill the nails. Gah. He's such a player. She squirms uncomfortably and he tells her that something else will get drilled if she keeps moving. Heh.
He continues to flirt with her which earns him a fist near his face. Kek. Yi Soo quickly laughs and asks brightly what she should do next. She winds up holding a light fixture against the ceiling as Do Jin screws it in.
She stares at him, surprised at how immersed he is while working. He glances down and she looks away. She warns him not to give her a surprise kiss or anything strange like that and he smirks. So that's the kind of skinship she likes. Hehehe.
They finish working for the day and Do Jin asks Yi Soo to feed him. She replies that she'll buy sandwiches since she can't cook in the kitchen. While Yi Soo goes out to the store, Me Ahri stops by Do Jin's apartment to drop off Yoon's present. She laughs when she spots a flowery apron and then looks curiously at a clean set of dishes on the table.
As Yi Soo buys sandwiches, she thinks back to Do Jin and Tae San's conversation earlier in the day. She had hidden behind the truck and then interrupted them to avoid hearing Tae San's answer to what he would do now that he knows about Yi Soo's crush.
She returns home to find Do Jin sleeping on the couch. She sits and observes him until he opens his eyes. He asks her if she bought delicious sandwiches and she says yes. He then asks if she can't just like him and all he receives is a blank stare in response.
She tries to stand up but he grabs her arm to keep her from leaving. He asks if she looked at the new laptop and she lies that she didn't. She stands up again but he man-handles her onto the couch. She ends up lying down on the couch as he comments that she looks like this on his bed too…
Yi Soo turns red and she reaches out to give him a good smack but is blocked again. He laughs that she must really like violent skinship and tells her to check the laptop for a folder labeled "Do Jin's Private File."
She quickly responds that she didn't see anything like that and he grins like the Chesire Cat. So she did open the laptop. Hahaha.
He tells her to open the file and asks if he can take the sandwiches. She looks up at him in surprise; is he leaving now? Haha. Wrong question. He wonders if he should stay over for a sleepover since she seems so sad about him leaving and she rushes him out the front door. Heheh.
Do Jin murmurs that he really doesn't want to leave as he drives home. Oh you lovesick puppy. At the same time, Yi Soo ponders over what to wear to class the next day but keeps getting distracted by thoughts of Do Jin.
A bag falls out of the closet and she reaches down to see the partially unraveled sweater dress. She smiles at the memory of her first meeting with Do Jin. However, her mood changes when her phone indicates that "Mom" is calling. She ignores the call. Ah, yes. We can never have too many parenting issues in dramas, can we.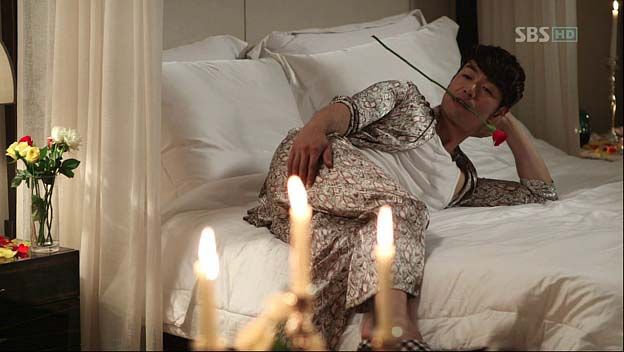 Yoon comes home to see flowers and Me Ahri's present on his desk. He opens the card which reads "I'm sorry for ruining your birthday. It's late but happy birthday."
Min Sook comes out of the bathroom after a shower to see Jung Rok with a rose in his mouth as he lounges on the bed. Puaha. He tells her that he's being a good boy today, while walking towards a table to pour some wine.
She ignores his request to sit with him at the table and climbs into bed. Jung Rok's eyes sparkle and he comments that she moves fast. Bahaha. He climbs into bed with her and she tells him to stretch out his arm so she can use it as a pillow.
In a disappointed tone, he asks if she's just going to sleep and she orders him to pat her gently until she falls asleep. He awkwardly follows her commands and she sighs.
Min Sook: This is all I wanted from you. Not something hot, but something warm.
Jung Rok: What's something warm?
Ming Sok: It's being next to me and patting my back until I sleep. Then when I wake up, I see your face first thing in the morning.
Jung Rok studies Min Sook's face as if seeing her in a different light. She tells him that an entire season has passed and all she did was dislike him. He says nothing in return.
Me Ahri and Colin step into a restaurant and see Yoon with his evil colleague having lunch at another table. Me Ahri marches up to the table behind the two lawyers and purposely sits in the chair closest to Yoon. Colin wonders what the relationship is between her and Yoon.
Me Ahri replies that they're a modern version of Romeo and Juliet. Erm. Without the dying part, right? Colin informs her that she can observe Yoon better if she switches seats but she replies that she wants to be close to Yoon. At that, Yoon springs up and tells his colleague that he'll head into the office first. D'aw. Me Ahri sadly watches him leave.
Later, Colin speaks to his mother on the phone. He comments that Korea is great and then begs her to unfreeze his credit card. Heh. Tae San and Do Jin pass him by as they head out to lunch and he whips out the picture of his mom and F44. Wait. Are you searching for your father without your mom knowing? 'Cause…couldn't she just tell you? Or does she not know either…wah…confused.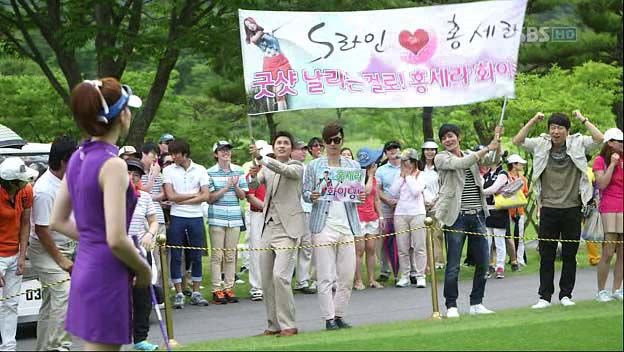 Tae San watches Se Ra play golf on his phone during lunch and Do Jin urges him to cheer her on in person. Tae San shakes his head no, even as he worriedly observes the game. Meanwhile, Se Ra looks around for Tae San at every putting green.
Do Jin comes back to the office and commands his employees to drop what they're doing and work on a special project. He then calls Jung Rok and Yoon to inform them that they need to save Tae San's love life. They head to the tournament in Betty but see Tae San's car swoosh past them on the highway.
Some time later, Se Ra looks around again for Tae San, who actually shows up. They look at each other lovingly but get distracted when the other three guys run over to hold up a huge pink sign that has words of encouragement on it for Se Ra. Hehe. They're such dorks. After the tournament ends, Se Ra and Tae San hug and reconcile.
The gang heads to Jung Rok's bar to celebrate Se Ra placing 11th in the tournament. Jung Rok and Yoon wonder why Yi Soo isn't joining them and Se Ra awkwardly says that she'll call her right now. Tae San follows Se Ra out to the hallway and assures her that she doesn't have to do anything if she's uncomfortable. It's her day. She pats his shoulder and tells him that she's okay.
After he leaves, Se Ra calls Yi Soo and states that everybody wants Yi Soo to come over to Jung Rok's bar. However, she entreats that Yi Soo retrain from coming because it will make her and Tae San uncomfortable. Ugh. You two selfish beings belong together.
Yi Soo ignores Se Ra's request and replies that she'll go to the bar. Se Ra and Tae San need to face her sometime. Her eyes start to wander towards the shoes that Do Jin bought her and she informs Se Ra that she'll be there soon. I have a really bad feeling about this.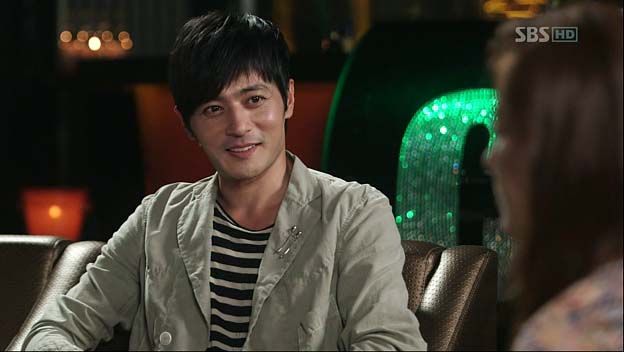 Some time later, Yi Soo walks into the bar and Do Jin's eyes widen when he realizes that she's wearing the special pink heels. His face lights up with hope and he grins widely. OH CRAP. Please turn around.
Yi Soo sits down and commends Se Ra for getting out of her slump. Se Ra snipes that Yi Soo came pretty fast, as if she was getting ready to come when she called. Tae San jumps in and nervously asks if Se Ra is ready to go home yet. Se Ra replies that she wants to drink more while glaring at Yi Soo.
Jung Rok comments that Yi Soo looks different and wonders if something good happened today. Do Jin happily responds that Yi Soo really does look beautiful, especially because high-heeled shoes give women wings. She gives him a guilty look which he misses in his giddy state.
Jung Rok and Yoon continue to praise Yi Soo but Tae San cuts them off; how dare they lust after their umpire. Jung Rok responds that his words are habit, not lustful. Kekeke.
Yi Soo smiles and comments that it feels good to have Tae San defend her. It's no wonder a lot of girls like Tae San. Se Ra looks up at Yi Soo in alarm but Yi Soo plows on by saying that Tae San is quite popular with the girls. Even she liked him at one point.
Everyone freezes at those words and I hit pause for five minutes. I don't want to watch this. Noooo. Yoon's mouth drops and he looks at Tae San and then Yi Soo. Jung Rok then laughs that Yi Soo is praising Tae San too much.
Do Jin stares at Yi Soo in confusion but she ignores him. She insists that what she just said was true. She used to like Tae San before he and Se Ra started dating. She finally drops the bomb by saying that now, her world is full with Do Jin's presence. She informs everyone that she and Do Jin are dating. EFF!!! You went there. I'm going to cry for Do Jin in a corner now.
The boys start to congratulate Do Jin and Tae San remarks that he should have told them before. He quickly excuses himself to the bathroom and requests Yi Soo to come with him. When they walk into a separate room, he whirls around and reminds her that she was to wear the shoes when she was sincerely ready to return his feelings for her.
She quickly states that she's sorry and she can explains but he cuts her off to reject the apology. She pleads with him to understand and he angrily responds that this isn't the time for him to be understanding.
Do Jin: I really like you but that doesn't mean you can use me.
Yi Soo: It wasn't meant to be like that.
Do Jin: But that's how it turned out. I admit that I was wrong too. I lied that I fell for you at first sight. When I first saw you, I wanted to sleep with you. But the more I saw you, the more I started to fall for you. I started thinking that we could be together for a long time even as I was accepting chocolates that were meant for another man.
Yi Soo: Se Ra and Tae San's relationship was rocky because of me. So..
Do Jin: So I wasn't considered when you thought about who would be hurt because of you.
Yi Soo: I wanted to make peace…
Do Jin: Peace? I don't care about that. My pride and my feelings are more important to me. I still like you but not enough to accept this kind of treatment.
They leave the bar and he requests that they not see each other again and drives off, leaving her shell-shocked in the parking lot.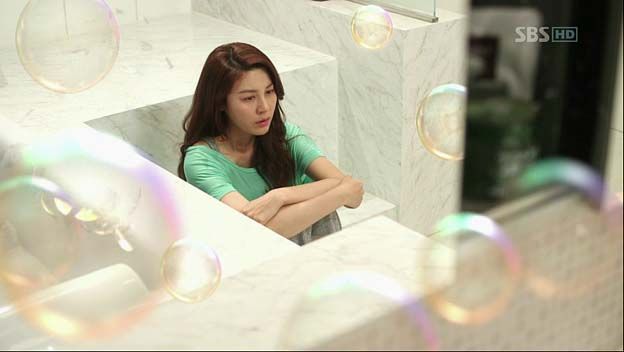 Yi Soo sits on the bathroom floor and memories of Do Jin start to swirl around her head. The flashbacks are accompanied by bubbles which start to shatter as she realizes that she hurt someone she really cares about.
Tears start to roll down her cheeks as she cries out "I've liked him all this time. I like him." Se Ra pounds on the door outside when she hears Yi Soo crying but receives no answer. ARGH. This all started because of YOU.
Min Sook walks around her art gallery when the sound system cuts off. She hears a familiar voice singing throughout the store and we see Jung Rok in the security room strumming a guitar while singing his heart out. Min Sook starts to tear up. Aw.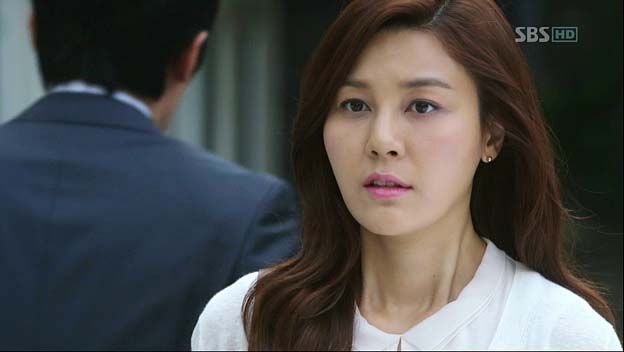 The next morning, Yi Soo waits outside Do Jin's office and she lights up when she sees Betty heading into the parking lot. Do Jin gets out of his car and checks his messages. He sees Yi Soo's text but puts his phone back into his pocket.
Yi Soo walks slowly to Do Jin but he gives her the cold shoulder and quickly goes inside the office. She spends the entire day waiting for him but ends up leaving late at night without seeing Do Jin. He watches her walk home from his office window.
Yi Soo comes home and Se Ra asks about the kitchen. Yi Soo explains that it's a one-year anniversary present from Tae San and gives a half-hearted "congrats." Before she heads into her room, Se Ra bluntly tells her that she knows Operation "Dating Do Jin" is made-up.
She goes on to say that she heard Yi Soo crying the other night. She now believes that Yi Soo is a sincere friend who won't mess up her relationship with Tae San. I'm so close to hurting you right now…
Yi Soo changes the subject quickly and informs Se Ra that she's currently looking for another place to stay. Se Ra replies that Yi Soo should just stay. She doesn't think she'll have her deposit by next month either.
Meanwhile, Yoon packs for the baseball game tomorrow and Do Jin asks if Yi Soo will be the umpire tomorrow. Yoon nods and Do Jin quietly mumbles that he misses her. He wants to see her but also doesn't want to see her, which makes Yoon (and me) question his friend's sanity.
At the baseball field, Yi Soo cheerfully greets the other players but stops in her tracks when she sees Do Jin in baseball gear practicing his swing. A smile plays across her lips and she warmly says hi to Do Jin.
She comments that he must have been very busy yesterday and he replies that he left late because someone that he didn't want to see was waiting outside. She blinks in surprise. Is he not here because he's not mad at her anymore? Oh, lordy. Really? You don't get off that easily…
He scoffs; she's not important enough to move around scheduled appointments. He moves away from her and she looks after him while heaving a disappointed sigh.
F44 and their teammates get pummeled by the other team and the score is soon 2 to 7. Cheerleader Me Ahri puts on another energizing performance to pump up her oppas, which makes Se Ra wrinkle her nose at how stupid Me Ahri looks.
Me Ahri scolds Se Ra for being such a downer and challenges her; can she cheer any better? Se Ra rips off her jacket and starts to chant "Im Tae San," which distracts the opposing team and embarrasses Tae San.
The tide begins to turn as the other team loses their focus because of the loud cheering from the pretty girls and the game goes to F44. They decide to go to dinner to celebrate the win but Me Ahri nervously chirps that she has other plans tonight, after a stern glance from Tae San. Ugh. I want more Yoon and Me Ahri and less of you and your annoying girlfriend.
At the restaurant, Yi Soo tries to get Do Jin's attention but he keeps avoiding her. When he reaches for a side dish, she puts the entire plate in front of him only to have him slam down his chopsticks. Yoon observes the entire exchange with a worried expression.
Yi Soo texts if they can talk after dinner but Do Jin refrains from answering the message even though he sees it. She hesitates for a little bit before interrupting Do Jin's conversation with an employee to point out that he got a text.
The employee turns away to let the two have some privacy and Do Jin motions for her to come towards him. She leans across the table and he whispers one sentence into her ear:"Don't flirt with me if you're not going to sleep with me."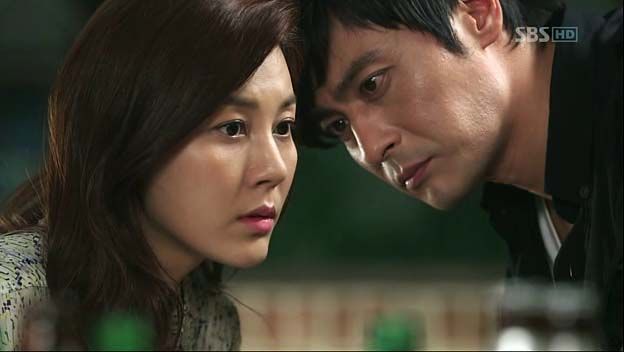 Comments:
There was a criminal lack of Yoon and Me Ahri today which made me quite sad. On the other hand, we had two great scenes with Jung Rok and Min Sook. It was surprising to see Min Sook's vulnerable side and I think Jung Rok was also taken aback at how honest she was about what she wanted from him.
Jung Rok is probably the least mature out of all the four guys. He's hilarious and perfectly honest about his faults which I love, but he also takes Min Sook for granted. She's actually quite insecure and sensitive beneath the icy, snobby demeanor and it made me a little sad when she talked about how she just wants something warm from Jung Rok.
He's really into the hot, unpredictable side of romance whereas Min Sook just wants stability. He can act the part of the perfect husband (like when she's at her meeting with her friends), but we'll see if he can actually become the part.
Whoo. Yi Soo. I had to stop watching when I saw her come into the bar with the pink shoes on. The look on Do Jin's face and how quickly it changed from surprise to elation to confusion and then anger was astonishing. I still can't believe that she played around with his feelings like that.
Honestly, she could have come in without the shoes and still pretended that she and Do Jin were dating. I don't even understand why she had to go out of her way to make Tae San and Se Ra feel secure about their relationship. If they feel threatened by a woman (who by the way has said OVER AND OVER again that she doesn't want to interfere), then that's their problem. It shows that they lack faith in each other.
Also, Se Ra knew that Yi Soo was lying. Wouldn't that bring us back to square one? "Your crying in the bathroom made me believe in your sincerity?" What kind of crap is that? I've said that I cared for Tae San and Se Ra the least and now I just find them insufferable. Please go aawayyyy.
I know that something needed to push Do Jin over the edge so that he could turn away from Yi Soo, which would help her realize that she's liked him all along. I get the plot point and that it's a necessary evil for us to move along, but did she really have to hurt him like that? Sigh. It's time for Yi Soo to pursue Do Jin and I hope he doesn't give in too easily.
Lastly, apologies for the delay! Life put on its crazy hat and wouldn't take it off for the past couple of days. I'll try to finish up the next recap soon.
RELATED POSTS
Tags: A Gentleman's Dignity, featured, Jang Dong-gun, Kim Haneul, Kim Min-jong, Kim Su-ro, Lee Jong-hyuk