Big: Episode 4
What does it say when an eighteen-year old does a better job of being you than you? It's an identity crisis of the highest order when the line starts to blur for everyone involved, as Kyung-joon starts to fulfill his role as Teach's fiancé… a little TOO well.
SONG OF THE DAY
Big OST – Davichi – "Because It's You" [ Download ]
Audio clip: Adobe Flash Player (version 9 or above) is required to play this audio clip. Download the latest version here. You also need to have JavaScript enabled in your browser.

EPISODE 4 RECAP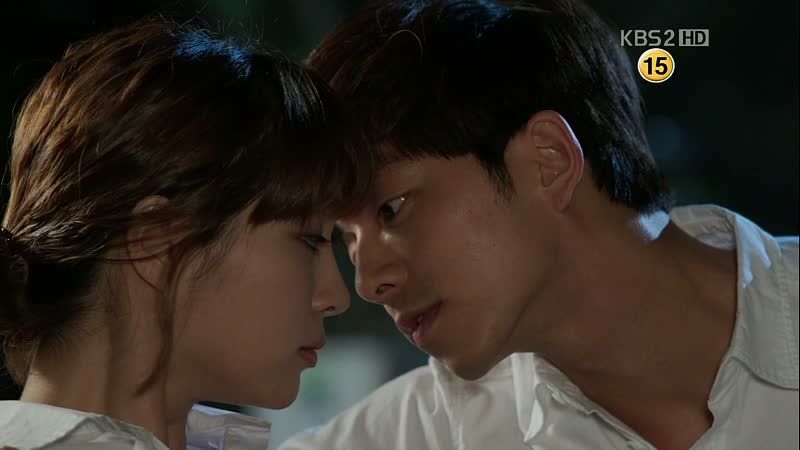 Kyung-joon leans in, thisclose to kissing Da-ran, when he realizes that she's not pulling away. He backs up like a hot potato, "Why aren't you backing away?! Were you just going to collide?!" Oh so YOU get to mess with her head and SHE has to take responsibility?
He crosses his arms over his precious body, making it clear to "ajumma" that despite her hunger for this outer shell, a minor is on the inside. And… that's what we call a mood-killer. Way to bring it back down to earth, kid.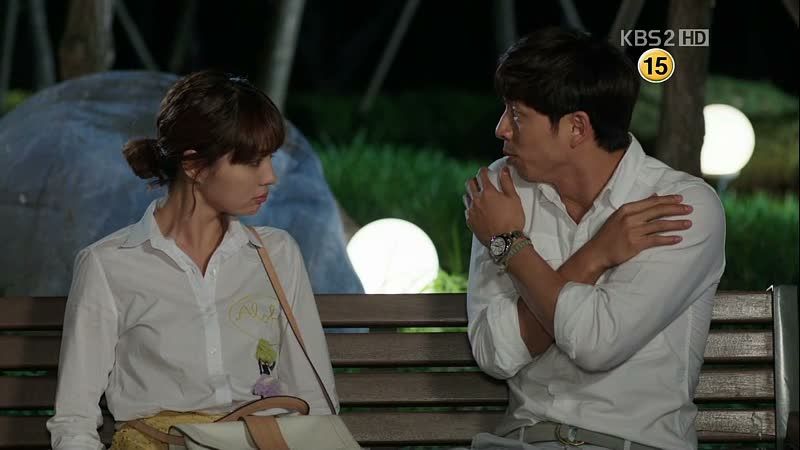 But Da-ran is still floating around on cloud nine, "So that's what it would have been like…"
HOLD UP. You've never kissed your fiancé? Kyung-joon's eyes go from saucers to platters as he stammers, "Wha-? You mean this- with the- not going—? No way!" She corrects him—they did go that far, but in that crucial moment of moments… she was asleep. Hee.
Flashback to a date with Yoon-jae, when they park by the river (that was your first mistake, buddy) and she falls asleep. Yoon-jae kisses her softly, and it wakes her up…
But she loses her timing to open her eyes un-awkwardly, and has to spend the rest of the date "asleep." That's so lame it's awesome.
She berates herself for not being able to open her eyes, which would've facilitated much more physical intimacy from that point on. Kyung-joon (in his now characteristic sour expression whenever Da-ran swoons over Yoon-jae) tells her not to be too disappointed—it could have been her imagination.
She insists it was not an imaginary kiss, but Kyung-joon says that a long-stretched imagination (another gil-da-ran pun, his favorite) is her specialty. She didn't see, so it could've been like this—and he puts the back of his hand to her lips to demonstrate.
She doesn't think that's what it was, but it's enough to confuse her, and she sits there kissing the back of her own hand, "Was it like this? Or like this?" Kyung-joon watches her for a while, and then pulls her hand away.
He kisses her, smack right on the lips, "Was it this?" OH YOU CHEEKY.
Da-ran says yes in a daze, only to realize belatedly that it was Kyung-joon who just kissed her. She tries to shake her head on straight, and then when she comes to, she attacks Kyung-joon.
He defends himself by saying he was just trying to help her because she was so confused, and she's like, what do you know, little kid? Well so far, he seems to know more about kissing than you do.
Hitting turns to kicking, and Kyung-joon finally gets her to stop by pointing at his face, "If you keep hitting me, I'm going to go colliding this into random things!"
She yells that it's Yoon-jae's face, not his, and Kyung-joon runs with that—then it means that he took "precious Yoon-jae's" lips and collided with hers anyway, so what's the problem?
He tells her to think of it as a rerun since she missed it the last time. How can you stay mad at a kid so quick on his feet? She argues that Kyung-joon's the one on the inside, and he counters that if she knows that, she shouldn't ask him to play Yoon-jae anymore. Touché.
Mari sits by Kyung-joon's bedside and Choong-shik wonders why his noona didn't tell her about the accident. He saw that she met his brother-in-law too, and explains the family connection, including the fact that Yoon-jae is a doctor at this hospital.
Mari narrows her eyes, wondering why the doctor lied to her.
Da-ran stops at Kyung-joon's house to give him something she forgot, and sighs to find him eating another frozen pizza with coke. He snipes, asking what else he has to do for the good doctor, only Da-ran surprises him with class notes.
She tells him to study even if he can't go to school, and he asks whose notes they are. She says they're from the first-place student in his class, and he corrects her that they're from the soon-to-be-second-place student, when he goes back to school.
I love that against type, the smartass is actually… smart. He tells her that he could go to Harvard but he promised Mom he'd go to Seoul University, which is why she bought him this house. Da-ran says it must be nice to have such a supportive mom.
He asks for her help going over the notes, which is a totally bogus ploy to get her to stay longer of course, but Da-ran complies happily, even as her eyes glaze over from the math.
Mari thinks over what Yoon-jae told her at school, and wonders what he meant by "Kyung-joon will text you," if Kyung-joon is lying here in a coma. She decides to test it out and Kyung-joon texts her back. Her reply: a photo of herself…with the sleeping Kyung-joon. Ruh-roh.
Kyung-joon goes tearing into the hospital with Da-ran in tow, and she wonders what the big ruckus is over one friend. But Kyung-joon explains that now that she's found him, Mari won't ever leave his side. EVER.
Da-ran wonders if they shouldn't tell her the truth then, and Kyung-joon freaks out—if Mari knew that he was in this body, she'd be clinging to said body 24 hours a day. Sufficiently horrified by the vision of Mari literally hanging off of Yoon-jae's shoulders, Da-ran agrees it's best to lie to the stalker girl. You think?
Aunt and Uncle light up at the news that Mari intends to take Kyung-joon back to the States, and prepare for his immediate departure. Kyung-joon notes their happy expressions and guesses that Mari's already got her claws into his body. He figures the only way to get through to her is to blow her mind.
Mari tells Coma Kyung-joon that it looks like he's just sleeping, and sighs that in the fairytales, sleeping princesses always get woken up with a kiss. Lightbulb. She figures it's worth a shot (which is adorable) and puckers up…
But she gets kiss-blocked when Awake Kyung-joon comes running in to stop her with a hand to her mouth. She calls the doctor a lying liar and declares that she's taking Kyung-joon to America. She knows he'd want to go too because he has no one he likes here.
Kyung-joon: "Kyung-joonie would want to be here, because the person Kyung-joonie likes is here." Mari says he has nothing of the sort. Kyung-joon: "He does," and points to Da-ran. Eeee!
He declares that Kyung-joon likes Gil Teacher. Da-ran looks over at him with alarm, and he makes a face at her to just play along.
And then he tells Mari that the first time he saw Gil Teacher, he followed her off the bus because he liked her. And then he continued to follow her around, and just pretended to meet her at the furniture store by coincidence.
Aaaaaah. I LOVE this. Is it true? Is it not? Is he confessing his crush or making it up on the spot?
Mari refuses to believe it—Kyung-joon's not the type to follow someone around like a lovesick puppy. Right, that's your job. He says that Kyung-joon did follow Da-ran, his fiancée, around, and he, the doctor, caught him red-handed.
He says that Kyung-joon confessed everything, which is why he knows so much about him. Mari whines that the teacher isn't Kyung-joon's type either, "So why did he like her?" Kyung-joon: "Because she's pretty." D'aw.
He counts down to Mari's brainsplosion, and walks out believing himself to be a genius. Da-ran asks hesitantly—what he said in there wasn't true, was it? He laughs at her for falling for it.
Mari looks at the picture of Gil Teacher online, agreeing that Kyung-joon isn't the type to take pictures of people he doesn't care about (innnteresting) and runs outside. She catches up to Da-ran to ask how she feels about Kyung-joon.
Da-ran quickly assures her that she's to be married, and has no interest in her student. Mari argues that Kyung-joon is much better looking than this ajusshi (he beams) while Da-ran counters that Yoon-jae is much better (he frowns).
Da-ran takes the opportunity to say that she'd never be interested in a totally immature, fresh-from-the-cradle little boy, which reassures Mari and makes Kyung-joon scowl. It's enough to make Mari feel secure for now, and she tells Da-ran to tell Choong-shik he's ten more pizzas down.
But then Mari notes that the ajusshi is wearing Kyung-joon's favorite sweatshirt, and she launches into another don't-copy-Kyung-joon lecture. She's hilarious.
Not to be outdone, Kyung-joon starts copying her, and then it actually devolves into: Stop copying me! No YOU stop copying me! You're the boss of copycats! Well then you're the boss' boss of copycats! You're the boss' boss' boss! You're the boss-to-the-infinity-power!
HEE.
Mari tells Aunt and Uncle that she won't be taking Kyung-joon away after all. Their faces fall.
Meanwhile Kyung-joon looks over Yoon-jae's desk and asks after the doctor's parents (they're notably in two separate pictures, not one). Da-ran says they're abroad which Kyung-joon thinks is a relief—playing the son would be a lot harder to pull off.
But that makes Da-ran remember that Yoon-jae called his mother often, and that she's probably worried. He sighs and picks up the phone, willing to play the good son. He calls and Mom says she'll see him on "that day" and that his father will also not forget "that day."
Is everyone in this family cryptic?
They wonder what on earth it means, and he asks if Yoon-jae doesn't have a diary or something. Da-ran says she has his phone but hasn't looked in it, because she doesn't want him to think less of her. Kyung-joon flips out, asking if it's okay for him to tell all manner of lies to Mari but Teach won't even get her hands dirty.
She figures he's right and gives him the passcode to unlock the phone: 0624. He pauses. Is that Yoon-jae's birthday? She says no. "Oh. 'Cause… it's mine." Oh noes. Drama, don't you do it! Don't you go there!
They look at the calendar and whatever family thing is going on is on June 24. As they walk out we linger on the Miracle book on Yoon-jae's shelf, and then Mom takes out her copy of the same book. And just in case we didn't get it, we get another close-up of the same cherub picture in Kyung-joon's wallet.
In the hospital, Kyung-joon's body starts to show signs of life…
Another flashback to the accident, and the moment when Yoon-jae reached out to save Kyung-joon… And Kyung-joon wakes up from the dream in a cold sweat.
Da-ran resists looking at Yoon-jae's phone, but then reasons that she's just going to check urgent messages and finds that Se-young texts Yoon-jae multiple times daily. One in particular piques her curiosity—a mention of "that thing" she gave him along with half the tea and how it means they won't have to split tea anymore. Meanwhile Se-young comes home to find the key she gave Yoon-jae lying on her floor.
In the morning, Choong-shik asks if noona is sick, and she just sighs that it's because she opened Pandora's box. Choong-shik: "Who's Pandora? Is she from the States too?" Pfft. He asks about Mari's relationship to Kyung-joon, and Da-ran remembers the message to deduct ten pizzas. (Though she has no idea that they're pizzas—they use "pan/platter" so it's conveniently nondescript.)
Kyung-joon's morning gets interrupted by Aunt and Uncle's abrupt visit, and he scrambles to hide just in time. Da-ran stares off into space at her desk, telling herself over and over that the lid to Pandora's box is now closed. Then it wouldn't be Pandora's box now, would it?
Na Teacher screws up the nerve to offer her a ride to the hospital, but she doesn't need to go there today, and he has to pretend that it's a relief. Poor awkward gym teacher.
Kyung-joon calls (she's saved his number as "BIG" now) and says he went to the car insurance place like she asked… and got a new car while he was at it. He's here to pick her up.
She runs out gaping, "Did you drive this here?" Kyung-joon: "Well I didn't carry it." She freaks out that he's not allowed to drive, and he swears he has an American driver's license.
The vice principal tsk-tsks at them chasing each other around the car, and Kyung-joon apologizes for all the disruptions he's caused, running to open her car door and offering to buy her dinner. It's sweet that he's trying to make Gil Teacher's life easier.
The VP says she's too busy filling her brain to fill her belly (hur) and he notes the copy of Turgenev's First Love in her hand and quotes it, in Russian. He succeeds in getting on the VP's good side, and Da-ran asks where on earth he learned Russian. He says his mom's restaurant had Russian workers. And what, the chefs walked around quoting Turgenev?
They go to Yoon-jae's bank and thankfully his PIN is the same as his phone passcode, and Kyung-joon goes slackjawed at all the money in the account. She takes out enough to cover the deposit on their newlywed house, relieved not to lose it. So reading his text message feels invasive, but clearing cash out of his account seems kosher?
Kyung-joon says he'll stay at their new house then, since Aunt and Uncle seem intent on stopping by his house unannounced. In fact they're there now, going through all his belongings. They note some adult clothes and shoes that are clearly not Kyung-joon's. Has he been seeing his father?
Uncle says that's impossible, but they wonder if maybe Mom told him about Dad…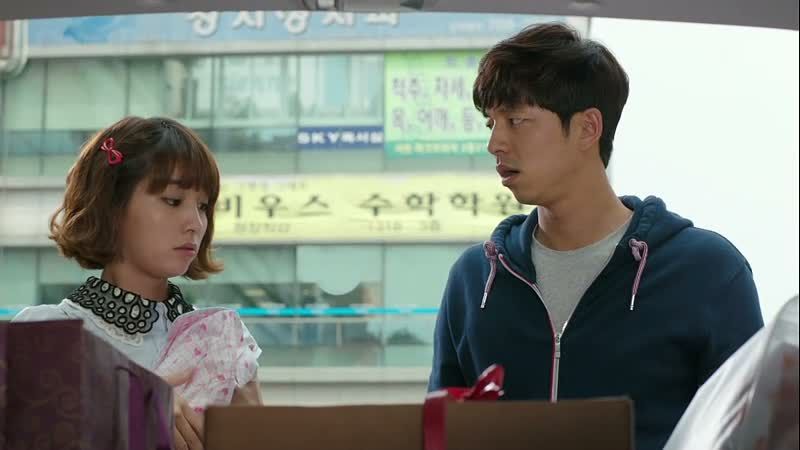 Da-ran takes issue with Kyung-joon being the first to stay in the house where she and Yoon-jae will be spending their post-wedding bliss, and he threatens to harm the body if she doesn't agree. Bodily harm is really the most useful little failsafe for the bugger, isn't it?
She then drags him along to buy things for her newlywed house, not wanting him to use any of the stuff that's meant for Yoon-jae. She seems obsessed with the idea of firsts—she's constantly stopping Kyung-joon from spoiling things for her, as if him wearing the couple pajamas she bought would ruin them.
I get why, (though it's another fixation with the idea of marriage rather than the man) but it hurts his feelings, which she doesn't seem to get. He storms off in a huff, declaring that he'll buy his OWN stuff to use.
He comes home just in time to see Aunt and Uncle throwing out all his stuff, including the only bed he can ever fall asleep in. He overhears them telling an agent to sell the house as soon as possible.
Da-ran waits and waits for Kyung-joon to show up to the real estate broker's office, to sign the contract for her new house. It starts pouring rain. She waits and waits and calls and calls, and the house goes away, along with her initial deposit.
Kyung-joon runs inside to grab a sheet of plastic to cover the bed, his panic and the futility just increasing in waves. He struggles with all his might to drag the bed back inside the house, trying uselessly to hold back his tears. His desperation is just killing me.
Da-ran comes over, livid for having lost the house, and storms in yelling that it's all because of him. Kyung-joon just sits on his sopping wet bed, soaked to the bone, with his back to her. He tells her to go.
She comes around to face him, still yelling, and then FINALLY notices that he's drenched and shaking. He tells her that Aunt and Uncle threw out all his stuff to sell the house. She kneels down puts a hand to his forehead, and goes running out.
She goes to the car, and grabs the blanket and the pajamas she had bought for Yoon-jae. Awwwwwww. Okay, I love you right now. Such a great reversal.
She puts the blanket around him and tells him to change into the pajamas and runs back out to get her newlywed kitchenware from the car, since his house has been cleaned out. She makes him tea, and then while he sleeps, she gets medicine and makes him porridge.
He guesses she must be mad at having to use all her stuff when she was saving it, but she tells him the stuff was meant to be used anyway. She suggests he come over to her house and stay in Choong-shik's room, but he tells her he's fine here.
She feels his forehead and worries that he's still running a fever, and he promises to take good care of Yoon-jae's body. She sighs, asking if he really thinks she's worrying about Yoon-jae right now.
He looks up, "I know. Right now you're thinking of me. When you look at Kang Kyung-joon, there aren't hearts coming out of your eyes." Oh, kid.
She comes out to find the couple socks she dropped while fetching the other things, and goes to the hospital to see Yoon-jae/Coma Kyung-joon. She asks him to wake up soon, because there are so many things she wants to do with him.
Flashback to the hospital after her fall. Yoon-jae worries that she missed the teacher certification exam because of him, and she tells him it's not his responsibility. Yoon-jae: "I think I do have to take responsibility. I have to take responsibility for your life."
She beams, and he smiles, but it's not an I'm-over-the-moon smile. I'm so confuzzled. DID YOU LOVE HER OR NOT?
Another flashback, when he ran out to meet her in front of the hospital to cancel yet another date. He notices her skirt hem has come loose, and staples it for her before running off to surgery. This time he seems genuinely sorry to miss the date.
Da-ran walks away from the room with her socks on her hands, and then we see Coma Kyung-joon with the matching pair on his feet. That's adorable.
The next morning, Kyung-joon puts on his snazzy grown-up suit (rawr) and struts into the bank. I smell mistaaake…
He cleans out the account, which sends a text alert to Yoon-jae's phone. Da-ran sees the enormous figure and goes running.
But by the time she finds him, he's already signed the contract for his house—it now belongs to Yoon-jae. Ack! Of course you did.
She storms inside and locks him out, leaving him screaming that he'll even give her the deposit money on the other house that she lost. But there's no answer.
He sits on his front stoop, seeming more than ever like a little kid.
Hours later, she finally comes out to tell him to take his medicine, deciding that they can discuss it when he's feeling better. He gets up and apologizes—he knows it was wrong, and that this isn't the house she wanted to start her life in. But to him it's his last remaining possession, and he wanted to protect it.
He admits to using his adult body to that end, and says he's sorry, even adding an "I was wrong" in jondae. She lets him back inside with a grumbly, "If the value on this house goes down…" and he promises her it won't, with a skip in his step.
Time to furnish the house. It's pretty hilarious that she ends up setting up her newlywed house with Kyung-joon anyway, after all that fuss.
They bicker over furniture choices and the like, though of course with Kyung-joon, it always devolves into childish games. I love that he's found a fun purpose for his presto-change-o opaque-to-translucent walls: shutting her up when she's yelling at him.
Mari bribes Choong-shik with a fifty-pizza discount for access to Gil Teacher's room. She inspects it to make sure she's really getting married to the doctor, whom she declares a Kyung-joon-copycat. She finger-darts his photo-eyeballs for emphasis.
I really luff this character. She's creepy, and yet not so bright, which makes her hilariously unthreatening.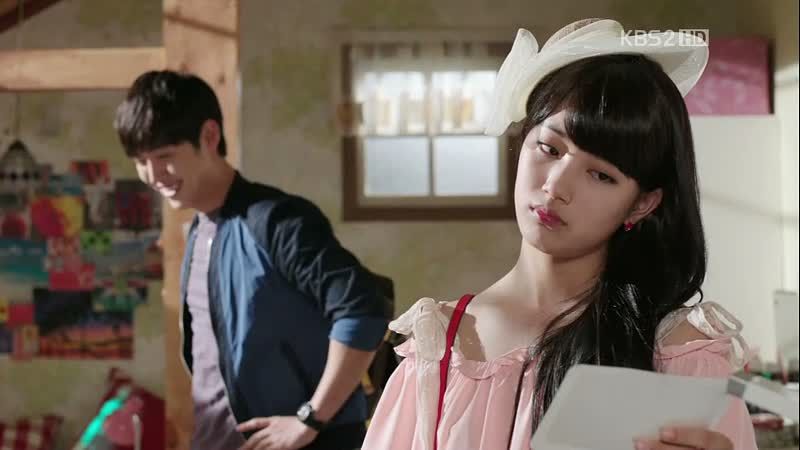 Da-ran's parents are due for a visit, so she sends Kyung-joon out to get some snacks. He goes to sneak the car keys and sees Yoon-jae's phone ringing with a call from Se-young. He goes to meet her.
She returns her house key, asking if he left it at her place on purpose as a message, or just dropped it in his haste. His eyes widen in shock. He thought it was the key to his newlywed house, which he says aloud.
She can't believe he'd confuse it for that, and spells it out for him—that she gave him the key to her house and believed that because he didn't return it, he was planning to end his engagement and choose her.
She tells him it's over and walks out. He picks up the key and sits there reeling from this added twist. Okay, so it's possible, maybe that he's not a cheating cheater, but he's certainly a vague son of a bitch.
Da-ran's family arrives and helps set up the new house, and Mom asks why a small apartment suddenly turned into a giant house. Da-ran somehow gets away with being vague about it.
Kyung-joon comes back and Da-ran pulls him aside to yell at him for his tardiness. She knows he took the car when he's not supposed to drive, and fishes his pockets for the key. Whoa, you sure are comfortable digging around in his pants, Teach.
But out with the car key comes the mystery house key, and she picks it up, remembering that it came out of Yoon-jae's sweater. She knows now that it's not the key to their new house after all, so what's it for?
He covers the keys in her hand and starts to say, "Actually… that key…" but stops short, not wanting to crush her. So he says it's broken and throws it out with the trash.
Da-ran heads home with her family, and Mom and Dad have a conversation about wanting to share their latest batch of kimchi with Yoon-jae and how if he comes by often enough, they won't have to split it at all.
It triggers her thoughts back to that text message in Pandora's box about "that thing." She asks Mom in a daze if one were to facilitate Yoon-jae freely coming by so he can eat kimchi at their house, what would she give him? Mom: "A key."
She asks Dad to stop the car and goes tearing down the street toward the house. Choong-shik worries like a good little brother and calls his brother-in-law to ask if she's there.
Kyung-joon goes outside to see if she's on her way, and then notices the trash bags torn open. Balls. He figures it out right away and runs to catch up with her.
Da-ran takes a cab and calls one of Yoon-jae's friends for Se-young's address. Kyung-joon runs and runs and runs.
She arrives at Se-young's door, and takes out the key. She brings her hand up to the lock, trembling…
Kyung-joon runs into the building and then up the stairs… She hesitates, unable to do it. She takes a breath and then raises her hand again…
The key makes contact. It opens. A tear rolls down her face.
Kyung-joon arrives huffing and puffing, and shakes his head as if to say no, don't do it. But Se-young hears her door and gets up to see who it is, and the door starts to push open…
Da-ran turns to face the door, but Kyung-joon slams it shut with one arm, and pulls her close with the other. She starts to cry into his shoulder.
She tells him to let go. He shakes his head and holds on.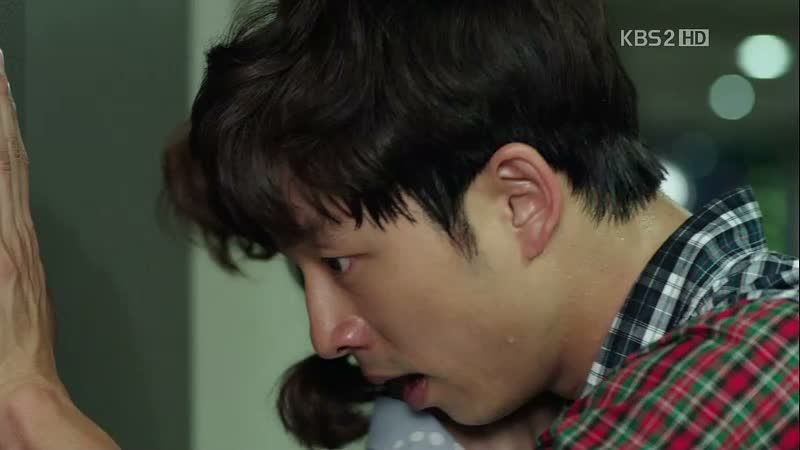 COMMENTS
Man, even when I knew that door would unlock, I still didn't want it to. But it's great to watch Kyung-joon go from spilling the beans on the cheater the first chance he got, to hesitating this time, and running to protect her from finding out and getting her heart stomped on. I think no matter how her feelings go, it's his crush that's got me in the heart.
I'm more and more intrigued by Flashback Yoon-jae, who seems equally cute and cryptic. But what I really love is the story's stance on the unreliability of anyone's version of Yoon-jae. As Kyung-joon keeps pointing out, it could be that she remembers him differently, or just sees what she wants to see. So nothing about Yoon-jae is ever definitive, and we have to puzzle together the bits and pieces, told by different people.
And just when we're sure of one version of him, another side comes out and flips it back. It's such a fresh take to make the flashbacks unreliable. Now don't get me wrong — I don't think it's totally Rashomon-esque (in that I do believe that what we see did happen), but the interpretation of events is left up to each character, and ultimately, us. Did Kyung-joon really follow Da-ran off the bus because he liked her from the start? Or is he changing the intent to fit the events? We know he didn't really follow her around and into the furniture store, but what do we really know?
The reference to Turgenev's novella seems like a throwaway joke, but is actually quite interesting—that story is told from the perspective of a teenage boy who is in love with an older woman who shows him affection but constantly mocks his youth. Here's where I hope this drama doesn't follow suit though—the young boy finds out that the man she really loves is his own father. Just… no. I have hope though, that the Hong sisters are teasing out these comparisons in order to subvert them. Otherwise, where's the fun, right? RIGHT?
I do think that the Kyung-joon/Da-ran relationship is purposely confusing to mirror that story—at times it's the affection of a mother to a son, which fills a huge hole in Kyung-joon's life, and at times it has romantic undertones. But I really hope that her mothering care isn't going to be taken to the literal extreme, because, well, ew.
My favorite thing in this episode was the set-up of her obsession with having everything be new and unused for her future with Yoon-jae, and then letting that go when it counted, when Kyung-joon mattered more. And even if Kyung-joon is headed for a world of heartbreak, I guess I'm going there with him. What can I say? Act-first-think-later boys with bleeding hearts are just my dramaland kryptonite.

RELATED POSTS
Tags: Baek Sung-hyun, Big, featured, Gong Yoo, Lee Min-jung, Shin, Suzy