Big: Episode 8
There are twists and turns and major decisions, some of which I wish we didn't decide so hastily. We also start to unravel Kyung-joon's backstory and the mystery of Yoon-jae and Kyung-joon's connection. The way that's being teased (one excrutiatingly teensy drop at a time), I certainly hope it amounts to something worth waiting for, that subverts our expectations. Please?

EPISODE 8 RECAP
Kyung-joon proposes with Yoon-jae's ring… and says that as long as she wears it, he will never love her. He tells her to take the bait – this time it's Yoon-jae – and bite now if she doesn't want to lose him.
At the same time, Choong-shik tells Mari about the marriage-or-nothing condition given by Dad, which is still ludicrous, given that their problem was that they rushed into marriage, so maybe dating is the better thing? But nobody listens to me. Mari runs off to stop it.
Da-ran looks down at the ring, more confused than ever. Did Yoon-jae want to marry her after all? She asks what'll happen to Kyung-joon if they get married, and he says that it's not real for him, and he doesn't think it's a bad solution to growing up and becoming an adult.
Is anyone else screaming MISTAAAAAKE? I'm torn, because I get that fake marriage means fake marriage hijinks, but I worry for Kyung-joon's heart. Besides the fact that for Da-ran and Yoon-jae, it's just plain ol' crazy.
She contemplates the decision, but there's little time for quiet reflection when Mari comes whirling in, declaring that this sham of a wedding cannot happen. Am I nodding my head along with Mari, of all people? To that end, she'll just tell Da-ran's parents the truth—the REAL truth. She takes off running.
Kyung-joon freaks out and runs after her, and then Da-ran chases him. Choong-shik arrives at the house just in time to see them each run out one after the other, and then he takes up the caboose.
Mari tells Mom and Dad that she's got big news, but Kyung-joon gets there fast enough to cut in. They turn their attention to Seo-suh-bang, of course, demanding that he only appear when he's ready to marry their daughter.
But when Da-ran arrives, everyone sees the ring, and they realize the proposal has been made. Kyung-joon quickly says that he did propose, but he's awaiting Da-ran's answer, so it's not a done deal.
Kyung-joon drags Mari back to his house, and she warns him that if he goes through with the marriage, she'll blow the lid for real next time. He argues that she's just a kid and if an adult says she's lying, that'll be the end of it.
She counters that when a kid whines relentlessly, adults can never win. She reminds him of their parents—because of her, they didn't marry after all, right? Kyung-joon: "And what happened to my mom because of that?" Ouch. He leaves her reeling.
Da-ran stays up that night, pondering the ring over a can of beer. She imagines what Awake Yoon-jae would say if he woke up a married man. Scenario 1: He smiles winningly, thanks her for her smart real estate choices, presents her with flowers as the family cheers and confetti comes from nowhere. Cute.
But then she realizes that it could easily go the other way. Scenario 2: He glowers, Se-young sidles up to him, and they present her with divorce papers as they smile. Da-ran shakes her head in confusion – which one is it?
Well I'd argue that even if he had every intention of marrying you, he'd want to, oh I dunno… choose to marry you, or remember walking you down the aisle? And that's even in the best-case scenario, in my brain.
Mom sees her worrying over her decision, and tells her not to be swept along by Yoon-jae like she was before (THANK YOU, MOM). She asks Da-ran to follow her own heart this time—don't think about what Yoon-jae feels, but ask yourself what YOU feel. With a mom like this, how did you turn out like that?
She's left asking herself what her feelings for Yoon-jae are now. But her thoughts go to Kyung-joon, as she remembers him saying that he'd never ever love her.
Mari asks Choong-shik how much Gil Teacher loves Seo Yoon-jae. Choong-shik says that his sister would wait alllll day for a phone call from Yoon-jae, and was pretty pathetic, if that's an indication of how much. That puts Mari at ease—she won't have to worry about Teacher as competition then.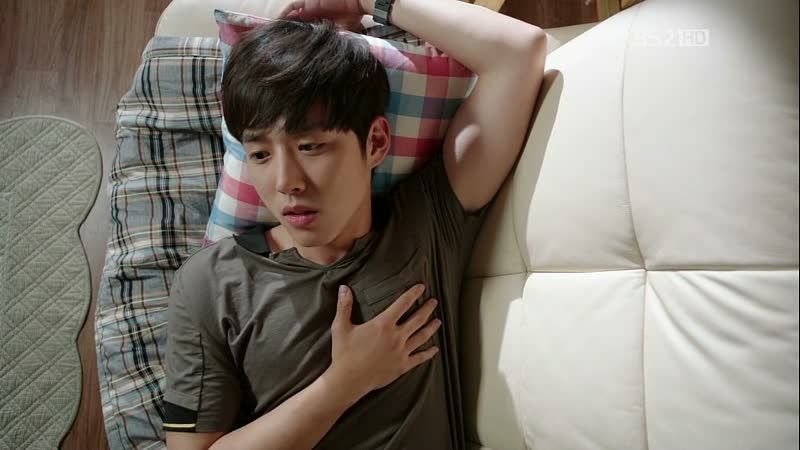 Choong-shik takes that opportunity to ask Mari: "How much do you like me?" He knows that she likes Kyung-joon, but they've accumulated affection, over pizzas and the like, right? So… if Kyung-joon is 100 points, how many does she like Choong-shik? Thirty? Twenty? He meekly adds that even ten is cool…
Mari ponders it. Choong-shik holds his breath. Mari: "Zero!" (bbang = zero, also the sound of shooting a gun).
She points a finger gun right to his heart, "Bbang, bbang, bbang!" Poor kitten. He ends up a lifeless carcass on the couch, still holding a hand to his broken heart.
Kyung-joon sits with his colleagues in the hospital cafeteria, (I'm still confused as to how this kid is playing doctor on a daily basis.) bored by the mundane conversation. He looks over at the next table and sighs heartbreakingly at three teenage boys laughing and horsing around.
This, I love—when he was eighteen, he just wanted to hurry and grow up quickly as we all do, but now that he's experienced adulthood, he misses acting his own age. It's why old people always say things like "youth is wasted on the young."
He hides out in the pediatric ward again (I guess it's a good thing Yoon-jae is actually a pediatrician) and despite his outward dislike for children, he's already developed a cute rapport with them, calling them by their nicknames Bunny and Teddy Bear. Around them, he doesn't pretend to be an adult.
Da-ran meets with Se-young to ask her how far her relationship with Yoon-jae went. Se-young scoffs and without flinching, says that they slept together. Da-ran calls her bluff, and Se-young wonders if she's found some new confidence, because she had such an inferiority complex before.
Da-ran says this time around she does feel confident, and she's going to go where her heart tells her to. She asks again about whether or not they were cheaty cheatersons, but Se-young refuses to give her the satisfaction of knowing, and lords it over her: "I'll never tell you." Well… did you really expect the Hateful One to be helpful?
She heads over to Kyung-joon's and watches him as he waters the lawn. His smile sends her heart skipping a beat, and she puts her hand over her heart as she tries to suss it out. Is she wondering what I'm wondering? Is that heart jumping for the soul or the shell?
He makes it rain for her by spraying water over the patio umbrella, and then they take turns sitting in the rain. It devolves into a water fight, of course, as they run around the yard screaming and laughing and getting soaked.
Inside, they do damage control over the wet contents of Da-ran's purse, and then she discovers that the ring is missing. You… weren't wearing it? That's telling.
They go outside to look for it on the lawn, but after a cursory look, she says they should forget about it—if it's lost, it's lost. He looks at her quizzically. That's telling too. Did she WANT to lose it?
He asks her as much—is she happier now that it's lost, and it does the deciding for her? She doesn't argue the point, saying that things were clear before, and that ring just turned everything upside-down.
She's happy to let the ring's disappearance be the answer. But Kyung-joon calls her a coward for not facing the thing she's really afraid of—sticking it out with Yoon-jae until she can be sure whether or not he loved her. He calls her out for being too scared to find out the truth.
She argues that she can't just marry Yoon-jae one-sidedly – that's not an adult thing to do. But Kyung-joon counters that the real adult thing would be to wait it out, get rejected, and THEN give up, not any time before. "Like I did." Aw.
Da-ran says he's right, and she's not a grown-up, so he should stop leaning on her then. She storms out and he screams after her that he's just going to marry whichever girl Yoon-jae's mom shoves in his line of sight then, and she'll have lost her chance.
They each sigh, angry and all turned around.
Mari asks Choong-shik about his sister, and he says that she still hasn't made her decision. She gets up to leave, and he starts in on this really cool speech about setting up shop in her heart and waiting as long as it takes to earn that first point…
…which Mom interrupts by asking him to take out the trash that she found under his bed. Porn alarm! His eyes go wide and he races to sit on the evidence before Mari sees it, but the damage has been done.
He screams at Mom that he hates her, even though she's pretty much the coolest mom ever—her complaint isn't the porn, but the clutter. Ha. But later that night, Choong-shik gets dressed in all black and kidnaps his piggybank with a hand over its mouth. In case he squeals?
Should I even be asking why he's dressed for Mission Impossible if he's running away from home?
Meanwhile, Kyung-joon stays up late reading his textbooks, and scowls at the very important file for school that Da-ran left behind in her haste. He tells imaginary Da-ran that it'll serve her right to get into a crapload of trouble with the vice principal.
Cut to: Kyung-joon with said file in front of the mandoo restaurant. Hee.
He peers in the window, and sees the whole family pacing in worry, after discovering that Choong-shik has run away. Da-ran hesitates with her phone, realizing that she could call Kyung-joon who could call Mari, whose calls Choong-shik would answer… but she stops short.
Suddenly, someone zooms past Kyung-joon into the restaurant. It's Na Teacher, who races to the rescue to start the search for Choong-shik. Kyung-joon wonders why he was called, and then sighs that she should make it work with him then, and turns to go.
But Mom comes out and finds him there, impressed that he came running over because he was worried about Choong-shik. He's like, yup, yup, totally why I'm here.
He gets brought in, and immediately the search for Choong-shik devolves into a suh-bang war. Dad's on Team P.E., while Mom's on Team Doctor, and Da-ran gets foisted on one after the other.
The two men eye each other up and down warily, each posturing that they'll be the one to find Choong-shik first. Pfft. This is hilarious. Suddenly which team Da-ran goes with is a Big Decision.
Kyung-joon heads out first, calling Mari into action. (He adds for her to not take P.E.'s calls, heh.) Da-ran comes out with Na Teacher, and Kyung-joon refuses to share information since she's on the other team. So petty.
But she tells Na Teacher that she's going to join the other team after all, and comes back to Kyung-joon. So while Team P.E. goes the CSI route (epically, I might add), Team Doctor just sits back and waits for Mari to work her magic.
Da-ran asks how he can be so calm and do nothing, but he counters that all they have to do is wait for Mari's call. She accuses him of not understanding since he's never rebelled. He says she's wrong, and Da-ran scoffs, "What, did you say you were going to Harvard instead of Seoul University?" Okay, that's pretty funny.
But judging from his stoic reaction, she realizes that he really must've had quite the rebellious episode. Mari calls, her face twisting when she hears Da-ran's voice answer Kyung-joon's phone.
She purposely separates them, sending Da-ran to the train station and asking Kyung-joon to come to the jjimjilbang. That's where Choong-shik is, of course, and Kyung-joon finds him right away.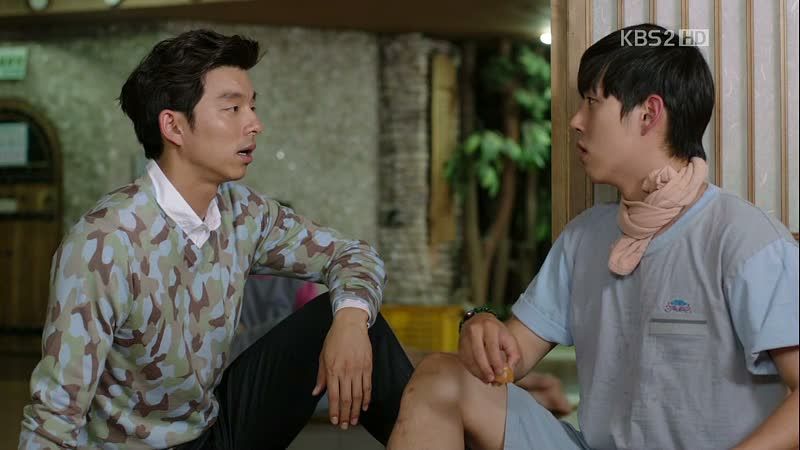 Choong-shik swears he's never going back home and he doesn't care if he never sees Mom again. But Kyung-joon tells him his own story (couched as a second-hand Kyung-joon story, natch) – he rebelled once and then his mom died.
He had said the same thing, thinking he wouldn't care if he never saw Mom again… and yet never once actually thought it would come true. Sweet little Choong-shik immediately asks, "Is my mom okay?"
Kyung-joon advises Choong-shik to rebel often and in little spurts, not to keep it in and let it blow up like this. That's actually really good advice. He offers to help Choong-shik negotiate the terms of his return, if that'll help him salvage some pride.
But they're interrupted by Mari, who thinks it'll be fun to spend the night there. Choong-shik lights up to realize she's been looking for him.
Kyung-joon asks after Da-ran, thinking that she went to a jjimjilbang near the train station, but Mari corrects him—she sent her to the underground train station, where homeless people spend the night.
Both boys gape, you sent her where?
Da-ran wanders the train station, calling out Choong-shik's name. Her fear grows, but she just keeps going, until drunk men surround her on either side. Someone grabs her and she lets out a scream… but it's Kyung-joon.
He yells, "Are you crazy? How could you come to a place like this alone?!" Her voice shakes as she insists she's fine and asks why he's getting mad at her. Because he's worried!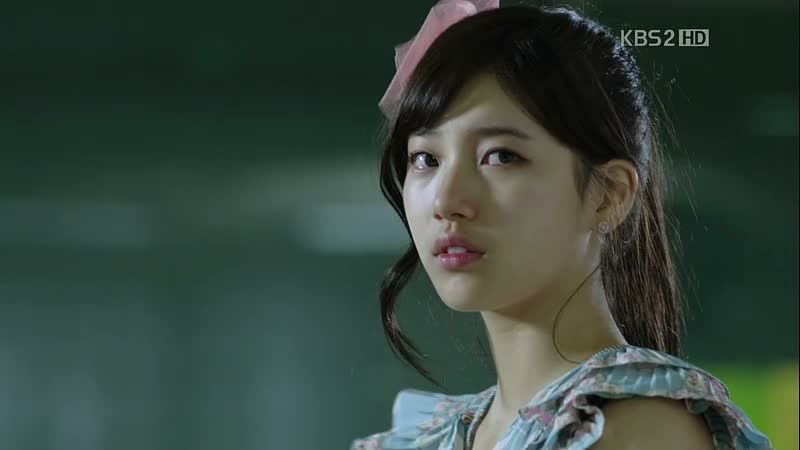 They linger for a moment, until Choong-shik runs up. Da-ran hits him, breaking down in tears, and Kyung-joon leaves them behind. Mari watches all this with a heavy heart, and Kyung-joon pointedly walks past her like she's invisible, angry for her stunt.
Da-ran brings Choong-shik home, and Dad growls at him, while Mom just grabs him in a teary hug. Choong-shik just ekes out a "Mom" that kind of kills me.
Dad is surprised to hear that Seo-suh-bang found Choong-shik after all, and asks to see him. It's not open arms, but it's tacit approval. But I'm just wondering if anyone remembered to call Team P.E., or if he's still out there sniffing leftover ramyun in the street.
Da-ran comes out to find Mari in tears, worried that Kyung-joon is mad at her again for lying. She confesses that Kyung-joon doesn't like her because his mom died because of her.
Flashback to the night that Mari's dad was planning to propose to Kyung-joon's mom. She had hatched a plan to lie to Dad and play sick, to keep the proposal from happening. She told Kyung-joon to keep his mom from coming over.
But she tells Da-ran that the same night, his mom was shot and she died… which would never have happened if Mari hadn't stopped her father.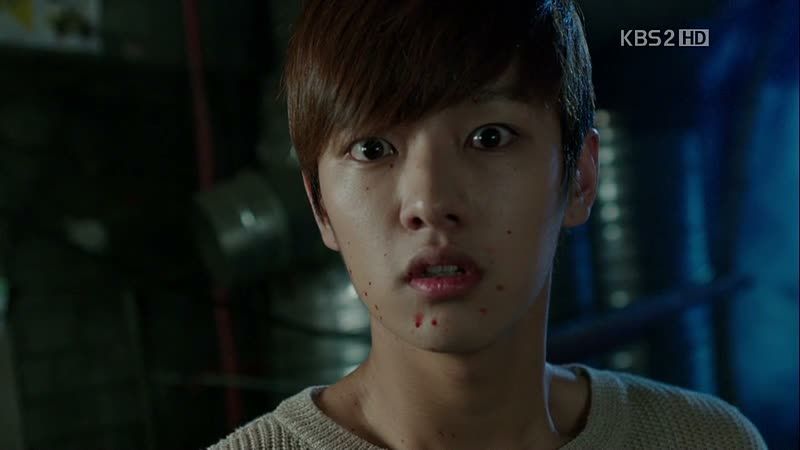 Da-ran comes to see Kyung-joon, who's thinking about that same night. Return to his side of the flashback, when Mom tells him that she has a date, but he tells her not to go—"If you do, I'll never see you again." Aw, so he really blames himself.
Mom agrees not to go, and then later that night, Mom and son leave the restaurant… and Mom gets shot in the alley, right in front of his eyes. Her blood splatters all over him and pours out from her wound as he stands there, shocked.
Back in the present he explains absently to Da-ran that he didn't want Mom going to someone else. (So for Mari it was her love for Kyung-joon, but for Kyung-joon it was his dislike for the idea that Mom would remarry.)
He says that he threw a tantrum like a little baby, and then Mom died and he never saw her again. Da-ran just quietly puts her arms around him, "It's not your fault. You were just being like Choong-shik. It wasn't because of you." I love everything about that moment.
The next day, Mom and Dad have lunch with Na Teacher to thank him for his help with Choong-shik, and Ae-kyung and even the vice principal tag along. It turns out that the VP is one of Dad's old colleagues… which means she's ALSO Mom's high school teacher. HA. Okay, that's not weird or anything.
At the same time, Kyung-joon's uncle comes back hoping that Mom will recognize him, and wonders if it's because of his mustache that she can't. He watches with his finger over his lip, but his face falls as he watches Mom and Dad fawn over each other like the happy couple that they are.
Uncle and the VP lock eyes and then recognize each other. Flashback to Scandal High, where High Schooler Mom was flirting with Teacher Dad, while jealous onlookers VP and Uncle had seen each other for the first time. With adults so immature, who needs kids?
Choong-shik tells his buddies at school that he was going to stay away, but since Mari was searching for him so desperately, he returned. They point out that he can't seem to put his butt down on a seat like he got spanked.
But Choong-shik corrects them—he allowed himself to be beaten by Mom to make her feel better. Hahaha.
Kyung-joon finds Mari crouching in front of his gate. She's adorable when she thinks he's mad at her. She says she brought him his favorite ice cream, but her face falls when she realizes it's all melted now.
He takes it anyway and tells her it's not her fault. "And Mom… that wasn't your fault either." I love the round robin of everyone clearing up everyone else's guilt. She promises not to force everything to get her own way anymore, and he just drums his fingers on her head like he used to. She smiles.
Da-ran sits with Little Kyung-joon in the hospital, thinking again about his proposal. And then she meets with Se-young again (WHY?) to declare that she doesn't care anymore about their past. So then… why are you calling her out to coffee if YOU DON'T CARE??
Anyway, she says that she's going to be an adult and become a tree that doesn't waver, so he can lean on her. That sounds like she's talking about Kyung-joon, not Yoon-jae.
Se-young counters that to test her unwavering tree-ness, she'll have to blow some wind her way every so often. Wind, my ass. You're more like the opossum that won't get your tail off the damn tree.
Da-ran slams her fist down and challenges her to try, because she's going to be like the tree in the national anthem and be strong like she's chained to the ground. To that end, she goes back to search for the lost ring.
Kyung-joon finds her and lets her fish around for a while before presenting her with the ring that he already found. He holds it out, and she stares at it for a while first. She finally admits that she still has feelings for Yoon-jae.
Kyung-joon: "I know that the person Gil Da-ran is looking at right now isn't Kang Kyung-joon. I'm not going to be a little kid anymore, and block someone's heart from going to the person they like."
She in turns says, "I'll help you grow up well, by your side. Kang Kyung-joon, marry me. I'll raise you well." That's actually cute—she's proposing to raise him. She takes the ring with a smile and then pets him on the head. Adorable.
He goes over the terms with her, deciding that if he's still in this body by age twenty (legal adulthood), then they'll split up and go their separate ways. She gives herself a little pep talk that the ring is like the tree's chains, and vows to stand firm.
She goes to put it on, but Kyung-joon stops her. He knows it won't be like Yoon-jae putting it on her finger, but offers to do it in his stead. He promises once again not to be nice to her, just in case she forgets who he is and jumps his bones. So Dog Manners get reinstated, to her great dismay.
And then they argue over a little cheer, but I'll tell ya right now—you two don't get to hoi-hoi over this.
Mari returns to her Moon/Sun shaman to exchange her first talisman for a new one—this time one that will ensure that no matter how stuck together two people are, that they won't end up liking each other.
The shaman sends Choong-shik to the other room again, but this time Mari protests that he's not pure. Because of the porn? Pwahaha. He swears that it's his dad's, and goes to serve his part. Mari tells the shaman that this time the talisman has to work.
Se-young meets with Yoon-jae's mother to tell her that she still wants to be in contact, even if Yoon-jae gets married. Well that's just weird. Anyway, she notices the Miracle book on her stand and asks about it.
Mom tells her that it's an unpublished book. Yoon-jae's father drew it himself when Yoon-jae was still a child, and it's about one child saving another… so that child can save someone else.
Wedding prep gets under way, and they're seriously rushing this thing. With a day left, Mari tries on her bridesmaid's dress… which looks like a bridal gown took a detour in a shrinking machine.
Choong-shik goes googly-eyed but has enough sense to tell her that wearing a dress like that isn't really kosher at a wedding. Wouldn't that steal the bride's thunder? She says that's the point, duh. This is going to be one fantastic wreck of a ceremony, isn't it?
Da-ran and Kyung-joon go over last-minute things the day before the wedding, and Da-ran illustrates a point with a can of beer and a vitamin water. She says that the day he becomes an adult, she'll crack open a can of beer for him herself.
He makes a move to open it now, but she stops him, saying that this is the line they cannot cross. She's beer, and he's soft drinks, and they are to abide by that rule.
He agrees to it—the day he becomes an adult, he drinks that beer, and they part coolly, like adults. They drink to it.
The wedding happens… offscreen? Hm. And Dad adds a wedding photo to his rock collection lineup. We catch up with the newlyweds (still trying to wrap my head around that fact) as they drive away from the wedding to the airport.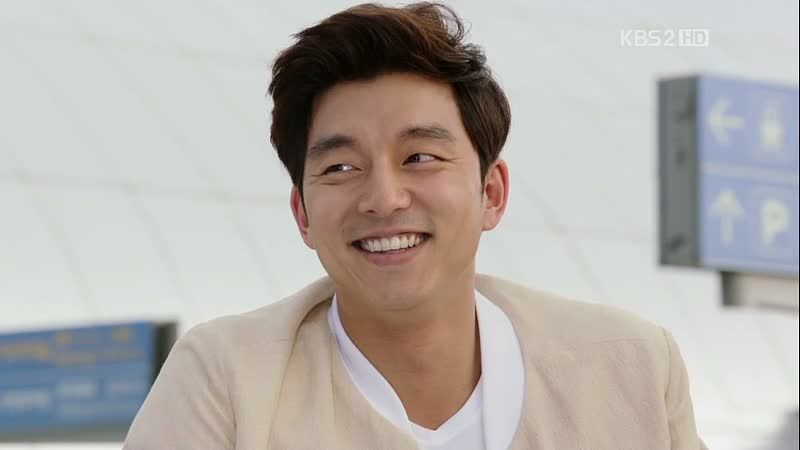 Da-ran is ecstatic about her honeymoon trip to China… which she's going on alone. Ha. She's using the time off as an excuse to go on a vacation. Kyung-joon is in a foul mood about it the whole way, and he drops her off, disappointed that she never once thought to ask him to come along.
But after she's gone, he looks down and notices her ticket and passport, sitting there on the seat. That smile on his face is priceless. He just leans back and waits, and then pretends to be far away when she calls in a panic.
He says he'll try to hurry… and then waits till the plane is in the air before sauntering into the airport with a huge grin. "Oh no… am I too late?" Pffft.
He takes her to eat Chinese food instead, suggesting she practice her Chinese with the cook in the kitchen, which is the worst consolation prize ever. She sighs that they should just go home, but he suggests that they go on a trip anyway – not a vacation, but a honeymoon. Her jaw drops.
Yoon-jae's mom calls his father, disappointed in his lack of presence, though she seems quite used to it by now. He tells her that something important came up—he found out that "that child's" mother was shot and killed.
She gasps and asks what happened to the child then, and Dad says he's looking for him right now…
Kyung-joon and Da-ran walk through the airport discussing honeymoon destinations, and she says she wants to go to China, to see the long gil-da-ran Great Wall. He smiles, "Okay, we'll get Gil Da-ran on the gil-da-ran Great Wall then."
She wonders belatedly how he happens to have his suitcase and passport handy. Heh.
She admits that she wanted to ask him to come with her earlier, but thought it would be weird to be on a honeymoon with him. He totally raises his eyebrows knowingly, "Why?"
She gets flustered trying to explain that what people go on honeymoons for is… well… And he laughs at her. Sometimes I do wonder who the adult is in this relationship.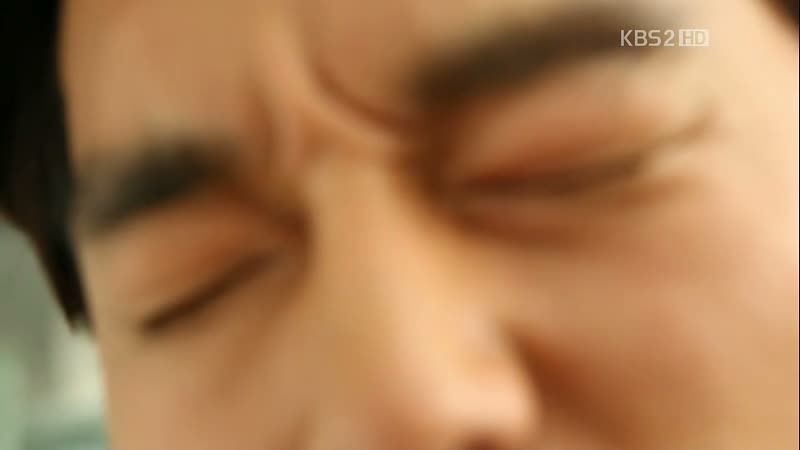 She makes an excuse to run off and get cash, and wonders aloud why her heart's all aflutter at the thought that he's coming with her. She slaps her face to get it together and not let it show in front of Kyung-joon.
He looks at all the possible destinations and grins like a fool in anticipation. But suddenly a strange feeling comes over him, and he falters.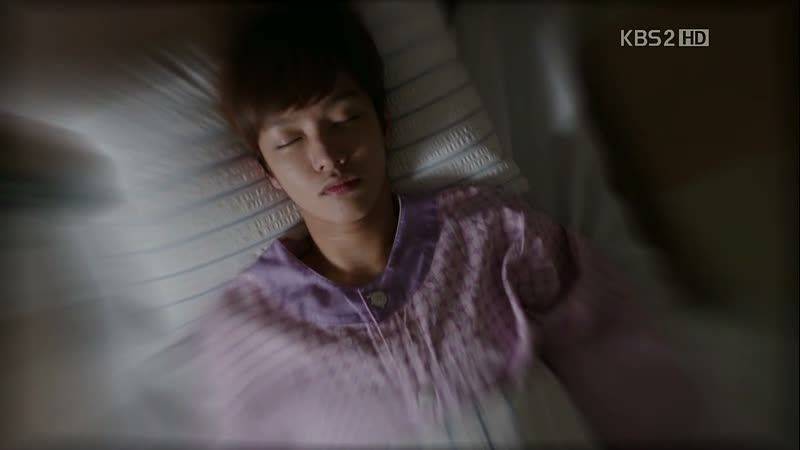 We get a vision of Little Kyung-joon in the hospital. His body jolts…
Da-ran comes running up, "Kyung-joon-ah…"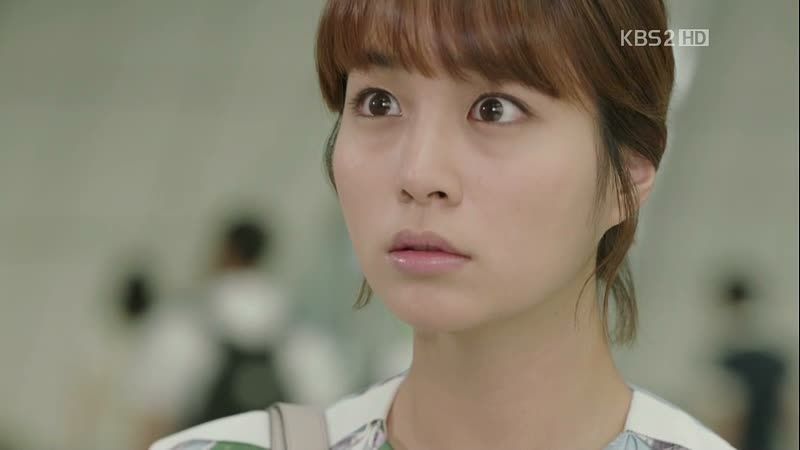 I'm holding my breath…
He comes to, and says, "I think I just went to my own body and came back. Congratulations, Gil Teacher. It looks like Seo Yoon-jae is coming back."

COMMENTS
And… I don't even know if that's a good thing anymore. I know it has to happen eventually, but the thought of a switch-back makes me nervous, and Da-ran seems damn near terrified of facing Yoon-jae now. As well she should, since she off and married his body while he was asleep. I still think actual marriage was a big ass mistake, since she could find other less permanent ways to protect Kyung-joon without marrying Yoon-jae's shell. I… just don't understand her. I've tried so hard to, but every time I think I get close to liking her, she throws me for a loop. I spent the whole episode thinking that the only person who made any sense was Mari. And she's crazy. I don't know what that says about me, but I swear, crazy girl was the only one talking any sense today.
If Da-ran had married Yoon-jae in the beginning and then Kyung-joon got swapped in, we could have had the marriage hijinks without Da-ran choosing to marry a teenager now. I know it's not real—she's not marrying Kyung-joon to marry him, but it's still in no way the only solution that could have come out of the situation. I know they tried to make it a backed-into-a-corner thing with the parents, but that's just stretching my story logic a bit too far. Body swap makes perfect sense, but this marriage does not.
That's not to say that I don't like the relationship, because everything about her choice to stick by Kyung-joon's side and help him grow up is what I do really love about her. (Though in my estimation, it took us way too long to get there with the character.) I love that she's choosing to be his tree, and that her intentions are (I think) finally in the right place. But the idea that they HAD to get married to preserve that makes me roll my eyes. Because that makes the kind of sense that doesn't.
What I do like is that in the course of the episode, Da-ran goes from asking herself what Yoon-jae's feelings are, to figuring out what HER feelings are. And then the conclusion isn't actually about Yoon-jae at all, but about Kyung-joon and the fact that she wants to take responsibility for him, in the adult-to-child way. I'm with her when she decides to be his tree and not waver, so he can lean on her and grow up. That gets me in the heart. I just wish that they had come up with a method that didn't involve a sham wedding. 'Cause even a sham engagement is something I would've been onboard with, but sealing the deal?
I'm beginning to realize why I wasn't invited to the Mistake Parade that was their wedding. Because at the "speak now or forever hold your peace" part, I would've been Head Nerd in a classroom, hand in the air going, "Oooh, ooh ooh ooh, pick me! Pick me! Me! Over here! Yoo-hoo! Ooh ooh! Me! Not wanting to hold my peace! Er, whatever that means!" *arm cramp*

RELATED POSTS
Tags: Baek Sung-hyun, Big, featured, Gong Yoo, Lee Min-jung, Shin, Suzy