Gaksital: Episode 6
You'd think it's an exaggeration to say that this is the episode in which EVERYTHING happens ever, but it's not. Greatly in need of hugs. Also a new heart. Anyone got a spare?

EPISODE 6 RECAP
Kenji shoots Mom, who crumples to the ground. And then as soon as he gets word that Gaksital is currently committing crimes elsewhere, he turns tail, not caring that he then shot a woman FOR NO APPARENT REASON. Hate you.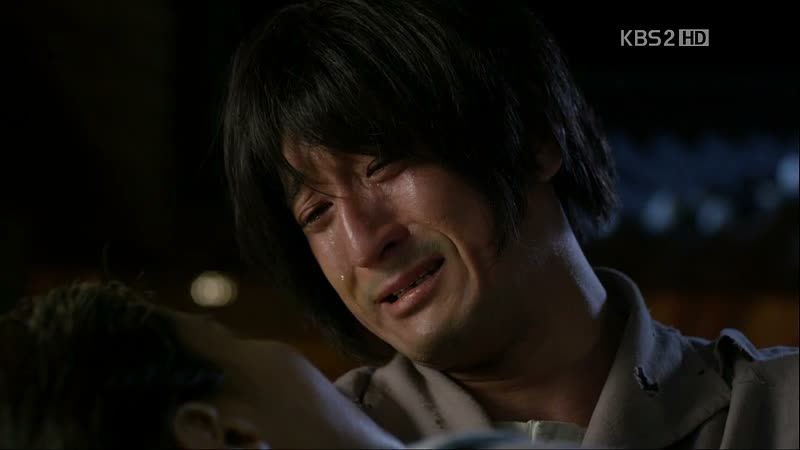 Kang-san falls apart, wailing and pleading for Mom to wake up.
Baek Gun is on his way to the house when he sees Kenji and his troops march past. He rushes to Kang-san, worried. Kang-san sits, cradling Mom in the yard.
Kang-san: Wake up, Mother. The ground is cold. That your son isn't an idiot… and for Kang-to to know that his hyung isn't an idiot, to stop being a foreign stoolpigeon so that Mother can live a long, long life… after I avenged Father, I was going to tell you everything… everything. Mother, wake up. Wake up. It's cold here. It's cold. It's cold. Let's get up, Mom.
Mrrrrmph. *tears* He looks over at the mask that Mom had hidden in her skirt to protect him. He glares at it now with hurt, angry tears. I think it's this moment when I really connect with Kang-san as Gaksital. It brings him down to earth to see him resent the mask for what it cost him.
He moves her inside and lays her down, as Baek Gun comes running in. He asks frantically if it was Kenji, and why?
Kang-san tucks Mom into bed and admits, "I let go of her hand. Ajusshi, even when he held a gun to Mother… to hide the fact that I am Gaksital… even when she ran into him… I measured and calculated: what if I were discovered like this, what about Father's revenge, and Kang-to? Can I still be called her child? Am I still a human being?"
He tamps down his tears and gets up in a furious rage, clasping his mask. Baek Gun stops him—she will have died in vain. But he screams that this is the guy who killed Mother, and goes running out. Oh crap.
At the sight of the robbery, the bank workers wait for the police. But it's Jun who arrives first, dressed in police uniform. He slashes their throats in two seconds flat. Huh. What's that about?
Kenji's lackey tells us what—they believe that Gaksital stole the money AND killed the innocent bank workers. Double crap.
Kimura visits Rie to tell her that the police and the newspaper (the reporter she strip-pokered) have been sent to the scene and by press time, the world will think that Gaksital murdered those men to steal the banknotes.
It turns out this is her idea, to make things difficult for Kono. Kimura lavishes praise, that is, until she tells him to refill the bank's funds. He doesn't so much like that idea, but bankrupting the bank isn't part of the plan. He complies because he really has no choice. I do love watching him squirm.
Rie makes one thing clear: "Gaksital can no longer be a hero to the Joseon people."
Kenji and Reporter Park stand around the crime scene going over the story that is to appear in tomorrow's headlines. Why even bother going to the crime scene if you're just going to invent the story anyway?
Kang-to arrives just in time to see the bodies before they get hauled away, and figures out with one look that this is the work of a skilled swordsman, which doesn't fit Gaksital's M.O.
He gives Reporter Park a quick reminder of his temper, if such details were to be ignored in the press. Park gives a hilarious attempt at saying something like "the pen is mightier than the sword," but even he knows that's a dumb thing to say to Lee Kang-to, and trails off.
Kenji fumes and sends Lackey to kill Kang-san after all, just to see if Kang-to will stay loyal to the government that killed his mother and brother. Just to see?! You sick son of a bitch.
But Gaksital arrives on the scene to attack first, and gets Kenji beaten down and cornered. He raises his stick, screaming in furious rage…
…when Kang-to attacks. OH NOES.
Kang-san says to himself in voiceover for Kang-to not to do this, as they fight. Fists go flying, and Kenji sees the opportunity to run away. Kang-san can't let him go, so he beats Kang-to down and stops Kenji.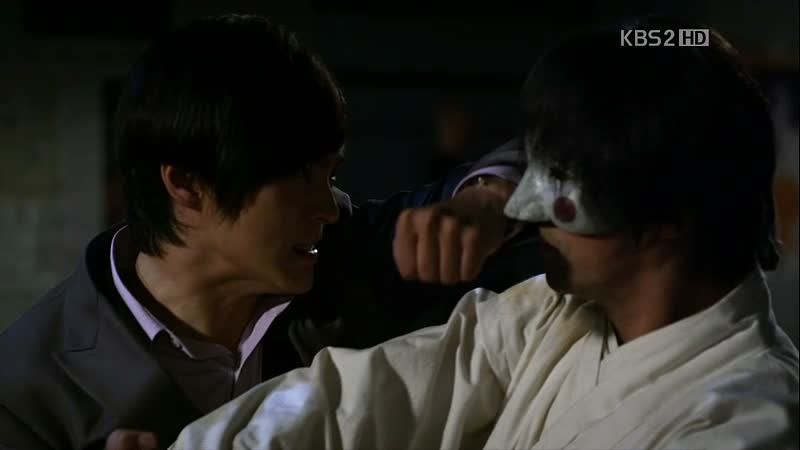 He raises his stick again, and Kenji shuts his eyes in terror…
A shot rings out.
FUCK. Nononononononono! Kang-san bleeds, shot right through the torso, and turns around to see Kang-to with his gun aimed right at him. Kang-to smiles like he's finally caught the white whale. Damn, that smile is haunting.
He runs to capture Gaksital, when Baek Gun flies down from the shadows and knocks Kang-to out. They run off before the two cops can get back up. Auuuugh, Kang-san is bleeding profusely from the gut.
Kang-to gets up like the dogged cop that he is and quickly finds the blood trail. "Bingo." Stop that! This is horrible. And awesome. Our hero is hunting down his own brother!
The trail leads… to home. Kang-san has collapsed in the yard. Baek Gun pleads with him to run away, but Kang-san says he can't leave Mother. He asks Baek Gun to tell Kang-to about how their father died, and why he put on the mask.
They hear Kang-to arrive outside, and Kang-san tells Baek Gun to run.
Kang-to comes in with that smile on his face, laughing that Gaksital's big plan was to run right into the lion's lair. He goes to remove the mask, and Kang-san puts his hand up—he'll do it himself.
He starts to untie the strings. Even in this moment, I'm half expecting Baek Gun to come flying back and knock Kang-to unconscious. But he doesn't. Kang-san lowers the mask…
His head is bowed, but Kang-to sees enough that the smile disappears from his face. Kang-san starts to raise his head, as Kang-to teeters backward in shock. "Hyung?"
Hyung says yes, it's him. Kang-to looks down at the mask and back up at Hyung, back and forth, back and forth, as he starts to breathe again. "It makes no sense. It was you? You're… Gaksital?"
Hyung: "I'm sorry. I wanted to tell you everything. I didn't want to burden you. I wanted to take care of it myself."
Kang-to kneels down and clutches Hyung by the collar, "How can you—how can you be Gaksital? How? HOW?!" Now crying and pleading in desperation, he screams, "You were an idiot! A fool! A retard!"
Hyung just raises his hand to Kang-to's face. He caresses his cheek. Hyung starts to cry, as Kang-to trembles. Hyung: "Our Kang-to is very handsome. My little brother… your hyung… missed you. What do we do?"
And those are his last words, as his head sinks down. Kang-to lets go of Hyung's collar in terror, falling backward as Hyung's limp body drops to the ground.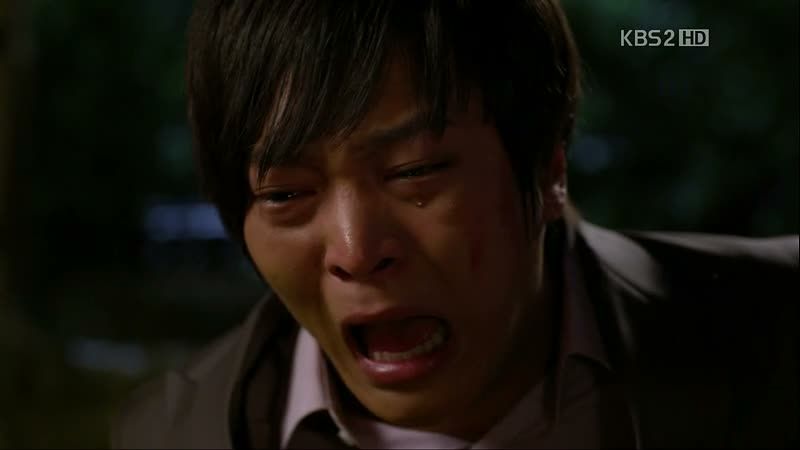 He inches backward, the tears tumbling out. He looks down at the mask again. Flashback to his fights with Gaksital, the time he was saved by him, and watching Hyung break down, playing the fool to keep his cover.
Kang-to starts to shake his head no, as the flashbacks turn to happy childhood memories of Hyung, and then that breakfast where Hyung had given him all the fish. And ohgod, the time he beat Hyung to a pulp in the street. Oof.
Finally, words come out, "Mom… Mom…" OH NO. Just kill me now.
He screams through his tears for Mom to come out, breaking down as he says the words, "Hyung is dead." He starts to get angry that there's no answer, and goes tearing inside…
He yells, "Can't you hear me?" and yanks on the covers, to find her covered in blood, long dead. He falls to the floor with a thud. He lets out this silent wail of horror, and his voice belatedly catches up, in a piercing cry.
*curls up in fetal position, rocks back and forth* It's gonna be okay… It's gonna be okay…
We cut to a restaurant, where the locals toast to Gaksital. The guy who beat Kang-san up in the marketplace eyes his buddies with Evil Plan Face, likely plotting something against Kang-to.
Back to Kang-to, lying down to hold Mom's head to his, crying and crying, and breaking my heart. His tears turn angry and then he storms back out to Hyung. (Could this BE any more horrifying, to go back and forth from dead body to dead body?)
He grabs Hyung's limp body by the collar, screaming, "You're Gakstital? You couldn't even protect Mom, and you call yourself the protector of the Joseon people?! Don't kid yourself! Don't kid yourself, you bastard!" Ouch. Hurts because it's true.
"It's because of you isn't it? She was shot because of you?! BECAUSE YOU'RE GAKSITAL?!" He starts to drag him across the yard, intent on taking him down to the station. Omg, the denial is killing me. He'd dead!
But Baek Gun arrives just in time to stop him. He introduces himself, and Kang-to has to search his memory to recognize him. He grabs Baek Gun, accusing him of turning his innocent hyung into Gaksital, twisting him for his own purposes.
It's like he hasn't fully processed yet that Hyung was never the sweet idiot. He asks who killed Mom, and Baek Gun says he can't, not with Kang-san lying there like this. But Kang-to's no dummy—if Hyung had discovered who killed Mom, he'd have done the same… and when Kang-to found him, he was tearing into Kenji, thirsty for blood.
He lets out his own blood-curdling cry, "KIMURA KENJI!" He picks up his gun and goes running. Oh no. My heart can't take this!
Baek Gun sees the mask on the ground and picks it up, and goes running after Kang-to. He flies across rooftops and cuts him off with ease. Kang-to raises his gun to order him out of the way. He complies, only to knock him out with one swift move. Ha. Okay, thank goodness for you.
But while they're gone, the scheming guys from the restaurant show up at the house, intent on getting their petty revenge on Traitor Kang-to. They light bottles on fire, and throw them into the house and the yard. Holy… are you freaking kidding me? I need new words for: Worst Day Ever.
The fire engulfs both Mom and Hyung, and by the time Baek Gun arrives carrying Kang-to on his back, the house is up in flames.
Neighbors run around, throwing futile buckets of water at the house, and Kang-to comes to from the commotion. He freaks out and lurches forward to run into the flames to save Mom and Hyung, but Baek Gun holds him back as he screams and flails.
And then finally, the most horrible night ever comes to an end.
Shunji shows up at the hospital in the morning and laughs at sleeping guard Abe. He doesn't wake up, so Shunji does his best Kang-to impression, and Abe darts to attention. That's some fear.
Shunji gives him a lunch he packed for Kang-to, but Abe tells him that he hasn't returned since going out last night to catch Gaksital. Shunji asks Abe to go fetch him a newspaper, and Abe tells him not to let anyone else into Mok Dan's room. Ha. Nevermind that you've let the one person that Kang-to didn't want inside, inside.
Shunji presents Mok Dan with lunch, only she's got one hand cuffed to the bed and the other hooked up to an IV. He offers to feed her, smiling from ear to ear.
Abe comes running in with today's news sheet with the headline: "Gaksital kills bank employees, shot by Lee Kang-to while trying to escape."
Mok Dan grabs the paper to see for herself, trembling. She starts to ask Shunji for a favor but stops, and he knows what she's asking—whether Gaksital survived. He tells her he'll find out.
She says that Gaksital is probably someone who knows her. She thinks to herself that it's the young master.
Kang-to and Baek Gun bury Mom and Hyung on a hilltop, and Kang-to kneels by the graves, looking hollowed out. Baek Gun explains that Kang-san had to avenge their father's death, and got released from prison by pretending to be crazy. He had to maintain that cover from then on.
He tells Kang-to that his hyung was always heartbroken over his little brother, knowing he was after Gaksital, but never able to tell him the truth. Kang-to asks to be alone, not ready to hear it all.
More painful flashbacks, of how horribly he treated Mom and Hyung, and how each time, they still showed him love. Now the memories of the sweet idiot brother take on a new light, as he thinks of all the times Hyung had taken all of his hateful vitriol and pretended to be an oblivious fool who knew nothing but love for Little Bro.
He cries as thoughts turn to their last night together as a family: Mom's prayer for him, crying into Hyung's shoulder, and then that breakfast that made me cry the first time, and now it's just The Breakfast of Pain.
His cries ring out from the hilltop: "Hyung. Hyung! HYUUUUUUUUUNG!"
Police Director Kono worries after Kang-to, who's been MIA for over twelve hours. Kimura scoffs—shouldn't their worry be about whether or not Gaksital survived?
Public Enemy Number One is missing, and the guy who shot him is also missing—does the Director really think that Kang-to should still be heading the investigation? Kimura declares that he's taking over the case himself, and Kono can't argue this time.
Kono goes directly to see Wada Ryo, the governor-general of Joseon. He's an interesting character—our introduction to him is watching him inhale his lunch and then pick up every last grain of rice with a toothpick. So… cheap and greedy?
Kono is surprisingly casual with him. Behind closed doors they talk in banmal and Kono calls him hyung, griping about Kimura and nagging the governor about his gambling habit. He's desperate to get rid of that thorn Kimura, but doesn't have enough to oust him yet.
Kishokai meets, and the council flutters about with worry that Gaksital is still out there and passing along information about their organization to Lee Kang-to. But Kimura shuts them up in annoyance and declares that he's in charge of catching Gaksital now, so they needn't worry.
Only, what he really does is hand the investigation over to Kenji of course, which just makes me laugh. This is you Big Plan? Tell Kenji to kill Kang-to and Gaksital… again? For realsies this time? No, really really? And Kenji, is your arm seriously broken AGAIN?
Kenji struts down the hospital corridor and bursts into Mok Dan's room… and finds a gagged and naked Abe, cuffed to the bed. HA.
Mok Dan doesn't make it far in the police uniform before the alarm sounds, so she quickly changes into a nurse's uniform. She's juuuuust about to make it out right under Kenji's nose, when that weasel Kye-soon sees her and calls out her name. Drat!
Cut to the torture room, where Kenji has Mok Dan strung up and pokes at her gunshot wound. He asks where Gaksital is, and she in turn breathes a sigh of relief to hear that he's still alive.
Kye-soon comes running back to the circus to tell them she "happened to see" Mok Dan try to escape and get hauled away. She breaks down in fake tears. URG. I hate you most of all!
Shunji stops to look at a bride's mask from a collection of old masks donated for his charity. He ponders it as he thinks back to Mok Dan's guess that Gaksital was someone who knew her.
Sun-hwa comes bursting in with the news of Mok Dan's capture, and Shunji bicycles to the station in a panic. Can we get him a motorcycle or something slightly more badass?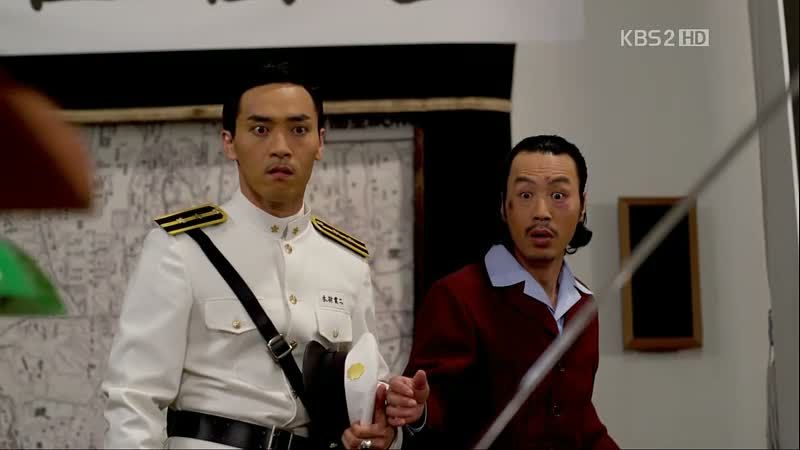 Kenji asks his lackey for an update on Kang-to, and smirks to find out that his house burned to the ground last night, taking Mom and Hyung with it. They figure he's MIA because he's at their funeral, and Kenji smiles at the convenience of having Kang-san die and Mom's death covered up, all without lifting a finger.
Suddenly a crash from above as an officer is sent flying. And then another. They look up.
Gaksitaaaaal!
He comes flying down and quickly disarms everyone, and knocks Kenji into rail behind him.
I'm cheering, but as he attacks and then keeps wailing on Kenji, it starts to dawn on me that he's not here to rescue Mok Dan or be the hero at all. He's here for bloodthirsty revenge.
He hits Kenji over and over and over again, with a rage and a force so strong that he literally BREAKS HIS NECK with his bare hands. Holy crap!
Kenji spits a mouthful of blood with his last breath and falls dead. Whoa, I hated him, but that was traumatizing.
At the same time, Shunji comes running in to save Mok Dan, and instead finds Gaksital in the act of dealing the deathblow to his brother. And here I thought the worst day ended yesterday. Shit.
Shunji: "Hyuuuuuuuung!"
He runs at Gaksital full-speed ahead, drawing his sword. Kang-to panics at Shunji's sudden arrival and defends himself, barely dodging being skewered alive.
Their arms lock as they growl and charge at each other. Two best friends, turned mortal enemies in one instant.

COMMENTS
Wow. Just… wow. Did we really kill off all those people and set up the epic rivalry of Shunji vs. Kang-to? All in one episode? And how scary is Shunji when he's not the gentle loverboy?
Man, I totally fell for the heroic fakeout. Mok Dan gets captured, heroic music plays as Kang-to arrives in the mask… but then you realize that you never actually saw him become the hero. Because he hasn't. He's not Gaksital. He's Kang-to, using Hyung's disguise to avenge Mom's murder. And they pulled no punches to glorify it—Kenji's death was gruesome. And he was clearly begging for his life, which Kang-to squarely ignored.
There's such a darkness to this character and the show that I love. I had a feeling that with a character so far gone to the dark side, Kang-to would have to suffer immense trauma in order to ever transform into Gaksital. I thought that the gutsiest thing to do would be to have him kill Hyung by his own hand, but I honestly didn't think the drama would go there. I'm impressed. (And in pain.) But mostly impressed.
I would've played along, if for instance Kenji killed Kang-san and Kang-to were to avenge his death. But for Kang-to to take up the mantle of a hero requires a profound sense of responsibility that he doesn't have otherwise, so I'm grateful for the proper motivation that's as dark and twisted as it needs to be. It was horrible and I'm gutted, but it feels right, and therefore really satisfying.
And there are certainly weak moments in Joo-won's acting, but nobody cries that from-the-pit-of-his-soul wail like he does. I thought he was gut-wrenching in Ojakkyo, but this time he ripped my heart out and nailed it to the wall. At least I know where to send my therapy bill?
I can't wait to see every moment of Kang-to's development from here on out. And why does he look like such a little kid in that mask? I guess it's because we've gotten so used to Hyung's grizzled chin underneath (when it wasn't a stunt double, hello confusing!) so now Kang-to seems like he doesn't fit the mask yet, like his face hasn't grown into it. I rather like that it's ill-fitting now, because I want to feel that rush when he does it right—when we feel like he's really become Gaksital.
I knew Hyung had to go, but taking Mom too, all at once—leaving Kang-to all alone in the world!— was harrowing. But Mom had to die for Kang-san to express his regrets and question his choices, and at least for me, make him seem more human. I had struggled with how cold and calculating he'd have to be to lie for so long, knowing how much Kang-to struggled with what he had to become to support his family. I know that ultimately Kang-san would still have chosen the cause over his loved ones, just as Mom did, but it still gave me that connection I needed, to see him wonder if that made him less than human. But his defining characteristic will always be his love for Kang-to, which I hope will save Little Bro from himself.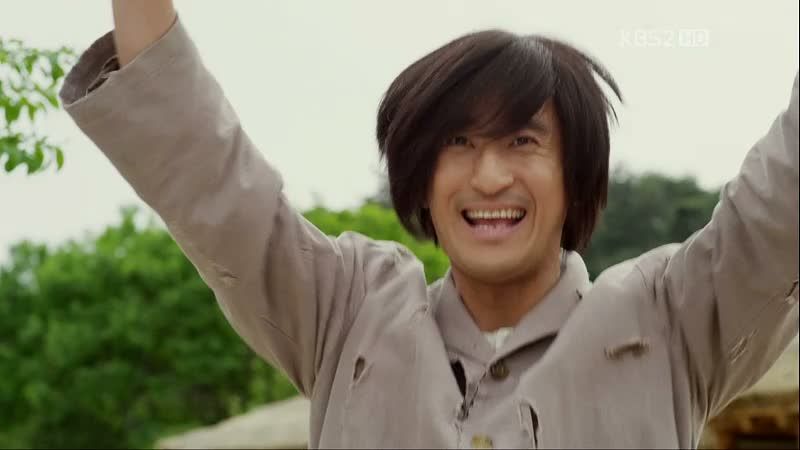 RELATED POSTS
Tags: featured, Gaksital, Han Chae-ah, Jin Sae-yeon, Joo-won, Park Ki-woong, Shin Hyun-joon