Gaksital: Episode 8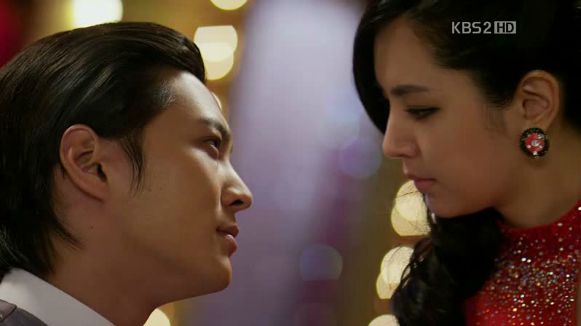 Is it… don't tell me… is it time for the up-do? Awwww yeah. I always get the best episodes. *mehrong at javabeans* Kang-to gets hardcore, throwing himself headlong into revenge. He goes even further to create his cover, becoming an even bigger bastard than he was before (if that's even possible). And yet, I just keep swooning at the hair. The Episode in Which Kang-to Gets a Hairdo, and I go weak in the knees.

EPISODE 8 RECAP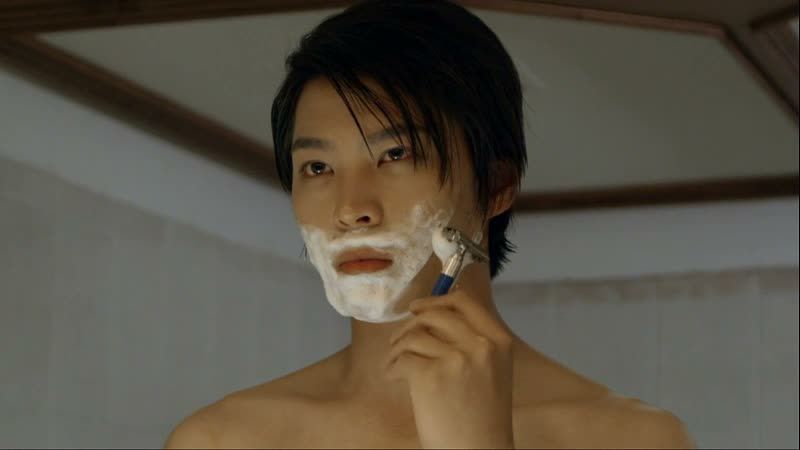 We open on Kang-to's morning routine, as he shaves intensely. Mrawr.
He goes to put on his uniform, and then rips the nametag off furiously. He heads straight to the tailor to get a new one stitched, for his Japanese name: Sato Hiroshi. Goddamnit. Now he has ANOTHER name? He's trying to break me, is what.
He marches into the central government building and salutes to Kono, reporting for duty by his new name. Kono is as pleased as ever to see his ace return, and brings him up to speed: Kimura has prematurely announced Gaksital's death to cover up his own suspicious activity.
Kang-to: "Gaksital is not dead. He will return." Kono promises him Kenji's position if he figures out Kimura's weakness.
Kang-to walks into the police station to find it bustling with Koreans being questioned. He launches himself at Fire Starter, grabbing him by the collar to ask if he's the one who lit his house on fire and killed his mother.
He asks Koiso why these people are being questioned, and scoffs at the answer: because they were given the bank's money by Gaksital, and are now being charged as accomplices.
Kang-to demands to know why no one's prosecuting this man for killing his family, and why no one is investigating that murder. Koiso challenges him, wondering why anyone should care about two Koreans who died, and Kang-to punches him to the ground.
He pulls out his gun while Koiso reaches for his, and makes it clear that it's the death of a police officer's family he's talking about, not just two Koreans. He announces himself as Sato Hiroshi, and makes his anti-Korean position even clearer, for all to see.
Kang-to: "How much Korean blood I will get on my hands…" he swivels his gun at Fire Starter, "Shall I start with you?"
The crowd stirs in fear, and Abe rushes to Kang-to, begging him to calm down. There's no evidence yet that this man is responsible. Koiso scoffs for him to go ahead and shoot, so he does, right past Koiso's head and into the wall behind him. Yeesh.
But the argument comes to a screeching halt at the arrival of one disapproving Chief Kimura, who calls him to his office. Kang-to braces himself (and I'm hoping that it's an indication that this is all an act) and goes inside.
As soon as he steps into the office, something comes flying at his head, and he catches it in midair. Badass. Let's watch that again!
He opens his hand to see a badook piece, and hides it as he bows. Kimura sits calmly continuing his game with another piece, as if nothing happened. Kimura: "You can catch a badook stone flying at you, but you lost a bullet-wounded Gaksital?"
Touché, old man. But Kang-to already has an explanation prepared: Gaksital was not acting alone that night. Kimura calls Koiso in, and he confirms having seen Gaksital's accomplice once knock Kang-to out.
Kang-to paints Gaksital as a terrorist organization with many agents posing as the hero. See, I think that's cooler. In any case, it's fiction, but now he's got Kimura quaking in his boots at the thought.
Kimura orders Mok Dan to be interrogated at once, and Koiso nervously informs them that she kinda sorta escaped… and Shunji told him not to pursue it. Kang-to fumes and asks Kimura to let him handle this, because he's the only one who can go up against Shunji. Kimura complies, and orders the rest of the Koreans to be freed.
Shunji blankly leads his class in a song pledging allegiance to Japan, and Sun-hwa's little brother gets up to ask—Teacher didn't kill Gaksital, right? Shunji flares up in anger, and when the kid asks why they're singing the song today when they never did before, he loses his temper outright.
He yells at the boy to put his hands out and whips them. The boy cries, and then finally Shunji snaps out of it and stumbles out of the room. That's scarier I think, than the conscious kind of anger and violence.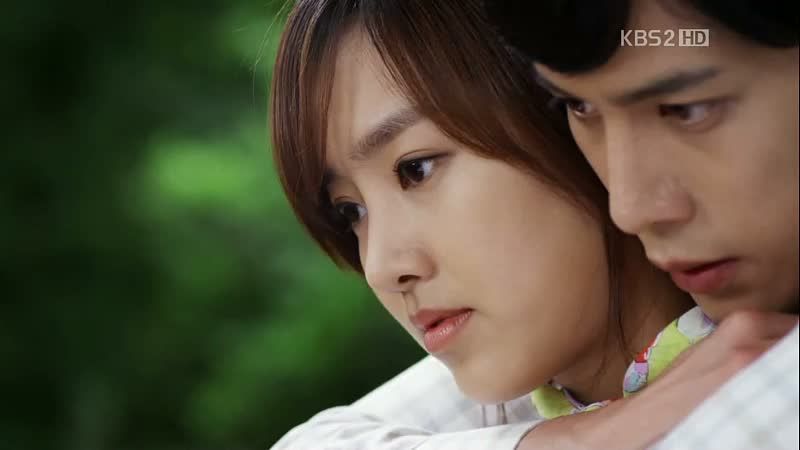 It's starting to show more and more, that Shunji was not immune to growing up in the Kimura household. He stumbles down the hall, and Mok Dan watches from the window. She brings him a lunch packed by Sun-hwa, and he hangs his head, feeling guiltier than ever at treating her brother like that.
Mok Dan turns to go, and Shunji asks why she's not asking about Gaksital—that's why she's here, isn't it? He tells her to just be angry at him. She admits to coming here because of Gaksital, but says she can't ask because she sees that he's having a hard time.
She reminds him of how much his students love him and walks away. He runs after her and throws his arms around her in a backhug. She squirms at first, but then he tells her that Gaksital might still be alive. She sighs in relief and thanks him.
And from the distance, Kang-to watches with a furrowed brow. Not that… his brow does anything other than furrow. It's sort of permanently in furrow mode.
He drowns his pain in whiskey at the Angel Club, and Rie sidles up to his table with a smile. She asks if he doesn't remember her, and Kang-to just grabs her onto his lap, "Do you like this oppa?"
She gives him a kiss, drawing the attention of everyone in the room. She whispers that her name is Lala (her stage name) and tells him not to forget her this time. Yeah I don't think he will. Sizzle.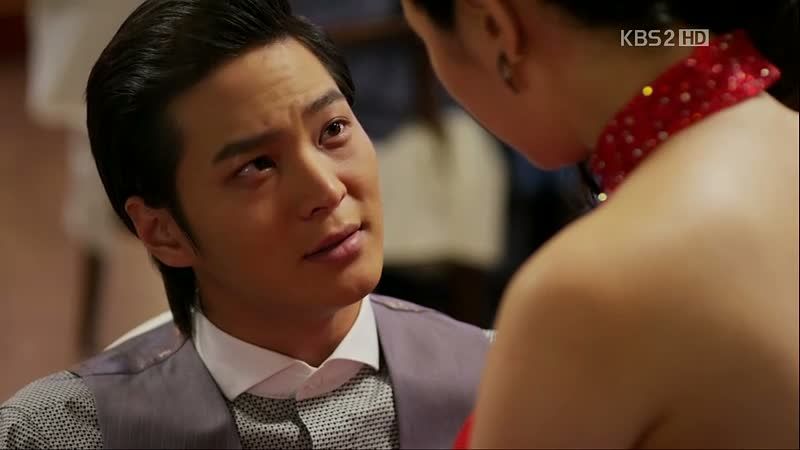 Mok Dan runs to her Gaksital tree and rips the lining from her skirt and draws her knife. She slices her finger and uses her blood to write "Boon-yi," and hangs it from the tree. And…the reason you couldn't have done that with ink is?
The Count and Countess ride along on a train when a man storms into their dining car wielding a bundle of dynamite and a lighter. He's apparently trying to cross the border illegally, and says that if they help him, he'll get off quietly at the next stop. Otherwise, they all blow up.
He takes his spot next to the Count when the soldiers walk in to check everyone's papers. All it would take is one smooth lie from the Count, except he's the biggest spazz there was, and totally blows the cover.
The man grabs the Count as his hostage and lights the dynamite in his face… when another passenger, Mysterious Mustache Man, trips him and tosses the dynamite out the window, just in time to save the day.
Mustache Man has a name: Choi Tae-gon, president of a gold mine. You can literally see the cartoon dollar/won/yen signs coming out of their eyes. The Count and Countess become fast friends with the gold miner and they come out of the train station together.
But as they make their goodbyes, a curious thing: Dynamite Man gets hauled away, and then winks at Mustache Man, who nods back. A grifter, perhaps? I like the twist.
Kang-to gets his shoes shined in the street, leisurely reading the paper. After a while the shoe-shiner looks up… and it's Baek Gun. Nice. Love the super secret spy stuff.
Baek Gun instructs him that his first order of business is to clean up the frame job on Gaksital—he would never have killed innocent bank workers. Kang-to says bingo, confirming his guess that Gaksital wouldn't have done it, and storms off.
He starts at the newspaper to look at the crime scene photos.
Meanwhile bank president Jo is choking on his own gold filling while frolicking with his favorite gisaeng in the middle of the afternoon, and the doctor has to rush over to heimlich it out of him.
For his trouble he gets a good financial tip: the Joseon marketplace will go bankrupt soon. They all have a good laugh about it. Kimura comes by to make sure that Jo isn't blabbing their organization's secrets, and Jo insists he's very careful. You mean like you were two minutes ago?
Kang-to waits on a bridge when a woman arrives to meet him. He smiles devilishly.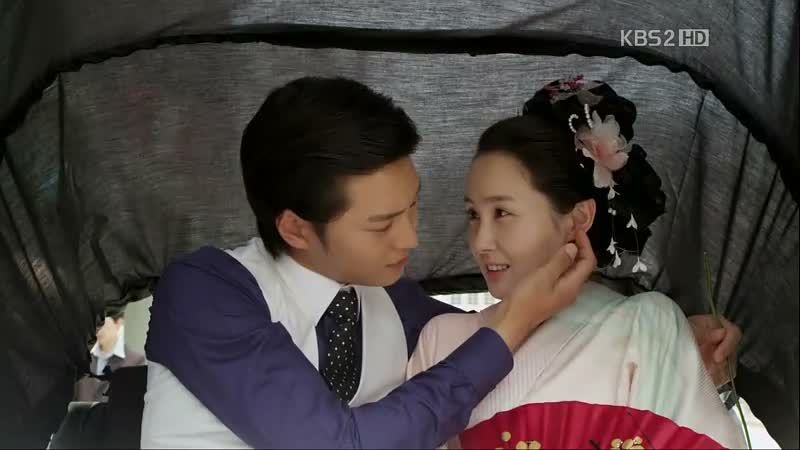 Cut to: Kang-to, making time with Jo's favorite gisaeng. Omg, is he Bruce-Wayne-ing his way through town? This is both hilarious and awesome.
It seems from their interaction that their relationship isn't new—she's clearly head-over-heels for Kang-to, who just romances the secrets right out of her. Ha.
He reports to Kono, who laughs in glee. Kang-to's plan is to follow the money. It went from the bank to Gaksital to the marketplace people, and back to Kimura. So wherever it goes next is how they'll catch him red-handed in whatever nefarious plot he's cooking up.
Kono calls his hyung, the governor general, to tell him that he's found Kenji's replacement. Only at the same time, Rie tells Kimura that Kishokai would like to see Shunji in that position.
Kimura says it'll be hard to get approved—Shunji is a schoolteacher after all. But Rie assures him that if Shunji agrees, she can get the necessary approval. He swears by Shunji's Kimura blood, but Rie wonders if the man who lives among the Joseon people, teaches them, and is in love with a Joseon woman, will in fact pledge allegiance to the state.
Kimura's eyes widen at the part about his son being in love with a Korean, and she clocks his surprise. She adds that Kishokai has collected the funds to erect a statue in the governor general's honor, so "You will soon have what you want." Hm.
Kimura storms into his office and calls Kang-to in. He now repeats his words earlier about being the only one to handle Shunji when it comes to Mok Dan. What does he know about his son and that girl?
Kang-to tells him the backstory, and Kimura fills in the blanks—his stolen sword, that girl in the hospital, Shunji's betrayal.
Shunji is deep in the throes of his own angst, as he thinks back to his conversation with Mok Dan. He's come to the same conclusion that she has—that Gaksital is her first love, the one who gave her that knife.
He grabs the costume version of the bride's mask sitting in the classroom and throws it to the ground. He stomps it to pieces in a rage.
Kang-to arrives to see the mask smashed to bits, and warns Shunji that his father knows about his relationship with Mok Dan. Kang-to says that he's going to live more tenaciously than ever before—if they tell him to kill, he'll kill, and if they tell him to die, he'll die.
He ends with, "This is the last of my friendship with you." Aw, is his warning about Mok Dan the last ounce of bromance? Say it ain't so!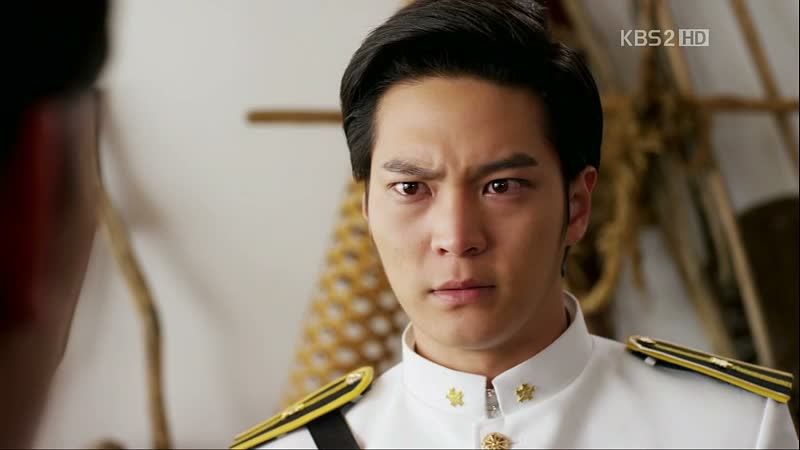 Kang-to walks out, and Shunji runs after him. He demands to know if Kang-to is going to throw Mok Dan at Dad's feet. Kang-to: "Then should I report that I can't, because it's the girl you like?"
Shunji asks if there's no other way to catch Gaksital without Mok Dan. Dad comes bursting into the school and then stops when he overhears their conversation.
He watches as Shunji insists that Mok Dan knows nothing about Gaksital. Kang-to: "Gaksital killed your hyung. Even if it's not me, that girl will be captured. Can you protect her till the end?"
Shunji: "Even if Mok Dan killed Hyung, I cannot give her up." Dayum. How many ways can this war be waged? Kang-to stalks off and Shunji turns around… to see Dad standing there.
Dad approaches slowly… and then TAKES OUT A GUN? He cocks it, and shoots. Eek! The bullet flies right past Shunji's head and takes out a sign behind him. Kimura: "From now on, Shunji's last name is not Kimura!" He storms off.
Kang-to goes to see bank president Jo and shows him the pictures of his dead employees. He points out that this is the work of a skilled swordsman, and that Gaksital was framed for the crime. Jo insists that's ridiculous.
But when alone, he stops to think over that night's events. His employees were robbed, and then they contacted him. He called Kimura, who ordered them to stay put while officers were sent to the scene. And then they were killed.
He makes the connection and runs off, and Kang-to watches with a smile. Could he look any hotter in that white suit? That up-do is doing weird things to me. Humona.
Jo runs to the bank to empty out his emergency safe and make a run for it, when Gaksital comes charging in. He fights off the guards and chases Jo down. (How does a horse beat a car?)
Gaksital quickly gets the upper hand, and Jo gets backed into a corner. Gaksital raises his stick to strike… Jo screams…
Meanwhile Abe searches everywhere for Kang-to, like a puppy who lost his master. Koiso gets a visit from Kye-soon, who asks for the payment that Kenji owes her. Instead he threatens her for new information on Mok Dan's whereabouts. I don't even feel sorry for you.
She returns to the circus in time for that night's show, and Koiso and his men storm into the tent to arrest the whole troop in the middle of the performance. Sun-hwa's little brother runs home crying to Mok Dan. She races out after them, and finds Shunji loitering outside.
She tells him what's happening and he tries to stop her from turning herself in. She'll get killed that way. But she tells him that Sun-hwa is both Mom and Dad to that little boy, and she can't take that away from him.
He panics, screaming that he can't ever let her go. Mok Dan: "Kimura Shunji! You and I are different. Do you still not know that?" She tells him that this is the end of their friendship (aw, rough day for Shunji) and walks away.
The circus troop gets hauled into the station and Koiso orders them to give up Mok Dan. Kye-soon leads him to Shin Nan-da, which gets him to Sun-hwa, and he scares the life out of her. She cries, trembling in terror.
Just in time, Mok Dan marches right in and gives herself up, ordering Koiso to let the others go. I love her sass. He reports to Kimura, who says he'll question her himself.
He gets ready to leave, when Shunji comes home and kneels in front of Dad. He agrees to do as Dad wants—to live as a Kimura now.
Dad is still fuming with anger that he's in love with a Joseon girl, in league with the man who killed his brother no less. He yells at him to get out and never return.
But Shunji says, "I know it now. I knew only after Hyung died. That I am, to the bone, Japanese." It doesn't sound like Shunji, but it must be his concession to Dad, a way to convince him that he's willing to be the dutiful son.
Shunji bows his head and promises to wear the uniform proudly, just as Father and Kenji did. Only, he has a request…
"Just let that girl go, just this once. The moment I put on the uniform, I will erase all memory of her."
Damn, that's a good reason to get him into uniform. Next thing we know, Koiso is muttering to himself as he and Abe open the door to tell the entire circus troop that they can go.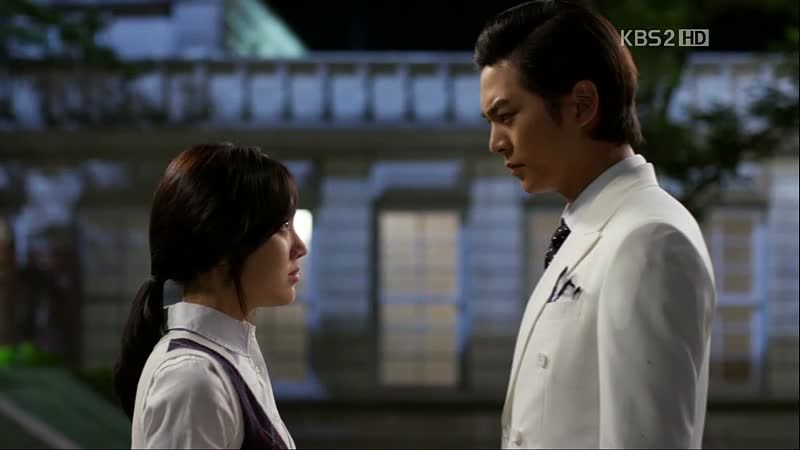 They're so disbelieving (and wanting to stay with Mok Dan in solidarity) that he literally has to drag them out of jail.
Kang-to arrives at the station just in time to see the circus troop walking out, and starts to run in at the news that Mok Dan was captured. But she walks out first, right into his path.
She gets in his face and asks why he's letting them go. Aw, Shunji made the sacrifice but Kang-to gets the credit? She asks angrily if it's because Gaksital is dead and he no longer needs her as bait.
He warns, "If you come here one more time, you'll die by my hand." Mok Dan: "A bastard like you should be dead, and Gaksital should be alive."
Kang-to asks Abe why she was freed and finds out that it was Chief Kimura's order. He wonders what the hell is going on.
Kono gets the certificate for Kang-to's promotion ready, but the ink hasn't even dried by the time he finds out that Shunji will be taking the position instead. He fumes.
He storms into the governor general's office, blathering to hyung about nepotism, only to realize belatedly that Kimura is sitting right there. He's there with the Count and Countess, the doctor, and their new gold mine friend, all there to give the governor a generous donation—a box of gold bars, among other things.
They've clearly bought his loyalty, and quite easily at that. They present themselves as part of the committee in charge of the government-general's anniversary and stroke his ego about the size of the statue to be made in his image. The important fact is that these Kishokai members will be in charge of the government's money for the project, which we can assume will not quite reach its intended purpose?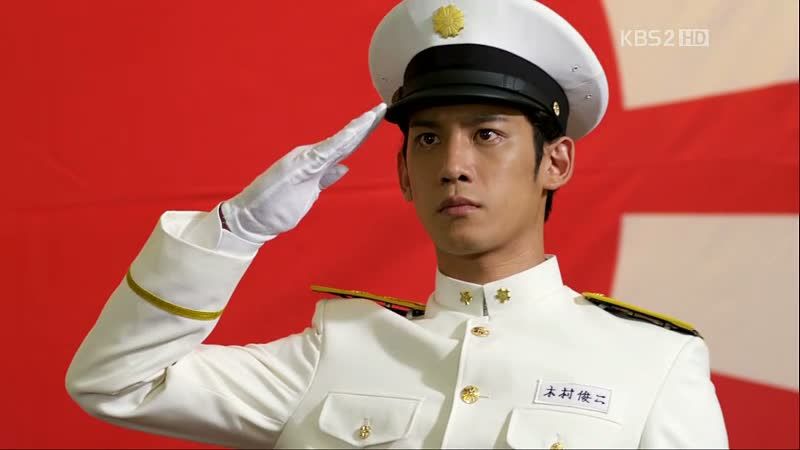 Then it's time for Shunji's induction into the police force, skipping rank right up to Kenji's position.
He salutes in front of the flag and the crowd cheers. He comes down and greets Kang-to as Sato Hiroshi, and Kang-to salutes him as his superior officer.
This. Is. Bad.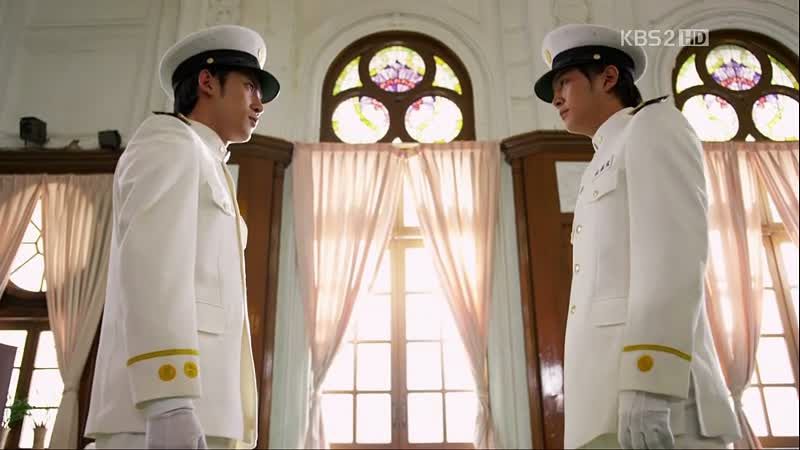 COMMENTS
The more and more Shunji gets pitted against Kang-to, the more intense and exciting the story gets. But I'm torn because I want their friendship to survive. That's not gonna happen, is it? Waaah.
I like the twist in Shunji's motivation to join the police force—he doesn't just flip an evil switch overnight or something—he does it to save the girl. I like the conundrum of Shunji's character as much as Kang-to's, in that he's not the bad guy, but he's playing the bad guy. Just as Kang-to isn't the good guy, but he's playing the good guy. It's actually kind of perfect, as far as symmetry goes. And you get the sense that despite each being in his position for other reasons, they will end up the villain and the hero anyway, against all odds.
I actually rather like that Kang-to doesn't have some epiphany that sends him to heroland either. He's using Gaksital as a means to an end, and that end is in no way heroic, at least not yet. He's a bad guy using a good guy's disguise to get his pound of flesh, because he's pretty much clinging to his family's revenge as his last purpose in life.
I do wish we got to see more of Kang-to's inner turmoil though, because we know that Sato Hiroshi is his cover for Gaksital—the more hateful he becomes, the stronger the cover. And yet, it's confusingly believable that he harbors that much hate against his own people, after what happened to his family. I firmly believe his personal guilt outweighs that and it's definitely an exaggerated persona, but damn if it doesn't seem real a lot of the time. He certainly walks that fine line. Or dances on it dangerously is more like it.
I'm dying for more scenes between Kang-to and Rie. So much snap crackle and pop. Can he please have to seduce HER for secrets? Or the other way around? Whichever. Gah, what is wrong with me?! Is it the hair? It's probably the change in his persona, not so much the hair itself, that's got me excited. He's charging forward with purpose and getting things done, which is insanely hot. Though for now, everything is motivated by revenge, so he's no hero, that's for sure.
I love the idea that Kang-to is in no way a good guy, but that taking up the mantle of a hero will put him on the path to becoming one. It's the notion that he'll be changed from the outside-in, because of the mask, not for it. Which, if true, is perfect. There's pretty much nothing better than a reluctant hero's journey to finding a mission and a purpose, and I really, really hope that's where we're going. Don't fail me now, grasshopper.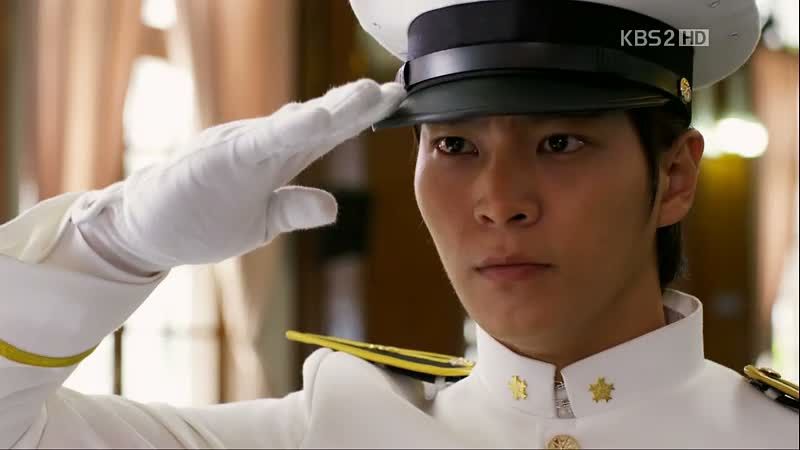 RELATED POSTS
Tags: featured, Gaksital, Han Chae-ah, Jin Sae-yeon, Joo-won, Park Ki-woong