I Do, I Do: Episode 5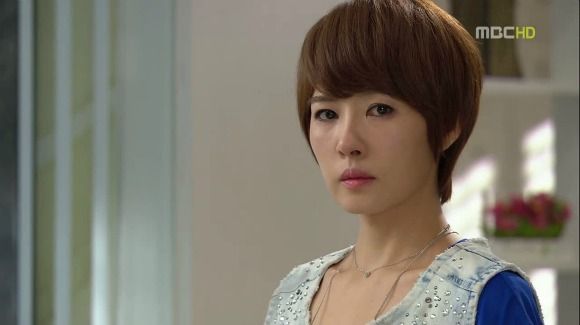 Time to face the music. Ji-an is met with the most major decision of her life thus far to keep the growing life within her or not. Not before she hears some hard truths about herself first and realize what a lost and lonely sole she is.
SONG OF THE DAY
Park Ji-yoon – "I Do" from the drama OST. [ Download ]
Audio clip: Adobe Flash Player (version 9 or above) is required to play this audio clip. Download the latest version here. You also need to have JavaScript enabled in your browser.
EPISODE 5 RECAP
After Ji-an hears that she's pregnant and should be careful from now on… she bursts laughing. There must be some kind of mistake, she says. She's no Virgin Mary and she got her period last month.
Yet that can be explained by some bleeding during fetal implantation and they'll need an ultrasound to be certain.
Soon after, Tae-kang steps inside, asking what the doctor said was wrong. She tells him to leave but he insists, concerned for her health. Annoyed, she shoos him away like a pesky fly. He finally leaves but not before he lingers at the door for a moment, puzzled at the brush off.
The ultrasound confirms what we already know and she's about 8 weeks along. Ji-an looks at the screen and passes up hearing the baby's heartbeat. The gravity of the situation must have finally hit her as she staggers out of the hospital, breathing hard.
At home, she sits in her shoe closet in a stupefied state, the pregnancy announcement ringing in her ears. She tries to shake the thought but the memories from that night with Tae-kang flash in her mind. Tears well up in her eyes, and finally fed up, she buries her face in her hands.
Meanwhile, Eun-sung cleans up the uneaten food and unused flowers and sits in his apartment, alone. Oof.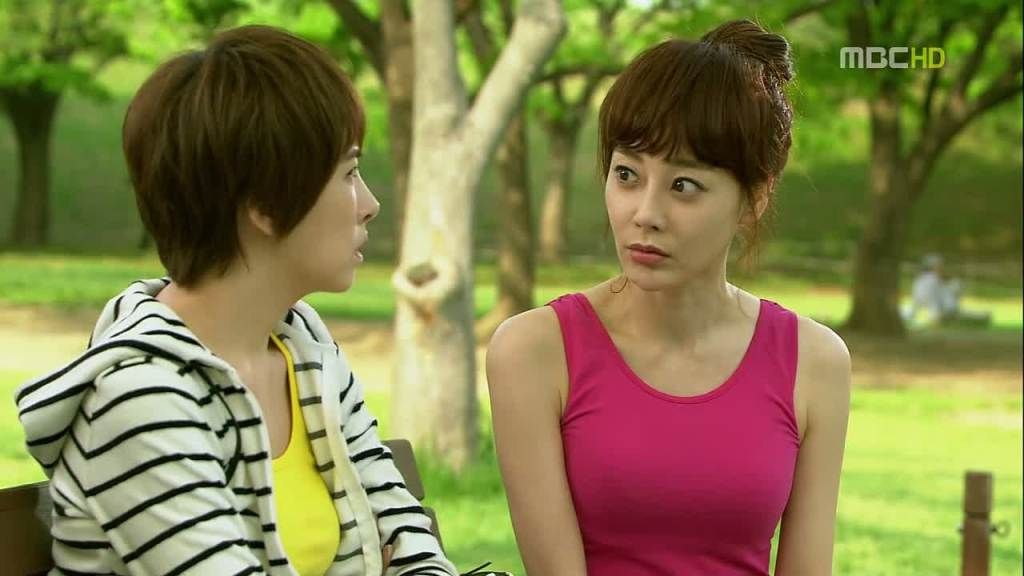 On their morning jog, Jun-hee starts rattling off about how worried she's been ever since she heard about Ji-an's menopause. Then Ji-an cuts her off, "I'm pregnant." Excited, she congratulates her friend (thinking it's Eun-sung's) but Ji-an clarifies that it's not his.
After she's filled in about the one night stand, Jun-hee asks if Tae-kang knows yet and relieved to hear that he doesn't. He's got some skill impregnate a girl on his first shot, but no matter because Ji-an can "take it out" aka an abortion.
Ji-an asks if that isn't illegal and Jun-hee confirms it though, "You pay a lot of taxes!" It's all hush-hush and she defends that it's the law that's skewed. (To the best of my knowledge, abortion in South Korea is legal when the mother's health is in danger, instances of rape, or fetal defects. It's also illegal after 24 weeks.)
For now, she reasons that Eun-sung can't know about the pregnancy either since he's an OB/GYN and as a potential mate.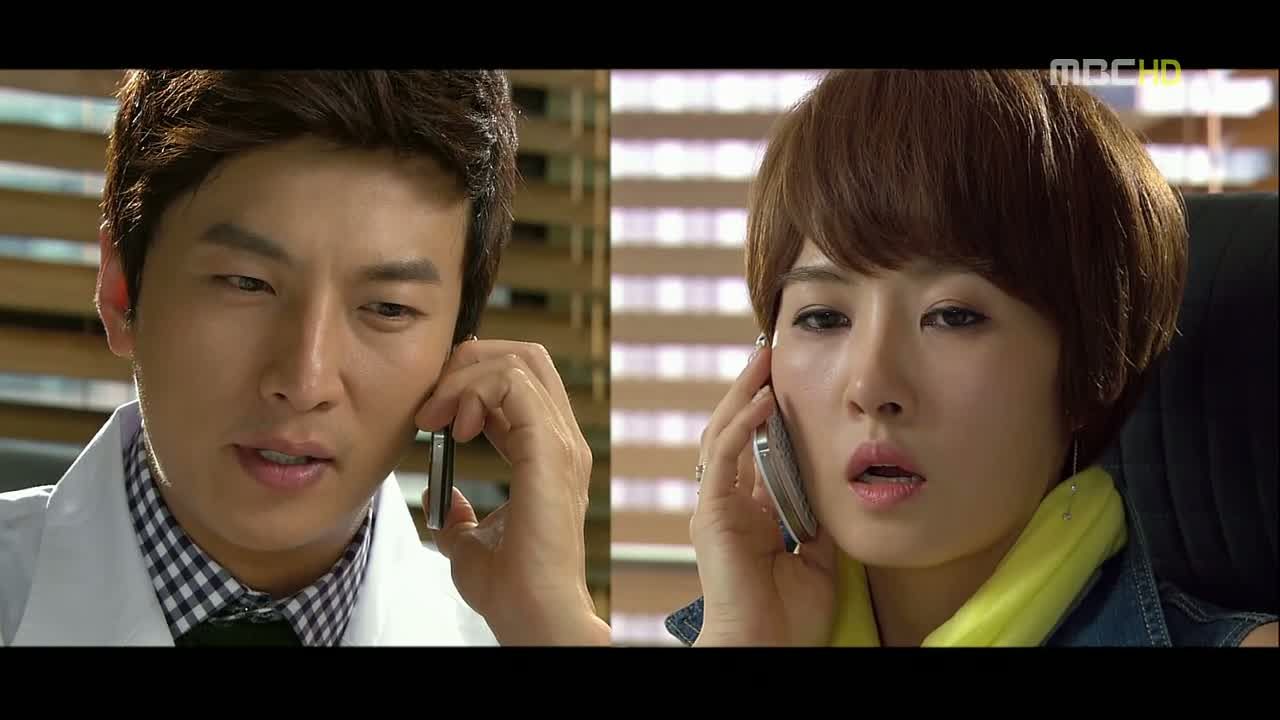 Who should call later that morning but Eun-sung himself. Before Ji-an can apologize about the previous night properly, he smoothly lies that work kept him late.
So how about another date today? Tomorrow then? Ji-an panics and fibs that she's leaving on a business trip to Paris (per Jun-hee's earlier tip) and hurriedly hangs up.
Morning sickness sends Ji-an rushing to the bathroom. She overhears Team Leader Ma arguing on the phone with her husband about how Medusa would never let her leave on maternity leave and she works overtime as it is. Exasperated, she cries, "This is why I didn't want to have kids!"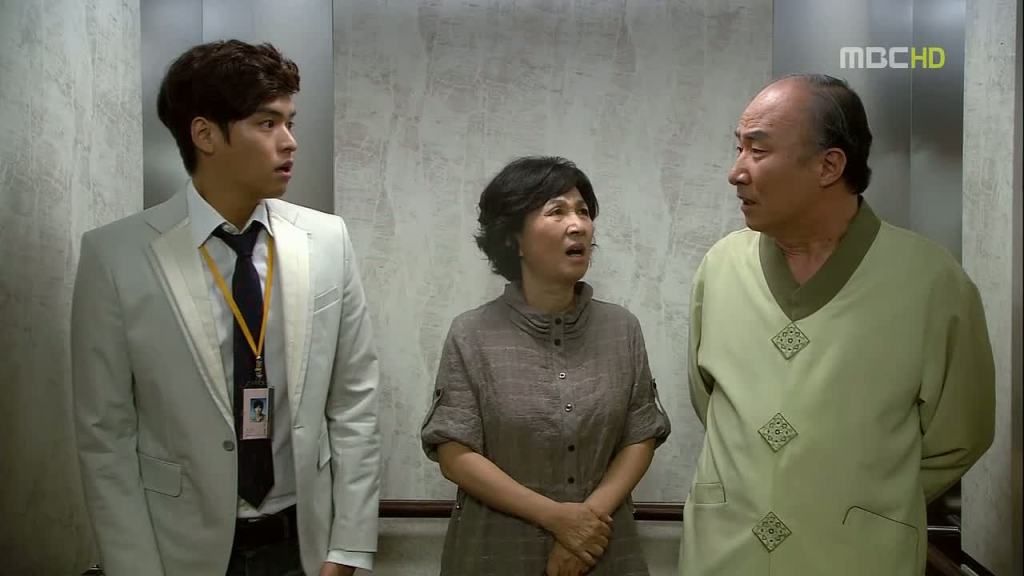 Mom and Dad drop by for a visit and Tae-kang receives them at the entrance. Mom looks kindly upon Tae-kang who slips, "You look beautiful up close!"
That triggers the question whether they've met before and Dad barks when he stutters. So Tae-kang comes clean with a version of the truth about how he escorted Ji-an to the train station that day and was impressed by Dad's charismatic shouting, even impersonating him for good measure. HA!
Dad coughs uncomfortably and Tae-kang adds, "I didn't listen on purpose… your voice was just so loud…" Another cough to shut him up. Hehe.
They run into Ji-an, who's shocked at their sudden arrival. After she silently checks with Tae-kang if her parents know about him (they don't), she sits down with them for a chat.
Dad grumbles about Tae-kang whom Ji-an refers to as a colleague. Hey Dad, how bout you dial down the yelling? I didn't like it too much in Marriage Plot either. Mention of a child's dol party (a child's first birthday) veers the topic towards when Ji-an will have children. Dad clucks wondering why Ji-an has none when other younger women already do.
Mom does her best to diffuse the situation, asking if they should all have dinner with Eun-sung. But Ji-an turns that down too and Dad barks again at her workaholism. Barely audible, Ji-an whispers, "I'm sorry."
Tae-kang clocks Ji-an's dejected mood when she returns to the office. Turning to Bong-soo (the junior with a big mouth from previous episodes) for advice, he learns that Ji-an is currently exhibiting the classic signs of depression from loss.
He's adorably confused so Bong-soo spells it out for him with an analogy about a kidnapped child. Tae-kang finds that hard to believe but Bong-soo explains that a design to a designer means as much as a child to a parent. He thinks back in the ambulance when Ji-an, semi-conscious, mumbled about her design.
Na-ri storms into the building, barely containing her anger towards Madame Jang in the hallway. She bursts into Uncle's office – how could he have handed over the company to Madame Jang in exchange for the golf course? She knows that Madame Jang intends to have Ji-an take over than Na-ri any day.
Uncle's been persuaded by Madame Jang's words and adds it'll be good experience to work under Ji-an. Na-ri shouts, "Why should I work under that woman?!" Uh, 'cause she's got more experience than you Ms. I-got-promoted-to-VP-right-away?
Na-ri catches Madame Jang and they ride the elevator down. Then Na-ri suddenly drops to her knees. She gave up everything to be in Korea – all the ties to her own mother and her friends. "Because I wanted to be acknowledged as your daughter. Because I wanted to be born again as Yeom Na-ri, not Jung Na-ri." Woah, you just showed your hand to the adversary just like that.
With pleading eyes, she asks what she must do to win her approval. It's like a small child asking what she did wrong in order to fix it, thinking it will fix everything.
But this is Madame Jang we're dealing with and she sneers whether that'll be enough. "Your showmanship is impressive… just like your mother." Damn that's cold.
Na-ri is still on her knees when the elevator open to a small crowd of employees, including Taek-kang. They murmur as Madame Jang steps out. Na-ri continues to cry and the doors graciously close a minute later.
On the rooftop, Na-ri resumes her brooding as Tae-kang keeps watch from a distance. Unfortunately he stubs his toe when he tries to leave silently, earning him an evil stare. She marches up to him, angry that her vulnerable moment wasn't private after all.
Tae-kang swears that he wasn't sneaking around and kindly offers her a handkerchief. She slaps him in response. He whimpers, "Why do women at this company keep slapping me?" then puts the handkerchief to his own cheek. You're telling me, honey.
Today must be Visit Everyone At Work Day because Mom and Dad swing by to see Eun-sung as well. Eun-sung's eyes grow wide at the gifts – all good for virility. Ha.
Eun-sung has to stifle his laughter while Dad clarifies their intent with this long winded rant about how he doesn't necessarily approve of premarital sex and it's not like it's against Confucianism but times have changed and they're both getting older…
So he cuts them off, assuring them that he'll do his best. He happily accepts the gifts and jokes, "If we do well, we might make a soccer team." Woah there, buddy.
He suggests that they all have dinner when Ji-an returns from her business trip to Paris, which is news to them. As soon as he leaves, Dad thinks that Ji-an is resorting to lying to get out of this marriage now. He snipes at Mom, "How did you raise her?!" Way to shift all the blame on her Dad.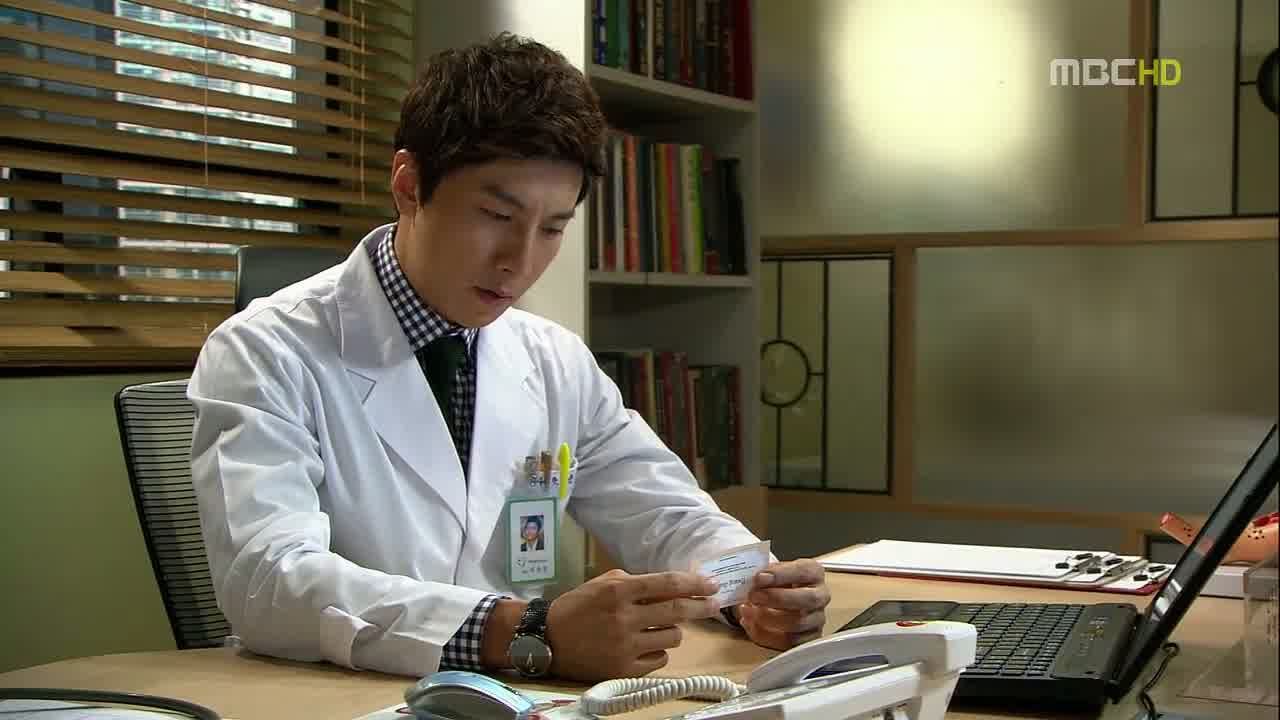 Thankfully Eun-sung's quick on the uptake and mulls over the discrepant words between Ji-an and her parents. He wonders whether to call to confirm his suspicions but then hangs up when the call goes through.
He laughs to himself, "What on earth am I doing?" Aww, d'you want to believe that she didn't lie to you?
Ji-an and Jun-hee sit at the clinic, waiting their consultation. Jun-hee spots a teenager, figuring she's here for surgery also, "Her mother must be so upset…" She takes a call from her daughter in an aegyo-filled voice and steps away.
The doctor hums over the chart and says that Ji-an may have experienced some pregnancy symptoms but it isn't too late. The procedure should take about 15 minutes and he's free tomorrow night.
The fact that he says all of this in a nonchalant voice totally irks me. Ji-an feels the same and tears out of there.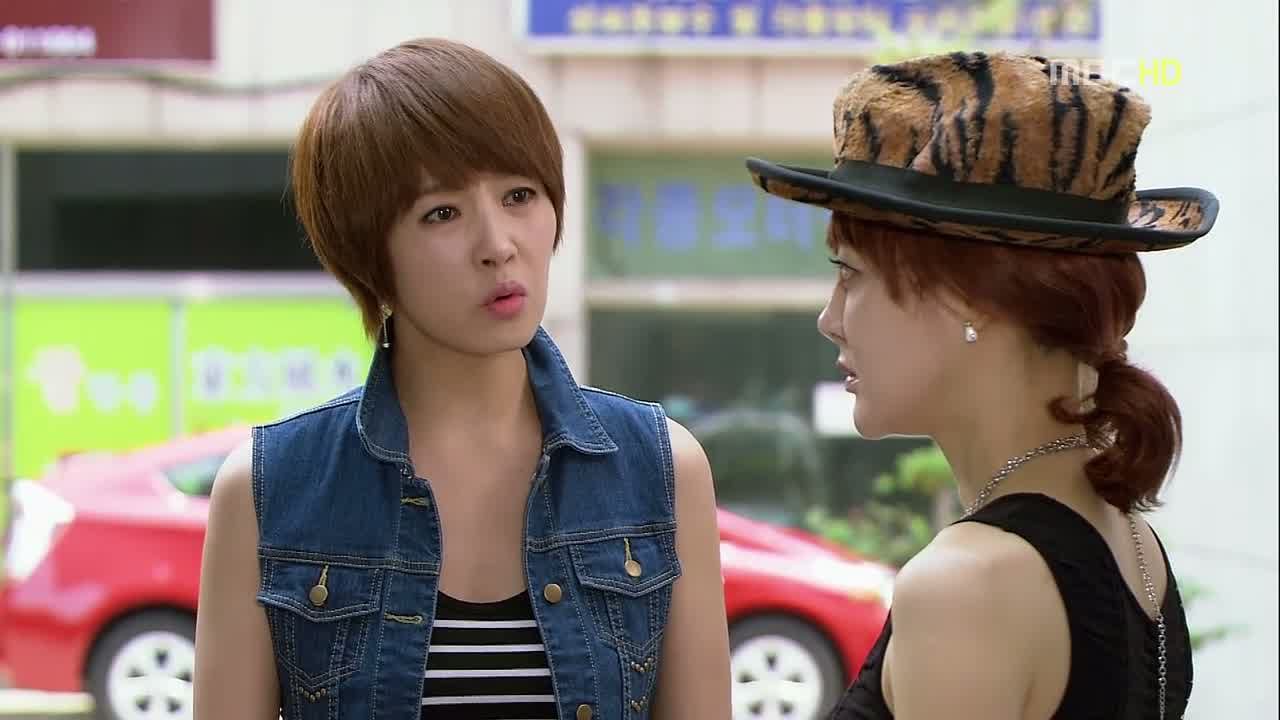 Jun-hee catches up to her, asking what's wrong. Ji-an answers that she wants to go somewhere and lists off everything that's wrong about the place from the doctor's voice to the walls.
Jun-hee reminds her that she's not in a position to split hairs about it. Did she even think about going through with the abortion?
At Ji-an's silence, Jun-hee gapes, "By chance are you thinking of having it?!" Ji-an reacts defensively and her friend annoyingly reminds her that she should choose whether to have it or not soon because time's running out.
That's what finally sets Ji-an off, "Are you deciding between jjajang and jjamppong? What makes it simple? What makes it so simple?" Jun-hee adores her own daughter so what makes this unborn child any different? What wrong did it commit to be regarded so terribly?
Jun-hee throws back it was Ji-an who said she didn't want kids, "Do you think anyone can be a mother?"
If she had to name anyone who should never have a child, she'd mention Ji-an without hesitation because there wasn't a drop of motherhood in her. Ouch. She storms off, telling Ji-an to do whatever she wants.
Dad and Tae-kang go around picking wallpaper and Tae-kang wonders if they really have to buy back the house now. What if in the rare case he got fired? Dad asks if his son caused trouble but Tae-kang jumps on the defensive.
Pulling him close, Dad tells him that there's no way that Tae-kang can get fired because if he does, "That day, I'll kill you with my bare hands." Gulp.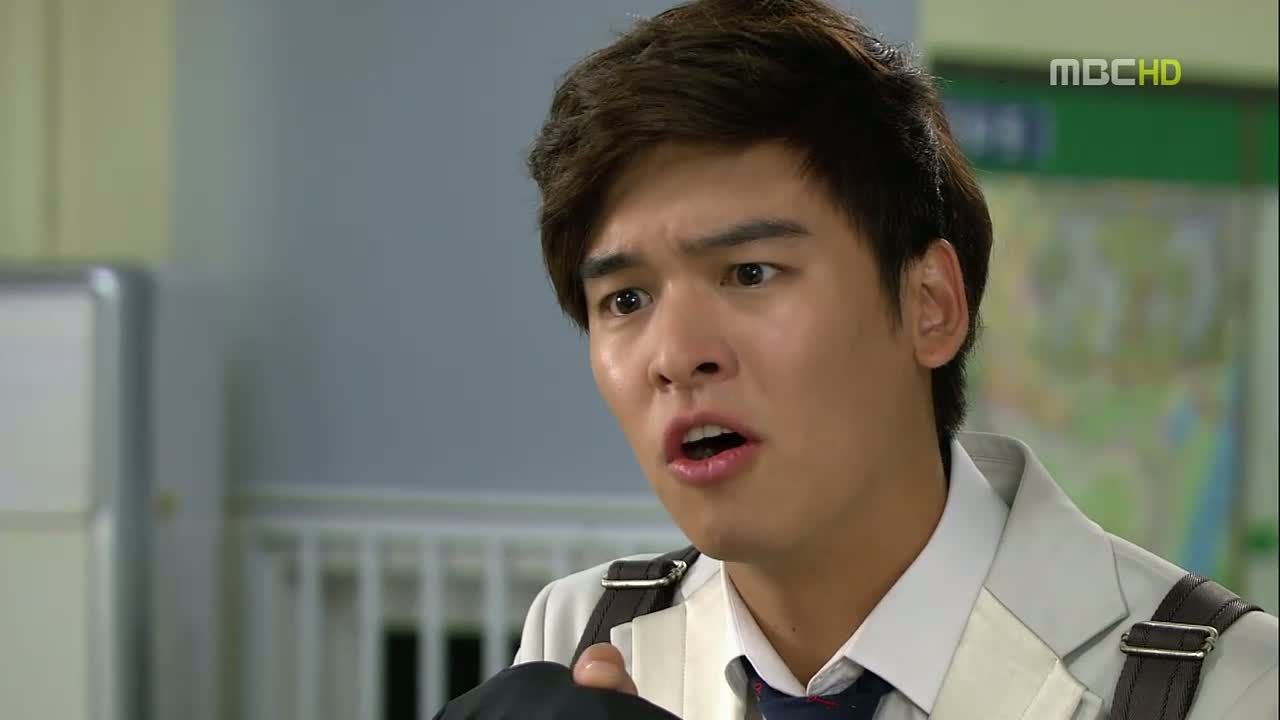 Well Tae-kang won't be dying today because the phone rings and he punches the air at the good news that the bag's been found. He skips his way to the police station and panics when he sees the contents are missing.
One look at the tag tells him the answer and Tae-kang barks that it's not his. The officer insists it is, but Tae-kang holds it up, "What does this say? Made in Italy. Mine says Made in China! C-H-… CHINA!!" HAHAHA. Why am I not surprised his own bag is a knockoff too?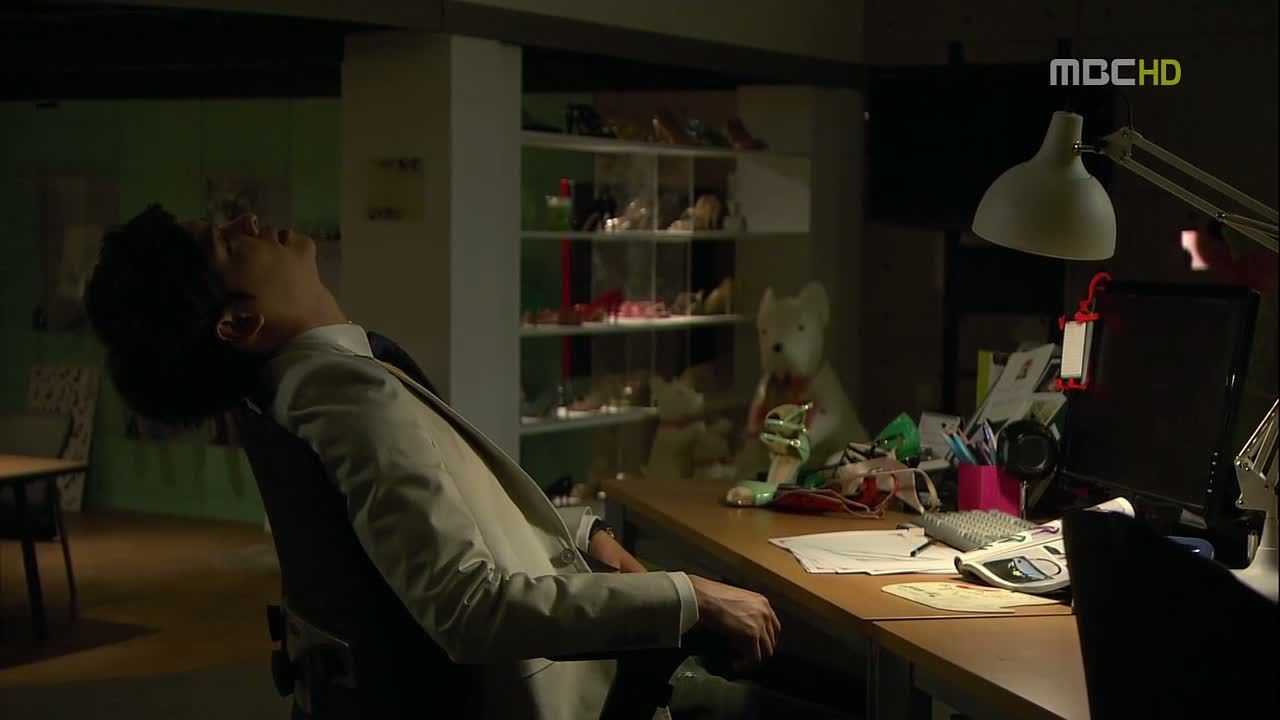 He slumps into the office, completely spent. He gets new resolve when he notices a photo of him and Dad with his congratulatory cake and grabs the pencils to draw a duplicate. But his skills are still too rudimentary and he throws them down the next minute in exasperation.
Na-ri's also working late and we glimpse to an earlier conversation where she'd been told that Madame Jang will become the major stockholder in the company, making her decisions impossible to overrule. She thinks back to Ji-an's words about how Na-ri can run back to Daddy and Madame Jang's coldness. She breaks down in her office.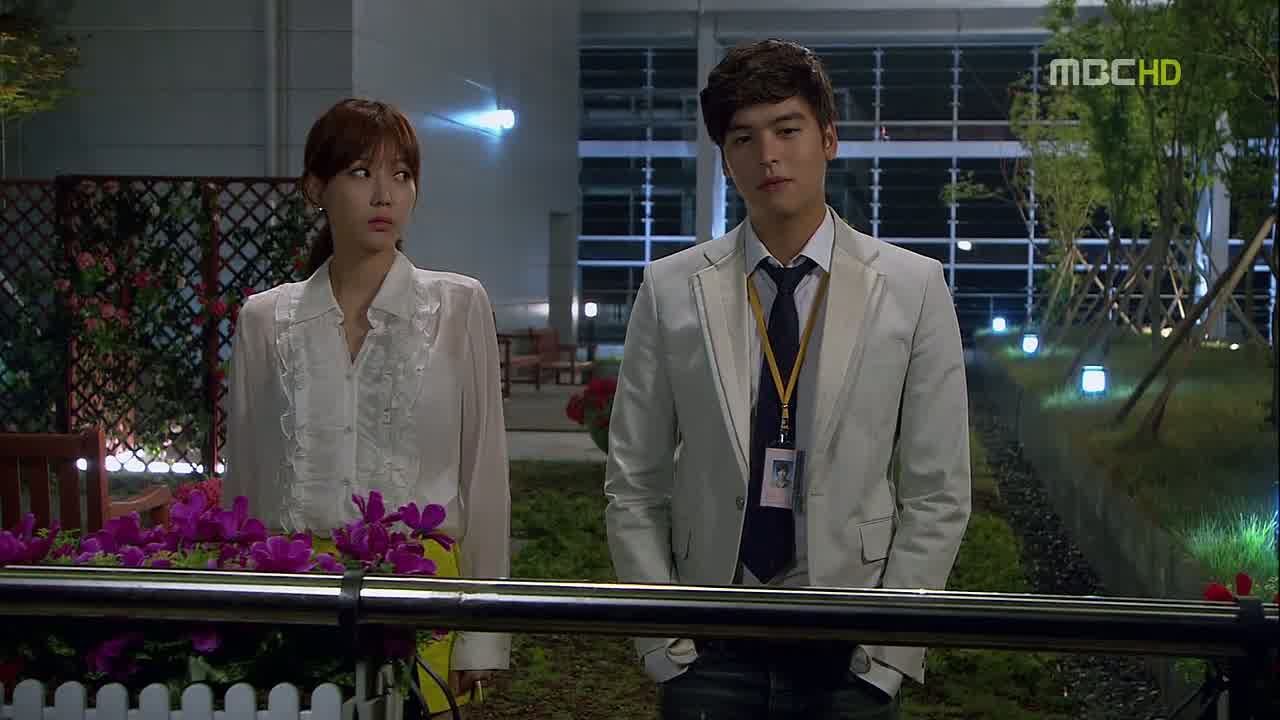 She returns to the rooftop for some air and this time sees Tae-kang cursing at the world at the top of his lungs. She laughs which gets her caught sneaking and she defends that the roof is a public space. Tae-kang wonders, "Then why did I get slapped earlier?"
Na-ri bites her lip and he glosses it over, musing that both the haves and have-nots all run to the same place with their problems.
He bows out to give her the space but she stops him to ask if he can teach her one of the curses he swore. Eh? Are you trying to tell me you're Little Miss Sunshine who's never swore in her life?
After he asks if she can do it, they start off with something easy (his is censored, hers is not. It's hilarious.). He advises her that it has to rise from deep within the chasms of her diaphragm filled with rage. She starts, "You f–" but stops.
He tells her to try again and she finally says it, though it's more like a PG-rated version (They're basically nonsense words that are supposed to sound vaguely curse-like. An example would be "Siberian husky" = shibal = fuck. Think "Goshdarnnit! Jimeny Christmas!").
They laugh and continue to shout curses from the rooftop together.
Ji-an sits in her shoe closet, creating a list of pros and cons. She fills the space for cons and her pencils hovers over the pros. Unable to think of a reason, she says aloud, "There's nothing. There isn't anything."
She scoffs why she was worried so much in the first place. Then her thoughts trickle back to baby Se7en and when he grasped her finger.
Tae-kang's late for work and he races inside, conspicuously sneaking into his office. But his co-workers has a more pressing issue than scolding Tae-kang today: Ji-an hasn't shown up to work yet. When everyone's reluctant to go into the dragon's lair, Tae-kang volunteers.
When he gets there, he rings the doorbell a few times before putting an ear to the door to check for movement. Silence and now he pounds on it, thinking back to when Ji-an collapsed on the stairs (we're sure getting a lot of flashbacks this episode).
Next thing we know, he's called the locksmith to drill his way in while he wails, "Someone's dying in there!" Oh your concern is both funny and heartwarming. He rushes in once they get it open and he stops to look at the messy apartment.
Spotting Ji-an fast asleep in the shoe closet, he breathes a sigh of relief. He has to yell in order for her to come to (his "Good morning!" is adorable) and Ji-an rushes to get ready.
Meanwhile, Na-ri assures Team Leader Ma that they don't need Ji-an and she attends to the guests at the buyer meeting herself. Things seem to be going fine until she mentions the upcoming collaboration and they fawn over Ji-an's proposal. Just in time, Ji-an walks up apologizing for her lateness.
Tae-kang waits in the car, bored, and digs through the compartments to keep himself occupied. He finds a curious envelope and finds the ultrasound picture inside. Either he doesn't know how to read an ultrasound or doesn't know what it is and he tucks it back inside.
Once they're alone, Na-ri digs over Ji-an's absence – it isn't like her of all people to have missed an important meeting because she overslept. Ji-an responds that she's human too and could have made a mistake, her voice hanging on the last word.
Na-ri laughs, elated that such a word exists in her vocabulary. Before she leaves, she sneers that Ji-an shouldn't rest too much in Madame Jang's words because the game hasn't even started yet.
When Tae-kang runs up to her having overseen the conversation and she pelts him repeatedly, "Do you know this is all your fault?"
When they sit down, Ji-an asks if he's hurt and he replies that he's used to it by now. He apologizes because he knows that she's still upset about the lost design.
Ji-an replies that it isn't but Tae-kang continues that he knows the feeling – like a mother who lost her child. Case in point: his motorcycle, Beyonce. HAHA. Omg, I forgot about her.
So Tae-kang resolves, "I'll take responsibility. Because I did it, I'll be responsible for it 'til the end!" It's a serious conversation but it's funny because they're having two different conversations – she thinks about the pregnancy while he thinks about the shoe design.
They head to a jokbal (pig's feet/hock) restaurant and he gapes while Ji-an stuffs her face, scoffing at her earlier statement that she was feeling will. He admits that he saw the picture in her car and what looked like a bean-like tumor.
Ji-an coughs and tells him that it's no big deal that the docs can "pop right off." Tae-kang accepts this at face value and then nags that she should clean her place.
Back at the office, Ji-an calls in Team Leader Ma to her office after she catches her napping on her desk and flippantly asks if it's hard raising children. Aw, are you indirectly asking for motherhood advice?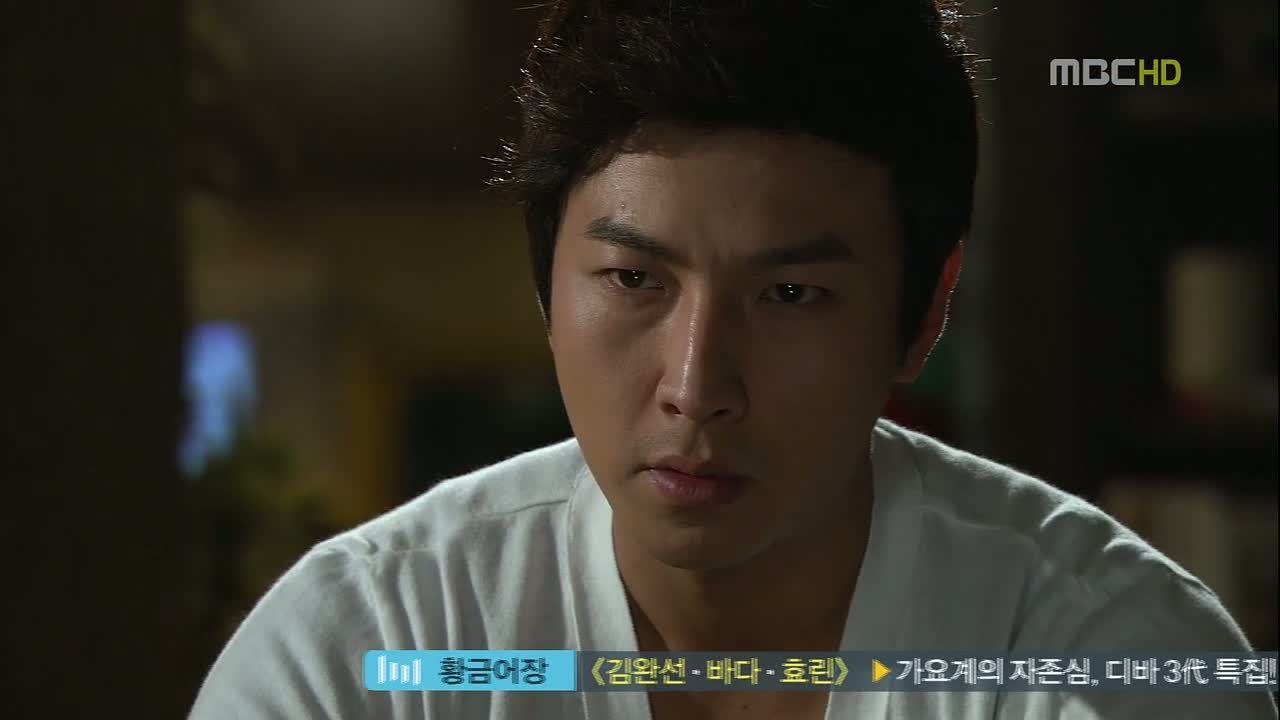 A nurse at work comments that she's surprised to hear about Eun-sung's marriage announcement. She notes that Eun-sung once said that Cupid needed to fire a missile rather than an arrow at his heart to think about marriage.
Eun-sung sits at home, contemplating these words as his mind flashes back to thoughts of Ji-an. He increases the volume (it's "Carmen" in the background) as the pieces fit together.
He sings a few bars, "If you don't love me, I'll love you…" and hits a revelation as the song rises to its climax.
At the same time, Ji-an stares at a text from Jun-hee who scheduled a surgery anyway. The next thing we see is Ji-an driving thinking in her head that she has to focus on herself right now.
Bong-soo finds Tae-kang busily printing off Lost and Found posters for the missing bag (ha) and tells him that there's a better shot at reunification than recovering the bag.
He's reluctant to help until Tae-kang threatens that he'll out him for his big mouth. You're gonna tattletale on the tattletale? So cute.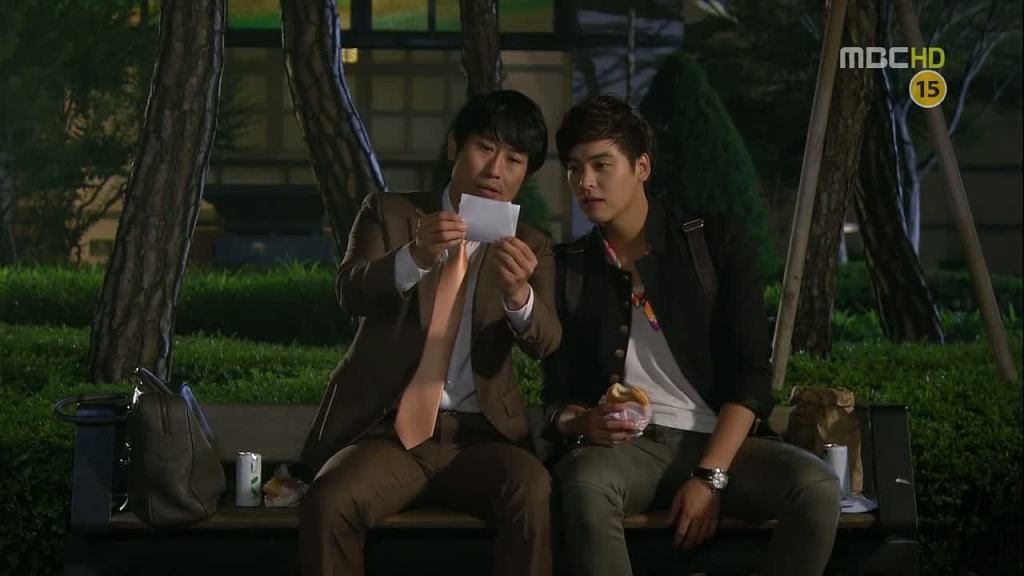 So they distribute the posters together and they dig in to a couple of hamburgers afterwards. Bong-soo comments that his wife suddenly craved hamburgers since she got pregnant with the twins, so he nicknamed them Ham and Burger. HA.
He shows off the ultrasound picture to Tae-kang… which is finally when it hits him that that photo wasn't just any photo.
Eun-sung waits outside of Ji-an's apartment, convincing himself that he'll wait 5 no 3 more minutes. The next minute Ji-an appears, walking in a daze.
He lightheartedly jokes about the business trip, saying he understands. But then he corrects himself that he doesn't understand. She was the one who set up the date but she stood him up. Furthermore, she lied to him about traveling out of the country.
He rips into her that they're not kids anymore – should they exchange things and pretend that they're in a teenage love story? And then he finally notices the tears streaming down Ji-an's face.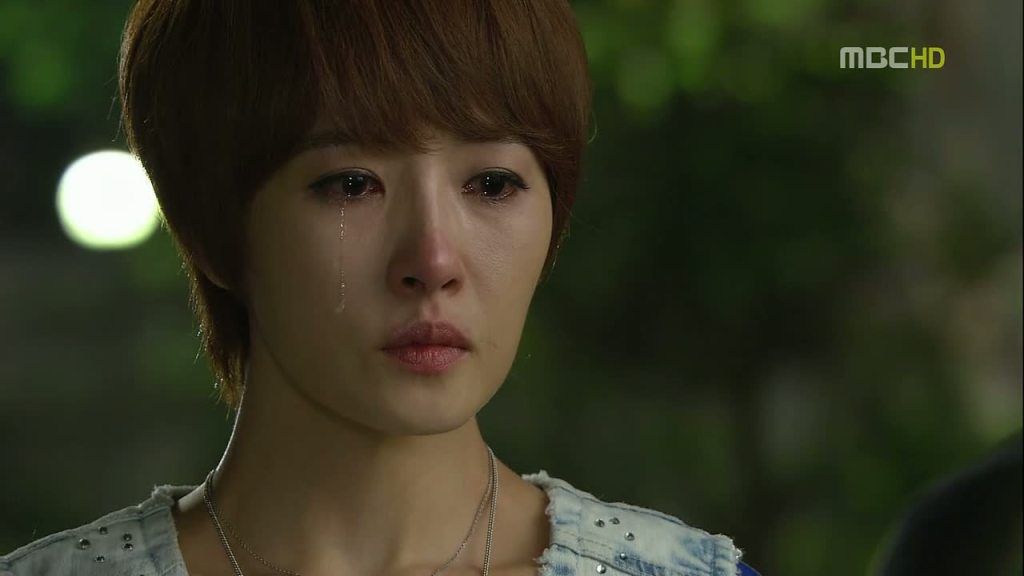 COMMENTS
Did she do it? Did she not do it? Narratively, we can assume that she does or else the story would end here but I love this cliffhanger where we're left wondering if the show was really brave enough to actually go there.
I loved that the series dared to address the issue about abortion. Controversial topics like abortion tend to be hush-hush, like Jun-hee mentions and I saw an old NYT headline about South Korea finally bringing the topic to light. The show delivered what I wanted to see after Ji-an heard the news about her pregnancy because this a real question some women face. What if you were a single successful woman who had to contemplate the pros and cons to raising a child?
Having your best friend tell you that she sees you as the model for an unfit mother are harsh words to hear. So I loved the trajectory we saw from the beginning of the episode, watching Ji-an learn to accept her situation and then toil over her decisions and how it might affect her life. How interesting that it took a peek into Team Leader Ma's life as a working mother to take that step to seek council about motherhood in her own way.
Now that Tae-kang also knows (though I wonder how much but if the boy's smart, he should be able to put 2 and 2 together that Ji-an's pregnant and he's the father of the child), I'm dying to know what his response is, as well as Eun-sung's.
I don't mind the pacing of the story for now but if I have to wait a week to find out how the boys will react, I might take that missile and shoot it in Cupid's heart.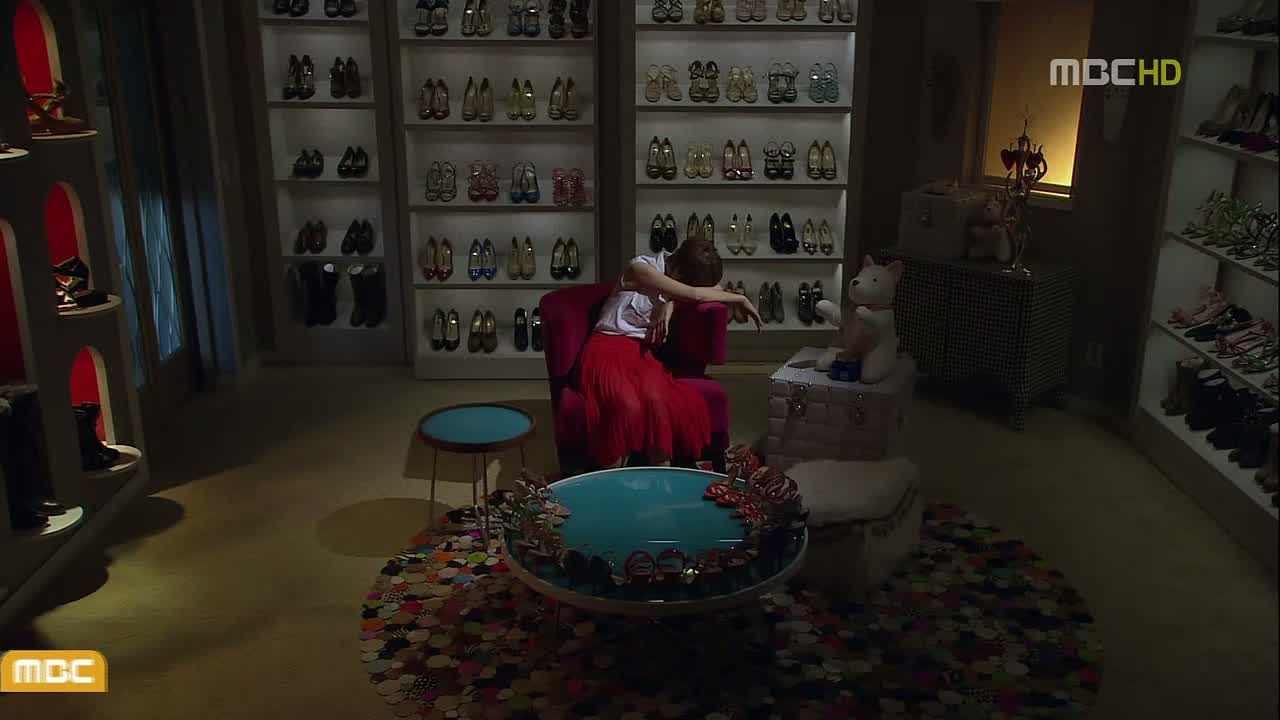 RELATED POSTS
Tags: featured, I Do I Do, Kim Sun-ah, Lee Jang-woo