I Do, I Do: Episode 6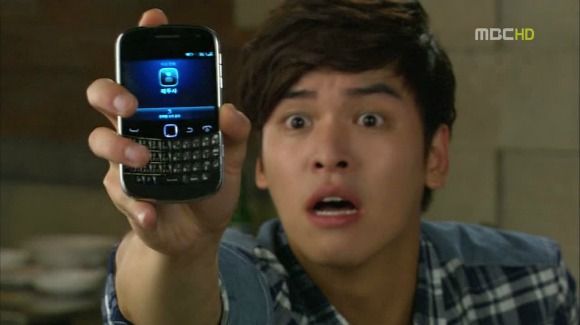 If last episode was dedicated to how Ji-an takes the news of her pregnancy, this is the men's time to shine. Each take their own stance on the matter in their own way and struggle to cope with the news that now their own lives might change forever.
SONG OF THE DAY
Yesung – "꽃보다 그녀" (That Girl Over Flowers) from the OST. [ Download ]
Audio clip: Adobe Flash Player (version 9 or above) is required to play this audio clip. Download the latest version here. You also need to have JavaScript enabled in your browser.
EPISODE 6 RECAP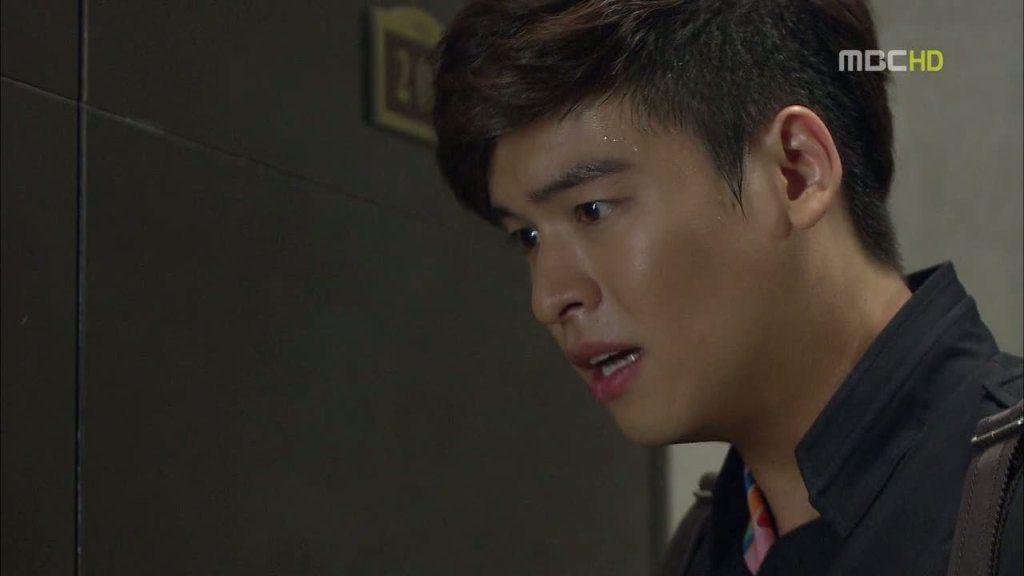 We backtrack to see Tae-kang running after he's figured out that Ji-an's pregnant. Now the clues that flash in his mind makes sense – the ultrasound picture, her remark that it can be "taken out", the words that it's his fault.
He arrives at Ji-an's door and his hands tremble over the doorbell.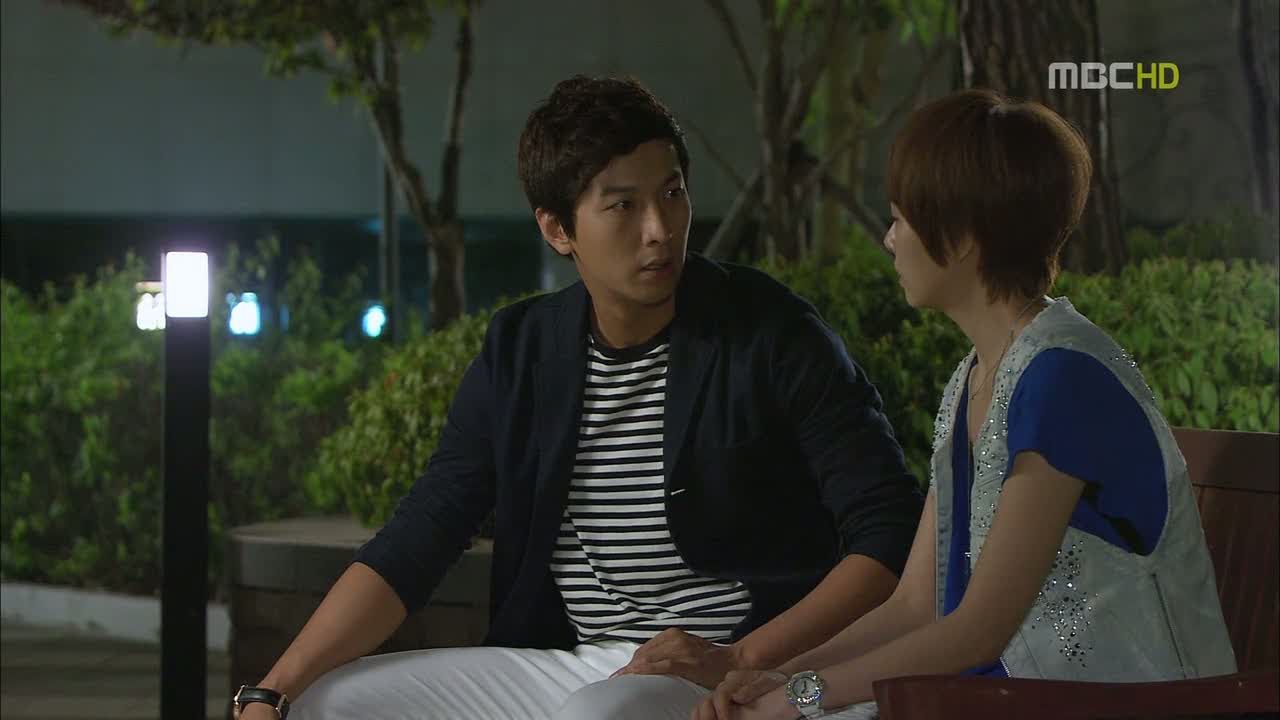 The first words that come out of Eun-sung's mouth are, "8 weeks? Then right before you met me?" Ji-an apologizes and he retorts, hurt and angry, "What are you sorry about? That you're pregnant or that you told me that you are?" Well I'm going to breathe a sigh of relief here that Ji-an's still pregnant.
Ji-an admits that she's made a huge mistake and that she's beating herself up for it as it is. She's not sure what she'll do know and comes clean that she was in front of the hospital (Eun-sung stares in horror) but then she suddenly thought 'Why me?' She felt wronged for the growing fetus within her to be killed.
Eun-sung asks if she's seeking him for a consultation or for comfort and Ji-an acknowledges that she has no right to either since they're just two people who've met on an arranged date.
This time it's Eun-sung who looks back at her, holding back his tears as those last few words sting. He gives her the box containing the shoe necklace, assures her that he'll speak to the parents, and storms off.
Ji-an walks back completely dazed and meets Tae-kang who greets her in jondae. Unable to face her that he knows about the pregnancy, he tells her about his efforts to recover the bag. Ji-an cuts him off, "Get lost."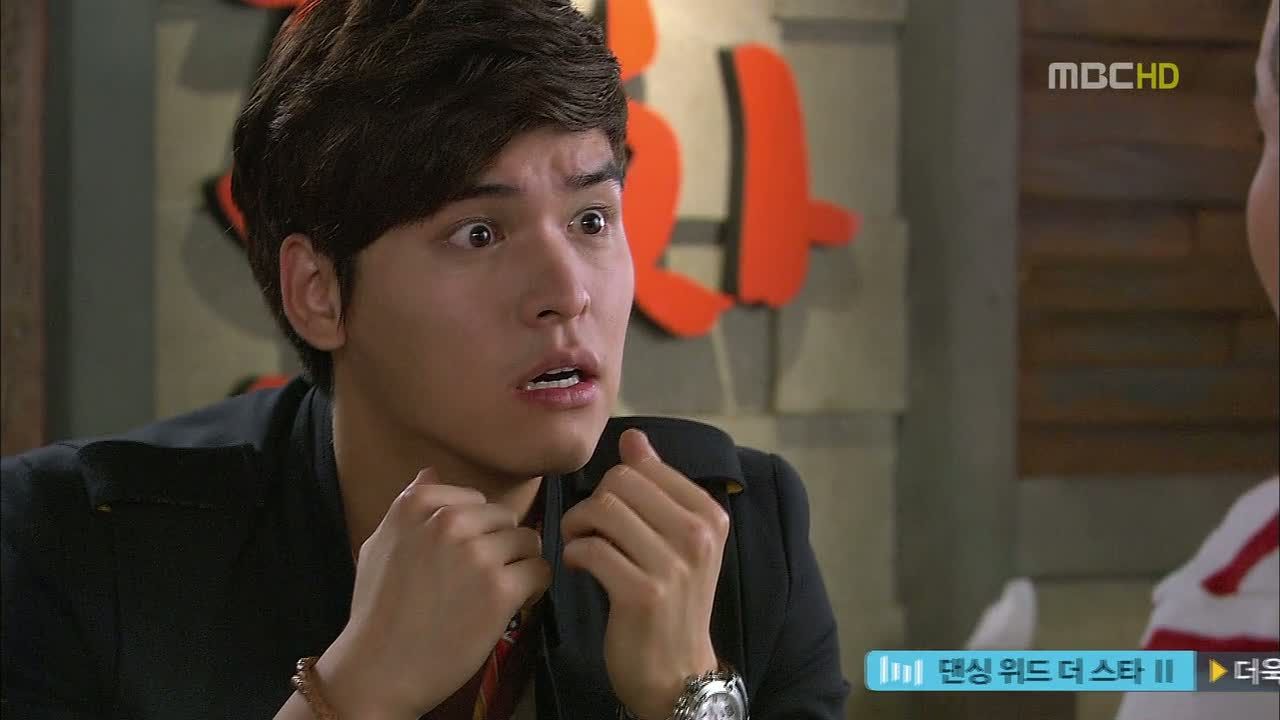 Tae-kang consults his sorrows with Choong-baek – he's 95% no 99% sure that it's his. No one would dare come close to her Medusa character. Best friend's brilliant plan? Leave the country. HAHAHA! I love how they subvert this cliché as our hero balks that that's not a plan.
Then Choong-baek asks a pointed question – is he going to marry Ji-an over one drunken mistake? With his good looks and steady income, the girls will be lining up down the block for him so he can't get locked down with Ji-an.
Dad pops in to drag Tae-kang out to retrieve someone else's thrown out furniture. Tae-kang tells him that he'll follow but not before giving a stern warning for Choong-baek to keep his mouth shut. Yeah, you might wanna say that before you tell the blabbermouth.
Tae-kang doesn't have an appetite at dinner but Dad orders him to dig in anyway since they'll be able to afford it from now on. They'll have to save up towards his wedding and marriage life so Tae-kang asks what if he gets married before then.
Dad has no issue with it; it'd be nice to have a housewife in the home and paints a picture of coming home to a hot meal and relaxing with his son. So Tae-kang smiles as he fantasizes Ji-an as the perfect housewife… but he shakes that from his mind, "As if a boiled chicken can lay an egg."
His next fantasy is far more realistic and entertaining: Dad taking care of the baby while Tae-kang cooks and cleans and Ji-an works, doing her best to ignore the noise. When he declares himself as the head of the household, fantasy Ji-an barely blinks an eye and raises a heel at him as he cowers in terror. HA.
After he sees Ji-an nod off during a morning meeting and chooses milk over espresso, Tae-kang sends a text to Bong-soo for a secret meeting. What follows is a hilarious lecture by Professor Bong-soo about pregnancy symptoms.
Tae-kang listens intently as he learns about morning sickness and constipation (he circles and stars "poop"). Lastly, they'll crave food they've never eaten before.
Tae-kang falls back onto his chair and Professor Bong-soo rushes to his side – so who's pregnant? Don't tell the tattletale!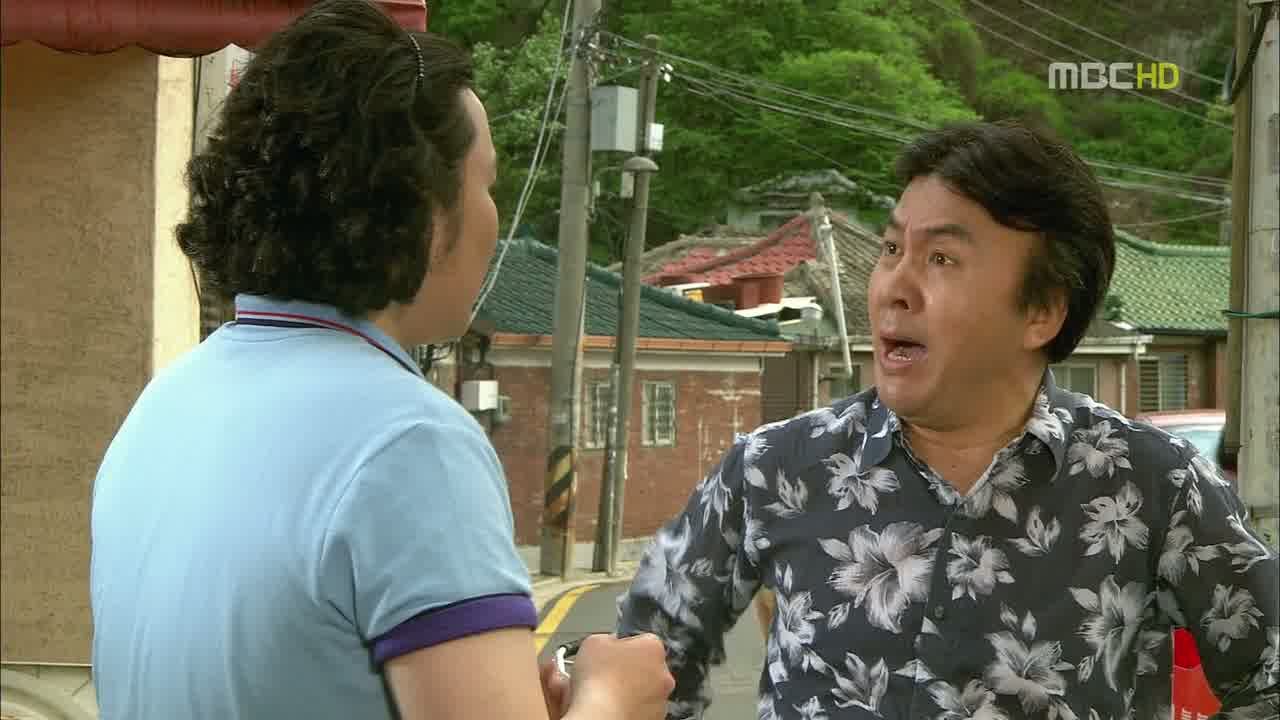 Uh-oh, bad news bears for Dad. Turns out that their "house" was never put up for sale and the real estate office is filled with those who were also conned out of their money. Oof, knew the offer was too good to be true.
Choong-baek says that they'll have to tell Tae-kang but Dad instructs him to keep his mouth shut. Well, now you've both got secrets. And the unreliable best friend is your Secret Keeper.
The staff excitedly blab about the possibility of their design being introduced to a global level and Team Leader Ma looks on. Taking out a drawing of their family her child drew, all it contains is a sketch of him, Aunt, and their pet. Aww.
Ji-an refuses to accept Team Leader's Ma reason to be excused from the collaboration on account of her children. Others would die for this kind of opportunity – isn't she greedy enough to grasp it?
But Team Leader Ma explains that as a designer she wants her shoes to become brand name but this opportunity could come again. She doesn't have those same odds as a mother. Here and her husband were missing from her child's drawing, a sad but obvious realization of their absence in their child's life.
Eun-sung lingers around the newborn wing and smiles at the infants. His mind flashes memories of when he brought Ji-an here and he shakes it from his head.
Madame Jang brings Ji-an to a boutique, intent on shaping her image from head to to. Everything she eats, wears, and meets must match the the status of someone to lead the company.
Uh, I'd argue that Ji-an would be able to dress herself just fine thankyouverymuch.
Na-ri enters the same shop just as Ji-an steps away. Bracing herself she pleasantly greets Madame Jang who coldly asks, "You come here too?"
Just when she's about to ask her to help choose her own clothes… when Ji-an walks out of the dressing room. It's awkwardly tense between the ladies and when Madame Jang shows the teensiest ounce of kindness towards Ji-an, Na-ri sends her a jealous stare.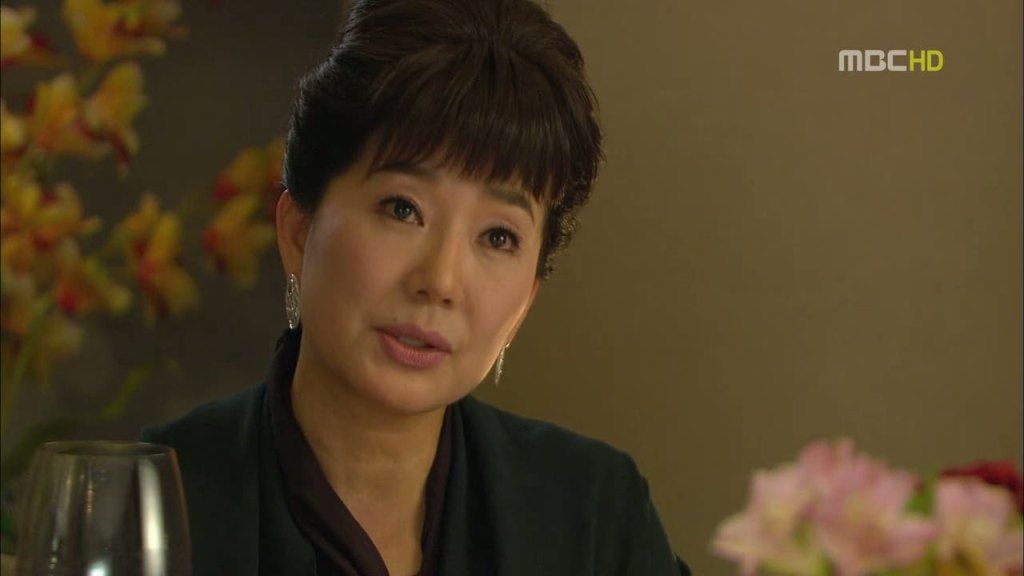 At dinner, Madame Jang starts to list the preparations before the official announcement when Ji-an asks for more time to consider the offer. If Ji-an's worried that she's bypassing the Vice President (Na-ri) to preside over the company, she needn't. However, this is a once-in-a-lifetime chance.
Ji-an escorts a tipsy Madame Jang to her car. She looks back and Ji-an, calling her "President Hwang". With a hug, Madame Jung assures Ji-an that she'll be the best because, "I chose you."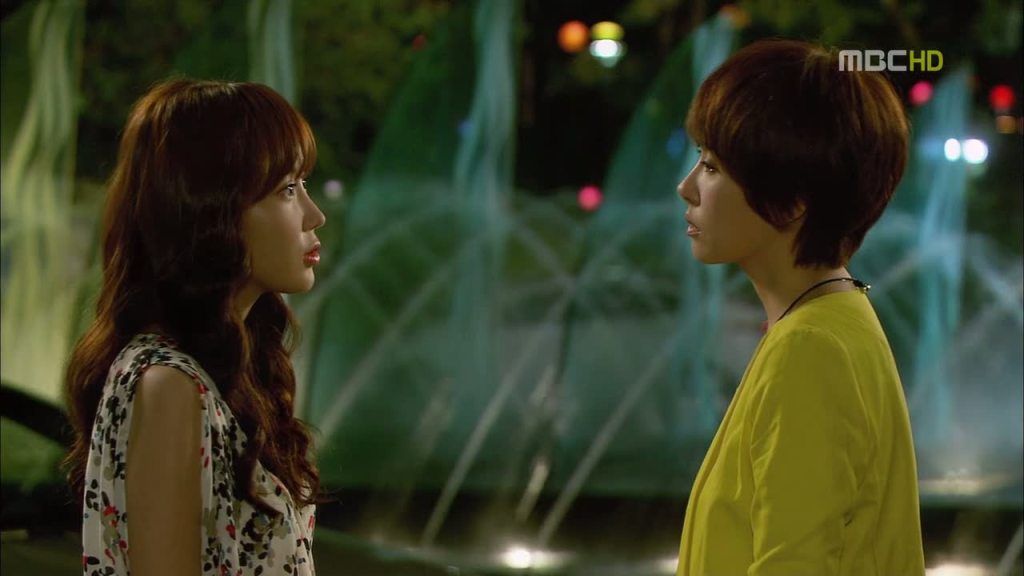 Someone drives up as soon as she leaves – it's Na-ri who reminds Ji-an that it was her to play fair – that it wasn't her style to backstab others. Ji-an's too tired to hear Na-ri's whining but Na-ri seethes, "You dirty hypocrite! You pretend that you're so virtuous and righteous in front of others but play dirty tricks from behind."
Ji-an itches the scratch, asking if this is coming from the fact that Madame Jang bought her clothes today. But Na-ri's evil plan isn't over: "The first thing I do once I become CEO is to fire you."
She'll blacklist Ji-an to make sure that she never gets to work in the industry again. So she tells Ji-an to bring it because she'll do the same. Is proclaiming your intent right off the bat all part of your Big Plan hon? 'Cause that ain't so evil.
Ji-an arrives home and stares at her shoe closet. Madame Jang's earlier words that this is a once-in-a lifetime opportunity rings in her ears.
And then… she starts pulling shoes off the shelves, one pair at a time. Woah, what a powerful scene just watching her let the heels fall to the ground. Another thing, are you going to turn it into a nursery? 'Cause that would be all kinds of awesome.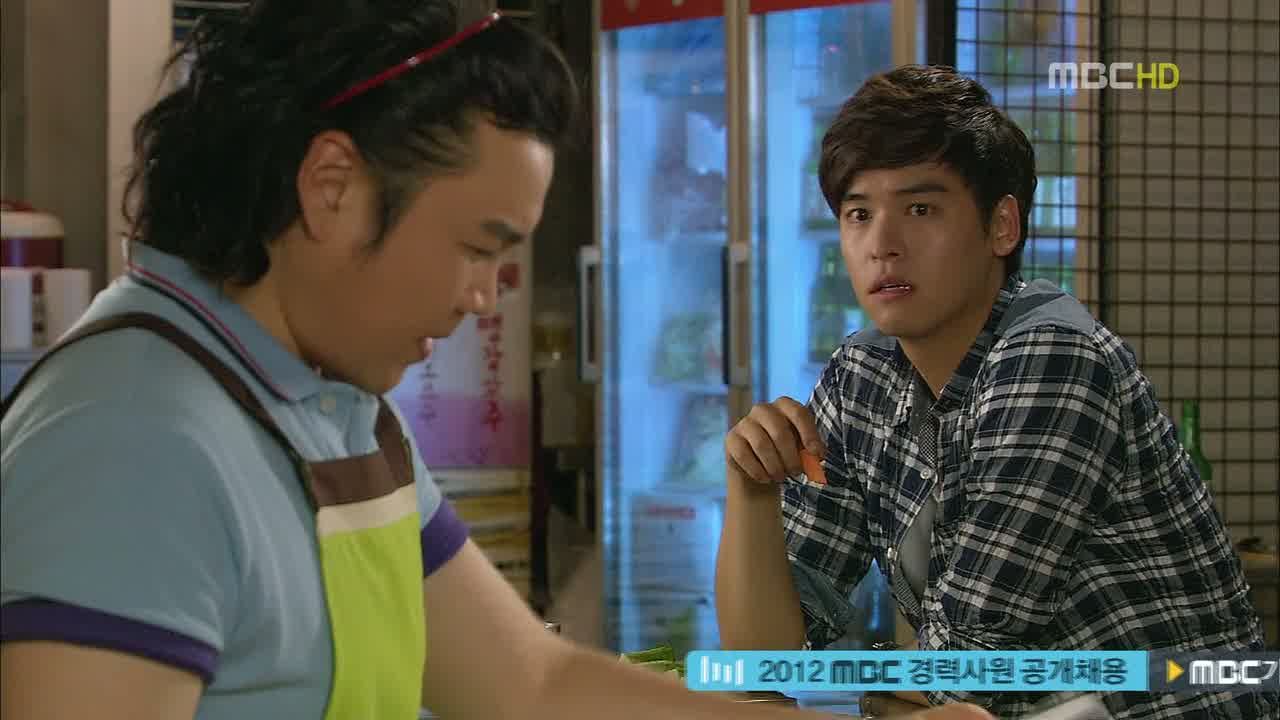 Tae-kang contemplates whether Ji-an went through with the abortion or not and Choong-baek remarks that if she hasn't contacted him, she probably did. Tae-kang balks at that – he might have been conceived by accident but Dad never regretted that he was born.
Then he can be married to the Medusa ball and chain if that makes him happy. The phone suddenly rings and both men freak out – it's Medusa calling. After a hilarious You pick it up! No you! exchange, Tae-kang picks up, muttering a series of "Yes"-es.
When he hangs up, Choong-baek asks after what Ji-an said and Tae-kang replies. "She told me to bring jokbal." Omg, are you making him your lackey and letting him sweat? 'Cause that'd be inadvertently evil and funny.
She invites Tae-kang inside, with jokbal in hand. I love that she subtly tries to clean up a bit so he can sit down (or sit at attention). Ji-an digs in and after a panic-filled minute she casually asks, "Aren't you eating?"
Tae-kang hints that there's another reason why he's here and there is – the design. Now the sides have switched where he's thinking about the pregnancy and she talks about the design as a cover. She says, "You said you were going to take responsibility. Until you find it, you're my slave." Oh he is gonna be her lackey!
He'll do everything as he's told, especially the jokbal. Tae-kang's like just give it to me straight! So she admits to having to tell him but he might regret hearing it. He won't so she can come out with it.
Hearts beat fast and you can see her mull over whether or not to… and she says, "Forget it."
Tae-kang whines that there IS something but she maintains her cool. Oh honey, you're not gonna make HIM say it himself are you? Fed up, she asks, "Are you talking as if you already know something?" Tae-kang: "K-now?!… I'm just curious that's all."
But she insists that there's nothing to say and marches in her shoe closet. Tae-kang yells if she won't regret it because he won't ever hear it again. Two seconds later, he changes his mind and opens the door to this:
Ji-an's pastime is to polish her shoes whenever she's upset and Tae-kang rolls up his sleeves to join her. She sits back, impressed that there's something he's actually good at and he comments that it pales in comparison to his father. Ji-an: "Father?"
He quickly changes the subject to a pair of child's sneakers he previously spotted here. Ji-an holds them up and calls it her very first product. She saw this pair in a shop when she was in grade school and they looked so pale and pitiful to her.
So she dressed them up, thinking how much prettier they'd look afterwards. "That was the beginning. These are the shoes that gave me my dream. I wouldn't dare put a price on them." The nursery jingle in the back is such an appropriate and lovely touch to it all.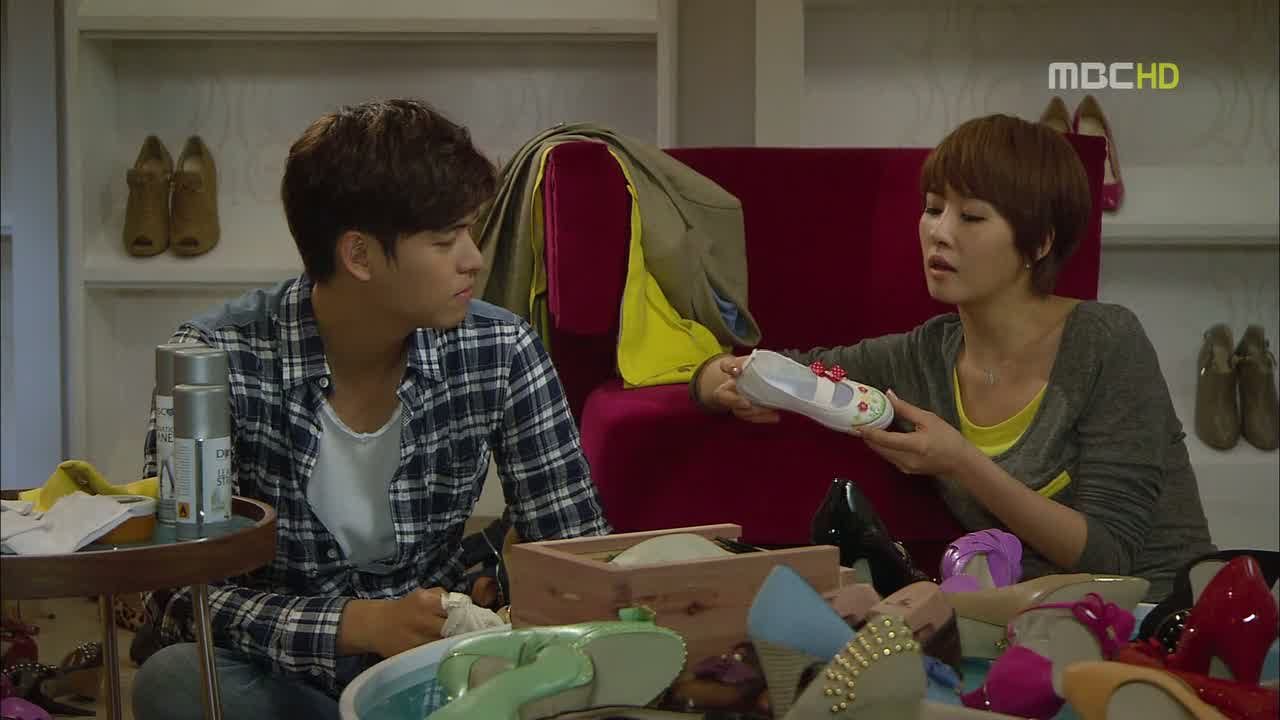 What was it about shoes then? Tae-kang asks. They're not necessarily noticeable and they aren't particularly comfortable. Ji-an answers:
"Don't you know the saying, 'Good shoes will take you to good places?' At first I thought that meant that pretty shoes will bring you luck but that wasn't true. Shoes cast a spell on me. So that I can become brave. So that I can feel like the best. So it takes me to place where my heart leads. Where my heart leads. That's the best place."
Tae-kang looks at her as she says all this with a warm smile and they stay silent for a moment… when Ji-an farts. PFFFFFFFFFFT. PUAHAHAHAHA. And it's a stinker? Oh man, I'm dying.
We see Dad sitting in a bus station, determined to never return until he hunts down the jerk who conned them of their money.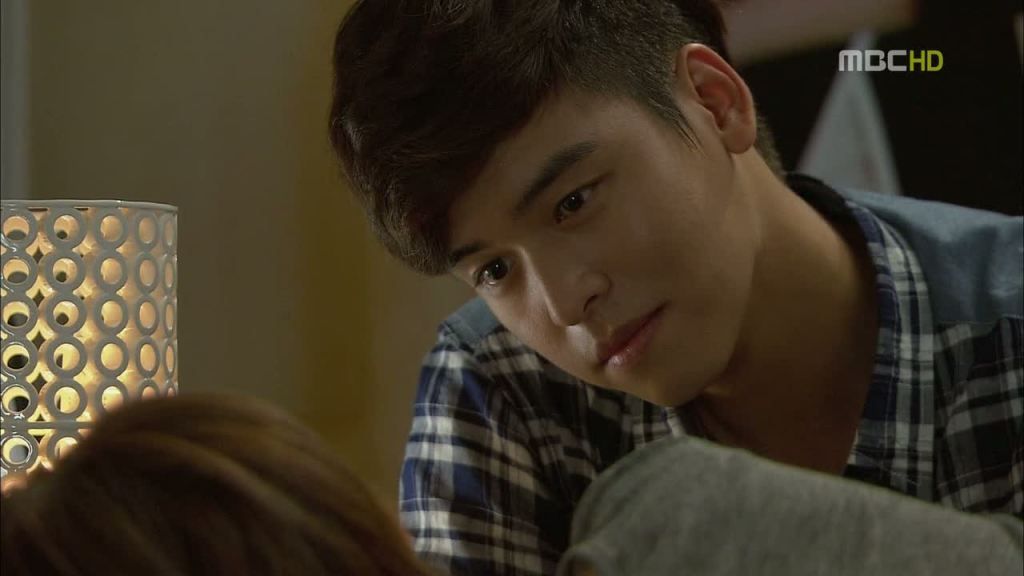 After some time, Tae-kang finishes polishing the very last pair, stretching his arms wide. He looks around, "Where did she go?" Ji-an is fast asleep in the living room and he carries her to bed.
He watches her sleep and says, "You're pretty." He carefully puts his hand to her cheek and nearly wakes her.
He spots the sketchbook and looks at it curiously. NOOOO!! Don't look at it! Taking a look at the messy apartment again, he rolls up his sleeves and then cleans up the place to be spotless. Now outside, he wonders how Ji-an will raise a child but then smiles.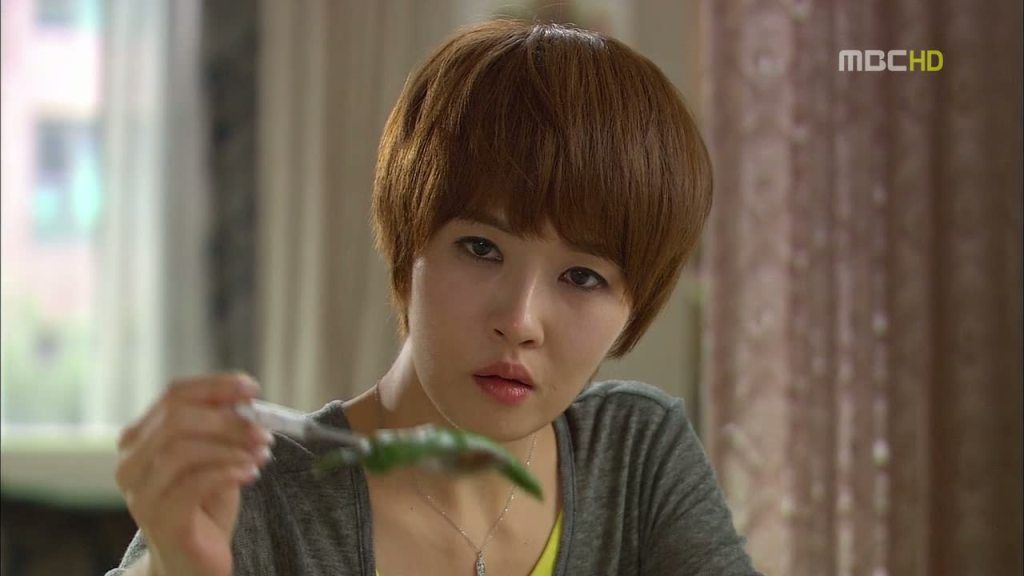 Ji-an wakes the next morning to find the place spotless, her shoes put back in their rightful places and breakfast ready on the table. D'aw.
She reels after a bite of the kimchi stew and spoons out a HUGE pepper. "Did you put this in here because I like them?" He did and it's sweet.
She drops by to visit Jun-hee and they both speak simultaneously. It's Ji-an who admits that she didn't go through the surgery and tells Jun-hee to not ask the "What are you going to do now?" question – there's no one on her side at it is.
Which is when she gifts her friend the heels she's been eyeing and Jun-hee lets bygones be bygones. How funny and adorable is it that Jun-hee and her daughter not only dress alike but have the same tastes and mannerisms? I retract my earlier assumption that Jun-hee was irresponsible; she clearly loves her daughter to pieces.
As she watches Jun-hee play with her child, Ji-an looks on with a bit of longing. She imagines sketching and chasing after her own daughter – a thought she smiles at and then shakes from her head.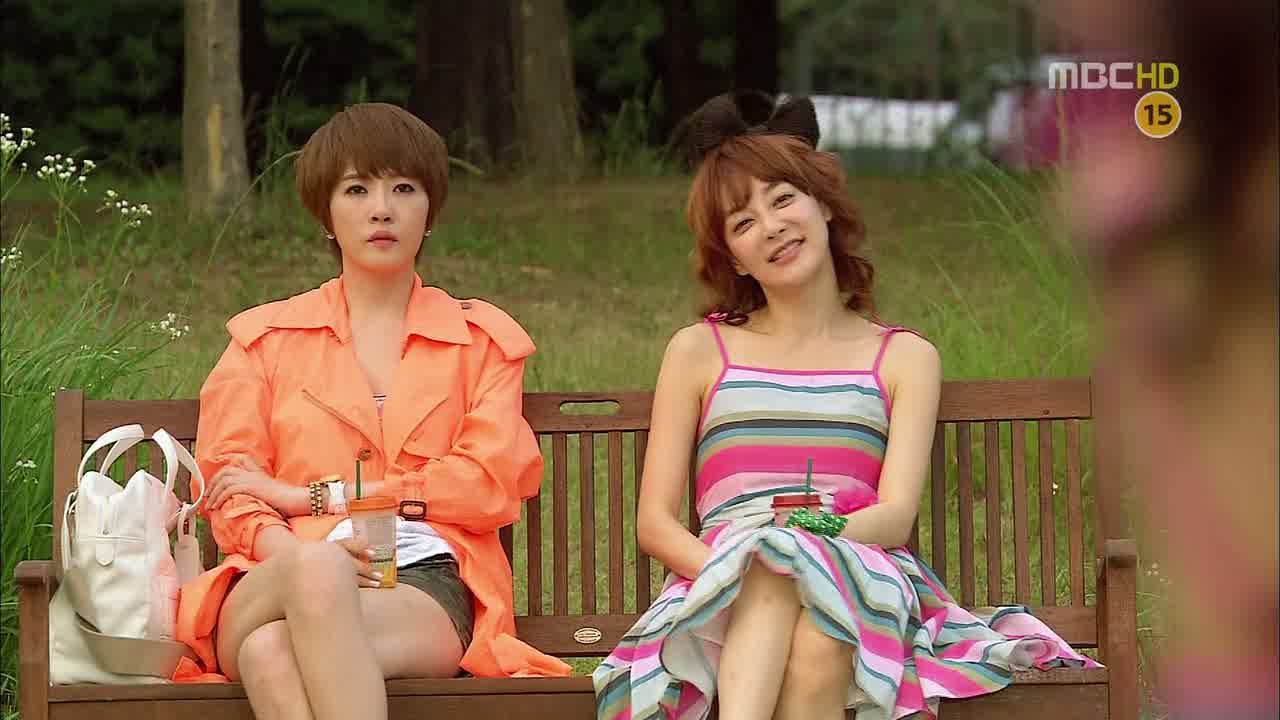 Jun-hee asks if she's decided to keep the baby after all. Ji-an tells her that there must be a reason why having an abortion bothered her so much so she'll wait until she finds it. Her path formerly seemed to be predetermined but another path she never imagined could exists popped up.
Ji-an: "Can you imagine it? Me having a kid and raising it?" Jun-hee tosses back, "Then who's a mom because it suits her?" When she was fighting for custody for her daughter she was able to read scores of legal documents without blinking an eye.
Being a mother is being able to make sense to something that doesn't. Moreover, "It'll be a billion times worse than whatever you imagine. But it'll be a billion times happier."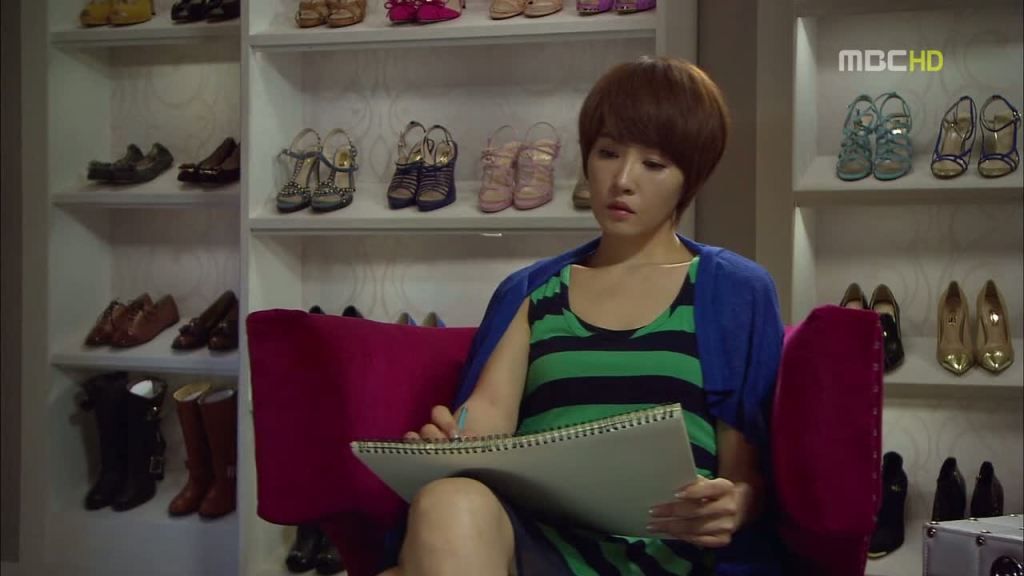 As she fills the space in her pros list, she thinks in voiceover: "What would make Jun-hee read law books and Team Leader Ma to pass up an opportunity as a designer? What would be on that path? Unless I go there, I'll probably never know. It's still complicated, scary and undecided. But I've become a bit… just a bit curious."
She jots down, "I'm curious." in the pro list.
Tae-kang rushes to relieve Ji-an of her burdens so she doesn't carry anything heavy. He smugly asks if she had a good weekend, adding that there's not an inch where he's not sore. She tells him to drop the act and then adds about how the stew was too spicy.
Hilariously, Tae-kang glances at her belly, "Is it not good [for it]?" and breaks into a smile when she tells him it wasn't half bad.
He asks her to dinner but she'll be out with the folks. If he comes by after 9… and Tae-kang agrees.
Ji-an redistributes the projects among the staff which surprises everyone (especially Team Leader Ma) and she adds that a team should help each other out.
Tae-kang shoots his hand up in the air, asking what he should do. Ji-an: "You… can clean." The staff snigger and he wonders aloud, "Where should I start cleaning?"
How ironic that Eun-sung and his cohorts are at an abortion debate. They're on the pro-life front and Eun-sung is in a daze as the others argue back and forth. He finally butts in, "I can't do it."
"I can't tell her to erase it or have it because we don't have the right to choose. The same goes for the baby in the womb. If it wants to live, it can't say so. If it's in pain, it can't say so. The babies who can't blame anyone and die because of your irresponsible mistakes… what would you do if you were in that baby's position? Would you say, 'Yes! I'll die for my mother's happiness!'"
His opponent asks if he's being too personal about it but Eun-sung asserts that he would do that because he wouldn't want to beg for his life if his parents said their lives would be happier if he was aborted.
He storms out mid-debate and thinks back to Ji-an's earlier words about her thoughts when she was outside of the abortion clinic. His phone suddenly rings – it's his mother. Ruh-oh – does the family dinner include both families?
Choong-baek clucks at his friend for going through so much trouble dressing up just to ask if the baby is his or not. What if it is? Tae-kang answers, "Then I have to take responsibility for it." He means by marrying her and it's good if the child grows up in a stable environment.
Choong-baek stammers – does he actually like Ji-an? It's a slippery slope from mere curiosity to falling in love.
Ji-an and Eun-sung serendipitously meet outside the restaurant. The air is tense and Ji-an cuts the silence, asking after where she can return the necklace. If she doesn't want it she can throw it away, he replies.
She tells him to do it himself and he counters, "You don't want to throw it away yourself? I think you'd do a good job." Ooh are you talking about the necklace or the baby now?
They both step inside and it's exactly what I feared – both parents sit at the dinner table. Oh crap.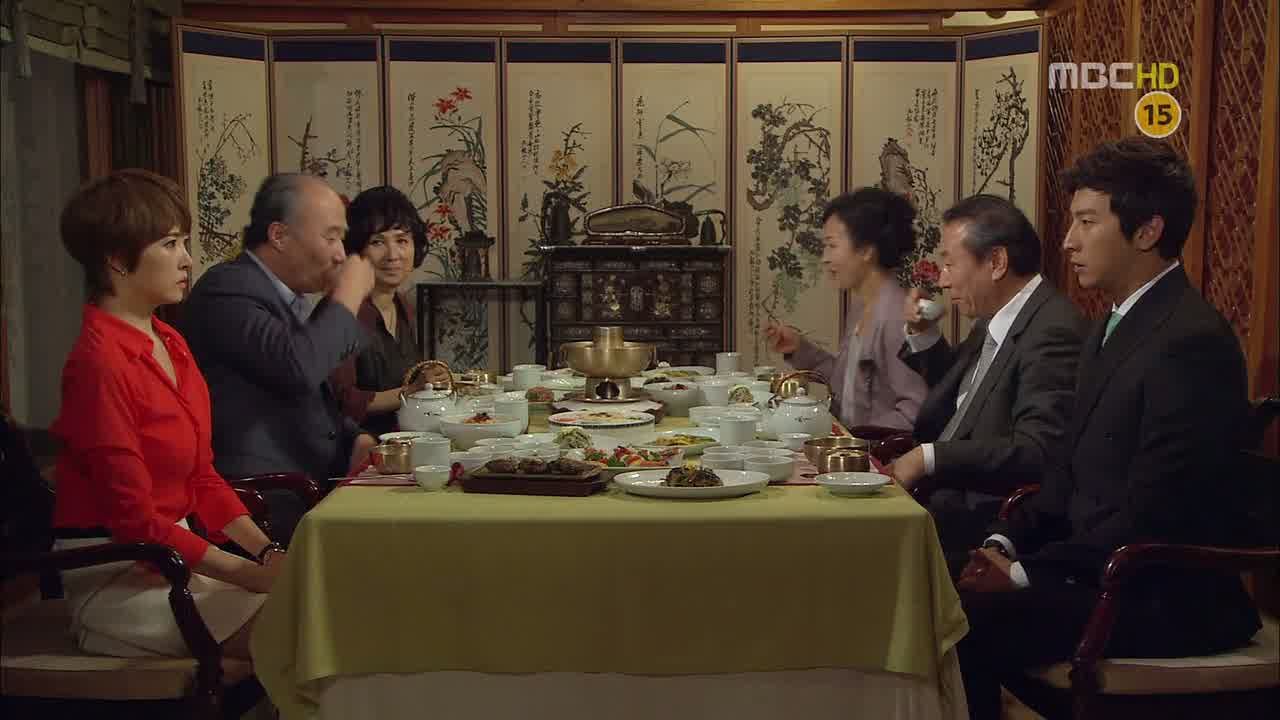 The parents exchange compliments about each other's children as the two sit silently. Ji-an interrupts to get their attention and Eun-sung cuts her off and excuses themselves for a moment.
Now alone, she accuses him for not informing his parents and that someone has to tell them. Eun-sung stops her – why is she doing whatever she wants? What did she do so well? Why is she so arrogant?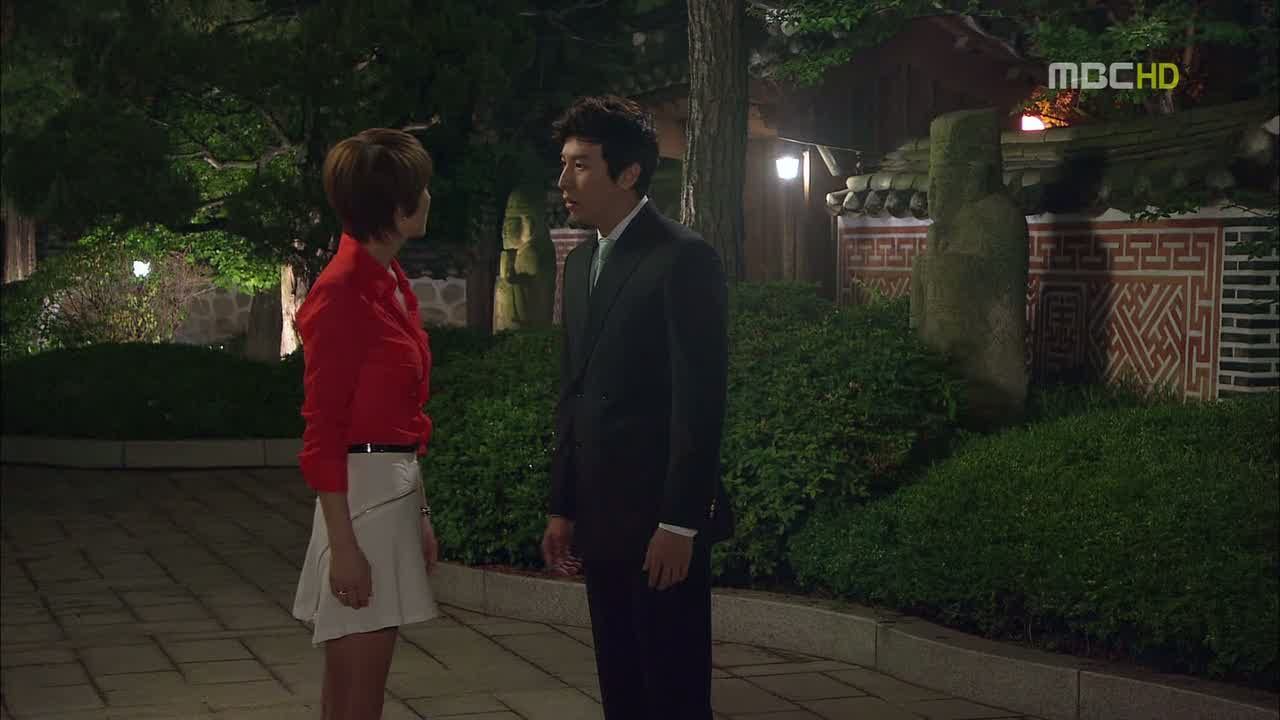 Eun-sung tells her, "Do you know how I've been living after that day? Why did you confide in me? You should have gotten the surgery in secret if you wanted to do it. You know that I'm a gynecologist. If you tell me that, how am I supposed to face you then?"
Then he delivers, "How am I supposed to like you anymore? You really are the worst." Eeeeepp!!
COMMENTS
I am so relieved that we reached this point where the men found out about Ji-an's pregnancy sooner rather than later. As expected, their reactions are like night and day and both men have good reason to react the way they did. I love that Tae-kang is so honest and earnest, giving her the opportunity without offending her to tell him herself because you can see that he was itching to tell her that he's okay with it and he's willing to do what it takes to assume responsibility even if he doesn't have a clear picture of what that will entail just yet.
He's attracted to her and curious about her but has yet to admit that he's falling in love with her. That loving look while Ji-an shared about what started her road to shoe design warmed me to my inner core.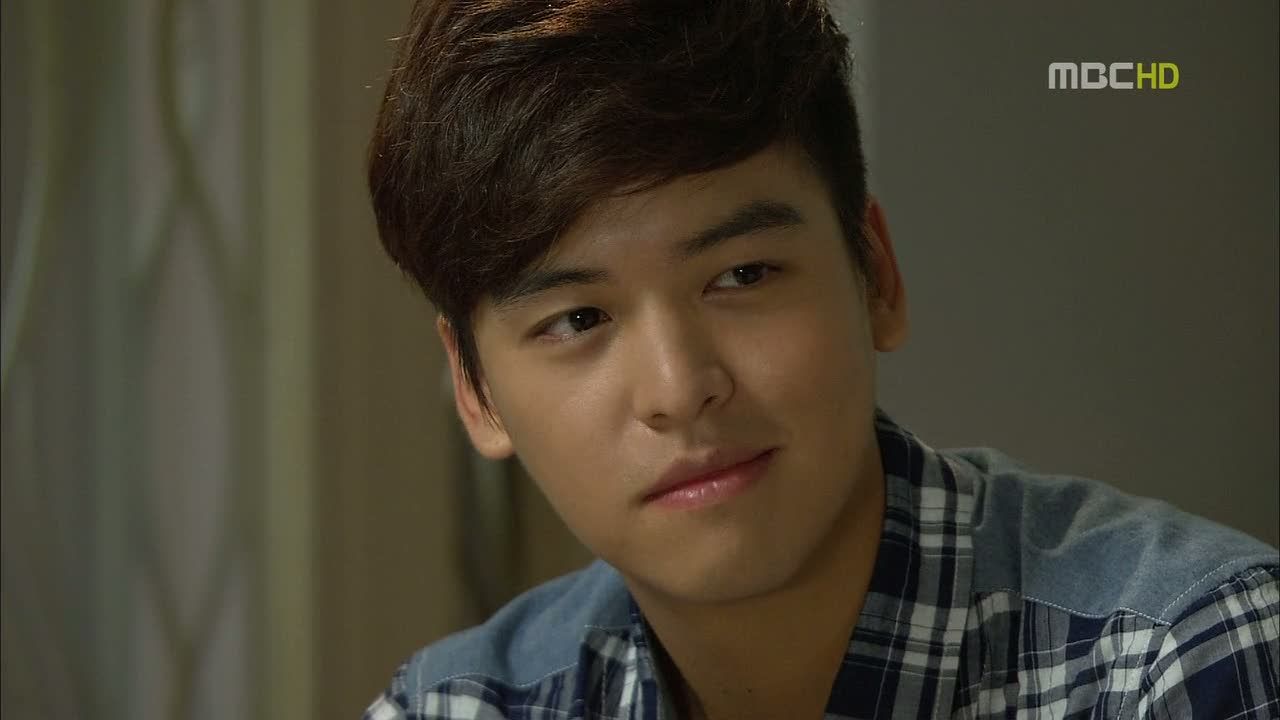 On the flipside, I sympathize with Eun-sung as well. For a while I considered his behavior as disingenuous because like most of you, I felt he was overplaying the perfect son-in-law act because he and Ji-an agreed to do so for the time being. But the more earnest he was and particularly when he was hurt to hear that Ji-an regarded him as just a potential mate not as an actual one made me realize that he was genuine.
It's not easy hearing from someone you like that they're pregnant with someone else's child. Did anyone else feel like he almost wanted it to be his? And even when he was so upset with her, he still stepped in to save face in front of her family. Ji-an doesn't necessarily need anyone to stand up for her but it's nice that there are men in her life willing to step up and take care of her because she's a lonely soul who depends on herself to get through her woes. Right now the men aren't necessarily intruding on her space but provides her that safety net so she doesn't come crashing.
On a different note, I love the tidbits of motherhood that Ji-an is learning from the mothers around her. This allows some light to shine upon some side characters like Team Leader Ma and Jun-hee, characters who in other dramas can be commonly cast aside. These are the times that I wish that her own mother was written better than just a meek standby character but then again, we're still a long ways off. Perhaps Mom will give her word of advice much later when she finds out about Ji-an's pregnancy herself.
That glimpse of the future was so sweet. It inserted some more heart into Ji-an's character and painted us a picture of what motherhood could look like for her. Jun-hee's words about mother particularly resonated with me so I'll repeat them here: "It'll be a billion times worse than whatever you imagine. But it'll be a billion times happier."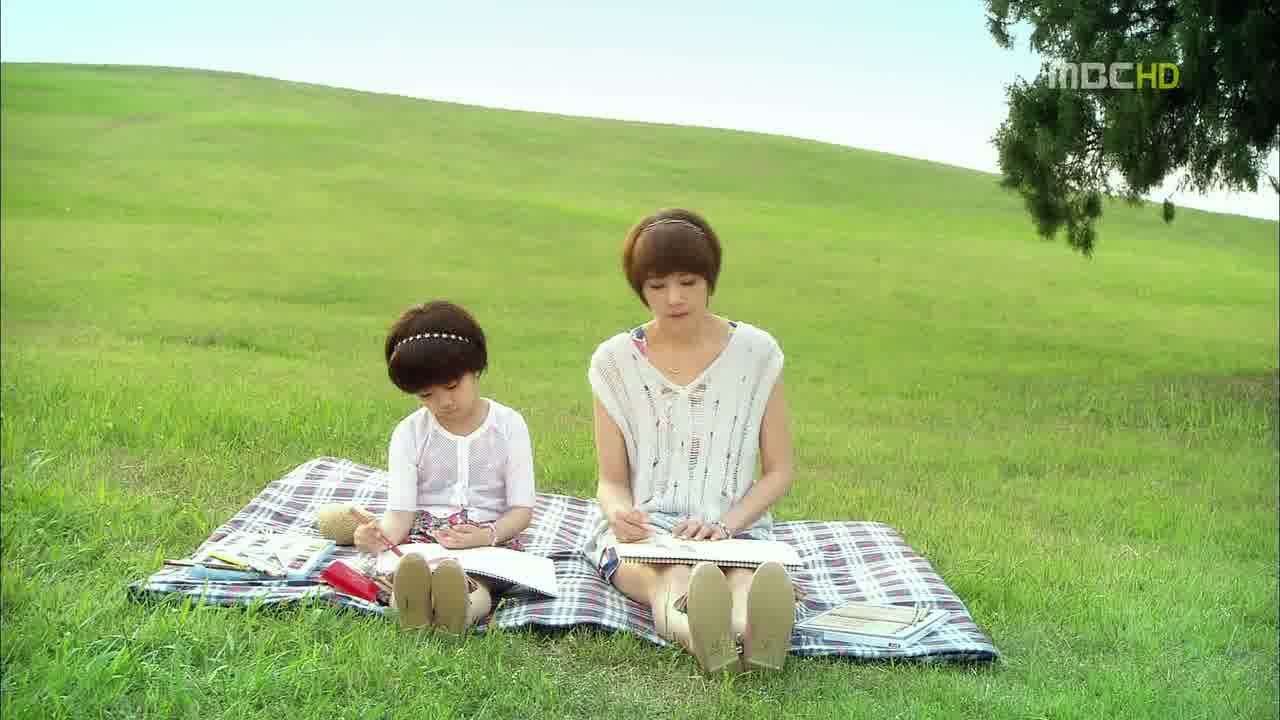 RELATED POSTS
Tags: featured, I Do I Do, Kim Sun-ah, Lee Jang-woo