I Do, I Do: Episode 8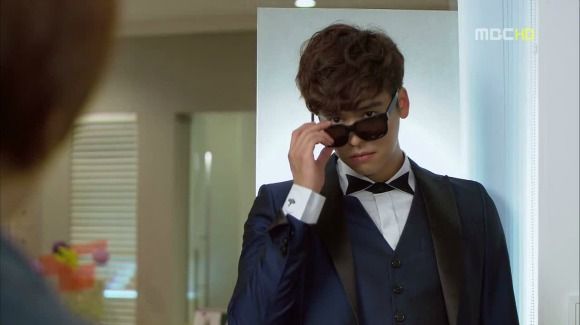 Instead of going toe to toe about Ji-an's pregnancy, people continue to tiptoe around the subject. Ji-an realizes that her Daddy Long Legs might not be the proclaimed Doc after all. Maybe instead, it's the one who's been looking out for you in the shadows, ready to catch you if you fall.
EPISODE 8 RECAP
The next morning, Tae-kang rouses awake to three stern pairs of eyes. He jumps off the couch, apologizing profusely for his drunken behavior. Fighting the world's worst hangover, he asks Choong-baek what happened and notices Dad and Scam Man still in cuffs.
Once they're out of the station, Dad asks after that strange woman Tae-kang planned to give his grandmother's ring to. But they've got more pressing issues to worry about like being penniless.
Scam Man claims he's out of money (Dad: "And you believe him?" Tae-kang: "We're here because you did!") and Dad gruffly points the finger to himself that he's the one to blame for being cheated. Tae-kang launches at Choong-baek too for hiding the truth from him.
Dad defends that he kept Tae-kang in the dark because he knew that he would blow up like this. Tae-kang: "But you should have told me anyway! You said you could trust me. You said that I was the only one in the world you could trust! How can you say we're family when you hide stuff like this!" He storms off.
In the car, Ji-an gets the rundown on Tae-kang's family history from when his father's small shop in Myungdong went up in flames and they had to resort to making and selling knockoffs. Then when they were caught, Tae-kang had to sell off their house to make bail. She thinks back to Tae-kang's fake confession to cover for Dad.
Bong-soo interrupts her thoughts – won't she think back to that moment every time she sees him? You know, how he said Ji-an was his first. Now she will, blabbermouth.
Tae-kang tortures himself outside the office, Choong-baek's words that Tae-kang declared his confession to the world ringing in his ears.
Eun-sung heads to a nearby cafe to greet his guest. It's Dad who's here to ask for a favor – couldn't Eun-sung persuade her to rid herself of the baby? But he's pro-life!
Dad recognizes that his relationship with Ji-an is spotty but he can't have his daughter become a single mother. He pleads, "Her life depends on this."
Eun-sung speaks up that he can't do it because he thinks differently. Keeping a child isn't necessarily an easy decision but it's not wrong either. He contends that Ji-an has the resources and willpower to raise a child.
Noting that Eun-sung won't help his cause, Dad gets up to leave when Eun-sung drops that Ji-an is going through premature menopause. The news that this may be her only chance to have a child sends Dad teetering back in shock.
Ji-an stares at Madame Jang's new gift – a life size portrait of who I assume was a successful woman in her era. Though I can't help but think that Ji-an sees menopause and her age in it instead.
Na-ri seethes in her office, noticing that Madame Jang chose to visit Ji-an instead of her. She complains to Jake that they have to come up with a new edge to beat Ji-an's designs.
Jake tells her that it's no big deal and Na-ri rips the video game from his hands; Ji-an isn't to be trifled with. Pulling all nighters and pouring her life into the collaboration, Na-ri is sure that Ji-an has something else up her sleeve.
Ji-an notices that Tae-kang is conspicuously missing from work. Concerned, her brain starts to imagine what he might be doing. In it, Fantasy Tae-kang stands on a bridge ready to end his life, the harsh words and actions from Ji-an flashing before his life. Just before he jumps, Ji-an snaps out of it.
She clears her afternoon schedule to drop by Choong-baek's restaurant. Watching the man dance is a frightening sight to say the least and Ji-an points to her stomach that it's all its fault. From now on, she'll be calling it "Ankle." (She extracts it from the phrase 'grabbed by the ankle' or dragged down.)
When Ji-an turns around, she jumps out of her skin to be met with Dad's piercing gaze.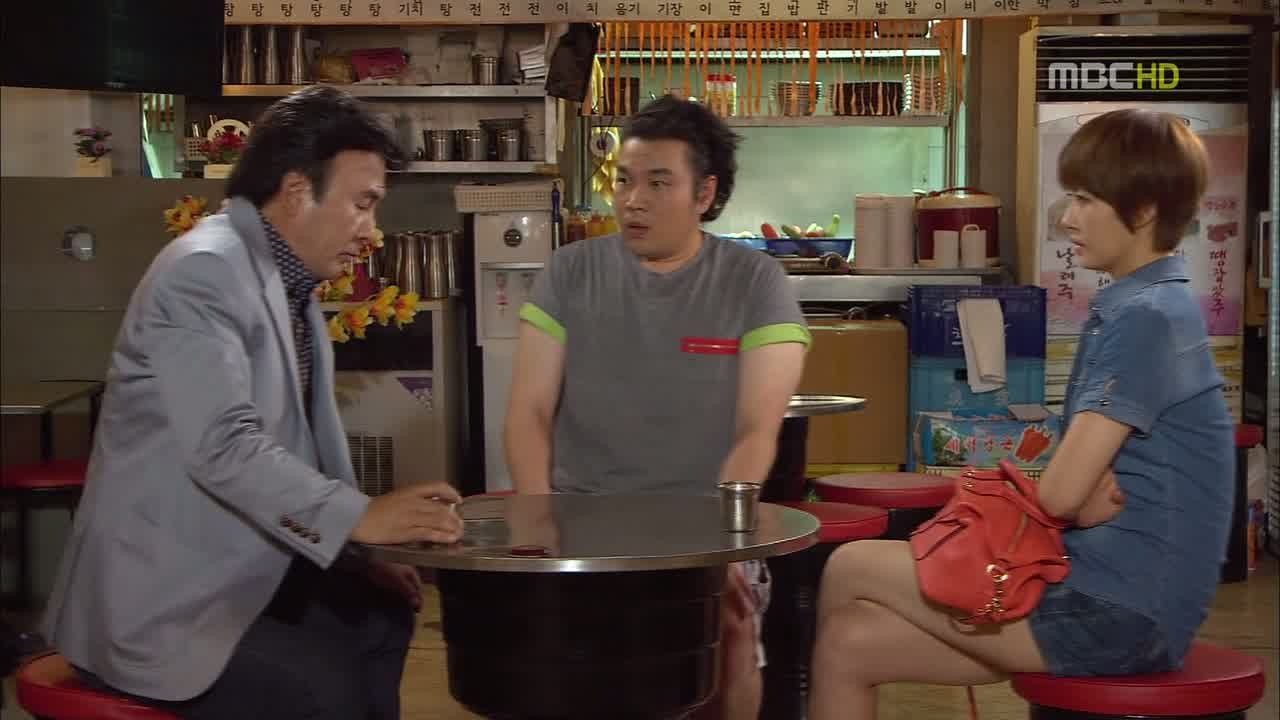 They sit down and Dad starts with the third degree about how she knows Tae-kang. Choong-baek is appointed to clarify the relations. He starts that Ji-an his work superior but then SHE was the one who caught Tae-kang.
That's why Dad went to jail and why they're in the mess they are. Well that's what you get when you get a chatterbox to do your 'splaining.
Ji-an sends a swift kick underneath the table and Choong-baek catches himself that nothing is going on between them.
Dad points a finger at Ji-an: "It was YOU who caught Tae-kang?" She counters that he's the one who was crafting knockoffs. He's in no position to get riled up because Dad should have raised his son to learn right from wrong, rather than hammering in how to make a bunch of rip-offs.
Lacking in both perseverance and fighting spirit, Tae-kang is already an outcast as a high school graduate. In other words he's treated as a rag, subjugated to the most menial of tasks like cleaning or getting coffee. And why is that? "Because that's all he knows how to do."
He's well on his way to being fired and Ji-an threatens to really fire him if he doesn't show up to work tomorrow.
She gets up to leave when Dad calls out, "Don't speak of my son so carelessly." He's the kindest person in the world who never complained that he didn't have a mother; the first who laughed so he wouldn't worry his father.
He even took the full blame when he was arrested. Dad cries, "Who are you? Who are you to look down at my son?"
Once outside, she huffs, "Why is he making me out to be the bad guy when he's the one not raising his kid properly?"
She arrives at the office to see the staff pack up her things and Team Leader Ma explains that they have a new boss. Na-ri appears at the door to introduce their new Chief Designer… and in walks Tae-kang, all spiffy and in shades.
HA – this is definitely a dream. Dream Tae-kang coolly takes off his shade and approaches her, calling her, "Hwang Ji-an sshi."
Then Ji-an jolts awake from the dream, wondering if it's a temong (a conception dream).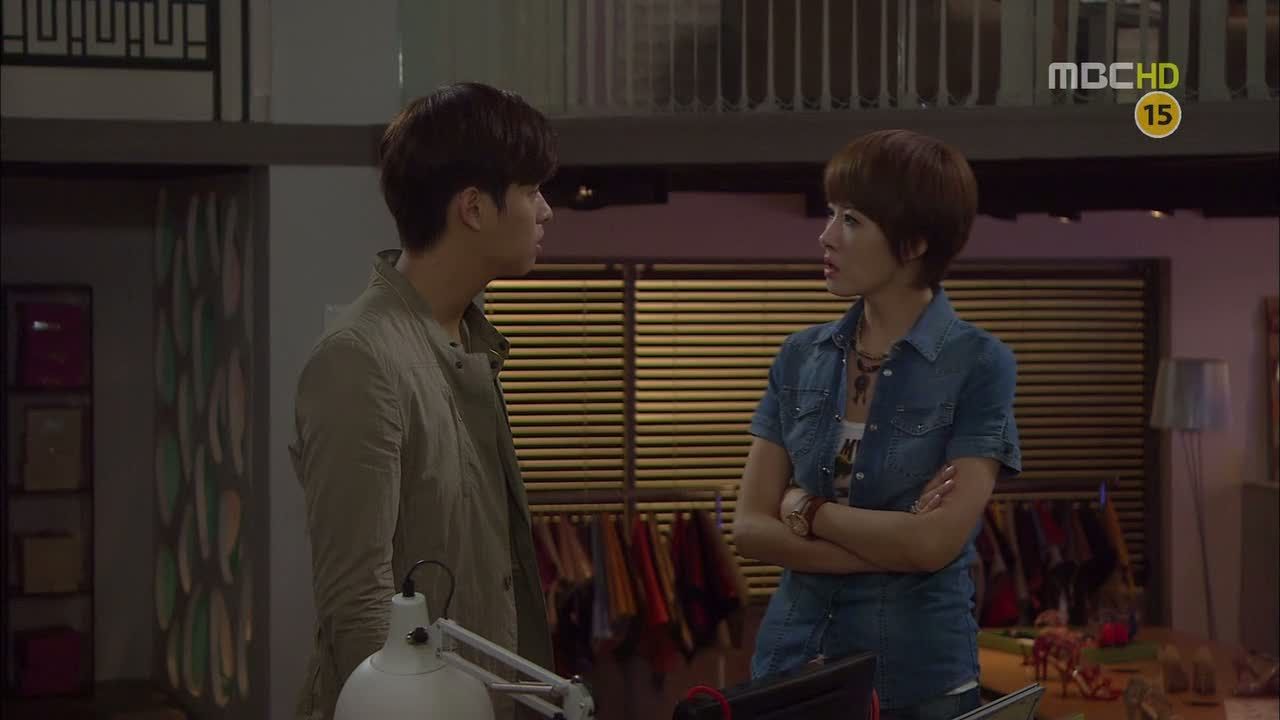 Tae-kang sulks in hanging his head, ignoring Ji-an's initial questions about where he's been. He's going to quit because it was only a matter of time he'd be fired and he stuck around hoping things would work out. So it's better off that he face reality sooner than later.
Ji-an sarcastically adds that it's just that easy for him and that he must have some pride left. She's tired of seeing his face too – so how should they handle her compensation for the design? Given the math, he'd owe her about 9 million won (or approx $900,000).
Tae-kang cites that it's unfair and she fires that the real world is much colder than this. Does he find the world laughable to preserve his pride? She pities her father who blindly trusts in his son.
She leaves him with one final thing: No matter what he thinks of that night, it meant nothing to her. "There's never been a time I've seen you as a man. Now or ever."
Tae-kang stands there frozen as tears well up in his eyes. Ji-an stops in her tracks for a moment as well but walks off.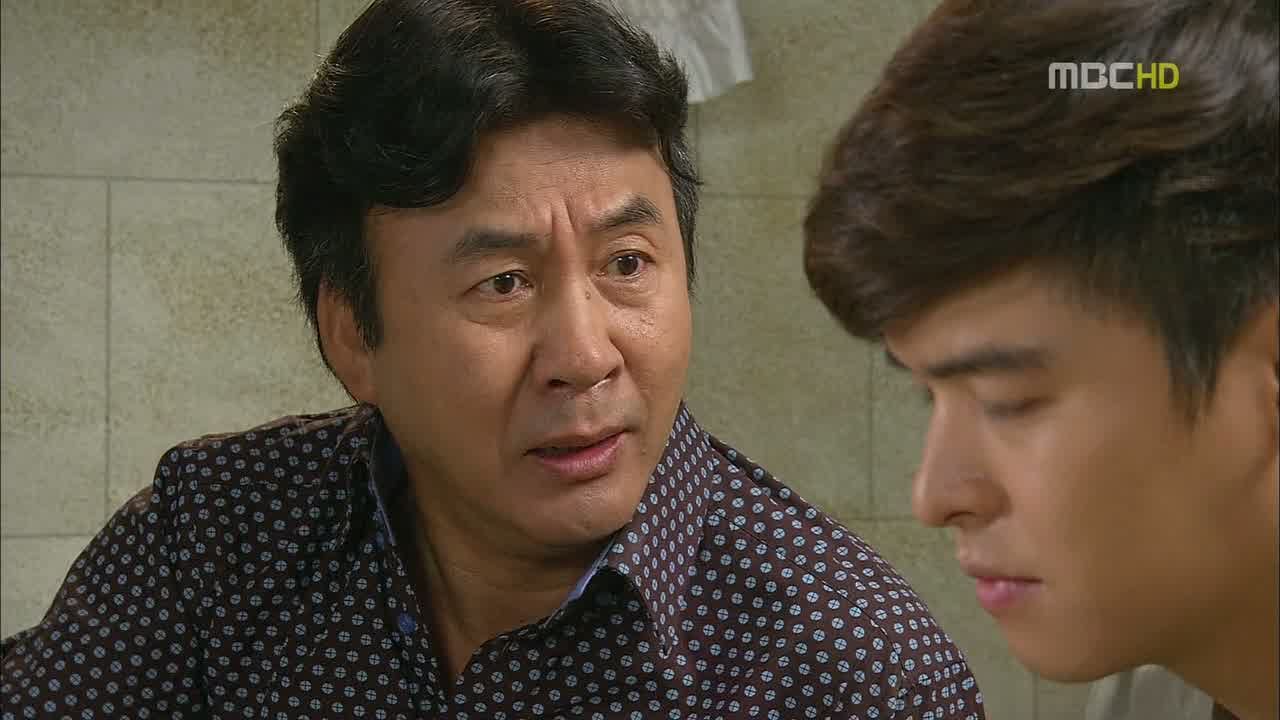 Now staying behind Choong-baek's restaurant, Dad looks fondly upon an old photo of himself and Tae-kang. He feigns sleep when his son gets home. As soon as they're alone, he tells Tae-kang to quit the company.
Tae-kang points out the discrepancy between his earlier words and now – when was it when Dad said it was better than most brand names? Getting up, Dad tells him that a man needs to preserve his pride. Without it, he's simply hollow bread – just a shell.
Tae-kang retorts that Dad taught him that pride is more useless than a wad of spat out gum. Dad asks if his son is giving up his life because he did before.
He starts, "When I was your age…" but Tae-kang finishes the story having heard it from grandma: he had a child, his wife ran away, and moved neighborhoods frequently to take care of a crying baby all without a moment of sleep.
Tae-kang declares that he's going to put his pride aside for now and vows that he'll earn the money back to repay their debt, buy an expensive building, and get back their house.
He says this with his eyes glazed over in tears and then shuffles over to hug Dad. Dad's not in the mood to play wrestle but soon they're tussling on the ground, just like old times.
With new resolve and determination, Tae-kang heads back to work, only to be confused by the staff up to their neck in preparations for the upcoming collaboration.
Another person who's on the receiving end of Medusa's coldness is Dr. Yang, Eun-sung's doctor friend. He calls to set up an appointment only to be dismissed.
Dr. Yang slams the chart on his desk that he won't take the case; a doctor shouldn't have to beg the patient for an appointment. He adds that Ji-an said that if he needed to say something he can send "an e-mail." HAHAHA.
Na-ri gathers the team together for a pre-showcase of the designs for the collaboration. As expected the staff's designs are subpar compared to Ji-an's elaborate concept.
Then Jake gets on his high horse and comments that he's slightly disappointed. He wonders if he held too high of an expectation… Here, lemme rip off those fashion glasses off your face.
Ji-an answers that it's not a final product which is when Na-ri tosses out, "Are you going through a slump?" She laughs it off the next moment as if it weren't a big deal but it's the underhanded tone of an insult that gets under Ji-an's skin.
Jake pops in and suggests that they break into two teams and whichever concept is better will be featured in the collaboration. Na-ri appoints Jake and Ji-an to be team leaders, leaving the other members to decide whose team they want to join.
The staff gossip about Ji-an's odd behavior – her tiredness and missed buyer meetings do suggest that she may be going through a slump… and Team Leader Ma breaks up the gabfest.
Tae-kang steps out of the office when he hears a voice call out,"Hey Rag!" Jake (who's taken to calling him rag with a Engrishified accent) pulls him in a side hug, asking whose team he plans to join.
Na-ri silent nudges Jake away and invites Tae-kang to join their team so he can learn design properly. Tae-kang downplays the offer, saying that he won't be much of a help but that won't matter, "Because we're Rooftop buddies." Tae-kang beams.
"Friends?!" Bong-soo shrills in disbelief. Tae-kang has a smug smirk on his face – does Na-ri have any friends besides Jake? He laughs maniacally and tells Bong-soo that this makes him cool by association.
In excitement, Bong-soo wraps him in a hug, "I love you!" This means that Tae-kang can pull some strings so he can work on the design team right? Sure! While we're at it, let's just throw a party! 'Cause why not when you're best buddies with the VP right?
Ji-an runs through her list of potential team members. Surely maknae Da-in and Team Leader Ma will join her, right? Wrong.
Tae-kang tries his best to convince Team Leader Ma to join Ji-an's team or else she'll have to hack it alone. He looks back and forth, conflicted. Cut to: Ji-an's disapproving look as Tae-kang positively radiates with a bright smile.
That's the last thing she wants to see and she orders him out of her office. Ji-an angrily flips through the pages of a magazine, furious that not even one person on her staff was on her side (Tae-kang was!). Then she looks to the old lady portrait, swallowing hard as Na-ri's words about a slump ring out.
Thanks to the pregnancy, her breasts are sore and Ji-an does a little silent dance to take off her bra. Now free, she stretches out… and in walks Tae-kang mid I believe I can fly pose with her bra laid out on the table. HAHA.
Averting his eyes, Tae-kang admits that he saw a wee bit and he's around to help in any way he can. Ji-an haphazardly covers herself with a file and then awkwardly shuffles out, making sure Tae-kang's eyes are closed.
Eun-sung visits the company to see Ji-an. The men run into each other at the elevator and Ji-an coolly addresses Tae-kang as a colleague in front of Eun-sung. Tae-kang scoffs after being told to bring in refreshments, "Do I have to bring that jerk juice too?!"
She asks what brought him here without notice (Do you need to ask? He just comes whenever he feels like, doesn't he?). Eun-sung tells her that it's the only way to see her and
mentions he's in the process of searching for another doctor since Dr. Yang won't take her case.
Handing her a booklet, he tells her to take care of her health by cutting her caffeine supply and not to do any heavy lifting. And about those shoes… That's a sacrifice she can't give up and Ji-an scoffs, "I'm someone who makes shoes." Eun-sung retorts: "Now you're someone who's having a baby." Did she think it was easy to become a mother?
Eun-sung comes clean about Dad's visit and that he told Dad about the premature menopause. She yells, "How could you tell him that?!" So much for patient-doctor confidentiality in dramaland.
Tae-kang notices the tension, looking curiously at the pregnancy booklet in the table. Eun-sung gets up to greet him properly and smoothly lies about letting him know about any pregnant women in the area.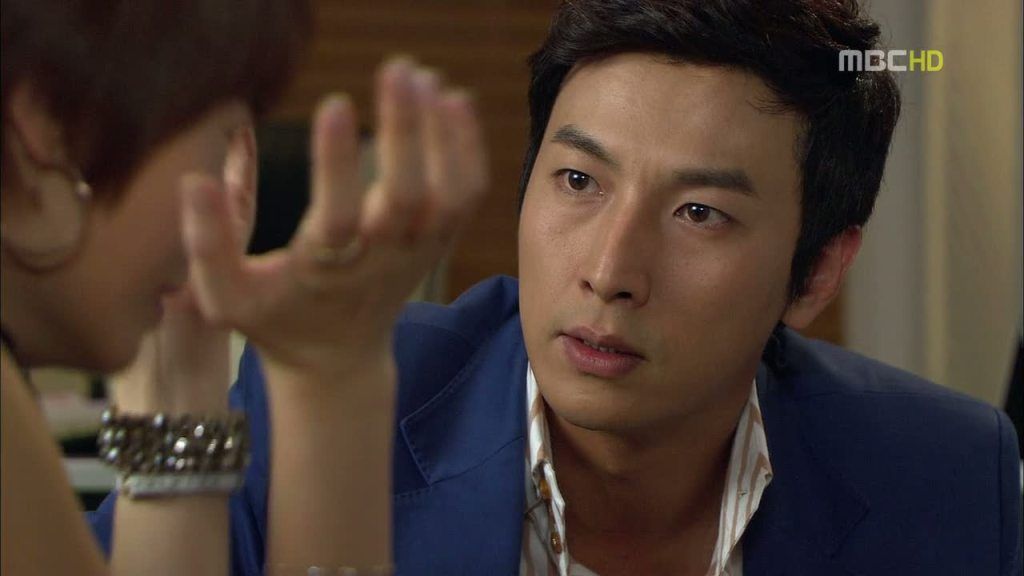 Ji-an is still in shock, and Eun-sung assures her that Tae-kang probably didn't catch on. Right except for that booklet that clearly spells out pregnancy. But Ji-an starts breaking down that everything is a mess: her parents hate her and people at work thinks she's going through a slump and she can't say anything to Madame Jang. Now he wants her to give up her shoes?!
Eun-sung tells her to calm down (Dude so not what you say to a pregnant woman or any woman in that moment for that matter). That's the last straw for her as she bites down that now she can't even get angry when she wants because of this baby.
He rushes to her side, concerned that she might have to go to the hospital but she demands that he leaves her be. Eun-sung storms off and Tae-kang listens to her sobs from the other side of the door, his hand hovering over the handle.
Tae-kang finally knocks on the door that he's leaving but invites her to join him since he's going to eat. He hasn't seen her eat all day and as he glances at her stomach, "You have to think of your body too."
Ji-an is all cried out and he continues to coax her (I love that jokbal is his go-to now). He apologizes and then grabs her bag telling her that he'll be waiting at the elevator.
He dangles it off of his hand while Ji-an follows him out the door. She's too annoyed and tired to play games with him but Tae-kang insists that she needs to eat anyway. He stuffs the bag underneath his shirt and grabs a taxi.
She's still annoyed and then he tenderly reaches for her arm and assures her that it's just dinner. Meanwhile, we see Eun-sung at the pharmacy picking up some meds and returns to an empty office. He finds her phone and car still at the office.
Ji-an snarls at Tae-kang at their destination. Dad and crew are in the middle of a BBQ party and he gruffly invites her to join in. Tae-kang sweetly covers her with his jacket as she sits by the corner.
The sizzling sound and smell of food churn her stomach and Tae-kang offers her to feed her a wrap. Hunger wins out and she silently eats it.
The others call for a round of shots and Tae-kang steps in on Ji-an's behalf that she has an allergy. He gives her a water instead and she shoots him a curious look.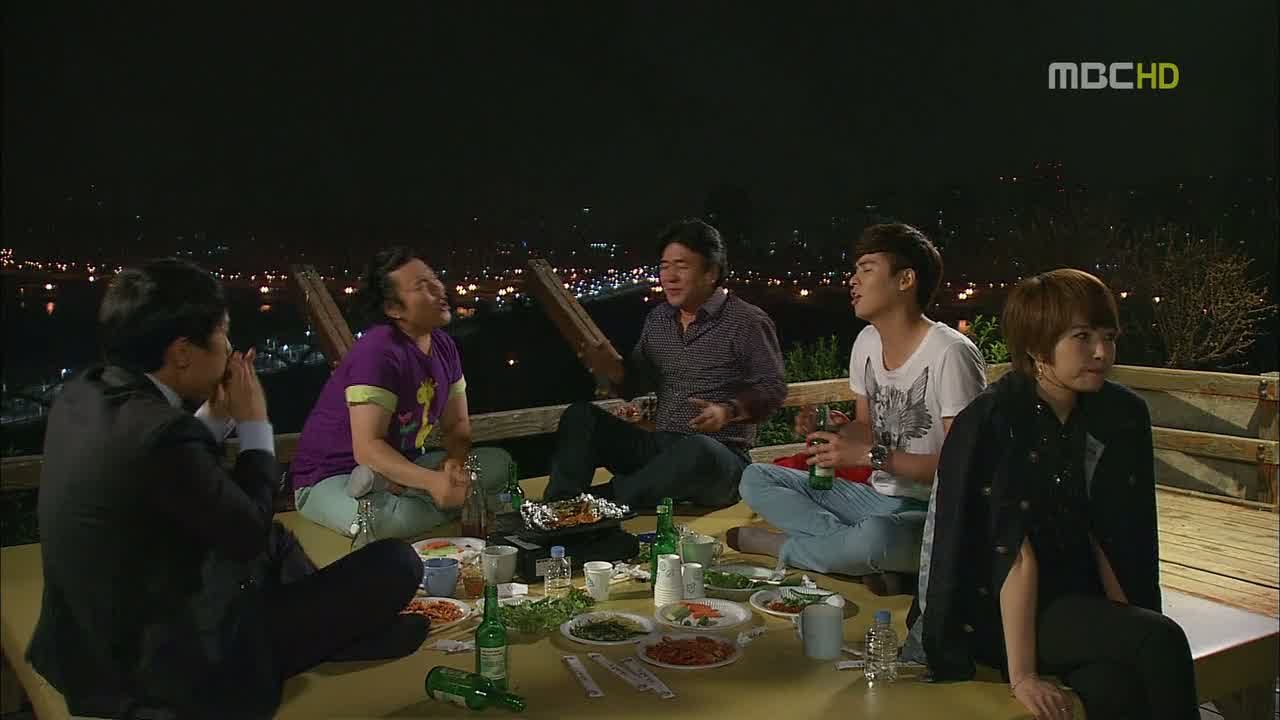 Everyone is plenty happy tipsy by now with Dad breaking out into song. Ji-an fidgets uncomfortably with an indiscernible expression. Then I realize that she's got to go but holding it in.
Problem is that the bathroom is a far ways off and time is of the essence. Tae-kang digs through some empty boxes and uncovers a wheelbarrow/cart contraption, telling her to get in. HAHA.
I thought you were going to just create a private space for her but you're gonna wheel her down the hill?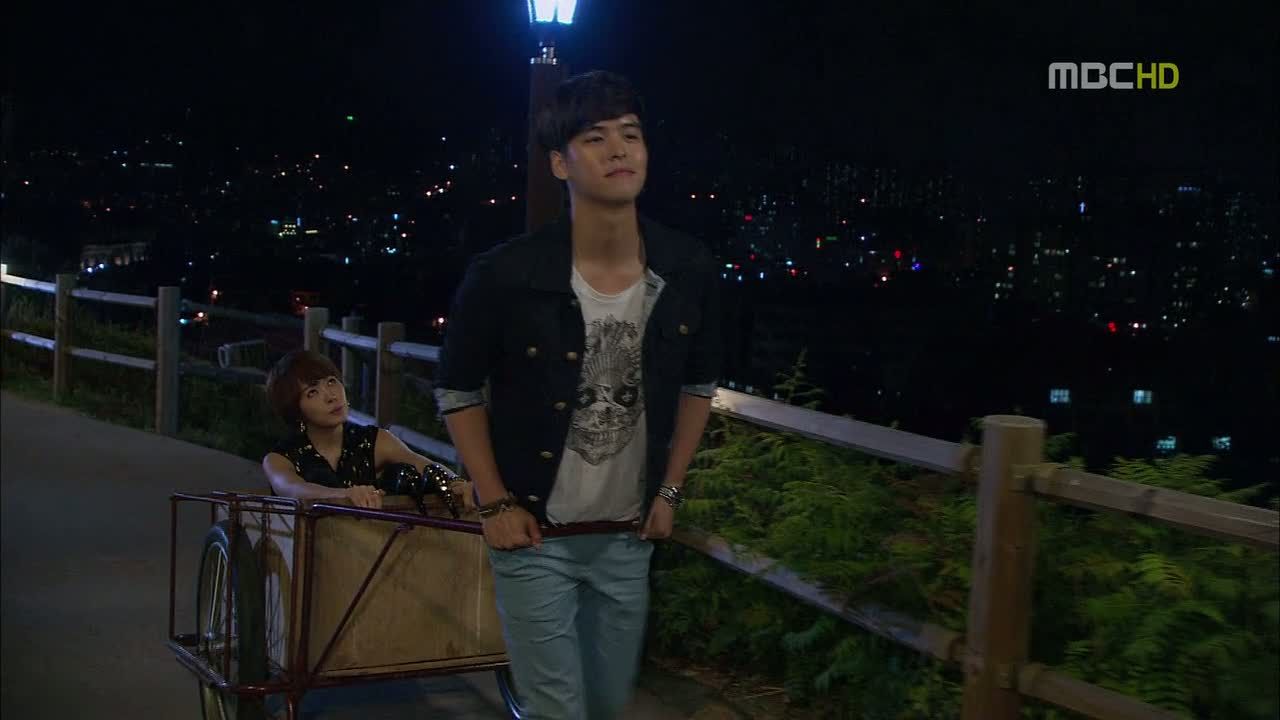 The ride back up is far more pleasant as Ji-an stares into the night sky, reminded of when she was younger. She's curious about something – why did Tae-kang choose to join her team? Did she look pitiful?
Tae-kang says that wasn't the case and tells her that the scary teachers are the ones who teach better. He believed by sticking around, he might pick up a thing or two.
"Do you want to learn properly?" and Tae-kang turns around, ecstatic at the chance to learn directly under Ji-an.
Tae-kang walks her back home but before he leaves, Ji-an asks why he prevented her from drinking tonight and at the office party with Jake. He stutters that it seemed like she didn't want to.
Ji-an musters up the courage to bring up the booklet and Tae-kang looks with expectant eyes, waiting for her to tell him that she's pregnant.
Which is when Eun-sung, who's been roaming around town looking for her, calls out her name.
COMMENTS
Talk about worst timing ever. Especially when Tae-kang has been dying to hear about the news of the pregnancy, ready to hear it for about three episodes now. This cliffhanger didn't leave me feel wanting, but moreso I wanted to kick Eun-sung out of there so Tae-kang didn't have to wait for another week to hear what he already knows.
What I love about this drama is the mature tone in its storytelling. The family conflicts are deep and complicated and the issues faced within abortion and pregnancy are all questions that aren't usually touched upon. There are people who hold very differing opinions depending on their moral values and seeing that is extremely refreshing, especially when those worlds clash against each other. That inspires healthy conflict not only within the drama but also in the thread as well.
That being said, the series' flaws have reared its ugly head. Some characters seriously suffer from the poor writing and some scenes seem like fluff to occupy some time. So I'm thankful that we've got some actors to bring up the rear, pouring their lives into their characters. I expected as much from Kim Sun-ah and I'm pleasantly surprised by Lee Jang-woo's performance. His comedic performance is still hammy and almost anime-like but the more heartbreaking moments do resonate with me as well. Then the more lines we give to Im Soo-hyang's character, the more I realize that her acting ability can't keep up with the evil, cunning, yet fragile character Na-ri is supposed to be. She gets easily outshone by Kim Sun-ah in those confrontations and I found her much more likeable in those comedic moments with Lee Jang-woo.
We're really moving at a snail's pace here and if I have to wait another week for being to dance around the subject about Ji-an's pregnancy with I know you know but you don't know that I know, I'm going to strike my heel over someone's head.
RELATED POSTS
Tags: featured, I Do I Do, Kim Sun-ah, Lee Jang-woo