Medical drama Golden Time begins filming
Time for an update on Golden Time, the upcoming medical drama on MBC starring Mr. Voice Lee Seon-kyun (Pasta) and Hwang Jung-eum (Can You Hear My Heart), which recently began filming.
The scene depicted in these stills take place in the outskirts of Busan, which is where the drama is filming most of its footage. The doctor characters played by Lee and Hwang get caught up in a large-scale traffic pileup, and it looks like they pitch in to help treat the injured. It sounds like Lee's playing another prickly character (with "zero sense of commitment" in return for his doctor's work—I presume that means he's a detached, professional type), while Hwang plays an intern who rejects her (sigh) heiress status, having no love of money. Upside: He's fantastic at the charming crankypants, and she'll make for a cute foil with her more optimistic nature. Downside: This again?
It's a character dynamic that seems familiar, and given that PD Kwon Seok-jang directed My Princess and Pasta, I think I know what to expect. Those dramas both depicted adorable romances but got lost in the other stuff (politics and pasta, respectively), but I do think Golden Time will have a stronger handle on its genre, which is straight-up medical, set in a general hospital's emergency room and written by Choi Hee-ra, who did OB-GYN.
Apparently the title refers to a person's "best moment," aka your personal golden time. Erm. I think it's a nice sentiment… but I can't help it if the first thing that pops to mind is a drama about senior citizens. I know, I know, that's an English connotation that isn't there in Korean—but hey, the drama chose an English-language title.
Much as I love Lee Seon-kyun (and I like Hwang Jung-eum), I have to confess I'm not too excited about this drama. The stills do look rather pretty (for an accident scene, that is), but most dramas these days are boasting upgraded visuals and fancy camerawork. It's the story that remains to be seen.
Golden Time follows Monday-Tuesday drama Light and Shadow and premieres in early July.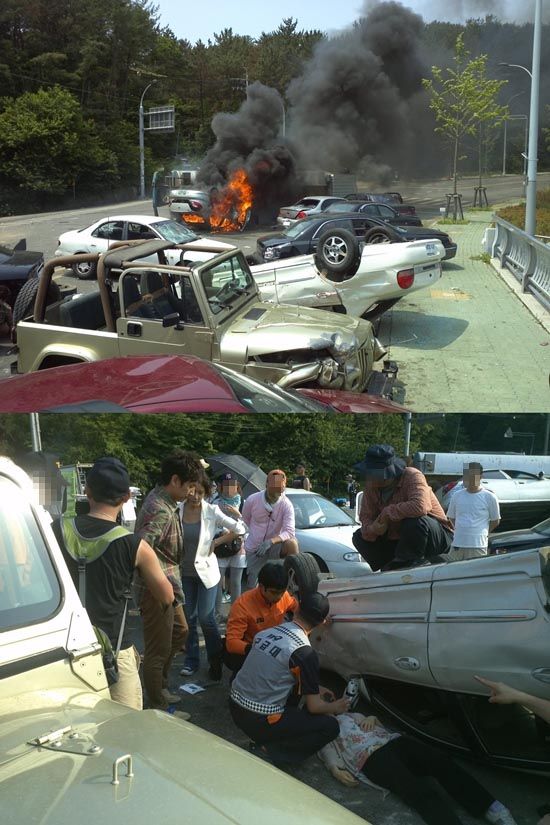 Via My Daily
RELATED POSTS
Tags: Hwang Jung-eum, Lee Seon-kyun