A Gentleman's Dignity: Episode 11
There's so much cute in this episode. I love it.
EPISODE 11 RECAP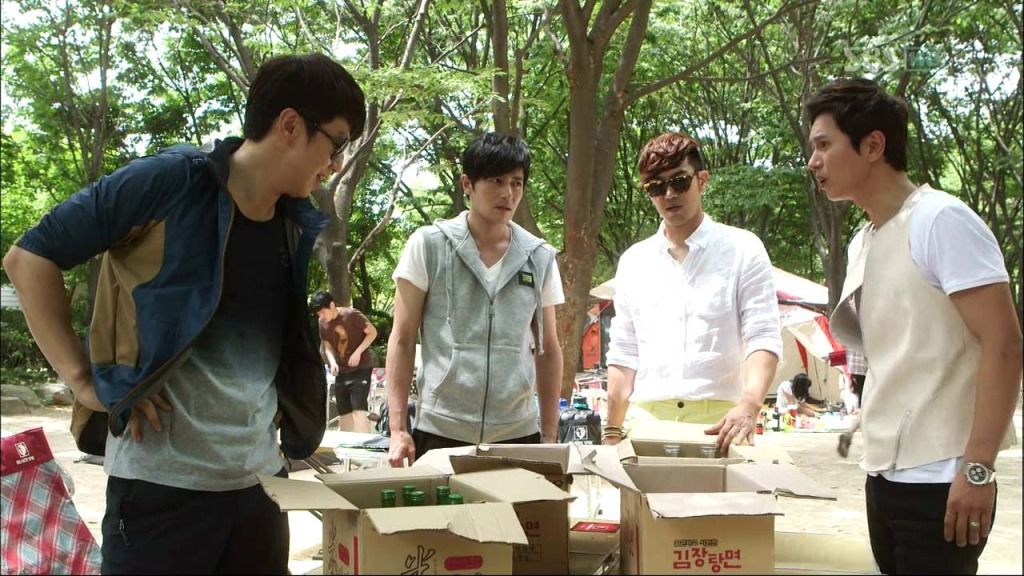 F44 goes camping and Jung Rok argues with Yoon about how to pitch a tent. Yoon insists that his way is right on his Boy Scout honor. Jung Rok complains to Tae San and Do Jin, asking them why they're not helping. Tae San gives the excuse that he drove and Do Jin replies that he already knows how to build a house.
Yoon builds the tent but later finds the tent stakes.  He quickly hides them away and then urges the others to cook some ramyun. However, it turns out that they all brought alcohol instead of food and they share annoyed sighs. Heh.
Jung Rok gives a smirk and then saunters over to a group of girls. He tries to negotiate a deal by offering a bottle of whiskey for some food  but the girls respond that they've already traded with some other guys, who are currently playing basketball.
Tae San, Do Jin, and Yoon end up having a basketball game against the other men and bet their alcohol against packs of ramyun. Do Jin brags that he was a basketball legend back in the day but his performance during the game proves otherwise. The guys lose all of their alcohol and sit unhappily in defeat as their tent collapses from a gust of wind.
Jung Rok converses with Eun Hee and he wonders how she's managed to stay so pretty despite getting older. She smiles at his compliment and then asks him for a favor. She leaves Korea tonight but her son is still in Seoul. Could Jung Rok contact her if her son ever shows up at his café?
Eun Hee also requests that he keep their meeting a secret from the other guys, stating that she came only to meet Jung Rok. He lights up at her last words and readily agrees to keep both promises.
Later that night, Jung Rok giggles as he recalls Eun Hee's words at the restaurant. He assumes that he was her one true love and happily deliberates how he'll manage to keep this special secret to himself. Kek. I love his pinned hair and face mask.
Meanwhile, Do Jin spots Yi Soo outside the cafe and she lightly kisses the window after she sees his napkin note. He gets up and meets her outside. He mentions that he thought she left and she replies that she did but came back again. He calls her a strange woman; why did she come back to hear him say they have nothing left to talk about?
She frowns at his reply and insists that he stop teasing her. She scolds herself for liking such a difficult man and he perks up, asking if she really likes him. Hee. She confesses that she's liked him for a while now but couldn't show her feelings because she was afraid of seeming too fickle.
He cuts her off mid-sentence with a gentle kiss, which leaves her stunned into silence. Do Jin cradles her face and then pulls her into a more passionate kiss. She wraps her arms around him in return.
He later walks her home and then questions when she started liking him; what makes him so attractive? She answers "you're a flower boy" and he scoffs that the entire nation knows that. Kek. She gives him a more honest admission and informs him of all the times her heart pounded around him. She says that she was scared when he told her that he was going to let her go.
They embrace and he states that they've kissed and hugged. What should they do the next time they meet? She replies that they should hold hands and a look of disappointment flashes across his face. Hee.
A voice interrupts their lovey dovey time and they break apart to see Me Ahri standing in the street. Yi Soo quickly apologizes, saying that she should have told her before. She asks Me Ahri to support her relationship and Me Ahri nods, but responds that she's teary-eyed for some reason.
Do Jin assures Yi Soo that he'll take Me Ahri back home safely. Before he leaves, he requests that Yi Soo call him and she smiles in return. Do Jin tries to convince Me ahri that he's serious about Yi Soo and offers to take her to see Yoon in an attempt to cheer her up.
Me Ahri sighs that Yoon doesn't want to see her and that the only way they'll meet is if Do Jin and Yi Soo marry this weekend. Heh. Do Jin stops Betty in front of her house. They spot Tae San and Se Ra hugging and Me Ahri grimaces at the sight of them. Do Jin exclaims that those two are so rude; what the heck are they doing in front of someone else's house?  Hehe. Me Ahri narrows her eyes at him and he clears his throat. Kek.
Tae San pulls away from Se Ra and admits that he hates separating every night. She should stay for five more minutes. She wryly reminds him that she's stayed for twenty-five more minutes already but happily cuddles into his arms again. Do Jin commands Me Ahri not to meet Yi Soo for a while because they're going to start dating after tonight; he wants to spend as much time with her as he can. Me Ahri answers with a frustrated shout.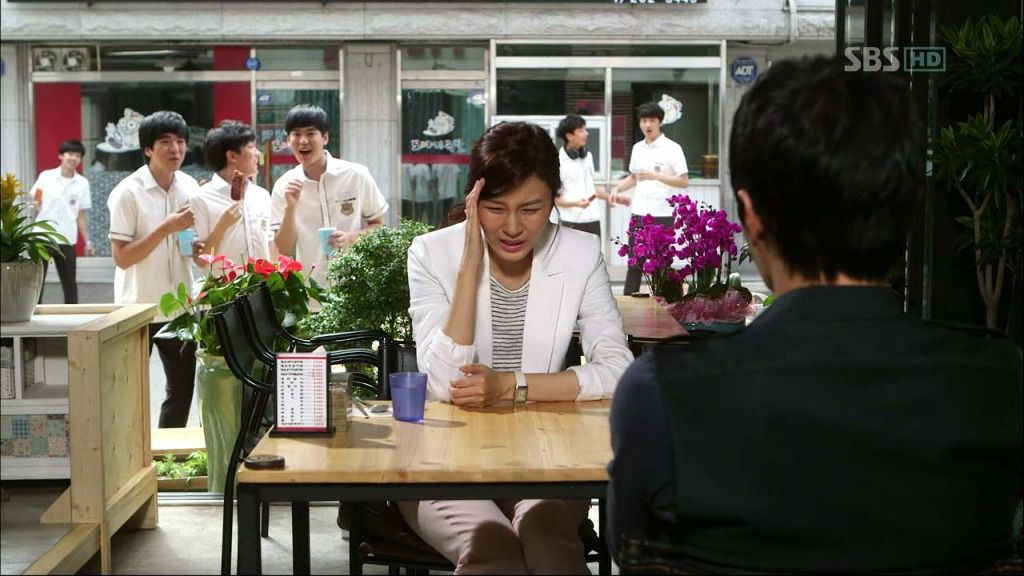 The next day, Do Jin shows up at Yi Soo's school to have lunch with her and her students begin to tease her about having a boyfriend. They move to another location at Yi Soo's insistence, which is where Do Jin tells Yi Soo to start another one-sided love for him. Haha.
He rattles off a list of a number of things she needs to do, like become hurt when he doesn't answer her calls or texts, wait outside of his office in hopes of meeting him coincidentally, and contemplate rear-ending a car when she sees him talking with another woman. Puahah.
She gives him a look of "are you kidding me" and then asks if he explained things clearly to Me Ahri. He nods; he told Me Ahri clearly that Yi Soo doesn't have time for her anymore. Out comes another "Kim Do Jin sshi!"
Yoon orders two smoothies at Jung Rok's cafe and forces himself to ignore Me Ahri. Yet when she turns around to make the drinks, he watches her with a tender expression. He looks away again when she hands him the smoothies and rushes out to avoid speaking to her.
He gives the drinks to one of his employees and she wonders why there are two drinks. He replies "one drink would have been too short and three drinks would be cowardly." D'aw. Can't you just go and kiss her already…
Colin approaches Yoon in his office for some legal advice but Yoon coldly informs him that he charges a hefty amount of money per hour. Colin takes Yoon's reply in stride and explains his situation. He technically has two fathers, but one is unaware that his son exists. If the son shows up unexpectedly, does he automatically receive that man's inheritance? Uh. I wouldn't think so…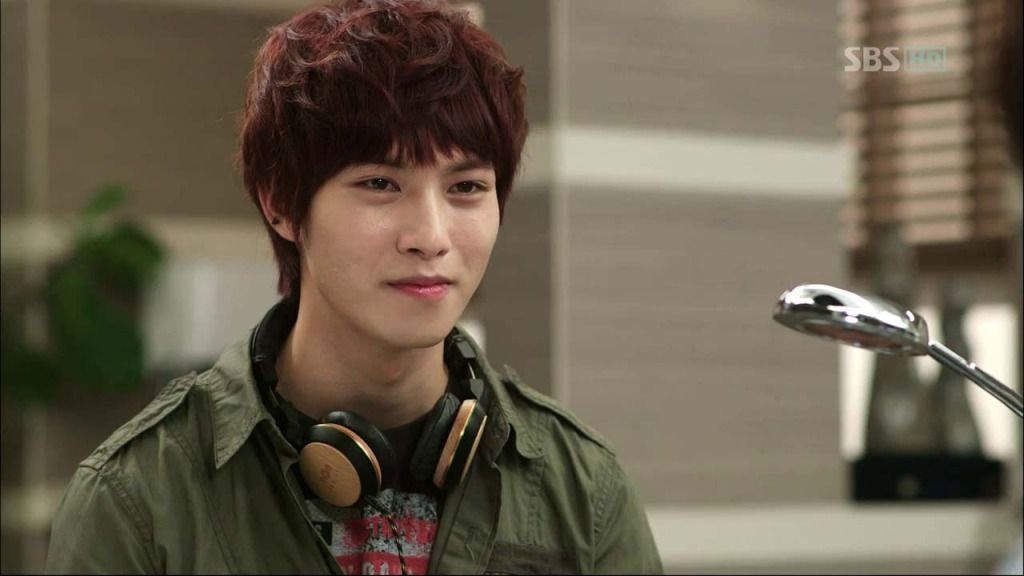 Later, Yoon reflects on Colin's question and then asks Jung Rok if he remembers Colin. Jung Rok nods but why does Yoon ask? Is Me Ahri going out with him? Hee. Yoon gives an exasperated sigh and demands that Jung Rok stop talking. Yeah. That probably won't happen for awhile. Tae San and Do Jin show up and they all banter back and forth until an old classmate walks into the bar.
The man turns out to be Na Jong Suk, the father of the young woman who drank with F44 at the beginning of Episode 3. Jung Rok tries to get Jong Suk to leave, citing that the food and drinks are horrible at his bar. LOL. Their classmate laughs at Jung Rok's "jokes" and then asks if they want to see a picture of his daughter. The boys slip out as Jong Suk searches for a photo on his phone. Haha. That's what you guys get for hitting on a 20-year old college student.
Yi Soo is folding her laundry when she receives a message from Do Jin about the rules of one-sided love. She shakes her head at his childishness as Se Ra sits down next to her to scold her for having such juvenile lingerie. She drags her out to go shopping but Yi Soo balks at buying the racy underwear that Se Ra picks out.
Se Ra informs her that guys like this kind of style; she needs to surprise Do Jin, not bore him. She starts to dance and sing about seduction and Yi Soo soon joins with a song of her own. They walk home in high spirits. Aw. This is one of the first scenes that show off Yi Soo and Se Ra's friendship without a hint of cattiness.
Yoon is reminded of the bag Me Ahri made for him as he changes in his room. He thinks about her fondly, which is exactly when Me Ahri texts him. He starts to write "we can only speak like this…" but then erases the draft. He hesitates for a bit before calling her.
They meet for some tea and Me ahri chatters excitedly that she didn't expect him to call her. He apologizes for not treating her like a 24-year old and she beams until he asks if she finished college in the US. She slowly replies that things did not turn out as expected, but why is he asking? He answers with another question: doesn't she have any dreams? What is she doing besides chasing after him?
He tells her that her peers are running at top speed to fulfill their dreams. Yet what is she doing with her life? Her eyes fill with tears and she responds in a tight voice, "Who said I don't have dreams. I have a dream too, but I want you more because I've waited longer for you. Designing bags is my dream but you're my fate." Yoon calmly tells her that love is important but she needs to focus on her life first. If they are meant to be, it'll happen someday. With that, he leaves and she continues to sob alone.
At the office, Tae San and Do Jin discuss their newest project. Tae San recommends that they head down to the site this weekend but Do Jin fakes a stomachache while putting a hand daintily to his forehead. Tae San rolls his eyes at the cheap tricks and Do Jin drops the sick act to shout that this is the first weekend since he and Yi Soo started dating. Tae San pats his shoulder in sympathy but reminds Do Jin that while women can wait three times, clients don't even wait three minutes. Do Jin gives him a resentful stare.
Meanwhile Yi Soo walks towards Do Jin's office and passes a series of different couples. She notes that the girls have cute hairstyles, which prompts her to tie her hair in a bun and then pigtails. Hah. Aw. She eventually just lets it down, shaking her head at her silliness. When she arrives, she spots Do Jin leaning against a window. She calls him to compliment how handsome he looks today and he urges her to come up because he looks even cooler in person. Hee. She enters his office to see him talking to a female employee. He mutters that he's waiting for Yi Soo to go into "jealous" mode and the worker stifles a laugh.
Tae San and Se Ra go grocery shopping and he notices that she freezes uncomfortably when surrounded by mothers with children. Later, as they cook dinner, he carefully mentions that his mother wants to see Se Ra. She responds that she doesn't want to meet her and he lashes out at her, wondering why she doesn't want to marry him.
She shrilly responds that she doesn't want to get married or have kids; those things would ruin her golfing career. His temper goes off and declares that tonight's dinner is cancelled. He wonders if she doesn't want to marry him because she's not done playing around yet. Angry tears start to pool in Se Ra's eyes and she snaps that she told him that they were not going to get married when they first started dating.
He replies that he wouldn't have dated her if he didn't want to marry her, and storms out the door. She fights to keep her tears from falling when her phone rings. Her friends invite her out to go drinking and she readily accepts with a warning that she's going to get drunk tonight.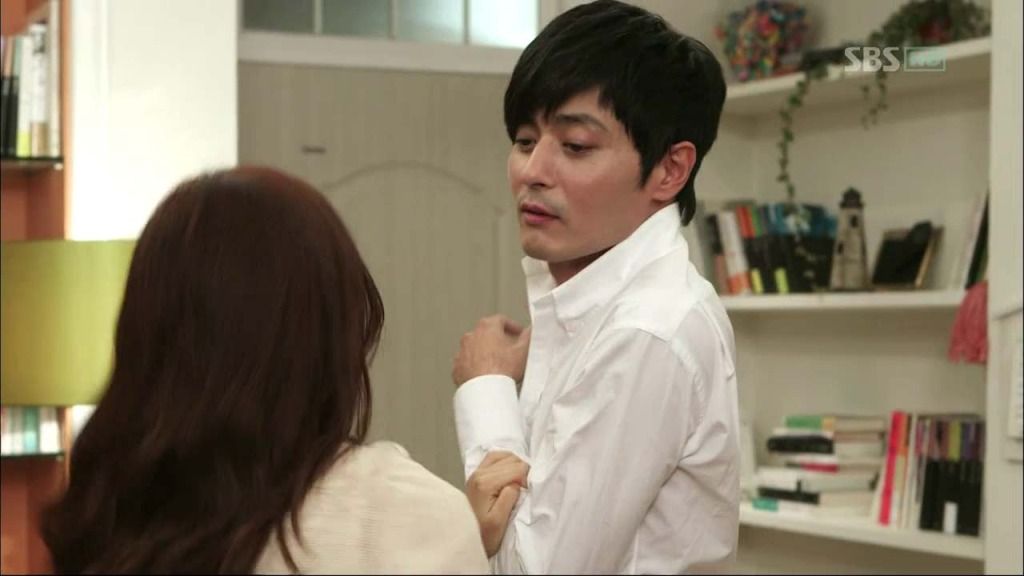 Yi Soo and Do Jin head to her home and he tries to get her to agree to go on a vacation with him. She ignores his request and reaches to turn on the radio but is blocked by Do Jin who states that Betty isn't used to her hands yet. LOL. She instantly becomes jealous and asks childishly who he likes better: her or Betty. BAHAAH. He looks away to avoid answering and simply replies that he'll tell her after he parks because Betty will hear. Hee.
They arrive at the house to see a bunch of food sitting on the table. Do Jin rightly assumes that Tae San and Se Ra left after a fight, which is confirmed by a text from Tae San cancelling the dinner. Do Jin takes off his jacket to finish cooking and she tells him to put it in her room because it might smell later. He gratefully heads into her room and she starts to unfold an apron until a thought hits her.
She scurries to her room and finds Do Jin staring at the five sets of underwear on her bed. Hahaha. Yi Soo rushes to cover the lingerie and works to kick him out. He cheerfully informs her that he doesn't like corset or garter belts because they're inconvenient. HAHAHA. He backs her up against the sink and mumbles that he liked the underwear set in the middle the best. Gah. Is it getting hot in here or is it just me? She awkwardly changes the subject and they go about cooking.
During dinner, Yi Soo observes Do jin pick out the carrots from his food. He gives the excuse that he's still a child and she can't help but laugh. She then notices the pen recorder and comments that his entire life must be on that object. He replies that it's actually on a computer since he transfers the files every day. Why are we talking about this?! My nervousness about plots with memory-related diseases has been reawakened.
She nods and then confesses that she anticipates a life with him to be risque and entertaining and he promises her that her expectations will be met. She thanks him for liking her even when she wasn't aware of his feelings and he jokes that she shouldn't have messed things up by liking Tae San. Hee. Yi Soo replies by wondering who the woman she saw in his apartment was last time and he commends her for looking into his past, getting jealous, and pretending to be indifferent all at once. Hehe.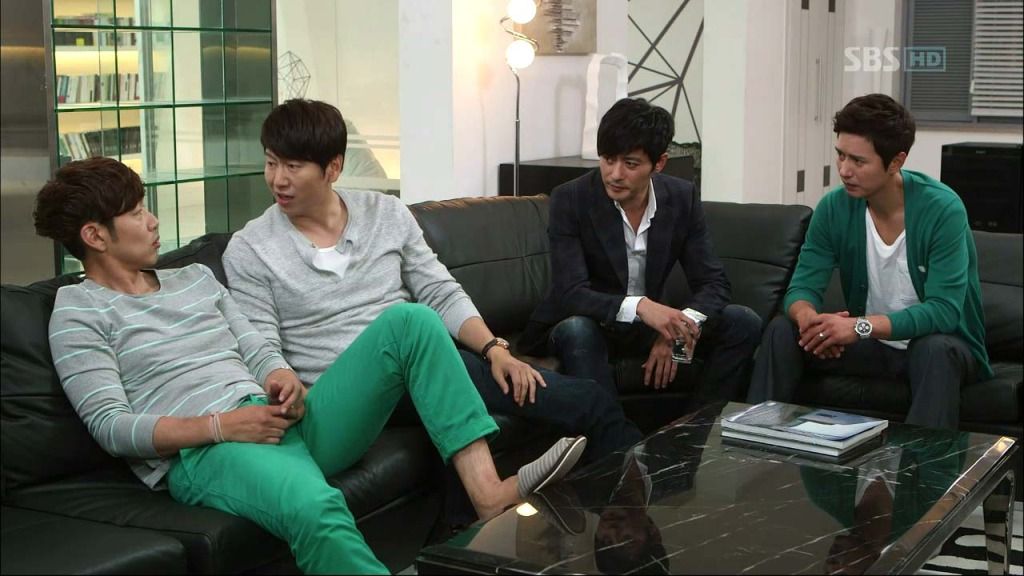 Yi Soo demands to know how old that woman was and he replies that she was younger than Yi Soo. Her eyes narrow and she asks for the surname of "young Eun Ji" and he answers "sexy?" Hahah. She shoots him a death glare and he mumbles "Kim," which prompts her to comment that "Kim Eun Ji" is such a common name. I love this petty jealousy that's emitting from her. Do Jin cheekliy asks if she wants a full list of all the women he's dated and she flatly rejects the offer. She orders him to leave now that he's finished eating and gets up while grumbling about his picky eating. Just then, Do Jin gets a text from Yoon stating "119. Emergency."
The guys get together at Do Jin's apartment and Yoon explains that Min Sook is going through with the divorce for real. Jung Rok nonchalantly responds that this isn't the first time she's said that. Tae San wonders if Jung Rok really loves Min Sook and Jung Rok immediately responds that he does. He only drinks tea with other women; he doesn't sleep with them or buy them apartments. Yoon presses for details about Jung rok's meeting with the mystery woman last week but Jung Rok refuses to open his mouth. An exasperated Tae San orders Jung Rok to fix his own stupid mess.
Yi Soo wonders if Do Jin went to go meet Kim Eun Ji and she tries to google the girl's profile page. Whoa there. That's a tad creepy. Thankfully, she realizes that she should stop acting like a crazed girlfriend and starts to plan out a lecture for school when she receives a call from the hospital. She runs over to the hospital to discover that Dong Hyub was hurt in an motorbike accident. She starts to scold him for being so careless but is interrupted by his boss from his part-time job.
The woman blames Dong Hyub for the accident and screeches that the cost of repairing the bike will come from his pay. Yi Soo cuts off her rant by askung if the lady is aware of the labor law for minors. She lists a bunch of conditions that must be met if Dong Hyub worked overtime and the woman gulps nervously and stammers that she'll pay for the medical fee.
The lady slinks out and Yi Soo turns to Dong Hyub and demands a phone number to contact his parents. He confesses that he doesn't have any; his mom ran away when he was younger and his alcoholic dad is probably rotting on the street somewhere. Dong Hyub begs her to just be his guardian for a day and she tells him that he needs to do something for her in return. She wants her students to work hard and receive good grades, but if they're bad at studying, then they should at least have a good personality. She also hopes that they would have dreams instead of playing games all day. She urges him to pick something to work towards.
F44 reconvenes at Yoon's office to discuss Jung Rok's divorce. He blames them for not doing anything to stop Min sook's decision; they've received so many benefits because of him, remember? Tae San reminds him that they can move offices easily. More importantly, however, they need to address the fact that a woman's life is slowly being ruined from this marriage. Yoon adds that while they lied to cover for Jung Rok's disappearances, they also sincerely wanted him to be happy with Min Sook.
Jung Rok turns to Do Jin pleadingly but receives a harsher speech than the other two had given him. Do Jin admits that he would have cut Jung Rok out from his life a long time ago if it hadn't been for Yoon and Tae San. Tae San asks how many days Jung Rok has upset Min Sook out of the ten years they've been married; does he even love her? Jung Rok grabs Yoon's arm and begs him to persuade Min Sook to drop the divorce. He desperately admits that he still loves Min Sook and can't live without her. Nobody will ever take a guy like him except for her. The entire conversation is heard by Min Sook who blnks away tears.
Soon, however, we find out that the entire conversation was an act. Jung Rok does a self-congratulatory dance in his cafe at his own brilliance and his friends complain that they're doing all sorts of crazy things for him now. Jung Rok is quickly brought crashing back down to Earth when he receives a text from Min Sook stating that she rates their acting a 1.5 out of 5 stars. They share looks of horror. UGH. I'm so not amused.
Yi soo sits at her desk and ponders over the "one-sided love rules" that are written on a piece of paper. She underlines number seven, which is to come to his house without warning and make his heart pound. She grins mischievously and dresses in a tight-fitting outfit. Before she leaves, she pulls out the pink shoes and slips them on.
At Do Jin's apartment, the guys sit dejectedly on Do Jin's couch. What are they going to do about the divorce?! Jung Rok shifts uncomfortably to his side and the others pelt him with slippers. Aw. They all heave a large sigh and then Do Jin asks why Tae San fought with Se Ra. Isn't he tired of fighting? Tae San grumbles that they fought over marriage but the doorbell rings before he can go into more detail.
Do jin opens the door to reveal a nervous Yi Soo. He smiles like the Chesire Cat when he notices how she's dressed but then laments the fact that his friends are with him. The three boys wave joyfully and invite her inside. Suddenly, their welcoming faces fall when they notice Vampire Colin appear behind Yi Soo. He introduces himself as Kim Eun Hee's son. Dun dun dun!
Comments:
I was really disappointed at the fake-out conversation between F44 about Jung Rok's divorce. I get that it was supposed to be funny with Min Sook outsmarting the men but the tone changed way too quickly. Tae San, Yoon, and Do Jin gave him a proper smack down and I was surprised to see how earnest Jung Rok was about his love for Min Sook. We haven't been given a real answer as to whether or not Jung Rok really loves his wife and I thought that this was it.
Yet his confession becomes hollow when we're told everything was an act, which ticks me off. I haven't disliked Jung Rok so far despite his ass-hat ways but I really wanted to smack him when he gave his friends a hug for "acting" so well. I understand that Jung Rok supplies comic relief to keep the drama from falling into too much angst but I still expect him to be given additional dimensions, especially since Lee Jong Hyuk is perfectly capable of delivering when things get serious. I'm still waiting for him to redeem himself; he needs to do more than sing while strumming a guitar and baby talk with his wife.
In addition, the fake-out made me briefly question if the speeches by Tae San, Yoon, and Do Jin were genuine. Do they really care more about Min Sook and Jung Rok's happiness more than their businesses? I'm sure that they do, but the fake-out and then the rushing to get back on Min Sook's good side seems to say otherwise. Maybe I'm in the minority when I say the scene in the cafe left a bad taste in my mouth. I don't know.
Anyways, on to happier topics. I think I can safely say that the entire episode seems lighter because our main couple has finally gotten together. I love seeing Do Jin so happy and the petty jealousy from Yi Soo is hilarious. Do Jin is entitled to seeing her so childishly possessive of him and it's cute that Yi Soo is the one making an active effort to do things that will make him happy. I wouldn't mind an extended amount of cuteness; they certainly deserve many scenes of frothy happiness before outside problems elbow their way into their relationship.
Speaking of Eun Hee, she must have passed stiff line delivery to her son. I still cringe at whenever Colin shows up because the idol's acting limits are even more apparent around his veteran co-stars. I expect that fans will give Jong Hyun a lot more leeway but I personally find it hard to focus on the character when it's not presented smoothly. Besides that, however, I'm not particularly interested in the hidden son plot line. It just feels overdone but if I had to make a guess at who Colin's father is, I would guess Do Jin. I might be totally off-base (which wouldn't necessarily be a bad thing) but there's a reason why Do Jin freezes up at any mention of Eun Hee. I guess we'll see soon.
RELATED POSTS
Tags: A Gentleman's Dignity, featured, Jang Dong-gun, Kim Haneul, Kim Min-jong, Kim Su-ro, Lee Jong-hyuk