A Gentleman's Dignity: Episode 12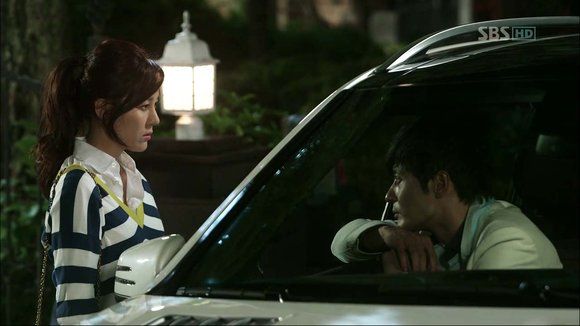 I didn't expect to have so much to talk about in this episode; I assumed that we would receive some more filler scenes but I'm happy to see some more meaningful scenes. Friendly warning: do not read if tired and…well..sick of reading.
Also apologies for the late updates. Technology problems have darkened my world for the past couple of weeks but they've been taken care of now…I think/hope/pray/HOPE. The fingers, they be crossed.
EPISODE 12 RECAP
Today's opening has our boys band together to give up smoking. They slam their cigarette packs and lighters down on a table at Jung Rok's cafe and Tae San slowly drags everything into a plastic bag as the others try not to cry.
The withdrawal kicks in quickly and the F44 hurl insults at each other while trying to decide what to eat for lunch. They end up frustrated at each other and turn away with their drinks like 5-year-olds who just lost their Pokemon cards.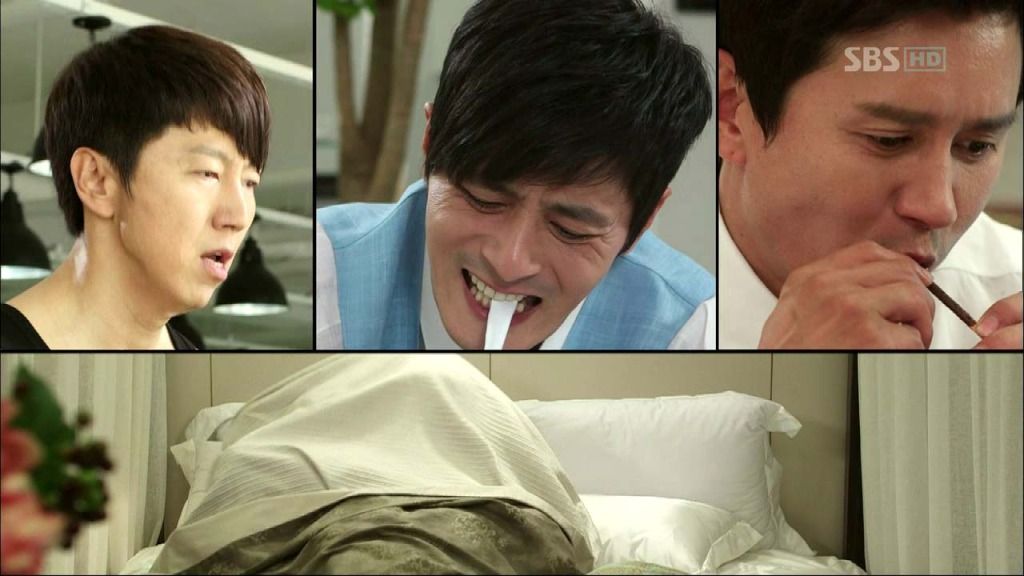 Tae San turns to working out to avoid smoking while Yoon devours sweets by the pound. Jung Rok takes a more animalistic approach and poor Min Sook has to deal with a sex-crazed monster. Do Jin finds his inner 80-year-old grandmother and raises plants…to make his own special mix of bamboo weed. Hm. I wonder if it actually works…
After the opening, we back up a bit before last episode's ending to see Yi Soo meeting Colin in the elevator lobby. She recognizes him and immediately scolds him for going clubbing instead of studying like a good high school student. He brushes off her nagging with a smirk.
They walk to the same apartment unit and she gives him a sideways glance as he rings the doorbell. Do Jin opens the door and barely has a moment to ogle Yi Soo before he notices Colin, who announces himself as Eun Hee's son and the guys reel in shock.
Jung Rok recovers first and he hints that they should let Colin in first while Yi Soo observes the entire event with widened eyes. Do Jin invites Colin inside and then gently guides Yi Soo back towards the elevator. Why? Come on, Do Jin. The present matters more than the past, no?
He apologizes for the interruption and tells her that they'll have to take a rain check on the surprise date. He doesn't get off the elevator when they arrive at the ground floor but assures her that he'll call her soon.
The doors shut and Yi Soo frowns in disappointment when Do Jin suddenly hits the "open" button. She starts to get excited and he expresses that he's happy that she came to him wearing the shoes on a nice day. The doors close again and this time he heads back to his apartment, leaving her slightly hurt from his dismissal.
Meanwhile, Colin undergoes an interrogation and he answers the questions his potential dad/uncles throw at him accordingly. He was born in 1995, he met Me Ahri on the plane from Japan to Korea, and he didn't run away from home; he's on vacation.
Yoon is hit with a twinge of jealousy at Colin's friendliness with Me Ahri and he murmurs that a high schooler should be at school. I heart Petty Yoon. Jung Rok questions why Colin came to meet them and Colin replies that he's run out of money and that he needs a place to stay in Korea.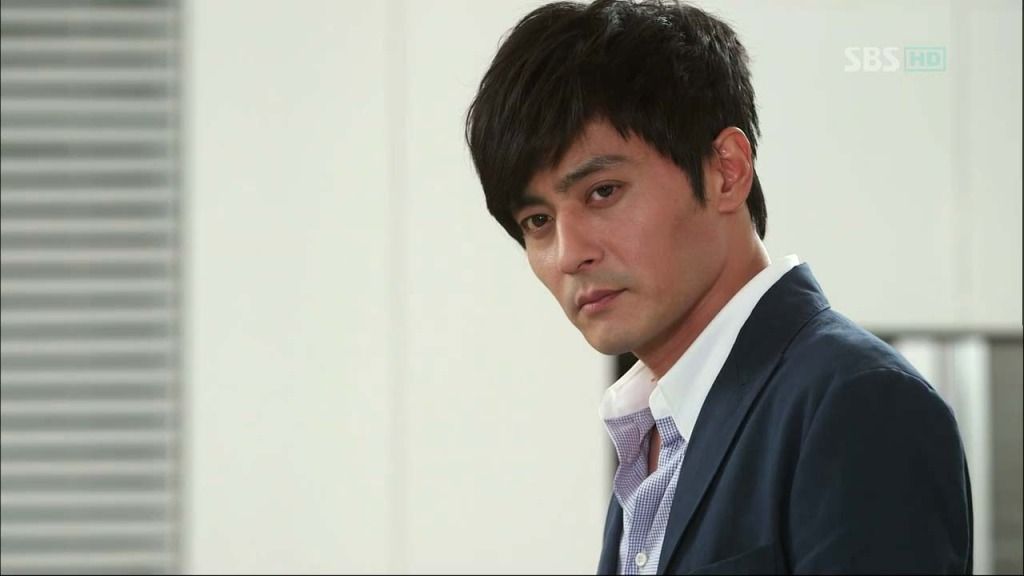 Do Jin cuts into the conversation to announce that Colin has a right to ask them for help because he's Eun Hee's son. He can stay at the residence hotel. Colin turns down the offer and looks to Tae San. Eun Hee talked about Tae San the most so he wants to stay with him. Tae San immediately stands up and welcomes Colin with open arms while Jung Rok hangs his head in disappointment.
Is Colin sure he doesn't mean Lee Jung Rok? Tae San laughs that he was Eun Hee's greatest love all along and chides Do Jin for trying to send Colin to a hotel. Yoon looks uncomfortably as the two walk out and Jung Rok cries from betrayal. Meanwhile, Yi Soo waits outside the apartment building.
She calls Me Ahri and they discuss Eun Hee. Me Ahri first thinks of Kim Eun Hee as the scriptwriter for Ghost and claps at her hands as she sighs over So Ji Sub. Lol. Oh Kim Eun Sook. You never get tired of meta jokes, do you. Yi Soo urges Me Ahri to think harder and the subject of the guys' first love comes up. Me Ahri explains that the four men met Kim Eun Hee at a meeting and they all fell for her, but one day she suddenly left for the States without warning.
Se Ra comes out to announce that she's going to order something to eat and Yi Soo questions if Se Ra has ever heard about Tae San's first love. Se Ra instantly turns frigid; Yi Soo needs to know about his first love now too? Bleh. Yi Soo reassures her that she's just asking because all four men fell for the same woman. Se Ra scoffs at how unbelievable that sounds and Me Ahri interjects that the lady must have been super pretty. Heh. I much prefer cheeky Me Ahri to weepy Me Ahri.
Just then, Yi Soo's phone rings and her face turns dark at the caller ID. Se Ra tells her to pick up the call but Yi Soo replies that it's her mother. She says good night to Me Ahri and heads into her room, and Se Ra oh-so-casually inquires about how Tae San is doing. Me Ahri gives a vague answer and Se Ra huffs her way back into her room.
A text notification pops up on Yi Soo's phone and Me Ahri glances around before sneaking a peek at who sent the message. It states "Let's talk" from Mom, and Me Ahri's curiosity grows.
She goes home and finds Tae San giving Colin a tour of the apartment. Colin calls Me Ahri "noona" and converses with her in a formal tone, which ticks her off. Colin saunters back into his room with a smirk and Tae San "subtly" asks how Se Ra is doing, but Me Ahri avoids answering to annoy him. Haha.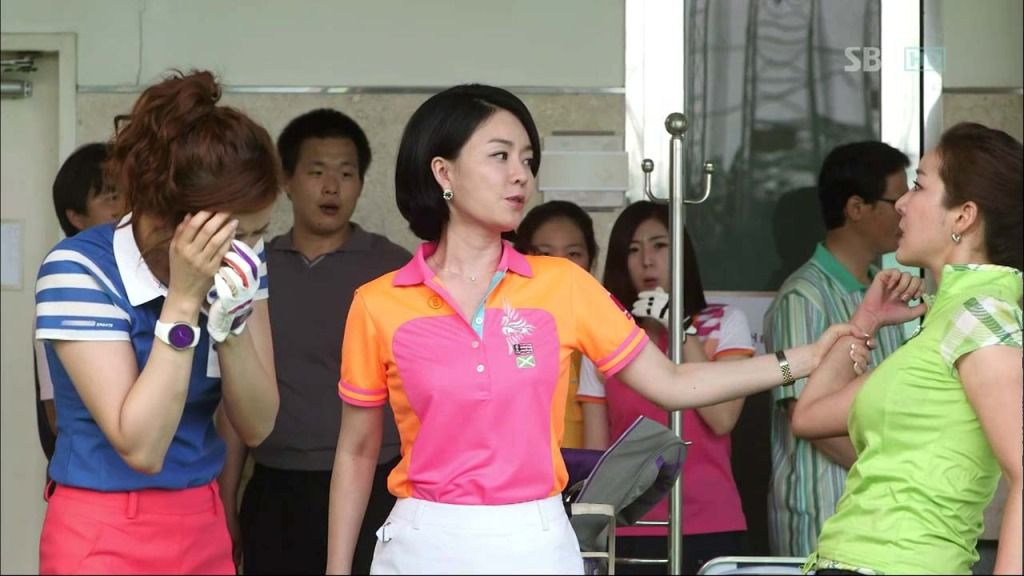 An irritated Se Ra hits ball after ball on the driving range. One of her juniors sets up behind her and begins to question how much Se Ra gets paid for sleeping with company presidents to obtain all her CFs. Oh no she didn't.
The two women have a cat fight and the other player smashes her head against Se Ra's eye and is about to sucker punch her again when Min Sook steps in to break up the fight. Woot! So badass~
Min Sook accompanies Se Ra to the eye doctor and Se Ra half-jokingly asks the doctor what she do about her tears. Min Sook gives Se Ra a half-sympathetic, half-pitying look. Later, Se Ra thanks Min Sook for her help as her phone alarm goes off to indicate that it's time for Min Sook to take her herbal medicine.
Jung Rok sneaks back into his apartment to grab some extra clothes and then heads to the kitchen for his herbal medicine packs. He notices that Min Sook has barely touched her packets and he swipes one of hers.
She comes home and catches him drinking the medicine. She scoffs that he must really care about his body and he replies that he has to if they want a healthy baby.
He offers to open a packet for her and Min Sook asks him to leave. He leaves with his shoulders hunched and she begins to let her tears drop freely. The half-full medicine packet falls to the floor and the liquid pools around her feet.
Yi Soo stares at her phone, willing it to ring. When it doesn't, she slams the phone on her desk in frustration. A new copy of her ethics book slides towards her and she glances up to see Dong Hyub.
Dong Hyub declares that he got her a new book with the money he received from his boss. She reminds him that he promised to think about what he should do for her and he replies, "To be your boyfriend?" Aw.
She gently lets him down, saying that she has a boyfriend; hasn't he heard the rumors? His face falls but he keeps up a cheerful attitude, saying that he'll think harder.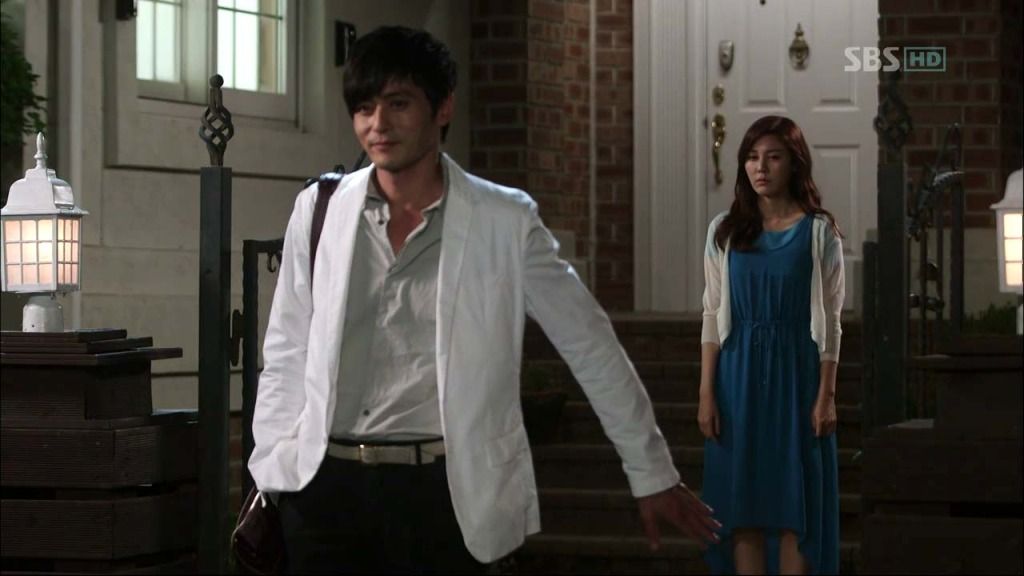 That night, Yi Soo rolls around her bed fighting insomnia. She continues to check her phone for messages. Finally, after a long period of waiting, Do Jin texts that he's outside her house.
She rushes out to meet him and he gently scolds her for not contacting him first. She puts on an offended air but soon melts when he extends his hand to go on a walk.
They walk while holding hands and she confesses that she's curious about what kind of person Kim Eun Hee is. She questions if he still thinks about his first love and he gives her an honest reply.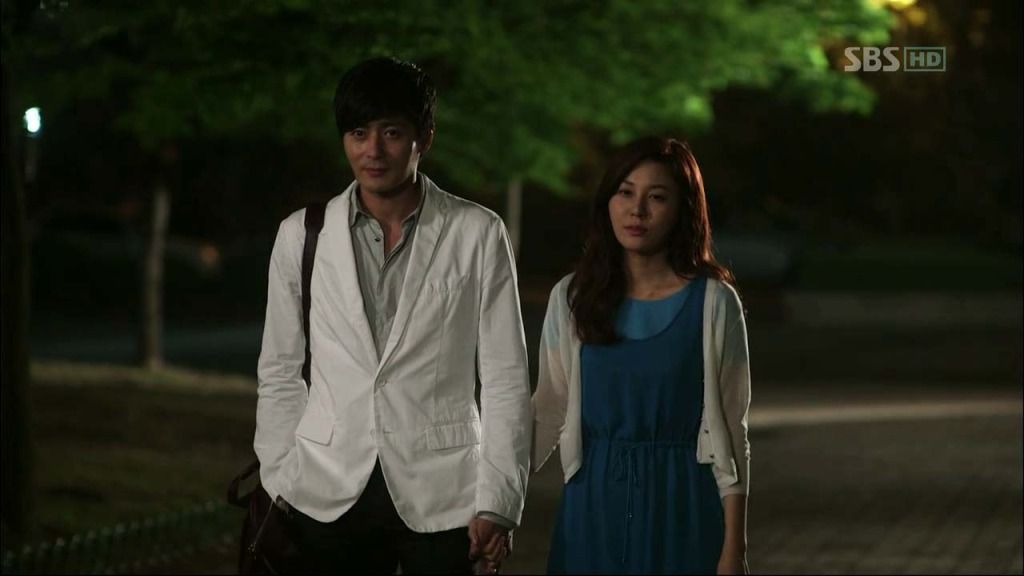 He tells her that he can't forget his first love but he doesn't think about her every day. She becomes silent at his words but he continues to talk:
I remember the friend who betrayed me and caused me to go bankrupt, the employees who left me then, the high school teacher who scolded me, the "aunt" who let me eat her food on extended credit, and what the weather was like when I first met Betty. I also remember the woman who had her red sweater dress unraveled because of me. I believe that I'll still remember you even if you're not by my side in twenty years.
She breaks into a smile at his last words and he jokes that her jealousy is so benign compared to his — he hit a car because of her. Hehe. Yi Soo replies that she can't beat his first love, who is deeply embedded into his memories. However, she happens to be the only woman in his present, so there's no point in getting too jealous.
He responds that she could be in his future as well and she guarantees that she'll be in the first minute of his future at the very least. He hides a small smile and informs her that Colin is with Tae San. Apparently, Eun Hee talked about Tae San the most to her son.
Yi Soo nods in understanding and she comments that she knew it: Tae San is greatly appealing to women. Her remark wipes the grin off Do Jin's face and he glares at her. She laughs awkwardly and then gives him a kiss on the cheek to make up for her mistake. Aw.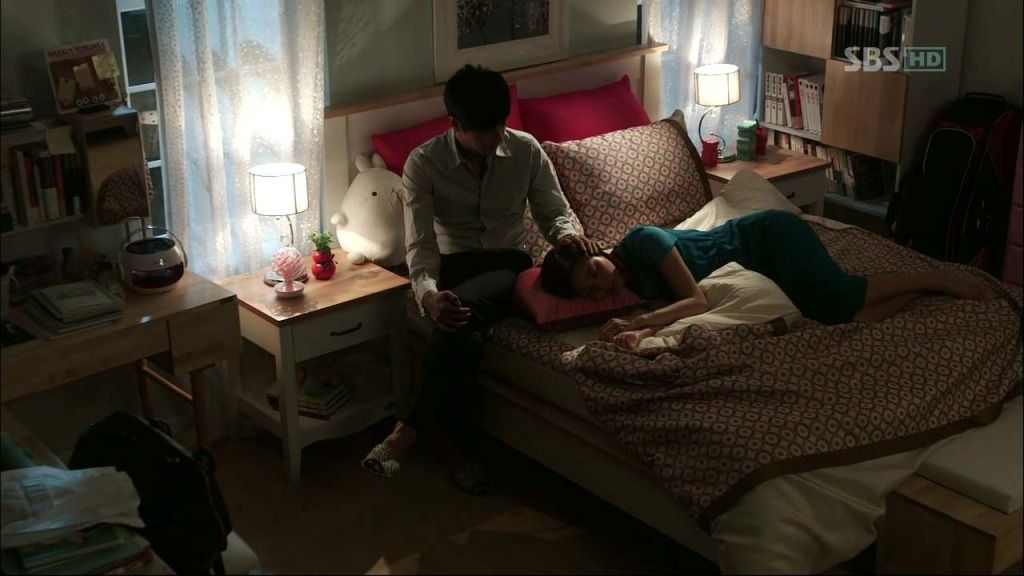 Later, he lovingly strokes her hair as she lays down on her bed. She half-heartedly commands him to leave and he tells her he can't until all the evil desire within him is gone. She's lucky that he's restrained himself and is only messing with her hair. LOL.
Yi Soo murmurs that all her hair will fall out if he keeps touching it and he responds that he'll dump her when that happens. Hey now. It'd be your fault if she goes bald!
She says that he can't dump her because she'll like him even when he develops a potbelly like typical ajusshis of a certain age. See. Women are slightly less shallow than men. We love guys even when they have the D body line.
Do Jin lays down on her bed and puts his arm around her. They lay on the bed while facing each other and he pats her gently; he'll leave when she falls asleep. He comments that someone's heart is beating wildly and she shyly admits that it might be her heart. Kyah! Usually I gag when lovey dovey mushy lines come up but this is so cute.
She requests that he like her until she stops liking him, and he assures her that he will. He wonders why women have so many doubts and she responds that it's because men like one thing today and then dislike it tomorrow. SO TRUE. He assures her that he'll love her for at least a month and then he holds her until she falls asleep. He leaves after taking the ball of yarn from Yi Soo's sweater dress.
Me Ahri catches Colin lounging around the apartment like he owns the place and she pressures him to give up the reason for approaching the F44 oppas. He claims that he has no ill intentions but she flashes him a distrusting look anyway.
Yoon calls Me Ahri and tells her to give the phone to Colin. He declares that he'll come over so they can speak since he's close by. Aw! You just want to see Me Ahri. They go into a room to talk and Yoon begins to grill Colin about his personal life; what does his biological father have to be with him and his friends?
Colin sidesteps most of the questions and quickly remarks he'll come to Yoon when he wants to. Oh man. He's such a smart ass! Yoon backs down and tells Colin to get his contact info from Me Ahri.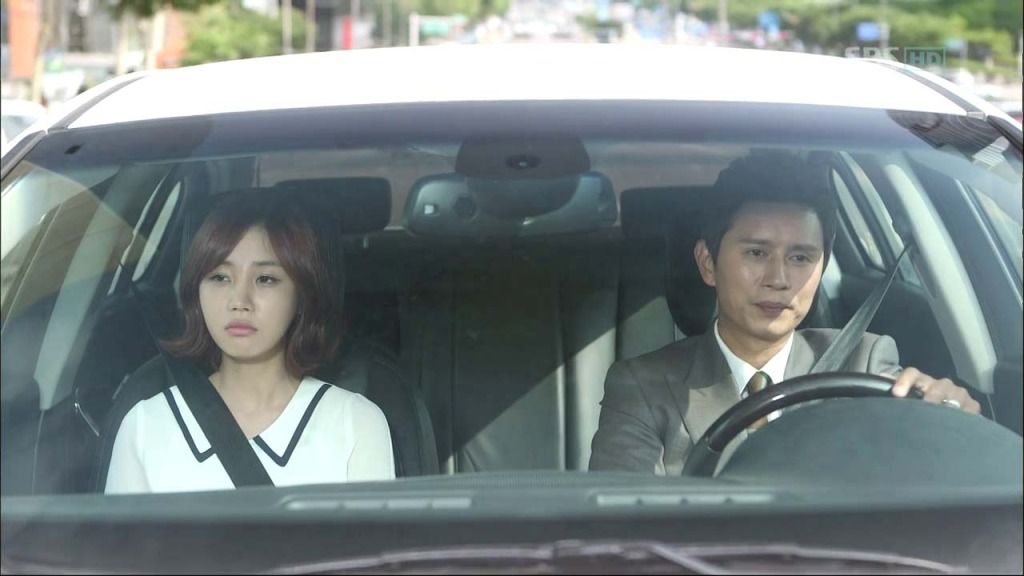 Petty Yoon starts to come out and he not-so-subtly announces that traffic is so bad today; maybe Me Ahri needs a ride to work. She jumps at the golden opportunity to hang out with Yoon and he drives her to Jung Rok's cafe.
In the car, Yoon asks if she's thought about her goals in life and she confesses that she's learned how to hurt someone with just words. He gears up to give her another lecture but she cuts him off.
She lists off his faults: Yoon is old, has a history, and is less handsome than Do Jin oppa. She calls herself crazy for liking an old ajusshi. HAHAHAH. He pulls the car over and shoots her a dumbfounded look as she chirps good-bye to the "old man." Mehrong~
Se Ra and Tae San meet outside her house and Se Ra slowly breaks the news that she wants to break up if he insists on marriage. He tries to negotiate with her, saying that he'll make enough money so that she can spend her entire life just playing golf.
He gives her one last chance to take back her words but she stands her ground. Se Ra explains that she's fought to be in this stage of her career since she was a young girl. She doesn't want to retire prematurely because of marriage, especially since her skills leave a lot to be desired.
Tae San expresses that if he leaves tonight, he'll never come back again. She slips her sunglasses on and steps out of the car. He drives off without looking back.
Do Jin has a dance session as he gets ready in the morning and Yoon studies him curiously. He asks why Do Jin is so happy and Do Jin responds that he's going to Chungcheon, a town far away from Seoul, for work. It's the perfect place to spend the night with someone…special.
Betty arrives in front of Yi Soo's house and Yi Soo happily greets her, which instantly makes Do Jin suspicious. Why is she being so nice to Betty? Hahaha.
Yi Soo inquires about where they're going and Do Jin replies that they're going on a trip. She calls for Betty to stop but Do Jin overrides her, yelling "Fighting! To the highway!" Gah why so cute?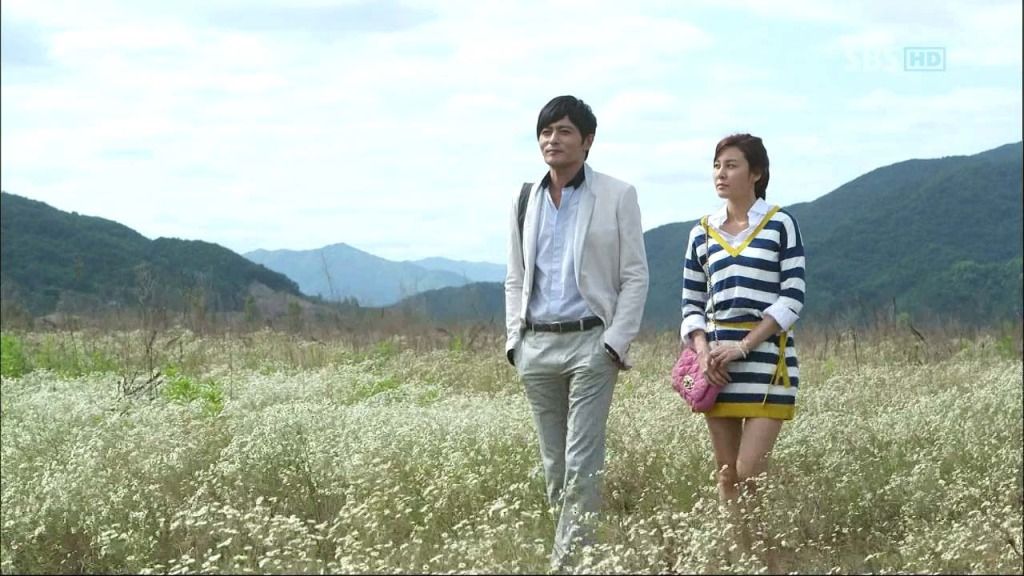 Do Jin concludes his meeting with a client and he takes Yi Soo out for a walk in a field of flowers. He proudly presents the project that he's working on to her, claiming that he will make an entire island into a theme park. I have to say, the setting is so beautiful in this shot. It makes me so happy just looking at the picture.
She smiles at his enthusiasm and wonders why he's still single if he's so perfect. He shrugs; maybe it's because he's had big failures. On the other hand, he's also had big successes. She says, "If I knew how great you were, I would have gone out with you a long time ago." He wraps his arm around her and they continue their walk through the field.
They dine at the hotel and Do Jin asks what kind of house she wants in the future. He can tell what kind of personality someone has by the house they desire. Call it a disease from working in the architecture field for so long.
Yi Soo pauses for a minute before answering that she wants a house "that nobody abandons…one that people will always come back to no matter what." Her voice has a tinge of sadness, which doesn't go unnoticed by Do Jin.
He simply responds that her house will have to be on an expensive piece of land then. After they finish dinner, he recommends that they head upstairs to a hotel room for some fun times but she immediately turns him down because she's wearing a bland set of undergarments. Bwahah.
Do Jin pouts in disappointment and makes her drive all the way back to Seoul as a "punishment" for messing up his awesome plans for the night. Hee. She drives home as he falls asleep in the passenger seat. When they arrive in front of her house, she gently gets out of the car and studies Do Jin's face through the window.
Yi Soo watches him with a tender expression, which quickly disappears when the car window begins to slide down. Do Jin opens his eyes and they lock eyes momentarily before he speaks to her.
"Seo Yi Soo, live with me. I don't care who you live with in the next life. All I ask is that in this life, you live with me. I'll make you happy, I promise."
Comments:
I didn't expect Do Jin to "propose" so quickly. I don't want to consider it as an official proposal (call me materialistic but most girls like shiny rocks to accompany proposal) but it's sweet nonetheless. I really love how their relationship is blossoming and the chemistry between the two actors is lovely to watch.
Do Jin reassured Yi Soo that he cares more about his relationship with her in the present more than the past he had with Eun Hee but I still worry that he'll change his mind in the future. Please let them be lovey dove for at least another weekend. I think they deserve some more happiness before the K-drama law of separation hits.
Se Ra and Tae San's fight over marriage is interesting because he's so traditionalist and she's very much a modern woman. Her arguments about how her career will go down the drain and how she told him from the beginning that she wasn't interested in marriage are quite valid, but Tae San is also duty-bound as the first and only son to continue his family's lineage.
He has a possessive streak and wants to claim her as his own for good while she prefers the freedom of doing what she wants when she wants. I also feel that Se Ra is afraid of what will happen if the marriage fails. A marriage is much harder to "erase" than a dating relationship and divorced women tend to bear harsher criticism than men, especially in a conservative society.
Their relationship problems are actually pretty realistic and I'm interested to see how they grow to understand each other. If there's one thing that has continually worked for them is that they have a high level of honesty. Sometimes it hurts to hear the truth but at least they address their problems head on.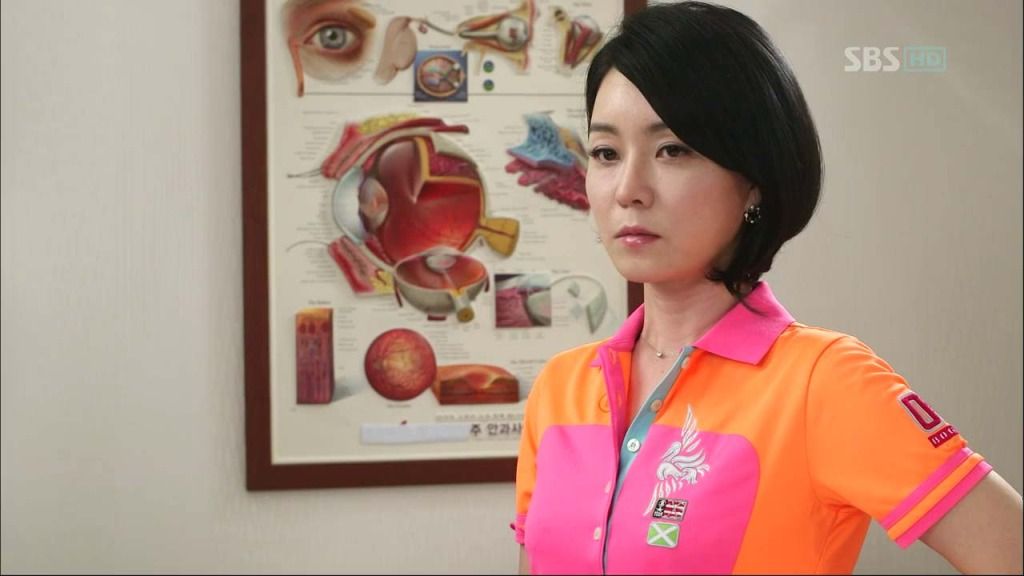 In contrast, Jung Rok and Min Sook continue to dance around their feelings and their relationship problems come from a lack of solid communication. They're currently caught in this vicious cycle that keeps them from pursuing a blissful marriage.
Jung Rok doesn't make an effort to stop flirting with younger, prettier women, which causes Min Sook to add more steel layers to her already cold front. This helps her cope with the hurt of being neglected by her husband, but it also keeps her from trusting him when he sincerely tries to dote on her.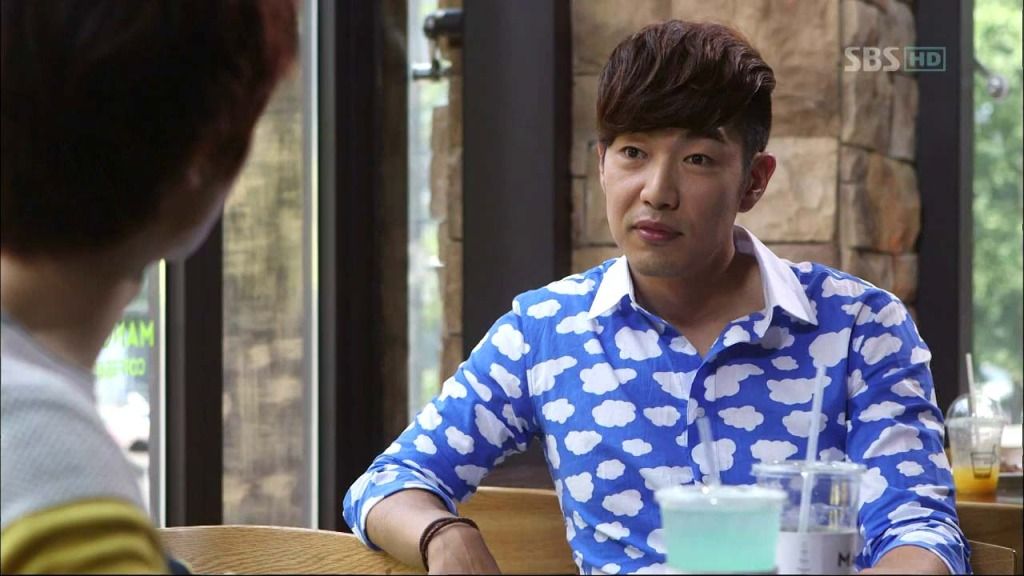 Then, when he sees that his genuine affections aren't being accepted, he goes back to mooning other girls. I definitely believe that Jung Rok could try harder to ease Min Sook's worries but I can also sort of understand why he gives up trying to impress a woman who seems to dislike him so much.
Min Sook bottles up her feelings and only lets down her guard when she's alone, like when she cries after he leaves the apartment. I'm also curious as to why she sets an alarm to drink her medicine but doesn't actually drink the liquid packets. She's not sick or anything, right? Gah. So many questions.
Lastly, yay for NG scenes! What was your favorite NG scene? I loved when Kim Min Jong smacked Lee Jong Hyuk's butt and then laughed. Heh. Hey, I'm not the only perverted one here.
RELATED POSTS
Tags: A Gentleman's Dignity, featured, Jang Dong-gun, Kim Haneul, Kim Min-jong, Kim Su-ro, Lee Jong-hyuk