A Gentleman's Dignity: Episode 13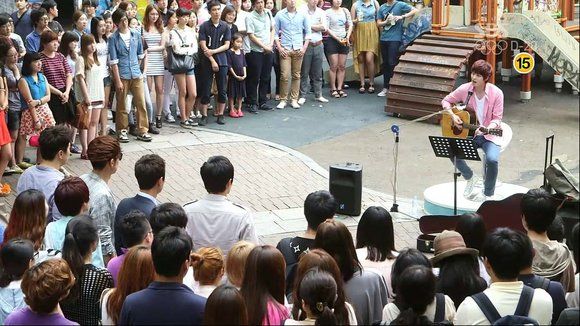 It's definitely the calm before the storm. While the cute continues, there's also a sense of apprehension that something is going to go wrong. Eek! I'm scared. Someone hold me.
Note: Please try to refrain from talking about Episode 14. There may be some people who have not watched it yet. The recap for Episode 14 should be out shortly.
EPISODE 13 RECAP
The boys take turns getting comforted by the others after being dumped with alcohol and a "wanna go on a blind date?" Heh. However, poor Do Jin is awarded a half-assed comforting session because of a soccer game on TV. Apparently one of the rules in the F44's friendship is soccer > friend.
Tae San becomes the star of one particular drinking meeting, but not because he was dumped; he's received his draft notice for the army. A few weeks later, Do Jin, Jung Rok, and Yoon come to see Tae San off at the train station but an embarrassed Tae San pushes them to leave.
The camera pans back and we see that Tae San is the only one without a girlfriend crying on his shoulder. Instead, he's left with three guys who wipe away crocodile tears while informing him that while he's gone they'll use his bed, student ID, and watch. Hahaha. Tae San's temper erupts and he curses as his friends try to pull him into a bear hug.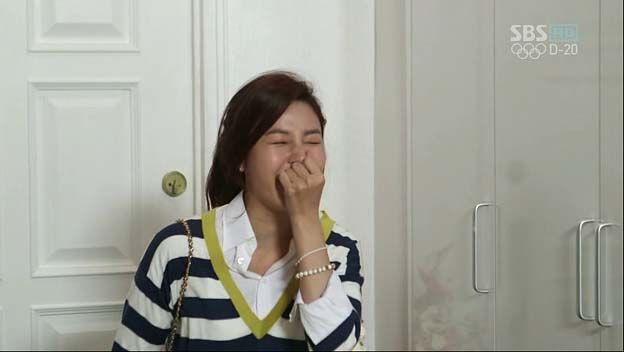 Yi Soo rejects Do Jin's "proposal" and points out that he's the one who said he didn't want to marry and that he had no confidence in loving one person forever. He replies that he still doesn't have that confidence but he wants to try loving her only.
She melts at his last words but plays it cool by commanding him to leave. She power walks towards her house and he yells out a "sleep well." Once inside, Yi Soo starts squealing with joy and cheerily informs Se Ra that Do Jin wants a more serious relationship. Se Ra gives a wry smile; she broke up with Tae San over the same subject.
The atmosphere immediately changes and Yi Soo tells Se Ra that leaving someone for his or her sake isn't right; that makes no sense to that person. It just means someone loves the other less. Oh ma gah. Is this foreshadowing. It better not be. ::shakes fist::
Yi Soo texts her students who are in the middle of taking final exams. She sends the rules for taking exams, which state that they should turn off their phones, refrain from kicking the person in front of them for answers, and to throw away all their cheat sheets in the trash. Hah aw. My professors never did that…although I guess it'd be hard for one person to find out the numbers of 200 students.
Yi Soo's co-worker hands her Dong Hyub's scantron which is carelessly filled out. Yi Soo glances at some writing on the back of the paper and notes that he's mentioned dates and names from the last page of the ethics book that she gave him to transcribe. She smiles, knowing that he read the book.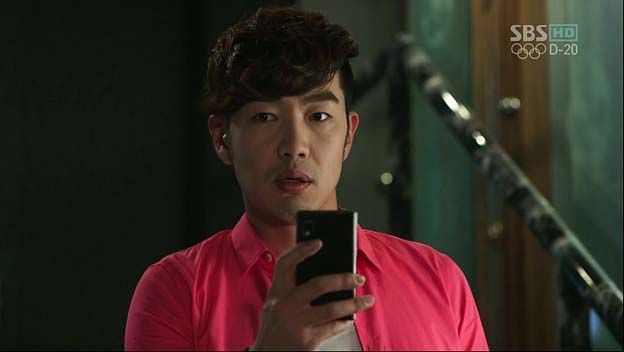 Jung Rok's bartender notices Min Sook drinking by herself and he texts Jung Rok. Soon after, Min Sook snaps her fingers and calls out "Mister" to him. She comments that the boss here is quite young and orders two more bottles of drinks because she likes his service.
At the same time, Jung Rok receives the message and he immediately panics on the stairs that lead to the bar. He runs into Yoon and his colleague aka the woman who eyes Yoon like he's a piece of meat. Jong Rok urges them to come with him to another place.
The woman politely declines Jung Rok's offer, saying that she wants to be alone with Yoon today. The two lawyers head back outside and Jung Rok grumbles that Me Ahri is so much better than that girl. He immediately calls Me Ahri to let her know who Yoon is with.
Me Ahri rushes to where Yoon and his co-worker are drinking and plops herself down at a nearby table. She calls over the waiter and orders a bottle of soju, which she gulps down. Yoon watches her worriedly but Me Ahri gets up to approach his table before he can intervene. She confronts the lady lawyer. Does "unni" like Yoon oppa?
Me Ahri barrels on before the woman can respond. "You're tall, pretty, and slender and you guys work together which really annoys me. You two drink and meet often too. Can you not do that?"
Her eyes close then and she keels over into Yoon's arms. Well played Me Ahri. Well played. Yoon carries her into his car and he anxiously waits for her to sober up. A little later, Me Ahri's patience wears out and she "wakes up" to ask Yoon to take her home if he's not going to do anything to her. Hah.
Tae San pulls up outside his house just as Yoon and Me Ahri get out of his car. Me Ahri's eyes widen and she quickly explains that she messed up Yoon's dinner with another woman and that she made him drive her home. Tae San tells her to go inside and Yoon awkwardly heads back to his car, saying that his wife (Do Jin) is waiting for him.
The two Im siblings converse in the living room and he starts to scold her for acting so immaturely. He warns her that something like today shouldn't ever happen again and she pleads with him to let her do as she wants. "Is my life yours? Why do you keep controlling it?" He coldly reminds her that she and Yoon are seventeen years apart. When she's 33, he'll be 50.
He also brings up Yoon's past marriage, which is another reason why he can't approve of Me Ahri chasing after Yoon. She bitterly responds that she doesn't care about Yoon's past; what is Tae San going to do if she says she'll die without Yoon?
Tae San replies that Yoon can live without her. He and Yoon are at an age where there are more pressing matters than love. In fact, Yoon cares more about keeping his friendships than her. Also, does she think Yoon will be happy if he leaves everything for her?
She might be happy, but Yoon won't be; this is why Tae San trusts him. He concludes with a final statement. "I can give Yoon all of my inheritance and belongings, but not you." She dissolves into tears as Tae San walks into his room. The entire conversation is heard by a creepy Colin.
Do Jin cuts red pieces of the yarn from Yi Soo's dress at his desk as Yoon slumps into the apartment. Do Jin tells him that Tae San messaged that he's going to create a baseball team to join a league. Yoon sighs that Do Jin and Jung Rok are officially on the roster for the Blue Cats and Do Jin feigns annoyance.
Why does he have to play baseball when Tae San fights with Se Ra? Yeah. That logic makes no sense to me either. In any case, Do Jin's eyes light up when he realizes that he has another reason to see Yi Soo.
The next morning, Jung Rok and Do Jin complain to Tae San who strangely has a bunch of icy-hot patches stuck to his right arm. Tae San rolls his eyes and commands them to just play; the Blue Cats don't have enough players for the game this weekend. Also, they should give some hefty donations now that they're on the team. Aha. Now we have the motive.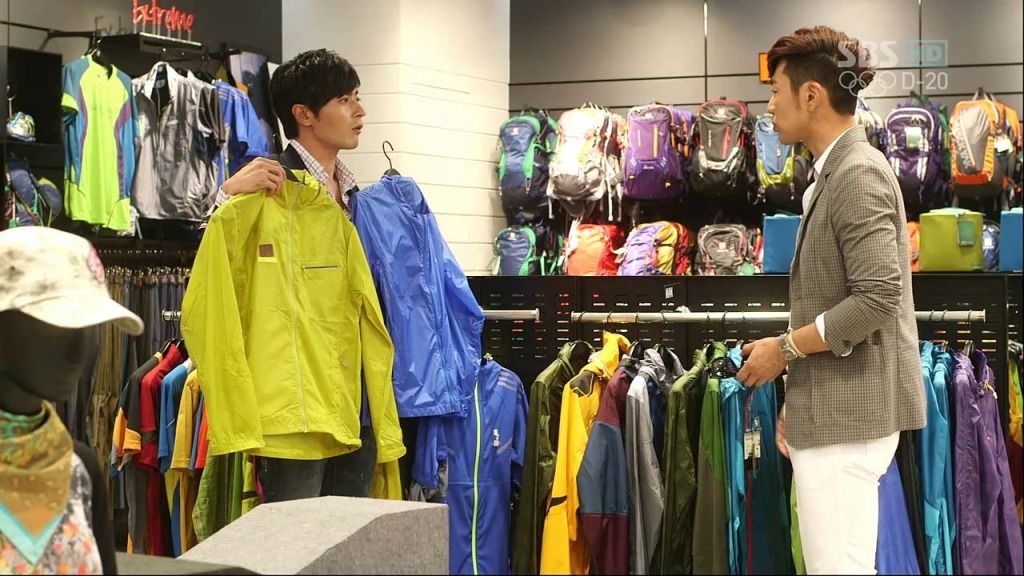 Jung Rok and Do Jin go shopping for matching baseball jackets and Jung Rok marvels at how fast Do Jin gave into Tae San. Do Jin gives a nonchalant response; it's the least he can do to help a friend.
Jung Rok calls Do Jin out on his fake show of friendship and Do Jin defends himself; the second sport he rocks at after basketball is baseball. HAHA.
Do Jin then holds up a blue and yellow jacket, asking which one looks better. Jung Rok hands him a green jacket because yellow doesn't suit Do Jin. Do Jin gives him a glare but takes the green jacket anyway. Heh. I could watch these two all day.
Se Ra has tea with the pretentious caddy that refuses to join her team at Jung Rok's cafe. He turns her down again while pointing out that she's a bad player because she has no focus. The only thing she excels at is obtaining media attention.
He is interrupted by Me Ahri, who apologizes for her behavior the last time he met with Se Ra at Jung Rok's bar. She urges the caddy to listen to Se Ra's request but he simply walks out after claiming that it's not Me Ahri's place to intervene.
Se Ra comes back home and meets Do Jin outside. She lets him inside where they find Yi Soo zapping her leg hairs casually in the living room. A mortified Yi Soo quickly pretends that the device is a hairdryer and then rushes into her room. Do Jin follows her soon afterwards.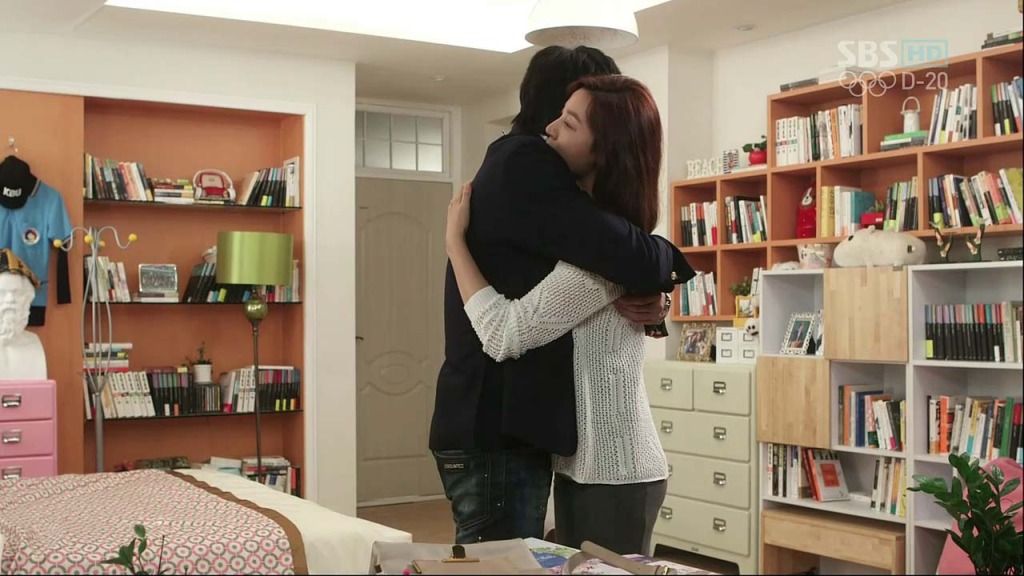 In Yi Soo's room, Do Jin reaches for Yi Soo's hand and gives it a quick kiss to appease her anger at his intrusion. He then kisses her hand and she responds with a kiss of her own on his lips. I'd say get a room…but they already have one. Heh. They embrace and he tells her that he's been scouted by the Blue Cats.
She laughs that he probably doesn't even know how many stitches are on a baseball and he locks his arms around her even tighter. He begins to maneuver her towards the bed but she pushes him aside when her phone rings.
He heaves a disappointed sigh and she comforts him by announcing that they'll go out to dinner after she takes this call. He waits for her in the living room happily but is let down when a grave-faced Yi Soo lies that her fellow employees are near her house; she asks for a rain check on dinner.
Yi Soo walks into a cafe and sits at a table with two sour-faced men. They bring up the subject of her mother but she immediately corrects them; she has no mother. That woman cared for Yi Soo for twelve years, which is nothing compared to their twenty-four years with her. Are we going all
She demands that they never contact her again and she abruptly leaves. Her step-brothers(?) give her the stink eye as they pass her on the steps and she sinks to the ground as tears pool in her eyes.
Do Jin sits down in front of her and wipes away a tear. He assures her that she doesn't need to tell him anything if she doesn't want to; he came because he was worried. However, she needs to tell him whenever she needs help. She gives him a watery smile and requests for his help now because she's hungry. He replies that they should eat then. D'aw.
Tae San gets a haircut and sits in Jung Rok's bar as memories of Se Ra flash in his head. He asks Jung Rok if he likes being married and wonders how he could have been the first to settle down. Jung Rok responds that he's the best looking (heh) and Tae San laments Min Sook's poor fate; how did she end up with such a…non-catch of a guy…
Jung Rok ignores Tae San and urges him to meet someone else. The world is full of women! Tae San snaps that in his world, there is only one person for him. He stalks out and heads to the baseball field to practice batting. Se Ra watches Tae San from afar but can't bring herself to approach him when he sits on the bench to rest.
That night, Tae San determines that Colin should go back to Japan after overhearing Me Ahri commanding Colin to his room so she could take a shower. He relays his decision to the other men during lunch the next afternoon. Yoon immediately agrees while Jung Rok balks at the idea of treating Eun Hee's son so callously.
Me Ahri meets with Min Sook and begins to lie about how Jung Rok has become a changed man lately. Min Sook sees through the act instantaneously and kindly "fires" Me Ahri from her job as a spy. Heh.
Colin calls Me Ahri to ask where the hairdryer is and she retorts that she doesn't know. She hangs up and Min Sook wonders if she's dating someone but Me Ahri shakes her head no; the son of F44's first love is living with them for a bit. Whew. That's a mouthful.
Min Sook frowns at the words "first love." Is Colin's mother Kim Eun Hee by any chance? Me Ahri affirms that she is, which causes Min Sook to stomp over to Jung Rok's cafe. She commands him to prove that Colin isn't his son and Jung Rok sputters that she needs to believe him. "Am I the Holy Spirit, to impregnate a woman without physical contact???" Bwahah.
We soon cut to Jung Rok begging his friends to send Colin back to Japan. Ha. F44 calls Colin over to Do Jin's apartment to pressure him into revealing Eun Hee's number. He refuses to tell them and claims that he's going back to Japan tomorrow anyway. Mkay. That's a lie. Please don't believe him.
Do Jin drags Colin to the residence hotel so he can spend the night in peace. Before Do Jin leaves, Colin asks him if he remembers his mom. Did he love her? Do Jin responds that he doesn't talk about his personal life with little boys born in 1995 and leaves after telling Colin that he'll swing by to take him to the airport tomorrow.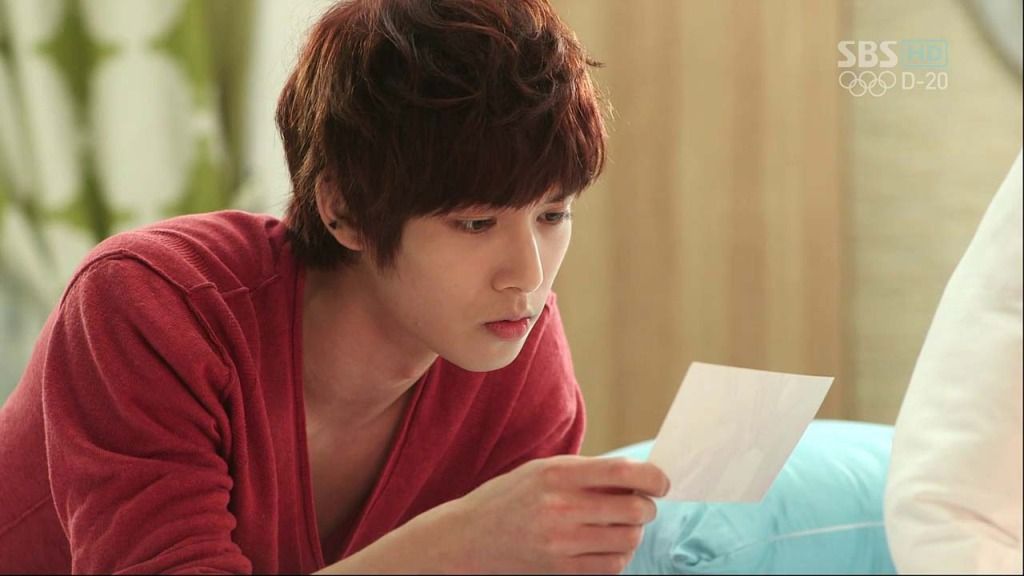 That night, Colin peruses photos of F44 and mentions that Me Ahri would be his aunt if Tae San was his father. She could also be his future stepmother if Yoon is his father. He sighs that both choices are undesirable, especially now that he likes Me Ahri. OMG. Ick.
He shivers when he contemplates Jung Rok as his father and then turns to a picture of Kim Do Jin. If Kim Do Jin is the father, then they'd both be happy. What?! Says who?
Back at Do Jin's apartment, Yoon comments on Do Jin's artsy-craftiness over the past week and Do Jin declares that he's going to propose to Yi Soo. Yoon is taken aback at how serious Do Jin is and then sincerely comments that he wants to be his girlfriend in the next life. Hehe. D'aw.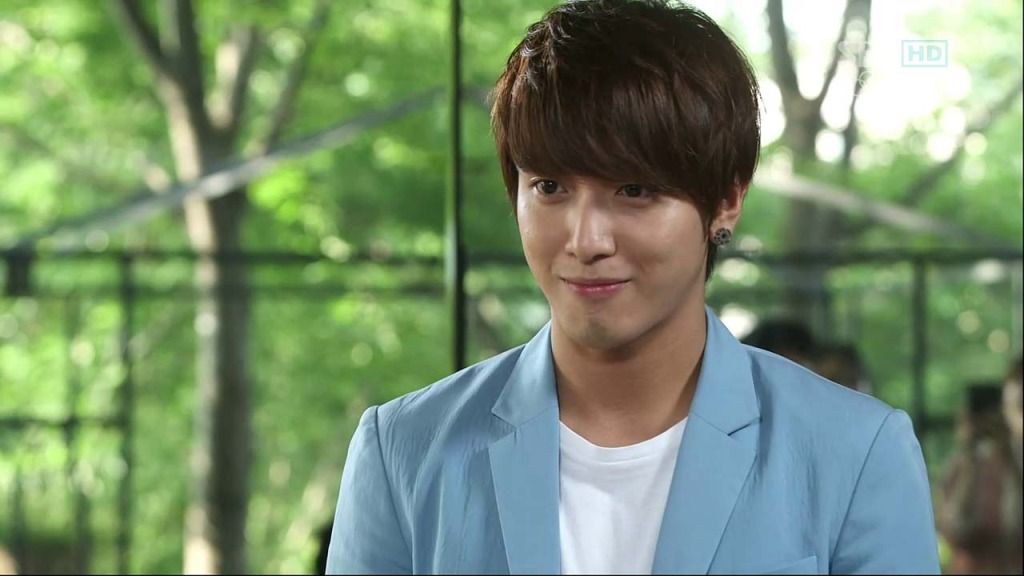 Do Jin and Yi Soo go out to dinner and she half-heartedly chides him for leaving his office all the time. He responds that things would be easier if they just lived together but a scream of "It's Jung Yong Hwa!" cuts into their conversation.
They turn to see the leader of CN Blue walk into the restaurant. Yi Soo lights up when she recognizes him and she gives Yong Hwa a hearty wave. Yong Hwa notices Yi Soo and he walks over with a huge grin on his face.
He compliments her by saying she looks exactly the same and Yi Soo blushes. She introduces Yong Hwa by saying that she was his sixth grade homeroom teacher and starts to gush about Yong Hwa's work ethic and how proud she is to see him doing so well.
She also brags that she sings Yong Hwa's songs all the time which prompts Do Jin to break out into Big Bang's "Blue." HAHAHA. The other two shoot Do Jin a look of disbelief and Do Jin acts shocked; you mean "Blue" isn't Yong Hwa's song? But Yi Soo sings it all the time. ROFL.
Do Jin gets straight to the point and urges Yong Hwa to get back to his table because the people in his party are total loners. ::giggle:: Oh writer Kim. The pop culture references never get old. Yong Hwa comments that Yi Soo is way too good for her current boyfriend and leaves after saying he'll contact Yi Soo soon.
Yi Soo breaks out into a huge smile and Do Jin's jealousy bubble bursts. He reverts to his five-year-old self and throws a tantrum. Yi Soo can't speak to Yong Hwa on the phone, especially since she never answered Do Jin's calls. He walks out fuming but she runs in front of him to block his way.
She declares that she doesn't want to live with him yet. She wants to date and cultivate a deep relationship with him first. He asks how they can pursue a "deep" relationship and she teases him for not knowing; what about all the women he dated in the past? He replies that she's the first woman who wanted such an innocent relationship.
He begins to move closer to her and she warns him not to do anything embarrassing. He ignores her and steals a kiss, leaving her flustered. He wonders if that's something heart-pounding that people in a deep relationship do and she wraps her hands around his, sighing that he has a lot to learn about dating innocently. He assures her that he learns quickly. Hee.
Se Ra receives a call from someone who says that he can't lend her the money to pay off her debts. She responds that she understands and hangs up dejectedly. She contacts the car company trying to sell her car, only to hear that there hasn't been one offer for the car.
She turns to Min Sook as a last resort and begs her to lend her some money. She knows Min Sook won't lend her anything, but she needed to at least try. Min Sook comments that Se Ra is quite prideful for someone who is asking for money and Se Ra answers that pride is the only thing she has left.
Min Sook contemplates rejecting Se Ra's request and Se Ra quietly asks that Min Sook refrain from doling out criticism if she refuses. Min Sook cocks her head to the side and announces that she'll lend her the money if she can continue to criticize Se Ra. Haha what a backwards way of being nice. Se Ra hands over the key to her car, which will serve as collateral.
Do Jin finds Colin and his belongings missing from the residence hotel when he stops by and F44 gathers to discuss where he could have possibly gone. Jung Rok remarks that Colin must have run away to avoid being shipped back to Japan. Me Ahri tells the oppas that Colin asked her where people go to play music and receive money from strangers. She told him to go to Hong Dae.
The men scramble out of the cafe and scope out Hong Dae. Meanwhile, Colin sets up his own free concert on the street and begins singing with his guitar. Soon a large group of people forms around him and the four guys follow Colin's voice. They weave their way through the crowd and watch as listeners drop coins and bills into Colin's guitar case. They approach him and scold him for running away, but he quickly interrupts them.
Colin: I heard that someone among the four of you is my father. Who is it?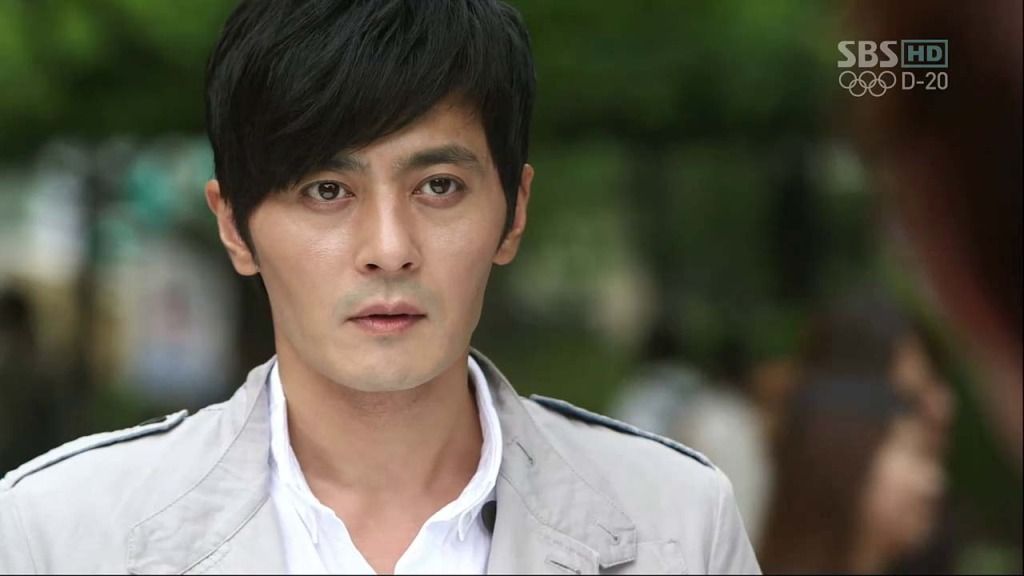 Comments:
I'm sure most people have watched episode 14 and know who the father is but let's just skim over that topic for now. There will be plenty to say about it when we get to that part, but I don't want to divulge here since this recap is for Episode 13. As a result, I'll keep it short and simple today.
We kind of went around in circles and covered the same kind of territory for Yoon and Me Ahri. However, I did appreciate her conversation with Tae San. It was jarring to hear him say that Yoon's past marriage is another factor that makes him less appropriate for Me Ahri, but I can kind of understand where he's coming from; Me Ahri is considered an A+ bride while Yoon is a 40-year old widower.
Yet me thinks Tae San assumes a little too much when he says that Yoon won't be happy with Me Ahri. On the contrary, I think Yoon would be less lonely and more lively if he and Me Ahri got together. I understand that some people hate this coupling because it's "creepy" but that's besides the point. You can't deny that Me Ahri, despite her immaturity, brightens up Yoon's day.
Granted, I'm a little frustrated at how underdeveloped Me Ahri has been so far but I'm still rooting for her to grow up and become a woman who is capable of being independent and strong enough to fight for her love. Also, saying Yoon will lose everything is a little overdramatic; I'm about 98% sure that Do Jin and Jung Rok wouldn't break off their friendship with Yoon if he finally decided to pursue Me Ahri. I mean, really, is losing Tae San's friendship really "everything" that Yoon has? Yes? Maybe? I'm not sure.
Min Sook is definitely growing on me. She's such a total softy underneath the sparkling jewels and snotty attitude. Initially, her relationship with Se Ra was catty and resentful but I really like how they can see each other's vulnerabilities now. They'd be good friends if they just let go of their pride a little. God knows they both need some more girlfriends.
Do Jin is so cute when he wants to be. His petty jealousy when Yi Soo spoke with Yong Hwa was brilliant. Jang Dong Gun is so good at making crazy expressions. I really want to see what he's doing with the red yarn but I'm afraid that we'll never see it. Gah. This feeling of dread sucks.
Alright, enough. Onwards to the next episode! ::whimper::
RELATED POSTS
Tags: A Gentleman's Dignity, featured, Jang Dong-gun, Kim Haneul, Kim Min-jong, Kim Su-ro, Lee Jong-hyuk