A Gentleman's Dignity: Episode 14
What's up Mr. Noble Idiocy? You're that one drama ingredient writers like to use to spice up their semi-bland plot. I'm sorry to tell you that you've lost your kick and that your expiration date is long overdue. What's that? You don't care? Well okay. I guess I'll dilute your bitter aftertaste with bottles of alcohol. Gah. Somebody. Drink with me.
EPISODE 14 RECAP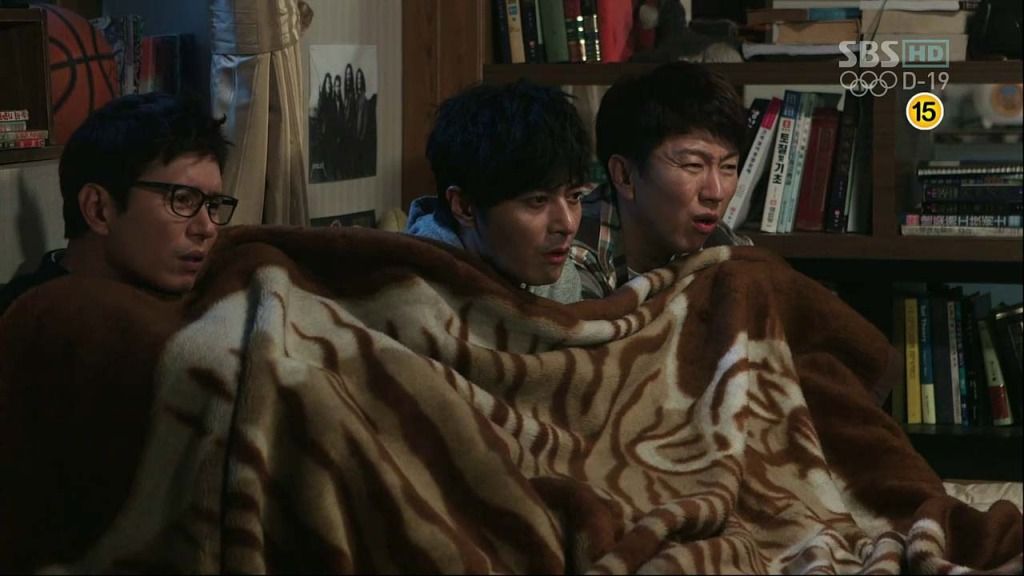 This opening has got to be one of my favorites. In 1995, Tae San, Yoon, and Do Jin cuddle together as they watch the last episode of "Sand Glass" aka the drama that catapulted Choi Min Soo and Go Hyun Jung into the Korean Hall of Fame. The guys hold back tears and soon break out singing the theme song of the drama as the credits roll.
Tae San turns off the TV and they begin imitating Choi Min Soo while sighing at how cool he is. Jung Rok crashes the drama party and whines that he can't believe he missed the last episode. He begs his friends to tell him what happened at the end but they giggle devilishly and order him to watch the rerun if he's so interested. Haha wow. Meanies.
Jung Rok shoots them the stink eye and replies that he'll just have to ask his mommy. He whips out a cellphone that looks like it's made of Legos and the other three ooh and ahh over Jung Rok's new toy.
Tae San remarks that it'd be nicer if the phone was a little slimmer and Jung Rok scoffs that the phone might as well have a touch screen too. The men all utter a huge "pshaw" and Yoon jokes that TVs might as well hang on walls and they should have air conditioning blast from the ceiling. Maybe they'll pay to drink water soon too.
F44 dissolves into laughter but a voiceover from Do Jin laments that he and his friends were too short-sighted to realize those technological developments could actually happen. They could have even become Korean versions of Steve Jobs. Lol.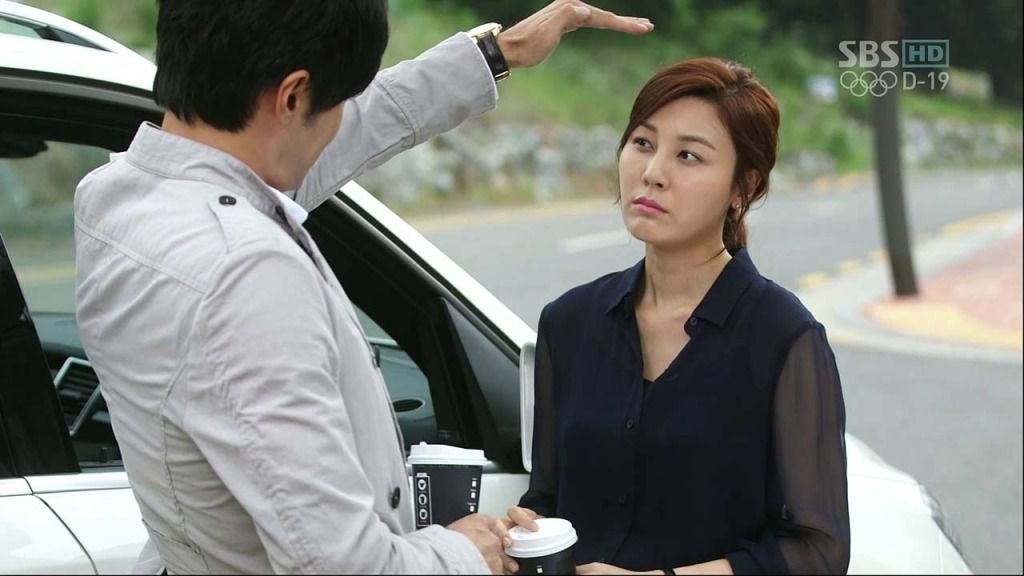 Yi Soo peeks into Betty and wonders where Do Jin went as he sidles up next to her. She jumps back in surprise and he hands her a cup of coffee while asking what she ate for lunch. He calls her "my lover" and she hides a smile before reminding Do Jin that she only has twenty minutes before she has to head back to class.
He responds that she's not pretty enough to spend the entire twenty minutes with him and teases her further when her face crinkles in annoyance. He puts his hand over her face to cover it from the sun and flashes her a cheeky wink.
Do Jin informs her that he and his friends are sending Colin back to Japan and she cautiously asks if it's because Eun Hee might worry. Do Jin shakes his head no; he's doing it because Yi Soo seems worried about Colin's presence. They agree to meet later for dinner and she sees him off.
After Colin drops the bomb that one of F44 is his father, Jung Rok immediately wonders if it's him. HAHA. "Why do I always think it's me when I hear something like this?" Bwaha. Tae San and Jung Rok argue about who the father is on the way back to Do Jin's apartment.
The men begin to interrogate Colin on who he thinks his father is and why he's looking for him now. We learn that Colin's current father is not Korean but raised Colin like his own biological son. Colin explains that he realized he was really good-looking one day and now wants to know the man who gave him such great genes.
Jung Rok sighs that it must be him (hah) but Tae San immediately shushes him. Do Jin commands Colin to take out his passport, which reveals that Colin was born in 1994, not 1995. Huh?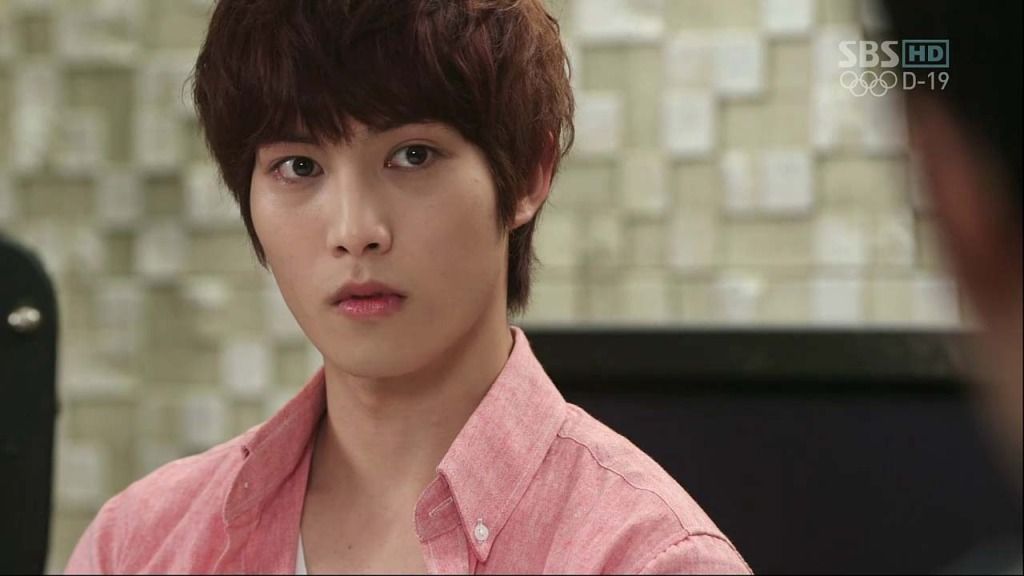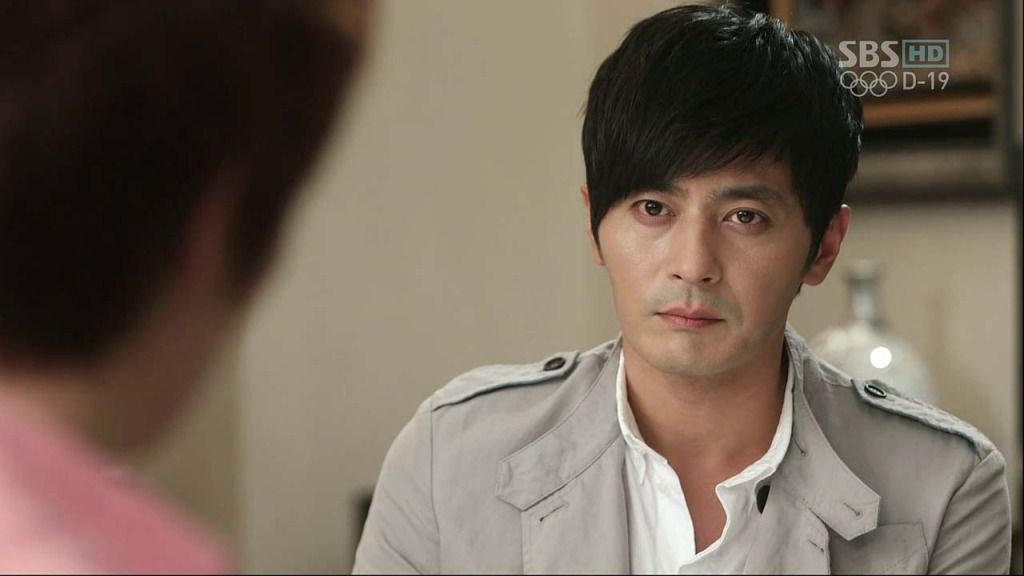 After a moment's pause, Do Jin says that he thinks he might be Colin's father. ::bashes head against desk:: I guess we're really going there. His friends and Colin stare at him in shock. Jung Rok breaks through the thick tension first by admitting that he met Eun Hee a couple of weeks before and she had asked him to contact her if Colin ever showed up.
Tae San starts to scold Jung Rok for not saying anything earlier but Do Jin interrupts to ask for some private time with Colin. The three men get kicked out and Do Jin hands his phone to Colin; put in Eun Hee's phone number. He leaves with his shoulders slumped as the other F44 members look after him worriedly.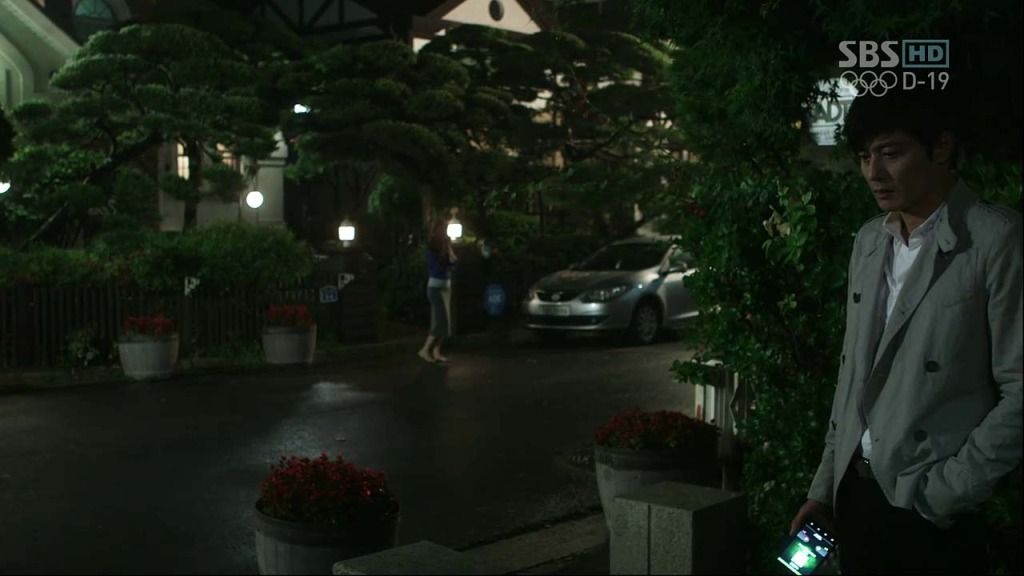 Yi Soo waits for Do Jin outside her house and calls him continually. He observes her from behind the corner and lets his phone ring in his hand. She soon huffs and puffs back into her house and waits a bit for his call. Meanwhile Do Jin sits in Betty until Yi Soo's bedroom lights turn off. He goes back home to brood and then calls Eun Hee after some hesitation.
Jung Rok, Tae San, and Yoon discuss the night's events and Jung Rok wonders if Do Jin really is Colin's father. Tae San responds that nothing has been proven yet; they still don't know who Eun Hee liked the best out of all four of them. Sigh. You guys are still fighting about this?
Level-headed Yoon orders Jung Rok to get some drinks and then turns to Tae San to talk about the matter more seriously. He comments that Do Jin would only say he was the father if he really thought he was and Tae San replies that Eun Hee must have had a hard time raising Colin by herself.
Yoon plays devil's advocate and questions Tae San on what he would have done if a girl had said she was pregnant with his child back when he was in his 20s. Tae San answers that he would have taken immediate responsibility but Yoon remains slightly unconvinced. It's easy to say that now because they're in their forties.
Yi Soo leaves multiple messages on Do Jin's voicemail but the only call that she receives is from Me Ahri, who informs her that Min Sook wants to meet with Yi Soo.
Me Ahri, Se Ra, and Yi Soo meet Min Sook at a restaurant, where Min Sook reveals that Colin is the son of one of F44. The women gape at her in surprise but Min Sook pushes forward; she doesn't know who the father is but she wanted to inform them of this crazy situation.
She goes on to say that one of them will be hurt because of this revelation. The other women try to figure out who the father could be while Yi Soo remains quiet. Me Ahri and Se Ra begin to fight over whether or not Colin is Tae San's or Yoon's child. Soon the two then look to Yi Soo, who readily defends Do Jin by saying Colin doesn't look like Do Jin at all.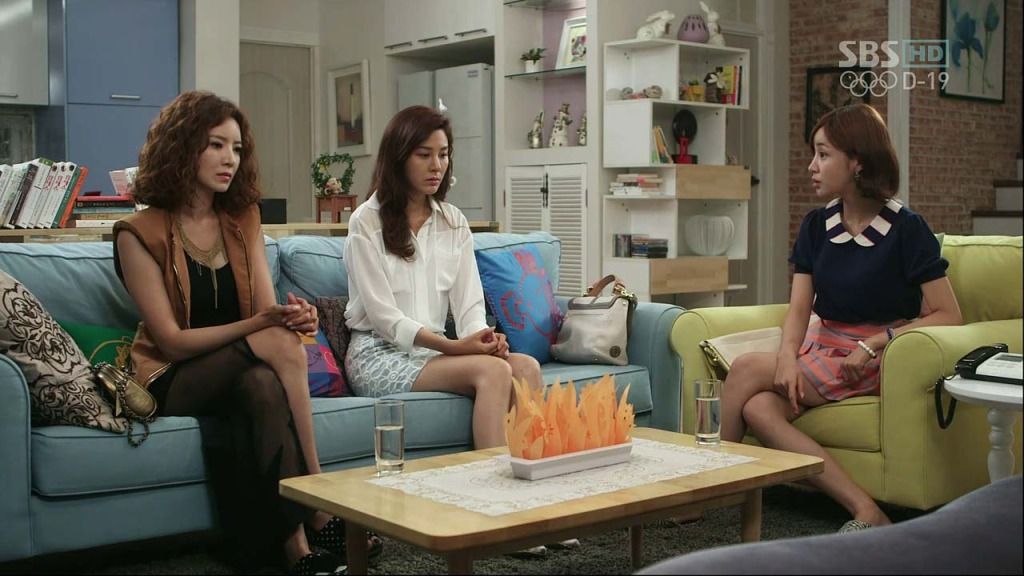 Min Sook blows a figurative whistle and reminds everyone that there's a 25% chance that any one of F44 could be Colin's father. Se Ra asks if Min Sook could understand Jung Rok if he turned out to be Colin's father and Min Sook responds that she's not sure. They need to confirm who the father is first before panicking.
At Se Ra's house, Me Ahri complains that she can't raise a 17-year-old child. She's only 24! Se Ra marvels at Me Ahri's train of thought. It's "How will I raise Colin?", not "I'm going to forget Yoon"? Me Ahri asks why Se Ra cares about whether or not Tae San is the father; aren't they separated? Yi Soo sits in a haze during the entire conversation.
Do Jin listens to Yi Soo's messages but can't bring himself to contact her. She later stops by outside his apartment only to turn away in fear before ringing his doorbell.
The next day, Do Jin invites Colin over to have lunch and asks about his current father. Colin answers that he's a pilot and Do Jin nods in response. He informs Colin that Eun Hee will fly in today and that he will have a conversation with her to figure out this situation.
A couple hours later, Do Jin sits across from Eun Hee who compliments Do Jin on how well he's aging. He ignores the small talk and gets straight to the point: what happened? She disappeared without warning and made a huge decision by herself. Furthermore, she turned him into a fool. She should have at least told him the truth.
Eun Hee responds that she ran away because she was scared. She wasn't planning on having the child but changed her mind suddenly. He angrily snaps that she should have told him that she was planning to have the baby but she quickly responds with a question of her own. Would he have wanted the baby at that time?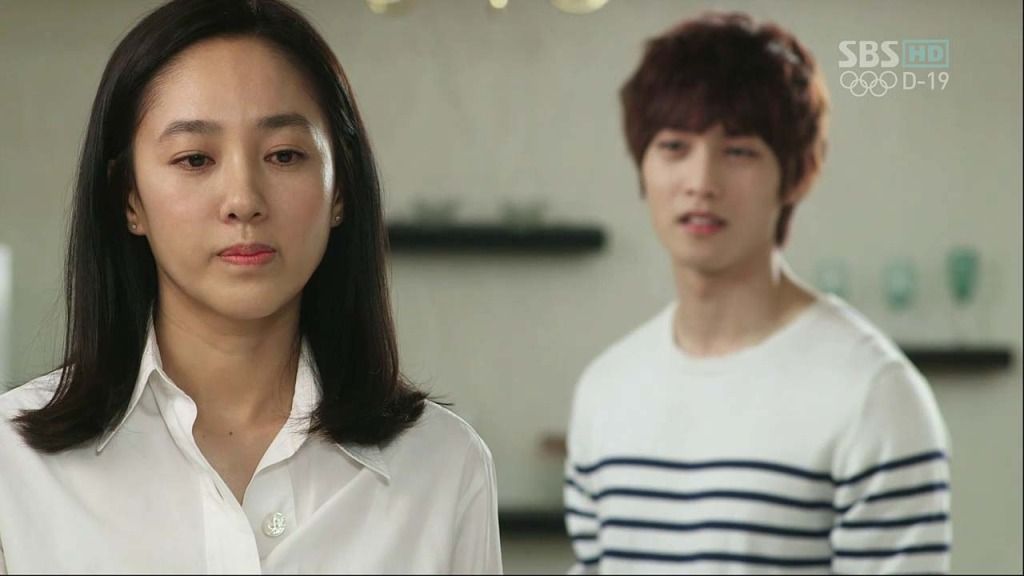 She apologizes continually and makes the excuse that she was young and in love. WHAT. DFKJGDJFDLJ…wheww. Okay. Save it for later. She tells him that she doesn't want anything from him and that nothing has changed. Uh, except everything has changed. Blargh. Do Jin stands up and commands her to stay in Korea for the time being while handing her the address of the residence hotel.
Eun Hee makes her way to where Colin is staying and she yells at him for acting so rashly. He remarks that he recognized Do Jin as his father right away. She pauses momentarily but then pulls out the guilt card; does Colin not know how much she loves his current father? He nods and she snaps that Colin is betraying his father by acting so immaturely.
Colin slowly replies that he knows it's betrayal but he was just so curious. He questions if Eun Hee ever regretted keeping him and she gives an affirmative answer; she regrets it today.
Do Jin arrives at his apartment to find his friends waiting anxiously for him. He sighs that Eun Hee confirmed that Colin is his son and the other three give him looks of pity/helplessness/sadness. Yoon asks what he wants them to do for him whether it be give laughter or consolation. Do Jin just replies that he wants to speak to Yi Soo first.
Jung Rok cautiously comments that the four ladies already met and know about the general situation, but they don't know who the father is yet. Just then, everyone's phones start ringing except for Do Jin's. Do Jin urges the other three to pick up the calls and reassure their ladies that he's the father.
Yoon meets with Me Ahri who jumps to the conclusion that Colin is his son. She reassures him that she'll raise Colin well and he can only facepalm in return. Jung Rok chases her out of the bar by threatening to call Tae San and then turns to Yoon to give him some advice; Yoon won't ever find another woman who is willing to raise another person's son. He might as well win ten lottery tickets.
Jung Rok then rushes home to convince Min Sook that Colin is not his son. He gives her three reasons: Colin is good-looking, has a small face, and has double eyelids. She nods in agreement. Misunderstanding cleared. Teehee.
She also reasons that Jung Rok would have hid Colin away if he really was his son and he reluctantly says that she's right. She slips in that he can stay for dinner and Jung Rok's eyes light up. He gives her his best puppy dog face and inquiries whether he can sleep at home or leave after dinner.
He receives permission to stay after dinner and he squeals with joy. He skips down the hall to change and she quietly comments "Would you have matured if we had a child?" Aw. Her thoughts are interrupted when Jung Rok bounds up to her with Se Ra's car key. He wonders if it's his but she demands that he put the key back. Typical Jung Rok doesn't listen and then later realizes that the key is to Se Ra's car.
At the same time, Tae San and Se Ra have tea at a cafe and she presses him to reveal who Colin's father is. She tells him that she still wants to be by his side if he's in trouble…out of friendship. He calls her a coward, which she sadly acknowledges as correct. She responds that she still misses him but he coolly answers that he wants to separate cleanly; he will never understand men who stay friends with their exes. He exits and she cries.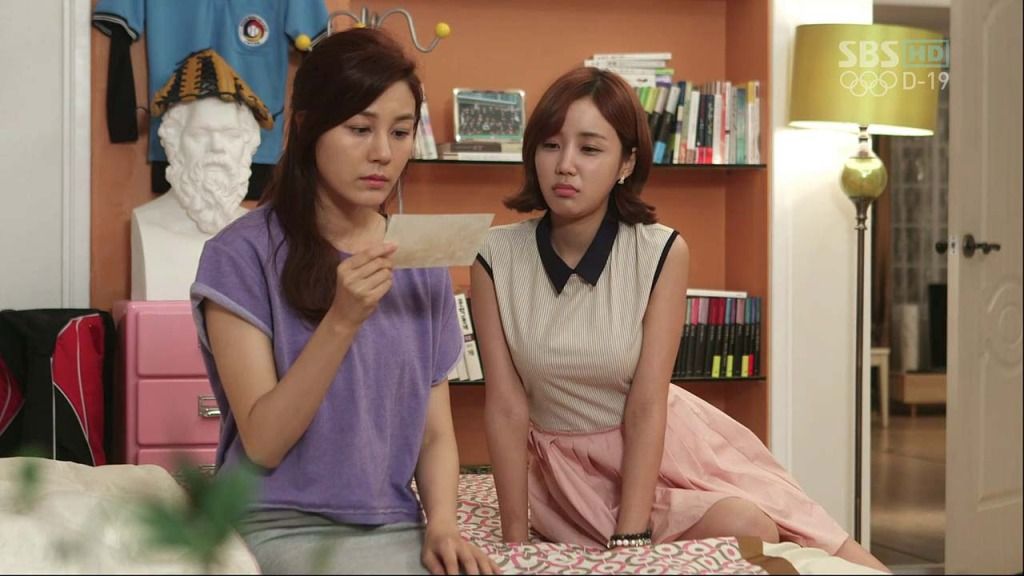 Me Ahri shows a picture of Eun Hee and the men to Yi Soo and Yi Soo remarks that Eun Hee is quite pretty. Me Ahri wonders if Yi Soo has heard anything from Do Jin yet. Yi Soo gives her a cryptic answer. "I can't tell when happiness is coming, but I can predict when sadness approaches."
Her phone rings at that exact moment and she steels herself before answering it. Do Jin asks if he could come over to talk but she suggests that she head his way instead; waiting for him to call has been hellish enough. I'm going to cry.
She drives nervously to Do Jin's office yet feigns a calm demeanor when she sees him. She gently chides him for failing to contact her and he apologizes. He then prepares her for a more serious conversation by apologizing for what he will say next.
Do Jin: I'm going to cancel my words about living together. I also take back the promise that I'll make you happy. I won't be able to fulfill your request that I never leave you before you leave me either. I'm a horrible bastard. Please try to forget about me.
Yi Soo asks the billion dollar question: is Colin his son? He whispers "yes" and her mouth drops open in shock. He continues, "It's not that I don't have the confidence to love one woman forever. It's that I don't have the right. I'm being punished for making others cry and being so conceited during my lifetime."
She asks him again and again if Colin is his son and he answers that all he can say is that she forget about him and that he hopes she meets a good man. Oh gosh. I need another drink.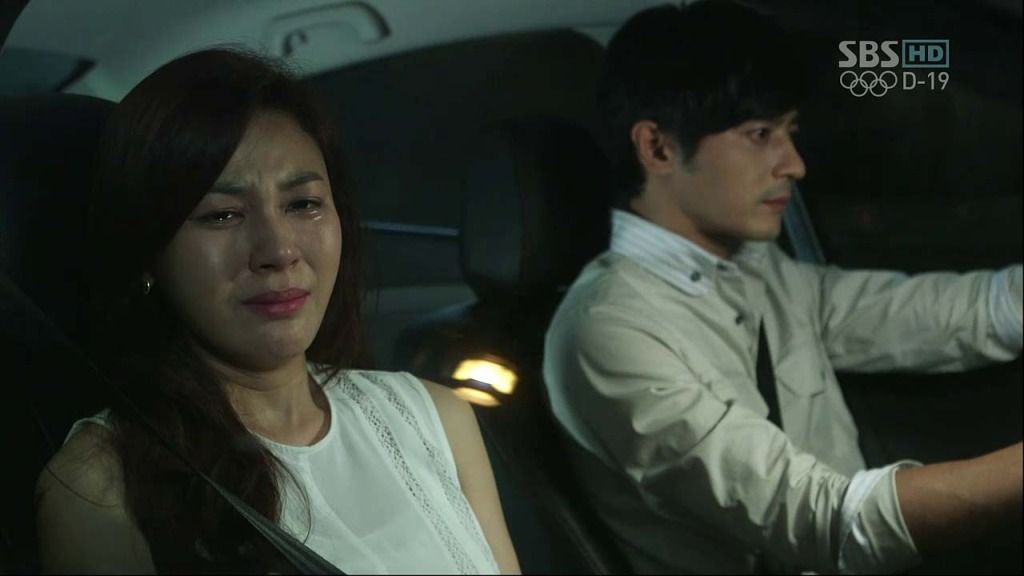 She storms out but is prevented from leaving by the building's security guard. The guard refuses to give her the car keys under Do Jin's orders. Alright, first of all, why does the security guard have your keys? Second, please stop throwing a temper tantrum. Take the bus! A taxi!
Damn it. Nobody listens to me. Yi Soo continues to whine and cry…and then allows herself to be driven home by Do Jin. Where's the dislike button. When she arrives home, she curses at him and sarcastically wonders if he doesn't have another hidden child.
She runs inside and sinks to the floor of her room while sobbing uncontrollably. Do Jin likewise lets manly tears trickle down his face in his apartment. Nope. You don't get to cry! You don't even HAVE TO CRY. ::rage::
The next morning, Sung Jae's mother screeches her way into the school and slaps Dong Hyub for bullying her precious son. Damn woman! What is wrong with you. Yi Soo pleads with her to calm down and that they should talk outside. Sung Jae and some other teachers soon drag the woman out of the classroom and Dong Hyub leaves before Yi Soo can speak with him.
That night, Yi Soo drinks beer alone in the baseball field and is soon joined by Tae San. He asks if she's okay and she replies that she's not. She complains that Do Jin didn't give her time to think or ask what she wanted. He just dumped her without a proper explanation.
Tae replies that he would have done the same thing if Colin had been his son. He comments, "Giving someone time to think is asking that person to stay with you. He probably thought that he didn't deserve to ask you to stay."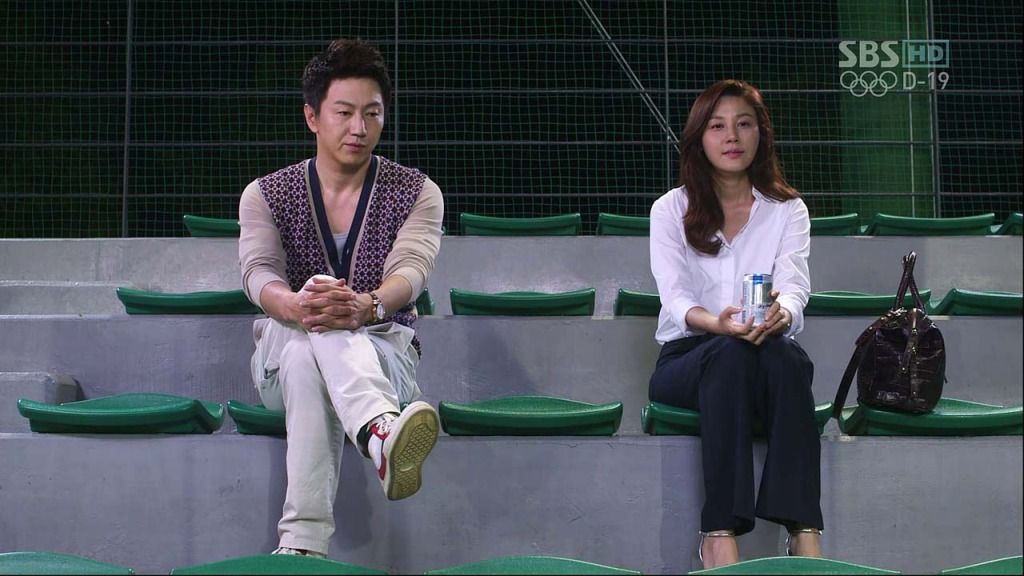 She answers that she might have been able to understand him if she had been given some time; how can you go straight to home base justifiably without first going to the other bases? Tae San replies that Do Jin wants to protect Yi Soo…from the 22-year-old version of himself. What? That makes no sense at all. That's just lazy ass writing. What. WHAT.
Jung Rok informs Tae San that Se Ra's car is with Min Sook as collateral for a loan, which Min Sook confirms when Tae San questions her directly. Min Sook remarks that Se Ra put down her pride to request money from her; maybe Tae San should pretend not to know about Se Ra's debts for now.
He replies that he needs to keep his pride first and offers to repay Min Sook. ::groan:: What is it with these men and thinking that they know what's best for someone else? Is this why you and Do Jin are friends?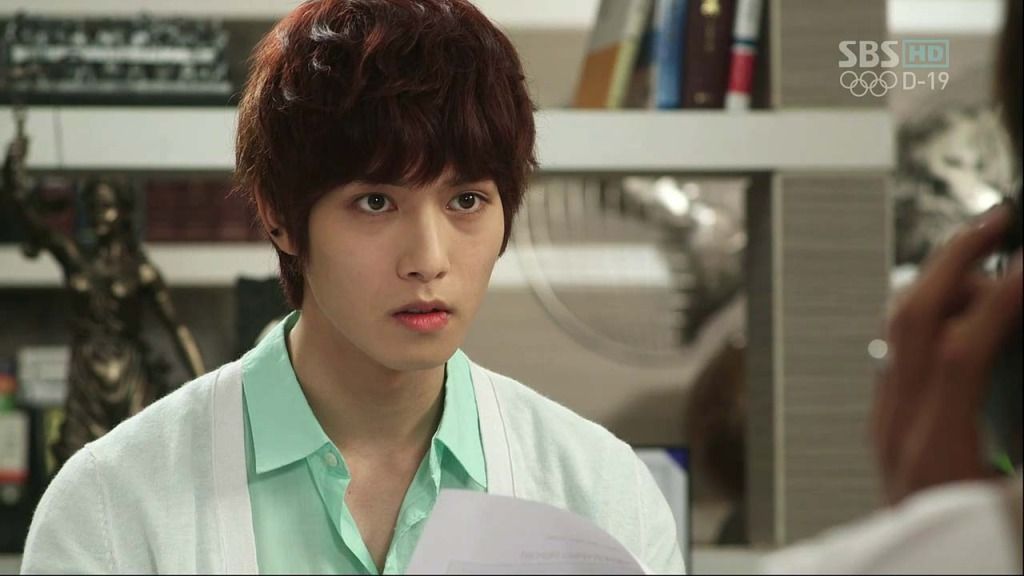 Do Jin and Colin have another lunch meeting where Colin assures Do Jin that he needn't try so hard. Do Jin responds that he can only think of two things at the moment. He has a son and he lost someone important. Colin asks for a piece of Do Jin's hair and then heads to Yoon's office to request a DNA test. Eh? Do you usually go to a lawyer to do that?
Yoon hands Colin the results of the DNA test that he submitted secretly. Colin and Do Jin have a 99.999% that they're related. Okay. That's GREAT. Now there's no chance for a twist in the plot. Everyone might as well go around banging pots and pans while singing "Do Jin is Colin's father" in the streets. WE GET IT.
Yi Soo's co-worker informs Yi Soo that Sung Jae's mother is going to sue the school (OMFG REALLY?! UGH) which causes Yi Soo to run over to Yoon's office for a consultation. She runs into Do Jin and Eun Hee there and the temperature in the hallway drops to below zero.
Yi Soo lets out a loud sound of disbelief and tries to stalk out but is blocked by Do Jin. Oh hell to the no bro. Don't you dare introduce Eun Hee to her. Or okay. Just introduce your ex-girlfriend from twenty years ago to your most recent was-your-lover-until-a-day-ago ex-girlfriend. Right. 'cause that makes sense. The two women stare at each other.
Comments/Incoming rant:
I admit that I avoided writing this recap because the episode was painful to watch. It made me angry. Sigh. After three short episodes of happiness, our main couple has been tearfully splintered apart. They've only been dating for a short period of time too. I'm not sure about everyone else but I had a series of reactions when Do Jin dropped the bomb that he was the father.
Initially, I went "Aha! Yup I totes called it" like a snobby know-it-all and then I got all disappointed that I was "right" because predictability kinda sucks. I didn't want Colin to be the son of any of the other F44 but I think I would be way more interested if we were thrown a curve ball.
The DNA test is concrete proof that colin is Do Jin's son so we can't get around the problem. I never cared about Colin to begin with and now he's slowly working his way into the "get the hell outta here" category. Sorry CN Blue fans.
Half of my brain "understands" why a secret son is a huge hurdle for a couple. Do Jin has fallen from A+ groom status to a D and Yi Soo feels a huge amount of betrayal. I get the whole noble idiocy thing too; Do Jin doesn't feel like he deserves Yi Soo anymore, so he pushes her away. Tae San's conversation with Yi Soo is supposed to present Do Jin's way of thinking to the audience, but I don't think it's done very well. I mean seriously…he's protecting her from his 22-year-old self? PFT okay.
On the other hand, why CAN'T the two be together? It's not like Eun Hee wants Do Jin back. Colin is almost eighteen and he doesn't seem like he's obsessed with having his biological father in his life. We're told that Eun Hee has a husband who loves Colin too. So where's the dramatic tension? Do Jin may feel obligated to become a part of Colin's life but Eun Hee and Colin don't "need" him either. If anything, it seems like they just want to maintain a civil relationship.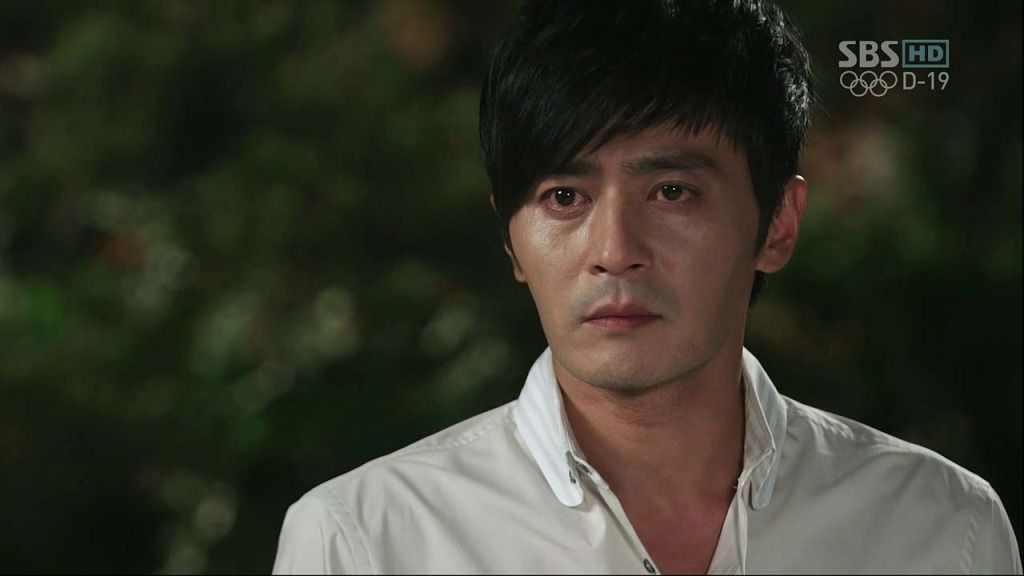 If Eun Hee was all cray cray about having Do Jin back in her life, there would be an actual plot. I would hate Eun Hee with all of my black heart, which would at least equal some kind of emotional investment. We're at this really strange middle ground between "It's not that big of a deal" and "Oh shit it's a big deal." In other words, I don't care. I'm just tolerating the problem because we have six more episodes to fill.
Alright fine. Let's try to think about this from a different perspective. Maybe this problem is meant to force Do Jin to re-evaluate his life. Maybe it'll force him to "mature"…whatever that means. He's a selfish character and this noble idiocy is an act of unselfishness, right? Eh. Kind of. He doesn't get to keep what he wants but he does maintain his pride by leaving Yi Soo first. Tae San argues that asking Yi Soo what she thought about the situation is the same as asking for her to be by his side. Only it's not.
Yi Soo had the right to make the decision to be with Do Jin or not. She should have been able to break up with him first if she wanted. Where does he get off acting like he deserves to make decisions for other people when he can barely manage himself? He pretends that he knows what's best for his woman when he actually doesn't.
Similarly, Tae San chooses to ignore Se Ra's wishes and repays Min Sook to preserve his own pride. You know what that means? You place your own pride above what your woman wants. Also, you don't NEED to protect them. They're grown women who are capable of taking care of themselves. Or at least, that's what I thought we're supposed to believe.
Also. Eun Hee. What the fuck. Apologies for the profanity but oh my freaking frack. I sympathize with her younger self because it would have been scary to deal with an unplanned pregnancy but she still should have told Do Jin. Why should he be punished for what she did without his knowledge?
Granted, he may have run away after telling her to erase the baby but he also could have stepped up and done the "right" thing. She could have informed him after the baby was born as well, unless she just didn't want Do Jin in Colin's life at all. But why? He didn't hurt her all those years ago; she victimized herself without proper reason.
We know this drama works best when it's light and fluffy. It's just disheartening because there are so many topics that are rich with potential. Why, for example, cast Dong Hyub with a capable actor when all he's doing is serving as filler? He should be utilized more.
Also, where is Me Ahri's growth? Will she be stuck in whiny cry-baby mode her entire life? What about Jung Rok and Min Sook's marriage? Will he continue to sneak around as she grows into a bitter old woman? What happened to Do Jin's short-term memory loss? Is that going to make a convenient re-appearance soon to piss me off even more?
I appreciate that this drama is entertaining. But why pretend that you can create something more meaningful when you can't? Honestly, maybe the writer should have just gotten rid of Eun Hee altogether, have Colin be Jung Rok's hidden son, and then let the Yi Soo/Do Jin and Tae San/Se Ra couples get married and deal with marital problems.
Or maybe include a credible love rival for Yi Soo instead of wasting time on her crush on Tae San. I don't know. There are a lot of possibilities that were available but I guess we're stuck now. ::shakes fist at sky while waiting for Saturday::
RELATED POSTS
Tags: A Gentleman's Dignity, featured, Jang Dong-gun, Kim Haneul, Kim Min-jong, Kim Su-ro, Lee Jong-hyuk