A Gentleman's Dignity: Episode 15
Tame is what I would call this episode. There were some fun moments but it pains me to say that not much happens. Still, I see a small light at the end of this angsty tunnel.
EPISODE 15 RECAP
Tae San kicks off the opening by explaining that the men in Korea, no matter how "normal" they are in reality, become nothing more than dogs when they put on their army uniforms after discharge. Haha. The F44 arrive at a reunion for their army unit and continue to fool around when a younger officer requests for their attention.
The junior officer (cameo by Kim Sung Oh) blows a whistle after being continually ignored and the four men begin to tease him for being such a hard ass. He's only a private? Psh. When is he going to get discharged? Hee. The labels on their helmets have been changed from their unit number to phrases such as "B Level" and "So pretty" to reflect how seriously they take the reunion. HAHA.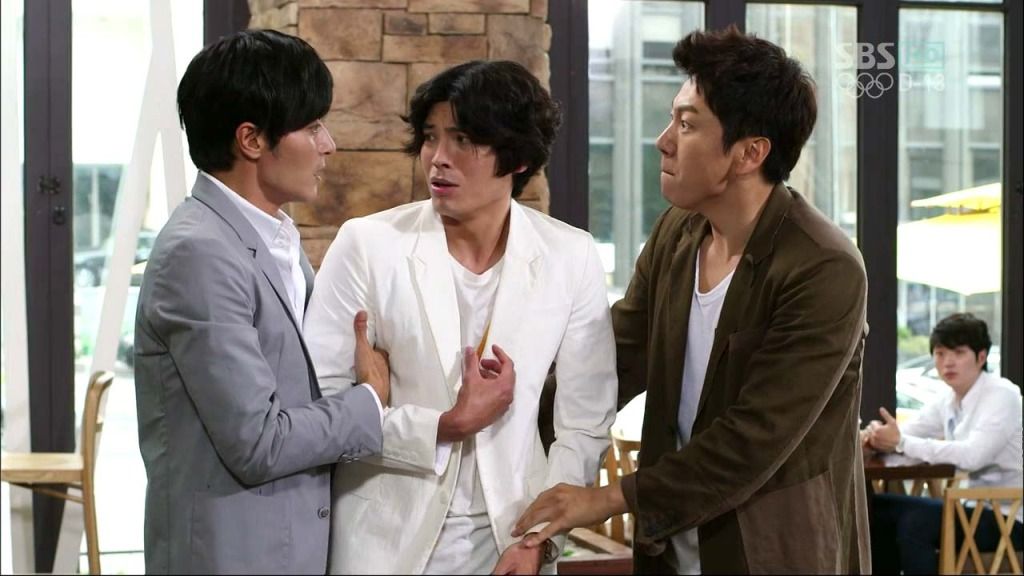 Some time later, Tae San and Do Jin inform the other two that they're going to meet an extremely important client. The young officer walks into the cafe and Yoon (Yoon?!) begins to bully him as the others smirk in amusement. The private tearfully calls out for his mom who turns out to be the VIP client. LOL yes. I love it.
Do Jin and Tae San immediately backpedal and tell Yoon and Jung Rok to shut up. The private sniffs that his heart was hurt and the two rush to comfort him. HAHAHAH. I'm crying with laughter. D'aw. I've missed you, Kim Sung Oh.
Do Jin sits alone in a cafe and looks out the window. He is reminded of Yi Soo sighing over how handsome Yong Hwa was after a dinner date. Do Jin had gotten jealous and Yi Soo laughed that he needs to treat her better if he wants to keep her. She then motioned for him to share some of his smoothie and he quickly complied. Sigh. So cute. Why couldn't you guys have stayed like this!?
They had noticed a young man on a nearby bench singing by himself and fought to suppress their laughter at his tone-deafness. Do Jin asked how Yi Soo would rate the man in her book and she had replied that she would not cast him (a parody of what the judges said on the TV show K-POP Star). Heh. After some friendly banter, they had decided to go to the movies.
The memories cause Do Jin to smile sadly but his thoughts are interrupted when Eun Hee arrives at the cafe. He informs her that they must meet Yoon at his office because "that kid" is there. Eun Hee bristles at the impersonal comment and corrects Do Jin; "that kid" is Colin.
She continues that she knows English names are foreign to him, which is why she had hoped Do Jin would have given Colin a Korean name when she came to him eight years ago. WHA? WHAT?!
He stares at her in confusion and she scoffs that she must have been a really weak memory to him. Did he really forget or is he just pretending to forget? He commands her to speak more clearly. They spoke about Colin before? She replies that she hadn't said Colin was his son; she told him he needed to meet someone when she came to visit him years ago. ::groan::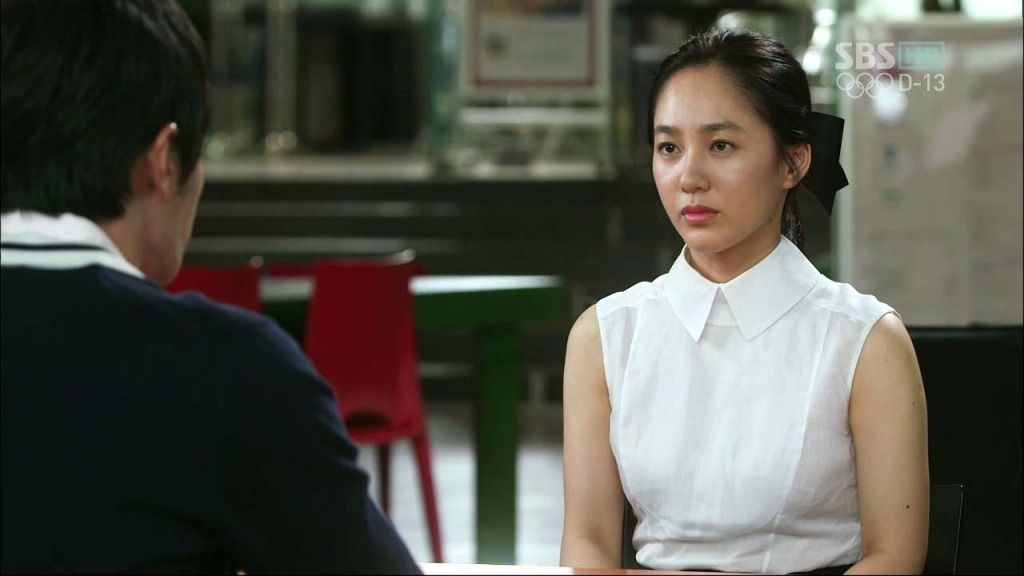 Do Jin had asked to meet "that someone" the next day because he was busy, but he didn't show up at their meeting place. She slips in that Colin ate five waffles over the span of three hours while waiting for him and Do Jin buries his face in his hands out of guilt. He blames his absence on the first outbreak of his short-term memory loss and then asks how much more she can do to make him into a bad guy.
She lets out a shaky breath and comments that this is why she didn't appear in front of him all these years. She didn't want to trouble him. Oh my. Can we please stop making her into some martyr? He responds that she shouldn't have run away in the first place and she tells him that she couldn't trust him back then. Must. Not. Scream.
They run into Yi Soo outside of Yoon's office and Eun Hee tells Yi Soo that it's nice to meet her; she had wondered what kind of person Yi Soo was and that she regrets meeting like this.
Yi Soo stiffly responds that she had never thought they would be greeting each other so casually either. She confesses that she's at a loss what to say but still manages to correct Do Jin's introduction of her. She's someone he dumped, not someone he lost.
She coolly tells Do Jin that she can make her own personal connections and whips around the corner. She waits in the hallway but Do Jin doesn't come after her; instead, he and Eun Hee go into Yoon's office. Gah. Super sad face.
Yoon hands Do Jin the DNA results and confirms that Colin is his biological son. He informs the two parents that Colin had asked if Do Jin was rich and Eun Hee laughs nervously; maybe she should go talk to her son. She walks out after promising Yoon to meet him for a drink the next time she comes back to Korea. Wait. So why did Eun Hee have to come with Do Jin to the office again? For plot convenience? Okay. Understood.
After she leaves, Yoon asks what Do Jin will do about his son. Do Jin compares his current feelings to when someone first rides a bike. "People tell you to turn the handle in the same direction you're falling but you're tempted to do the opposite. The only thing I can do is turn my handle in the same direction I'm falling."
He mentions seeing Yi Soo in the hallway and requests that Yoon listen to her if she comes back. "Give her a handkerchief if she cries. If she trash-talks me, do the same. If she asks about me, tell her that I'm sorry." Tell her yourself. Hmph.
Yi Soo tells Se Ra that she met Eun Hee today and Se Ra laments that she should have pulled all of Eun Hee's hair out. HAHA. Yi Soo sighs that nothing would have changed anyway but Se Ra replies that you don't pull out other people's hair to change things; it's all about power and making a statement that this man is hers.
Yet Yi Soo disagrees. She lost the moment when she first saw Eun Hee. She comments that she doesn't even know what she said. The only thought that went through her head was that she was envious of Eun Hee for knowing Do Jin in his twenties. Eh? You know him like right now. Isn't that more important? Se Ra sighs that she's worried about Tae San's future while Yi Soo frets over Do Jin's past.
Se Ra asks if Eun Hee was really pretty and Yi Soo gives an affirmative nod. She was like someone out of a drawing. Psh. Come on. I don't understand why they have to keep mentioning how purty Eun Hee is. I mean, she is, but what does that have to do with the plot? Maybe I shouldn't be asking this question.
Me Ahri visits Yi Soo and wonders if she's sick. She also pumps Yi Soo for more info on Eun Hee. Yi Soo simply replies that it was the first time she ever felt jealous of an older woman. Me Ahri reassures her that she'll help Yi Soo take petty revenge on Eun Hee. Aw. Yi Soo laughs weakly in response.
Jung Rok sits in amazement after Yoon tells him that Colin is 99.99% Do Jin's son. Jung Rok remarks that hearing 99.99% strangely sounds more legit than 100%, like those cleaning supplies that kill close to 100% of bacteria. LOL. Huh? Can I just watch you all day instead of this noble idiot fest next door?
Tae San joins them and suggests that they buy Colin some clothes now that they're his "uncles" but Jung Rok hesitates. Is it one outfit altogether or three different outfits? Haha. Yoon commands him to stop the immature act; does he really want to act like a kid in front of Colin? Jung Rok pouts that he is going to be an awesome uncle regardless of maturity. Hee.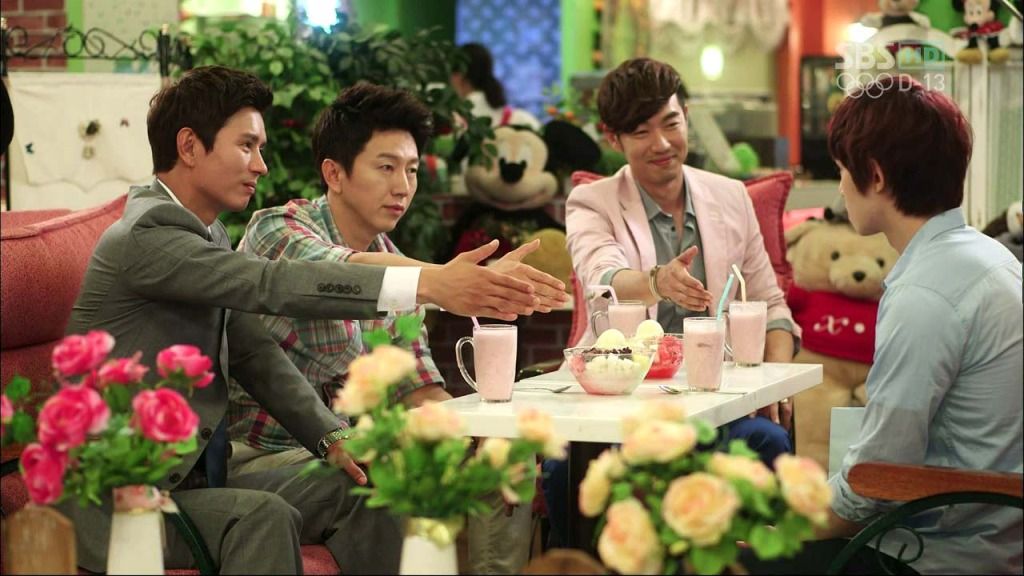 Colin steps into a brightly-colored cafe and notices Yoon, Tae San, and Jung Rok waving at him while sitting in plushy rocking chairs. Lol. You dorks. Colin grimaces in embarrassment and sits down hesitantly. They hand him presents to welcome him into their lives as Do Jin's son and his eyes widen at their unexpected warmness.
Jung Rok peppers Colin with questions about his blood type and star sign only to conclude that Colin is sensitive and needs a lot of love. Haha. He introduces himself formally as Jung Rok, one of Do Jin's friends and a man who is as smooth as a cappuccino. Pft. Tae San sticks out his hand and says that he's Do Jin's business partner while Yoon remarks that he's Do Jin's housemate and lawyer. I want uncles like you too! Where's my handshake?
Yi Soo notes that Dong Hyub is absent again and finds him at his part-time job. She tells him that he needs to apologize for hitting Sung Jae and making him transcribe the ethics books. He also needs to receive an apology for being slapped.
Dong Hyub scoffs that he cares more about making money than ethics. She frowns and replies that he needs to at least graduate high school but is rendered silent when Dong Hyub explains that he's making money in order to go to school. He needs to buy supplies, books, and pay transportation fees. Oop. Touché, sir. Touché.
Eun Hee calls Yi Soo to set up a meeting at yet another cafe. Yi Soo reluctantly makes her way to where Eun Hee is and Eun Hee asks point-blank if Yi Soo and Do Jin broke up. Does she love Do Jin? What the. Yi Soo answers that she doesn't know why she has to explain her love life to Eun Hee. One high five for Yi Soo!
Eun Hee launches into a speech to explain her relationship with Do Jin: "I loved a man named Kim Do Jin a long time ago. I became pregnant at a young age and ran away because I was scared. Do Jin had no idea. I can understand if you hesitate because of Colin but I hope that you stop worrying because of me. I've aged to become the happy wife of another man."
She gets up to leave and Yi Soo quietly informs her that Do Jin really loved her in the past. Eun Hee smiles and replies that this is good news for Colin.
Yoon forces Do Jin out of bed and acts the part of a loving wife. Hee. He hands Do Jin bowls of stew and rice but Do Jin just looks limply at the food. Yoon tries to cheer him up by saying that there is plenty of time to turn his life around but Do Jin doesn't hear a word he says. Aw. I'm still all for you two running away together.
Jung Rok, Yoon, and Tae San discuss Do Jin's situation and Jung Rok sighs that he feels bad for Yi Soo. Tae San admits that he doesn't know what to say to Do Jin and the other two nod in sympathy. Jung Rok suggests that they work together to help the ill-fated lovers; it's two against three and the side with more people always has the advantage.
He commands Tae San to bring Yi Soo to his cafe later and for Yoon to do the same with Do Jin. Yoon asks why his cafe and Jung Rok claims that his cafe is extremely important in the history of Yi Soo and Do Jin's romance. His employee called him the other day and said that the couple was making out in front of the cafe. She had asked if she should report them. Bwahah.
Tae San invites Yi Soo out for some tea awkwardly, which tips Yi Soo off that Do Jin will also be coming to the cafe soon. She thanks Tae San because she really misses Do Jin. Aw. Do Jin shuffles into the cafe with Yoon, who instantly churns out a cringe-worthy "What a coincidence…Yi Soo is here too" act. Hahaha.
Tae San makes a face and quickly pulls him outside so the two lovebirds can talk. However, Yi Soo abruptly stands up when Do Jin tries to talk to her, claiming that she has an important appointment scheduled today. She runs out and Do Jin sits sadly at the table.
Some time later, Yi Soo and Dong Hyub stand outside Sung Jae's house and Yi Soo begs Sung Jae's mother to come out so they can speak about the slapping incident. Min Sook arrives home to see Yi Soo standing outside her neighbor's residence and steps in when Sung Jae's mother coldly dismisses Yi Soo over the intercom.
Min Sook uses her super powers and soon Sung Jae's mother is cowering outside in front of her. Yi Soo gives her a quick look of awe and then apologizes on behalf of Dong Hyub. She hints for Dong Hyub to also apologize but he holds onto his pride, causing Min Sook to knock him upside the head. "Don't you have something to say, nephew?" Heh.
Dong Hyub quickly bows as a result and the woman accepts the apology readily at Min Sook's glare. Yi Soo cautiously states that the lady should also consider dropping the lawsuit and Min Sook comments that Yi Soo should contact her lawyer for additional help. Sung Jae's mother stammers that she'll drop the lawsuit and apologizes to Dong Hyub for hitting him. She then scampers back to her house.
Yi Soo thanks Min Sook for her help and comments that she must know Sung Jae's mother well. Min Sook replies that rich people only know each other through money, not relationships. She turns to Dong Hyub and informs him that rich people rule this dirty world. If he wants to become rich, he needs to study. She sends him home and requests a chat with Yi Soo.
Min Sook asks if Yi Soo is okay; she heard about Do Jin and Colin. Yi Soo honestly replies that she's not alright. She asks herself every day if she can be happy with a man and his child whom she didn't give birth to. She thinks she can some days but not all the time.
Min Sook comments that Yi Soo is stuck and can't go forward nor backward. Yet she sees that Yi Soo is leaning towards the path that leads towards Do Jin. Yi Soo looks up at her, baffled by how well Min Sook has read her mind. She later waits for the bus when the song that the tone-deaf man had been singing plays on the radio.
Do Jin listens to the same song at the same time and he heads home in a stupor. The song triggers a slew of happy times with Yi Soo and he lets tears trail down his face once he gets to his darkened room.
Me Ahri stops by Yoon's office to present him with a bracelet. He notices that she's wearing a white version of the bracelet and declines the gift while saying that he needs to protect his friendship with Tae San. She blurts out that she's not asking for him to take off his wedding band or for him to buy her a ring. It's just a present!
She angrily throws the bracelet away and then Yoon also reminds her to stop using informal language with him; he's 17 years older than her. She stomps out and he sighs while looking at his wedding ring.
She runs to a karaoke place and sings her heart out until Tae San shows up. He yells at her for drinking again and she bursts out crying. He calls Yoon and begins to scream that Me Ahri refuses to go to college and drinks every day because of him. She rushes up to her brother in a panic but finds that he wasn't really speaking to Yoon. He warns her to mind her actions.
Yi Soo calls Do Jin out and rips into him for breaking the promises that he made to her while they were dating. "You said you would love me for at least a month. I know that what has happened to you is shocking but I'm worried about myself. Why do I like a man like you? How can I want to see you more than ten times a day?"
Her voice grows more serious and she requests, no, demands, that they separate according to her rules. He needs to come out whenever she calls him and needs to keep the promise that he'll love her for a month. She will break up with him whenever she wants to. He quietly agrees, "I will do whatever Seo Yi Soo wants me to do."
Over the next couple of weeks, she calls him out to go to bookstores, movies, and restaurants. They keep a certain distance from each other on each date. At the movie theater, a man knocks into Yi Soo and Do Jin helps her back up. She jerks out of his arms and states that she's okay; he's pushed her away much harder than that man anyway.
Do Jin "returns" to the times he hurt Yi Soo, like when she found him at his apartment with another woman, to apologize for his immature actions. He tells her "I should have told you that I missed you. I, like a fool, believed that there would be another chance to meet you. I'm sorry for hurting you because of my wretched pride." ::sob::
Me Ahri drives Se Ra's car to Jung Rok's cafe which Se Ra sees when she walks outside. She storms over to Min Sook's building to throw a fit; why does Tae San have her car? Min Sook coolly states that Tae San has the collateral because he took care of Se Ra's money troubles.
Se Ra explodes from anger in response. How could Min Sook let Tae San repay her debts? Is she not aware of how hard it was for her to approach Min Sook? Min Sook returns with an equally strained voice that she has no reason to pick Se Ra's pride over Tae San's, especially when Tae San is Jung Rok's friend. She leaves Se Ra fuming on the street.
Eun Hee informs Do Jin that she's going back to Japan tonight but Colin wants to stay in Seoul. Do Jin replies that Colin should stay if he so desires and that he'll give Colin a Korean name soon. He apologizes for making her take care of Colin alone for all these years and sincerely wishes her happiness.
The next day, Yi Soo calls Do Jin out to eat with her. She receives a phone call from her mother soon into the lunch date and starts to excuse herself. He inquires as to who called but Yi Soo ignores his question.
Do Jin grabs Yi Soo's wrist to keep her from leaving and she snaps that she needs to meet her mother, a woman who gave up her biological child to care for some other children. Does Do Jin want to meet her mom and receive some tips on how to be a bad parent? His grip tightens at her sharp comment and she throws him a challenging look.
Comments:
It's a little frustrating that today's episode was full of filler, especially since we're running out of time to tie up several plot lines. We have gotten virtually nowhere on the Yoon and Me Ahri front which drives me a little crazy. Maybe Tae San should send Me Ahri back to America just so we can have something different. She's been whining while he's been brooding for 15 episodes. Let's shake things up a little. Please?
On another note, some commentators have been calling Eun Hee some not-so-nice names which I don't think she really deserves. Granted, the story seemed to insinuate that Eun Hee had certain relations with all four guys but she only wanted Do Jin when she was younger. Therefore, she's not what you call a loose lady; the other F44 members just made her seem like she was.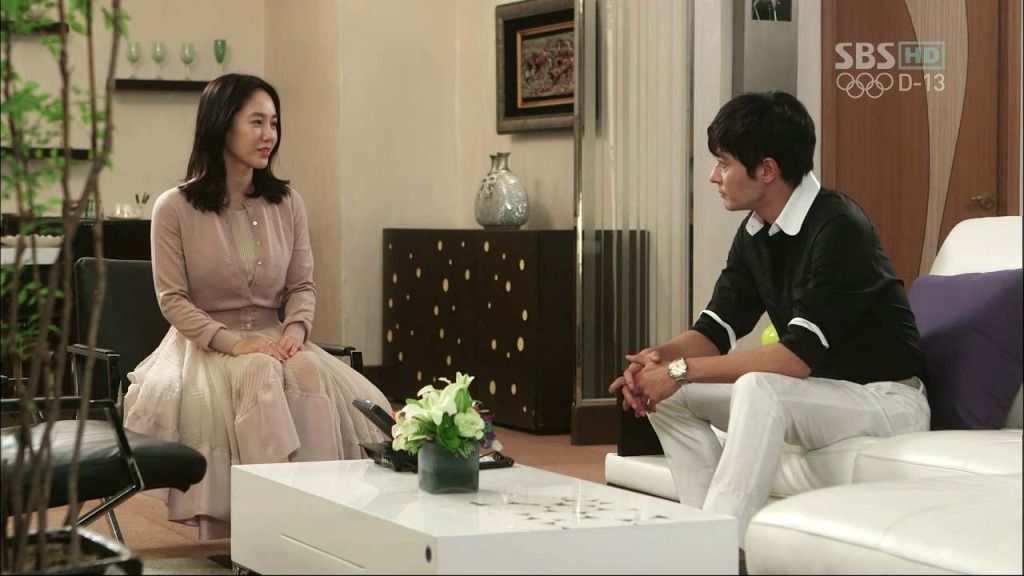 Eun Hee is painted as a beautiful, self-sacrificing woman who seems pretty harmless but I'm finding her a little too hard to swallow. She just rubs me the wrong way. She guilt trips Do Jin for not showing up on the day he was supposed to meet Colin. But wait. Why didn't she tell him about Colin when they first met 8 years ago? Because she didn't want to shock him?
Yet how would the next day be any less traumatizing? How much does the shock factor really differ between "Hey. I haven't seen you in awhile. Guess what. You have a son" and "Look. This little boy eating waffles next to me is your son"?
She has this underlying sense of entitlement that really bugs me. Do Jin didn't show up the next day so she jumps to the conclusion that he doesn't want to see her or Colin. Only she never told him that that special someone was his son.
She could have hunted Do Jin down if she really wanted to. She never mentions her motivations for appearing in front of him 8 years ago either. I get that she was hurt because Do Jin stood her up but in no way is she an angelic martyr. Specifically, I'm annoyed at how easily she's let off the hook for hiding away a son from his father (who didn't even know he had one). This lady seriously has a PhD in self-victimization. At least she's gone now though. Right?!
Also, the excuse that Do Jin conveniently had his first amnesia attack during the time he was supposed to meet Colin is so transparent. The writer isn't even trying to come up with a better excuse. Gah. The sooner we get over this plot point, the better. Angst, be goneth! Bring forth more fun cameos and happy times. ::waves makeshift Harry Potter wand::
RELATED POSTS
Tags: A Gentleman's Dignity, featured, Jang Dong-gun, Kim Haneul, Kim Min-jong, Kim Su-ro, Lee Jong-hyuk