Big: Episode 13
Major revelations come pouring out, including the birth secret, the link between the brothers, and even the mechanism of the body-swap. It's a lot to take in, and our characters struggle to deal with the aftermath of having their minds blown fifty ways to Sunday… and try to figure out what this means for them now. What really matters when all's said and done?
SONG OF THE DAY
Suzy – "그래도 사랑해" (But I love you anyway) from the Big OST [ Download ]
Audio clip: Adobe Flash Player (version 9 or above) is required to play this audio clip. Download the latest version here. You also need to have JavaScript enabled in your browser.

EPISODE 13 RECAP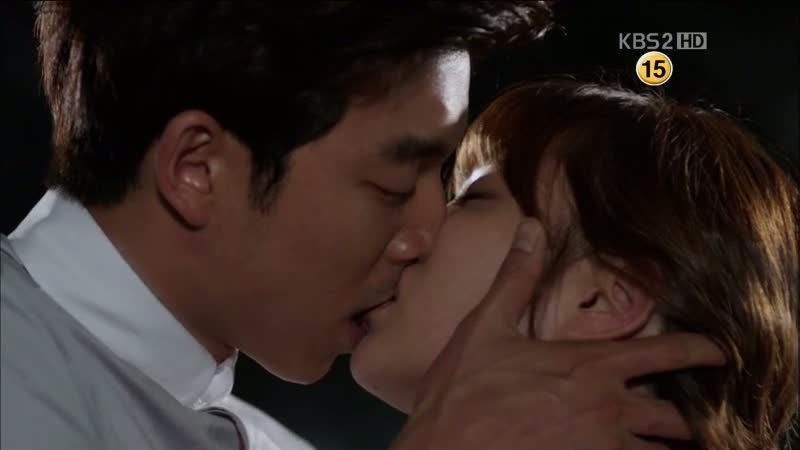 Da-ran owns up to her emotions, and smooch.
It's a nice long kiss and they're wrapped up in the moment, but when it ends Da-ran starts to blame herself Then she blames Kyung-joon for seducing her with all his thoughtfulness and cuteness and attention and care… and Kyung-joon just smiles, since it all amounts to "Why you gotta be so awesome?"
They extend the blowing-wind metaphor, which is also a figure of speech for cheating; she concedes that the wind blew her astray, but soon the wind will stop and she won't shake anymore. But Kyung-joon says since she's already shaking he's going to make sure to uproot her entirely. Rawr.
He drags her off to celebrate his birthday, while at the hospital the nurses remember Little Kyung-joon's birthday and send around slices of birthday cake. Se-young notices that it's decorated with Kyung-joon's initials, though she doesn't link the KKJ as more than coincidence.
She speaks to Dr. Seo, Yoon-jae's father, who asks for updates on the patient. Se-young agrees, since Dr. Seo is Kyung-joon's father… just as Mari overhears around the corner. Dun dun dun!
Mari calls out to him and gets a good look at the doctor's face: "But you're Seo Yoon-jae's father. Are you also Kyung-joon's dad?" Thank goodness somebody knows!
Da-ran takes Kyung-joon to a restaurant where the wait staff sings him happy birthday. There's a cake, beer mugs filled with orange juice, and birthday cone hats. Kyung-joon glowers, all, I'm not a baby!
Da-ran says that this is how kids celebrate, which has him scoffing at the inconsistency, given their very-not-kidlike makeout session earlier. Da-ran hushes him and mutters, "Let's just say that was an American-style birthday greeting." Then where's MY kiss-dispensing Gong Yoo?
She says that while he may not have any hang-ups about this relationship, she's not like him. He tells her to just kick away those doubts, but she sighs that she doesn't have the strength. He offers to supply her with the needed strength via more of his awesome nice deeds.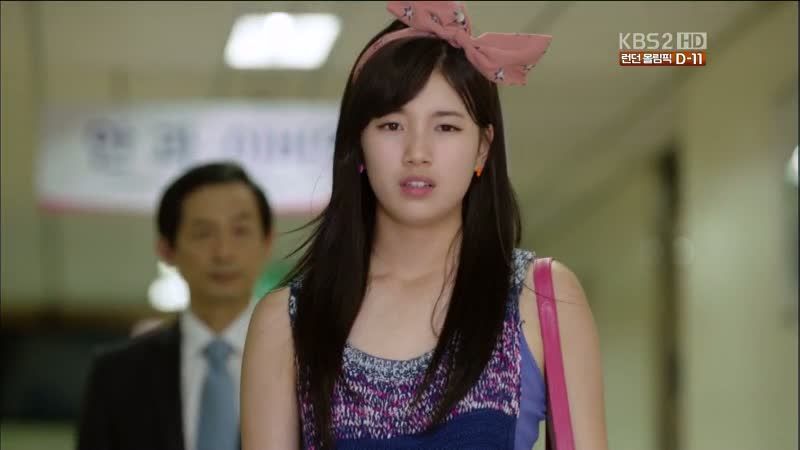 Dr. Seo asks Mari not to cause trouble with this knowledge, saying he had his reasons for hiding his paternity. Those reasons aren't important to Mari: "You wronged Kyung-joon, which makes you a bad person! Kyung-joon would be sad if he knew it." She leaves muttering to herself that finding Dad just made things more complicated.
Kyung-joon takes a CF moment to demonstrate a nifty phone feature, presenting Da-ran with an e-ticket to the moon. In twenty years, surely it'll be usable, right? And here I thought you were trying to prove you weren't a kid. He suggests, "Let's go together, listening to Seo Taiji's 40th-anniversary album." Ha. He says that they'll see the Great Wall from the moon, and she'll be glad he seduced her after all.
Da-ran is momentarily touched, then says glumly that she's a lowly earthling: "Don't drag me out into the universe. I'll want to fall into a black hole and die." He persists: "I'm going to keep seducing you. Be strong. Hold onto me." And she's resisting… why? You've already admitted you like him and moved on from the ex. I officially don't get her.
Arriving home, he asks for his gift and she remembers the watch. He holds out his wrist so she can fasten the strap, which he equates to grabbing onto him (metaphorically, as in, I choo-choo-choose you). She doesn't feel comfortable with the added meaning, but he refuses to accept the watch unless she fastens it for him. First the ring, now the watch; where would the Hong sisters be without symbolic jewelry?
Kyung-joon instructs her to take a good look at the watch. Pointing out the time (10:10), he says in a smooth, trance-inducing voice that every day at this time, she'll think of him. Snap! "You've been hypnotized. Twice every day, when this watch hits this time, you'll think of me. For the rest of your life."
Mari arrives in time to catch the last exchange, and watches sadly as they bicker and joke. Kyung-joon heads off on an errand and Mari follows him to share her important news. She doesn't want to be the reason for crushing his good mood, but he tells her to go ahead; he's feeling so good he can stand to be let down a little.
Mari: "You like her that much?" Kyung-joon: "Yeah."
Mari decides she doesn't want to be the messenger and tells him she'll have Da-ran tell him the bad news later.
That night, Da-ran dreams of the ticket sending her to the moon; she's in a cartoonified landscape and thanks Kyung-joon for bringing her. Another scene has her in a submarine on the ocean floor (a reference to her other complaint, about wanting to throw herself into the ocean).
Okay, that's sweet. Kyung-joon told her he'd essentially turn her lemons into lemonade, and here's proof of that: the things she curses herself with have been turned into thoughtful gifts she's thankful for.
Unconsciously, Da-ran's arms spread out to form the 10:10 position on an imaginary clock.
In the morning, Da-ran finds the refrigerator stuffed with Vitamin Waters, their labels bearing the faces of Kyung-joon and Mari. I wonder what Dokko Jin would have to say about that. They're Mari's birthday gift; Kyung-joon notes that she can be single-minded once she's latched on to an idea. Or a person.
Da-ran teases that he ought to feel pleased that a pretty girl is chasing after him, and he admits that Mari is "totally pretty." And rich. That has her feeling a teeny bit insecure, especially when Kyung-joon says he's sick of the bread she bought, which he'd liked until today. She notes, "Kids get sick of things quickly." He calls her out for projecting her emotions onto the bread.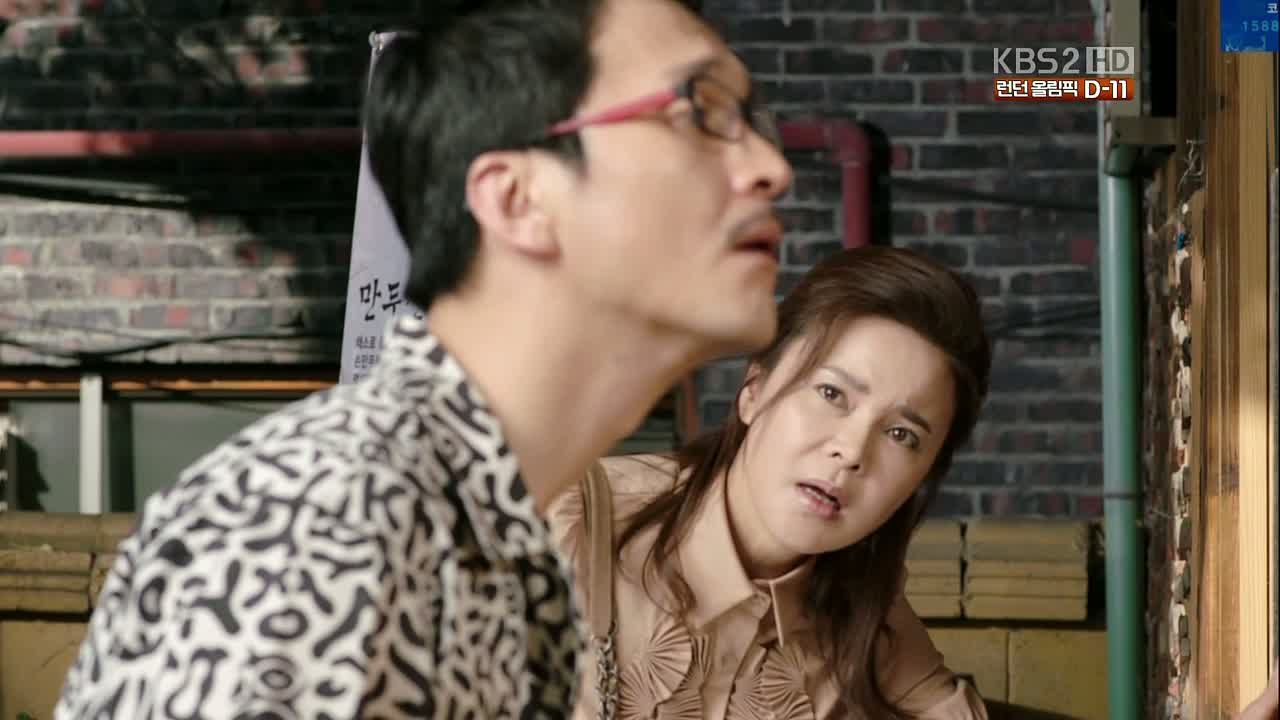 The thwarted lovers—Uncle and Vice Principal Kim—show up at the mandoo restaurant to make another go of their missed connections. Today Uncle's wearing his old uniform to jog Mom's memory, and it appears to do the trick, because Mom approaches with tearful eyes and reaches out to pat his hand… leaving a 1000 won bill inside. Ha, she thinks he's a beggar. She clucks in dismay at his pathetic appearance and quietly asks him to leave, lest he disturb the clientele. This storyline's going somewhere, right?
At school, Mari and Choong-shik notice that Da-ran's missing her ring. Mari puts two and two together, reading the forgotten ring as a forgotten Yoon-jae, and insists on finding it right away.
They head back to the park/street where she dropped it last night, and Mari asks if she threw the ring away purposely. Da-ran hedges, saying she just forgot to retrieve it.
Mari also starts arranging for Da-ran to take over as the Bad News Messenger, and asks Da-ran to meet with Kyung-joon's father.
At the hospital, Kyung-joon finds the Little Bear boy and wonders why he didn't come to the playroom today. Little Bear tells him that Rabbit Girl is sicker and leads Kyung-joon to see her.
Kyung-joon flinches at the sight of bloodstains and excuses himself, unable to comply with the mother's request to hold the girl's hand. But he stops himself and returns with determination, taking Rabbit Girl's hand. She squeezes tight.
Little Bear wonders why he's scared—he's a grown-up. Kyung-joon says that he's not an adult, and besides, there are things adults can't do—Little Bear will find out when he grows up. The boy just says matter-of-factly, "They say I won't become a grown-up. Me and Ji-min [Rabbit] can't live till we're grown-ups." Oof. That's terrible.
Kyung-joon takes this in, then grabs Little Bear's hand too. He declares, "You can too. You'll grow into a big bear, and Rabbit will turn into a sexy rabbit. And Kang Kyung-joon will grow into an even more impressive person than Seo Yoon-jae. The three of us will keep growing."
Da-ran sighs that it's just as well that she lost the ring. It's the easy way out—no ring, no need to explain why she has to return it to Yoon-jae—which is why she feels guilty when VP Kim admonishes, "You can't do that! Find it and ask for forgiveness." VP Kim's actually addressing errant students, but Da-ran fidgets because the conversation applies to her.
Da-ran imagines herself as an errant student herself:
Da-ran: "I know, I'm dumb. I'm just going to say I lost the ring and not go to Kyung-joon either."
VP Kim: "Do you want to go to K-K-J? If you do, find the ring, return it, and receive forgiveness properly."
Da-ran: "I'm scared."
VP Kim: "If you're certain you want to go to him, be courageous."
Da-ran: "How do I know if I'm certain or not?"
VP Kim: "Ten-ten. If that catches you, you're certain."
So Da-ran heads off making ten-ten arms, intending to find out whether she's "caught" or not—aka, whether her feelings are on the hook. But strangely, everything reminds her of Kyung-joon. She hallucinates the wrong time on the clock—ten-ten, of course and imagines everybody walking by with their arms outstretched in clock positions. "My clock is set to ten-ten all day long!"
Kyung-joon has been waiting for ages at the bus stop for her, and asks the rhetorical question, "Do you know what time it is?!" She mumbles, "Ten-ten. My heart definitely wants to go to you."
His smile is infectious. Da-ran decides, "I have to have courage. I have to start by finding the ring."
She darts off to find the ring again, not seeing that Choong-shik is already there, also looking. (Aw. I love him.) Yet Choong-shik hears a very different conversation, as Kyung-joon asks about the forgiveness she wants to ask. Is that going to reverse everything? How can that happen when she's already cheated, and already "crossed the uncrossable sea to KKJ last night"?
Da-ran admits, "Yesterday, I was just ashamed of being found out. If I want to keep going forward, I have to have courage and seek forgiveness." Kyung-joon: "Then are you going to find the ring, dump Seo Yoon-jae, and go to KKJ?" Da-ran tells him forgiveness comes first. That's something she needs to do, so she asks him to leave.
Choong-shik reacts in horror, bursting home in panic to tell his parents of this calamity. The Gil family's eldest daughter has had an affair.
Mom smashes a watermelon with her bare fist. Dad's worse—he beelines to the police station to arrest his own daughter of adultery. He literally has her locked up, telling her to reflect on her misdeeds.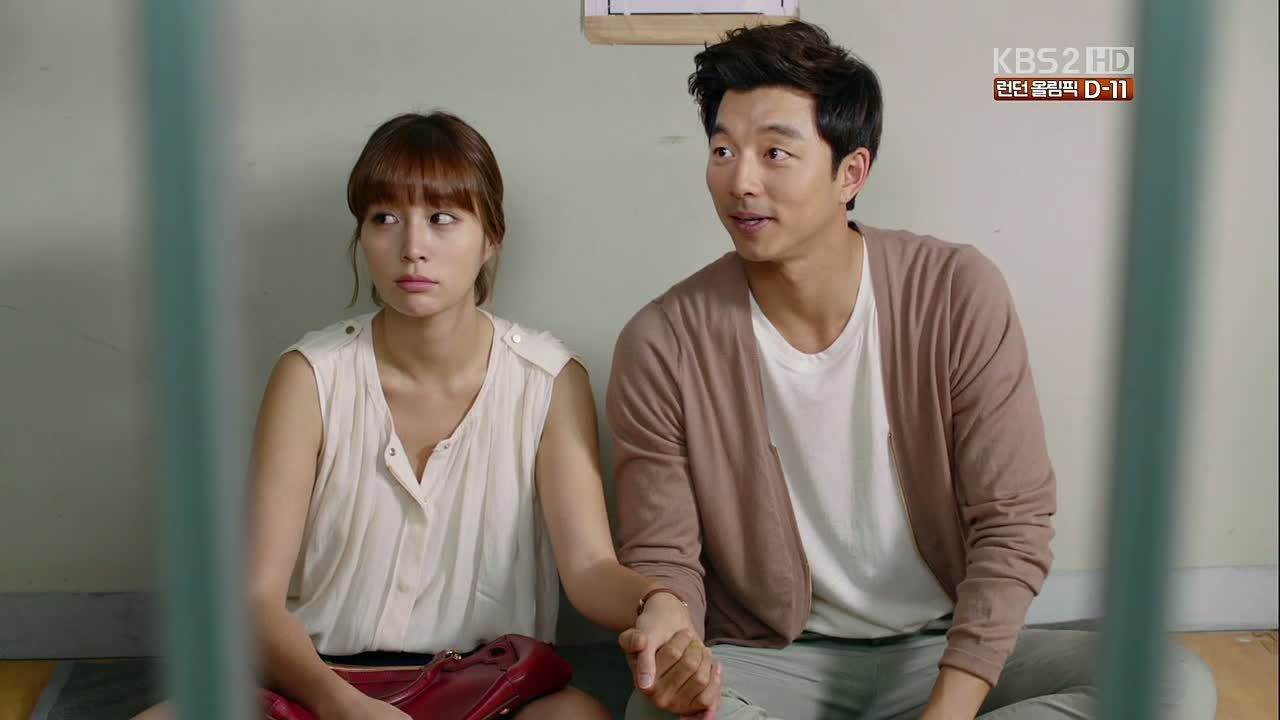 Kyung-joon sees her being taken away in a cop car and heads to the station, where he faces Dad and says that Da-ran's affair was caused by his own. Dad locks him up, too.
They sit in their cell together, sorta chuckling at the situation, which confuses Dad. The police officer tells Dad to let it go; he'll let them out after they've had some time to reconcile.
Kyung-joon says it's too bad they're getting their new start in a jail cell, but she says it's fine: "I have a hard time when I waffle and then the situation explodes"—YOU DON'T SAY—"but once it's out, I'm good at withstanding the frightening things." If they're together, she tells him they'll be seeing their share of ugly places on top of the pretty ones; it's not all moon travels and roses.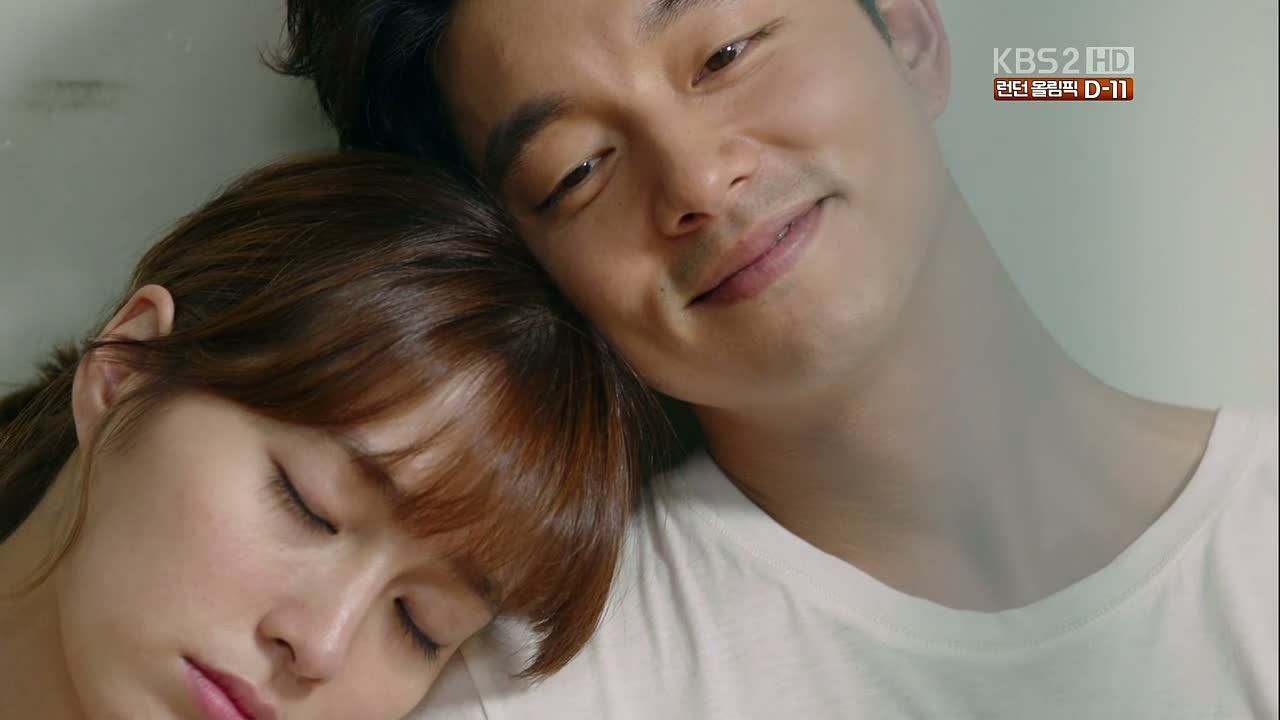 Kyung-joon holds out his hand and she takes it. Adorably, he says, "Now even this place seems pretty." She agrees, and they admires the cell, not so ugly anymore after all. Aww. Then she falls asleep on his shoulder, which he thoroughly enjoys.
Mari shows Choong-shik the replica ring she bought, thinking now Da-ran can reconcile with Yoon-jae. Except Choong-shik says that Da-ran wanted the ring so she could end the relationship. Mari protests that Da-ran can't like anybody other than Yoon-jae—she promised!
The couple walk home together after being freed, and Da-ran muses that she'll have to apologize to Yoon-jae first before going to Kyung-joon. She says Yoon-jae comes first, but he's not offended since she's speaking in terms of the right order of things. He agrees, adding, "But when I return to myself, hold my hand when I wake up. I'm scared too, about whether I'll return safely."
She promises. Kyung-joon teases a little, asking what she'll do if he runs away while she's off dealing with Yoon-jae. He throws her words back at her: "You know, kids change their minds easily." He holds out his wrist, telling her to put the watch on so he can't run.
She fastens the watch. He wonders what time it is, and she readily replies, "Ten-ten." It isn't, but she explains, "It was ten-ten all day for me." Aww. He holds out his ten-ten arms, and she hugs him. Gah, so cute.
And around the corner, Stalker Mari cries.
Mom From Hell flips out when Dr. Seo tells her that Yoon-jae had a relapse recently. He was waiting till Kyung-joon woke up to tell her, but she yells, "Yoon-jae comes first!" Yeah, I think you made that clear.
Mari sets up the meeting between Da-ran and Kyung-joon's father at Uncle's restaurant. She asks if Da-ran will put the ring back on when she finds it, and Da-ran admits that she was the one to take it off. Mari deliberately ignores the implication and says, "So what if you took it off? You can just put it back on. I'll find it so you can wear it again."
To answer the question of how The Body can have relapsed without Kyung-joon knowing about it, a doctor friend asks if he's had tests done lately. Is he ill? Kyung-joon replies that his father's on top of the results, but the friend urges him to look at the tests himself.
So Kyung-joon speaks with a doctor and finds out that his body is ailing. The doctor assures him that his father's working on the donor, so he'll be fine.
Mom From Hell tells Se-young about Yoon-jae's relapse from his unnamed illness, but figures it's a simple matter of harvesting Kyung-joon for another transplant. Ugh, I hate you. Se-young protests that you can't do that without the guardian's consent, but Mom argues that they're Kyung-joon's parents, and Dr. Seo is meeting the legal guardian. Easy peasy. If you have no soul.
Se-young, to her credit, seems skeeved out but Mom presses, saying that all they need is Kyung-joon's blood. She doesn't even intend to tell her son about the identity of the donor, and asks for Se-young's cooperation.
Thus Se-young prepares to do the not-quite-authorized blood collecting, against her better judgment. Um, I know Mom's the devil, but shouldn't you have some kind of medical ethics other than "The guardian will agree, I'm sure of it"? God, you people.
Yoon-jae's illness revelation comes as a shock, and Kyung-joon thinks back to the clues, like the essay Yoon-jae wrote about the warm hand that reached out to him and saved his life.
Mari finds him to inform him that Da-ran is meeting somebody today. She's cryptic about the bad news that'll make him unhappy, telling him to hear it from Da-ran directly.
And then… Kyung-joon is hit with another brainwave of pain. Se-young hasn't yet injected Little Kyung-joon's body when it lurches in bed. She puts down the needle and checks on the body's condition, and from the other end Kyung-joon has the hazy vision of Se-young and Mom hovering over his bed.
A few moments later, his spirit snaps back into the shell-body, leaving him wondering what he just saw. He beelines for his hospital room.
Se-young declares Little Kyung-joon's condition stable again, but tells Mom she can't go through with it—consent comes first. Phew, so she's still got her soul. And also, DUH.
Kyung-joon steps inside the room just as Mom protests that this is for Yoon-jae's sake—and it's not even a big deal. All they need is a few shots and a little blood. What's a little non-consent between friends?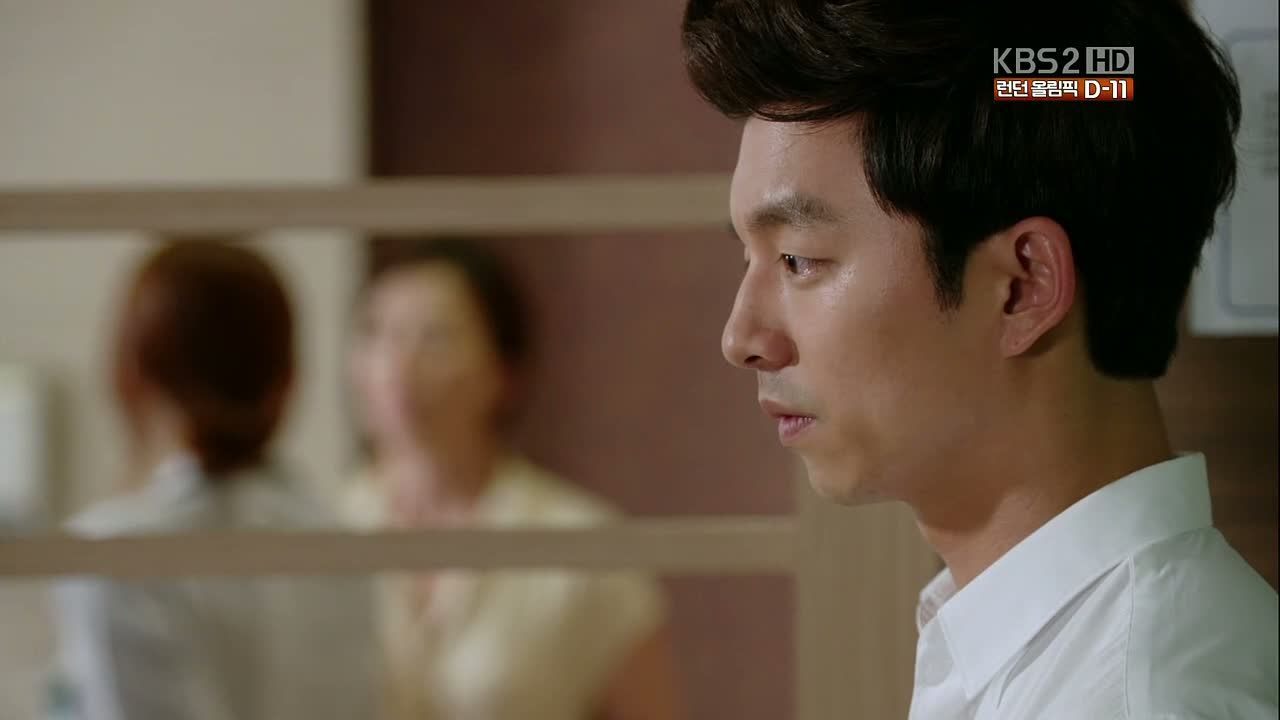 Se-young says no, advising Mom to tell Yoon-jae everything first. She concedes that there's no better donor than Kyung-joon, "because he has the same mother and father as Yoon-jae." Uh-oh. Se-young continues, "But taking his blood like this, secretly like a thief, is not right." Well, blow me away, I kinda want to golf-clap for the Bitter Other Woman.
She heads for the exit, stopping short: "Yoon-jae!"
Kyung-joon asks for explanation, and Mom confirms what we know: That they're brothers, and that Kyung-joon was conceived to save Yoon-jae.
Mari also overhears this exchange from the door, because why mess with a perfect record? Far be it for her to miss ANY secret conversations in this episode.
Kyung-joon asks fiercely, "What were you about to do to that kid?" Se-young tells him to ask his mother. Even caught red-handed, Mom has no shame; she says he's looking at her with colder, scarier eyes than the first time she told him the story, pre-amnesia. But, "I don't care. If I can save you, it doesn't matter. Because to me, Yoon-jae, you come first before anything else."
Ooof. Terrible words to hear from the mother you just realized you had. He asks, "You're Kang Kyung-joon's mother?" She nods and says that after giving birth to Yoon-jae, she couldn't have any more children. Hence the surrogate. She entreats him to think of curing himself first—"With this child, you can be saved." Afterward, he can blame his parents all he wants. Why, thank you for that permission.
Kyung-joon walks away in shock.
Meanwhile, Da-ran sits with Uncle and rises expectantly when Dad's arrival is noted. And… then father-in-law and daughter-in-law gape at each other, confused. Uncle confirms that this is Kyung-joon's father.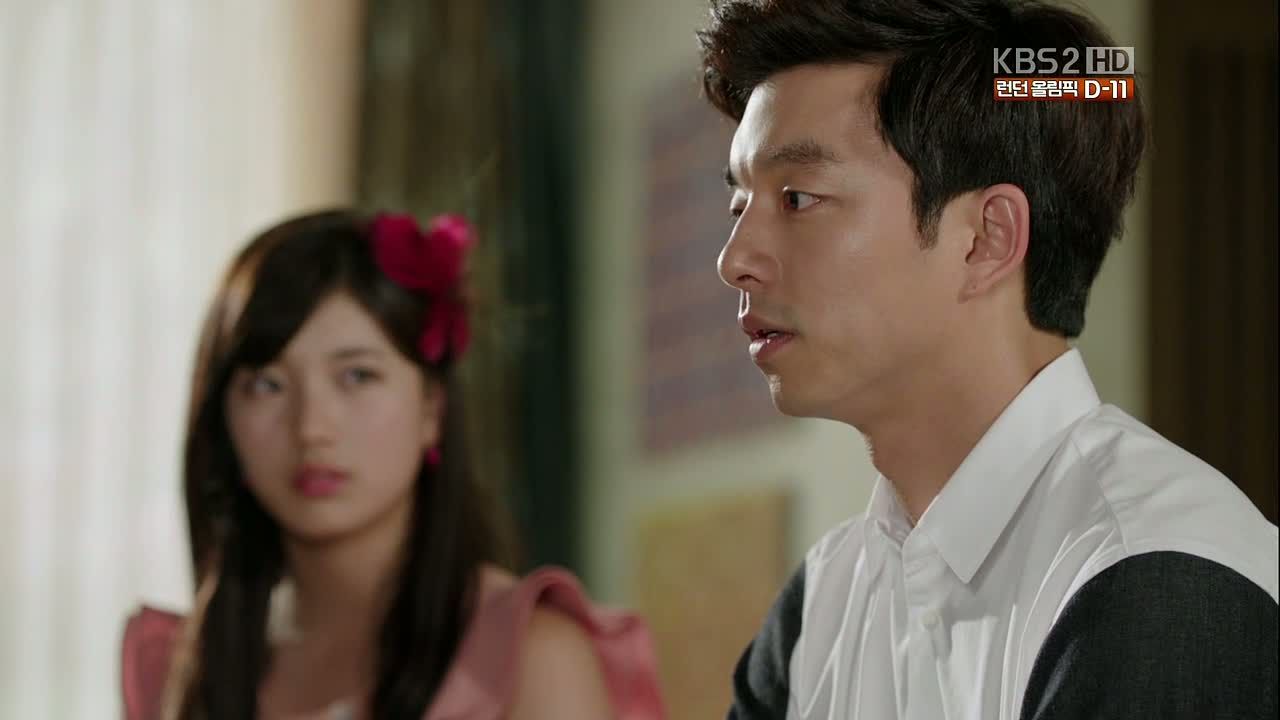 At the house, Mari sits with a numb Kyung-joon, who wonders, "So you're telling me my mother… isn't my mother? Now I know why I was swapped with Seo Yoon-jae. The reason he was lying there waiting, not waking up… was so he could live." Aww. When you put it that way, it sounds pretty fucked up. He wonders whether saving Yoon-jae, who saved him in the water, will swap them back: "It was a clear case of give and take."
Mari suggests that after it's all done, they can retreat to the States. But he says no, "I won't go. Gil Da-ran will stay with me. I'm going to ignore everything—they're people who don't matter to me anyway. If my blood can save us, I'll just pretend not to know and end it all." Oh no, are you thinking to stay stuck in this body forever?
Mari challenges him—he's wrong, and Da-ran already knows. She went to meet his father today. She explains wanting to tell him herself, but she decided to let Da-ran break the bad news per his wishes.
Da-ran sits with Dr. Seo, who explains that he drew the Miracle picture for his sons. He wanted to wait to tell Yoon-jae the truth, because if he knew, he might refuse his surgery.
But the trouble is, they're running out of time. He asks Da-ran to persuade Yoon-jae to agree to the surgery. Eeeek. Rock and Hard Place, say hello. Shake hands. Get to know each other.
Mari feeds Kyung-joon just enough truth mixed with falsities to rattle his confidence. He argues that Da-ran wouldn't pretend not to know the truth, but Mari counters that she would if she was doing it all for Yoon-jae: "Because to her, Seo Yoon-jae's more important." Kyung-joon, tearing up, denies it—Mari's lying.
Kyung-joon heads straight to see his parents, and asks if Da-ran was here. Mom thinks this is a sign of his turnaround and smiles, "So she must have convinced you." Augh.
When Da-ran comes home, Mari confirms that she knows about Yoon-jae being sick.
Mari: "Kyung-joon knows everything. This is all your fault. Seo Yoon-jae being sick and Kyung-joon being sad, that's all because of you. Kyung-joon says he's going to ignore it because those people don't matter. That he'll just stay with you. So he's going to ignore Seo Yoon-jae too. This is all because of you. You broke your promise to never, ever like him, and things ended up like this. If Kyung-joon saves Seo Yoon-jae, everything will return to its place. For that to happen, you have to cut Kyung-joon free."
Mari hands her the ring and asks her to keep her promise to only like Yoon-jae. Da-ran stutters that she can't do that now, but Mari bursts out, "Then pretend! If you try to be greedy and stay with Kyung-joon, Kyung-joon and Seo Yoon-jae will both die."
Showing her steel, Mari says, "I can lie if it's for Kyung-joon's sake. Teacher, you lie too. Please, tell Kyung-joon to return to himself."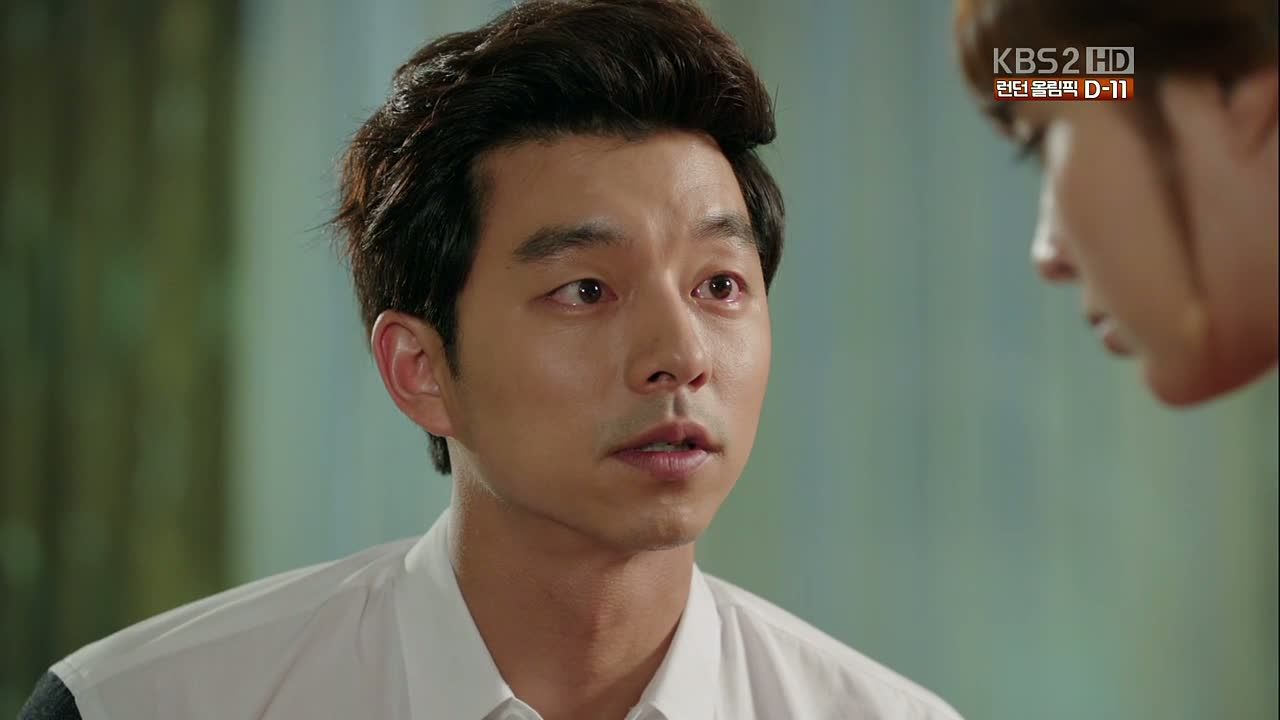 Da-ran contemplates her dilemma in tears, but she's calm by the time Kyung-joon finally comes home. He asks, heart in his throat, "Did you really know everything?" She answers yeah.
He asks why she pretended not to know, asking in part-hope, "It's because you're worried about me, isn't it? I'm so angry and afraid. Gil Da-ran, hold my hand."
He reaches out and puts his hand on hers. She places one on top of that, but it's not to hold it—it's to push him away. And adding insult to injury, it's the hand that wears Yoon-jae's ring.
Da-ran: "I can't hold your hand right now. Yoon-jae comes first. I'm going to hold onto Yoon-jae again. Ten-ten has past, and the wind around me has stopped. Kyung-joon-ah, save Yoon-jae. And go back."
Augh, those eyes. Kyung-joon says, "If that's what you want."

COMMENTS
On the upside, all the secrets are out, and everyone knows everything. Hurrah for that!
If the Hong sisters learned something from My Girlfriend Is a Gumiho, it's that relationship angst doesn't get any better (in terms of motivation) than true life-or-death stakes, which they then also applied to Best Love. When your big obstacle is a Meddling Other, or a Disapproving Parent, the conflict can only go so far before the audience is scoffing, "So what? Just be together already." When it's death, however, you really can't argue with the stakes. They're big, and finite. If being together means one of you dies, then the show has effectively created a solid rationale for the angst, and upped the ante.
On the downside, I sort of hate that in order for this conflict to work, everybody has become kind of hateful. Right now I pretty much hate everybody in the Seo family, which irrationally includes Yoon-jae (for seeming weak and easily manipulated) even though I know he was purposely kept from the truth and was probably trying to do the right thing. But since we never got to know him outside of flashbacks from other people's POVs, I'm not all that inclined to cut him slack, especially when he's the object of such creepy-fierce maternal affection. And when that maternal affection is basically the root of all evil.
Seriously, what is WITH Mom? I understand that we need that antagonistic force propelling the conflict, but one of these days I'm going to have to write a treatise on the Hong sisters' terrible depictions of motherhood and how it unfortunately tends to undermine all the awesome and kickass heroines they've created over the years. In every drama, you've got either an absentee or outright terrible mother (Delightful Girl Chun-hyang flighty, My Girl absent, You're Beautiful godawful, Gumiho absent…). In this drama, there's no explanation for the horribleness other than that this particular character is a horrible excuse for a human being. It's so irritating. Give us characterization, psyche, explanation. It's the same problem with Da-ran; painted only on the surface, with little driving her under the topmost layer.
I feared for Kyung-joon's reaction to the news, and on one hand I think he took it much better than I worried… but instead he's poured all of his hope into one person, and that one person is playing noble eejit at the moment. Again, thanks to the life-death setup we can't blame her for urging him to have the surgery and swap back, but it effectively isolates Kyung-joon and gives him little choice. I suppose he could reject her request anyway, but what would be the point when she's threatening to remove herself from his life anyway? So he readily agrees, because she asked him. We know it's really to save his life, but it feels like a betrayal.
I did briefly wonder why they can't just do the operation and resume the romance post-swap, but I can see where the very act of complying with the Seo family is symbolic. He doesn't want to help them, he doesn't want to be their key to happiness and survival, because they don't deserve that of him. So if he's going to do it, he's going to have to understand that he's putting aside his objections to help them, even though it also means he's helping himself too.
All that heaviness aside, I did find the clock metaphor really cute, if obvious. It's not a new idea, but it's a sweet way of visualizing one of those universal truths about being in love and seeing your beloved in everything. It's just in this case, your beloved is an extended metaphor. That it happens to form the perfect position for enthusiastic bear-hugging is just an added bonus.
RELATED POSTS
Tags: Baek Sung-hyun, Big, featured, Gong Yoo, Lee Min-jung, Shin, Suzy