Big: Episode 15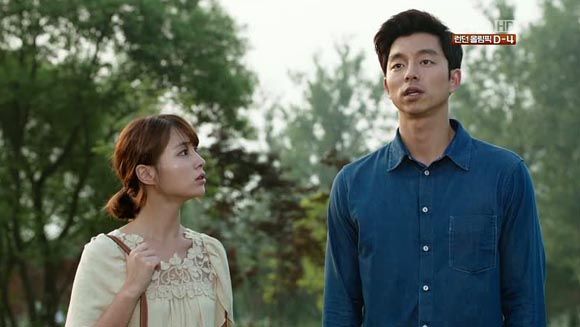 Oy, my head hurts. This wasn't a straight-up bad episode, which I might have even been fine with, given the entertainment value of bad. (See: Dr. Jin.) Instead, it was outright incomprehensible, leaving me scratching my head in confusion and wondering if I suddenly lost a few brain cells in the story comprehension department, because I felt like everyone in the drama was acting like stuff made sense… only IT MADE NO SENSE. I don't understand. I don't understand. I don't understand.
SONG OF THE DAY
Hey – "Une Dance" [ Download ]
Audio clip: Adobe Flash Player (version 9 or above) is required to play this audio clip. Download the latest version here. You also need to have JavaScript enabled in your browser.

EPISODE 15 RECAP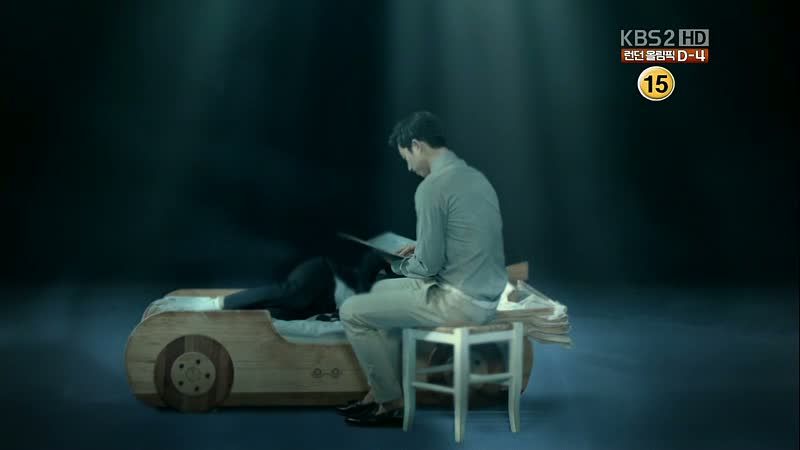 Kyung-joon initiates the blood transfusion with his body, leaving us to wonder: Did he swap? DID HE SWAP?!
In a dream-limbo state, Yoon-jae sits beside the racecar bed, reading the Miracle book to sleeping Kyung-joon as with a bedtime story. Big Kyung-joon observes this as an out-of-body experience from the sidelines. He comes face to face with his hyung, although it's trippy that they're both wearing the same body, and Kyung-joon wonders, "Seo Yoon-jae? Were you waiting for me, remaining just as you were when we met in the water?"
Now we see that this dream state has a watery feel to it, with light bending and reflecting around them as though they're both still underwater. Little Kyung-joon is awake too, but Big Kyung-joon wonders if he'll lose all his memories once he leaves this place.
Yoon-jae holds out his hand, and Kyung-joon hesitates: "If I take that hand, I'll wake up as a happy kid." This is one of the better twists in that Kyung-joon is facing the ultimate ignorance-is-bliss scenario—the only thing is, his unhappy, fully informed self has to be the one to choose to let go of that knowledge in favor of that ignorance. Like Charly, peering into the fate of Algernon.
Kyung-joon reaches out a hand to take it, but before they make contact, Da-ran's voice calls out his name. She's at his bedside, and he opens his eyes. Still in his shell body. Ah, so the switch wasn't an automatic side effect of the transfusion?
He sits up and she checks that he's still Kyung-joon. He gets up and heads for his hospital room, Da-ran hot on his heels. Mari's at his bedside, and his body is still asleep.
Da-ran joins them and calls his name. Kyung-joon looks at her for a long, long moment—and we return to dreamland, where the two hands are still outstretched. Take it or not? Kyung-joon thinks, "If the me that was here disappears, there's somebody who becomes unhappy. Give me a little more time." Yoon-jae registers the request and lowers his hand.
In the real world, both ladies anxiously await proof of his identity. He says in this cool voice, in stiff jondaemal, "Yes, I am Kang Kyung-joon. Gil Da-ran Teacher." He acts like he doesn't understand what happened—and furthermore, he pretends he's lost all his memory post-accident.
Ah, interesting. So he's going to prepare Da-ran for the eventual blank-slate version of him, only he gets to have control over this scenario. I'm not sure if that's shrewd, or a terrible idea in the making.
He turns to Mari for an explanation over Da-ran, feigning indifference to everything. It's a totally unnatural way to respond to being told you've swapped bodies with the brother you never knew you had, but I suppose portraying a realistic response isn't really his priority.
The parents arrive and Mom embraces him worriedly. Mari notices how Kyung-joon doesn't react to her touch—he must really not remember a thing.
They go home, and Kyung-joon acts like this is all new to him. Mari's chipper about Kyung-joon's no longer being in love with the teacher, while Da-ran tries not to act crushed. Kyung-joon keeps up the distant act though he does stop upstairs to hover his hand above Da-ran's head (twenty feet away from it), as if wanting to pat it comfortingly.
Mari pushes her luck by informing Kyung-joon that they'd fallen in love, but he scoffs at her: "Don't lie. I remember everything." What, you're going to share this big secret with the bulldozer? He explains that the lie will become true when he really wakes up, and that suddenly disappearing on Da-ran will be too much for her. So, he wants to undo everything now, to help erase what they shared together. Which, wut? How does that even make sense? Just rip the band-aid off and do it for real, rather than going through the pain of a practice round.
Mom watches at Kyung-joon's hospital bedside and tells Se-young she wishes he'd be able to accept them easily when he wakes, with a face as peaceful as the one he wears in sleep. Well, duh. That's the easy way out where you don't have to account for any of your sins, of course that's what you want. You get no insight points for that statement, lady.
Kyung-joon tells Da-ran that Mari filled in all the gaps of his memory—like how he married Da-ran so she could be with Yoon-jae and also look after Kyung-joon. Anything other than that, Mari has supposedly told him not to wonder about, since it's painful. He figures that his lost memory is good for both of them, a comment that has her looking hurt. He adds that he'll keep up the Yoon-jae act, but she doesn't have to look after him, "Because I hate when other people interfere."
It's jarring and hurtful for Da-ran to suddenly be relegated to an "other," an outsider with no influence or importance in his life. He says he'd rather do things alone—being around her is awkward. He even knowingly eats pizza with mushrooms, to emphasize the memory loss.
Da-ran asks if he's just making good on their promise to pretend not to know each other, but he feigns ignorance. She asks, "Are you really going to act like that? Do you really feel nothing when you look at me?" He replies, "Yeah."
She keeps looking for a crack in his facade, wanting to believe it's just an act. She reminds him of the ten-ten clock and asks him to throw away a bag of trash—the stuff she'd rescued previously. Kyung-joon complies, but pauses by the curb to look in the bag, finding the moon ticket she'd printed out among their other mementoes.
Da-ran comes outside and tells him she knows he's faking, but that there's no need to rush the scenario even if it's going to happen later. Well thank you for speaking sense for once, Teacher. She says, "When you said you'd lost your memory, I was so scared. When you said everything we went through together had gone away, everything in my sight turned white."
He sticks to his denial, so she challenges him to throw away the bag. He tosses it in the garbage truck—goodbye flowers, panda, 20-year-old Hyungnim liquor. Stunned, she watches the truck sweep up the trash and crush it.
She's near tears, unwilling to believe it, but he tells her that he really can't remember and therefore her reactions just make him uncomfortable: "So don't act so burdensome and just throw it away."
Finally, she tells him fine, she'll throw everything out: "But there's so much trash to clear, it might take a while. So even though it feels burdensome, put up with it." On his side of his whited-out door, Kyung-joon fights his own tears and forces himself not to go after her. I guess I might have more sympathy for his pain if it weren't so stupidly motivated.
Da-ran cries, "How can you turn everything into nothing?" That's what I'M sayin'.
At the hospital, Mari has Choong-shik take photos of her glued to Kyung-joon's bedside so she has proof of her devotion. She imagines that he'll be touched at her loyalty, picturing the fairy-tale scenario where he wakes up as the sleeping prince and she's the Snow White waiting for him, telling him, "The person you fell in love with while you were asleep is me."
He blinks at her confusedly, so Snow Mari grabs his face and growls ominously, "Believe me. MARRY ME!" Okay, the fact that she can't even be nice in a fantasy cracks me up, but more so the fact that Mari seems to consider this scenario an ideal one.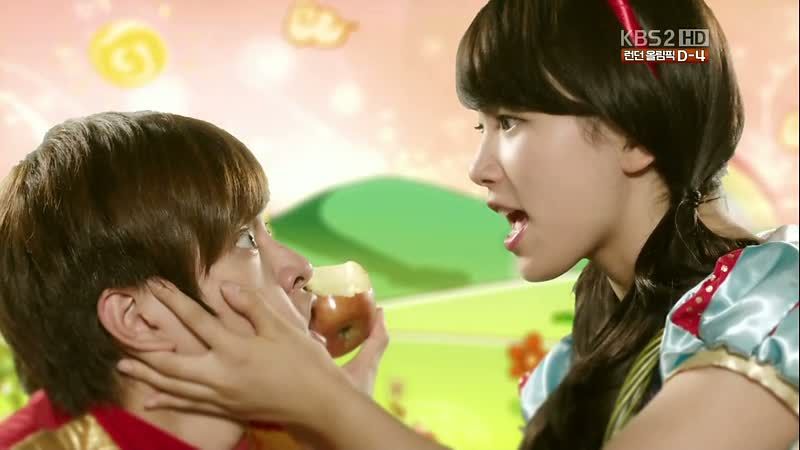 Mari instructs Choong-shik to erase everything in his head about, say, the fake-ring she bought and replaced for Da-ran, and only remember how she spent every day taking care of Kyung-joon so he can play eyewitness. He points out that that means she's copping to spending every day with Choong-shik, but she says blankly that she's erased all such thoughts from her brain.
Choong-shik tells her that insisting on it doesn't make it true. Love doesn't stick around in your brain, but in your heart. "Jang Mari, no matter where you are or what you do, I'll find you not with my memory, but my heart." Then he ruins his cool exit by bumping into a table, ha. It's okay, Choong-shik, you're still the most mature character in the bunch, even though I'm not sure that's a compliment to anybody.
Kyung-joon and Da-ran meet with Mom, who says she's trying real hard to accept Kyung-joon as her son. Oh, congratulations, you get a cookie. Kyung-joon points out that Kyung-joon may not accept HER as parent; how would he feel knowing why he was conceived and then abandoned? Mom says that's why it's best for Kyung-joon not to be told, but he jeers that it's an excuse for Mom and Dad to feel better.
Da-ran looks at Kyung-joon suspiciously—this rings false to her. Or rather, perhaps too true for someone who supposedly shouldn't know this. Afterward she asks if he remembers this, and he says that the moment he saw his parents, he felt such anger that the memory tagged along with the emotion.
She sighs, "So you remember all the things I wish you wouldn't, and say you've forgotten everything I wish you would." He asks if she's referring to something about herself, and then says, "When I see you, I don't feel anything coming to mind, so I don't remember anything." Aw, and ow.
At home, she points out all the ramyun she'd bought for him because he like a particular brand, which he again says he doesn't remember. She says that memory or no, his liking of it should be there, so they sit there eating ramyun together. And then to extend the point into a metaphor about herself, she tells him, "See, you like it. You don't have to say so, I can just tell. That's enough for me."
Kyung-joon asks Mari for a favor: Once he swaps back to his body, don't let him meet Da-ran, or tell him a word about what happened all this while. He tells himself it'll be okay if they make things as though they never were: "I'll erase them in advance."
Which, again, huh? I so don't get his train of thought. Are you doing this for her sake, or your own? Because if you have to play God in your own life like this, it just seems like you're going through a lot of trouble to keep everybody unhappy. Bah. It's not even noble idiocy because I can't see where it's noble. It's just… idiocy.
Da-ran continues making plans to switch schools to one outside of Seoul, which coincides with the Seo family's impending departure to Germany as Yoon-jae seeks treatment. Oh, so he's still going even after the blood transfusion? Her parents don't understand this separation (I'm with them), but she says she'll explain it all later.
Da-ran finds Kyung-joon at home, typing up a report to be given to his family regarding Kyung-joon. He's not going to just let them jerk around Future Amnesiac Self; he wants them to do some of the work getting to know him and trying to be attentive parents.
He adds that Mari informed him that there were some feelings between the two of them, but that he has no memory of them to get over. But he advises her to get over hers, and that pushes her over the edge.
Angry now, she says sarcastically that there's nothing to remember: "It's just a scandal. Ah, you won't remember, but you liked me. I said I didn't like you, but you brought me flowers and blew the wind to me and sang me songs. I was so won over that I found it cute. But I have no intention of drawing out this child's play any further. I'm just ashamed of myself and afraid that someone will find out. Since you're offering to act like nothing ever happened, I'm the one who's grateful."
She storms off to cry, leaving him shaken as well.
Kyung-joon drops off a journal with his aunt and uncle, telling them that it's because Kyung-joon won't remember stuff when he wakes up—like uncle selling his house.
The Gil family hears about Da-ran's job interview and search for a home near the new school, worrying about the state of the marriage. Choong-shik seeks Kyung-joon out to ask if he's really just going to send her away and go to Germany, without a care: "Brother-in-law, you're quite cold."
That rattles him, and he sits at home in agitation. Da-ran had told him she'd be home late or not at all given her interview, and he worries that she won't come at home at all before his departure next week. Her belongings have been packed and she's been cleaning up, which has him feeling uneasy.
Kyung-joon tells himself it doesn't matter since he'll forget soon enough, but saying the words aloud gives them a sad finality: "I won't see her today… or tomorrow…"
That gets him moving, at least. He gets in the car and drives, arriving at the school just as Da-ran arrives for her interview. She pauses to look at sunflowers, remembering the bouquet he threw out. Are you going to pick them? You'd better pick them.
Da-ran exchanges pleasantries with a teacher while waiting to meet with the principal, and Kyung-joon overhears that teacher then chatting with another. They wonder why the Seoul teacher's coming here in the wake of her divorce—here in the sticks, she'll be under more scrutiny and face more gossip than at her current school.
It's those magic words that spur Kyung-joon into acting—that coming here will be more painful for her—and he interrupts the interview to take Da-ran away.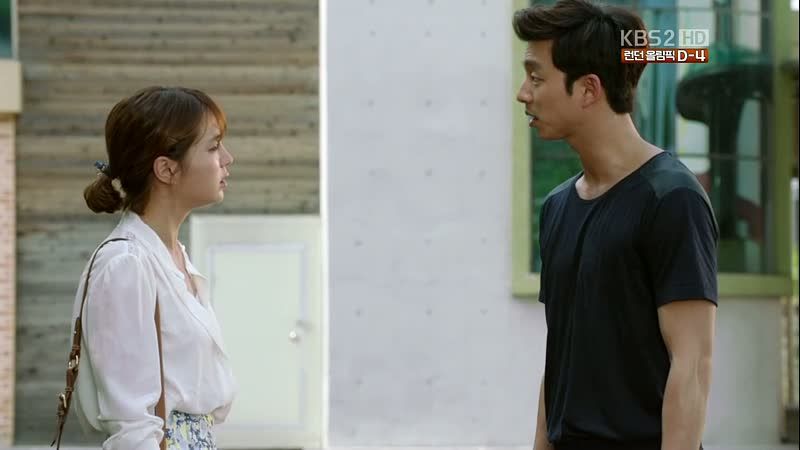 He accuses her of running away to the boonies—she said she'd forget everything, but if she hides away here after changing jobs, losing her husband, and leaving her family, she's hardly forgetting anything at all.
Da-ran cries, "Yeah, I wish I were like you, able to get over everything in one shot. I wish what I said about loving you could go away, that I could take back admitting my wayward feelings. No, I wish I hadn't met you at all."
Kyung-joon says, "Since I messed everything up for you, everything will be fine once I leave." Da-ran: "Yes. I hope that's what happens."
You people! I just. Don't. Get. Is it me? Tell me it's me. That this all makes sense and this angst has purpose and I'm the idiot for missing how all these pieces fit together perfectly into a solid narrative whole. Because I'm not following anything so far in this episode. It's frankly hurting my head.
Da-ran's parents find a bit of encouragement hearing that Yoon-jae asked about the rural school. But it's not enough given Yoon-jae's impending departure, and Mom urges Dad to step in and talk with her about it.
So Dad takes Da-ran out for a drink and asks if her running away to a new job is an attempt to cast away the husband, or grab onto him. If you say you don't know, I am going to slap you. Da-ran says she knows what she mustn't do, but asks about his struggle from years ago when traveled to an island trying to send Mom away. What if she had told him she didn't care, that she forgot all about him? Then would Dad have been able to say he forgot too?
Dad says no, he would have stayed on that island for a long, long time. Da-ran figures that since Dad is like her, he wouldn't have been able to leave that island for the rest of his life.
Dad says that with things you mustn't allow yourself to do, running away to the countryside isn't far enough. Are you trying to comfort her, or send her away? She wonders if going farther would work—Dad's island trip didn't work, after all. She sobs, "Father, I don't think it would work even if I ran to the moon."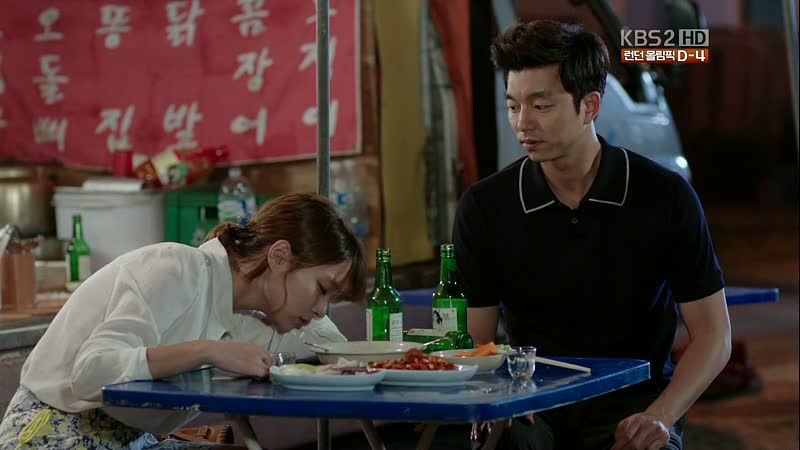 Kyung-joon gets a call from Dad, and heads to the pojangmacha to tend to a drunk Da-ran. She starts to stumble off, but he stops her before she trips over her own feet.
She mumbles, "You may be able to erase it in one shot, but I can't do that. But I'm good at enduring things. I can endure because I like you. And I can let you go because I like you. But if I'm supposed to forget about liking you, what strength can I use to endure? You asked me to just remember you. Can't you just remember me too?"
Yoon-jae's parents wonder about the kids' relationship, like why Da-ran told Mom that they hadn't yet filed the marriage registration paperwork. There's a big family dinner tonight with both sets of parents, so they'll have to see how things play out.
Da-ran tells Kyung-joon of her plans to announce the end of the marriage. Saying it'll be harder with him around, she tells him to use the hospital as an excuse to stay away. She'll take care of the rest.
Choong-shik worries about the big family dinner, sensing that noona's going to make a big announcement. Ah, at least I can relax a little, because I swear, Choong-shik is the only character I still understand. Mari declares that she's going to go to the family dinner too, because why draw boundaries with the girl who doesn't see any?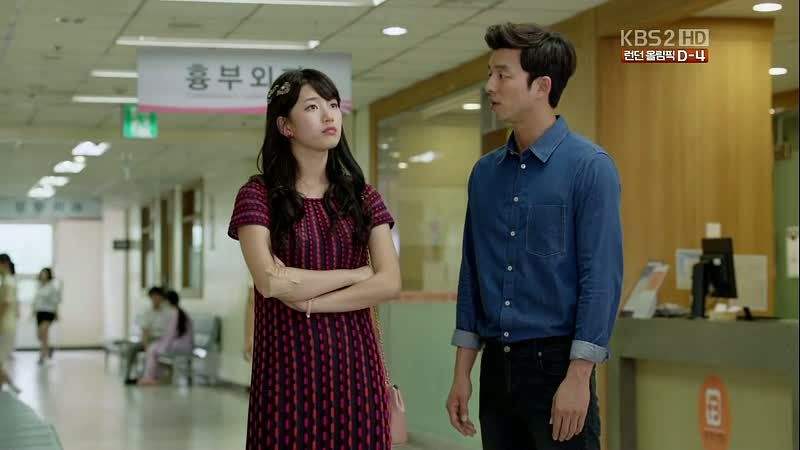 Kyung-joon demands the watch back from Mari, saying it's the only thing he has from Da-ran and he needs to return it, "And return that time to her." Erm… you know that's not how time-space works, right? I get that it makes for nice wordplay, but there are some rules to punning: First off, the words have to make sense before you play with them.
Kyung-joon uses Da-ran's explanation of how she'd let go of her "mental strings" to be with him, so once she realizes that he's gone, things will return to their original places. Yes, if emotions were chess pieces, which they aren't, because feelings aren't little wood figures you move around on a board! Lordy.
Kyung-joon offers her a ride, assuring her that he's not tagging along to her announcement dinner. But she realizes he's driving away out of Seoul entirely. He says that there's something they have to take care of first.
They arrive at the lake where they'd gone the first day, just before the accident. He tells her that when he returns to his body, he'll return to this time in his memory. Oh thank you, you're finally telling the truth. It only took 50 excruciating minutes to find some sense.
He tells her that the Kyung-joon who'd been with her will disappear—the reason Yoon-jae never woke up was to stop time for him on his return. "So turn your time back to that time too."
He returns the watch and sets it to 10:10: "Your ten-ten will disappear forever, and the Kang Kyung-joon you loved will also go away." He throws the watch into the water, telling her to do that with her feelings, to return to the time she stood her hoping to hear Yoon-jae's confession of love.
He leaves her at the lakeside, taking in the realization that everything will soon erase whether they want to or not. (Begging the question: Why the need for this episode, then?) She thinks back to their times together, such as the time Kyung-joon had asked her not to forget him—back when he'd been afraid she'd only have eyes for Yoon-jae upon their re-swap.
Then she tromps right down into the water, fishing for the watch.
The in-laws convene at Uncle's restaurant that evening, sitting uncomfortably while waiting for the kids. Choong-shik and Mari arrive while Da-ran hitches a ride back, caked in mud and clutching the watch.
As she runs, Kyung-joon arrives to address the adults, explaining that he and his parents will be going to Germany. His parents will stay after his surgery, and he'll return to Da-ran. But he doesn't mean as himself, but as Future Yoon-jae: "When Seo Yoon-jae returns, everything will go back to their rightful places. I'll return and hold on to Da-ran again. Right now you have the wrong idea about Da-ran being in love with someone else, but there is no such person."
But Yoon-jae's mother remembers KKJ as the Other Man. Kyung-joon confirms, "He does not exist in this world."
Just then, Da-ran bursts in through the doors, exclaiming, "No! That person does exist."
But at the same time, the vitals spike on Little Kyung-joon's hospital monitor.
She continues, "Because of him, my heart will always be stuck at the time ten-ten. We've held hands and crossed the uncrossable sea. We've been to the moon together, and the city on the ocean floor. I'm crazy, aren't I? Because it couldn't be erased, I'm telling you all. So that it can't become erased, everybody please listen up and remember it."
She smiles up at Kyung-joon, and declares, "I love KKJ."

COMMENTS
It's amazing how much one episode can change things. Previously, I was watching Big with a sense of detached amusement—maybe not everything flowed smoothly, and maybe there were some plot points I didn't care for, but I was generally along for the ride, bumps and all. And then Episode 15 hit and not only slammed on its figurative brakes and screeched everything to an abrupt halt, it basically shoved you out the door, ran you over, backed up and ran you over backward, then forward, and back again a few times. Leaving you broken and confused, wondering Kerrigan-style, "WHYYYY?"
Aside from the very obvious reason that we needed to fill the time, I see no reason for Episode 15 to have existed. What was the purpose of the fake amnesia, given the impending real amnesia, especially if he's just going to pretend that the fake is the real? Was it to ease Da-ran into a (false) sense of… what's the opposite of security? Shoving you off a cliff without warning, only you feel sorry about it while acting like you meant to do that all along?
I actually think the amnesia bit is pretty spiffy, if it would only just play out already. Why do we have to mess with the whole practice round? It's like doing a dress rehearsal for a funeral: Let's get into character with the sadness now, to make the real thing worth it! I mean, WTF?
Alternately, you could use the impending amnesia as a wonderful ticking clock, making the lovers appreciate the teeny sliver of time together before he's gone. It would have been way more understandable if Kyung-joon hid the amnesia bit from Da-ran and enjoyed their last moments, keeping her from the pain of discovery so they could bask in the glow just a few days more. That would be dumb in a different way, but at least it makes sense from a story and a human-psychology standpoint: You protect the ones you love. Instead, he's trying to deal with future amnesia… by hurrying it up faster, and inflicting intentionally the pain upon Da-ran that he doesn't want to inflict upon her unintentionally. WTF? I repeat, WTF?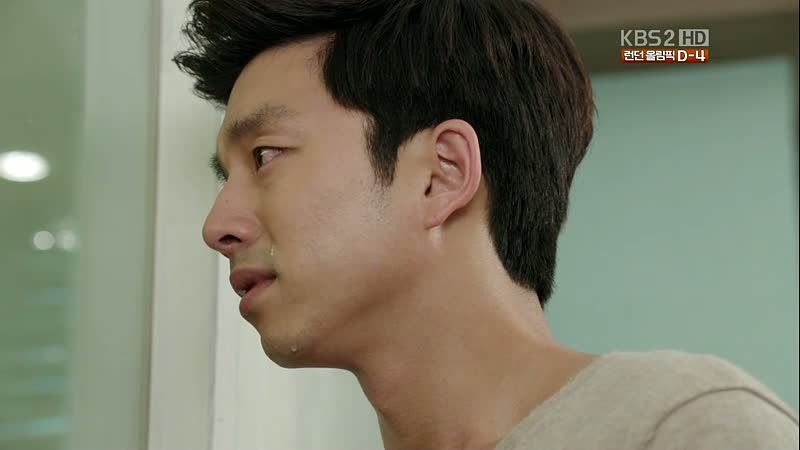 The problem is, if Kyung-joon was going to reject the body-swap from his underwater-dreamland exchange, he should have gained something from it. Even if it was something that brought pain, there had to be a reason he needed that time—some benefit to prolonging the body-swap limbo. At least when Harry Potter went back he defeated Voldemort.
So you have Kyung-joon pretending he doesn't care because it's all for her good. Because hurting Da-ran now is supposed to somehow help her not hurt later… when you repeat this whole pain-a-thon anyway when the fake becomes the real like the Groundhog Day from hell? Apparently one can erase feelings that way…? Honey, the only way that works is if you hit somebody so hard that you damage their ability to feel anything ever, and I'm talking in a literal brain-damage way, not in some sort of twisty metaphor for emotion that involves time and erasing and tens of clocks and stupid people.
All series long my heart bled for Kyung-joon, because he was the emotional center of the show. But as it turns out, you can't suddenly make him do stupid things and have that sympathy extend, because once you start bringing needless pain upon yourself for reasons that make no sense, I totally lose sight of your character and I'm stuck in Not-Caring-Land, party of one. Basically at this point the only character I remotely can comprehend is Choong-shik, and he barely does anything.
This drama, I swear. I went from pleasantly enjoying myself, brain checked halfway at the door, to RAGEFIT.
I DON'T UNDERSTAND. I CAN'T EVEN.
RELATED POSTS
Tags: Baek Sung-hyun, Big, featured, Gong Yoo, Lee Min-jung, Shin, Suzy