Dr. Jin: Episode 12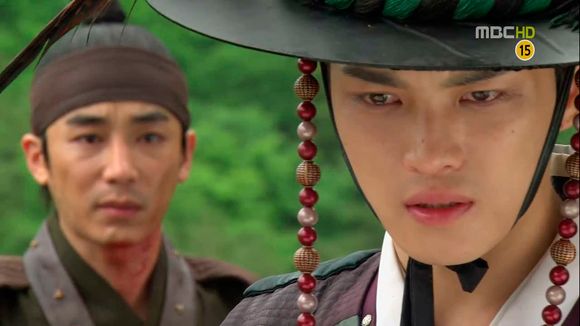 Now Dr. Jin is entertaining for the right/intentional reasons, which is a late-game reversal but certainly not an unwelcome one. This episode really stepped up the ante of actions versus consequences, giving Hyuk a host of moral dilemmas with seemingly easy solutions that turn into bad news bears for everyone else. It's almost as if Fate was just napping for the last eleven episodes, and then woke up with a vengeance. Good luck, Hyuk.

EPISODE 12 RECAP
A group of rioting peasants storm the area just as Ha-eung is about to take that fatal drink. They start beating the officials, leaving Ha-eung bewildered but alive, and Hyuk immediately recognizes what he sees – the beginnings of a rebellion that would reach its peak in 1894 (called the Donghak Peasant Revolution).
The case in Jinju is historically documented and on par with this drama's timeline, since it took place in 1862 as a means of revolting against corrupt officials. Hyuk apparently studied his history as much as he studied medicine, and realizes the gravity of what's happening in tearful awe, just as Kyung-tak is apprised of the events. I can't tell if this rebellion is literally transcendent for Hyuk, or whether he just has leftover tears, because that single tear seems Very Meaningful.
Minister Kim & Co. get the news at the same time, and vow to squelch the revolt before it gains even more momentum. Luckily the city where it all started, Jinju, is where he exiled Kyung-tak. Against Dae-gyun's pleading, Minister Kim orders that Kyung-tak now be put in charge.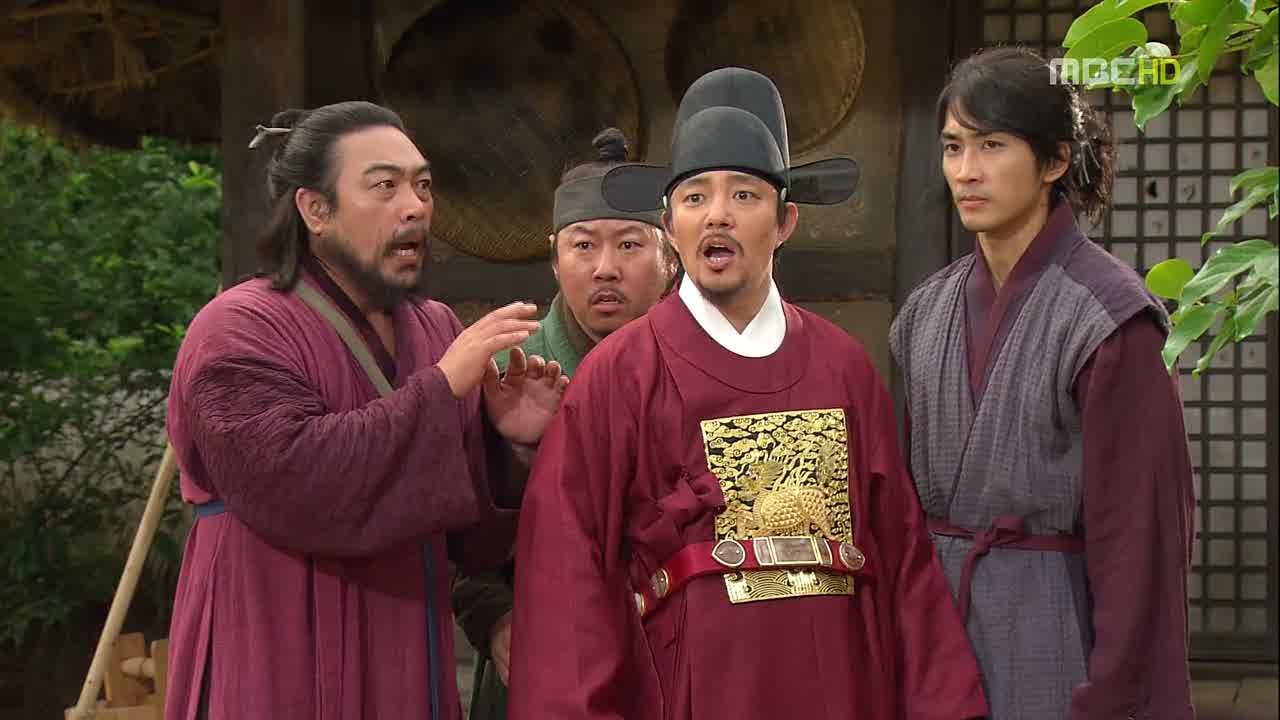 Back in Jinju, Ha-eung tries to stop the peasants from dragging the Royal Inspector off (why they wouldn't go for him in his fancy robes is beyond me) to no avail, and they turn on him. Hyuk and Joo Pal step up to defend him, though Ha-eung bravely tells the mob that he's a relative of the King. Ha-eung, maybe it's not a great idea to tell a group of peasants rioting against the ruling class that you are the ruling class.
And Minister Kim is in for some serious scolding now that the Queen Dowager has woken up, and she decries him for ordering Ha-eung's execution. Luckily her age has come with wisdom, and she's already convinced the King to reverse the order, so that by the time they speak a messenger is already on his way to save Ha-eung.
The boys have managed to save the Royal Inspector, though Hyuk tries and fails to dissuade Ha-eung from going through with the execution. Ha-eung wants to do what's right and what has been commanded of him even as he laments all he could have done for Joseon with Hyuk's help.
Luckily again, the Queen Dowager's messenger arrives just then with the new royal decree, and I love that it just sounds like, It's been a crazy couple of days, so, sorry I tried to kill you. We're cool now, you can come back.
On her way to see her brother, Young-rae and her maidservant come upon a village in the throes of a rebellion and, more specifically, a child who runs to them with her hanbok ripped. She's escaping from her rapists, a group of two lackeys and one power hungry magistrate who claims that he was "interrogating" her.
And after a Whose Voice Is Deeper face-off with Young-rae, he kills the girl and advances on her with a leer, saying that he'd like to "interrogate" her too. Ick. She's saved when Hyuk and his entourage happen upon her as they travel on horseback through the village (that minion must be an Olympian for keeping up on foot).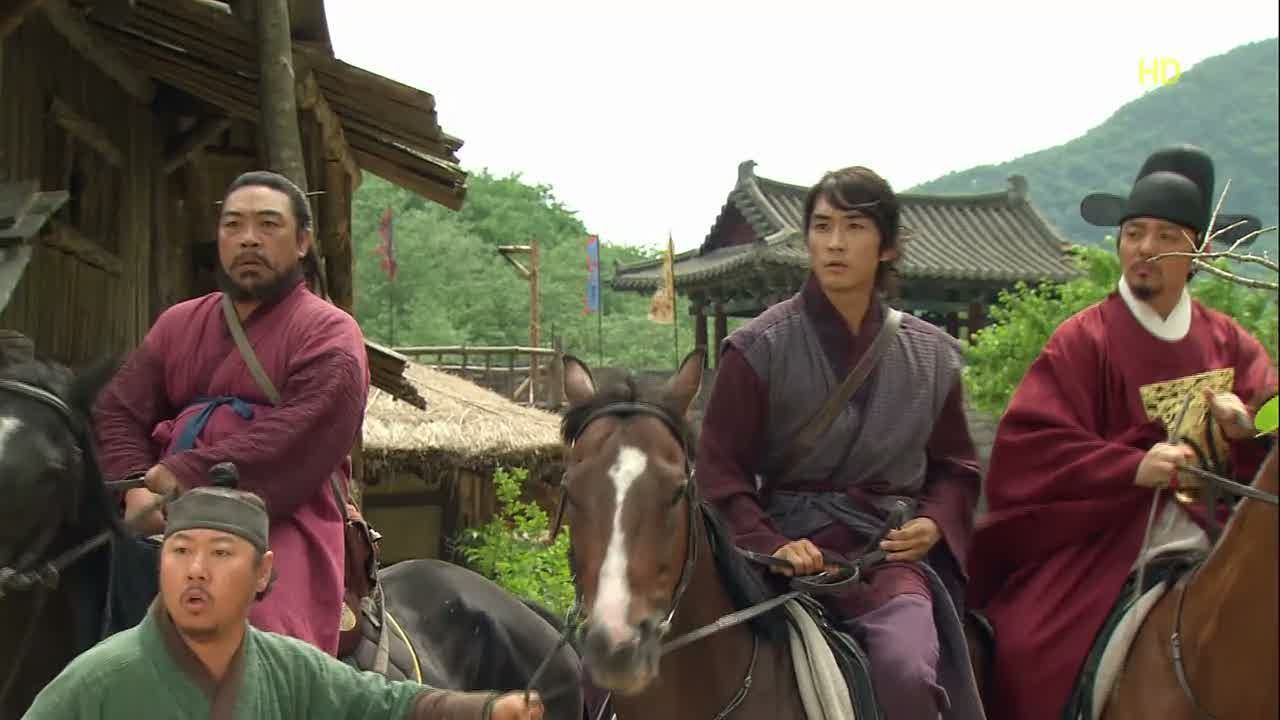 Near the main gate of Jinju, Kyung-tak and a small contingency of soldiers arrive to restore order, while the magistrate and his company are ambushed by peasants on their way to the gate.
Ha-eung attempts to convince Young-rae to head back to the capital with them, since the riots and royal forces are now clashing everywhere. She insists she'll continue herself, sending a glance Hyuk's way, as though she's thinking that this is the distance he wanted.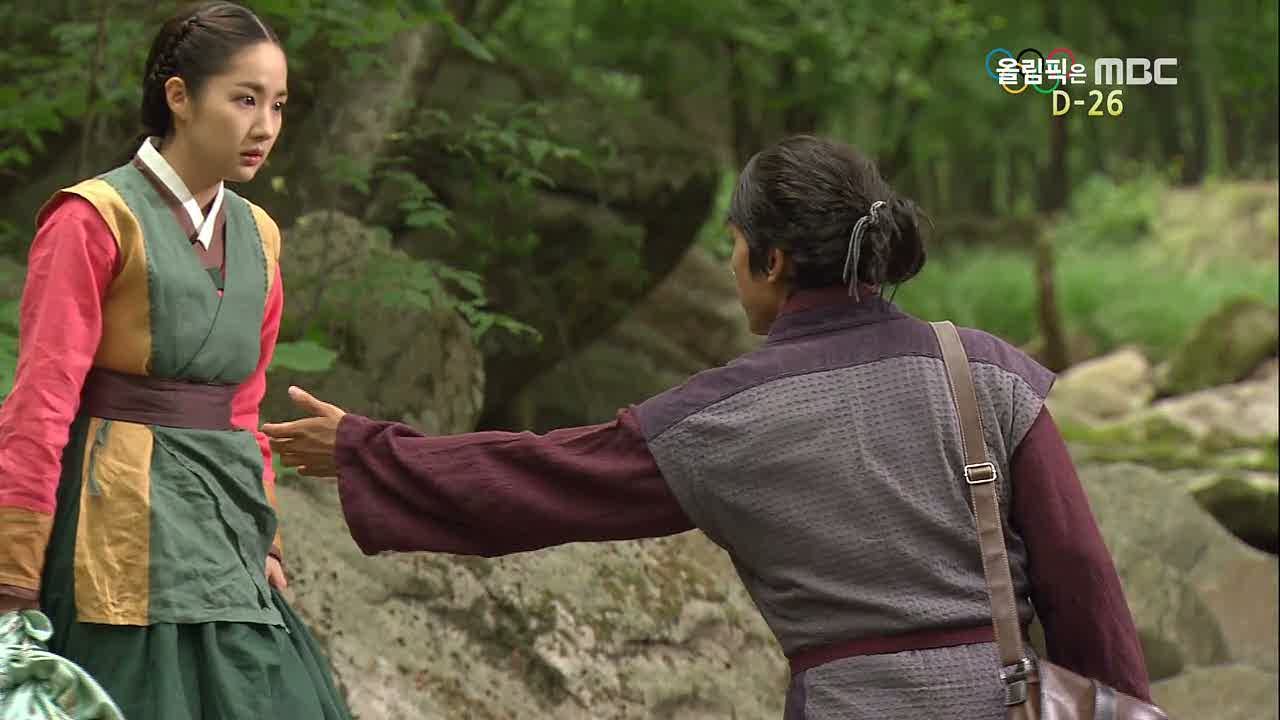 In the end she sends her maidservant with them, and Hyuk decides to go with Young-rae in order to protect her. Ha-eung promises to do what he can to console the citizens once he arrives in Hanyang, and Hyuk agrees to return soon, charging Joo Pal with Ha-eung's safety.
Young-rae doesn't like the idea of Hyuk following her, insistent that she can manage on her own (never mind that she just saw a girl killed and was almost raped). Hyuk's all, I'm not following you, I just happen to be heading this way too. Ha. Cute.
Nothing says 'I Love You' like popping your fiancée-doppelgänger's foot blister, because that's exactly what Hyuk does to Young-rae in close-up detail, with white stuff oozing out of her toe and all. Seriously, they take a break from the action to play this romantic ballad while he does this, and I'm just shaking my head. Why? Why was that shot, just right now, necessary to the plot? WHY.
It's the perfect icebreaker for them to now have a heart-to-heart, with both of them proclaiming that the other is precious to them. Young-rae sighs, "But in this world, our fate and connection would only be up to that much."
However, the Magistrate has survived the ambush with a sword wound to the stomach. Hyuk is in a hurry to help him, but Young-rae isn't so sure. This is interesting strictly on a moral basis, since that's what Young-rae seems to be struggling with – is the magistrate's life worth saving when he's done so much evil?
Ha-eung gets his meeting with the Queen Dowager, and uses the common phrase "Please punish me by death!" which elicits a funny reaction out of her: "I barely managed to persuade His Majesty to save you, but now you are telling me to kill you?" Ha. Love her.
She's already aware of the peasant uprising, so Ha-eung asks her to grant him an audience with the King so he can lay out his strategy of tax law reformation and punishment for corrupt officials in order to ease public sentiment.
Ha, and Young-rae actually says that the magistrate's life isn't worth saving when Hyuk tries to get her to help with the surgery. She tells Hyuk about his crimes, to which he asks, "Is it okay for him to die?" To Young-rae, it is, because there's no telling what crimes he could commit in the future. Hyuk thinks differently.
Young-rae asks him if he'd then be responsible if the magistrate lived to kill ten or even one hundred people, and Hyuk tries to convince her that that's not the point – a doctor's job isn't to determine who should live or die, but to do their utmost in saving the person in front of them.
She still doesn't agree, and Hyuk asks her honestly if she thought that being a doctor would be as easy as giving injections and handing out prescriptions, and if she does, then he's taught her wrong. He admits that he thought the same until "that person" made him realize differently.
Of course he's talking about Mina, which has Young-rae in tears, asking why he's talking about a person that isn't here. (Seriously, Young-rae, this is like the first conversation where you haven't brought her up first. Chill.) Young-rae: "I am not that person who is your lover, but Hong Young-rae. Hong Young-rae, standing right here and living in Joseon." She leaves, declaring that she won't assist him with the surgery.
Hyuk proceeds to suture up the wound, only it's not long before an angry mob surrounds the hut, looking for the magistrate. Young-rae didn't take long to change her mind because she holds them off from entering by holding her silver knife to her own neck, threatening suicide if they try to go inside. So, she went from wanting the magistrate dead to putting her life on the line in order to protect him? Okay then.
Hyuk finishes the surgery and then lets the mob in, his job complete. But surprise surprise, the angry mob decides to take Hyuk and Young-rae with them.
King Cheoljong is sick, and has basically declared a free-for-all as far as the rebellion, giving the Court absolute power. Ha-eung knows this as he faces of with Minister Kim, though his words of advice not to meet the public with more force go unheeded, as Minister Kim and his lackeys take to calling Ha-eung out on his constant visits with the Queen Dowager.
Meanwhile, the mob drags Hyuk and Young-rae to their fortified city… where Young-hwi presides as leader of the rebels? Oooh, way to bring him back in style. Hyuk and Young-rae are obviously shocked to see him, having had no idea of his Anonymous persona until now.
Kyung-tak is aware of Young-hwi's involvement, as a flashback shows a skirmish they had earlier that day. He prepares to attack the city by morning, and in voiceover we hear him say, "Young-hwi… It doesn't seem that our fate can be avoided by our will. We have come too far."
As the rebels prepare for war, Young-hwi explains how he became the leader of the movement and their just cause. Hyuk tries to persuade him that it's all useless (knowing what he does about history), and Young-hwi uses an analogy Hyuk can understand – would he give up if the patient were dying? It's the same with Young-hwi and the rebels.
But Hyuk knows that something's off, since the Jinju Rebellion in history didn't involve a full-scale battle like this… and then with dawning horror he realizes that history has changed because he saved Young-hwi's life, and now Young-hwi is leading the rebellion. Ergo, he changed history again. I am loving these developments – all of Hyuk's medical gallivanting is finally coming back to bite him.
Ha-eung meets with Nephew-in-law (we'll go ahead and call him Officer Lee from now on) and Chun-hong about the King's ailing health and his lack of an heir. They've got plenty to worry about with Doctor Yoo being on Minister Kim's side, which spurs Ha-eung's suggestion… What if they moved Hyuk to the Royal Clinic?
Officer Lee doesn't think it's possible, when Doctor Yoo has the final say – which is when Chun-hong comes up with an idea, and leads Ha-eung to the gambling den where Minister Kim's smiley lackey is sorely losing in a game rigged by Joo Pal.
Kyung-tak prepares a pretty sizable force to storm the rebel stronghold, while Young-hwi keeps the magistrate hostage as a trump card should the battle go badly for him. He's upset to find Hyuk and Young-rae still within the city, even though she won't go without him.
There's no turning the tide now, no matter how much Hyuk pleads with Young-hwi to stop. Even if he wanted to, the people wouldn't listen – having been taken advantage of their whole lives, they've finally had enough. The sound of approaching war drums lends urgency to this scene, as Young-hwi puts on a brave front at the frightening sound in order to give Young-rae his last words.
And then the full-scale battle begins, with Kyung-tak's forces storming the fort while the rebels struggle to defend it with bows, arrows, and rocks. They've got the upper hand with the high walls but Kyung-tak's forces have military training, and attack in organized waves.
Kyung-tak orders a volley of gunmen to take out most of the living bodies defending the gates, before sending in the battering ram to take down the gate. They breach the walls, and things are looking grim for Young-hwi and his army of slightly-organized farmers as Kyung-tak and his men start cutting them down like weeds.
Young-hwi and Kyung-tak only get a few seconds of eye contact before Young-hwi orders their retreat, with plans to take the magistrate along for the ride.
Hyuk decides to go back and help the wounded as he and Young-rae are fleeing, and orders her to go on without him because he doesn't want her to be in danger anymore. Not because of Mina, but because of her, the only version of her that's standing in front of him. Aww.
They're interrupted by the sound of a gunshot coming from the field where Kyung-tak and Young-hwi's forces battle it out, with the magistrate scurrying to hide nearby. Kyung-tak's gun ends up within the magistrate's reach (uh oh), while our boys take their fight through the forest and onto a cliff.
They get a small chance to talk, and their rapport is no different from their best friend days – only now with swords. Young-hwi thanks him for helping to clear Young-rae of her charges, and the fight resumes until it's Young-hwi on the ground with Kyung-tak's sword at his neck.
Kyung-tak draws back as if to strike, but spares his friend in the end. Kyung-tak: "My only friend has just left to the netherworld. Now there is no one who is my friend." Aww. Sad.
Only the magistrate slinks up with Kyung-tak's gun, and doesn't think twice before shooting Young-hwi in the heart. Blood from the wound spatters onto Kyung-tak's face. Nooo!
Hyuk and Young-rae arrive in time to see him shot, but Young-hwi falls over the edge of the cliff. Kyung-tak rushes to the edge, calling out his name, but the magistrate seems oblivious and wants it to be recorded that he killed the rebel leader…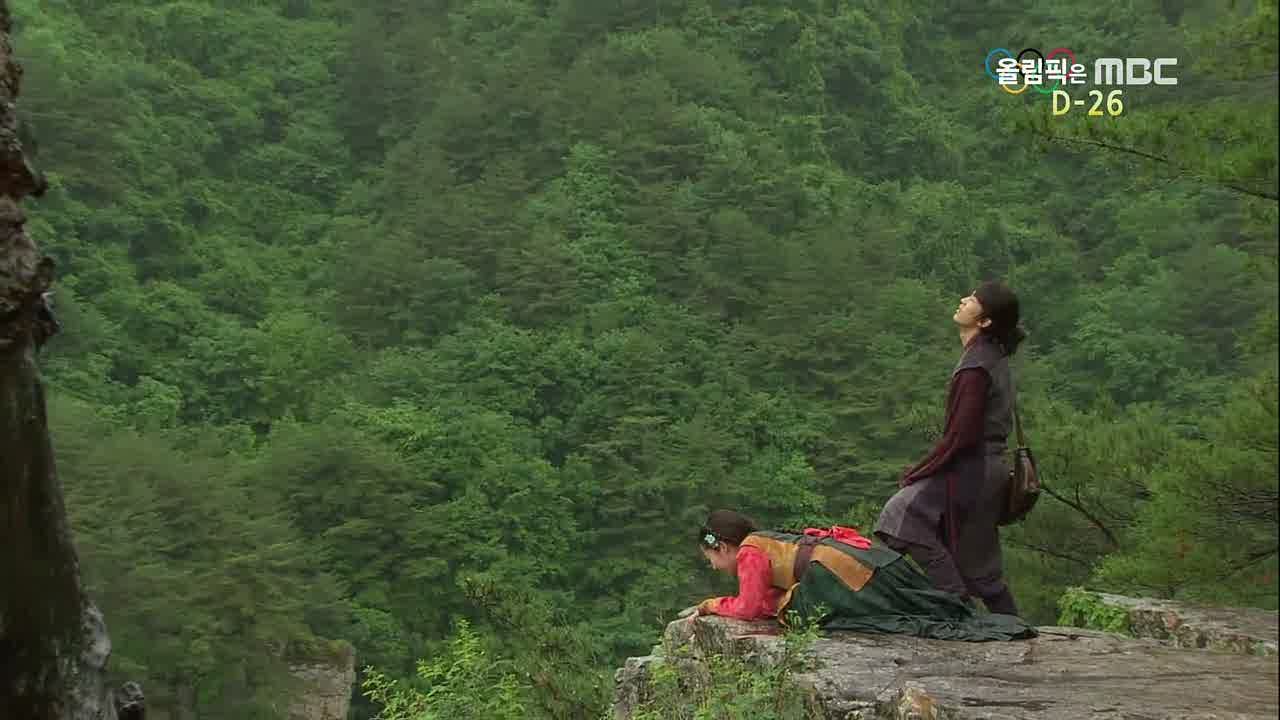 And Kyung-tak kills him on the spot, while Young-rae cries out for her brother at the edge of the cliff.
Ha-eung executes a setup on the gambling minister, KIM BYUNG-OK, and with such a punishable offense as to try and trade government rice for gambling money, Ha-eung now has him in the palm of his hand.
Dae-gyun's unhappy when official word comes in that Kyung-tak squelched the riots, and even unhappier when his father suggests inviting him back into the house. To make matters worse (or better, for us anyway), Ha-eung gets Kim Byung-ok wasted enough to rescind his allegiance to Minister Kim.
The only news Chun-hong has for Ha-eung is that the leader of the rioters was killed, only neither of them know it was Young-hwi. She doesn't have news of Hyuk or Young-rae, and we find Hyuk tending to an unconscious and feverish Young-rae in Kyung-tak's Jinju outpost.
Her words from earlier come back to haunt him, when she'd specifically asked if he would take responsibility for the lives the magistrate could take away if he were saved. Yikes. Every action has a consequence, and this time it was Young-hwi.
Kyung-tak orders Hyuk to leave Young-rae in his care and Hyuk, with no one else to confide in, admits that everything happened because of him. And prickly Kyung-tak even offers something close to comfort in saying that Young-hwi chose the path of death by himself. Aww.
So Kyung-tak is left to tend to Young-rae, which sends him down memory lane. We flash back to an adorably awkward Kyung-tak as he tries to buy a norigae for Young-rae at the market, and Young-hwi, totally aware of his best friend's feelings, gets Kyung-tak to inadvertently hold his hand thinking all the while that it's Young-rae's hand he's holding. ("My Lady, your hands are quite lovely.") Hahaha. This is amazing. Also sad. I miss Young-hwi.
Back in the present, at least, Kyung-tak is finally able to hold her hand.
Ha-eung stops his son on the way to school and asks him the virtuous Joseon equivalent of the 'If a train is traveling two-hundred miles per hour' question, essentially giving him a pop quiz on how to be a good king. Myeong-bok passes with flying colors, his sentiments toward the rebellion that of his father's and not Minister Kim's, when he claims that people should be ruled by virtue and not force.
He then goes to the Queen Dowager to pitch the idea of Hyuk working in the Royal Clinic, and she agrees to give the order if Ha-eung will take care of Doctor Yoo. He's got that handled with Kim Byung-ok's blackmail.
The Council of Evil meets over the matter, and lo and behold, Kim Byung-ok broaches the idea (given to him by Ha-eung) that having Hyuk in the Royal Clinic isn't such a bad idea – after all, Doctor Yoo controls the clinic, so Doctor Yoo could finally have a measure of control over Hyuk. It would also be good for politics, and Minister Kim agrees to it, though he gives some serious side eye to Kim Byung-ok, as if he knows what's going on.
And as it turns out, he does, because he's consorting with Doctor Yoo to double-cross everyone. Doctor Yoo agrees to let Hyuk into the Royal Clinic on the basis that they'll need a fall guy when the King eventually dies, and Hyuk is the perfect choice. Maniacal laugh.
Hyuk confides in Ha-eung about Young-hwi's death, feeling wholly responsible for it since he saved the man who killed him hours before. Ha-eung offers some consolation news – he's been ordered to transfer to the Royal Clinic!
Hyuk gives Chun-hong's Change everything back! speech a good two seconds of thought before agreeing to the deal. I hope you know what you're doing.
Ha-eung accompanies him on his first day of work, and Doctor Yoo leads him to his first job – tending to the ailing King Cheoljong. All three go to greet the elusive king, bowing low once they reach his private room.

COMMENTS
Another strong episode, which I never really thought I'd get to say about Dr. Jin, and I'm ridiculously happy that I can. It feels like this show has finally come into its own and embraced the rich historical period it set itself in, thus beginning to deliver on the promises it made the second Lee Ha-eung was plunked into the story. I was expecting the political conspiracy to overshadow the doctor drama, but the writers were really on this week in giving Hyuk so many terrible consequences for all the life-saving he's been doing. It's nice to know he's not in some weird vacuum where nothing he does matters, because now everything he does matters.
I liked that the beginnings of the Donghak Peasant Revolution were brought in, since we managed to get a dramatized version of an historical event and managed to make our characters relevant, in that Hyuk saving Young-hwi changed the whole course of the revolution. The fact that he's now realizing that in a very real way, especially with Young-hwi's death(?), is awesome. It's like a mutant version of the butterfly effect, only Hyuk removed that butterfly's cousin from some guy's ear and it'll probably cause another world war somewhere down the line. The question then becomes: Will Song Seung-heon be able to convey these very complex emotional scars Hyuk must now be carrying with the weight of so many dead peasants and one possibly dead I'll-believe-it-when-I-see-the-body Young-hwi hanging over his head? Guess we'll find out.
It's rare to see a show that turns around for the better halfway into the game, so next week will be really telling as to whether it'll keep it up. But I like the darker path Kyung-tak is taking as a result, because he still manages to be surprising. The way his personality is painted is almost psychotic, really, because he's quick to act on gut instinct and is very dangerous when he does. You want to think he's a nice guy because he spared Young-hwi, but then he kills lots of peasants, and doesn't even blink when he kills a young girl, or a magistrate, for that matter. Different circumstances, same outcome.
The magistrate-killing is almost worse than if he had just killed Young-hwi, because it means he's very selective in who receives mercy and who doesn't, a value system that's interesting considering the struggles he's lived through as an illegitimate son. I don't know how to feel about him as a character simply because he is consistent with his inconsistencies, in a way that consistently makes inconsistent sense. Consistently, that is. Isn't it? Hold me.

RELATED POSTS
Tags: Dr. Jin, featured, Jaejoong, Lee Beom-soo, Lee So-yeon, Park Min-young, Song Seung-heon