Dr. Jin: Episode 13
Some interesting revelations this episode, though our good doctor seems stuck in the spin cycle of his own doctorly principles and that pesky thing we call a moral compass. I can't be the only one who wants to see the day when Hyuk will run into a sickness he can't immediately diagnose on sight and cure with emergency surgery or a shot of penicillin, can I? Call me sadistic, but I'm waiting to see him go through some challenges that actually challenge him, ones that don't have easy solutions just because he comes from the very awesome, totally advanced future. Riddle me that, Dr. Jin.

EPISODE 13 RECAP
The boys' meeting with King Cheoljong doesn't go all that well, since the ailing king is interested in women and partying more than health or politics. Once outside Ha-eung describes Cheoljong as a scarecrow that Minister Kim placed on the collective rice field that is Joseon, a Joseon that Minister Kim also happens to own.
Lest we forget that Hyuk is as much of a historian as he is a doctor, he gives us Important Facts About Cheoljong in voiceover, mostly about how he was a puppet of the Andong Kim clan and an illiterate farmer, set to die soon as far as history goes. Hyuk wonders what his place is amidst all these important historical happenings, which makes me wonder if he just never learns lessons, ever.
Back at Hwalinseo, Heo Gwang is ecstatic that he'll be promoted to the Royal Clinic along with Hyuk. But then he stops to ask if Hyuk has heard the news…
Cut to: Kyung-tak bringing Young-rae back home. He tells her that he never saw her brother, and that she didn't either. She understands well enough, and zombies her way inside while Hyuk offers his condolences to Kyung-tak outside, and they're not well received, since Kyung-tak assures him that he would have killed Young-hwi either way. There there, Kyung-tak, everyone knows that isn't true.
Young-rae then has to lie to her mother that Young-hwi is studying for the government exams, all the while struggling to hold back her tears. Hyuk barely gets to see her before she disappears into her own room in order to sink to the floor and sob.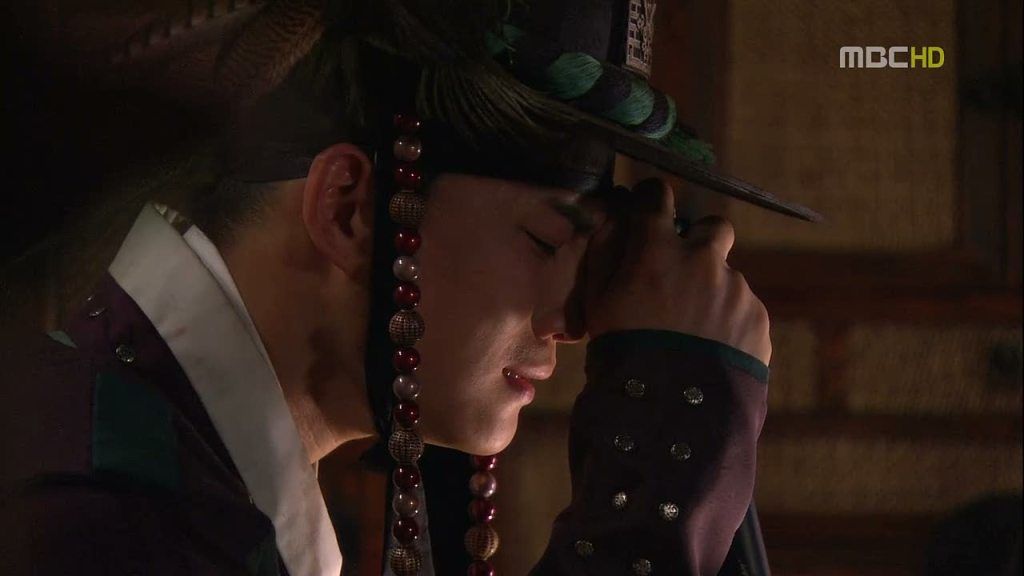 Kyung-tak makes it back home to Daddy, and he gets a promotion into the imperial guard for his work suppressing the riots, much to his brother's chagrin. Dad makes it clear that his job won't be guarding the royal family as much as it will be guarding his own family, and Kyung-tak readily agrees. Looks like everyone is moving into the palace.
He takes some time to mourn the death of Young-hwi when he finds his friend's sword still in his room. Kyung-tak: "With this sword… in the end, you have cut me."
Ha-eung and Myeong-bok pay a visit to the Queen Dowager, who tests Myeong-bok on his studies. When asked about the people's basis for living, he answers that virtue is first and wealth is last, but that wealth must be mentioned because the people need to eat in order to live – and virtue alone isn't enough to feed someone.
She praises him for his eloquent answer, and subsequently gets a shock when he tells her the book he's now reading – the Zizhi Tongjan that his father gave him – which outlines the path a proper king must take. She understands the implication, and Ha-eung's serious face tells us that this was all intentional as he sends his son outside.
Hyuk and Heo Gwang show up to the Royal Clinic for their first day of work, and Doctor Yoo gives them the hardest task – giving medicine to the king. Cheoljong refuses to take the herbal infusion and grows enraged when Hyuk tries to convince him that it's for his own good, as opposed to Heo Gwang's tactic of telling him to take it so he can be healthy enough to have an heir.
King Cheoljong suffers his own insecurities (probably due to his illiteracy) and has such a fit that Hyuk won't listen to him, the King, that he starts hyperventilating.
Thinking fast, Hyuk makes Cheoljong a paper bag to breathe into from a couple of book pages and some cooked rice to act as glue. Ha. It actually works, and Cheoljong's breathing returns to normal.
Back with the Queen Dowager, Ha-eung makes his proposition for her to adopt Myeong-bok as her own son as preparation now that Cheoljong's health is fading. She's shocked that he'd dare suggest something like treason, but he stands (or kneels) his ground by asking her if she wants the Andong Kim clan to decide the next king, just like they did with Cheoljong.
This seems to turn her around, because like Ha-eung, she's no fan of the Andong Kim clan. And if she doesn't assert her authority now, they'll do as Ha-eung says and erect another scarecrow king.
Outside, Officer Lee makes it clear that he supports Myeong-bok as the future heir when he expresses excitement over the Queen Dowager agreeing to begin the adoption process. They're interrupted when they see Kyung-tak approaching in his new Imperial Guard uniform, and Ha-eung is actually happy to see his savior.
Kyung-tak insists that he didn't do it to protect Ha-eung, but Ha-eung doesn't care – if it was mutually beneficial, that's all that matters. Kyung-tak offers a small smile before the conversation takes a turn when he mentions the frequency in which Ha-eung visits the Queen Dowager. Ha-eung seems mildly surprised, and quips back that he thought Minister Kim had been unable to produce worthy offspring, and now sees that he was wrong. Oh Ha-eung, you can't go one conversation without mentioning Kyung-tak's status as a bastard, can you?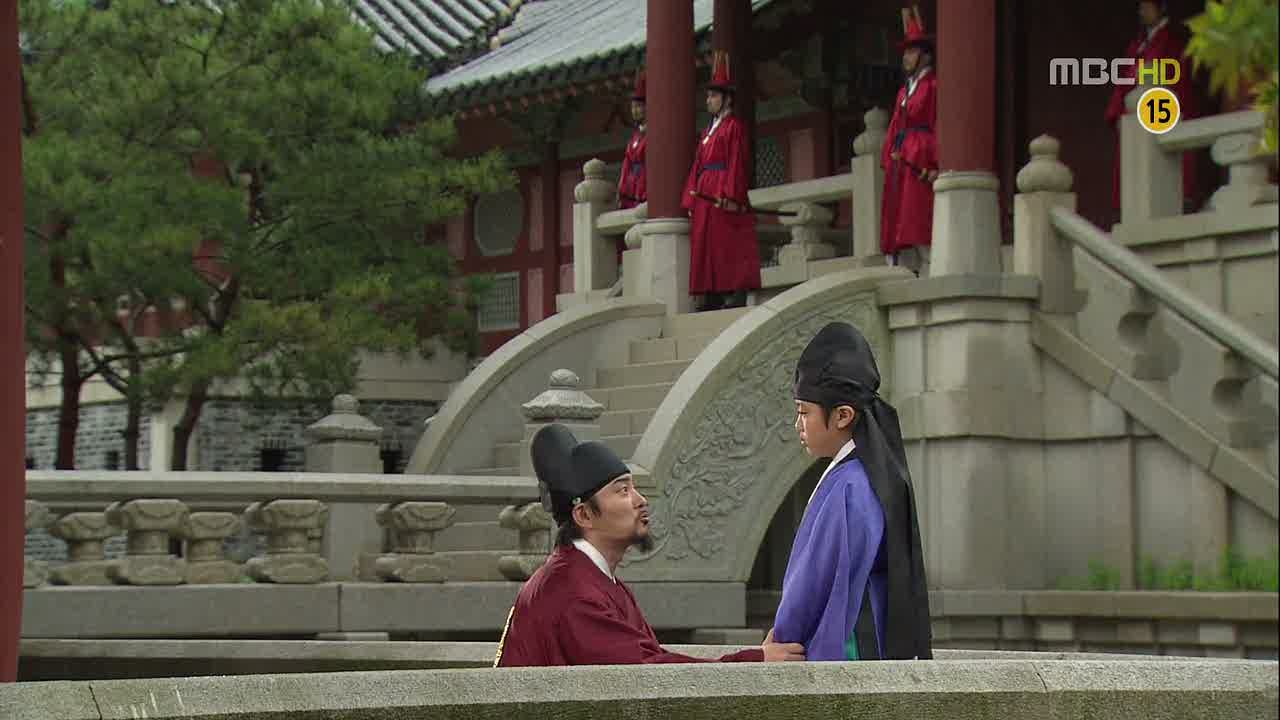 Myeong-bok asks his father if it's a good thing to be a king, and Ha-eung replies, "Rather than it being a good thing to be a king, you should become a good king." And basically gives Myeong-bok the equivalent of the 'Look, Simba. Everything the light touches is our kingdom' bit from The Lion King.
Kyung-tak now delivers gossip straight to his father and the other Council of Evil members, and news of the Queen Dowager's upcoming adoption has them worried. Minister Kim decides to pay a visit to Cheoljong to set things straight.
Meanwhile, Hyuk finally gets a chance to confront Young-rae about his hand in her brother's death, though he insists that even if he could do it all over, he'd still save the magistrate. Young-rae recognizes that her brother's death isn't exactly his fault but still can't look at him confidently, which is fine with Hyuk – only he wants her to return to Hwalinseo to pursue her dreams.
Young-rae: "So then are you telling me to become a doctor to save those who deserve to die?" Hyuk shakes his head, "A doctor is also human. No one can come to a decision on who to save and who to kill so carelessly." And he's reminded of the time Mina accused him of playing god when he declared her patient's situation as helpless.
The Queen Dowager gets some unexpected visitors in the form of Minister Kim and King Cheoljong, who really does act like Minister Kim's puppet. They insist to her that the king is in good health and that planning for an heir is treason, which is something she refutes when Ha-eung shows up, claiming that she never planned on adopting Myeong-bok as her own. Case closed.
Joo Pal pours Ha-eung some sympathetic drinks in the gibang, proclaiming that overtaking the Andong Kim clan was never going to be easy. That's when Ha-eung gets a brilliant idea – they still have the gold Anonymous stole from Minister Kim's house, and now he plans to return it.
Hyuk has come to visit Chun-hong and demands to know what she knows and why she knows it – why has he come here? She only grows serious when he brings up Young-rae, insisting that he's not destined to be with her and that he should stop now.
As for how she knows all this, she produces a cobweb-covered modern Rubik's Cube from one of her dresser drawers. (What?) Chun-hong: "Now do you remember?"
So remember he does (since his memory is photographic), and he's reminded of a child patient from the future who played with a Rubik's Cube. Chun-hong explains that the child was her at the age of ten, and she'd woken up in his world after she'd fallen off a cliff trying to run away from the gibang.
The first person she saw was Hyuk, who performed the operation. Then again back in their current Past World, he'd saved her again when she was drowning, and it was that incident that brought back all the memories from the Future World she'd thought were just a dream.
Hyuk processes all this before asking how she came back to her own world, though she doesn't seem keen on answering. All she says is that he'll be able to find the answer once he puts everything back in its proper place. Again, she reminds him of Young-rae, the Love That Cannot Be.
Minister Kim calls Kyung-tak in to ask him about the identity of the rebellion leader he claims to have killed, and to my surprise, Kyung-tak names Young-hwi. Dad's quick to order Young-rae's family to be stripped of their noble status and made slaves, and only then does Kyung-tak seem to realize the mess he's made as he stammers out that breaking this news could bring dishonor to their family.
Dae-gyun fulfills his usual role of being very annoying when anyone else is speaking, but Dad seems to be more inclined to listen to Kyung-tak's advice. He claims that gossip will spread when the people find out he almost married into a traitor's family, so he offers up another solution, and it's one we don't hear. Oh drat.
But Dae-gyun is soothed when he hears some news from Kim Byung-ok that he might be able to recover his stolen gold.
And then we hear Kyung-tak's plan through Young-rae's surprised words: "What do you mean, marriage? Did you say marriage?" Yes, we heard it right – marriage between these two lovebirds is back on the table after its long hiatus. How lucky are we?
When presented with the choice of marrying Kyung-tak or making herself and her mother into a slave, Young-rae still declares that she'd rather be a slave. Kyung-tak's frustrated reaction mirrors my own when he asks her if she'd really prefer to make her aged mother someone's slave over marrying him, and tells her that this is the last thing he can do for her to keep his promise to Young-hwi that he would always protect her.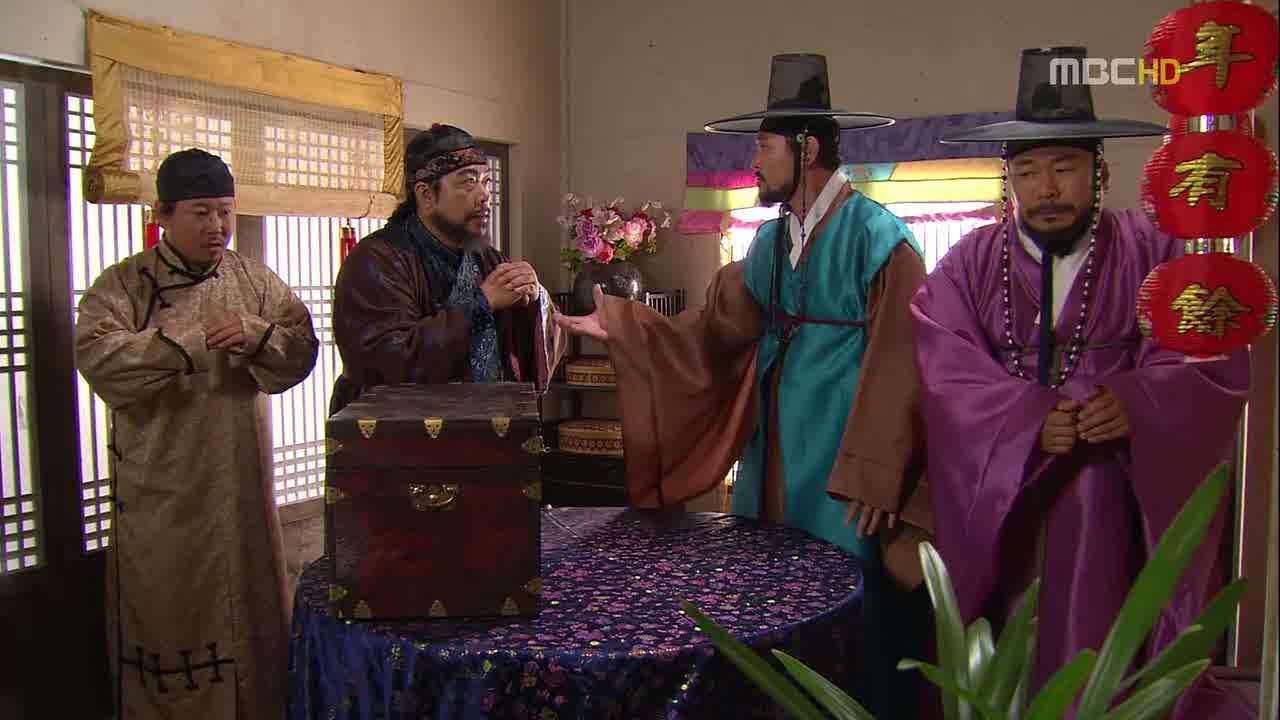 Posing as Chinese merchants, Joo Pal and his minion strike a deal with Dae-gyun in order for him to get his gold back. He promises them control of the market if they return his stolen gold, but Joo Pal wants something a little more concrete – how about proof that the gold is his? Kim Byung-ok brings up the transaction log Dae-gyun kept from trading with the Westerners, and Dae-gyun is dumb enough to agree.
Kim Byung-ok is well aware of Joo Pal's identity since he orchestrated the meeting, though he's incensed to know that in order for him to get his illegal papers back proving that he tried to trade government rice for gambling money, he'll need to give Joo Pal Dae-gyun's illegal papers proving that he traded with Westerners for gold.
Kyung-tak spies Dae-gyun suspiciously leaving his house with an empty cart while Hyuk ruminates over Chun-hong's words. He's interrupted when Cheoljong randomly sneaks up on him sans a normal kingly entourage, and they both talk about returning to their respectful worlds – Hyuk to the future (which he only alludes to, for obvious reasons), and Cheoljong to the island he grew up on, where he had to leave his lover in order to become king.
However, Hyuk doesn't really know what he wants, so the King guesses that Hyuk does know, but something is blocking him from getting it. This whole conversation is weird.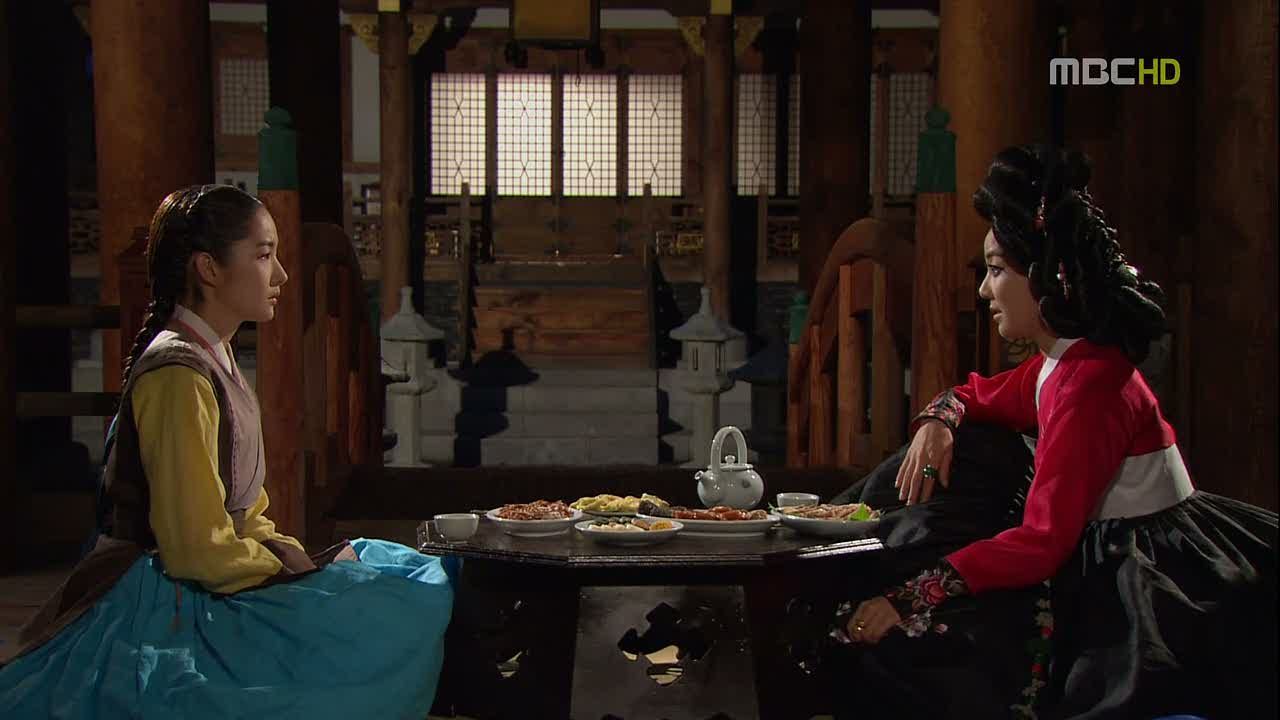 Chun-hong finds Young-rae aimlessly loitering outside Hwalinseo, and invites her to the gibang for a drink. Despite telling everyone over and over again that Hyuk and Young-rae Cannot Be, Chun-hong reassures Young-rae that she's not part of a one-sided love and that Hyuk has feelings for her too. Wait, what? How is this supposed to keep them apart?
After she gives that piece of news, she tells Young-rae that their relationship still can't happen, and that she must marry Kyung-tak in order for Hyuk to return. Young-rae realizes that Chun-hong must know about Hyuk coming from the future, and her eyes go wide. Chun-hong: "This is for Doctor Jin's sake. He must return soon. And also, he's destined to return. I think you know that."
This doesn't sit well with Young-rae, since she goes into a dark room to cry. Again.
And Ha-eung gets his hands on Dae-gyun's transaction log thanks to Joo Pal, excited to see what Minister Kim's reaction will be. He immediately goes to present the evidence of illegal trading to Cheoljong and the court.
Except he didn't count on Minister Kim being two steps ahead of him, since Minister Kim produces the gold… and then gives his son up as the criminal? Hardcore. He's sacrificing Dae-gyun to save himself, even going so far as to offer up Dae-gyun to be executed for his crimes. Ha-eung is clearly flustered, having been unprepared for this kind of tactic.
Minister Kim knows how to play the court, and effectively gets them to call for his punishment while making punishment seem to severe, which backs Cheoljong into a corner. Overwhelmed, Cheoljong finally decides to just send Dae-gyun into exile and be done with it, and Minister Kim is let off the hook.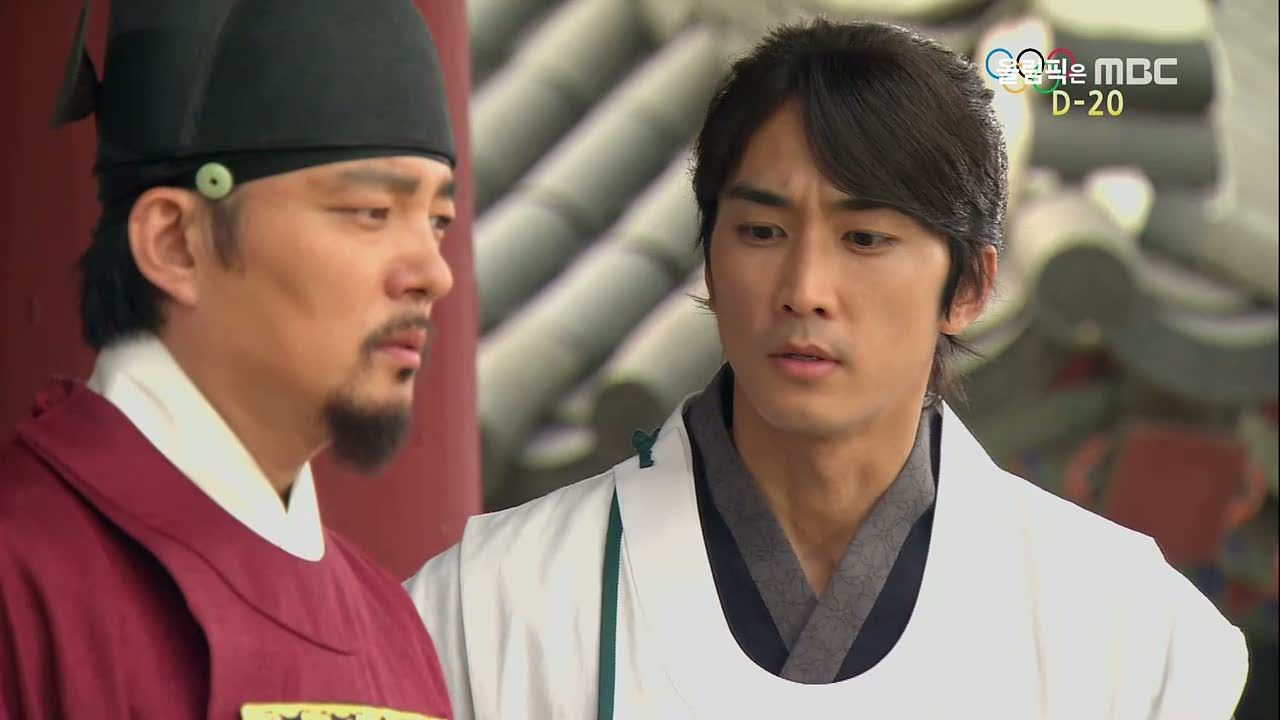 Outside, Hyuk finds Ha-eung tearing up the now-useless transaction log. Ha-eung wonders aloud that even as a person who willingly accepted the King's order for death by poison, and one who's seen the people rise up against oppression in a rebellion, can be afraid. Hyuk says yes, which lifts a huge weight off Ha-eung's shoulders.
"Thank you, Doctor Jin," Ha-eung sighs. "I don't care about anyone else. But you, you must believe in me." Aww, friends.
Dae-gyun gets a good talking-to at home, and realizes with growing horror that his father has no plans to spare him from his punishment. "Whoever harms my family's honor, I will slay him without any hesitation even if he is my own bloodline!" Minister Kim roars, and Dae-gyun is taken away.
In flashback we see how this all came about, with Kyung-tak overseeing the operation to catch Dae-gyun red-handed with the gold. And Dae-gyun is honestly surprised that the brother he beat and ridiculed didn't show him any mercy. Huh.
Dad gets the rundown from Kyung-tak on the elaborate steps he used to find his brother's treachery, more impressed than anything. Which means it's a good time for Young-rae to pay a formal visit and declare to Minister Kim that she'll go through with the wedding if he'll save her family.
Minister Kim wonders whether he can believe her considering the last time marriage was on the table, and reminds her that she can't be a member of the Andong Kim clan while also studying medicine, because it's unseemly. She agrees that she was momentarily distracted by Hyuk's medical skills when he saved her brother, however "From now on, as a wife of a man, I will become a woman of the Andong Kim family and live my life."
This answer pleases Dad, and he gives the go-ahead for the wedding. (Again.)
Outside, Young-rae uses her official voice to apologize to Kyung-tak for getting married while she's still being a Debbie Downer. He doesn't care about that, and tells her that from now on, he will protect her and her family no matter what.
News of the wedding gets passed to Hyuk via Heo Gwang, and he has a sort of anti-reaction to the news by shrugging his shoulders and taking a walk around the market. Cheoljong's words about distance making the heart grow fonder come back to him, and so he waits until he can have a private word with Young-rae, and asks her whether she's giving up her dreams.
She repeats the same words he'd once told her about there being no notable female doctors in her era, and sighs that it must be fate/history. However, we soon realize that she's sacrificing herself for his sake now that she's talked to Chun-hong, because she says that the wedding is the best choice for everyone – especially Hyuk, who has to go back someday.
They leave it at that, and Hyuk returns to Hwalinseo to find Heo Gwang in a fuss because the King is sick. Hyuk makes it to the palace in time to see Cheoljong writhing in pain, and does a few stomach taps before he diagnoses the illness. Hint: It's appendicitis.
Joo Pal and Minion run to tell Ha-eung the news, and he immediately asks about Hyuk, who's about to perform surgery on the King. Joo Pal barely ekes out that if Cheoljong were to pass away like this, Myeong-bok could be taken in as the Queen Dowager's adoptive son and made heir to the throne…
So Ha-eung makes it in time to stop Hyuk from leaving the clinic with fresh surgery supplies and tells him not to go through with the surgery. Ha-eung: "For the sake of this nation, Joseon, the current King must die."

COMMENTS
Hyuk has definitely proven that he's one of those people who can hear what someone is saying without actually listening or processing what they've heard. Chun-hong can tell him to his face that he has to stop messing around with history in order to set things right, and it's almost as if he never heard it at all. If he's such a walking talking historical wiki, it's not out of bounds to assume he knows Cheoljong died prematurely and that this sickness might actually be the one that does him in – only that never seems to cross his mind.
So now he's not even messing with a little history, he's messing with a lot of history. There is a certain corner that his character is backed into with his Doctorly Principles in that he only saves the warm body in front of him, and I'd be okay with getting behind him if I knew what he wanted. Does he want to go home, or not? Is he sure that history will make up for his meddling, or not? Does he want to help history run the course he knows it does, or not?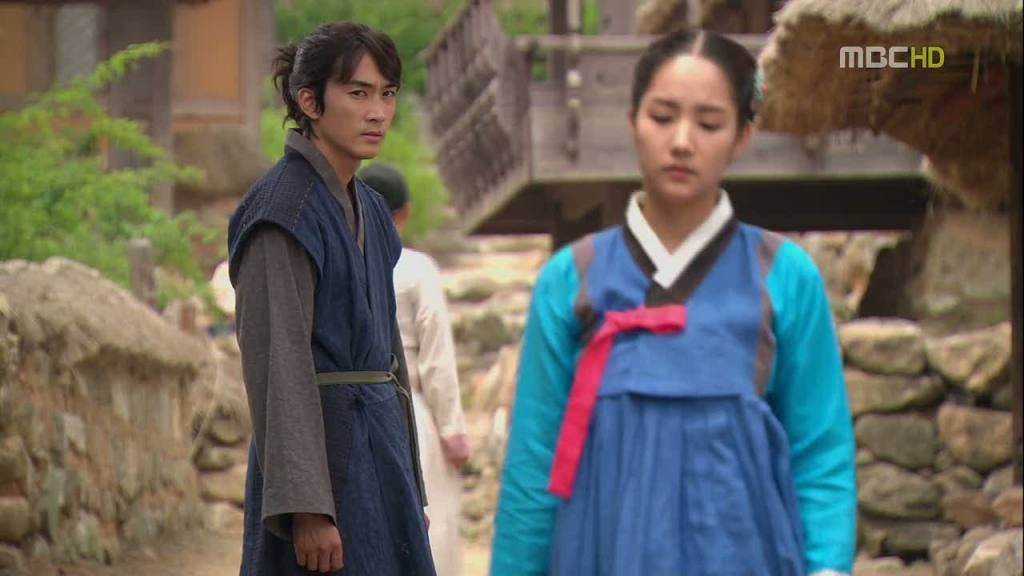 What we get from him in lieu of answers are a lot of meaningful pauses and some music video brooding scenes, and it's just not enough anymore. I want to root for our hero, it's probably(?) good that he isn't playing god, but he's just the same, day after day. And in the end I guess there's nothing wrong with being reliable, only it makes for some boring TV.
And now, the marriage is back. Hip hip hooray. This is the development I'm probably the least excited about, only because it was horrifically uneventful the first time around and promises more of the same. I admit it would have been more upsetting if Young-rae stuck to her guns and chose slavery over being Kyung-tak's wife, but her reasoning now doesn't make things look any rosier. Sure, she was willing to sacrifice her mother into slavery to fight the system, but the moment Chun-hong mentions that her marriage will be Hyuk's ticket to the future, she's suddenly on board, because it's for him. And that's kind of annoying.
Regardless, Chun-hong's development was interesting, even though the enormity of the revelation wasn't really felt through Hyuk. At least she mentioned the drowning incident, even though I still don't know why she tried to drown Dae-gyun and herself, and now her reaction afterward makes more sense. But if things are as she claims and she landed in the future by falling off a cliff sans a fetus jar, what are the rules? Are there any rules?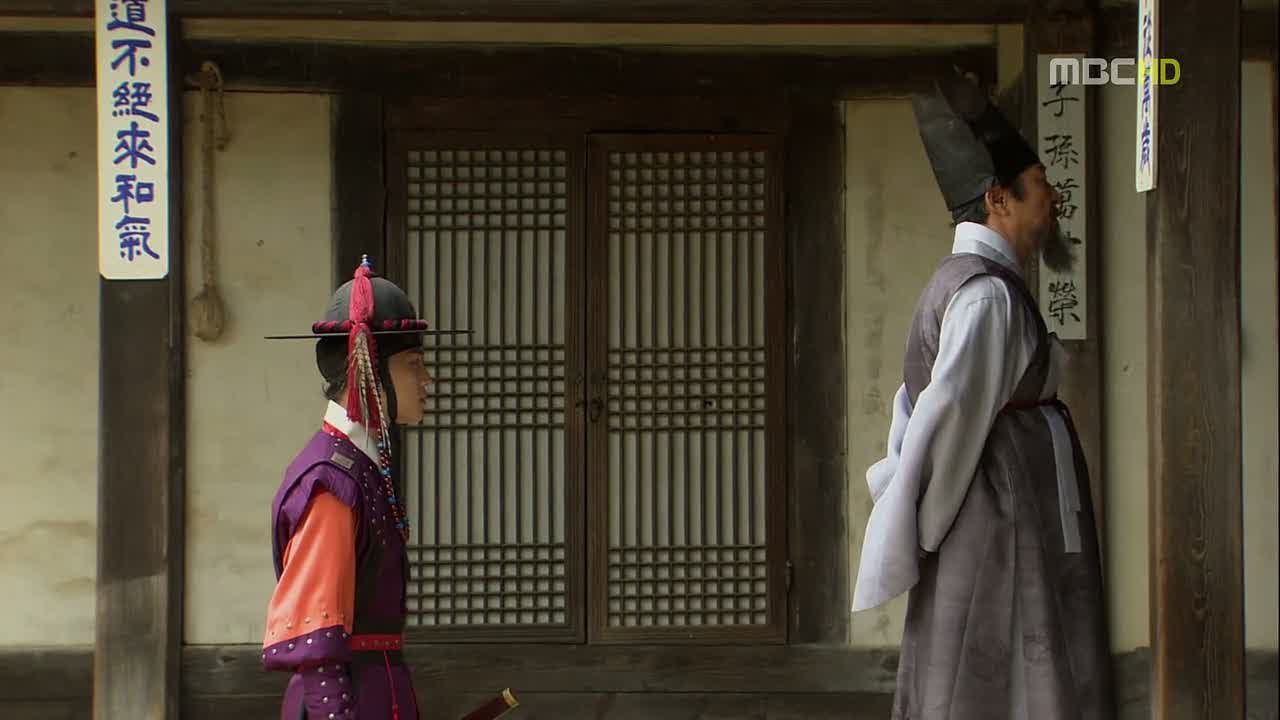 RELATED POSTS
Tags: Dr. Jin, featured, Jaejoong, Lee Beom-soo, Lee So-yeon, Park Min-young, Song Seung-heon