Dr. Jin: Episode 14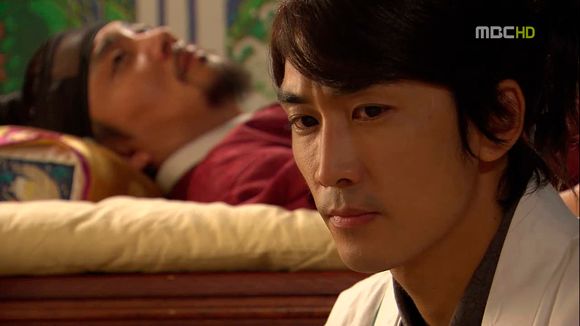 It's time for Hyuk to face his most demanding disease yet: Cancer, with a healthy dose of Noble Idiocy. This is one of those episodes that just has to be seen in order to be believed, because it manages to fit farting kings, possibly malignant tumors, appendicitis, candlelit breast exams, and a really dangerous-looking blood transfusion all in one inglorious hour. What's our Joseon MacGyver going to cobble together out of bamboo and rice next? An X-ray machine? An iron lung? If we're already at 'centrifuge' level on a scale of sticks to bionic limbs, we might as well go big or go home, right?

EPISODE 14 RECAP
As expected, Hyuk isn't keen on letting Cheoljong die when he can be saved with surgery. Ha-eung reminds Hyuk that he'd promised to help him achieve his wish, to which Hyuk fires back, "If it's a dream that can only be fulfilled by someone's death, then that dream should not be dreamt to begin with."
The Council of Evil meets to discuss Cheoljong's fate, all of them worried that the King will pass before they can choose an heir, which would leave things in the Queen Dowager's hands. They don't want that, and since Doctor Yoo still hates Hyuk, he declares that he'll be the one to manage Cheoljong's health from now on.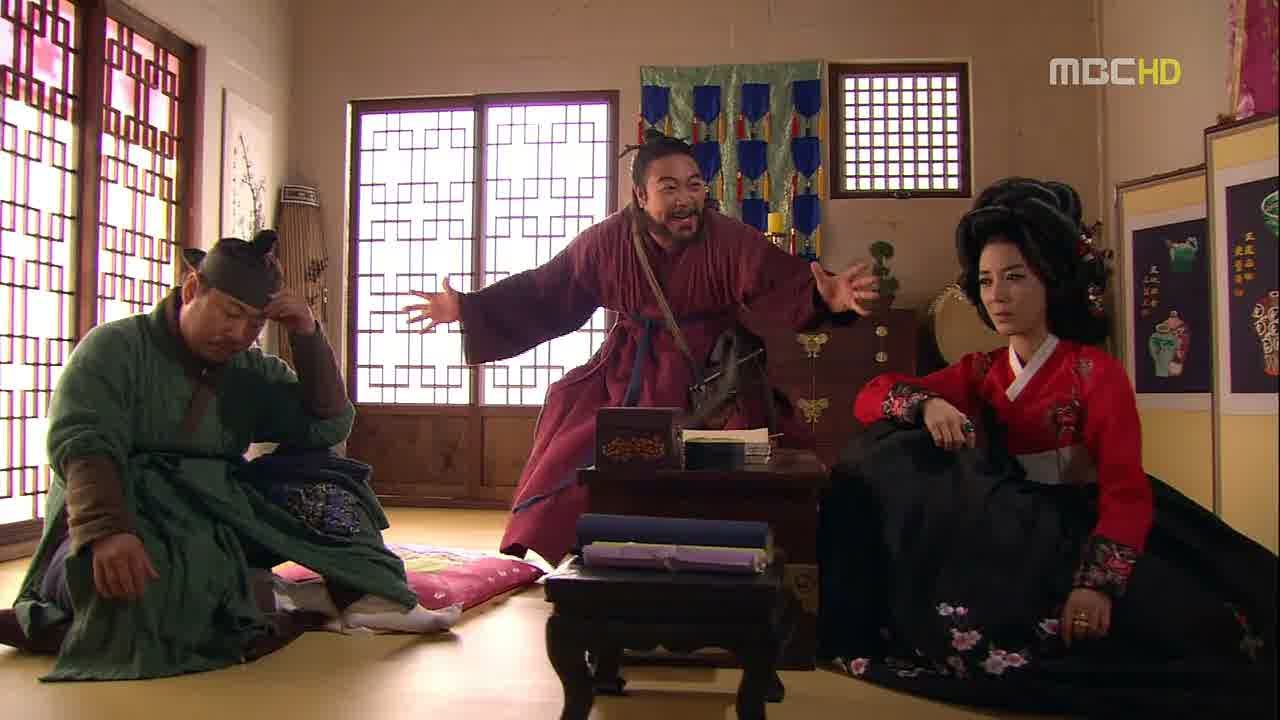 However, the King isn't having it, and gives Doctor Yoo a strong kick to the sternum for his troubles. Once outside, Hyuk insists that he be allowed to perform the surgery, and once again Doctor Yoo denies him.
Joo Pal is in a state of celebration due to the King's illness, operating under the belief that Ha-eung will gain all the power he wants once the King is dead. His spirits fall when he's reminded that Hyuk could save Cheoljong's life, and Chun-hong muses on who's determination will be greater – Hyuk, who wants to save the King, or Ha-eung, who wants him dead?
Later that night Young-rae has a dream that she's Mina, with modern Mina hair and clothes, on the hospital rooftop. She sees Hyuk and calls out his name, though he disappears, leaving her alone. When she wakes up she wonders why she was wearing such strange clothes, but seems to have pain in her chest. Alright then.
She asks Mom about sending a wedding invitation to her cousin, though she grows concerned when Mom tells her that her aunt passed away from breast cancer within a month of finding a lump.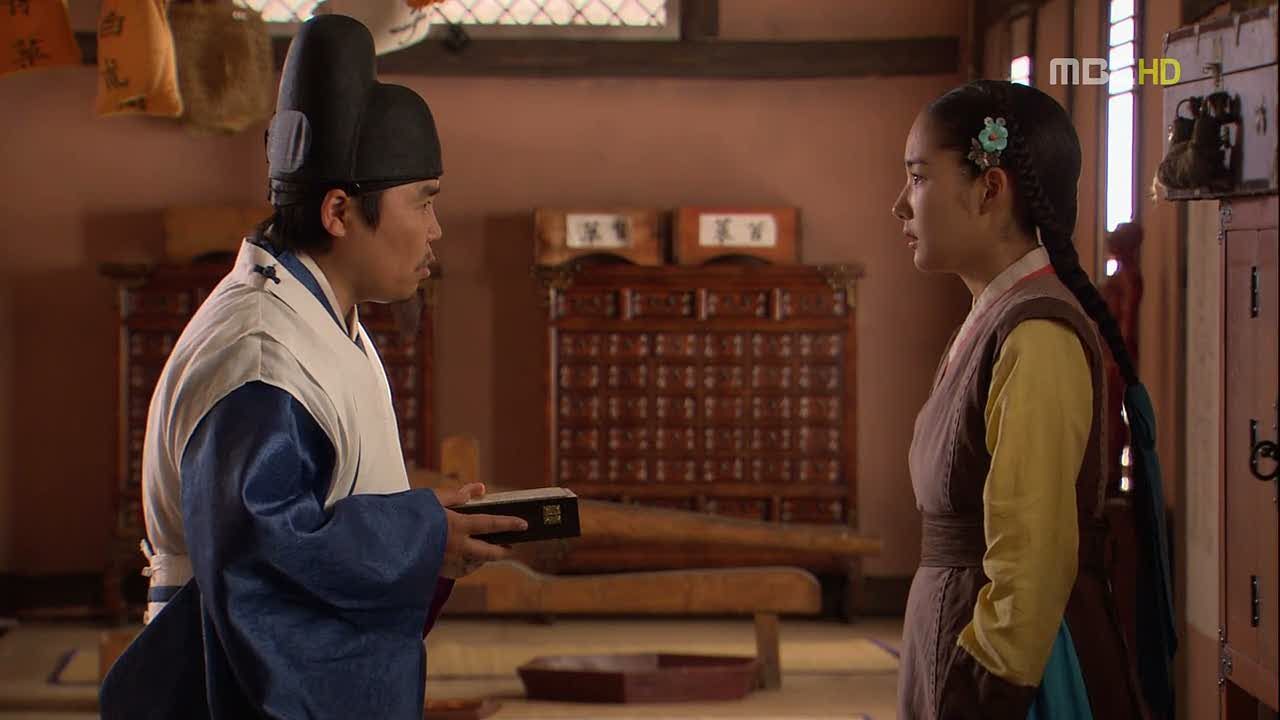 So she takes her concerns to Hwalinseo, and asks Heo Gwang for a prognosis on her cousin, who's recently found a lump on her breast. Knowing her family's history of breast cancer, Heo Gwang tells her that things aren't looking too great for her cousin, and it's pretty clear that Young-rae is asking about herself and her own breast lump. (Iiii know.)
Hyuk takes his case to Minister Kim, seeking permission to perform life-saving surgery on Cheoljong. Minister Kim questions Hyuk's motives at first – if he's a friend of Ha-eung, then he should want the King dead – but in the end, he allows it. And once again, Hyuk's life hangs on his success.
Kyung-tak takes the opportunity to rub the news of his impending wedding in Hyuk's face, and seems mildly miffed that Hyuk isn't taking the bait since he's got bigger things to worry about, like the King's health.
Officer Lee gives Ha-eung the potentially bad news that Hyuk has been given permission to perform the surgery. Ha-eung just laughs, since there's not much he can do.
Hyuk uses his bamboo stethoscope on Cheoljong, but finds a complication when the King's symptoms also point to severe anemia. This calls for a late-night meeting with the Queen Dowager and most of the Court, where Hyuk has to explain what anemia is (a lack of healthy red blood cells) along with the complications it'll cause in surgery.
The solution? A blood transfusion. This presents a problem for a few reasons, mainly because royal blood is considered sacred and the thought of putting un-royal blood into the King has the Queen Dowager in fits. However, Minister Kim is the one to step up and defend Hyuk's suggestion, mainly because he needs the King alive long enough for him to find an heir.
The Queen Dowager then turns to Ha-eung for support, but he surprises everyone when he agrees with Minister Kim and provides a solution to her worries by providing his royal blood for the transfusion. That's fine and all, but I wonder if Hyuk has a way of testing blood types for compatibility in Joseon.
And that concern gets addressed right away when Hyuk coordinates with the Hwalinseo doctors to build a centrifuge that will help him determine blood types. As for the blood he'll need, Hyuk gathers all the royal relatives in Hanyang and separates them by health level, leaving a smaller core group that will undergo blood testing.
Myeong-bok volunteers to be tested as well, but Hyuk stands firmly against it, citing that blood transfusions with children are too dangerous. As for the Council of Evil, they're all pretty happy now that Ha-eung has taken their side, although Doctor Yoo still hates everything about Hyuk. No surprise there.
Kyung-tak finds Young-rae brooding by a river and shares what information he knows about Cheoljong's impending surgery. He seems happy that she's willing to discuss Hyuk instead of brushing the subject away, because he might not have trusted her heart otherwise. He hands her a list of addresses for wedding invitations and smiles, "Finally, it seems real that you are becoming my wife."
But it looks like trouble is on the horizon, since Young-rae clutches her breast in pain once she's out of sight. Oh come on, guys. Are you really going to pull this card? Really?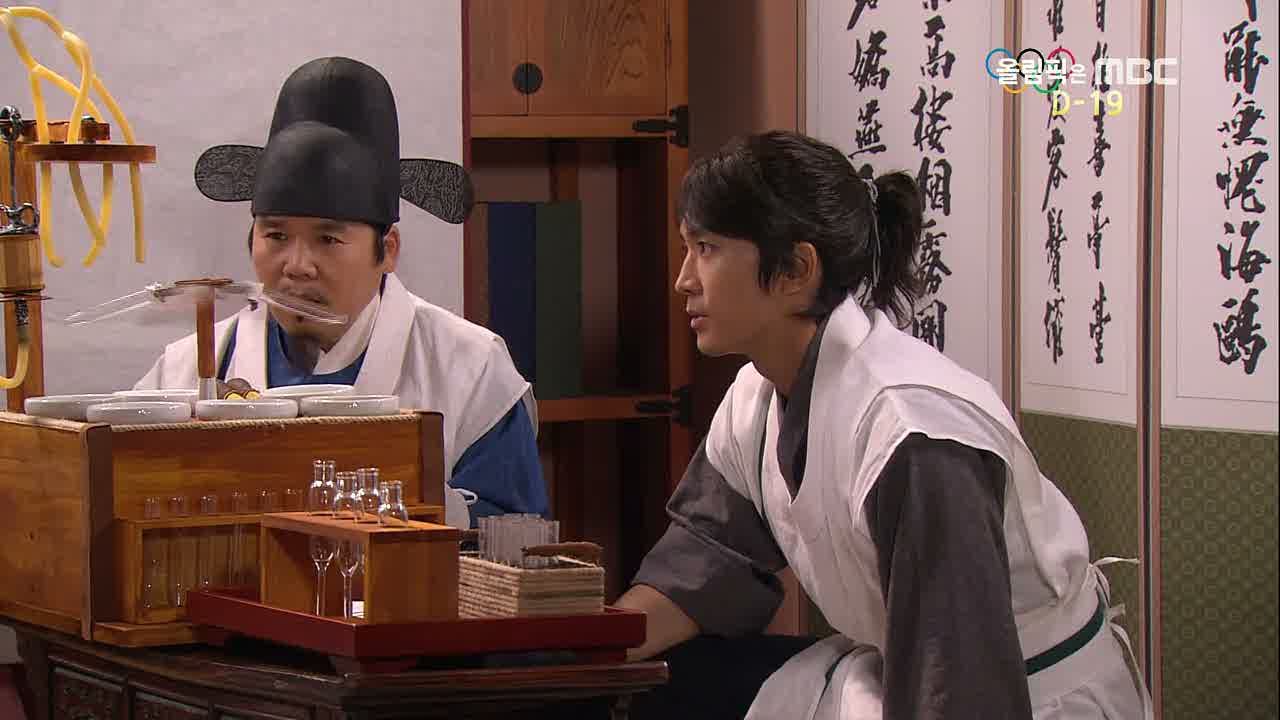 Now it's time for Hyuk to teach the Hwalinseo doctors about blood types, and uses his blood (Type A) to test the King's blood. There's a lot of medical jargon going on but the basics we need to know is that the Joseon Centrifuge is apparently running on an invisible motor, and by separating blood from plasma, Hyuk is able to determine that Cheoljong is Type B.
Officer Lee lets the Queen Dowager know that Hyuk found three royal relatives with Type B blood, with Ha-eung among them. She still can't believe Ha-eung would back the procedure until her Nephew-in-law suggests that Ha-eung is acting from the place of a loyal subject, not as an usurper.
Surgery time. Cheoljong ekes out that what he said before to Hyuk was a lie, and so we get a flash back where he'd told Hyuk to just kill him so that he could finally be free of the palace. Now, back in the present, he's changed his mind – he doesn't want to die. So, the point of that flashback was…?
Hyuk eases the King's mind by telling him that he'll dream of the island he came from while under anesthesia, and Cheoljong smiles at the thought.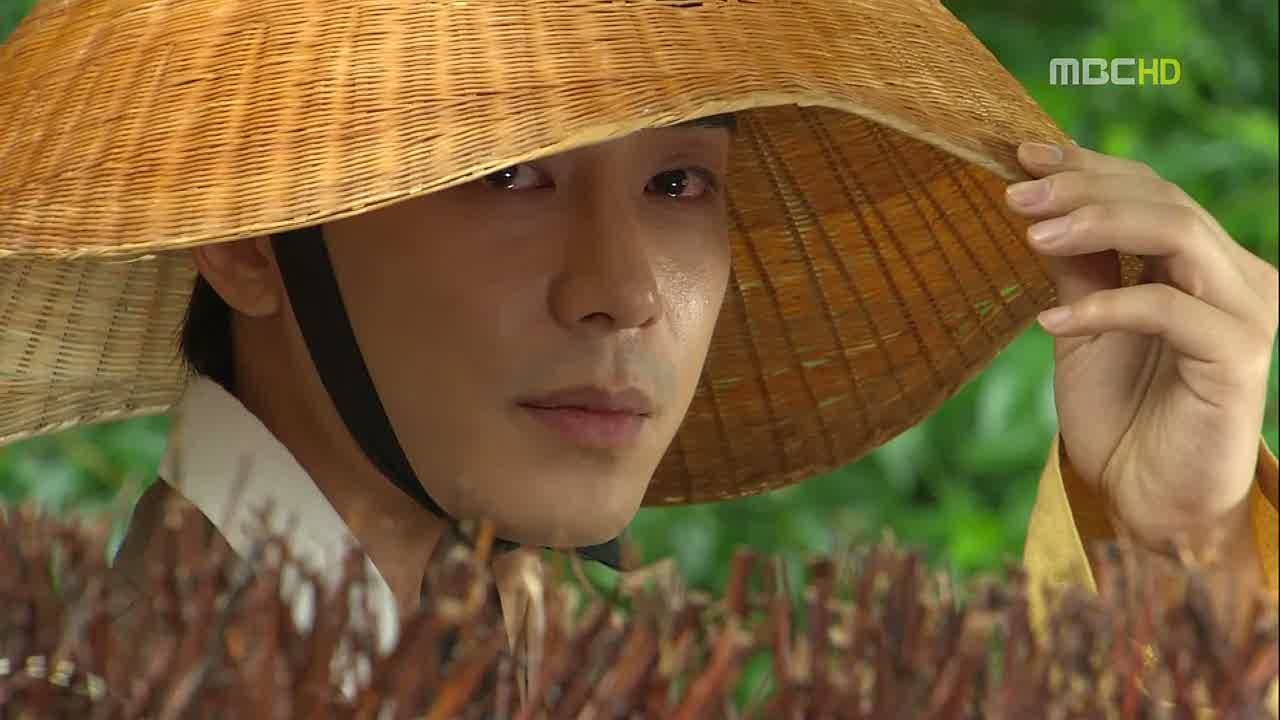 Cut to: Mom at home, as a man in a straw hat stops outside the gate… And it's Young-hwi, alive and well. I knew he wasn't dead! But he looks awfully fine for having been shot in the heart and having fallen off a cliff. Then again, Chun-hong fell off a cliff, and look where she ended up.
Back in the operating room, Hyuk begins the blood transfusion with Ha-eung and Cheoljong, making sure we aren't spared the wonderful sights and sounds of needles piercing flesh. As Ha-eung's blood flows into Cheoljong's veins, we hear Hyuk wonder in voiceover, "Heungseon Daewongun is saving King Cheoljong's life. Is this the right thing to do? What will the result be?" Gee, Hyuk, I don't know. Maybe you should think before you act. Are you seriously just wondering about this now?! *headdesk*
Kyung-tak keeps his father apprised on the state of the operation, and Minister Kim thinks it's ironic that Ha-eung is giving his blood to save a king he'd rather be dead. Kyung-tak worries that it might be a ploy for Ha-eung to gain Cheoljong's trust, a thought which makes his dad scoff, "The mouth belongs to the King, but the tongue belongs to us. What the King spills out is what we wish."
He asks how the wedding preparations are going, which takes us to Young-rae as she clutches… well, her breast. And that brings her back to Chun-hong's words about how her marriage with Kyung-tak will be Hyuk's only ticket home.
When Mom and her maidservant come bearing her wedding hanbok Young-rae seems to hesitate, and Mom picks up on the signs. As Young-rae starts to undress to try it on, a troubled look passes over Mom's face.
Hyuk removes the chicken cutlet swollen appendix from the King's stomach, but stops immediately when he notices Ha-eung's sunken face, weakened from too much blood loss. They switch him out for another relative and continue the surgery.
Meanwhile, Chun-hong is pulled aside during a market shopping trip by a familiar face – Young-hwi. He jokes at her expense, noting that she looks like she's just seen a ghost, and asks after Ha-eung's health.
Speaking of, we find Ha-eung recovering from the transfusion as Hyuk delivers the news of a successful surgery. He's worried that Ha-eung is disappointed in him for not taking his side, and Ha-eung totally plays into it, sighing, "Thanks to you, my Myeong-bok won't be able to sit on the throne. I have nothing more to say."
Hyuk hangs his head, and slowly but surely, Ha-eung leans down to catch his gaze… and laughs. Joke's on Hyuk, because Ha-eung isn't disappointed at all – he may have had some disloyal intentions, but in the end, he's glad that Hyuk was loyal to the crown. However, he does say that the destiny of Joseon rests with Hyuk now, and that just seems like such a bad idea.
Chun-hong sneaks Young-hwi into the gibang, though he's not quite ready to tell his story. For that matter, he also doesn't want Ha-eung to know the truth, and is considering living as a dead man in hiding. But it's with surety of the future that Chun-hong tells him that he will eventually help Ha-eung. It's only a matter of time.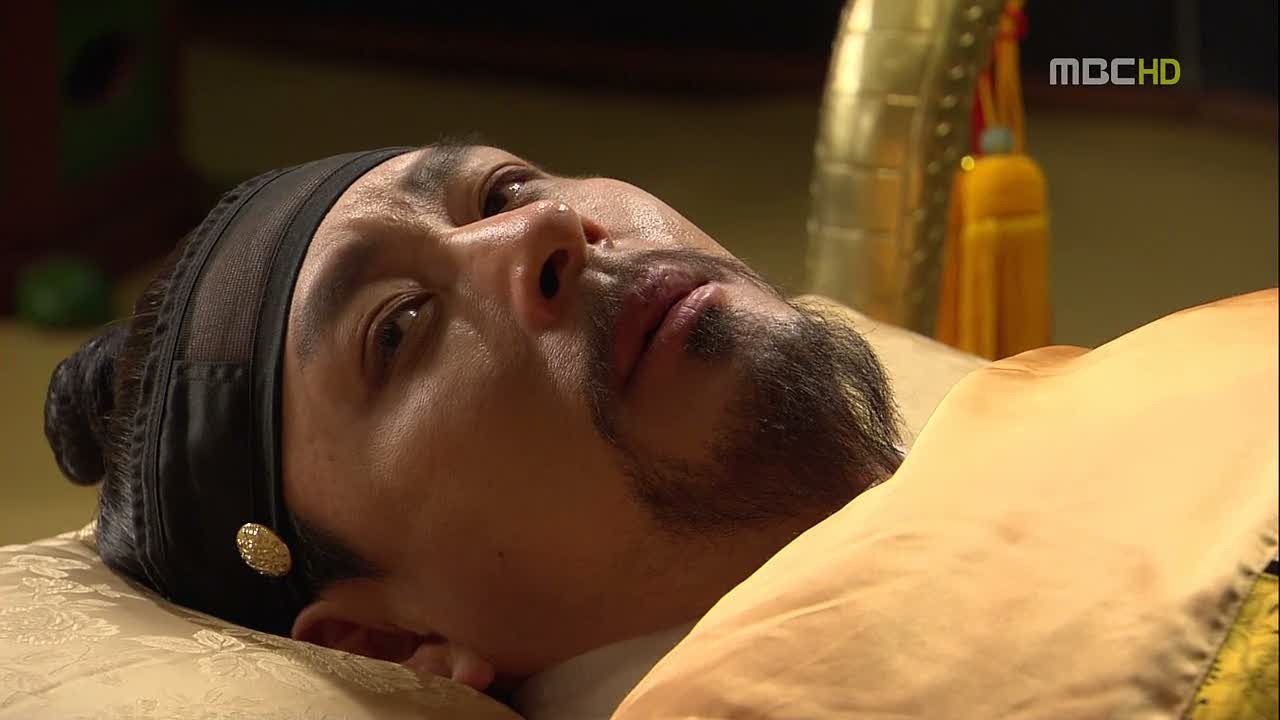 In the operating room, the King finally awakens from a successful surgery. He murmurs to Hyuk that he had a dream of playing a grass pipe and cutting firewood, and Hyuk's face makes this bit seem significant, although I don't know why.
It's cute that Joo Pal has taken over feeding Ha-eung so he can regain his strength, and their little team has a good laugh over how loyal everyone now thinks Ha-eung is. But Ha-eung's laugh is for a different reason, as he explains that it wasn't loyalty that made him give blood, it was ambition.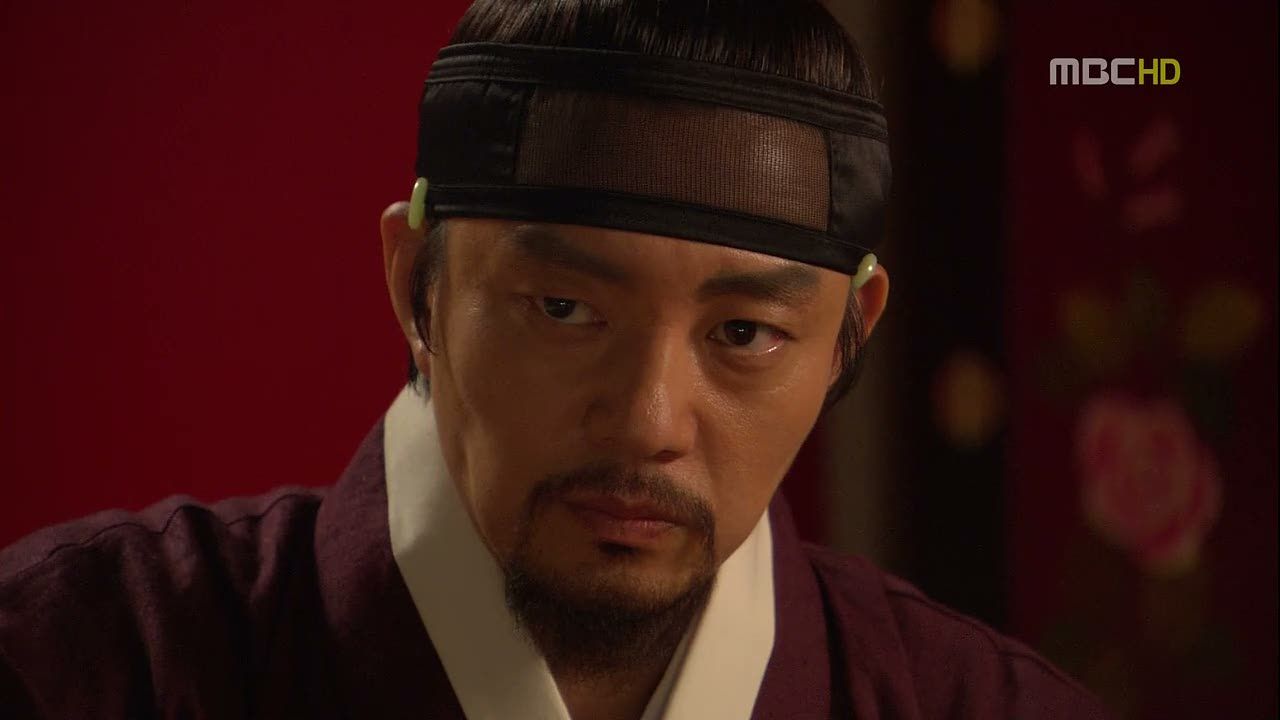 Basically, he'd calculated that with Hyuk overseeing the surgery, success would be imminent – and if he had opposed the surgery and withheld his blood, Minister Kim would charge him as a traitor. So he made lemonade out of his lemons, sacrificed a little blood, and gained everyone's trust. Now all that's left is to put Myeong-bok on the throne.
Back at Hwalinseo, Heo Gwang waffles about before finally confiding in Hyuk that Young-rae might have breast cancer. This sets Hyuk running to her house, and I'm just thinking: What's he going to do when he gets there? Demand to see/feel her breasts?
He does pelt Young-rae with questions the second he sees her, but she's not interested in answering any of them, and would rather avoid the topic entirely. Hyuk: "How much has it progressed? How about the pain? Can you feel the lump, too?"
She shakes him off when he tries to wrist grab her, citing her upcoming marriage and the rumors that could spread. Young-rae: "Never come here again."
Cheoljong holds a meeting with the Royal Court, and makes it known to everyone that he can't eat until he's passed gas. Awesome. Back to matters of country, he wonders if he looks better in his kingly robes now that he has royal blood flowing through his veins, and shocks everyone when he endorses Ha-eung's move to get the Queen Dowager to adopt Myeong-bok.
This is a huge blow to Minister Kim, but Ha-eung's ploy has worked; Cheoljong is sure that if Ha-eung had nefarious plans for the throne, he wouldn't have been first in line to donate blood. So with that in mind he actually pauses the conversation in the court so that he can lean over and fart in front of all the ministers. Omg. What are these writers smoking.
Once outside, Minister Kim attempts to remind Ha-eung that he hasn't achieved victory yet, but Ha-eung is delightfully dismissive. He's especially pleased to announce that he'll be telling the Queen Dowager the good news, which leaves Minister Kim and Kim Byung-ok fuming.
So this is awkward. Hyuk delivers the news of Young-rae's breast cancer to Kyung-tak, because he wants to get his permission to examine his fiancée's breasts. (No, I'm not making this up.) Kyung-tak is, of course, upset to hear that his fiancée has cancer but also wonders whether Hyuk has different intentions behind his request.
Hyuk assures him that this is all in the name of medicine, and that he wouldn't have gone to him if he had other intentions. However, if she's already in pain, then the prognosis is grim. Hyuk asks Kyung-tak to convince his fiancée to allow him to examine her breasts, since she's worried it'll affect her marriage.
Meanwhile, the Council of Evil does their usual thing, worrying about Ha-eung and the future heir and whatnot. Doctor Yoo makes sure to get a dig in about Hyuk, and for the most part, everyone just stews.
It's a good day for Ha-eung and the Queen Dowager, especially since he volunteers to organize the genealogy records of the royal family for historical purposes. She knows that it won't make Minister Kim happy, and she doesn't care.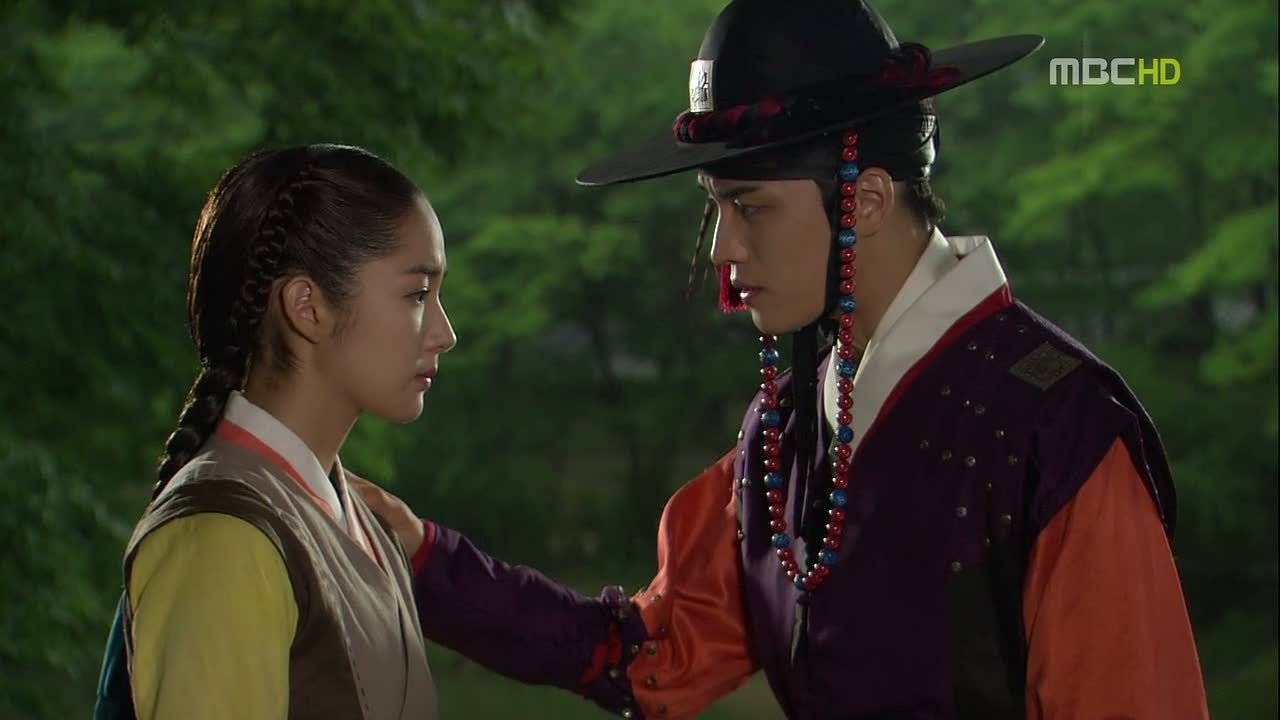 Kyung-tak calls Young-rae out in order to tell her to go through with the examination. She wonders what will happen with the wedding if she's proven to have a disease, since Minister Kim won't accept a patient into his family. Kyung-tak sighs – it's not the wedding that he cares about, it's her life that's most important. He accompanies this with a pat on her shoulder. Aww.
So then we have a beautiful ballad playing while Young-rae starts undressing for Hyuk, and Kyung-tak paces nervously outside. I am taking serious pauses for laughter here, because this is ridiculous in ways I can't even explain. This scene fails to be unromantic when they're lit by soft candlelight and accompanied by a crooning ballad, so now we're just in very weird, very awkward territory.
She gets to keep her undergarment on, for the most part, and tears up as Hyuk gently prods her chest with his fingers. And the best/worst part about this scene is that the song cuts off the second he finds a lump. It's like someone took the needle off the record as if to say, 'It's all fun and games and romantic ballads until someone finds a cancer lump.' You have got to be kidding me.
To make matters worse, he asks her if she's had pain or nipple discharge. She wipes away tears and says she hasn't, and Sad Violin chimes in just in time for Hyuk to tell her, teary-eyed, that she has breast cancer. There's a chance the tumor could be benign, but either way, surgery is needed.
She's totally against that idea, because she can't have it interfere with the wedding. Hyuk: "Is the wedding more important than your life?" Young-rae: "Yes, it is." And we know that she's self-sacrificing because she thinks the wedding will help Hyuk get home, which is noble idiocy to the Nth degree, helped along because she asks Hyuk to keep the cancer a secret from Kyung-tak.
When Kyung-tak asks about the outcome of the exam, Hyuk does as she asked and lies that she's cancer-free. It's sad that tears of relief spring to Kyung-tak's eyes to hear that all is well with his fiancée, and he wrist-grabs her so they can continue wedding preparations.
Hyuk decides to drink his woes away at the gibang, with Ha-eung and Chun-hong there to lend a sympathetic ear. With the wedding set for the next day, Young-rae eyes her wedding garments sadly and cries.
…Which transports her to another future-vision, where she's looking through Mina's eyes. We flash through Mina's accident, and her words to Hyuk that they would meet again. Young-rae experiences all of this and wakes up in a cold sweat, calling Yoo Mina's name while she sobs in shock.
Chun-hong brings Hyuk some food to chase his hangover, giving her normal speech about how it's good that Young-rae is marrying Kyung-tak, because that's what's best for everyone. She warns Hyuk to throw his feelings away (even though he didn't seem all that invested in the first place), and lets it slip that Young-rae said she'd do the same.
This is bad news bears for Chun-hong, because Hyuk finally catches on to Young-rae's behavior, and realizes that she's going through with the wedding only because she thinks it will help him return home. Chun-hong warns him that he'll never be able to return if the marriage is broken, and Hyuk defiantly replies, "It doesn't matter." He's more concerned about Young-rae's health, and rushes out.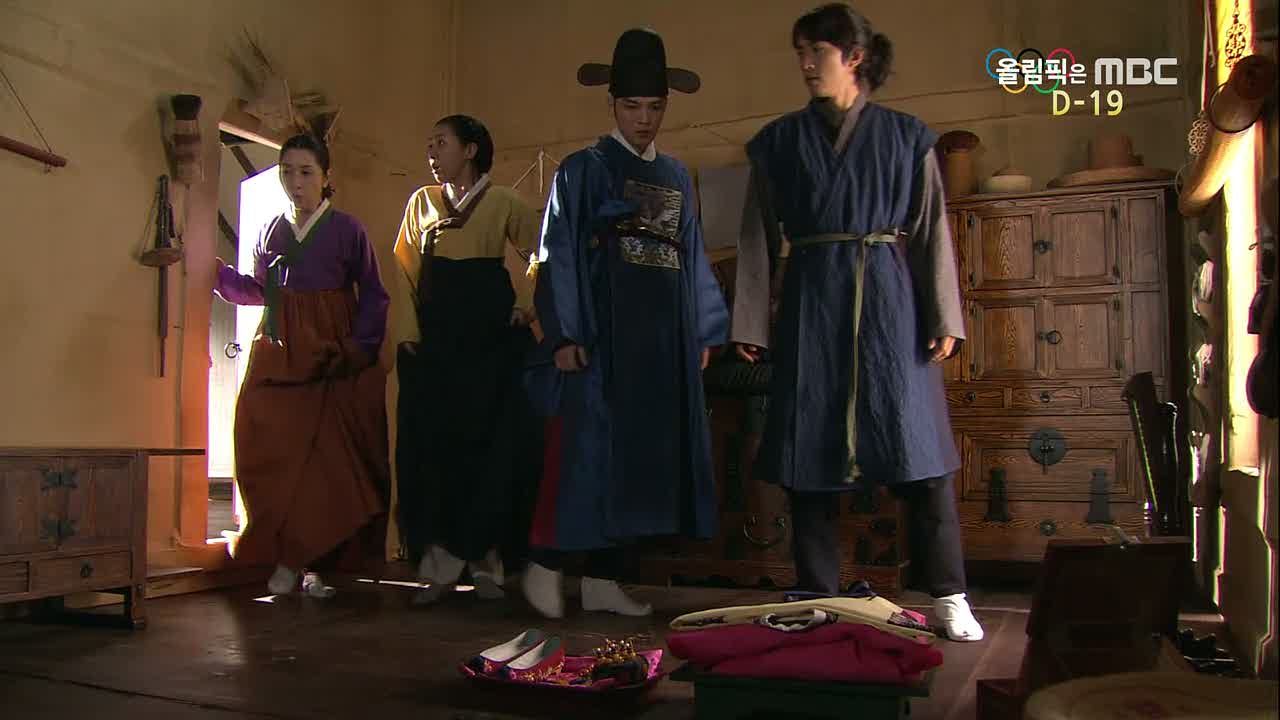 He stops by Kyung-tak's house first to find him in his official robes, and breaks the news that he lied about Young-rae's cancer. They both rush to her house to find her room empty and her clothes missing.
And Chun-hong finds Young-rae on the street in tears. She confronts Chun-hong, asking, "Who am I? Please tell me. Who am I, exactly?" Chun-hong's shocked face shows it all, and she commands Young-rae never to tell Hyuk, but Young-rae screams, "Why?!"

COMMENTS
So… that didn't answer anything, did it? It seems like there's a big secret at play concerning Young-rae's identity, but it looks like we'll have to wait another week to find out what it is. Woe is us.
Having the wedding called off, even though it's not quite official yet, came as no surprise. We knew that wedding was never going to happen, so it felt like the show was dangling a rotten carrot in front of our eyes, hoping we'd take a big ol' bite. I didn't, so the sudden onset of Young-rae's cancer was just an of course kind of moment.
And true to this show's nature, the cancer issue was handled poorly. It's one thing to set up something like this gradually, and another to have Young-rae wake up one day with a painful lump and no time left to live. The breast exam just had me in stitches, because no matter how hard the characters tried to make it sound strictly medical, the shooting, editing, and music painted a wholly different picture. Soft candlelight and a romantic ballad aren't normally things I'd associate with a cancer check. Ri-di-cu-lous.
Even with all that, I'm still not super sympathetic to Young-rae's cause as a character simply because her life and happiness mean less to her than Hyuk's life and happiness, which, bleh. It's both good and bad to have a character willing to sacrifice for others, only Young-rae has never shown a different side to herself and remains a Mary Sue dressed in bright hanbok. Whatever this new development is, whether she's realized that she's an ancestor or a reincarnation or a pre-carnation, I can't really muster up the energy to be all that excited about it. In regards to Young-rae/Mina, que sera sera.
As for Young-hwi, I'm just glad he's back. How he survived a bullet to the chest and a long fall is up for grabs, but gummimochi brought up the suggestion that Young-hwi might have warped in time just like Chun-hong, which would explain how he survived and why he's hesitant to talk about it. If that turns out to be the case it'd be an interesting precedent, and one I hope they don't spread, just because it'd be kind of terrible to see people diving off cliffs in the hopes of making it to the future.
Last but not least, it's becoming increasingly harder to get behind Hyuk's motivations when even he can't figure out what they are. If going back to the future doesn't matter to him, fine. If he wants to stay in the past, fine. But it's pretty damn selfish of him to assume that he can run around with a song in his heart and a mallet in his hand fixing people up at will – even the King – without considering that there might be some freaking consequences to his actions. I love that it was only in the middle of surgery that he was all, "Oh crap. I wonder if this is a good idea." You know what, Hyuk? I wonder, too. I really, really do.

RELATED POSTS
Tags: Dr. Jin, featured, Jaejoong, Lee Beom-soo, Lee So-yeon, Park Min-young, Song Seung-heon