Dr. Jin: Episode 16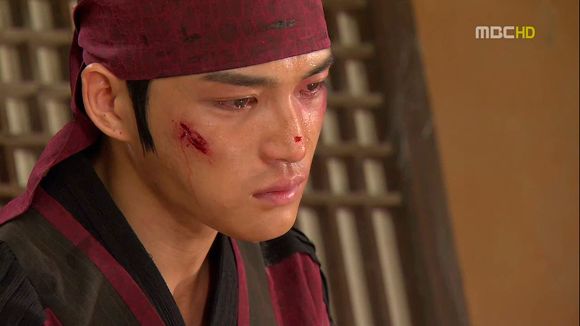 The time slip mechanism is more or less explained, and while it's not too surprising, the details reach a whole new level of weird and convoluted and… well, just plain weird. Turns out there's more than one brain fetus, maybe even an infinite number of brain fetuses, and Hyuk's in particular has a bone to pick with him about all his historical meddling. You'd think he'd learn his lesson after this one, but I'm willing to bet totally unreal and figurative dollar bills that he'll cut a new person open by this time next week.

EPISODE 16 RECAP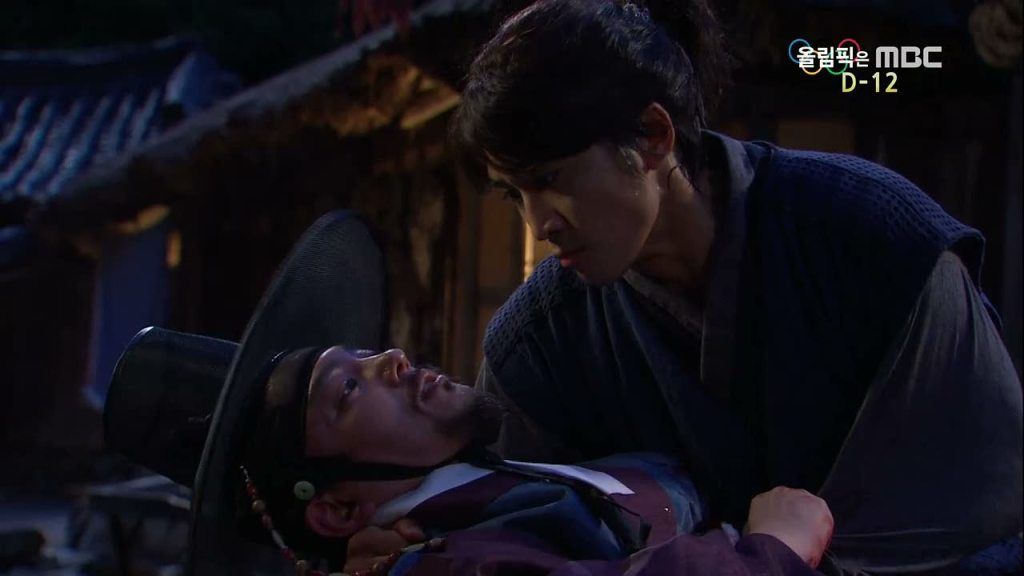 Kyung-tak shoots Ha-eung, and Young-hwi arrives just in time to go chasing after the masked assassin. Ha-eung is already giving his deathbed speech to Hyuk, and asks him to take care of Myeong-bok.
It really does look like Ha-eung is about to shuffle the mortal coil, but Hyuk can't hold it in anymore and bursts out that Ha-eung can't die here, because "You will become the King's father. That is your fate!" Ha-eung finds some extra breath to ask Hyuk who he really is.
Kyung-tak escapes to… Hwalinseo? Why would he go there, of all places? Young-hwi is there to intercept him, resulting in a sword fight between the two that has them at a standstill. Kyung-tak's mask falls just as Young-hwi tips his hat up, and both recognize each other at the same time. Shocked faces galore as Kyung-tak realizes his old friend is alive, and Young-hwi realizes that Kyung-tak is the assassin.
There's no time for a reunion though, since Joo Pal knocks Kyung-tak out cold with a big stick.
Hyuk carries Ha-eung into… the gibang? Was there a script setting mixup? Either way, they're running out of time and Ha-eung is coughing blood. Heo Gwang and Young-rae gather supplies from the clinic to take to Hyuk, and Hyuk prepares for emergency surgery once they arrive.
Back in the clinic shed, Joo Pal & Co. tie an unconscious Kyung-tak up to a post and declare that they'll make a decision on what to do with him once they know how Ha-eung fared.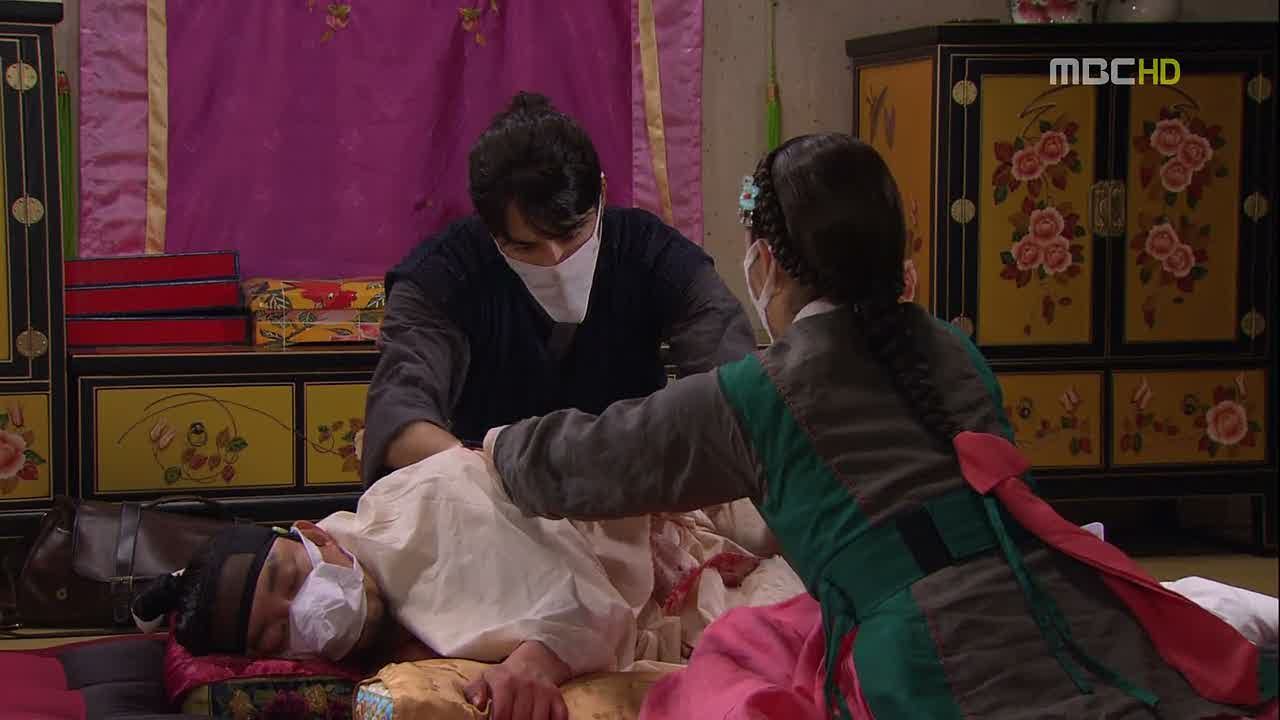 I know I'm not the doctor here, but Hyuk just looks like he's digging for buried treasure in Ha-eung's chest, with an incision about a foot wide. It sounds like he's stirring a pot of macaroni and cheese, but really it's just Ha-eung's lungs, where he removes the bullet and part of the lung that was damaged. This all looks very haphazard.
The surgery is successful, but Ha-eung will need a blood transfusion. Chun-hong offers up her own since she has the same blood type as Ha-eung, which stumps Heo Gwang because they've never tested her. Hyuk covers for her and said he tested her before, knowing that she found out on her trip to the future.
The Council of Evil convenes to discuss the unknown status of the assassination, and they're soon joined by Dae-gyun, who's returned from exile. Oh, happy day – the king of douchelords has come back to grace us with his presence, and tells Daddy that they have to find Kyung-tak as soon as possible to clean up the mess.
Speaking of, Kyung-tak tries and fails to free himself from his bonds, just as Joo Pal and Minion come in rolling up their sleeves. Eek. Is he going to get a beating?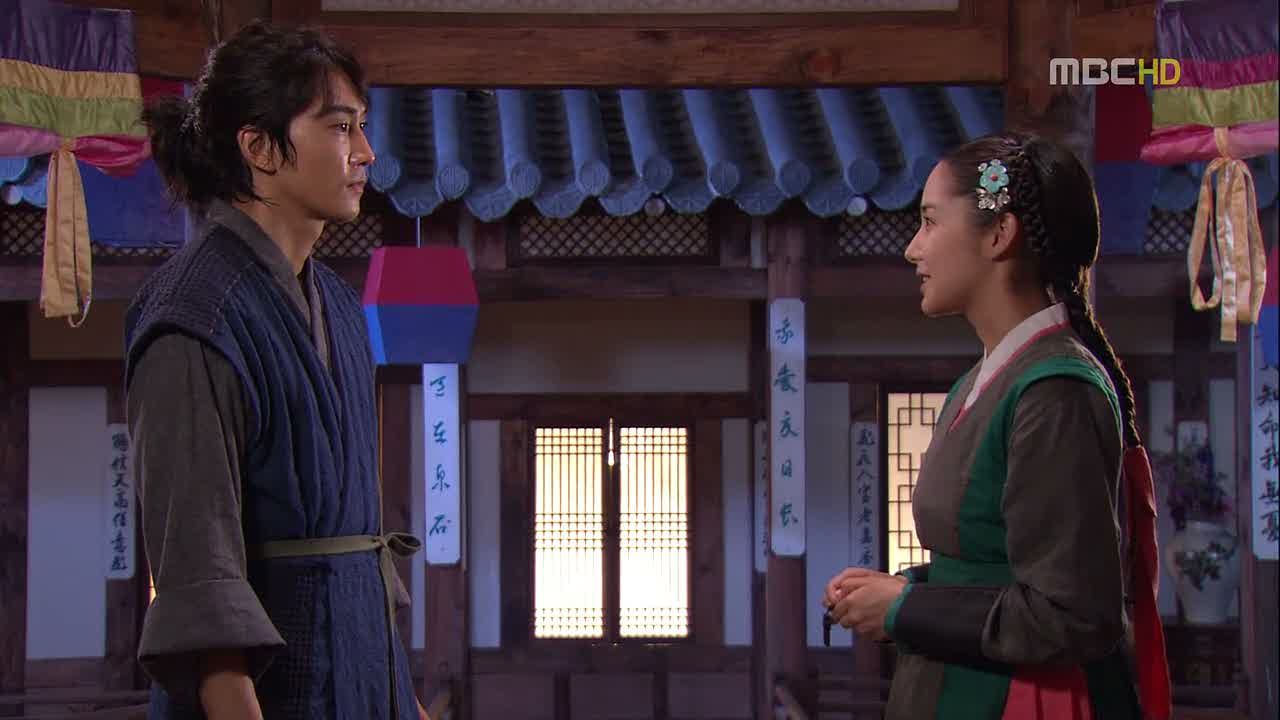 Hyuk finds Young-rae praying on her own for Ha-eung, and they have a brief talk about God, with Young-rae wondering how nice the future must be with everyone allowed to pray freely. Hyuk belatedly notices the rosary in her hands and remembers a public posting declaring a monetary reward for anyone who reported a Catholic, and instead of telling her about it so she can be more careful, he just, you know, doesn't.
Once he's gone we hear her say in voiceover, "I prayed for you, too."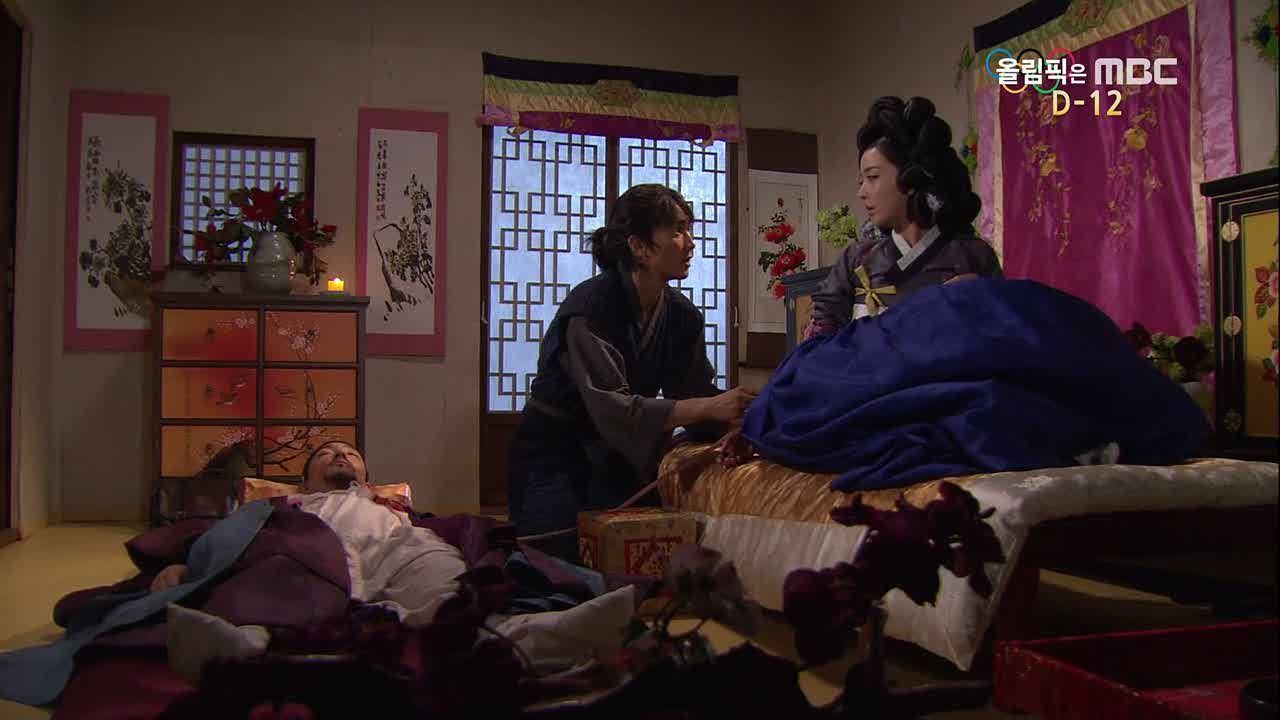 Because Hyuk is a walking encyclopedia, he tells us (in voiceover) about Ha-eung's persecution of Catholics once his son took the throne. More than eight thousand Catholics died in what's called the Byeong-in Persecution of 1866 at Ha-eung's command, and Hyuk wonders whether Young-rae will become one of them.
It's worth noting that he flashes back to Young-rae and the magistrate, where she asked him if he would take responsibility for the lives the magistrate could take if he were saved, which now applies to Ha-eung. As always though, flashbacks aren't worth a king's fart in Hyuk's decision-making process.
Chun-hong has finished the transfusion, and assures Hyuk that this is the last hurdle – the day Ha-eung will achieve his goal is not too far off. "Then history flows along on its predetermined path," Hyuk notes, and Chun-hong agrees. But then she warns him against intervening in history or revealing what he knows will come to pass. So… what is it then? Is history predetermined, or not? Chun-hong, can you please be less cryptic for once in your life?
Meanwhile, Kyung-tak gets the tar beaten out of him by Joo Pal, who demands to know who gave him orders. (Not the moneymaker, Joo Pal! Anywhere but there!) But Kyung-tak laughs defiantly through a bloody mouth when he recognizes Joo Pal as a gangster, thinking it funny that Ha-eung is using the likes of him to reach the throne.
Joo Pal doesn't think it's that funny, and prepares to beat Kyung-tak with a bat. Ouch.
The next day, Hyuk and Officer Lee try to see the ailing Cheoljong, only to be denied entry by Doctor Yoo. Cheoljong struggles to breathe alone and Hyuk ends up back in front of the reward sign for turning in Catholics. He thinks about how Cheoljong will die and Ha-eung will gain power according to history, only if that happens, countless lives will be lost.
It seems like Hyuk might be thinking of meddling for the greater good, and I will throw something if that's the case. He rips the posting off the board and gets a brain zap from the Jar Fetus for his trouble. Good. Maybe it'll do that every time he messes with history, like that collar that zaps dogs when they bark.
However, there's a problem at the gibang when Ha-eung's heart stops beating. Hyuk begins CPR and tells us (in voiceover) that if he can't resuscitate Ha-eung within five minutes he'll die for real. Then it's clear that he's thinking of letting Ha-eung die to save Catholics, and Young-rae by extension, because he stops administering CPR to think about it, which… /ragequit.
Luckily the Jar Fetus brain zaps him back to his senses, and Hyuk brings Ha-eung back from the brink.
The Queen Dowager and Officer Lee discuss Ha-eung and the assassination attempt, with her sure that Minister Kim was behind it. Needless to say, she's ready for his reign of terror to end.
Ha-eung finally stirs awake, and ekes out that he wasn't able to die because he wanted to hear Hyuk answer his question: Who is he? Where did he come from? Hyuk: "Actually, I… am from the very distant future." Ha-eung doesn't seem all that surprised.
Young-hwi visits Kyung-tak in his shed/cell, seeming genuinely remorseful as he inspects the damage done to Kyung-tak by touch. Ah, the bromance. He tries to tell Kyung-tak that the world will be changing soon once Cheoljong dies, a though which has Kyung-tak laughing ruefully that Young-hwi will finally get his wish and oust the Andong Kim clan. He even offers a sarcastic congratulations.
As for who ordered him, Kyung-tak protects his father by saying that he acted alone. Young-hwi tries to convince him that he's just being used by his father and can be thrown away at any time, which elicits a very thoughtful reaction from Kyung-tak, who likens his relationship with his father to Young-hwi's relationship with Ha-eung.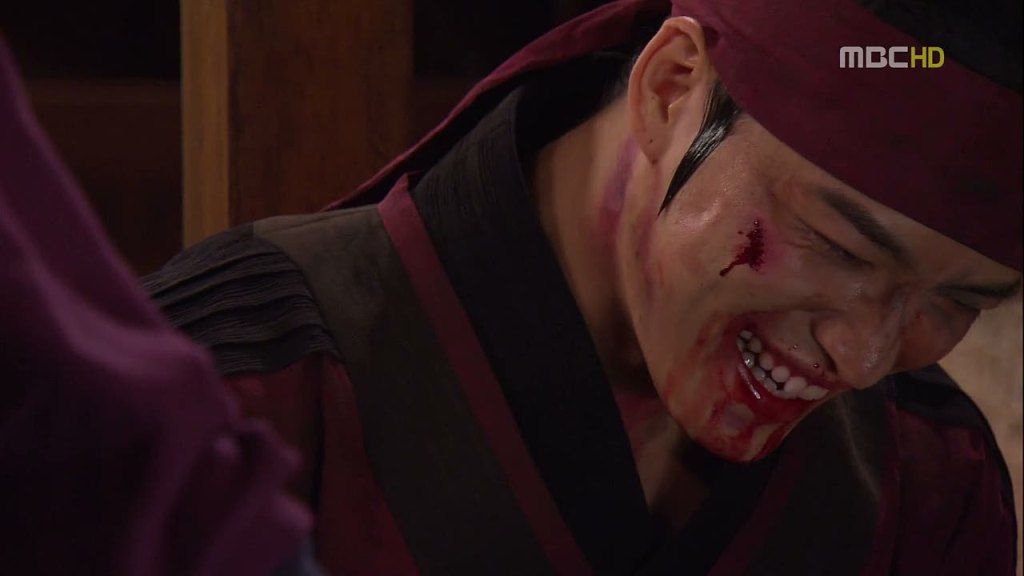 "If I were afraid of being thrown out, I wouldn't have been used," Kyung-tak says. "Even if we are standing in different places, we're in the same situation. You're the only one who didn't know that." But Young-hwi still tries to get Kyung-tak over on his side so they can build a new world together, one free of discrimination, which is a thought which has Kyung-tak in very rueful stitches. He won't give in no matter what, and makes this clear to his old friend.
Joo Pal reports on Kyung-tak's stubbornness to Ha-eung, surprised that he didn't give in even after a night of beating. They discuss their next move while Ha-eung asks if Joo Pal kept the gun Kyung-tak shot him with as evidence, but doesn't plan to use it right away. He wants to wait and see whether Kyung-tak will become a good card or a bad card for him, which Young-rae overhears in shock, having no idea Kyung-tak was the assassin.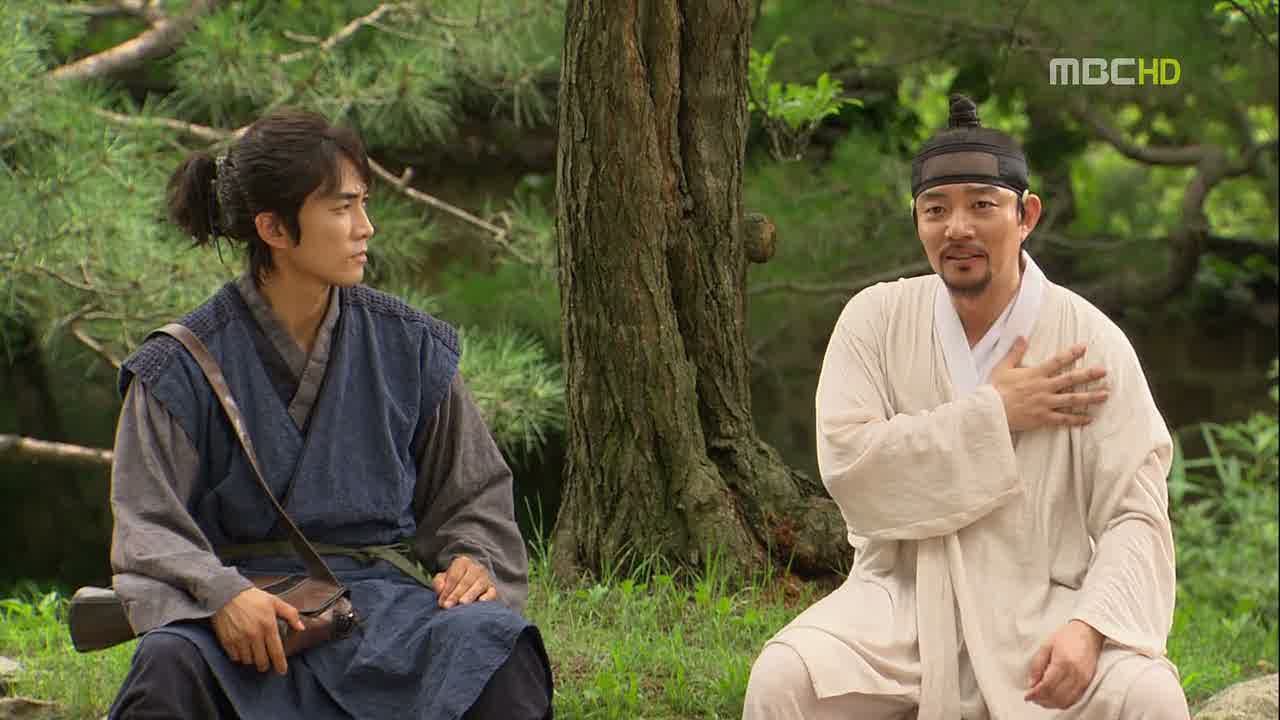 Ha-eung is recovering pretty fast for having Hyuk play Operation with his torso, and catches Hyuk on his way to treat Cheoljong, who's in critical condition. Obviously he knows that Hyuk knows his fate, so Hyuk asks, "Do you want to know the future?" Hyuk. What did Chun-hong just say to you a couple of scenes ago about not doing exactly what you're doing? Whatever. Of course you didn't listen.
Hyuk tells him everything – about Myeong-bok becoming King, and how he'll rule as Heungseon Daewongun. I love that Ha-eung's all, Tell me something I don't know. So Hyuk does, and mentions the Catholic Persecution of 1866 that Ha-eung is known for.
Ha-eung finds the thought curious and improbable, because every citizen is a child of the King, and he'll never become a father who abandons his children. Hyuk: "Will you promise me?" Ha-eung says of course, because his wife believes in Catholicism. Huh. That was easy.
But Ha-eung knows that he has to clear his own path, and that Minister Kim blocks the way. He asks for Hyuk's full support going forward.
Young-rae dogs Joo Pal until he tells her where Kyung-tak is, and she finds him trying to cut his bonds with a pottery shard. He turns away the second she comes in, even though she offers to help him send a message to his father. "Rather than showing myself like this to His Excellency, I would rather kill myself," he grinds out.
He calls her out on her worrying over him, telling her that she no longer has the right, and orders her to leave. (Huzzah, Kyung-tak! Step in the right direction!)
Meanwhile, Hyuk and Doctor Yoo keep vigil over Cheoljong, who struggles just to breathe. Hyuk knows the cause is hopeless and cries a little, because everything is always about him. And didn't he just save Cheoljong's life like two days ago? Now he's suddenly dying and there's no way to stop it?
Doctor Yoo delivers the news that they might want to start preparing a royal funeral to the Council of Evil, and Minister Kim doesn't seem surprised, since Cheoljong held on longer than he thought, and speaks cryptically on his plans going forward.
We then check back in with Ha-eung as he prepares to go to the palace during this time of crisis, and he coaches his son on what he's to do if word of the King's death spreads – wail and bow deeply in the direction of the palace.
Ha-eung makes it to Cheoljong's deathbed in time to hear the King eke out his last words, one painful breath at a time. He implores the ministers present to take care of the people, and motions Hyuk closer as he says, "I'm going back first… to the world of mine. I wish you can go back to your world, too."
And then, King Cheoljong passes away. The mourning cries start as Hyuk battles with his own tears, and gives us some historical details in voiceover, which I'm sure he learned through a history class he slept through in the future. He explains how Cheoljong's death brought Myeong-bok closer to the throne and Ha-eung's era right in front of his nose.
As Hyuk and Ha-eung leave the palace to the sounds of mourning, Ha-eung explains that what he hears isn't sadness, but each minister worrying about their position and future. The Council of Evil meets them outside the palace, and Minister Kim warns Ha-eung about rushing things while the country is in a state of mourning.
Ha-eung knows exactly what Minister Kim doesn't want him rushing on, and asks him if he thinks the people should only cry because they've lost their King, aka their parent. The two have a charged stare-off.
Young-rae checks on the status of her silver dagger as she delivers rice cakes to Joo Pal's minions. Is she thinking of freeing Kyung-tak? Either way, it's all for naught when she finds him missing from his cell, having used the pottery shard to cut his ropes. She sounds the alarm.
We find Kyung-tak staggering out of his cell, and he hides when he sees his father passing by in mourning clothes. Aww. His tears are definitely earned here, because he spent all that effort running away with no home to go to.
Ministers and royal relatives alike have gathered in the Queen Dowager's quarters in mourning robes, and Ha-eung is the first one to bring the heir issue up, citing that the people will feel anxious as long as the throne sits empty. Minister Kim and his lackeys call for the decision to be left to the Court, and though he doesn't win the Queen Dowager over completely, he does stall the proceedings, which isn't good news for Ha-eung.
Minister Kim makes sure to rub that fact in Ha-eung's face once they're outside, giving him the Court version of: If you can't stand the heat, get out of the kitchen. Ha-eung promises to keep his advice in mind, and they have another stare-off. I can't wait for them to really go at it. Go Team Ha-eung!
Once they're alone, Officer Lee asks the Queen Dowager why she didn't take Ha-eung's side. She explains that though she could make Myeong-bok the heir, if all the ministers are against it with every fiber of their being, then she can't win. She hasn't thrown away the idea completely though, and simply says that she'll wait to see how Ha-eung handles the heir issue going into the future, and decide then.
Ha-eung, meanwhile, has a beautiful moment where he stares long at the empty throne before he sits on it like a king, his eyes filled with resolve.
Juxtapose that with Kyung-tak stumbling to the ruins of his old home to sit on his porch, where he sees the child version of himself there, dressed in mourning. His mother's funeral, maybe? Minister Kim asks Kyung-tak Lite if he wants to live in his house, and corrects him when Kyung-tak tries to call him "Father." Instead he demands to be called "Your Excellency" to distance them. That's horrible.
Back in the present, Kyung-tak pulls out a knife with that dead look in his eyes, readying for suicide. (No! He's too pretty/compelling to die!) "Your Excellency," Kyung-tak begins, as he raises the knife to his throat. "Please forgive this unworthy subject." Someone's going to stop him, right?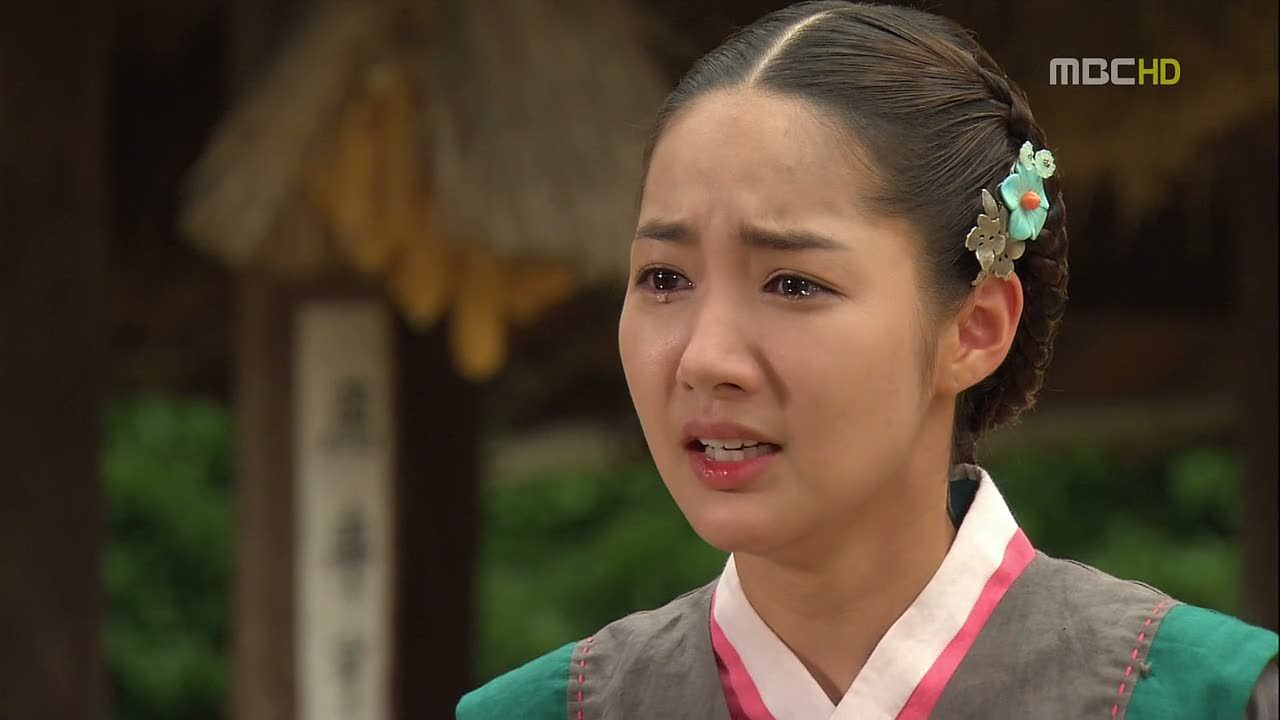 And boo, because it's Young-rae who comes screaming and crying. Kyung-tak seems surprised that she remembered this house, even though she reminds him that her and her brother used to stay there. She sinks to her knees and begs him to kill her, and Kyung-tak has what might be the best line of the whole series so far: "I am the one who wants to die. So why are you telling me to kill you?!" Thank. You.
On the one hand, I'm glad Young-rae is helping out, but on the other, I kind of don't think she has the right to be sobbing like this when she's been such a boob to him the whole series. Or maybe that does give her the right, and I've just become immune to her tears.
She cries as she tells him that she's the one who sinned against him, and Kyung-tak simply responds: "I can understand why you have to die. Now tell me why I must live." Kyung-tak, you are owning this scene.
Young-rae tells him that she can think of one hundred reasons, but none of them will reach his heart – he has to find the reason within himself. Kyung-tak still looks completely broken as he comes up with only one reason, that a loyal subject shouldn't kill himself on the day of the King's death. That saves him for now, but does it mean he'll just try again tomorrow? Someone give that boy a hug, please. And maybe some Christmas hams.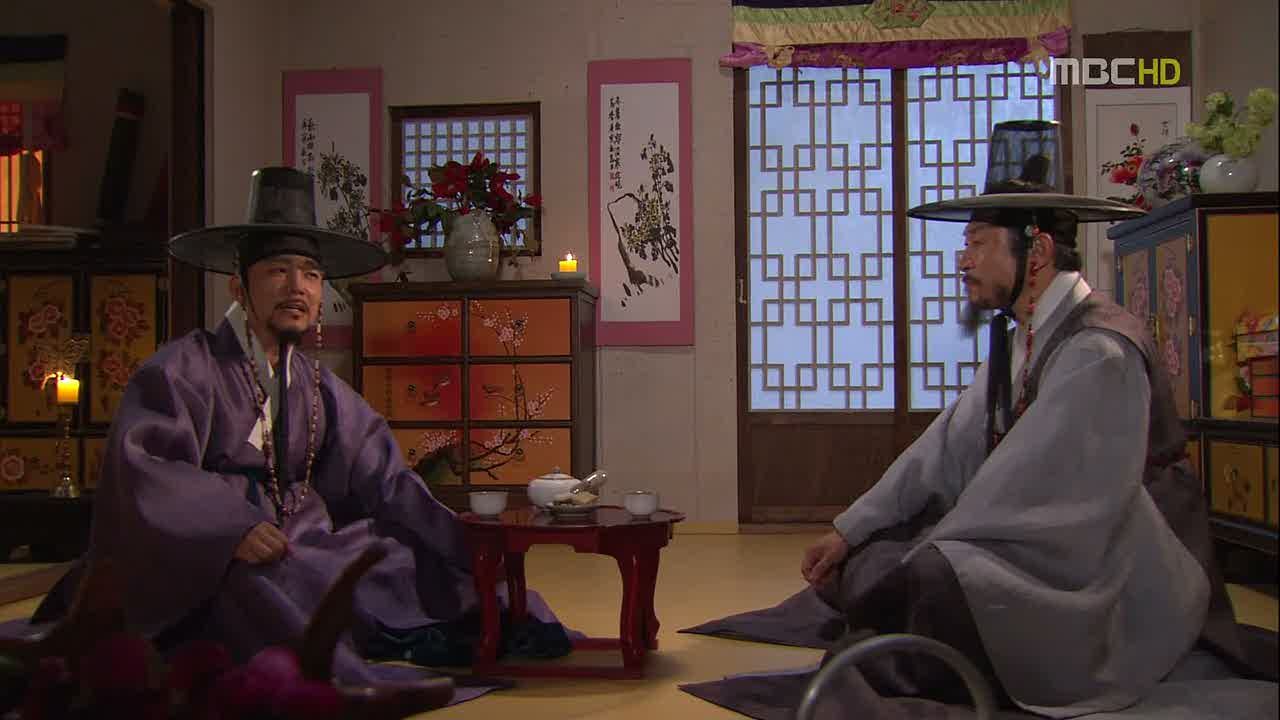 Ha-eung gets Minister Kim in for a private conversation at the gibang, laying it all out on the table. They both know each other's goals, with Ha-eung wanting Myeong-bok on the throne and Minister Kim wanting Myeong-bok not on the throne. So Ha-eung proposes a kind of truce, promising that the Andong Kim clan can keep all its money and power even if Myeong-bok takes the throne.
But Minister Kim has the power of one-upmanship, and replies that he doesn't need Ha-eung's promise, but Ha-eung needs his and therefore has nothing to offer. He leaves on that note and runs into Hyuk outside, noting that their relationship is ill-fated because Hyuk sides with Ha-eung.
He does notice Hyuk going through a brain zap as he's leaving, and Hyuk gets zapped so many times that he eventually passes out. Chun-hong gets him into a room and watches him sweat and suffer in bed with tears in her eyes, as he experiences flashbacks of all the people he's saved while in Joseon.
Ha-eung and Young-hwi confer nearby, with Young-hwi unconcerned with big causes or the distant future, another strange red flag, as he says that he wants three things – his mother and Young-rae to be at peace, Ha-eung to achieve his goals, and for his best friend to be safe. Hate to break it to you, but you've already failed on that last front.
They both know that Minister Kim won't let Kyung-tak live, which takes us to Minister Kim as he broods in a dark room while Kyung-tak kneels silently outside.
Hyuk finally comes-to, and Chun-hong explains that "it grew too big", and when asked to clarify, she says, "That tumor, I mean. Which is growing in your brain. A long time ago, the same thing was growing in my head as well." Obviously, Hyuk has no idea, and asks what tumor is in both his head and hers.
Chun-hong: "It's the tumor which is in the brain of people who can come from and go to the other world. People like you and me. In the beginning, it's too small for us to even know its existence. But the instant you come to the other world, it becomes bigger and bigger. It grows when you save someone who should've been dead, or when you make something you weren't supposed to make. It also grows when you say something you shouldn't have said. Everything you have done since you came here made that tumor bigger."
Hah.
Only now does he remember the Jar Fetus, and then he asks her what will happen now. She tells him that if he dies in this world it's not just death, his soul will also disappear. He'll be wiped off the map completely. So, Super Death? True Death? Zombie-Proof Death?
However, she thinks he can undo most of his damage if Ha-eung and Myeong-bok make it to the throne, and that history will handle the rest. Er. That sounds strangely exact for such mystical circumstances. Then he can return to the world he used to live in, only he can't interfere in this world any more.
All the ministers meet in the Queen Dowager's quarters again, with Ha-eung bringing up the heir issue to the discontent of the others. Except everyone's floored when Minister Kim agrees with him, and we see why in flashback. Turns out Minister Kim didn't leave the gibang so easily, since Ha-eung showed his last card – Kyung-tak's gun, as evidence that Minister Kim tried to kill a royal relative.
So Ha-eung proposes that they use their powers together in order to gain what they both want, which brings us back to the present. Minister Kim endorses Myeong-bok as heir to the Queen Dowager, to everyone's shock and awe.
Once outside, Minister Kim's lackeys try to see if Minister Kim has another plan, but he doesn't. He's assured that even with Myeong-bok on the throne, Ha-eung won't have all the power he wants. And Ha-eung knows this, but has a different take as he explains to Officer Lee, "Politics, you know, is not a skill to fight against the enemy, but a skill to compromise with the enemy."
Minister Kim returns home to find Kyung-tak still kneeling outside, and he barely has the strength to ask his father to kill him. Minister Kim knows that Kyung-tak would rather live, and manipulates him into agreeing to do anything he wants without mistakes. Kyung-tak replies with the usual "Your Excellency", but Minister Kim corrects him: "Call me 'Father.'" Aww, sad. I don't think Daddy means it, he's just using Kyung-tak's feelings to make him a slave.
Young-rae delivers the Myeong-bok Heir news to Hyuk, who's hardly surprised, for obvious reasons. He decides to go and inspect the penicillin crop, which makes the Jar Fetus angrily brain zap him over and over and over, causing him to flail around as he yells, "No! I can't go back yet!"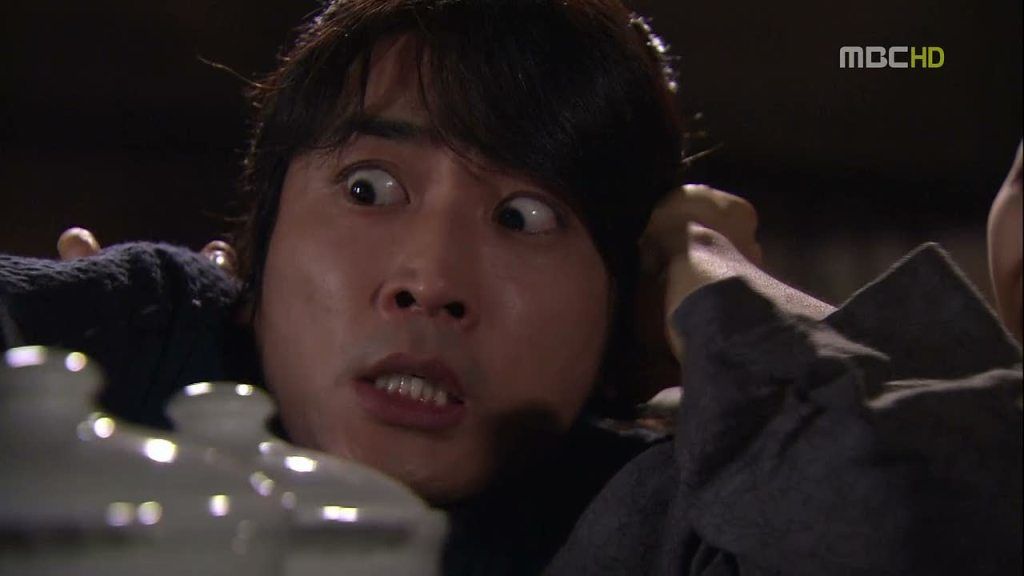 COMMENTS
So we got an explanation of the whole time slip mechanism, though I can't help but wonder how Chun-hong knows everything (aside from the "she's a fortune-teller" excuse), and why she couldn't have just explained this to him thirteen episodes ago. All this time she's been saying the same thing – don't mess with history – but I'd venture a guess that maybe he would have listened more if she told him that every surgery caused the fetus in his brain to grow.
Granted, Hyuk's so thickheaded that it might not have made a difference, but if that tumor/fetus grew every time he messed with history, wouldn't it have, like, eaten all his brains by now? There can't be room for both of them up there, and most of Hyuk's dialogue leads me to believe there isn't. ("Ah… [insert line here].") Is he just going to birth an infant from his skull at this point? Why are brain fetuses the mechanism for time travel? Is there some association of brain fetuses that picks and chooses who they get to live in, with most of them hoping that they can burrow in someone like Hyuk, who'll just mess with history and feed them so they grow? Is the point of the brain fetus to grow? Is it sentient?
More than anything I still feel like we haven't gotten a clear answer on what exactly is predetermined and what isn't, and at what point history steps in to clean up the mess. When Chun-hong said that Hyuk just needed to get Myeong-bok on the throne for history to fix the rest, I threw my hands up in defeat. How does she know what history will and won't touch? Doesn't that seem a little too conveniently exact for something as inexact as time wrinkles and brain fetuses? Whatever, Hyuk is still dead to me.
Kyung-tak really owned this episode, foregoing vanity for realism and getting a great result because of it. Sure, he's turned into a black hole of pain, but man if that's not one of the most compelling character conflicts going on in this show. Young-hwi used to be capable of this kind of stuff until they turned him into a male version of Chun-hong, and now I can't figure out what on earth he's doing or why, because he keeps explaining that he just doesn't have goals anymore. I do hope that he got transported to the future during his fall, because if Ha-eung had to get his whole back cut open for the same bullet wound Young-hwi received, I can't buy that Young-hwi just healed on his own. But in this world everyone can walk and talk five minutes after major surgery, so, maybe I'm the one growing a brain fetus on that one.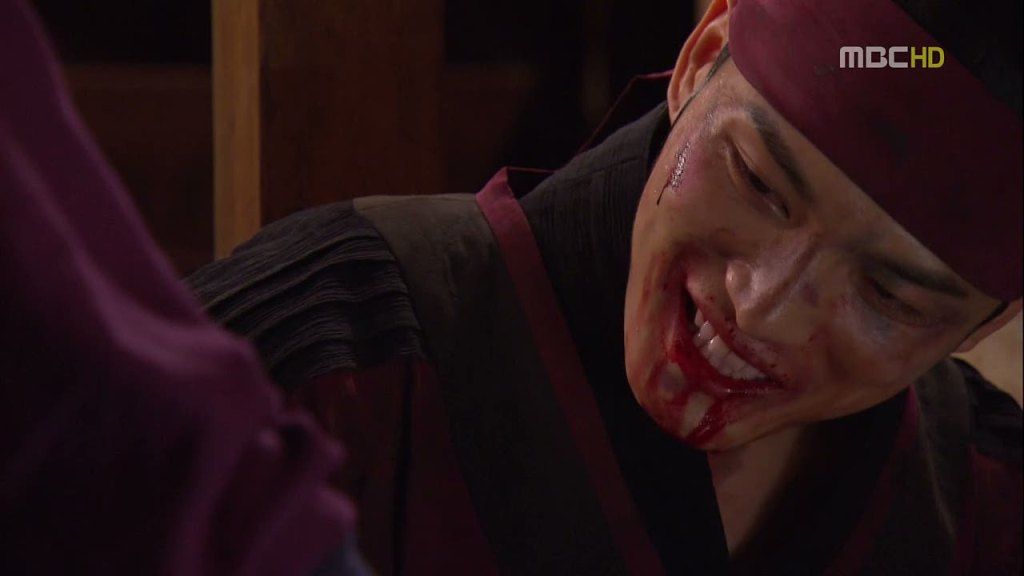 RELATED POSTS
Tags: Dr. Jin, featured, Jaejoong, Lee Beom-soo, Lee So-yeon, Park Min-young, Song Seung-heon