Gaksital: Episode 12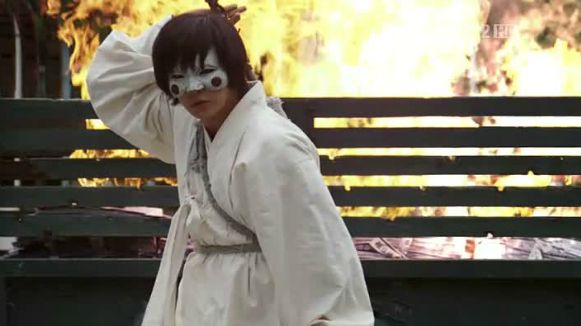 We're back, baby! Yesterday was no fluke. I don't know who lit a fire under Gaksital's ass, but imma send a fruit basket. We're on a roll with heart-stopping action, fantastic angst for our hero, a terrifying breakdown for his best friend, and some fist-pumping badassery from our heroine. I can literally say I couldn't ask for more. Please always be this way!

EPISODE 12 RECAP
Gaksital comes out of the torture room with the radical insurgent slung over his shoulder, just in time for Shunji to spot them down the hall. He screams, "Gaksitaaal!" and draws his gun, which just makes me laugh. You're getting the guy's attention why?
But it's the agent, Damsari's man, who reacts first. He swings down and pushes Gaksital out of the way, to take the bullet in his place. DAMN.
That is some loyalty, to a guy you've never met before. But it's awfully moving too – this guy knows that Gaksital is more important to the movement than one soldier.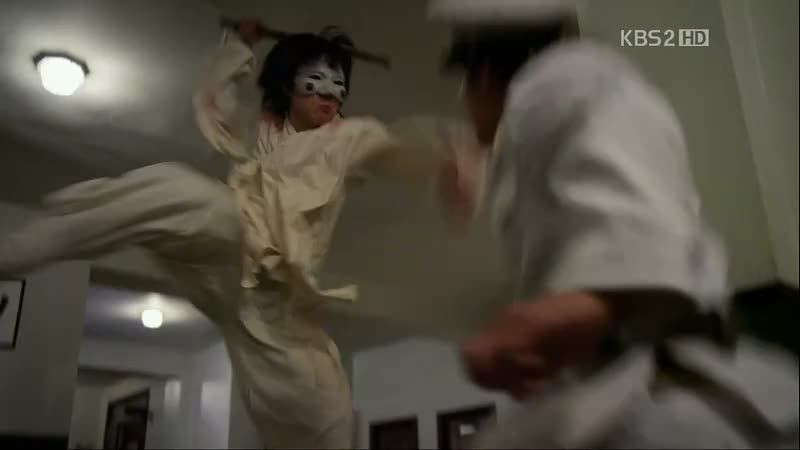 It stuns Kang-to, and he freezes for a moment behind the wall. But there's no time for reflection when an entire precinct full of cops is on your tail. He fights his way through everyone and ends up just one step ahead of Shunji.
As Shunji tiptoes near with his gun drawn, Gaksital comes up from behind and knocks him squarely on the back of the head, with just enough force to put the lights out. He pauses for a moment, clearly not thrilled at having to attack Shunji to make his escape.
He makes his way back around to the man who took a bullet for him, now covered in blood. He ekes out, "There's… someone… you have to meet…"
Shunji wakes up and runs through the building towards them…
The man hands Gaksital a card and gives him instructions on how to contact Damsari. He barely gets the words out when Shunji finds them and fires. The man screams for Gaksital to run, insisting that he save himself.
He runs out and gets away on his horse as Shunji shoots wildly in his wake. It must just be a natural reaction to the job to screeeeeeam whenever you lose Gaksital, and who could blame you?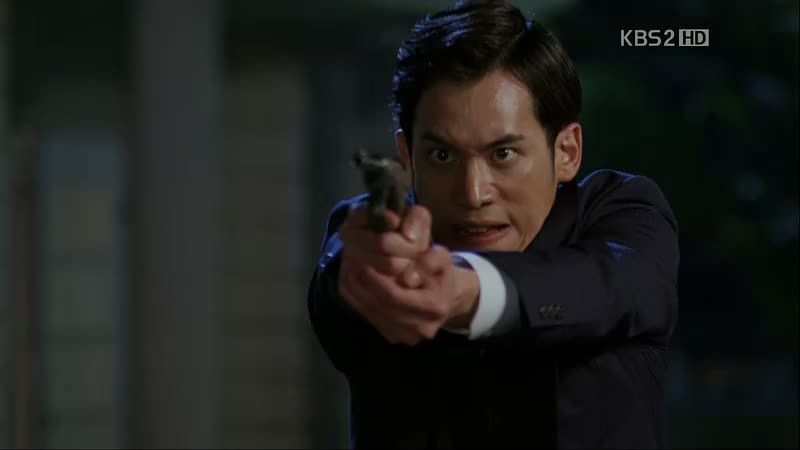 He races back to the man bleeding out in the precinct, and carries him to the hospital. He pleads with the doctor to revive him for just one minute, so the doc jams a friggin' monstrosity of a needle right into his heart and the man gasps for air.
Shunji demands to know who Gaksital is, which seems to me like a waste of medical resources. This is the man who took a bullet for Gaksital, so why would he give him up now? Silly cop.
But this isn't logic talking, because Shunji is out of control with rage. When the man just smiles, he grabs the second needle and stabs him again, screaming in utter fury.
He finally speaks, "You should stop. The dying should be left to die." Shunji screams and reaches to stab him again, but this time the doc restrains him, and the man falls dead.
Shunji lets out this harrowing rage that terrifies me, and with the needle in his hand, he stabs the dead man over and over and over again. Holy crap, Shunji. Any time you want to stop making my blood curdle is fine with me.
Damsari and his comrades meet in the park, and they worry that it's too risky to remain in Kyungsung now. But Damsari refuses to leave without carrying out his mission, and orders the rest to return to headquarters while he remains here alone. It doesn't matter if his mission might fail; they must do what they can and keep fighting, even if they're doomed to lose.
Just then, Gaksital rides into the park, and they look up at him in shock and awe. How did he know they were here? He says nothing, but hands Damsari the card – their comrade's identification papers, covered in his blood. They reel from the news.
Then Damsari fills Gaksital in on their mission. The comrades who attempted explosions before them failed because they had to use homemade bombs. But this time they plan to use the empire's own weapons against them.
The plan is to set off an explosion during the government general's anniversary celebration in two days, to vent Joseon's grievances. He asks Gaksital to distract the police force to give them the chance to clean out their armory.
Damsari asks for his help and puts out his hand. They shake.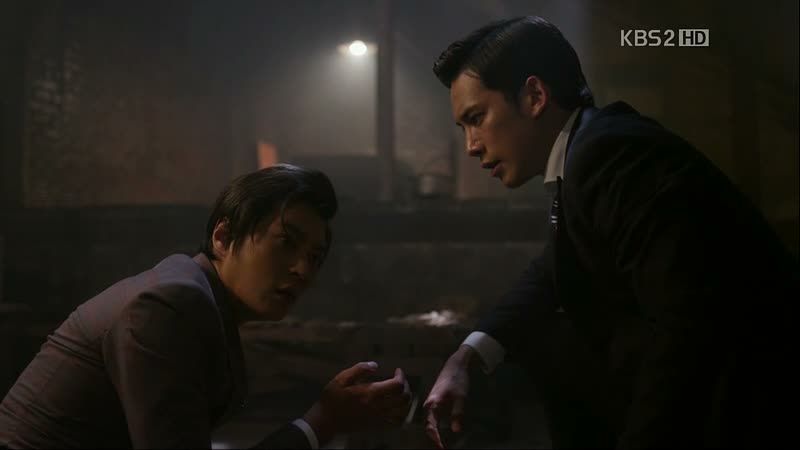 Shunji makes his way back to the police station, totally spent. It's only then that he thinks over the events and realizes something. Oh no. You remembered that Kang-to was the one guarding him, didn't you?
He runs down to the torture room… and finds Kang-to lying on the ground, unconscious. Ohthankgod. I was holding my breath for those ten seconds. How you got all the way back there in time is beyond me, but thank goodness you did.
Shunji wakes him up and Kang-to looks around, asking what happened. Did they catch Gaksital? Shunji says no, he slipped through their fingers again.
But Shunji is sure that Gaksital knows the police station inside and out—he knew every crevice of the place, to avoid being caught. Kang-to feigns frustration, but looks down warily.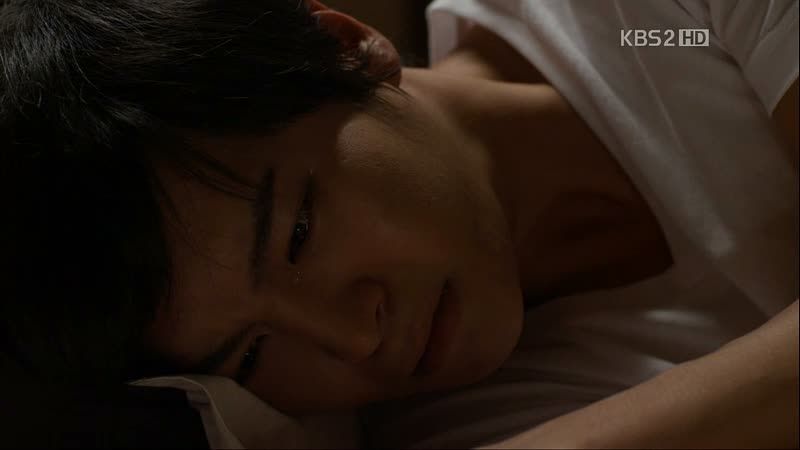 They lie awake in Shunji's room (Aw, are they bunkmates again?) and Shunji confesses, "I think I'm going to go crazy this way. Today I… killed someone." He tells Kang-to what he did, stabbing a dying man in the heart, just to know who Gaksital was.
Kang-to listens silently with pained eyes. His lips trembling, Shunji says, "I think I'm becoming a monster. If I could just catch Gaksital, I'd immediately take off the uniform and return to the children, like I had planned. That's why I didn't even say goodbye to them."
He admits to putting on the uniform to save Mok Dan. But then he just ended up putting a knife to her throat in the end. "I don't know what I might end up doing. Kang-to-ya, what do I do? What should I do?"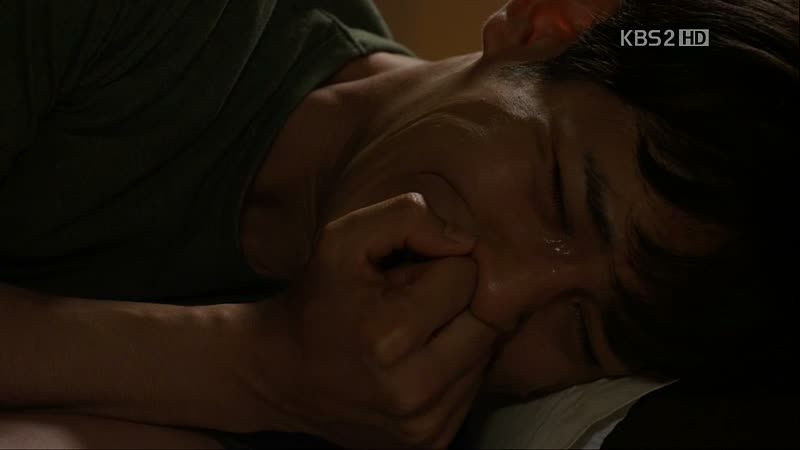 He starts to cry and turns his back. Kang-to's eyes fill with tears and he turns away too. And there, with their backs to each other, they each cry, Shunji stifling his heaving sobs.
Just rip out my heart and put it on a stake why don't you. Beautiful, heartbreaking, so moving – Show, when you're good, you're GOOD.
And then, to follow that, Kang-to sits in his Gaksital lair and speaks to Hyung. FINALLY. It's like you heard me!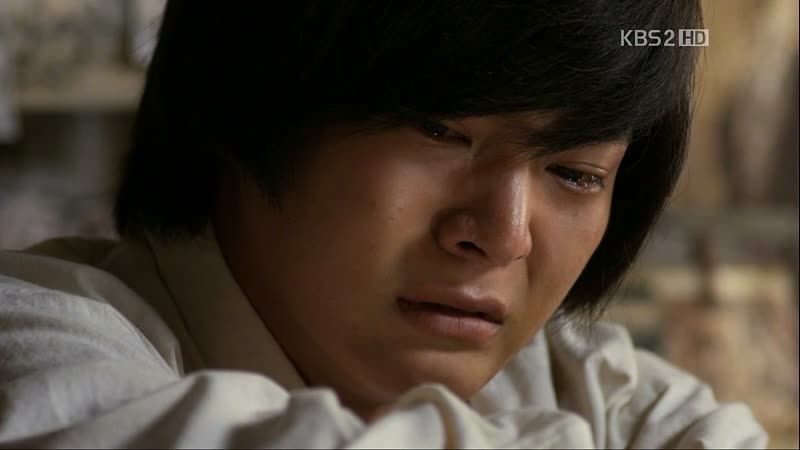 Kang-to: Hyung, Shunji is just like me. When I didn't know it was you, desperately trying to capture Gaksital—it's like looking at myself in the past. You couldn't say anything, but watched over me… what must you have felt? Hyung, someday Shunji will see Gaksital's face too, right? Like you, the day will come when I must take off the mask in front of Shunji… No, perhaps before then, the day will come when I have to kill Shunji first.

Hyung, I'm really scared. Last night, a man I don't know died to save my life. For Lee Kang-to, the Joseon people only gnash their teeth. But to save me… because I wore the gaksital… to save me… he died…

Hyung, will I be able to wear this, like you, till the end?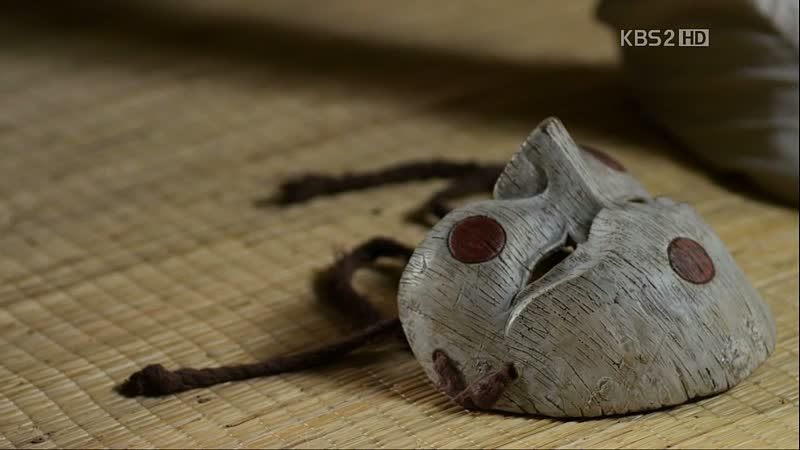 He hugs his knees and sobs, breaking my heart.
Mok Dan meets her father and asks him to take her out of Kyungsung once the mission is complete. He fears for her safety, but she says that being here will only prove more dangerous for Gaksital—as long as she's around, they'll always use her as bait.
It's not wrong, and you can't help but admire her for putting his safety above her feelings. Damsari agrees to take her away. He tells her not to say goodbye to anyone except Boss Jo, and they plan to meet after the anniversary.
But of course Kye-soon has overheard their conversation. Can we tie a bell around her neck?
Mok Dan writes a letter to Gaksital as she cries, thanking him for helping her father, and saying goodbye.
Meanwhile, the governor general prepares for the big colonization anniversary by having Park In-sam (the Kishokai member who owns the newspaper Kyungsung Ilbo) write a big fluff piece on how the great empire saved Joseon from itself ever so graciously.
Kono comes tearing in to announce that bank president Jo was killed, and he knows who did it: Kimura Taro. Well this time you're wrong, but it doesn't matter, because the governor general doesn't give a horse's patootie about who killed whom. Kono fumes.
Kang-to enters the station going over Damsari's plan in his head. He asked Gaksital to draw the officers out during lunch, when the staff is at its smallest. He looks around and decides to go down to check out the armory.
But Kye-soon comes running in declaring that she has news about Mok Dan. That stops him in his tracks, and he watches as Koiso takes her to see Shunji.
She milks her informant money from them shrewdly and tells Shunji that Mok Dan's father is planning something with Gaksital, and that Mok Dan will leave Kyungsung soon, to help Gaksital. Kang-to watches as Shunji storms upstairs.
He follows Kye-soon outside and pulls her into an alley. I know he's leaning in to be threatening, but why is my heart skipping a beat? Anyway, he guesses that she's Shunji's spy and offers to sweeten the pot.
He holds out some bills and smiles. How about adding him to her roster? She smiles and nods, always eager to make another cent. He asks for the same information, whatever she told Shunji.
At the same time, Shunji reports what he found out to his father—that Damsari and Gaksital are planning something together. Even Kimura wonders why they didn't catch onto them working together before, since Gaksital aided in Damsari's escape.
Shunji says that he'll bring Kang-to in to capture Damsari, since he caught him the first time. Dad reminds him not to trust Kang-to, but Shunji says he's being careful and that Damsari is their first priority because he leads to Gaksital.
Dad agrees and gives him the green light. He then calls Rie to report, and asks her to find out exactly what the plan is, though they've already pieced together that it's been timed for the anniversary, which is tomorrow. She smiles devilishly.
Kang-to marches into the pension looking for Mok Dan, and finds her on her way out. He drags her back into the room as the circus folk gape in fear.
I love that once he closes the door they creep up to eavesdrop anyway. But Kang-to's smarter than they are and pops back out to send them scattering with one menacing glare.
Never one to waste an opportunity, Mok Dan comes at Kang-to with her knife. He pins her to the wall and forces the knife from her grip with ease. "You're leaving Kyungsung? Do you really think you can escape from my grasp?"
He asks what her father is doing in town, and what he's planning for the anniversary with Gaksital. He sneers, boasting that finding out was easy once he put a spy on her tail. In his head he thinks, "You understood me, right? You understood?"
Augh, I love it—he finds a way to warn her while still keeping his hateful cover.
Shunji tells his officers that their job is to stop Damsari and Gaksital from succeeding in their terrorist attack, and is about to announce that Kang-to will lead the charge… only he notices that Kang-to is nowhere to be found. Ruh-roh.
Rie comes to the pension in her nun's habit, but runs right into Kang-to on his way out. She quickly turns away to hide her face, and Kang-to walks right by in slow motion… without giving her a second glance. She breathes a sigh of relief.
She finds the circus family surrounding Mok Dan with worry over Kang-to's latest threats, and Shin Nan-da is the only one to wonder if Kang-to doesn't like Mok Dan. The women all say that's crazy and shoo him out.
Mok Dan greets the nun warmly, surprised to see her come out of her way. Rie says that she was worried so she went back to the station and found out about her release. Mok Dan thanks her for her concern and humbly offers her tea.
Mok Dan makes a cross on her chest before drinking, but notices that the nun does not, and drinks without giving thanks. It's a red flag for her, which Rie doesn't even register. And then to be sure, Mok Dan asks congenially about Sister Lucia at her convent.
Rie says she's doing well. And that's when Mok Dan knows. She thinks to herself, "Sister Lucia died…" Nice. Rie asks for prayer requests, and Mok Dan sighs, "They have to succeed…" Aw yeah. Are you feeding her false information? I love that the women on this show are so consistently badass.
Kimura and Son wait on pins and needles for word from Rie, and she finally calls. She gives them the veiled message to bring the whole family to the hospital at noon. Kimura asks if the doc is the target and Rie confirms it and tells them to hurry.
Rie leaves, thinking she swallowed that canary whole. But Mok Dan peers out, having heard her make the call. She rushes to pack a bag.
Shunji runs down to tell everyone that they're going to hospital. He asks where Kang-to's been, and he quickly makes up the excuse that he was investigating the Angel Club because his attacker the other night was dressed as a waiter.
He looks down at his watch: twenty minutes till noon, and the whole police force clears out. Happy timing.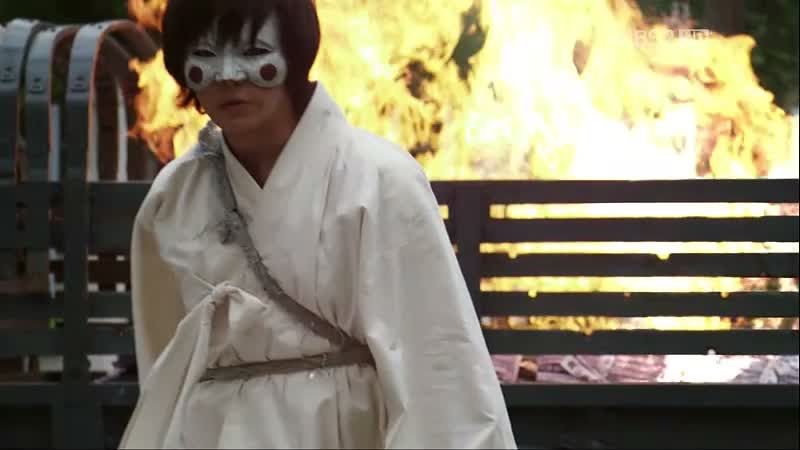 Damsari's cover wife meets the countess to get their invitations to the ball. She plies her with compliments, and the countess says it's her patriotic duty to look posh at the event, so that everyone can know how much Joseon has prospered due to the colonization.
The Kyungsung Ilbo staff loads a truck full of the day's newssheets, with Park's propaganda piece on the front page. Suddenly, Gaksital swoops in and douses the papers in gasoline and lights them on fire. He hero-walks away from the blaze, drawing his stick for his next attack. Bad. Ass.
Inside, Park brags to his son about the governor general's praise over the article, especially at the part where he used the colonization metaphor about a man with desire and a woman who submits.
Oh gross. Barf. I need a shower. Or twenty.
He thinks the headline was too soft though, and suggests that next year they go with something more like "The Downfall of Joseon." Dad and Son cluck away at their ingenious ideas.
But their laughter is cut short at a dagger that narrowly misses Park's face, and father and son both scream for their lives. Gaksital flies through the air to knock out Son, as Father turns into a blubbering mess. He strikes.
Shunji and his men creep into the hospital, guns at the ready. They charge into Doctor Woo's office, only to find him in the middle of lunch without a care in the world. They realize right away that they've been misled.
Shunji reports to Dad, who takes the remaining men out with him.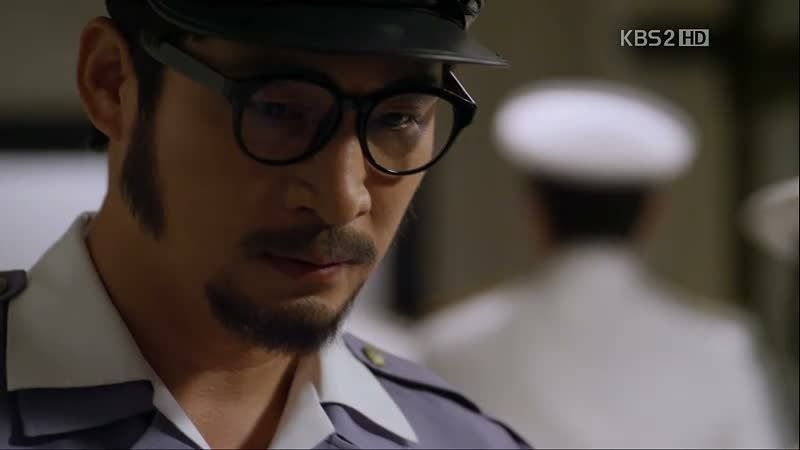 At the same time, Damsari has sneaked into the precinct dressed as a postman. He clears out the armory and fills his bag, and starts to make his exit…
Where he runs right into Kimura. He keeps walking, but Kimura stops him, wondering why he's headed in the wrong direction to make a delivery. Damsari says that he has a package for Lee Kang-to that he must hand-deliver.
Kimura asks to see the package. Ack! But thankfully, another officer runs up to interrupt them with the news: Gaksital has attacked the newspaper. Kimura turns to go.
Phew, crisis averted.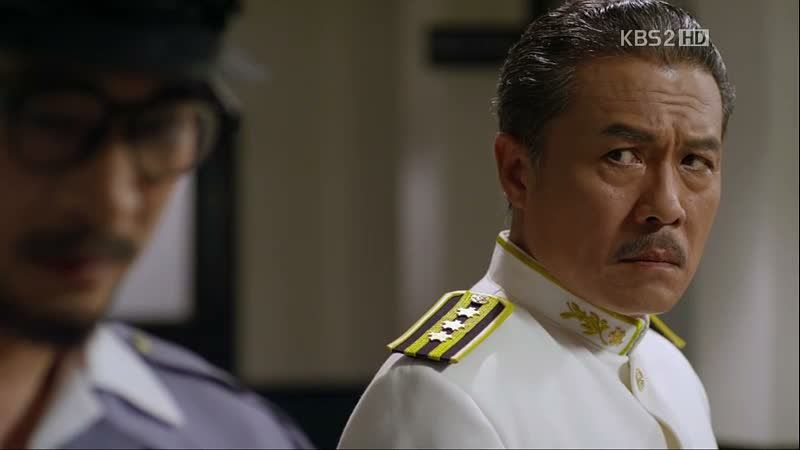 Or so we think for about half a second, until Kimura calls out for Damsari to stop. Oh noes. He grabs the bag and turns it upside-down, and out fall… letters and packages. Fakeout! Whew again.
He has the men open the boxes, but they're full of dried food. He lets the suspicious postman go. Meanwhile, Damsari's associates are hauling the weapons over the wall and out into the street undetected.
Kimura charges into the newspaper to find the Parks tied back-to-back, each with a newssheet stuffed into their mouths to shut them up. Hahahahaha. Love. It. That's comedy.
Kimura's face turns from annoyance to alarm when he sees the dagger with the message from Gaksital, that the misfortune from one's evil deeds will befall descendants as well.
He tells Rie about the day's events, and she refuses to believe it. Kimura takes a little jab that anyone could be fooled by a little girl once in their lives. Rie pounds her fist on the table, seething at being outsmarted by Mok Dan.
Kimura says the problem is they still know nothing of Gaksital's plan, and Rie says that Mok Dan is planning to skip town tonight. I'm guessing that means you're going to stop her?
Mok Dan says goodbye to Boss Jo, and promises to return someday. Her eyes fill with tears at the thought that she can't say goodbye to any of the circus folk, but Jo says it's safer that they know nothing. She bows to the ground to thank him, and takes her leave.
Shunji storms into his office with Kang-to on his heels. He fumes at being sent on a wild goose chase and says that there's only one way to ensnare both Damsari and Gaksital: capture Mok Dan and make them believe her life is in danger.
Just out of curiosity, how many times are you guys gonna use the Mok-Dan-as-bait trick? 'Cause you sure use a lot of manpower capturing her, letting her go, capturing her, letting her go. Just seems inefficient is all.
Kang-to agrees that it's the best plan, but will Shunji be okay going that far? You mean opposed to the last time where he ordered you to whip her? Shunji: "To that woman, I'm nothing but a Japanese."
He heads to the circus and sends Kang-to to the pension. While they search for her, Mok Dan walks down the mountain road, and Sun-hwa chases after her crying. She grabs Mok Dan in a hug and pleads with her not to go. Aw.
Mok Dan sits down with her and promises to come back, and says that's why she didn't say goodbye. Sun-hwa asks if maybe that's why Shunji didn't say goodbye to the children either—because he's coming back? Mok Dan just sighs, not wanting to break her heart.
But that time spent talking to Sun-hwa was just enough for Shunji and his men to catch up to Mok Dan. For some stupid reason, she waits all the way till they get in her face to make a run for it.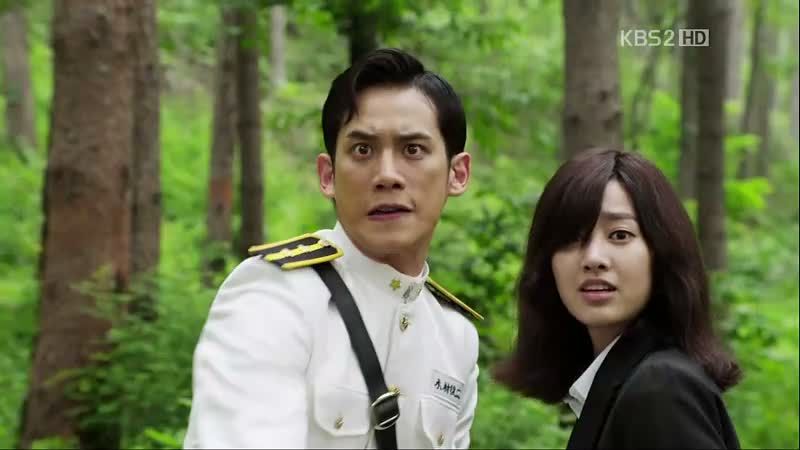 She takes off into the woods and the officers give chase. Sun-hwa tries to stop Shunji, pleading with him to just let unni go, and Shunji SLAPS her across the face. Oh shit. You did NOT just hit sweet adoring Sun-hwa! And also, if this is you acting out because Mok Dan has packed a bag to leave town, you suck.
Mok Dan runs for her life and Shunji and the men follow. It's a pretty heart-pounding chase, especially since Shunji is firing his damn gun at her the entire time. Are you really going to shoot her?
Kang-to come tearing up the road and finds Sun-hwa still crying. He asks what happened and goes running after them.
Mok Dan manages to hide for a moment but then gets discovered again, and Shunji levels his gun and hits a tree beside her. She falls down.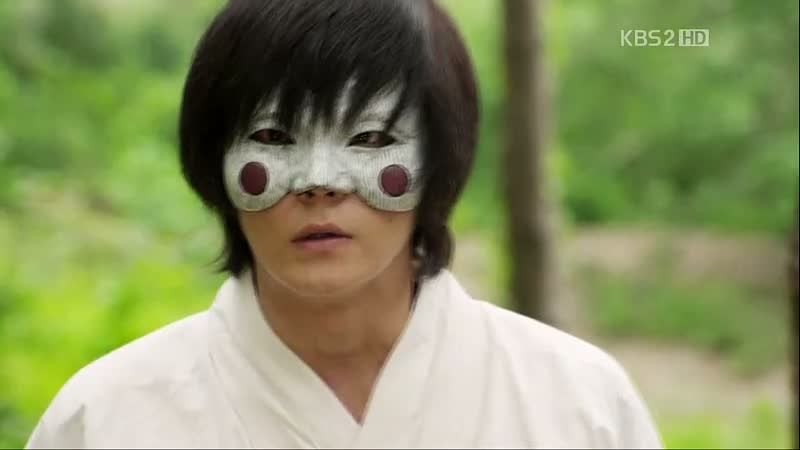 He picks her up and starts to haul her away, when Gaksital catches up to them and knocks the other men out. He leaps up to attack Shunji, who fires up at him, but misses.
Gaksital hits the gun out of his hand, but not to be outdone in the badassery department, Shunji kicks his sword up to his hands and sends the scabbard flying past Gaksital's head.
They battle it out furiously. Mok Dan watches, not knowing what to do, and then sees Shunji's gun on the ground. She picks it up…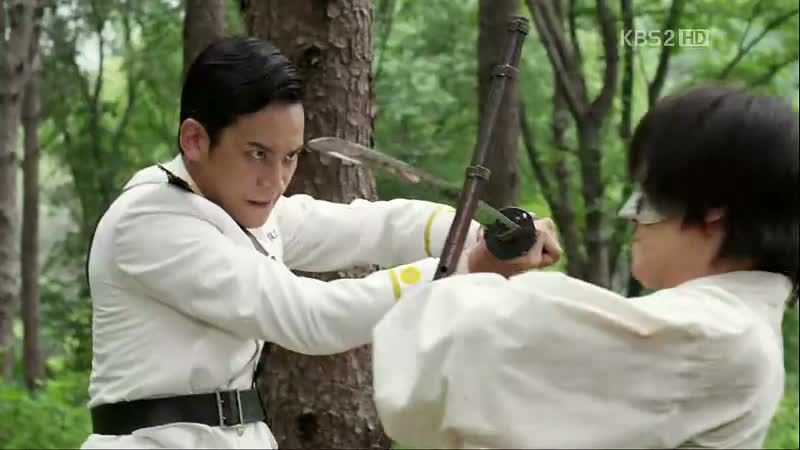 And fires up at the sky. Both boys halt mid-swing. Well that's a way to get their attention.
They look at her, and she slowly lowers the gun, and points it at Shunji with a fire in her eye. Hell yeah.
She moves slowly over to Gaksital's side, which makes me do an ill-timed happy dance (inappropriate I know, but I need Kang-to to have his tiny victories).
Shunji's eyes fill with hurt and angry tears that she'd point a gun at him, which YOU DON'T GET TO DO, because you just spent the last few bullets aimed right at her!
He drops his sword and can do nothing but watch, as Gaksital takes her by the hand and they flee. He races her away on horseback.
A tear falls as Shunji screams in rage at losing the girl to his mortal enemy.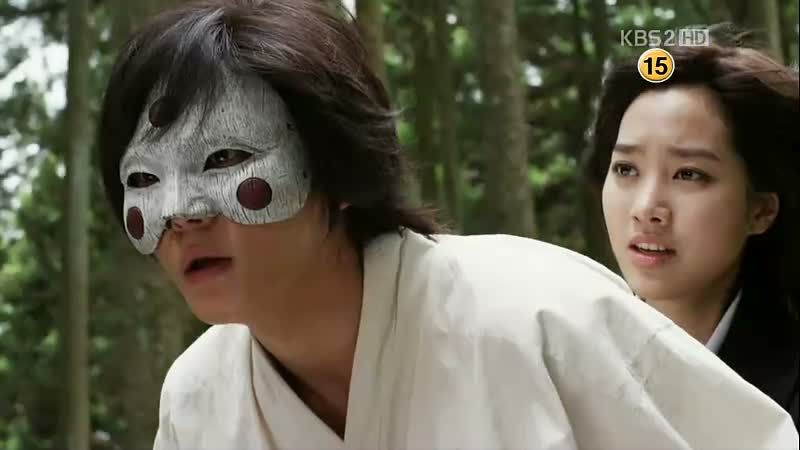 He finds something on the ground that was left behind—the letter that Mok Dan wrote for Gaksital. Uh oh. Thankfully, it doesn't contain any new information, but just thanks him for helping her father and tells him that she's leaving and asks that he be well. She signs it "Boon-yi."
Shunji clutches it with an angry fire burning in his eyes.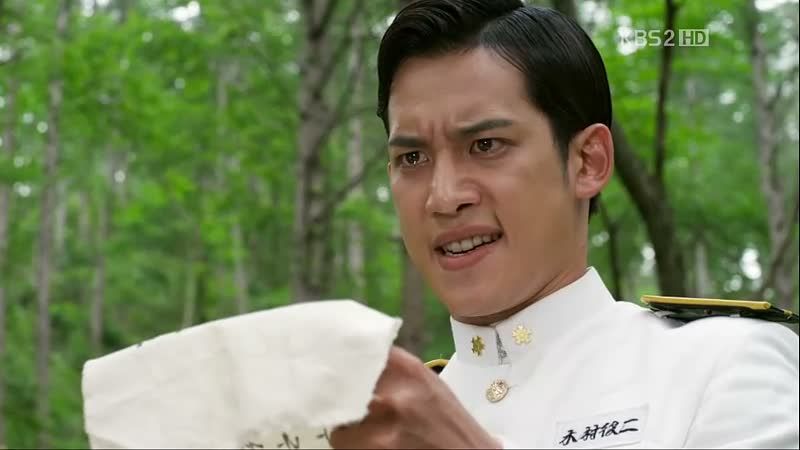 Gaksital rides Mok Dan away to safety, and they stop in an open field. He carries her down from the horse and they look at each other in a charged moment.
She runs up and throws her arms around him, and clutches him tightly.
He slowly wraps his arms around her and caresses her hair as she cries into his shoulder.
They stand there, holding each other, until the sun sets.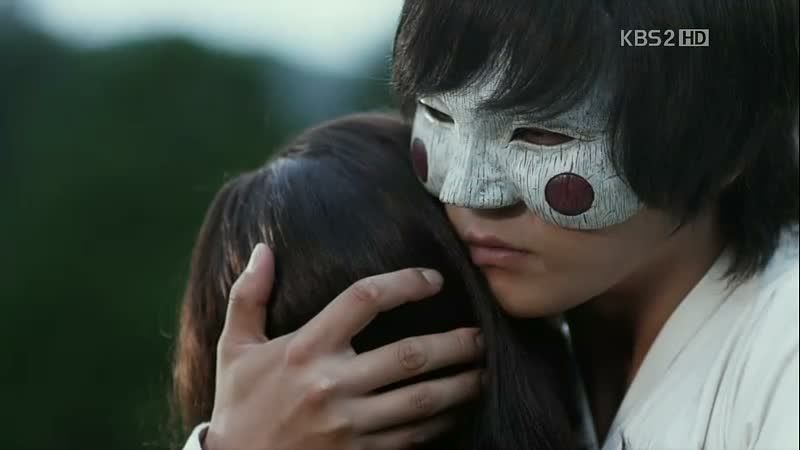 COMMENTS
AUGH. What a perfect episode. I'm so glad the show feels like it's settling into its britches. We were worried for a spell that it would just spin its wheels trying to set up all the baddies that Gaksital has to knock down, at the expense of emotional pull. Thankfully we're back on track this week, with two phenomenal episodes back-to-back.
There were so many great relationship beats in this episode, starting with the two best friends. When they cried silently with their backs turned to one another, my ill will towards Shunji crumbled all over again. By the end of the episode he's back to being hateful, but I love that he's more terrified than anyone of what he's becoming. I'm grateful to have him say it—that he thinks he's turning into a monster. Because just the fact that he's terrified and clinging to his humanity makes me remember who he was and keeps us connected to him. I appreciate the mirroring (as Kang-to points out to Hyung) that Shunji is waging a war with his dark side much like Kang-to did when he traded patriotism and loyalty for putting food on the table, and only now does he see how his brother must have felt in this position, needing to protect his identity, but at war with a brother he loves.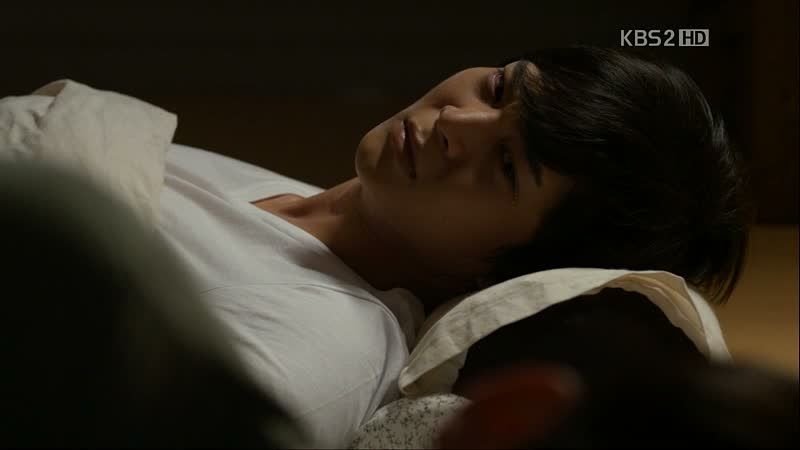 I'm so grateful that we're finally (Finally!) given a window into what Kang-to thinks and feels about putting on the mask. I still honestly can't believe the drama left us hanging on that score from Episode 7 till now, because I'm still hungry for more, and can't fathom why an origin story of a hero would be so stingy with the key hero beats. But seeing his conflicted and tearful reaction at someone dying to save his life—a man who would be spat on without the mask—is exactly the turmoil and the angst that I want him to go through. Everything about that rescue and Kang-to's disbelief at such unflinching loyalty was pitch-perfect.
I really enjoy how Mok Dan and Rie have upped their game as well, getting involved in all the cloak and dagger stuff. And for all of Mok Dan's lack of conflict (she's never going to have the layered torment that Kang-to or Shunji has), she's been fiercely loyal to the cause and thankfully always quick to act. I wish she wasn't always bait (only because that makes the cops seem unimaginative, which I guess they are), but it's just a fact of the love triangle that she will always be in that pivotal center, whether between Kang-to and Shunji in the last episode, or between Gaksital and Shunji here. But how great is it that the heroine doesn't stand idly by as the men duke it out, but raises a gun to save herself? And when she outsmarted Rie? I think girl deserves some kisses, Mr. Hero!
Everything about the current dynamic between the characters just makes my day. The tenuous friendship still holding on while Kang-to struggles with the same guilt that Hyung had towards him; Mok Dan and Gaksital's love growing while her hate for Kang-to rages on; and Kang-to struggling with the loyalty and hero worship that comes with wearing the mask. Let's keep the gears here and go full steam ahead!

RELATED POSTS
Tags: featured, Gaksital, Han Chae-ah, Jin Sae-yeon, Joo-won, Park Ki-woong