Gaksital: Episode 14
AAAAAAH! SO. GOOD. This episode takes tense to a new level. If you're a nail-biter, stay away. They'll be down to the quick halfway through, and then you'll have to gnaw off your fingers just to keep watching. Save yourself! This secret identity stuff is not for the faint of heart.

EPISODE 14 RECAP
Gaksital raids the colonization anniversary gala, cutting down the banner like the badass that he is. Kimura thinks now is a good time to start target practice, managing to kill half a dozen cops and civilians before being taken hostage by his own sword.
There's something so perfectly satisfying about that image. Let's bask in it for a spell.
But no time to waste, as dutiful son Shunji comes tearing into the room wearing his imma-catch-Gaksital pants today. He trains his gun on the target, at Dad's own urging to do what is necessary, without concern for him. Well, once a samurai…
Shunji shoots, but purposely goes wide. I think. Or bad shooting runs in the Kimura family. Gaksital raises his sword right to the back of Kimura's neck… and then uses him as a battering ram to knock Shunji down.
He gives each a good thwack with his cane and goes flying through another round of cops. This time he looks like he might get away, so Rie gives a nod to Katstuyama Jun. Oh noes. This guy seems hardcore.
Gaksital almost gets to the door, when Katsuyama takes one swing with his blade, drawing blood from Gaksital's arm.
ACK! I knew this would be bad! What's more is, this guy fights without once changing his expression, like this is zero effort, and he might as well be slicing tomatoes.
Gaksital manages to block the next moves, and then Shunji gets up and raises his gun. We just stay close-up on him, as his gun moves left, right, left, right. And then he shoots.
The shot rings through the entire building, where Damsari's cover-wife comrade jolts at the sound. It shakes her out of her grief, and she wipes away her tears with a determined look.
Back in the banquet hall, both men stop the swordfight as Shunji comes dangerously close with his gun. This time there's no hostage in the way, and Gaksital is surrounded. This is not good. How's he going to get out of this?
At Rie's nod, Katsuyama backs off again. Shunji creeps closer with a self-satisfied look on his face. It looks like it's in the bag…
But elsewhere Baek Gun is sitting atop a pole of power lines, and he cuts them, one by one. The entire city goes dark. Handy to have an Alfred with impeccable timing.
Lights out means Advantage: Gaksital, and he slips away, leaving Shunji in the dark. Hur, hur.
And just as the double doors swing closed in his wake, Damsari's accomplice throws an explosive into the room, and the doors close behind it.
Shunji barely has time to jump out of the way, as the bomb explodes.
Mok Dan and the others hear the explosion from the getaway car and cheer.
The bomber stumbles out in her heels, her nerves rattled raw. Lady! Why do you not have a getaway outfit under that dress? That's not what Sydney Bristow would do!
Officers run down the hall and Gaksital hides long enough to get past them… only to meet Katsuyama down the hall. He attacks, and Gaksital grips his cane with his bloody hand. I really really wish you'd start carrying a sword or something, because that cane isn't instilling a lot of confidence right now.
It's the most tense we've ever seen him – covered in sweat, bracing himself for a deadly fight. Gaksital gets in a blow, but Katsuyama uses his wound against him. He gets the upper hand pretty damn fast.
But Lady Bomber sees the fight from down the hall, and takes a pin out of her hair. Is it a dagger? Oh hell yeah.
She throws it right into Katsuyama's chest, and it's just enough of a distraction for Gaksital to deliver a blow that sends him to the ground. Phew. They run out.
Mok Dan and the others hide when police trucks drive past, and they see Damsari, alive but captured. Gaksital and Lady Bomber run up to meet them, and Mok Dan hugs her in relief. She apologizes for not being able to escape with her father.
Mok Dan thanks Gaksital for his help, and then notices his bloody arm. She asks if he's hurt, if he's okay, and that's his cue to take off running. Aw, you couldn't have let the girl tend to your wound? He watches her go from the shadows.
Once safely out of sight, Kang-to takes off the mask and ties a bandage around his arm, wincing from the pain. He pulls on his uniform, which can't be good—it's as white as white can be, and that bandage isn't going to hide the blood for long.
And just when you think you'll pass out from watching him nearly pass out from the pain, he picks up Gaksital's cane and HITS HIMSELF with it. Good god, Fight Club, stop turning my stomach into knots with your self-inflicted pain!
The lights go up in the banquet hall and everyone starts to stir. Kimura wakes up and suddenly starts searching the room with a manic look in his eyes. Oh no, you're searching for Kang-to, aren't you?
He goes through the bloodied officers lying on the ground, one by one. The tension mounts… he gets through them all… but then finds one more slumped over.
It's Kang-to, wounded and bloody. OHTHANKGOD. I dunno how he got there in time, but that was genius. And now I'm not so worried if his bloody arm shows, because they're all covered in blood.
Shunji stirs awake just a few feet away and asks after Gaksital. He takes off running and finds the hallway littered with bloody officers.
One runs up to report that Gaksital likely got away, and Shunji screeeeeeeams and lets loose his fury on the poor messenger. He kicks him to a bloody pulp, in an eerie reflection of Kang-to's outburst at his hyung in the marketplace.
Kang-to runs up to try and hold him back, but Shunji elbows him (right in his arm, gah) and continues to kick the guy half to death. Kang-to holds him back and tells the others to take the guy away.
But he looks down at his hand, now dripping with blood. Oh shit. Now I'm back to worrying. How are you gonna cover that up?
He thinks quickly and tells Shunji that he'll head to the station to question Damsari. Shunji tells him to go, but then calls out for him to stop. Aaaah! Kang-to turns back, barely hiding his bloody hand from view.
Shunji walks closer, eyeing him up and down suspiciously. Are we going to let my heart take a breather, or just barrel through and hope I don't die? Kang-to balls up his hand into a fist, as the blood keeps dripping.
Shunji: "How could you not recognize Damsari?" Kang-to apologizes and gives the excuse that the Count's insistence that they were besties had him fooled. Well it's the same thing that fooled Shunji, so he can't argue with that.
He asks about the accomplice, but she was never found. He reminds Kang-to that he said he would take responsibility, and Kang-to says he will. That's enough for Shunji for now, and he lets Kang-to leave. Whew.
The rest of the survivors in the banquet hall start to survey the damage. Kono is the first to realize that Governor Wada is missing, and everyone starts searching for him frantically. He finally peeks out from under a table like a little mouse, and Rie rolls her eyes.
She watches as Shunji runs back inside, and smiles to herself.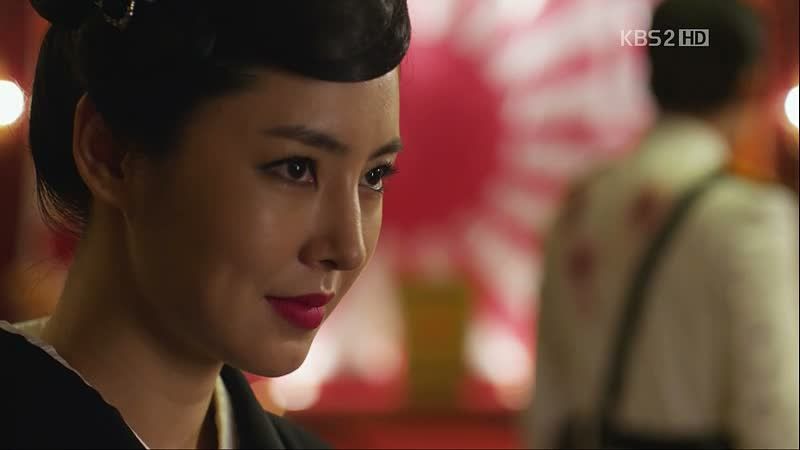 In the aftermath, Kono reports to the governor general that eight people were killed. Yeah how many of those were killed by a reckless aim-challenged Kimura, and not the bomb?
The governor reams the men for their oversight and asks who was in charge of security. Kono has no qualms chirping, "Kimura Taro!" Kimura bows at the waist, "Kill me!" Wada agrees heartily that he'll be dead, and announces his dismissal as the chief of police with a glass of water thrown in his face.
News spreads of Gaksital bombing the anniversary event, though the papers lie that all went smoothly.
Kono calls Kimura, Shunji, and Kang-to into his office and strips Kimura of his stars for everyone to see. Shunji protests that it's his fault that Damsari got through security, but Dad tells him to carry on with his job because it's up to him now.
Kono doesn't take care to hide his feelings, practically skipping as he sends Kimura packing with his tail between his legs. Shunji's anger flares, but he can do nothing, and Kono tells him to report directly to him now.
Kimura packs up his desk and Shunji follows him out silently. He pauses in front of Kang-to on his way out. At home, he tells Shunji that there's no way Damsari would have gotten past Kang-to if he's blameless, but Shunji says even he was fooled by the count's insistence. He plans to investigate that connection first.
Kang-to beats him to the punch and goes to see the count and countess. They're frazzled and look to Kang-to like he's their savior, clinging to either arm like little kids. He assures them that he'll help keep them safe, and asks that they not tell anyone about it, to insure their absolute safety. Smart play.
So when Shunji shows up at the house, the countess has him sent to another room and sidles up to Kang-to, asking if that's enough for him to slip out undetected. He turns on the charm and smiles. Heh. Boy knows how to play the ladies.
The countess cries to Shunji that she was totally fooled by Choi Tae-gon and his wife, and melodramatically offers up her chest for him to just kill her now. She grabs his leg and cries, smiling to herself for her winning performance.
Koiso comes out of the torture room to change his bloody shirt, complaining that Damsari is so inconsiderate of his torturer's efforts by not saying a word. Kang-to's eyes widen with alarm at the sight of Koiso's shirt, and then tries to intervene when he hears that their next move is to put him in the "box of nails." Uh… that sounds bad.
Kang-to tries to argue that he has too much valuable information for that, but Shunji approves it and asks to speak to Kang-to alone.
He argues that Kang-to should've asked about his father first, and Kang-to apologizes for being short-sighted. Shunji thinks back to Dad's warnings about Kang-to's suspicious movements, and decides to ask directly: where was he when the armory was being cleaned out?
It's direct enough that Kang-to scoffs outwardly at the implication. But Shunji smiles and says it's just out of curiosity is all. Kang-to doesn't hide feeling offended but appeases Shunji's suspicions, and he asks Kang-to to report his comings and goings from now on.
Shunji decides to put his loyalty to the test and asks him to take over questioning Damsari, since Koiso is an amateur. Kang-to says he'll get Damsari to talk, and give up his accomplice and Gaksital too.
Shunji is pleased to have his professional on the case, and then adds that he'll have to watch so he can learn a thing or two. Oh no. Am I gonna make it through this episode alive?
They walk down the hall together and Kang-to takes a deep, shaky breath before going inside. The image in his mind: Mok Dan thanking Gaksital with tears in her eyes.
Eek! It's the box of nails! Kang-to-ya, not the box of nails!
Shunji takes a seat to watch the show, and Kang-to saunters in leisurely. He really does scare me in the torture room.
He orders Damsari to be freed from his chains and sat in a chair. When he lifts up his head, Damsari smiles, greeting Kang-to like an old friend. He chastises him for not greeting him back, calling him ill-mannered like the Japanese.
Kang-to sits in a chair opposite him and scoffs, "Manners? You should live like a person. Even animals take care of their young."
He says that while Damsari has been running around for the independence movement, his daughter has been chased and captured and tortured to within an inch of her life—is that how a father should live?
Kang-to: "My brother was captured because of the movement and he lived and died an idiot. So what. Does anyone recognize that? It's all in vain! Futile nonsense!" Oooh. I love this because it's earnest, just twisted for a dark purpose.
But Damsari asks if he should just let the people who want to take him and his daughter as slaves do what they want, just to save her right now. Isn't doing so becoming an animal that submits before those very men?
He looks Kang-to in the eye and asks how he could be the very thing he should be fighting. It shakes him to his core. Tears pool in his eyes and Damsari says full of regret for Kang-to like he's a lost child, "My heart stings and my bones break!"
It's Shunji who reacts first, offended at being called a foreign bastard. It brings up the searing memory of Mok Dan calling him nothing but a Japanese, a foreigner, to her now.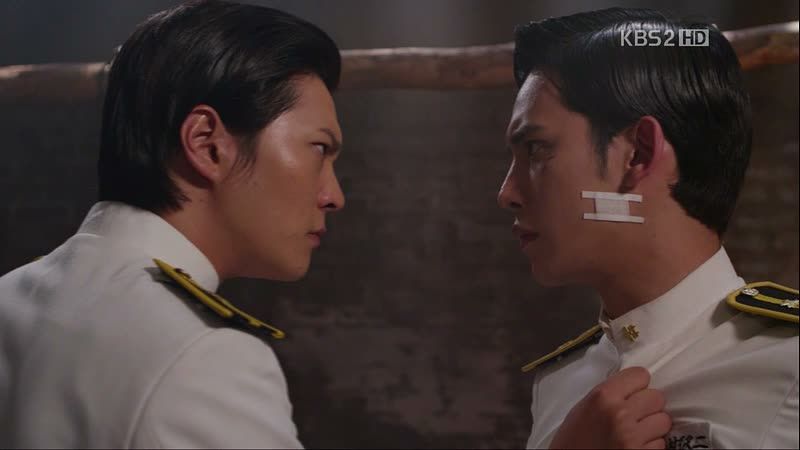 He grabs Damsari and shouts that father and daughter are the same, no matter how good he is to them. Well, that's projecting a little. You may have been good to Mok Dan, but I'm pretty sure Damsari doesn't feel your betrayal.
Shunji says they're done talking to him, and orders that he be put in the box. Not the box! Kang-to gets up to protest – he'll die in there. Kang-to argues that he was entrusted with this interrogation. He stands his ground to say it's never going to happen.
But that just gets Shunji even more riled up. "Are you on this guy's side? Sato Hiroshi, you said you were Japanese down to your bones. Should we test that? Put Damsari inside! With your own hands."
Shitshitshitshitshit.
Kang-to looks away, fraught with the choice before him. He looks at the Box of Nails, lined with daggers, its floor seeped in blood. Damsari closes his eyes and braces for death.
Shunji sneers that perhaps in the end he can't help being Korean. Kang-to grabs Shunji by the collar and growls, "YOU SON OF A BITCH…" Oh dayum.
"Are you crazy? Have you gone mad?! We finally catch him and you want to kill him?! Are you going to catch Gaksital or not?! You said you wanted to learn from me. If you don't know anything then sit still! Shut your mouth!"
He roars into Shunji's face, and it's convincing enough that he backs down. I think my heart is permanently lodged in my throat.
Kang-to gathers himself and apologizes, and asks for Shunji to please just trust him and he'll get Damsari to talk. Shunji leaves him to it, and Kang-to finally breathes a sigh of relief.
Shunji turns back with one last lingering look, still not quite sure of where he stands. Kang-to kicks Damsari down and Shunji finally walks out.
Mok Dan and the others meet with circus boss Jo and they agree that freeing Damsari is their first priority. They wonder how and Mok Dan says they'll have to use Shunji. "I have a plan." Ooh, I like devious Mok Dan.
Shunji sits in his office, contemplating Kang-to's outburst at him. Koiso complains about being taken off torture duty, but Shunji yells that capturing Gaksital has to come first. They decide to investigate the incident with the imperial army, and why they set Mok Dan and Boss Jo free after taking them.
They head up the mountain road where Sun-hwa is walking her brother to school because he keeps ditching class to avoid the new teacher who hits them. The little boy lights up to see Shunji headed their way and runs up, "Teacher! Teacher!"
But Shunji just stares blankly ahead, not even looking at the boy, and Koiso yells at him to move out of the way. He cries as he watches his beloved teacher go, asking his noona if that was really him. Aw. Sun-hwa cries as she hugs him and says that Shunji isn't someone they can know anymore.
Boss Jo asks his circus troop if he can be a little late with their salaries this month (because Team Independence needs emergency funds, which he keeps to himself). But they're interrupted by Shunji, who asks Jo to come quietly down to the station.
He's got that threatening leer down now, and Jo complies, assuring the troop that everything is okay.
Back at Torture Town, Kang-to stands over a fire. Are those… hot pokers? Remember the part where you weren't going to let Damsari get stabbed to death? What happened to that plan?
He sits down for another chat, and Damsari hilariously sighs impatiently for him to begin the torture already, because the waiting is actually more torturous. Gallows humor. I like this guy. Kang-to just sits back in his chair.
Kang-to: There's something I wanted to ask my hyung, but he died before I could ask it. If my hyung… and you… [thinks to himself: "and I…"] live this way, will the world change? They say that the Japanese empire won't stop at Joseon, and that it'll swallow Manchu, and China. Isn't it throwing an egg against a stone?
Damsari: It may appear reckless. One layer of an egg's shell, cast against a stone will surely break. But no matter how strong a stone, it is dead. And no matter how weak an egg, it is alive. When time passes a stone will crumble into dirt. But someday there is a chick who will hatch from that egg and walk upon that dirt. The day will come when the Japanese empire's murderous tyranny and oppression cannot defeat that egg.
Proper chills.
But before Kang-to can respond, the door bursts open and Shunji drags Boss Jo inside. Jo and Damsari both look at each other in alarm. Shunji asks if Kang-to has succeeded, and growls that he's in a hurry to bring his father back.
He pushes Kang-to aside and gets in Damsari's face to ask who Gaksital is. "You don't know? Shall I grab your daughter and throw her in that box before your eyes and give it spin?" Holy crap, Shunji!
He can tell from Damari's face that this is the way to get him to talk, and tells Kang-to to lock Damsari in a cell for a break, while he tortures Jo until he gives up Mok Dan's location. Jo just gives Damsari a reassuring smile.
Kang-to watches as Koiso locks Damsari up good and tight, even cuffing his ankle to the floor inside the jail cell. He asks for the keys but Koiso dangles them like a treat in front of a dog and says that Shunji will be holding onto them. Oy, there's no gaksitaling this jailbird under these conditions, is there?
Shunji takes his time with Jo, circling his prey and rattling his nerves. Jo swears he doesn't know, which just makes Shunji smirk.
Next thing we know, Jo is locked in the Box of Nails, as Shunji rocks it back and forth with his leg, like he's bored. Jo screams from the pain, and even Koiso winces.
Once the blood is pouring out of the box in a stream, Shunji asks again where Mok Dan is. Jo raises his head to speak…
And then we cut to Jo being carried out, as Shunji smiles and thanks him for his cooperation. Nooo!
Kang-to watches and asks Shunji if he found anything out. But he lies like a lying liar: "No, it was a waste of time."
Kang-to marches into Damsari's cell and asks where Mok Dan is. Kang-to's concern rings in his voice, and it confuses the hell out of Damsari. He doesn't understand why he would be worried for Mok Dan's safety.
But what neither of them sees is that Shunji has walked up behind them. He hears as Kang-to pleads, "Your daughter is in danger. Boon-yi… Boon-yi is in danger!"
OH. FUCK.
Shunji immediately flashes back to Mok Dan's letter to Gaksital, signed "Boon-yi."
He looks back to see Kang-to pleading through tears, "Please! PLEASE!"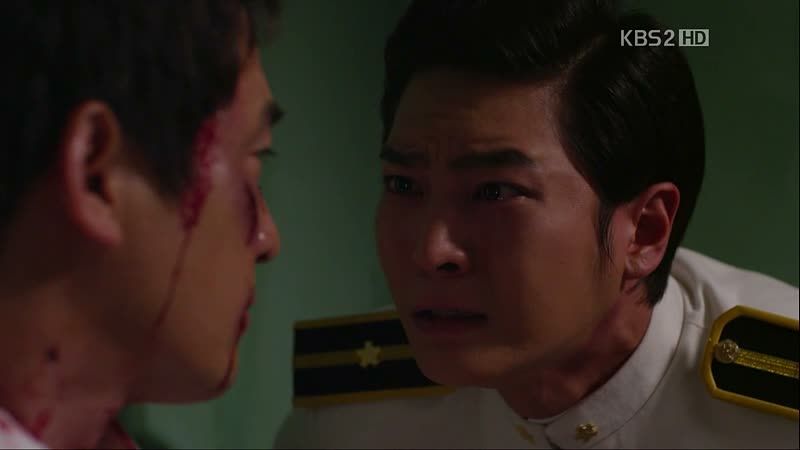 COMMENTS
Okay, this is one serious vat of crap Kang-to just stepped in. How is he going to explain that he knows Mok Dan's real name, the one that only Gaksital and her beloved Young Master know? That's just one dot too many for Shunji to ignore – he may have defended Kang-to in front of his father and believed he was doing those things to protect Shunji from having to go evil on the woman he supposedly loves, but this? All signs point to Kang-to = Young Master = Gaksital. Aaaack, I'm freaking out all over again!
I'm so excited that this show is keeping its intensity and going for broke. It terrifies me that Shunji has stepped up his game, but it's so great for the story to give Kang-to a well-matched adversary who keeps him in danger at all times. With a secret identity always teetering on the brink of discovery, it keeps everything charged with such fantastic tension. I can't believe he's risking it all to ask Damsari where Mok Dan is, and it would have been enough for Damsari to suspect him as the hero, but when Shunji showed up my heart leapt out of my chest. It would probably do better to just stay away until this show is over.
I love, LOVE that Kang-to finally asks Damsari if what they're doing will ever make a difference. Because even as Gaksital, he's never believed that one man can change the world. That's just not who he is. I'm so thankful that the show is giving me signs that Kang-to didn't run off and have a lobotomy before putting on the mask, and that he still questions his hyung's choices, now more than ever. I can believe that he put on the mask out of guilt, or even shame at what he'd become, and that he's doing penance this way. But he still has a very small view of what he needs to do – everything is immediate and reactionary (like punishing the bank or newspaper men), or driven by his love for Mok Dan, not necessarily The Cause.
It's important that he even has someone like Damsari to ask, and it really got me in the heart when Damsari treated Kang-to like a lost brother who took a wrong turn in life, not as a black-and-white enemy. His version of that quintessentially Korean egg-rock metaphor was so moving. It's a fist-in-the-air, hand-to-the-heart kind of a speech, and not only did Kang-to need to hear it, but I needed to hear it from Damsari, because Kang-to isn't wrong about what he's sacrificed for the independence. The feeling that Kang-to is being filled with purpose in a new way is so thrilling, and so exactly where I want my hero-to-be, to be.

RELATED POSTS
Tags: featured, Gaksital, Han Chae-ah, Jin Sae-yeon, Joo-won, Park Ki-woong