Ghost: Episode 18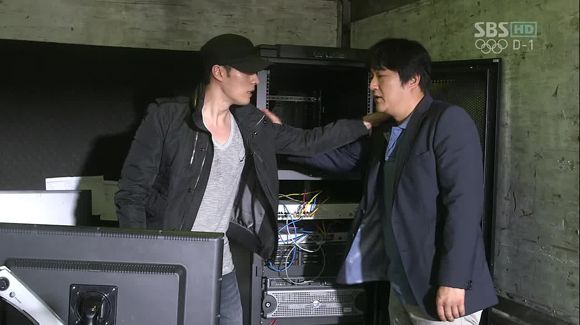 Things get personal in this episode. I swear this is the worst cliffhanger in all of mankind considering that we won't have new episodes of Ghost next week. It's painful – painful – because we're getting so close to the end! I'm thankful that the writer has not rushed anything so far, so Hyun Min is going to have a slow death. Or what I hope is a slow death for him, and not a single death for any of our cyber crime team members.
Director Jun's body is carried out of the parking lot in front of crowds who've stopped to watch the horrific scene unfold. What's worse is that the CCTV cameras were cut and no evidence was left behind, so it makes it even more difficult for the police to track down the criminal. As for Woo-Young, he manages to slip away unnoticed. Hyuk Joo and the cyber team take the news really hard, as it is one of their own who's died.
Do Hyun emails Hyun Min that he'll take care of Woo Hyun's USB, which has all the investigative reports. Director Moon has additional good news – Director Jun's death will be investigated by Chief Shin's team, and so it is likely to end up a cold case. The only loose end is Woo-Young/Ki Young, but Director Moon assures that he's got it covered. Not only are the police looking for him, but so are the prosecutors. Every single place he could go to is being watched, and the cyber team's emails are being monitored for clues.
The only people who'd know where Woo-Young is are currently meeting him in an outdoor parking lot. Woo-Young tells them that he saw Do Hyun in the same elevator as Director Jun, so he was the killer. They need to catch the Dae Young group, but those hackers have been lying low recently. They'll need to be drawn out of their shell and start hacking so that Woo-Young can catch them and Hyun Min in the act. And yes, he sort of has a plan. It involves camping out at a PC cafe.
Back at the bureau, Chief Shin informs the cyber team that he'll be taking over as their superior for now until they can get a replacement for Director Jun. Erm – don't think Hyuk Joo and Kang Mi are too comfortable with that! Sang Woo reports that the cyber team is busy tracking down Dae Young, while Tae Gyun is doing his own investigation on the CK Company hard drive. Tae Gyun is so busy (because he's about to crack it) that he has been excused from the meeting, and Hyuk Joo even sent him off somewhere more quiet. Chief Shin is clearly not too pleased that he can't see the investigation unfold before his very eyes.
Then – chaos erupts! All of their computers are suddenly hacked and showing Hades' signature. Hye Ram finds it impossible since Park Ki Young is supposed to be dead! A window pops up on the screen saying that the computers have been hacked through an antivirus program; everyone is advised to turn off their computers immediately. Sang Woo then picks up a call – it's not just the police bureau that's been hit with Hades' virus, but also the prosecutor's office, Se Kang Telecom, broadcasting stations, and the government's offices.
Hades' signature is seen everywhere throughout Seoul, playing even on the jumbotrons outside on the streets.
The police track the ISP of the virus back to True Story, where a group of officers hurry over to break inside. They enter Ki Young's old office, and see someone hiding under the desk. It's Seung Yoon! Well…she's not Hades… but she does get arrested anyways.
News of Safe Tech's vaccine program being also a hacking program spreads, leading to a decrease in users and a drop in stock prices. Meanwhile, Hyuk Joo orders Sang Woo to let Seung Yoon free from her handcuffs. Even though Seung Yoon was caught in the True Story offices, there is no way she could have been the culprit. She's Seung Yoon! Their boiled potato Seung Yoon! All she did was check out the True Story office to see if Park Ki Young was really alive, per all the rumors. She just ended up being caught and becoming a scapegoat.
Woo-Young's hack ends up being successful as it prompted Safe Tech, the National Intelligence Service, and other top agencies to meet in Chief Shin's office. Hyuk Joo is also present at the meeting to represent the cyber crime team and push through the Three Musketeers' plan: to get Safe Tech's vaccine program re-verified by the NIS. Safe Tech wants to sue Seung Yoon and True Story for defamation, but Hyuk Joo thinks their vaccine program should be tested first before lawsuits go flying. Though the Safe Tech representative insists that their program is already perfect, Chief Shin – surprisingly! – agrees with Hyuk Joo. It'd be better if Safe Tech would consent to getting their program re-verified by the NIS. Not only would it look better for their public image, but it's the only fair thing to do after all this public scrutiny.
In exchange, Chief Shin promises that the police will investigate the Hades case more thoroughly.
The Safe Tech representative returns to Hyun Min and Director Moon with the news that they'll have to submit the vaccine program's design and source code for verification. Hyun Min isn't too worried, because the hacking program can't be caught unless activated at that moment in real time. What's more important anyways is getting his hands on the CK Company hard drive, which has the beta vaccine program. They need to locate where Tae Gyun is with the drive, stat!
Meanwhile, Tae Gyun finishes up his analysis and calls up Hyuk Joo with the news. Hyuk Joo wants the report sent via email. No! Are you crazy!? They're gonna hack it! Hyuk Joo receives the email and downloads the report, while I tear my hair apart. What if it's a virus!? 
At the exact same moment, the Dae Young hackers are in a closet-like space with Eung Jin, and Do Hyun sees the email come in to Hyuk Joo's mailbox. (He's got a copy of what Hyuk Joo is seeing on his screen.) Eung Jin orders Do Hyun to download the report, and then has the other hacker Myung Joon locate the IP address of where the email was sent. Myung Joon tracks it down to True Story offices. Do Hyun volunteers to go and "clean it up," but Eung Jin tells him to stay. He'll go himself. EEEP!
Back at the bureau, Hyuk Joo opens his task manager and notices that there's a background compressing task occurring on his computer, one that he didn't do. On top of that, a small pop-up window on Do Hyun's computer shows up saying: "Warning, Hacking Detected!" Too bad he doesn't see this, as he's away from his computer and looking over Myung Joon's work. Hyuk Joo excitedly calls up Woo-Young. The Dae Young group took the bait! There was a tracing program hidden in the report Tae Gyun sent, and so Woo-Young manages to remotely track the hackers' location. They're at Gyeonggi-do! Off Hyuk Joo goes!
Tae Gyun quickly ejects the CK hard drive from the computer at True Story and saves all his documents. He then hears a car park outside the building. It's Eung Jin! Run!!
Hyuk Joo and Woo-Young are on the hunt for the hackers, but the IP address leads them to a cafe with free wifi. There's nothing that indicates where the hackers could be camping out, and what's worse is, their IP address changes every two seconds! Though the IP addresses all mark locations that are close by to the cafe, Woo-Young doesn't understand how it could change so fast and so soon. He pulls out a map and marks out the locations of each IP address he's been able to track. They're all aligned to one road; could the hackers be in a car?!
The hackers must at least be in a trailer, if not a truck, to accommodate all their equipment. Since the road ahead forks into two directions, Hyuk Joo and Woo-Young split up.
Not a moment too soon, Do Hyun returns to his desk and sees the warning pop-up about his hacking being detected. He quickly turns off the program and kills the processing task. That subsequently kills Woo-Young's tracing program, and he loses track of them. However, he notices a huge truck driving in the opposite direction to him, with a man looking like Dam Sa Myung at the front seat, and a huge modem strapped on the side of the truck.
Woo-Young snaps several photos of the passing truck and sends it to Hyuk Joo, warning him that the truck is heading towards him!
Back to True Story. Eung Jin quietly sneaks into the office and looks inside Ki Young's office. No one is there. Whew! He leaves the room to check out the other areas, and that's when Tae Gyun slowly emerges from the back, hiding behind the door. He peeks out the door to make sure the coast is safe. I'm screaming, "Run! Don't walk out slowly!"
Sure enough, Tae Gyun suddenly finds himself face-to-face with Eung Jin! Ack! Eung Jin wants the hard drive, but Tae Gyun refuses. And next thing we know, a gun is to Eung Jin's head.
It's Kang Mi, and she has Sang Woo and a team of officers with her. Kang Mi: "I've waited for you Dr. Kang, because I really wanted to catch you myself. You are under arrest for the murder of Yeom Jae Hee, for destroying evidence, and being the accomplice to Detective Han Young Suk's murder." WAHOO!
Do Hyun is still worried over the fact that he was detected and he radios Dam Sa Myung to keep moving, afraid that they might get caught. The truck moves a little more rapidly, but it comes to a sudden halt. The doors to the back of the truck open, and the hackers find themselves looking straight into the gun barrel of Hyuk Joo. They're all under arrest, and fittingly, they're all at the police station already.
Hyuk Joo had caught the truck just in time as they passed him, and pulled his gun at Dam Sa Myung. He arrested him at that moment, and had another driver bring the truck to the police station instead. Woo Young is also present for the arrest, with his gun trained on Do Hyun. All he can think of is how that kid killed Director Jun, and the rage is visible on his face.
Do Hyun: (smirking) You're a policeman. You have to hold it in…

Woo-Young: *KA-POW!* You're under arrest for the murder of Director Jun. And, I'm no longer a police officer.
Hee.
The Dae Young hackers are herded into the police station, and Woo-Young is extremely pleased over the fact that they managed to get the computers and the server intact. The server in the truck holds the true source code for the Safe Tech vaccine program, and so it provides proof of hacking. The vaccine program has now been taken down! Hyuk Joo then realizes that Woo-Young needs to run, since he's on the wanted list. He promises to personally take care of the handling of the evidence and hard drives.
A brotherly clap on each other's shoulders, and Woo-Young's off. Bromance!
Chief Shin arrives at the cyber crime team's office that evening and finds them all hard at work. He congratulates them on taking down the Dae Young group, since they were responsible for an earlier DDOS attack. Hyuk Joo proudly adds that they got Eung Jin as well for murdering Jae Hee, aiding another murder, and tampering with evidence; when all of his crimes are added up, Eung Jin will get at least 15 years in prison.
Chief Shin tries to draw attention away from Eung Jin by adding that rumor has it Hyuk Joo worked with Woo-Young for this recent arrest. If that were true, things could get difficult for the cyber crime team. Hyuk Joo isn't fazed; he adds that if Chief Shin tries to protect Eung Jin just because he's a junior from his hometown, then it could be troublesome for the entire police bureau. Hah – good point!
Hyuk Joo also shows Chief Shin that they've made multiple copies of the server hard drives that prove Safe Tech's vaccine program is a hacking program. He's sure that none of the evidence will be manipulated with, or will disappear, but he made the multiple copies just in case. Chief Shin looks far too concerned at hearing that. It's like guilt is written all over his face, because he should at least feign some happiness for Hyuk Joo's success.
Director Moon informs Hyun Min that a search warrant has been issued for Safe Tech. He's deleted everything related to Dae Young group so Se Kang Securities would only look like an investor to that company and nothing more. He'll also put a pause on the vaccine program's development. Hyun Min is okay with the recent developments, but he's more concerned about people – specifically Park Ki Young.
Sang Woo and a bunch of police officers head over to Safe Tech the next morning with a warrant for arrest and confiscation of all computers. The company is being charged with illegally looking into people's personal information. As for the Dae Young group, all of them are keeping mum about the person who hired them. All Hyuk Joo needs is for someone to admit that Hyun Min hired them, but Eung Jin says instead that they worked independently. Even though they took down Safe Tech, the cyber team is having a hard time finding evidence that links them to Jo Hyun Min.
Hyuk Joo receives a visitor – Seung Yoon! She thanks him for all his help, especially since Safe Tech is dropping all charges of defamation against her, so she packed him a meal. However she also has a favor to ask: could Woo Hyun possibly be Park Ki Young? Is Ki Young really alive?
Her questions stuns Hyuk Joo, but he recovers quickly enough to tell her that she's just hallucinating. She must have liked Ki Young before right? "Tsk tsk, girls always looking at appearances. You should pay attention to the heart!" Hey Hyuk Joo – I don't know what you just meant here, but either you're giving Seung Yoon some fatherly advice, or you're telling her to like you better than Ki Young…
Anyways – Hyuk Joo quickly makes his escape to the elevator, nervous over how Seung Yoon could possibly have found out about Woo-Young. He checks out the meal she packed him, and it has rice with seaweed in the shape of a Mad Cow. AWWW. Meanwhile Kang Mi sits in the park with her packaged sandwich, and decides to send a photo to Woo-Young with the caption, "Did you eat yet?"
Woo-Young appears behind her: "No I haven't eaten yet. I'm so hungry. Did you send me this photo to tease me?" Oooh, they're having a moment… and Hyuk Joo totally comes charging in, ruining the sweet mood but carrying Seung Yoon's packed lunch!
It ends up being a working lunch, as they discuss the case. So far they have nothing that can pin Hyun Min down as a criminal, which is troublesome. Woo-Young couldn't even make a copy of the investigation report he gave Director Jun, and Kang Mi heard something strange from Tae Gyun. But before she can explain what Tae Gyun said, Hyuk Joo gets a call from the housekeeper – Seon Woo had gone out to the park to play, but he's now missing! Oh no… Hyun Min didn't just go kidnap a 7-year old, did he?! Things just got personal.
The Three Musketeers rush back to Woo-Young's family home and start looking for Seon Woo. Thankfully, Seon Woo isn't too far from the playground, and playing with a new airplane toy. (I totally bet that toy is bugged.) Of all people, he's actually with Hyun Min. Woo-Young tells Seon Woo not to go off with strangers, but Seon Woo recognized Hyun Min as his father's friend. Woo-Young then sends Seon Woo off so that he can have a private chat with Hyun Min.
Woo-Young wants Hyun Min to not target Woo Hyun's family, but Hyun Min doesn't know how to play fair. He only knows how to cheat to ensure his victory. What an ass. He also doesn't mind adding Seon Woo and Kim Suk Joon to the list of growing casualties. The only way to stop that is for Woo-Young to leave. Hyun Min: "Se Kang Group and the vaccine program have nothing to do with you. If you disappear quietly, I won't do anything to you." He leaves, the decision being entirely up to Woo-Young: protect Woo Hyun's family and disappear? Or risk their lives but capture Hyun Min for good?
Back at the car, Hyuk Joo reassures Woo-Young that they can increase protection around Seon Woo. However, Woo-Young says it's not as simple as just "leaving;" what Hyun Min meant was for Woo-Young to die. Holy crap. Writer – you can't be serious about this…
Kang Mi is even more determined to catch Hyun Min, because if they do then everything ends. The problem is getting the evidence! Woo-Young quietly adds that there is only one way to end it, and he has a favor to ask of Hyuk Joo… Uh-oh. Please don't kill yourself Woo-Young!
Woo-Young returns to True Story for some brooding time. Don't brood! Just act! Catch Hyun Min! He thinks back to the day when he first joined the police academy, to when he got carried off for hacking into Kim Suk Joon's files, to when he left his best friend and the academy behind. All of his hardships and undergoing that reconstructive surgery led to this point, and Woo-Young doesn't know what he should do. What would Woo Hyun have done?
The following day, the court convenes for the final trial on Jo Jae Min's case. He stands accused of murdering Nam Sang Won, and the prosecutor makes his closing statements with the request that Jae Min receive 15 years in jail. But then, the court gets a party crasher at its doors. It's Woo-Young!
He interrupts the session by claiming that Jae Min did not kill Nam Sang Won. The judge is about to have him hauled away for interrupting the trial, but Woo-Young claims to have been a witness to the murder. He knows who's the real killer.
Woo-Young suddenly recounts every single casualty in this drama so far: Shin Hyo Jung, Nam Sang Won, Han Young Suk, Yeom Jae Hee, Jo Kyung Shin, Kang Yoon Woo, and Kim Woo Hyun. He turns to look at Hyun Min's, whose eyebrows are furrowing deeper and deeper together with every second that ticks by.
Woo-Young: Nam Sang Won's killer is Se Kang Group's chairman Jo Hyun Min.
Comments:
AHHHH! THAT'S IT?! I'M LEFT WITH THAT!? FOR TWO WEEKS? Painful I tell ya. I have to say though, I don't know how this is going to work out. It's never been easy to just say the truth so blatantly like that. I mean, if they could have done it, they would have long time ago. What makes this moment different from the other moments? Just because Woo-Young says it now doesn't mean anyone's going to believe him. That's the troubling part because something is bound to go wrong with Woo-Young's testimony. Either no one is going to believe him and he gets arrested for being on the wanted list, or everyone believes him and Hyun Min will do something evil to his family.
This confession/testimony certainly is a better option to having Woo-Young fake his death though, or actually kill himself. I'm hoping we don't go down that route, although Woo-Young saying it makes this path a very viable option for the writer to take.
I noticed a lot of comments regarding the romance between Woo-Young and Kang Mi, and although there are hints to it, I don't think they're anything more than hints. While Kang Mi now respects Woo-Young as "Ki Young in Woo Hyun's body" I don't think a lot may happen between them. Their chemistry is similar to that of Park Shin Yang and Kim Ah Joong in Sign. There were signs that the two of them cared for each other, and would go at any lengths for the other. However, they didn't really have a romance. There was a hint to it at the final episode, but (spoiler alert!) I think it was more because Park Shin Yang's character Ji Hoon knew that the end was coming for him, and he was merely doing everything he could before it was too late. If I see Woo-Young hold hands with Kang Mi or kiss her, my chest just might tighten from worry that Woo-Young will die.
And that is why I don't mind that every moment they have together gets thwarted somehow. In this episode, it was hilariously interrupted by Hyuk Joo, but that interruption also emphasizes the camaraderie between the Three Musketeers. At the end of this series, it's all about them. Whether it was chasing each other, or helping each other, the drama is about them and their different ways of pursuing truth and justice. And I like it just fine to have my threesome like that.
RELATED POSTS
Tags: Eom Ki-joon, featured, Ghost, Lee Yeon-hee, So Ji-sub