I Do, I Do: Episode 11
Never has motherhood faced so many challenges and poor Ankle's probably been through more stress than other fetuses in its short 13 week lifetime. Ji-an is straddled between being a mother in her work as well as her personal life and finally takes that first defiant step.
This show is seriously dragging its feet elsewhere and I feel like we're still looking into the same puddle over and over again, expecting that there will be a drop to disturb the monotony of it all.
EPISODE 11 RECAP
Oh hay, Dr. Without Borders, thanks for loitering outside when no one asked you to. Inside, Ji-an explains that she'll support Na-ri with the company, asking that Madame Jang understands. She asks pointedly why such a strong woman like Ji-an would have reason to hide her pregnancy. Was she afraid that she might lose everything?
"That child inside you is only a few months old, but this company has been with you for 15 years. You threw away happiness, your health, your family and you lasted for 15 years hearing what a spiteful woman you are. You think motherhood is something great? You, your affection for shoes – that's maternal instinct. This company is your baby."
But Ji-an clarifies that she has no intentions of abandoning the company. Given her hard work, skills, and invested time, there's no one who can take that away from her. Only… you're looking at the one person who can.
Madame Jang replies that if she wants to go and raise a child fine. "But you'll see which child is more precious to you." Ooh. She drops a doctor's business card, leaving Ji-an trembling in her wake.
Just outside the door is anxious Eun-sung. They exchange awkward glances at each other. He finds Ji-an completely shaken as he steps inside (without a key?). When she doubles over, he rushes her into the car to take her to the hospital.
Not far off, Madame Jang instructs her secretary to look into Eun-sung.
At the hospital, Eun-sung watches as Ji-an sleeps peacefully and muses, "You sure make it hard for someone to be angry with you." He takes her hand but stops himself from brushing the hair aside with his hand.
Unable to fall asleep, Tae-kang breaking into the most adorable smile as he thinks back about his brave act aka kissing Ji-an. He tosses and turns, hoping dawn approaches quickly.
The next morning, Dr. Without Borders makes his formal morning greeting. Ji-an breathes a sigh of relief that Ankle's fine but her own health isn't. She balks at his orders for absolute res. With the collaboration just around the corner, she can't afford the time away. Also, she needs to win.
Ji-an fills Eun-sung in about Madame Jang and winning her spot on the collaboration is the only way to stay in the company. But he's worried about her health and asks if there's any way she could work from home…
Nothing a leave application can't fix! Jake smugly comments that it's less embarrassing to lose on account of being sick (which Tae-kang rolls his eyes at). In regards to the opportunity to study abroad, Tae-kang asks for a few more days to discuss it with Dad.
Tae-kang unpacks the samples at Ji-an's apartment. Worried that she might actually be sick, he puts out a hand to her forehead which she instinctively retreats from. That brings a smile to his face, wondering what she expected. She tugs on his ear in response.
Ji-an plays it off and lists off the laundry list of errands as Tae-kang notes each in his mind. He's able and willing as Ji-an's protégé. She raises an eyebrow at his newfound confidence and asks where it came from. Pointing to his face, he aegyo-answers, "Here?"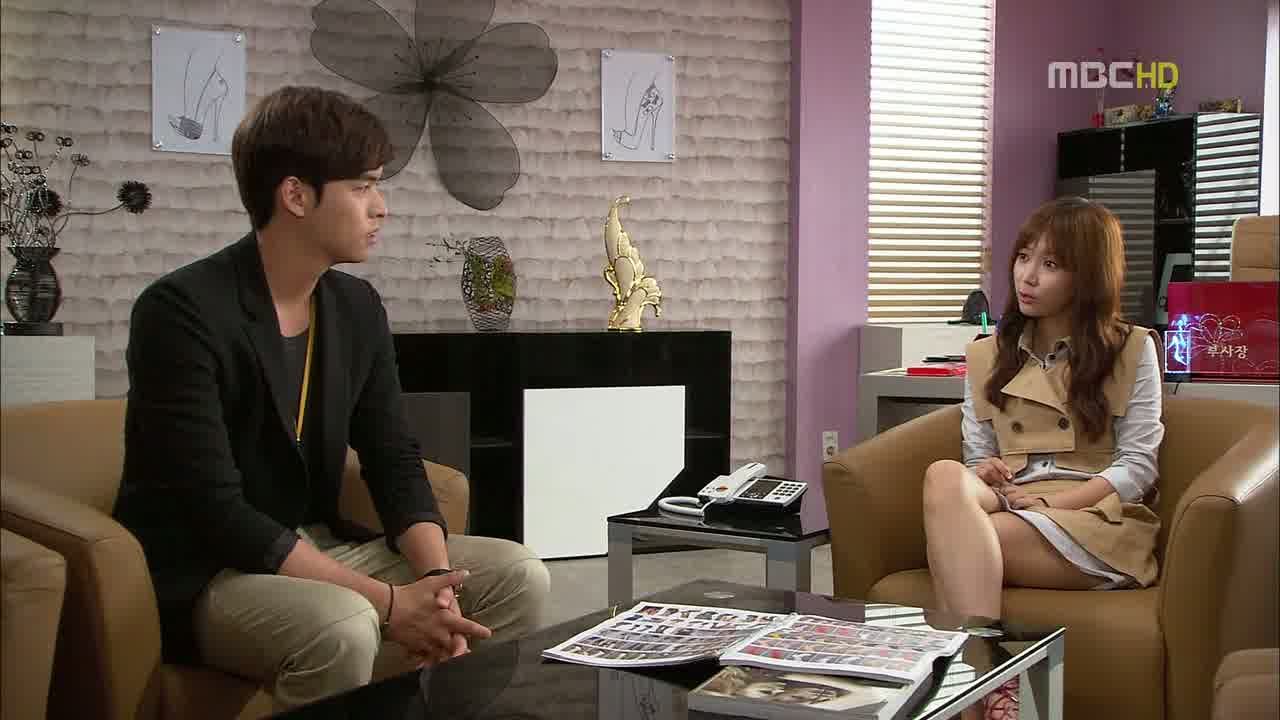 Blabbermouth Bong-soo shares about Tae-kang's offer to go overseas to the rest of the co-workers. He sits with Dad for lunch and comments that he doesn't seem all that excited for his son. Dad replies that the thought that Tae-kang might be leaving suddenly saddens him. Aww.
Tae-kang shows up with Na-ri the next minute who identifies Dad right away. More glances of, I told you this wouldn't work! towards Bong-soo. Thankfully, Na-ri has no problem of letting former knockoff maker Dad to work in the company and his skills speak for himself.
He thanks her for her kindness and she hints that she's only so around Tae-kang. He registers the hint but laughs it off that he'll buy dinner.
We quickly cut to Madame Jang who reviews Eun-sung's file, wondering why Ji-an didn't mention such a stand-up boyfriend.
Oh, how cute. Ji-an contemplates over the designs to choose what's best and Tae-kang literally eeny-meeny-miney-moes on the drawing board in an attempt to destress her.
She orders that he's silent for the next hour and he writes on his hand, "Aren't you hungry?" Ji-an scowls and a lightbulb goes off in his head. Next message: jokbal. His facial expressions are absolutely priceless.
He goes off running to satisfy her craving while Ji-an gives a tiny smirk.
As Madame Jang's words echo in her mind, we flashback to a Christmas date some years ago. It was her 2 year anniversary with her boyfriend but her work still managed to top their relationship. He'd called it quits leaving his couple ring behind.
What's even sadder is that younger Ji-an kept plugging away at her work later that night as if to distract her from the pain.
So present day Ji-an wanders into her shoe closet, placing a finger on Ankle's baby shoes. She whispers, "Mom can't live like that."
Jun-hee and Eun-sung arrive with dinner on hand. So it's super awkward when Tae-kang gets back to a lavish dinner with only his instant jokbal in hand. As Jun-hee awes over Eun-sung's cooking, she doesn't pass up the opportunity to make a jab at Tae-kang that instant food is bad for pregnant women.
Tae-kang shoves the food under the table, saying he'll bring it home and Ji-an comes to his rescue that she'll save it for a late-night snack. Aw.
I love that when it comes to cleaning, Tae-kang has the upper hand, griping to the doc who's all, let's just get it done quick versus his let's get it done right.
Jun-hee practically drools over the two men serving Ji-an and wonders if she can't keep 'em both.
Na-ri has dinner with Dad at Choong-baek's restaurant and asks that he speak comfortably (i.e. in banmal) when they're outside of the office, adding if it's okay to call him Father. Dad has trouble and she offers to pour him a drink to ease the awkwardness.
As he puts the glass to his lips, she starts, "So I hear you made knockoffs…" and is met with a spray of soju. Yeeeah you kinda walked into that one.
Dad explains that it's in his past and she brightly answers, "Of course or you'd be hauled off to jail!" Bright light bulb you are, hon. She's aware of his years of experience in the field and offers him a position to be a team leader to help with the collaboration. Aha, so you're trying to reel in Tae-kang by taking Dad under your wing.
Na-ri notices Tae-kang's absence and her eyes widen when she hears that Tae-kang is over at Ji-an's to prepare for the collaboration.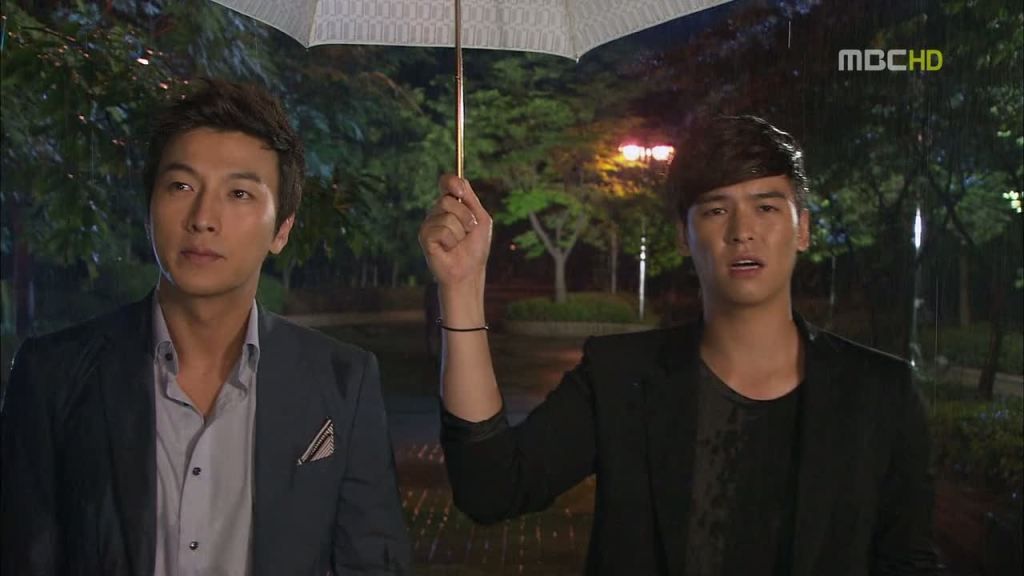 Okay this is pretty awesome. It's raining outside and Ji-an's only got one umbrella. The boys grab for it and Tae-kang whines that Eun-sung can take his car. It's just that he came with Jun-hee who's left and Ji-an simply waves, "You two can share it then."
Which is exactly what they do. HAHAHA. The best part is that neither want to stand any closer to each other than they already are which means they're both getting wet. Haha, these two.
Eun-sung grabs Tae-kang's wrist (omo?) and looking at him straight in the eye… asks if he wants to go grab a drink.
He apologizes to Tae-kang for misunderstanding Tae-kang's actions towards Ji-an since it's fine to be concerned about one's supervisor.
But Tae-kang sets down his glass and answers that there's no misunderstand to be had because, "I really like Hwang Ji-an." Eeep! He asks if it's okay to butt in now – he knows Eun-sung is the father, but he wanted to take the polite route. Tae-kang adds that he has the utmost confidence to raise the child.
Throwing the words back at him, Eun-sung asks after Tae-kang's intentions if he knows that Eun-sung's the father (cringe). His words about respecting Ji-an's opinions blow over Tae-kang's head (I'm sorry and you have… when?). Tae-kang counters that he'll focus on his own feelings so he'll butt in from now on.
Downing another shot, Eun-sung truthfully admits that he's jealous of Tae-kang. He (and the world) marvels how Tae-kang can know nothing. He leaves him with vague words that has Tae-kang confused, "Just know that you have a lot in your possession."
A feature article about Ji-an's "love story" spreads like wildfire. As Eun-sung wonders who started the rumor, we cut to Madame Jang reading the article herself, instructing her staff to send something nice to the editor.
The argument with the magazine editors gets Eun-sung nowhere and he braces himself when his father calls, elated about the upcoming marriage.
Tae-kang hears about the news himself from the office staff and his face is in shock as Bong-soo rattles off the article, figuring it's true because it's so detailed. Tae-kang just sits shaking his head, refusing to believe it and Bong-soo offers some words of comfort: "They say your first love is beautiful if it's unrequited."
Ji-an reaches for her laptop and Jun-hee nosedives that stress is lethal for a pregnant woman. Her overreaction sparks Ji-an's suspicion and soon enough, she reads the article as well.
She starts to seethe as Jun-hee jumps in to calm her down, "Think about the baby!" It's good that Ji-an's sharp as a tack, knowing that it was all Madame Jang's doing.
But before she can think of exacting revenge, Ji-an orders that they eat first. That's right – revenge is best on a full stomach!
Something sounds suspicious to Na-ri given the sudden article and Ji-an's leave of absence. Jake makes a flippant remark that she must be pregnant then like it happens in the dramas and it must be a shotgun wedding.
Na-ri initially laughs it off, finding the theory absurd but then recalls Ji-an's strange behavior like how she nearly vomited during a meeting and how she recently put on weight… and nothing clicks.
Oh honey, that MBA in the States was for naught, I think.
Tae-kang rushes over to Ji-an house, worried that she's not picking up his calls (I think it's worth noting that he has her number saved as 'My Ji-an' with a heart). He cautiously asks if the marriage rumors are true and when she mumbles that they're false, he envelops her in a hug.
Before he leaves, he proudly hands her a stack of surveys we saw him previously make himself. That reminds her of when she sighed that she couldn't get public opinion to help in the design process.
She stares at him as they review them later that day and when he catches her, Ji-an looks like a deer caught in headlights.
He confirms that she's really not going to do "that" (the wedding) and his voice kicks up an octave that of course he doesn't want her to get married. Content, he breaks into song and then puts and added emphasis on, "I wanna kiss you". It's the most adorable thing ever.
Ji-an shifts uncomfortably at first until she gets up and kicks him before scurrying off into her room. Tae-kang smiles, barely singing "I wanna kiss you."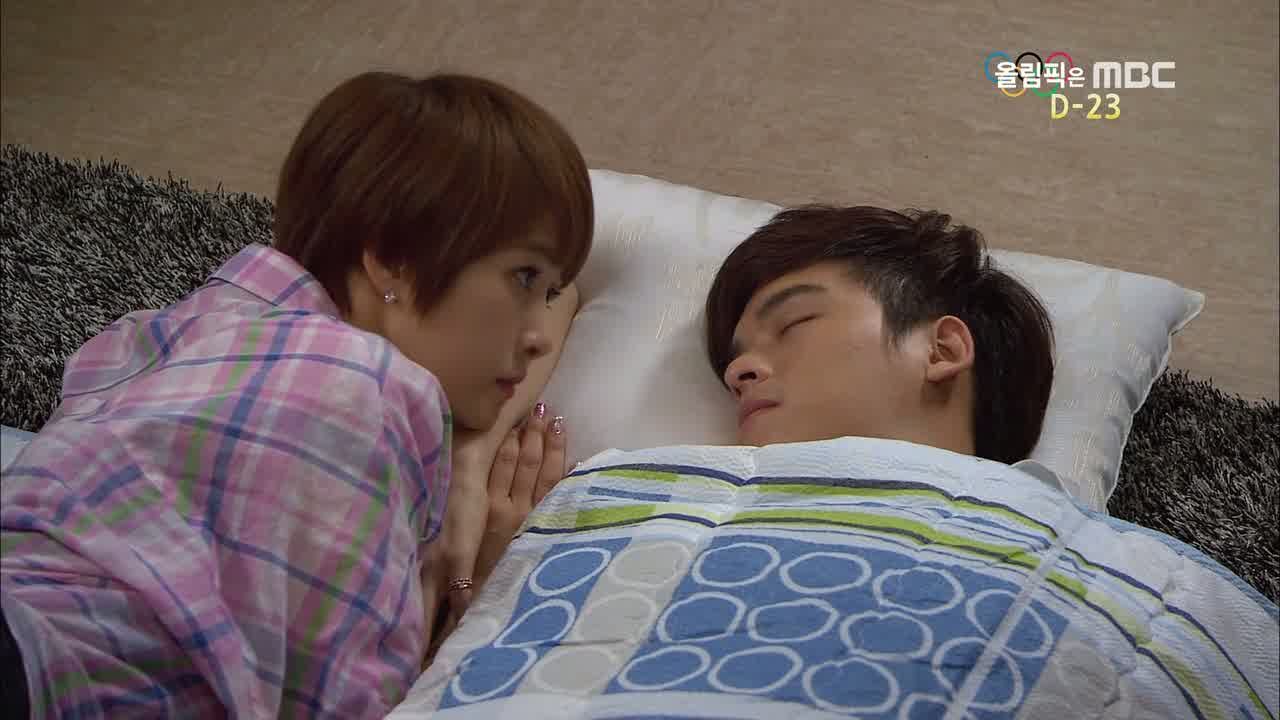 She finds him fast asleep in her living room later that evening. Placing a pillow under his head and covering him with a blanket, she lies next to him. Watching him sleep, she muses how nice it would be if Ankle resembled its father's eyebrows, nose, and lips.
And as if it was listening, Ankle moves inside its mother's belly for the first time.
Tae-kang wakes up alone on the floor the following morning, complaining that Ji-an should have woken him up. But he looks into the kitchen and finds her struggling through preparing breakfast for him and he looks on with a warm smile.
Ji-an admits it's the first time she's made breakfast for anyone (and the eggs have a smiley face too!) and he happily asks, "Don't we look like newlyweds?" Don't let Eunjung hear you say that!
He takes a bite… and it's salty of course, but he adorably pretends that it's delicious and perfect, forking in more into his mouth. She absolutely beams. With his mouth full, he tells her not to cook again since she's pregnant and all. Then his eyes grow wide as she puts more on his plate.
His stomach full, he stretches his arms towards the heavens, "Good morning." Your optimism is so cute.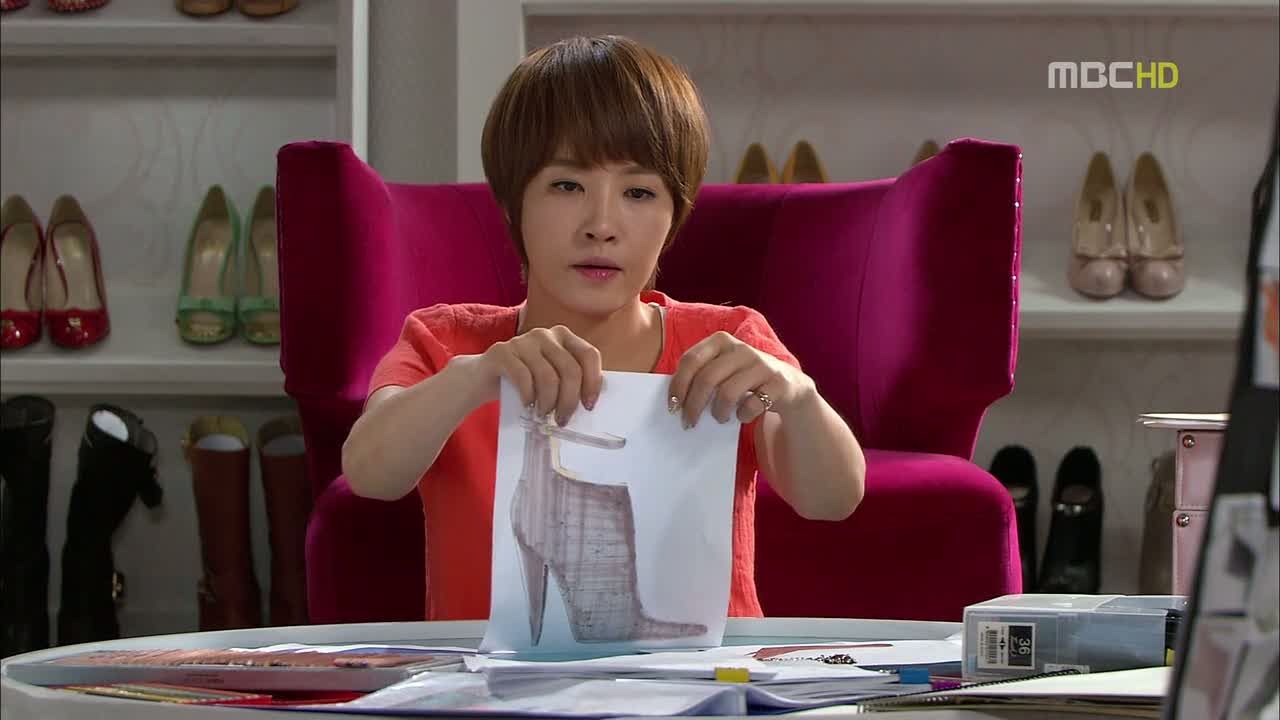 Ji-an stares with frustration at design after design. Na-ri and Madame Jang's words about the company flash in her mind and she suddenly has a revelation – these designs imprisoned her; to exist according to their own rules.
As she tears each design with her hands, she resolves, "If you don't have teeth, you chew with your gums. If you don't have shoes, you walk barefoot. If you don't have a design, you can draw a new one." Then she crumples them into a ball and throws them into the drawing boards which fall like dominos.
She says, "I'm going to start over. From the very beginning." SO AWESOME.
Eun-sung hears from his lawyer that someone else must be backing the editors since they're not afraid for being sued for defamation. Recalling that Ji-an mentioned Madame Jang's name, he takes matters into his own hands to see Madame Jang himself. Denied.
How convenient then that she shows up a few minutes later. Madame Jang plays dumb and Eun-sung replies that he'll sue the publication first with a thinly veiled insult that he hopes she doesn't get involved.
But Madame Jang calls out that if he knew who did it, he should be thanking them because now he has a reason to get married.
The company is abuzz with gossip about how long the groom-to-be will stayed married to Medusa before they get divorced. A year? Two? No, no one would dare divorce Medusa.
And then Tae-kang suddenly pops in, "It's absolutely not true!" It's like he could chime in with "Cuckoo!" When they ask who he is, he answers, "You don't need to know that."
He approaches Na-ri about posting on the company forums that the wedding rumors are unfounded. Na-ri finds his overt concern suspicious and replies, "That's weird. I thought she was pregnant."
She clocks his silence and then asks if he knows anything or seen anything in Ji-an's apartment. Tae-kang finally exclaims, "Vice President! Are you trying to enlist me as a spy?!" He makes his disappointment in her clear as day, calling her petty, before storming off.
Choong-baek's jaw drops at Tae-kang's latest foot-in-mouth episode and then gulps at Tae-kang's optimism if it ends up getting him fired. He and Ji-an can build a new company as a couple with Dad – it'll be great!
The word "couple" hangs in the air and Tae-kang clarifies that he plans to propose. He's heard it straight from her mouth that the link to the baby's father is just a biological one and he's certain… well, kind of certain that Ji-an has feelings for him…
Then Choong-baek does a Face/Off-like motion – does he think that the baby's genes will become his? His answer, "We'll just overcome that with love."
Tae-kang will come off as a crazy stalker then. Unfazed, Tae-kang's prepared to be rejected because he's confident that he'll be accepted eventually. Right now, she's falling for his charm, after all. Then what about telling Dad that he's going to propose to a woman pregnant with another man's child?
Which is when Dad walks into the conversation, asking what all this talk about proposing to a pregnant woman. Choong-baek tries to deflect the question, but Tae-kang steps up, declaring that the baby is his.
Well, at least the truth's inadvertently out. Sort of.
Eun-sung notices that Ji-an's in a better, more relaxed mood today. She informs him that she felt the baby move twice already and Eun-sung raises an eyebrow, "Are you sure it wasn't gas?"
He pulls out his stethoscope to make sure everything's normal and his sudden 'shush' scares her for a moment.
He offers to translate the fetus talk (um, okay): "Mom. From now on, listen closely to what I have to say. You know about the article about you and the Doc right? That was done by that granny witch from before. The Doc tried to clear things up, but it didn't work. So he's very very sorry. That he couldn't give you strength. That he couldn't protect you."
Ji-an has a message of her own to Ankle – that she knows how much the Doc tried and that he shouldn't feel sorry. Also, she's very grateful to him.
Eun-sung takes the stethoscope out of his ears and places it into hers. Holding the other end to his mouth, he asks, "Ankle's Mommy, will you marry me?"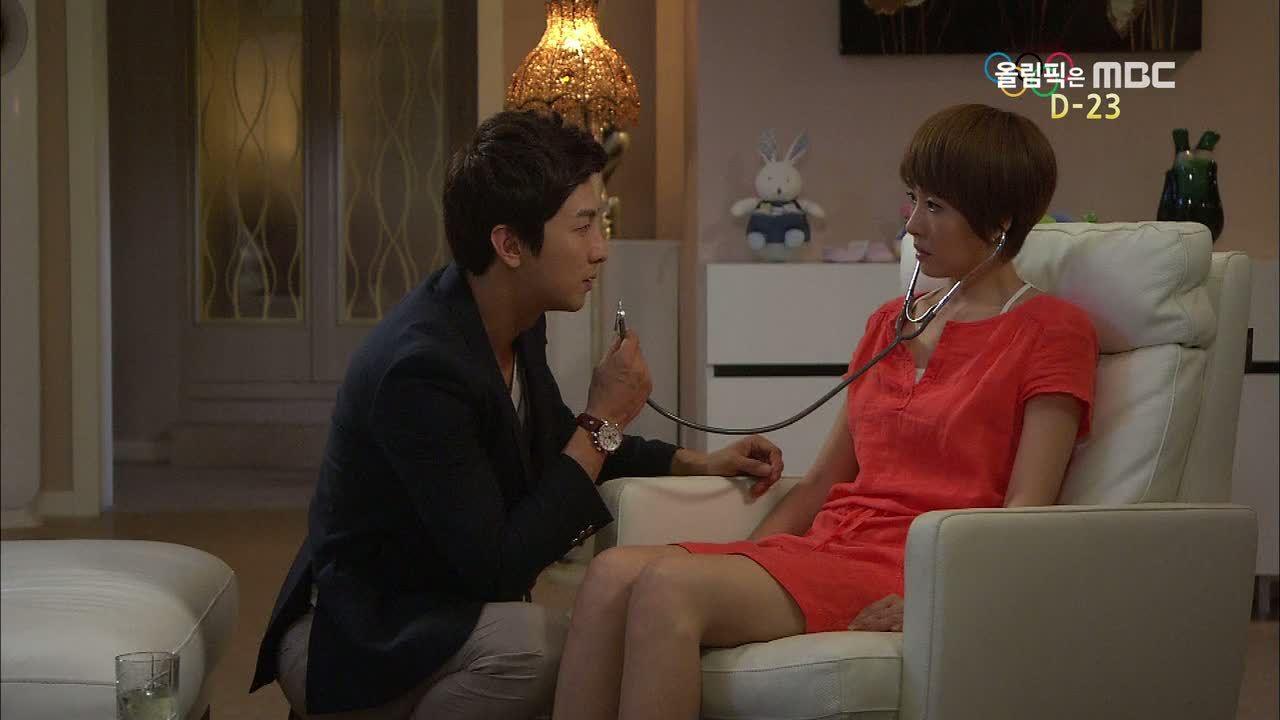 COMMENTS
You proposed to Ji-an. Thanks to a false news article. Good for you. Sigh. I must have missed the exit where you decided to become every possible man for Ji-an: friend, stalker, physician, and now possible fiancé (again). Eun-sung has really become that one character who molds himself to whatever male obstacle is needed to block Ji-an and Tae-kang from getting together or becoming any closer. And it's really grating on my nerves. How many hats can this man wear?
This also means that I personally don't take this proposal seriously because Eun-sung's intentions have shifted so much in this drama from genuinely caring for her to loving her to a complete dismissal of her own decisions to lying that he's Baby Daddy that if he were a living, walking human being in the real world, I'd have a restraining order in the least. And if Ji-an says yes, we will have words, drama. Don't take away from that one awesome scene in this episode.
I'm talking about where Ji-an is sitting in her shoe closet, where there has been many an epiphany, and realized how much her creativity and herself has been locked inside someone else's dreams when she clearly has the capability of establishing herself. And tearing those shoe designs and throwing them at the collaboration drawing boards was absolutely epic. Where can we get more scenes like that?
On the other hand, this show suffers from pulling at too many minor plot threads and only picking them back up when they're convenient and necessary. For instance, I didn't mind that Tae-kang asked for some time to think about the opportunity to study and work abroad to fulfill his career dreams but then it was never touched upon again in this episode and neither Na-ri or Jake pressed him to consider it. And in my mind, if there's a designer you really want on your team, wouldn't you make your offer deliciously irresistible? Because at this point in the game, Tae-kang has made it perfectly clear that he's on Team Ji-an and there is nothing short of a pile of jokbal to make him think otherwise.
Then there's the whole Ji-an taking over the company or not. Madame Jang laid low for a few episodes until she appeared last episode and caught up on everything that dragged on for half the series in an hour. Does the Evil Woman get an advantage?
It's a mark of the writers not being confident on what direction they want to take, trying to setup a conflict but seeing which one will elicit a greater response first. It's also worth noting that Episode 5 which dealt with the issue of abortion gave the series the highest ratings in the series since the premiere (10.0% and 12.0%). I thought it was a wise and smart move to continue in this direction – bringing controversial issues to the forefront. But alas, it like many other plot points were brushed under the rug.
There's another gaping flaw now that we're at 11 episodes in, I feel it's okay to unleash some fury: WHY DOES TAE-KANG STILL NOT KNOW?! It feels like the show is setting this up to be our major reveal and I don't understand why it should be because there is so much possible story and conflict after he knows. There aren't any signs to withhold this crucial information from him. We're running out of time, drama – do you really expect to stuff the following 6 months of pregnancy and time afterwards in the next 5 hours?
I do hope that's not what you want to do. I do, I really do.
RELATED POSTS
Tags: featured, I Do I Do, Kim Sun-ah, Lee Jang-woo