I Do, I Do: Episode 12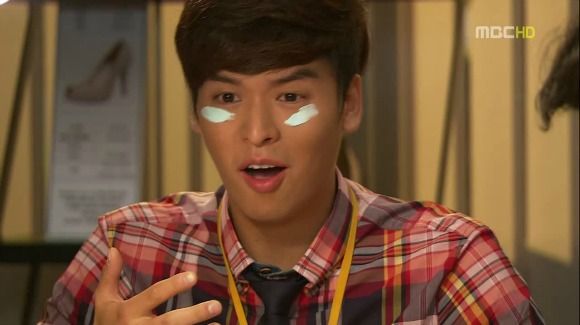 There's some cute that wedges itself into this episode that keeps it from sinking too far deep. Ji-an comes out sexier than ever and Eun-sung actually acts within the boundaries of a normal human being. Well… sort of. Then the final few moments hint that we might finally be marching ahead. Also how adorable is Tae-kang in this photo?
EPISODE 12 RECAP
Eun-sung bolsters his proposal that he's strangely okay with being misidentified as the father. Though he's aware of the overwhelming responsibility that accompanies it, he's curious. Well seeing as you never came clean about yunno NOT being the father, you pretty much walked into that one.
Before Ji-an can recover from it all, he swoops in by reciting one of his favorite sayings, "Real life happens when you least expect it." The magazine article finally gave him the courage to say what might have taken years or even an eternity to confess.
He interrupts (again) that it's fine if Ji-an doesn't have an answer, but she does. Leaning on someone for support and keeping her job certainly sounds nice but they're not fitting reasons one should choose to get married for.
He once told her that everyone is a coward especially when it comes to something they want to protect. Now that she's found it, she wants to face it head on versus cowering in fear. And she wants little Ankle to be proud of her for it.
With that, Eun-sung finally backs off and tells Ankle that he'll be watching over it.
Cut to our hero who is getting a gnarly beating from Dad. He defends that Dad always told him that the life of a single parent was a lonely and hard one. Since he knows that, he wants to be a pillar of strength for Ji-an. He can understand and accept her situation… because he loves her. Aw.
Dad refuses to believe this, shouting that he should just go to America and pelting him until his strength finally gives out.
After Dad gets the rundown of the entire situation, he repeatedly ignores Tae-kang's aegyo attempts to butter him up. A thought – if Na-ri already knows that Dad's the new pattern guy, then why does he still wear that wig? For comedic consistency?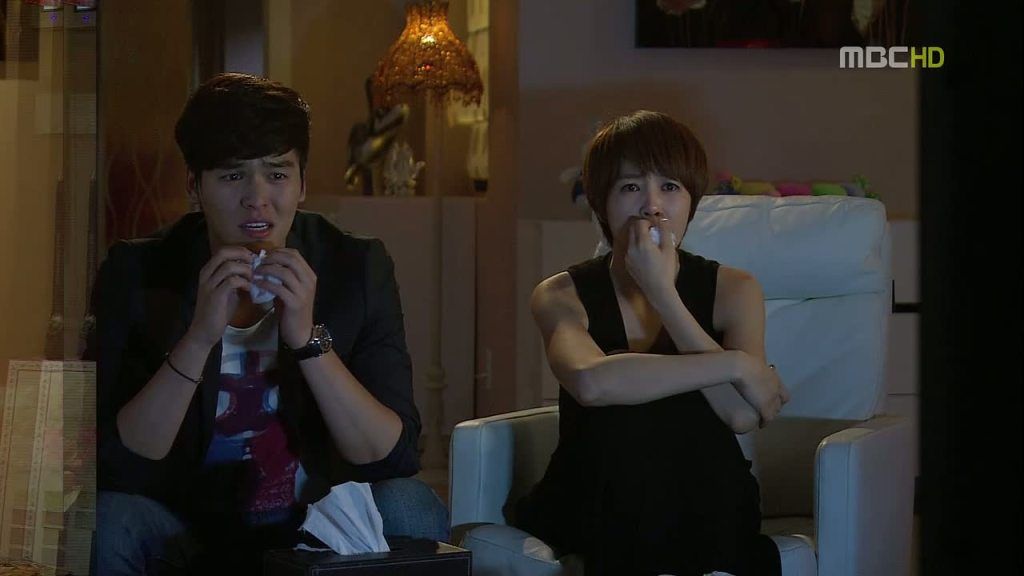 At Ji-an's place, Tae-kang marvels at Ji-an's latest design. It reminds him of a scene in an older foreign film where the leads laid under the shade as butterflies flutter above them.
Soon they're watching Elvira Madigan where some moments inadvertently bring them within close proximity (omo!) and crying together during the more touching ones. HA – I love it how Tae-kang's the louder tearjerker.
Ji-an is enraptured by the "love that you can almost catch, like butterflies" approach. So Tae-kang suggests adding a butterfly-shaped ribbon to brighten up the design. Her previous one were great but dark, but this one gives him butterflies in his stomach.
Slightly impressed, she throws him a bone that his survey results helped which warms his fuzzy little heart. But just in case he forgot he was working with Medusa, she reminds him that he's just graduated from the alphabet to simple words in his design education.
They sit there as Ji-an contemplates whether she should tell Tae-kang that he's the father of her unborn child or not. My answer? Yes. But you can't hear me. Wahh.
But just as she broaches the subject, a phone call interrupts them. When Tae-kang hears that Na-ri is on her way over, he hurriedly leaves before Ji-an can mention the topic again.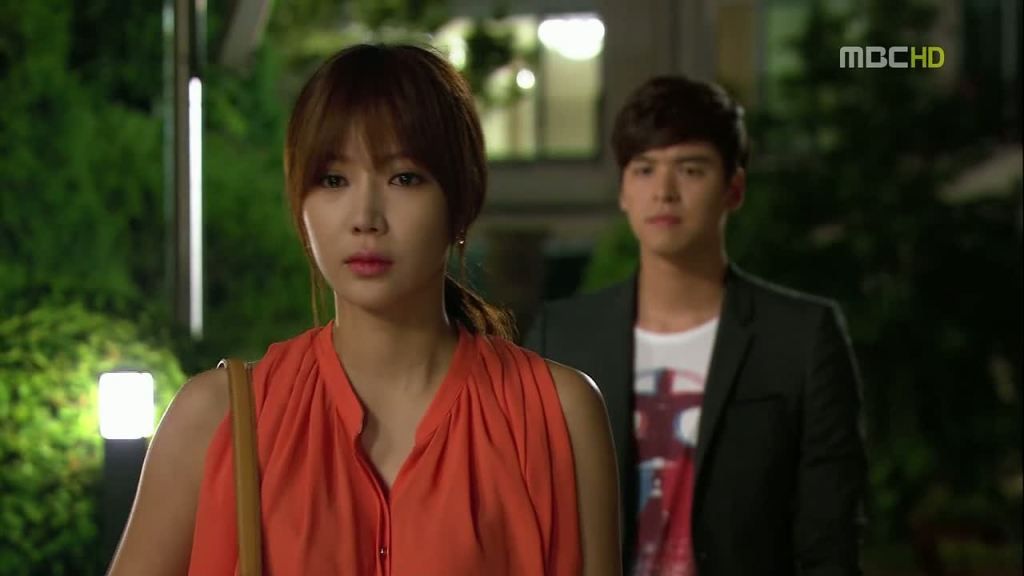 Na-ri doesn't get the chance to confront Ji-an about the news article because the Black Knight stops her outside. Telling Na-ri that Ji-an has just started to regain her strength back, Tae-kang tells her to back off.
His valiant stance surprises her and Na-ri balks when he confidently admits that he likes Ji-an. "So what? Can't I like someone who's pregnant?" For good measure, he adds that the news of Ji-an's pregnancy is kept under wraps until Ji-an is ready to disclose it herself.
Shocked and hurt, Na-ri walks away as a single tear rolls down her cheek.
Drowning her crushed heart in liquor, Jake finds Na-ri drunk(?) at the bar. He's confused as Na-ri mumbles how much she hates "that woman" (Ji-an). In her drunken stupor (seriously I can't really tell if she is or not), she vows to win, refusing to lose to Ji-an in anything again.
Meanwhile Ji-an impatiently waits for the phone call that will never come from Na-ri when she receives a text from Tae-kang.
It prompts her to an email with a little team cheer for the upcoming collaboration, like a Victory is ours! and attached samples for her review. They agree on the same choice and Ji-an decides to tell Tae-kang the news after they win the collaboration. Sigh.
They mark the date on both of their calendars.
Bong-soo's eyes bug out at Tae-kang's plan to propose – is it Na-ri? Tae-kang laughs at his sunbae's thickheadedness and tells him that how he proposes is more important than to whom. He wants a low-budget, sweet, romantic but tear inducing proposal.
Life Sage Bong-soo teaches Tae-kang that all he needs to do is focus on the one thing she likes. For instance, he proposed to his wife with a stack of fake money vowing that one day he'd make it real. He never fulfilled it (ha and aw) but she entrusted her future to him that day.
Tae-kang clutches on to the future portion of the lesson and as he peruses through some shoes, he silently vows, "I can only reform shoes now. But when I become a great designer, I'll fill your shoe closet with the shoes I made!"
Eun-sung averts direct eye contact at everyone's words of congratulations on his engagement. Er – if you were willing to sue a publication for defamation, isn't it just easier that you admit that the article was false? You're going to get sympathy points anyway.
In any case, Ji-an's health has improved though it's too early for her to return to work. She apologizes for how the article has disrupted Eun-sung's life but has an idea to exact a little revenge on Madame Jang.
That revenge means a tell-all interview to another magazine with the angle about Ji-an's decision to be a single mother and Eun-sung's support in the process as her doctor.
He's clearly impressed with her offensive approach but asks if she enjoys making things difficult for herself. Is she a pervert? (Yeah I think it's a little strange and not as endearing either. I'm sure it's a throwback to when she asked him the same question eons ago but it's nonetheless weird.)
Ji-an likens it to when you had to receive their shots as children. At first, you were terrified of the needle but it wasn't so bad once it was over. "Whether I get dragged into doing it or roll up my sleeves to do it, the results are the same."
Eun-sung acknowledges her bravery but withholds on one thing he won't divulge. Her words resonate with him in the office and soon we see him exit his office, patients sniggering behind his back.
Then we see a closeup of the sign behind his back, "Not Getting Married." HAHA.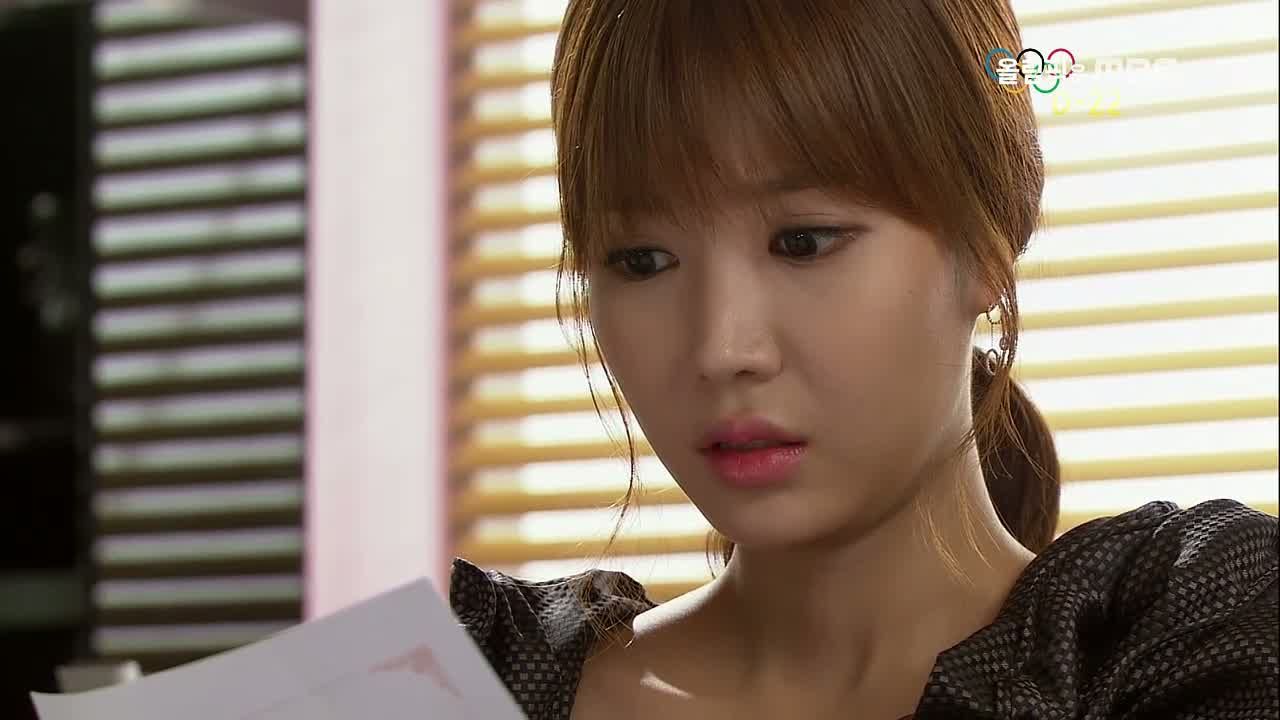 Jake gets his hands on Ji-an's new design and Na-ri seems gripped with fear when she sees it. It' completely different than the original but it doesn't bother Jake, who shrugs that their team will win anyway.
But Na-ri heads back to the pattern room and asks to chat with the pattern designer in charge as Dad looks on with a suspicious eye…
She runs into Tae-kang soon afterward and challenges that Ji-an is better off packing her things because she'll get fired before her secret gets out. Okay your threat just screams Look at me! I'm being eeevviiill!!
The words hang over his head at dinner and suggests that she doesn't rush heading back to work. Ji-an's workaholic nature however is just itching to get back.
Ji-an orders more meat and Tae-kang's like, You already ate 3 servings by yourself! and she's all (points to belly) By myself? You don't get in the way of a pregnant woman and her food, good man. She's got to keep her stomach full if she's going to enter the battlefield!
Tae-kang asks if she isn't scared for tomorrow – her interview will run and the world will know the truth. She admits that she's incredibly frightened but she hasn't done anything wrong, so with time it won't be a big deal.
He asks that she keeps the night after the collaboration free "to celebrate" and she agrees. After dinner, they spot some flower arrangements and one with a blatant message of Hey pay me my money back! gives her an idea….
Madame Jang positively seethes at her office reading Ji-an's tell-all interview. She fumes at the flower arrangement Ji-an's sent in sarcastic congratulatory thanks, ordering it thrown out.
Only… it's not the only one and the camera pans over and we see multiple arrangements. Then they're coming in by the droves with messages such as Ji-an will raise Ankle well! and I look forward to tomorrow! all signed off by "Single Mom Ji-an." This. is. freakin'. awesome.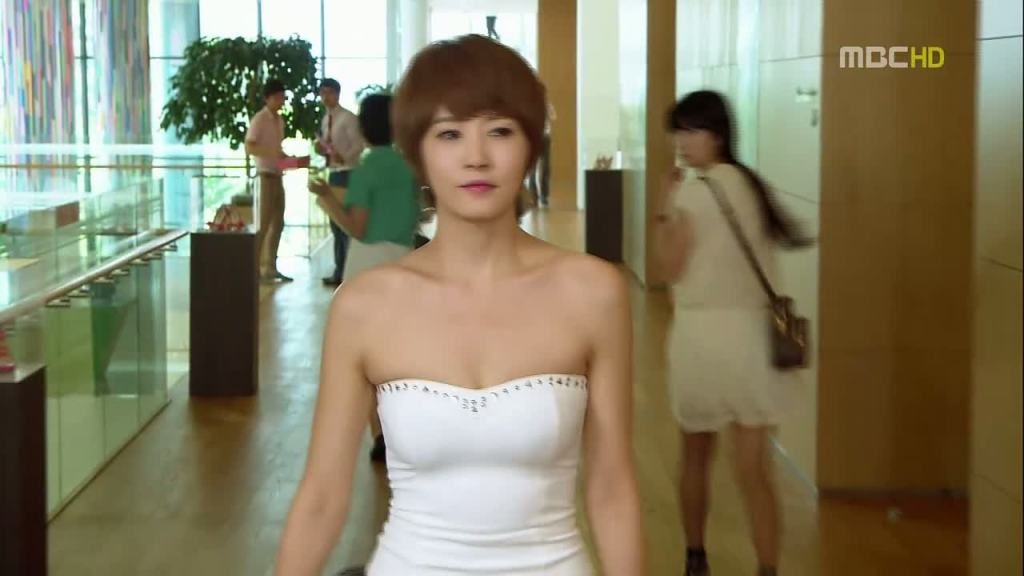 Ji-an scowls at Jun-hee's attempts to sexify her glorious return to work to make a strong impression. At Ji-an's remark that she might not fit as her belly grows, Jun-hee finally gives some good advice: "Don't ever chicken out. When time passes, this will all be nothing. Stand tall and don't shrink back."
And smoking hot she looks in a white form-fitting strapless dress topped off with a pair of flats. Eun-sung teasingly holds up his hands that she's absolutely radiant and opens the door for "Pervert Director Ji-an." Yeah… I… yeah.
Outside the company doors, she declares in a steady, determined voice, "Let's go, Ankle."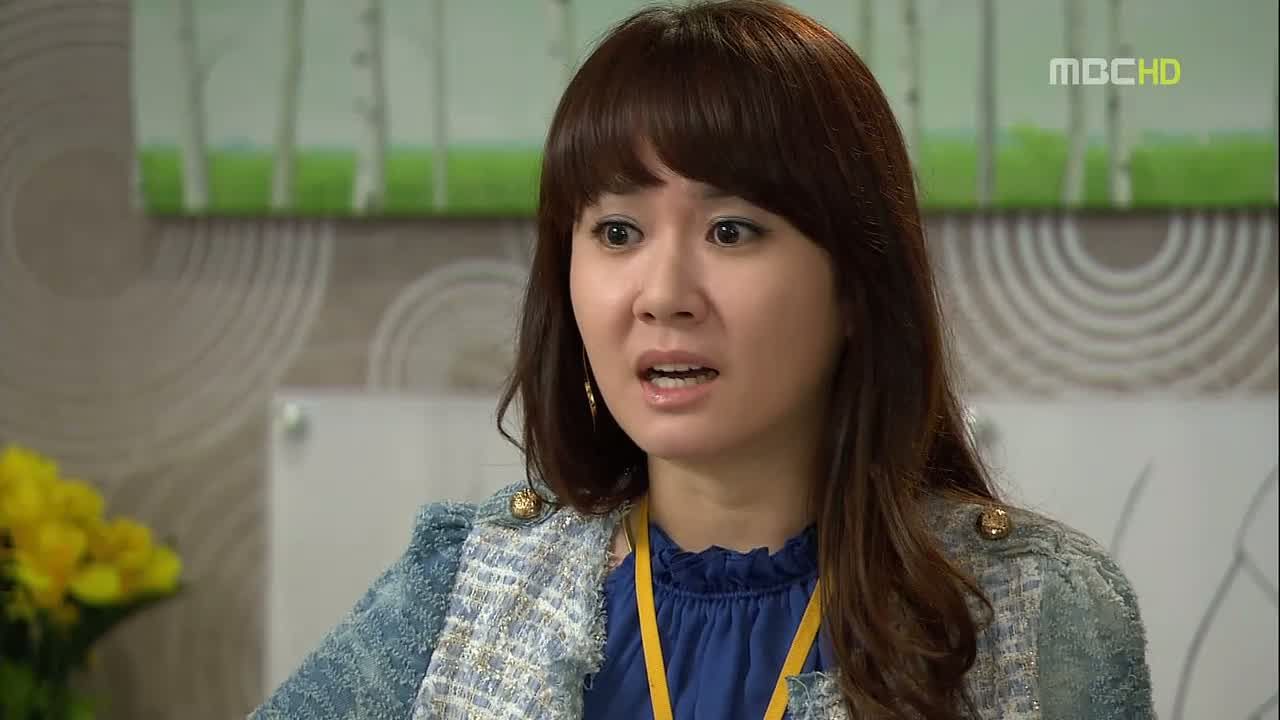 Ji-an's staff gossip in the office about Ji-an's interview, much to Tae-kang's ire. But just when he gets up to say something, Team Leader Ma lays it down that it doesn't matter if someone is married or not when they're pregnant. At the end of the day, she's still a mother. Dayum, I love you right now.
We get a quick cut to Na-ri and Jake who read the feature themselves. He hits a nerve when he likens Ji-an's story to Na-ri's mother.
Ji-an looks at her silent cell phone, amused that she received countless congratulatory texts on her false wedding but none in regards to her pregnancy.
Na-ri storms into her office, demanding why Ji-an chose to reveal her pregnancy to the world now. Ji-an truthfully answers that there was no such thing as "good timing." Sympathy is for the unfortunate and usually congratulations are in order for the expectant mother.
There is no congratulations for single mothers in this industry, Na-ri reminds her. Aha, so this must be how her own mother met her ruin. Things will just turn worse from here so she advises that Ji-an turn in her resignation now to save herself the trouble.
Be it a threat or bit of advice, it bounces off of Ji-an. But she thanks Na-ri for dividing the teams because it freed her creativity to draw outside the confines of someone else's standards. Lastly, Ji-an has no intentions to become CEO so Na-ri shouldn't try so hard to fire her.
Appalled, Na-ri asks, "Why are you throwing your life [away]?" How could Ji-an be willing to do so over a baby that was a mistake. Ooh, this is hitting home for you, isn't it?
Ji-an hangs on that phrase of 'throwing one's life' and agrees that you should take a whack at life rather than simply embracing what's been thrown at you.
Eun-sung pays a visit to Mom and Dad bearing gifts, apologizing that his father already called them. Dad shakes his head that he has no plans to marry off his daughter by hiding the truth about her pregnancy but if Eun-sung said he couldn't live without her then…
Which is when he shows them Ji-an's interview and public declaration to live her life as a single mother. He tells Ji-an's parents that she's a strong woman but she'll need her parents more than ever now. Dad nearly grabs his neck and stops himself with resigned acceptance.
Then Eun-sung tries to lighten the mood that Ji-an flatly rejected his proposal and how he won't be able to meet other women anymore. You trying to gain sympathy points, Doc?
Na-ri gets called in to see Madame Jang who has changed her tune, now greeting Na-ri with warmth. She lays the compliments on thick and addresses Na-ri with terms of endearment like, "our Na-ri" and "Na-ri ya."
You can almost see Na-ri drink in the feigned affection and then her eyes grow wider, (if it's even possible) as Madame Jang presents her with a gift. She cautiously asks if Madame Jang has heard about Ji-an.
She has and then turns to Na-ri: "You should carry this company forward." It's news that should bring the biggest smile to Na-ri's face but she steps out with an overall feeling of uneasiness.
Looks like Na-ri's plan to sabotage Ji-an's design was a success as Tae-kang gapes at the sample. It's markedly different than the original and the pattern designer plays dumb and waves him off. Dad narrows his eyes as these events unfold before him.
None of the shoemakers are willing to create the sample within a day and when Ji-an demands for it, Tae-kang lies that it's not ready yet. It pings her suspicion radar and gets up to see it for herself… and Tae-kang envelops her in a hug.
They stand there like that for a few moments until Ji-an's phone rings. And adorably, he still holds onto her while he puts the phone to her ear. She steps out, placing a hand to her flushed cheeks.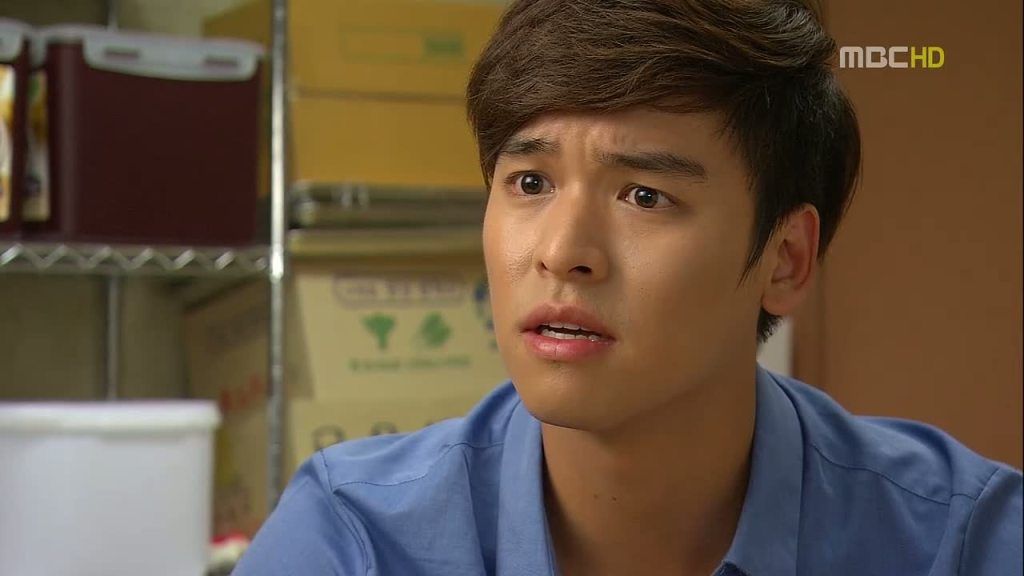 Tae-kang pleads with Dad to help and Dad sprawls on the floor willing to see Medusa fall from her pedestal. Tae-kang doesn't understand why Dad keeps harping about him going off to America and so Dad explains that the reason behind Tae-kang's attachment to Ji-an is because she's a mother who won't abandon her child, unlike his own mother.
But that's sympathy and not love, Dad clarifies. "Loving her out of pity. How far do you think that will take you?"
Tae-kang raises his voice at that – does Dad think that being a single parent is pitiful? Is that how he sees himself? A single mother should be praised. "The word I hate to hear most in this world is 'pity.' Just say that you don't want the child to grab you by your ankles! Just say you don't want to take care of someone else's baby! Why are you turning a normal woman into someone who's pitiful?!"
He storms out and tosses the defect sample in the box in frustration.
Ji-an's parents have come 'round for dinner at her place. She breaks the awkward silence first but then Dad cuts her off, mentioning her interview himself.
He gruffly compliments her on her picture and then mutters that she'll just have to have the child and raise it well, which is just about the closest thing to Dad fully accepting the entire single mother situation.
At work, Ji-an catches a group of employees amused at a humorous photo of a pregnant woman in a bikini with her face photoshopped over it. The company forums are like a fanfiction site, filled with fabricated novels about Ji-an's pregnancy as Bong-soo eats it up.
But they've got a bigger problem on their hands because Ji-an has found out that Tae-kang has picked up the sample. Tae-kang hurriedly hides the ruined shoes behind his back but she demand to see them.
And when she does, she gapes in horror and crumples to the ground. They need the sample by tomorrow and there's simply no time to recreate the original.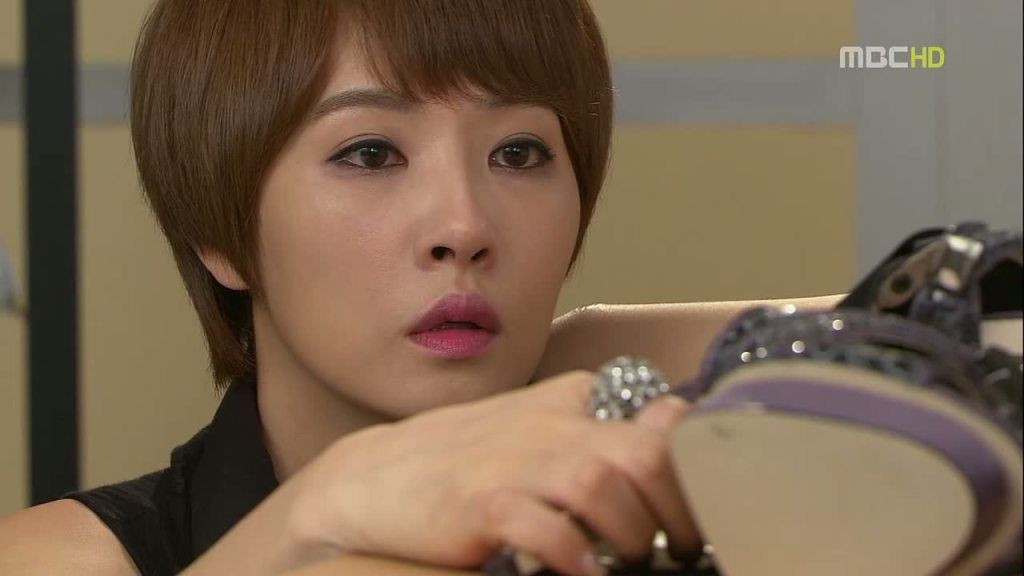 Her workaholic nature kicks in again as she repeatedly attempts to redesign the horrific shoes, growing more and more impatient as time passes. Tae-kang watches worriedly, telling Ji-an that she's working herself sick.
She refuses to listen and when Eun-sung walks in, she flicks away his hand and ignores his warning that she'll faint again. Ji-an desperately cries, "Can't you see I'm trying to work?!"
It just about kills me knowing that she doesn't want to see the light at the end of the tunnel snubbed out.
And then… cue dramatic gong and slo mo entrance of Dad stepping into the office. He pulls off his wig as the others look with shock and Tae-kang breaks into a huge smile.
He's here to save the day and starts barking orders left and right since there's no time to lose. Tae-kang assures her that they're a winning team and they'll finish in time.
Dad sends Ji-an off to rest as she looks at him, tears welling up in her eyes, touched.
They work into the night, reconstructing the design from scratch. In order to keep themselves awake, they do the age-old trick of putting toothpaste beneath their eyes.
Tae-kang thanks Dad for helping him out but it's no surprise that Dad has a stipulation – that Tae-kang follows Jake to study abroad. Dad says, "Keep your promise. I believe in you because you're my son."
Ji-an gets some shut-eye and drops by the office early in the morning to find her makeshift sample fast asleep.
Her eyes fall upon the completed sample and she gently picks them up in her hands. Her eyes well up with tears – her design made into reality.
Ji-an nervously prepares for her presentation and Tae-kang walks in with a gift for her special day. They're specially redesigned flats and she gives a lame excuse that it doesn't match her outfit.
He offers to put them on her himself and she smiles as he fastens it. He says, "They fit perfectly." Tae-kang gently takes her hand and reminds her about their dinner date later tonight. And Ji-an pulls in to kiss him on the cheek.
They stand outside the doors of the collaboration competition with determined faces. Ji-an asks, "You ready?" and Tae-kang opens the door.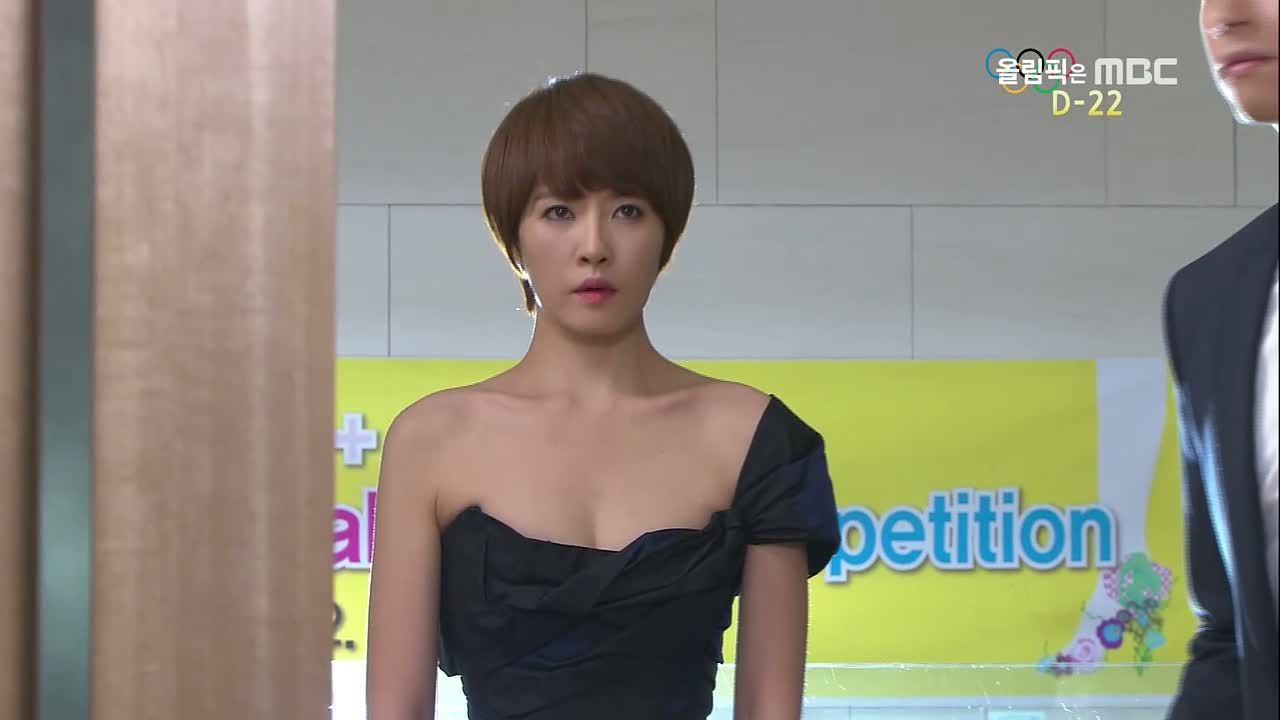 COMMENTS
I'm not even going to say it again even though I really, really want to. However, I should clarify that I don't mind the pace of the work-related plot threads at all, though it does seem that we've been talking about this collaboration for what seems like a decade in this drama. Like the Reform Design Contest before it, the scale of the competition didn't really matter but rather what it means to the participants involved. Then, it was the foot in the door towards shoe design for Tae-kang, and now it's Ji-an's time to shine in the spotlight to unleash the full potential of her creativity. And she has a talented and rising teammate whose by her side through and through.
I don't even mind watching as Ji-an slowly falls in love with Tae-kang either with the little smiles and gestures to let him know that she does care. What I don't get is how come we can't see this while Tae-kang knows the entire truth about the pregnancy because that man is primed to hear that he's the father. Yes, he could jump the gun, leave everything behind to "take responsibility" but once he knows you have more story to work and interweave into your plot. As of now, even though he's supporting Ji-an, he still feels removed from the entire pregnancy. Just like we see him as a contributing member to her design process, I want to see him be a collaborator in her personal life. He's got the potential and they've got the chemistry – I just don't get why we're not there faster.
This isn't to say that I'm imagining a picture-perfect-tied-up-in-a-bow ending at this point because narratively there are a number of possibilities for Ji-an and Tae-kang that I would be more than content with. Because Ji-an is such a strong woman who has now declared that she's going against the society grain by going forth as a single mother, I'm confident that she can make this happen as a trailblazer for single parents. Yet within the confines of a romantic comedy series we are leaning towards that romantic link between our main couple – an outcome I'm okay with as well.
Moving on, oh Na-ri… you're such a weak link. You're not even anywhere close to evil and I can't even tell if you're trying because I can't read one expression on your face from the next. I haven't seen Im Soo-hyang in anything else but if I have to guess if you're inebriated or not or if you're sad or surprised while you continue to play it straight then… I don't have words. As a character, Na-ri is practically harmless and every 'evil' move has Ji-an come out victorious. Like how splitting the staff from her brought her closer to Tae-kang, released her creativity, and came out with an awesome design. And because she couldn't figure out a better way to win, like say, draw a better design, she had to sabotage it. I guess you could say that it's consistent with her childish nature to knock down another's blocks. Now she seems even less threatening under Madame Jang's wing, whom we all know is the real evil puppeteer. It may be interesting seeing if Madame Jang can change Na-ri but it's also late in the game and those odds will always be stacked against her.
Now that we're moving into the final two weeks, I'm getting a little nervous about how we're going to move forward with Ji-an's pregnancy. I'd hate to see to see it shoehorned into the last few episodes. Are we ever going to see her give birth? Are we ever going to meet Ankle? Is Tae-kang ever going to know!? Do I need to send flower arrangements to the production company?
RELATED POSTS
Tags: featured, I Do I Do, Kim Sun-ah, Lee Jang-woo