I Do, I Do: Episode 14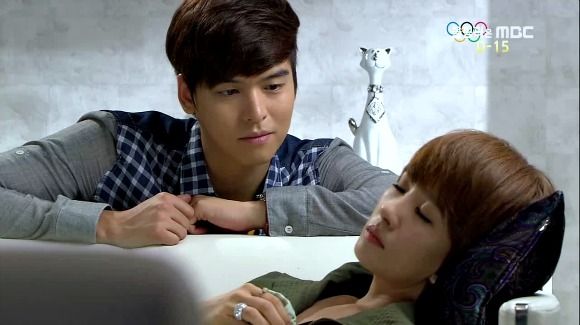 We're chugging along at a nice pace now as we set ourselves up for the show's final week. Secrets come pouring out left and right while Tae-kang ponders over what it'll take to become the Best Daddy Ever. 'Cause he's already a shoe-in for Best Boyfriend Ever.
Enough with the sweet gestures, good man – You had me at hello.
EPISODE 14 RECAP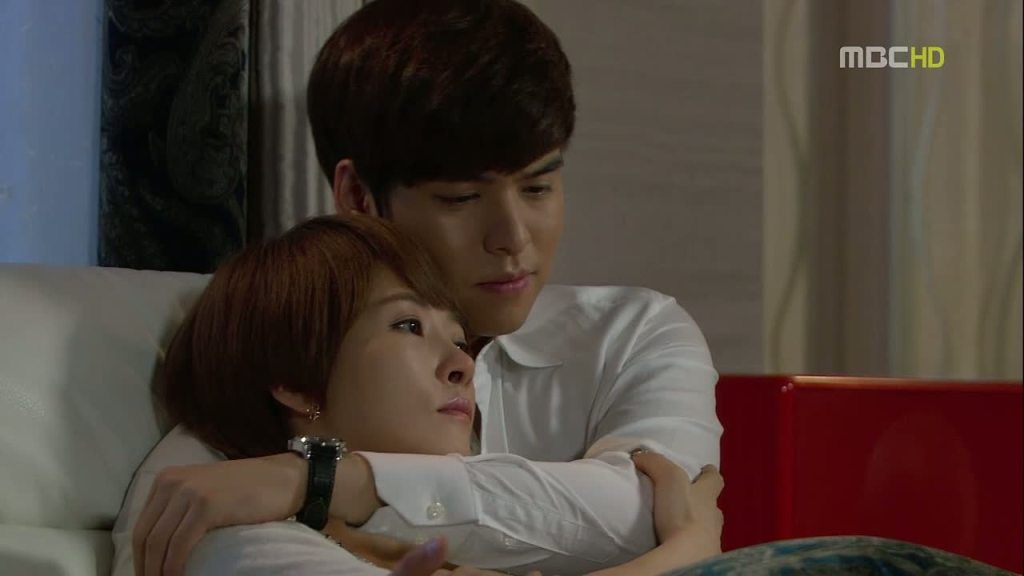 As the two lie on the sofa together, Tae-kang wonders where do they go from here – should he not go to America? Ji-an looks back at him and then questions why humans wait so long to have a baby.
It would be much easier to just have it in 2 or 3 months but concludes that pregnancy is a period for her to prepare herself for a mini Ji-an 2.0. "Perhaps you need some time too, don't you think?" To ready himself for fatherhood.
She doesn't expect him to return and be Father of the Year but to become a dad Ankle can respect. "So go and take hold of your life. Show 'em properly. Show our Ankle." They wrap their arms around each other tighter.
And take hold of her life indeed as Ji-an asserts herself to take the reins of the collaboration right out of Na-ri's hands. Na-ri can go ahead and deal with the external affairs but she'll be taking the hands-on approach thankyouverymuch to lead the collaboration, her "condition" be damned.
Tae-kang's face falls when he hears that Ji-an's already had her morning milk. He turns that frown upside down by pulling her into a backhug which gets her all flustered, especially when Team Leader Ma walks in just after they break apart.
Ji-an scolds him that someone could see… and he gives her a surprise peck on the cheek before scurrying off. HA – Cute.
Madame Jang is NOT pleased to hear that Na-ri has gone ahead to ask the Chairman to let Ji-an lead the project. She reminds Na-ri that she is the lead stakeholder in the company, not Daddy, and Na-ri meekly complies to rectify the error.
While they're at it, there's another thing Na-ri can do: find out who Baby Daddy is. But then she whips out the photo evidence of Tae-kang and Ji-an together, having already figured out as much. She's already aware that Tae-kang was hand-picked by Ji-an and even his father was hired to work for the company…
Na-ri immediately comes to his defense that Tae-kang is someone they're grooming to become the next star designer; they can't use him for their benefit against Ji-an. Are you trying to be evil or not evil? Pick a side, hon.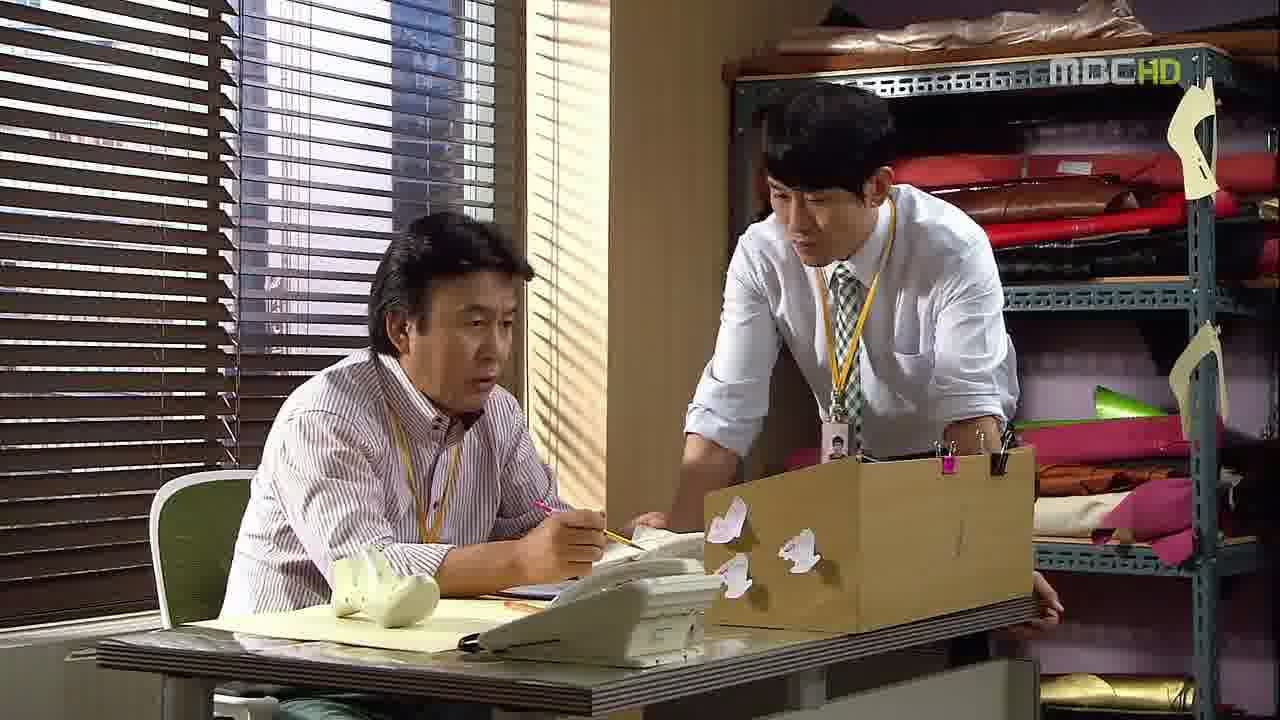 Dad scowls at the rumors that there's a company pool going on betting on who the father is. To be so caught up over someone's personal life rather than their work is something the tabloids would do, he says.
Then we get a little comedic moment that no one in Bong-soo's office ever comes looking for him. Bong-soo remains hung up on who the baby's father is until Dad repeatedly tells him to leave.
The cute little things Tae-kang does for Ji-an are so heartwarming from making sure that she drinks the freshest milk to putting in a couple of winks while the others are away. I especially love that he doesn't force her out of his chair and offers his hand for her to take. The reason behind all of this? "Since Ankle is precious."
And just like a father putting his child to bed, he tells her in banmal, "Sleep well," before another quick kiss.
Tae-kang checks his calendar on his desk, sighing deeply that there's barely a week left before he leaves.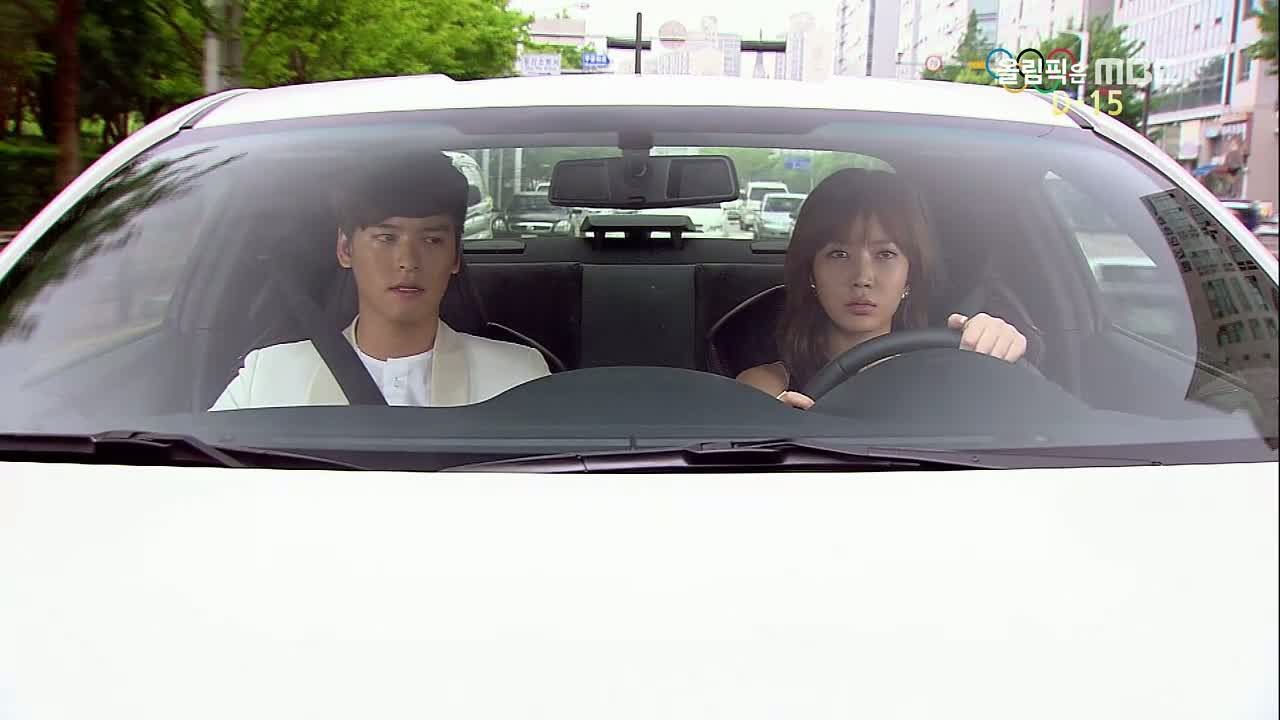 He starts to jot down a "Things to Do Before I Leave" list when Na-ri unexpectedly walks in with a change of clothes, telling him that they're going out. This means that he needs to wake Ji-an up prematurely, relaying to her that he'll be away for a bit.
In the car, he casually comments if he's leaving too suddenly and asks he can leave a little later, like early next year. She densely muses if he's worried about his father, telling him not to worry. We all know that he wants to stay by Ji-an's side but can't bring himself to press the issue.
It seems that word has gotten out about Ji-an's replacement for the collaboration and a scout from another company has heard about her situation. He suggests that Ji-an come work for them, offering a competitive salary package and a more expectant-mother friendly environment.
Ji-an asks what the catch is and the scout shifts uncomfortably in his seat. They'd like some minor things, like exclusive rights to Italian leather companies and next year's design concept just to name a few.
That's enough information for Ji-an to give her answer: "Do you know why your company will always be No. 2? You only think about cheating rather than studying." They should focus to improve their company from within so that they stop hearing that their designs are all the same. And just in case it wasn't clear enough: "I decline."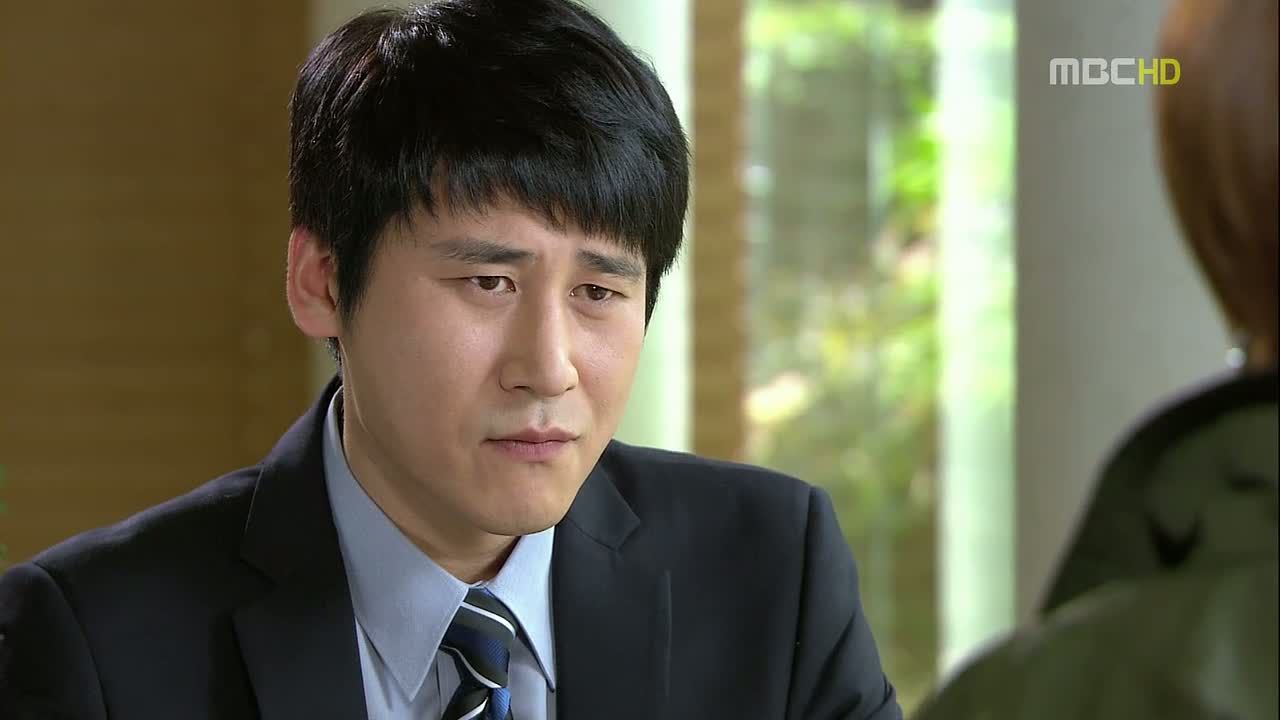 But the scout dangles the carrot that the other companies in the industry are talking about her. They view her single mom outlook with sarcasm and find her shameless for proclaiming about how she became pregnant by mistake, how she's stuck in this awful situation because the father won't marry her. They've also heard that Madame Jang has specifically targeted Ji-an.
He glibs that she won't be able to survive in this industry… especially since she isn't alone with a quick glance to her stomach.
Pushing the contract back towards her, he instructs her to think about it since Ji-an needs to consider her place now.
Thinking back on all the words warning her that she won't last as a single mother, tears stream down her face as she says, "Ankle… Mom was prepared. But it still hurts."
She fights tears as she speaks with Mom on the phone who frets that Ji-an might not have anyone taking care of her. Mom registers her daughter's cracking voice and asks if she's crying, news that pique Dad's concern.
Ji-an hurriedly hangs up but the entire situation doesn't sit quite well with Dad.
We catch up with Tae-kang who is the middle of storming out of the meeting Na-ri has dragged him to. He's upset that Na-ri is making him lie – he's not some prodigy and he wasn't the means to winning the collaboration.
But Na-ri counters that they're words that Ji-an herself has publicly declared which does little to ease his mind. Seeing that he's swimming in shark territory now, he bursts, "How is this any different than when I was making knockoffs in Itaewon?!"
Their company isn't some philanthropic organization, sending future designers abroad because of their socioeconomic status, Na-ri explains. He's an investment, so wouldn't it make sense to do his part to help out the company in return? In other words, he's a product.
If Tae-kang is going to keep coming off like this, they'll have to reconsider his overseas internship opportunity which is fine by him. He storms out and Ji-an's words of him becoming a dignified father eat at him.
The sound of Ankle's heartbeat relaxes Ji-an and Eun-sung sighs that she must be a mom just like anyone else if her child's heartbeat comforts her. He asks if she still hears it as "gudoo/gudoo" which she does and he jokes that a woman who works in real-estate hears it as "dogok/dogok" (Dogok is one of the most affluent areas in Seoul).
He presents Ji-an with a gift after the exam: a pair of baby pink Mary Janes. She wonders, "A daughter?" and Eun-sung shrugs back at her.
Waitaminute. She's not even showing and you know the gender of the baby? Am confused.
Bong-soo regales Dad with the kdrama-like story of how Na-ri's parents got together with added dramatic effect. Dad asks what Na-ri might be like as a future daughter-in-law and is delighted to hear that she'll become CEO of the company soon.
Dad blushes, thinking it'd be impossible for Tae-kang to marry a future CEO and Bong-soo tells him to dream big, "Ajusshi, be ambitious!" Then he imagines driving up to the company (wearing the loafers that Tae-kang handed to him) and bouncing happily with Na-ri.
To pop us out of the dream, Choong-baek brings over his latest alcoholic creation, "No no no it won't work!" Hehe.
Just then, one of Na-ri's employees comes to pick Dad up at the restaurant.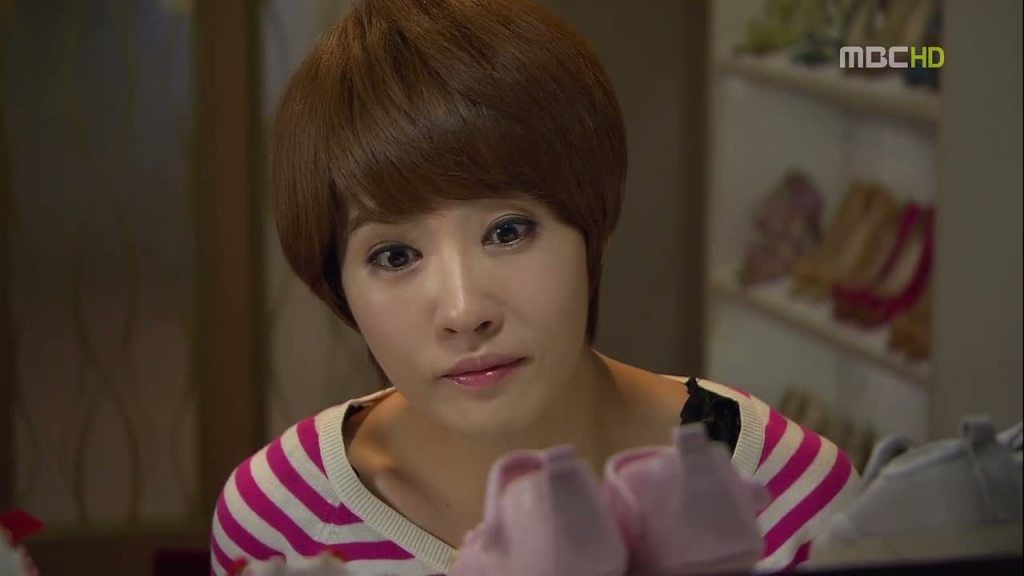 Ji-an sets the new pair of shoes on her baby shoes shelf which is growing faster than her stomach and whispers for Ankle to come out soon.
When Tae-kang suddenly appears at her place she gripes if he thinks he can come by anytime to a stranger's house. He responds, "A stranger? My child lives here." HA.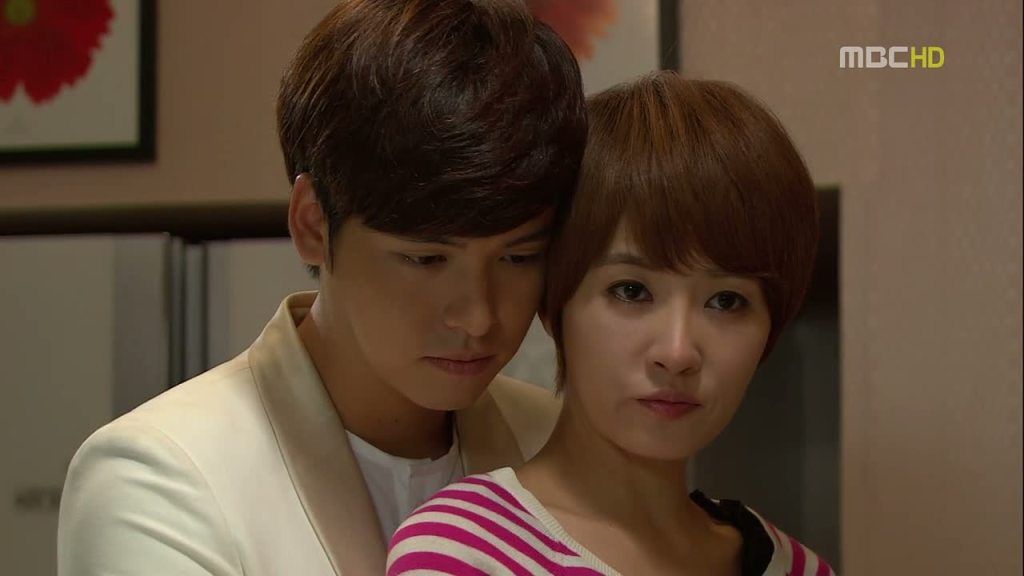 He shuffles behind her and wraps her in a backhug, asking to stay like this for just one minute. Ji-an asks if something is bothering him and to his response that becoming a respectable dad is harder than it looks, she teases, "Then did you think being a parent was easy?"
Turning around, Ji-an takes his face in her hands, telling him, "Let's stay strong. It's only the beginning for us." She tops it off with a kiss.
To lift his spirits, she offers to whip up something tasty for him and ping! Tae-kang stutters that ramyun will be just fine. She whines that she wants to do something special for him like last time and he's like, "Last time?!" When she insists, he covers that she shouldn't exert herself.
Looks like our new couple don't see eye to eye on Ankle's extracurricular activities. Tae-kang is intent on raising a future soccer player, insisting that exercise is healthy whereas Ji-an intends to do no such thing, rather Ankle is a shoe designer since her conception. Even her heartbeat goes, "gudoo/gudoo."
Unfortunately their argument is interrupted by the doorbell – it's Dad and Mom at the door. Tae-kang is all for properly introducing himself as the baby's father… cut to: Tae-kang being thrown into the shoe closet. HA.
But then the sound of his ringtone alerts her parents to check the closet anyway. He gets on his knees and introduces himself as "Ankle's father" much to Ji-an's parents astonishment.
Needless to say that Dad finds it difficult to accept this truth, the added fact that Tae-kang leaving for that States soon adding fuel to the fire. Tae-kang defends that he'll come back real soon to become a father Ankle will be proud of. And then he mouths to Ji-an: "Tell them."
Dad nearly teeters in shock at Tae-kang's age (27 in Korea which would put him around 26/25 in the States) and then Ji-an adds that they've settled to play Mom and Dad without getting married. Tae-kang's expression is like Is this you trying to help?!"
What's worse is that she repeats that she has no intention to get married to Tae-kang, words that cut him the most.
Once he leaves, Dad notes that an intact family structure is necessary for the baby and doesn't see why Ji-an can't follow Tae-kang to the States if he's leaving. She asks him to respect her opinion and accept what situation is the most comfortable for her since that's the most comfortable for the baby.
Dad starts to gripe again when this time it's Mom who speaks up that they have a grown daughter who can make her own decisions and though Dad grumbles, he doesn't say any more on the subject. Then Ji-an and Mom exchange secret victory glances. Yay Mom!
Dad shows off pictures of the apartment Na-ri has gifted them, singing praises about how she'd make a fine daughter-in-law. Figuring it's better late than never, Tae-kang readies himself (by grabbing a pillow) that actually about Ji-an's baby…
…and we hear the sounds of pots and pans crashing in the background. We cut back to Dad crying out that the convenience stores and pharmacies have aisles of that "thing" available – how was he so stupid not to buy one?
He's displeased to hear that there won't be a wedding and demands to know why Tae-kang likes that woman so much. Tae-kang answers that people commonly say that a couple goes nuts for each other when they fall in love. But for him, it's the opposite; it became clear that he needs to step it up.
Gently placing a hand over Dad's, Tae-kang assures him that he was never left in want under Dad's care. He was always grateful but wondered why he was even born when he saw Dad go through the lonely and hard times: "If only I wasn't born; he'd be much happier."
Tae-kang says, "Parents are people who always say, 'I'm fine.' But we children can clearly see through that. I'm going to make sure my kid never thinks that. 'Thank goodness I was born.' 'I made my mother and father happy.'" So he's going to make sure that he comes back so that Ji-an will say, 'Yes.'
Fighting tears, Dad resigns, "Make sure you do that."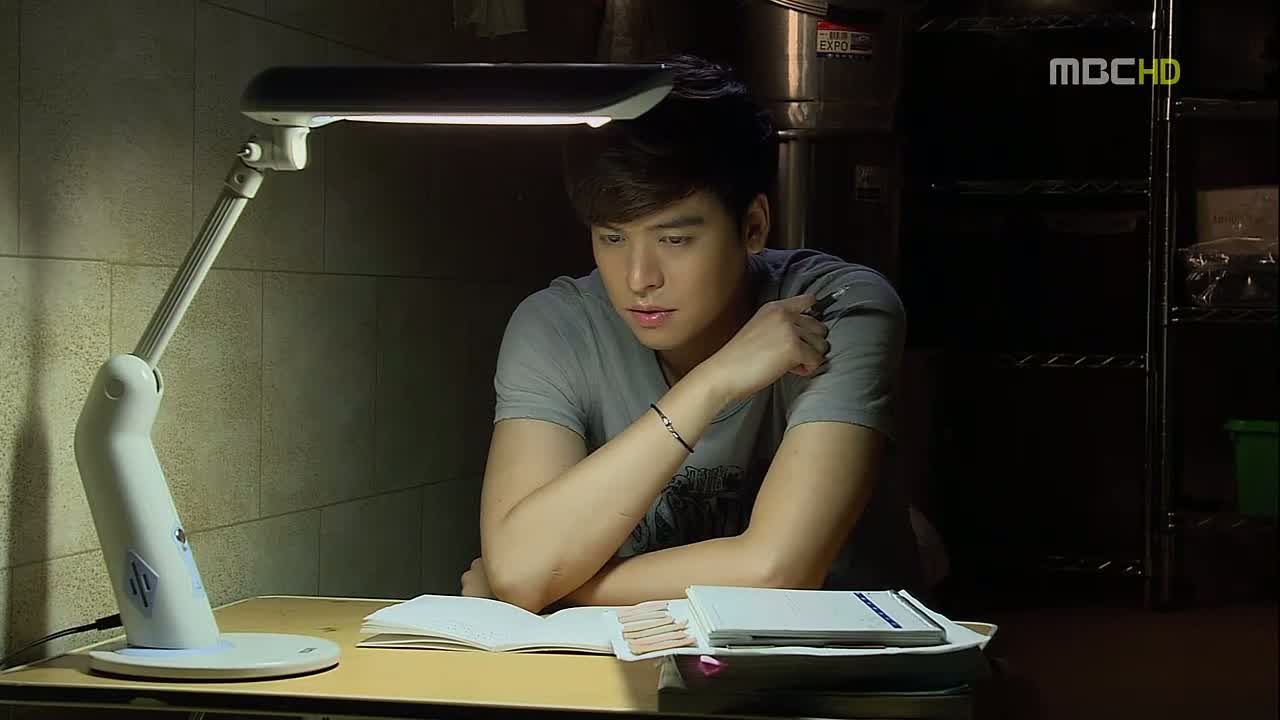 Later that night, we see Tae-kang telling us in voiceover of Things to Do Before I Leave which include (1) setting up a place for Ji-an to rest (2) letting Ji-an eat all the jokbal she wants (3) making shoes for Ankle.
The next morning we see Na-ri arrive at her office to find a little apologetic note and thanks from Tae-kang.
Ji-an runs into Dad in the hallway who tells her that she should take care of her body and dress more appropriately. He hands her his number to call anytime she needs him which confuses her.
As he walks away, Bong-soo asks, "Are you interested in Director Ji-an?!" Aww Dad, I knew you'd come 'round.
Team Leader Ma relays to the team that the higher ups have decided to go with Na-ri to headline the collaboration with Ji-an's design. This turn of events obviously angers Tae-kang, who crumples his little feature article in his hands.
Ji-an sits in her office as Na-ri's voice confirms that there was "nothing that they could do" about the collaboration. Nothing that you could do, my ass. More like nothing you did.
Count on Weasel Boy to make snide remarks about Tae-kang's career opportunities out of jealousy and Redhead comments that she's heard through the grapevine that the Vice President has feelings for Tae-kang which is why he's being given the special treatment. But of course, that tail end of the gossip is overheard by Na-ri herself.
Bong-soo walks into the pattern design office in a daze, muttering that he thinks he knows who the baby's father is. All of a sudden, Dad clasps his hand over Bong-soo's mouth that they can't tell ANYONE that it's Tae-kang and Bong-soo's eyes bug out. Whoops, so much for keeping that secret under wraps.
He repeats: "Tae-kang? He's Medusa's baby's father?" and THAT bit of news is also overheard by Na-ri who gasps in horror. What, you just drop in to pick up on key information?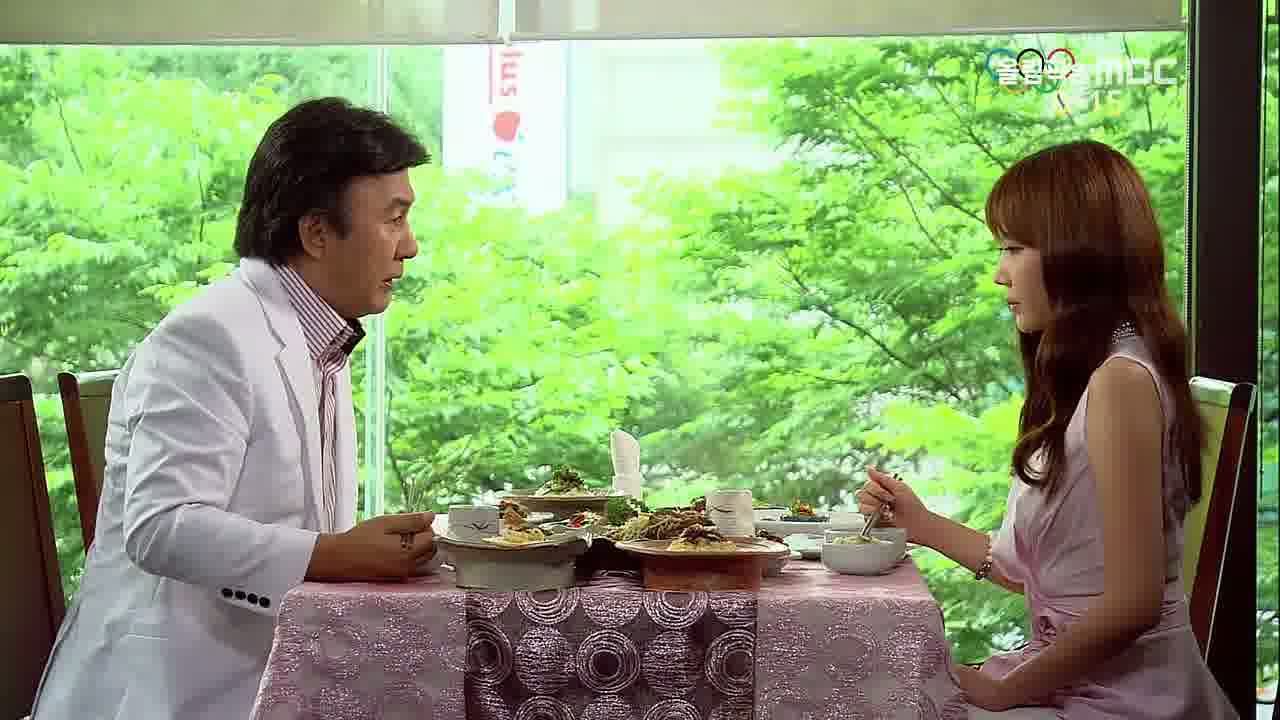 Well you can imagine that Na-ri and Dad's lunch date is sure to be an awkward one. Dad fills her in that it was a drunken mistake and carefully asks about the topic of Tae-kang's overseas studies.
Na-ri raises an eyebrow, asking if that mean he intends to leave the expectant mother behind, finding it hard to believe that he would want to return in order to become a better father. She'll have to reconsider and Dad will need to keep Bong-soo and his lips tightly sealed.
She returns to her office and cries.
Tae-kang crosses off the first thing on his To Do list by surprising Ji-an with a new chair to nap in. She smiles at the generous gesture and teases, "Ankle and I will think of you once in a while when we sleep here."
He wonders for the umpteenth time if he should reconsider going to the States but Ji-an sees it as a plus for her and Ankle to have a father who's a successful designer. Figuring that it doesn't matter who headlines the collaboration, she'll let the company suffer a little without her.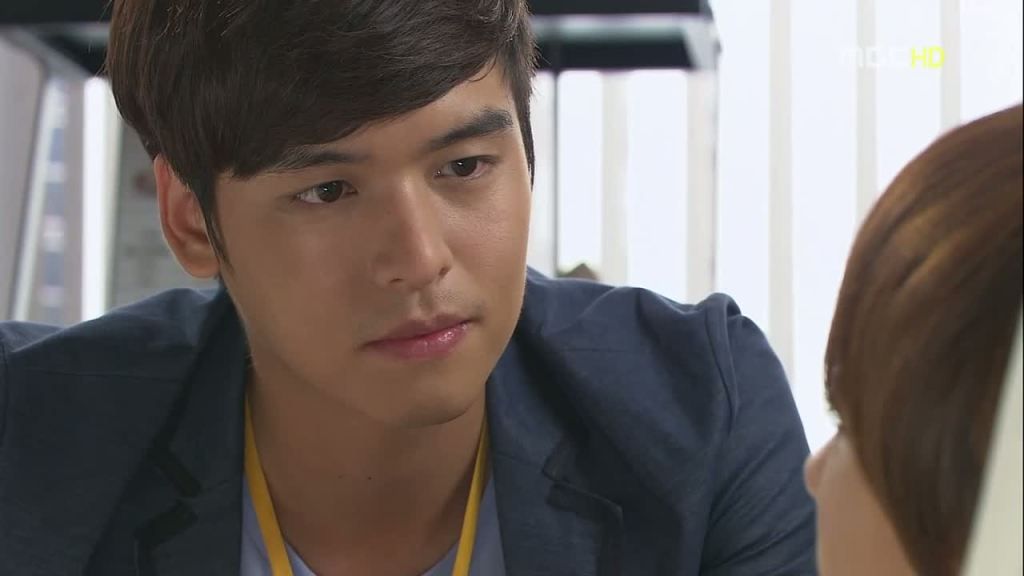 Tae-kang's shoulders slump at her strong personality, commenting that there's no way he can butt in. Ji-an points to her stomach and tells him that he's already in here, with Ankle. If he really want to cheer her up, he can buy her some jokbal later.
Tae-kang pulls in closer and softly says, "Ji-an, you're no ordinary to me. You awoke my dream; taught me the process. More than anything, you taught me how to walk straight. I won't ever stray from the path again. I'm going to look ahead and walk straight. Just like you."
Ji-an takes his hand in hers and placing it close to her heart, she says, "Thank you." Then Tae-kang slowly draws his face closer to hers as if to kiss her… and then pulls back at the last moment.
He tells her, "They say that skinship and kisses are really good for the baby." Pffft. And then Ji-an asks if it's proven fact and he's all, Yeah of course. I read it in a book. It like promotes endorphin production.
It also promotes something else too buddy. Hey, don't tell me these jokes don't come to you either. He asks, "Should we confirm it?" and Ji-an asks if the door's locked.
Cut to: Weasel Boy catching a flustered Ji-an and Tae-kang who can't wipe off the smirk on his face.
Ji-an is none too pleased to be called into Na-ri's office, saying that she'll let the collaboration issue go this time around. But Na-ri has bigger fish to fry: Who is her baby's father?
Ji-an isn't keen on disclosing that information and via dramatic gong, Na-ri asks if it's Tae-kang. Just like her pregnancy, she remain mum about it but it's Madame Jang Ji-an should keep an eye out for because she already suspects him.
It's only a matter of time until news gets out and she warns that even though Tae-kang might be leaving for the States, everyone will question their relationship in relation to every career success he's had so far. Those rumors that Ji-an pulled all of those strings will become a cruel reality where Ji-an will be kicked out of the company and Tae-kang blacklisted from ever working in this industry again.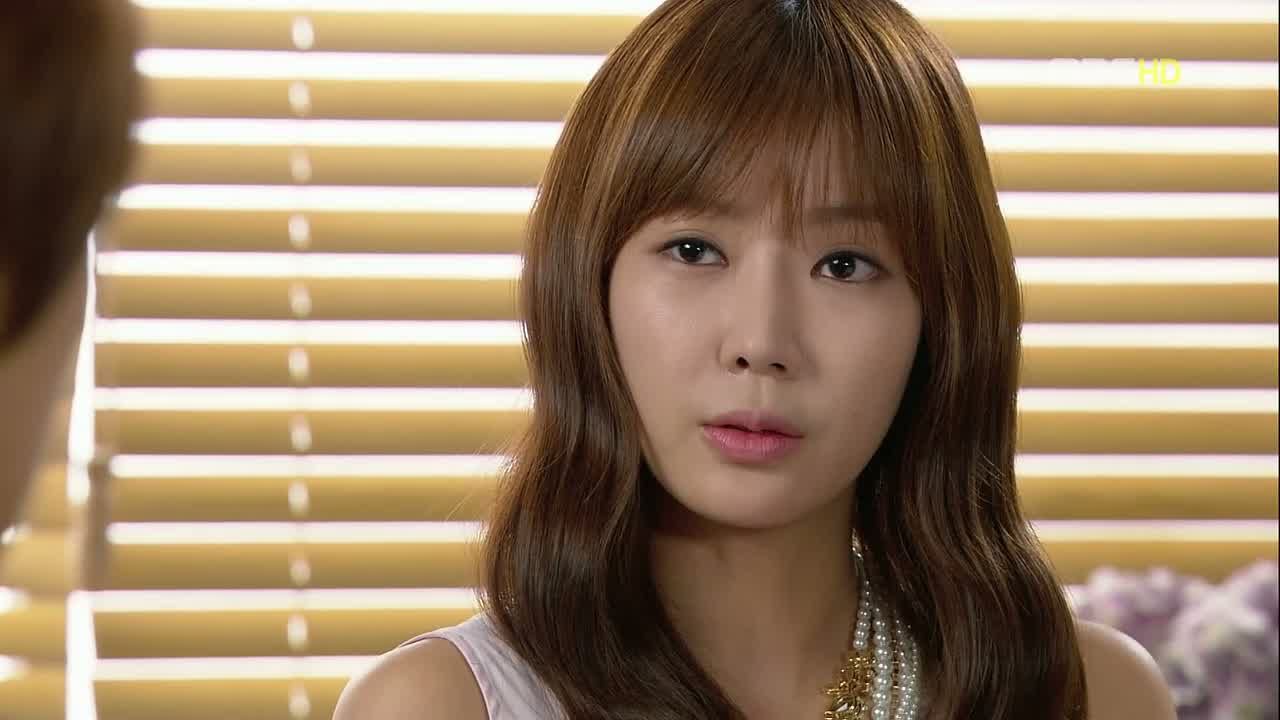 No one will believe her honest intentions and Ji-an insists that if she keeps persevering, the truth will eventually come out. Nari: "Do you really believe that? What good has come of you publicly addressing that you'll be a single mother? In my eyes, be it 20 years ago or the present, the world hasn't changed. How long do you think you'll last if you keep charging ahead?"
If she keeps this up then it will be the end for her, Tae-kang, and his father. She advises that Ji-an hand in her resignation to save Tae-kang and his family. Ji-an will need to make a decision by tomorrow.
We cut to Eun-sung whose phone dings and we hear the phone audibly read out the message. Oh hai product placement… It's from Tae-kang who asks if he'll be home in an hour.
Right on time, Eun-sung greets a visitor – the local jokbal ajumma – who's here to teach him her secret recipe. Aww, so Eun-sung can make it for Ji-an whenever she wants to eat some?
As for Tae-kang? He's currently getting his hair pulled by a grandma. Nothing a lollipop can't fix!
Gosh, I love it when these two are together. Tae-kang drops by to taste test the jokbal and when he comments that it's "3.6%" lacking, Eun-sung retorts, "You do it."
Tae-kang suggests that Eun-sung delivers it to Ji-an himself since he'll be the one meeting up with her and grabbing coffee, basically giving the green light to their budding Best Buddy status. But he draws the line at skinship and sealed off spaces.
He reminds Eun-sung to stick to Ji-an like glue even if she insists otherwise and Eun-sung agrees. There's also one more favor he'd like to ask but we don't get to hear it.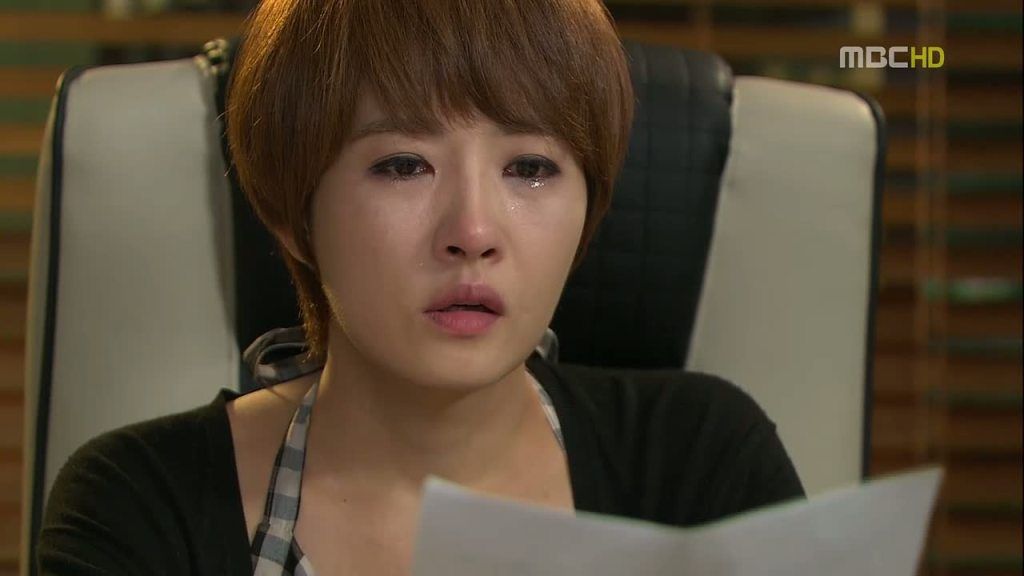 We cut to Ji-an whose eyes are red and puffy from crying. The words about how the world knowing about her relationship with Tae-kang will endanger everyone reverberate in her ears. Taking the rival company's contract in her hand, she shreds it.
Doctor of a Heart drops by with fresh jokbal in hand and relays Tae-kang's wish: he'd like to say hi to Ankle. He tells her to come by with Tae-kang in the morning.
Tae-kang sits nervously in the office and this time it's Dr. Yang who's performing the ultrasound. His eyes grow wide, glued to the screen as the fetus pops up to the screen. He marvels, "So you're Ankle…" Caught up in his excitement, he asks, "Don't you think she looks like me?"
Tears welling up in his eyes, he says, "Ankle, it's Daddy. Hi."
COMMENTS
What a beautiful way to finish off this week as Tae-kang officially says hello to his daughter. Everything else you say after that is moot, sir – 'cause you had me at hello. I'm honestly relieved that now that our couple is able to freely express their emotions to one another, the story can finally move on from, I'm-pregnant-you-don't-know-I-will-silently-suffer. I love it how leaving Ji-an isn't an easy decision for him but it could possibly be the best one. Though Ji-an clearly loves him and supports him, we need to remind ourselves that right now, Tae-kang is still immature, childish, and impulsive. It's not that she doesn't love those aspects of him, rather that she sees the potential of a man who can return to her and their child as a capable, respectable man. She's willing to wait and see that transformation because like she said earlier, "It's only the beginning."
Despite that Ji-an still isn't showing (which occurred to me that some women are simply fortuitous … but should show at least a wee bit by this point) I'm glad we got to know the sex of the child and that little snippet of Ji-an's worry about raising a son over a daughter. If the dream was an indication of the future, Ji-an would have gotten her mini 2.0, and now her dreams of sketching in the park may actually come true. That is, if Tae-kang and his sports dreams have anything to say about that. Their arguments and concern over Ankle are perfectly sound and what every expecting parent thinks of in excitement to meet the little one. What I love about this pregnancy the most is that Tae-kang and Ji-an have taken ownership over the situation and refers to Ankle as theirs.
Moving on, Na-ri needs to attend Evil Second Lead 101 because with all her flip-flopping and lack of assertiveness, I'm left confused on what her intentions were. Didn't she want to take charge of the collaboration but still proposed to Daddy about letting Ji-an resume her position. I suppose you could argue that she can always rely on the higher-ups to back her up, but really what spine does she have if she can't stamp her foot down on these things? Her speeches of warning to Ji-an sound less evil and more out of concern for Ji-an because she's seen the harm it could do for a successful designer, i.e. her mother. Na-ri got a decent monologue in this episode (although it was the same words she's been repeating all series long) and I was sad to see it cut by the product placement the next minute, be it intentional or not. It's as if you had a moment to shine and then an extra upstages you in the background.
With this final week approaching, I'm going to hold off concocting any possible endings because who knows where the writers will take it. All I hope is that we don't rush our couple too quickly (a time slip, but really that's where Dr. Jin comes in) and if we must move it along faster, I'm holding out for a decent reason. Because drama, I won't settle for a "Sorry" or "I don't know." Tae-kang didn't, so why should I?
RELATED POSTS
Tags: featured, I Do I Do, Kim Sun-ah, Lee Jang-woo