Posters and teaser for weekend makjang-apalooza Five Fingers
Get ready for makjang thrills galore (you know, if that's your thing), because weekend drama Five Fingers promises the trademark deception, bitter rivalries, and revenge that give the genre its kick. And punch. And pulling of hair.
Posted here are shots from Five Fingers' recent poster shoot, featuring Joo Ji-hoon as the lead (which we know because he's at the piano—although I notice there are ten fingers on the keys, AHEM) in his television comeback. His character is a genius pianist with perfect pitch in the show described as a music melodrama about love, feuds, and music. Vague, but apt.
Coming from the pen of writer Kim Soon-ok, she of quintessential makjang hits Temptation of Wife and Angel's Temptation, you can pretty much expect lots of high drama and intense conflict. (Though I have to ask: Why no temptation? And why only five fingers? Despite the popularity of the saying, I don't know any piano virtuosos who actually perform with one hand tied behind their back.) However, I'm getting the sense that Five Fingers is going for something of a "premium makjang" feel, with lush cinematography and careful attention to score. With this director—PD Choi Young-hoon of Painter of the Wind and Iljimae—I can see style playing a large part in establishing mood and tone.
Take, for instance, the following teaser (there is an ad in front):
Aside from Joo we've also got Ji Chang-wook, pictured in the first poster's foreground, shedding his good-boy image (but he does it so adorably well!) to play the antagonist. Aw, look who's popped his villainous cherry. I actually have hopes that Ji can pull off the role, even though he's made his name playing warm, approachable types such as in Smile Dong-hae, Warrior Baek Dong-soo, and Bachelor's Vegetable Store. While the main character overcomes a tragic past and childhood scars to chase his dream, he gets caught up in a bitter rivalry with the rich successor to a corporation. Flames of the Bachelor's Rooftop Temptation Virus. What has me curious is that they're brothers; what takes them on divergent paths?
Playing the love interest who gets caught between them is Eunjung, although I suspect the story will really revolve heavily around commanding matriarch Chae Shi-ra (Queen Dowager Insoo), decked out in fierce red.
Jo Min-ki (East of Eden) puts in an appearance as the boys' father and Chae Shi-ra's husband. He's the owner of a company that makes musical instruments, because god forbid anything in a music drama have anything to do with something outside of music. Jo's character has had a privileged life, growing up as the son of a chaebol, and has an arrogant, willful personality. Also indulgent, since gives his own sons whatever they want. (Except, perhaps, LOVE? Because lord knows dramaland would run out of conflict without withholding Dads and controlling Moms.)
Five Fingers follows A Gentleman's Dignity and premiers in August.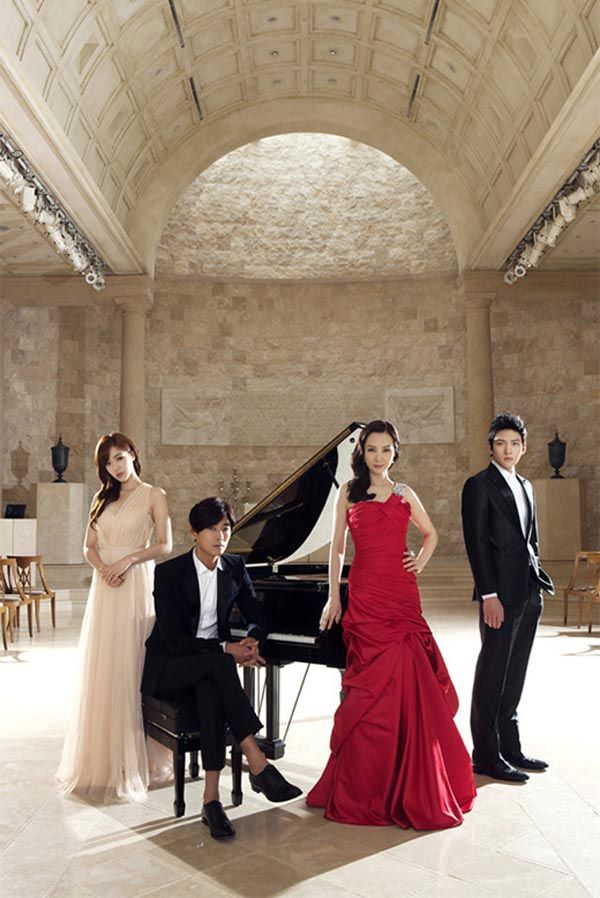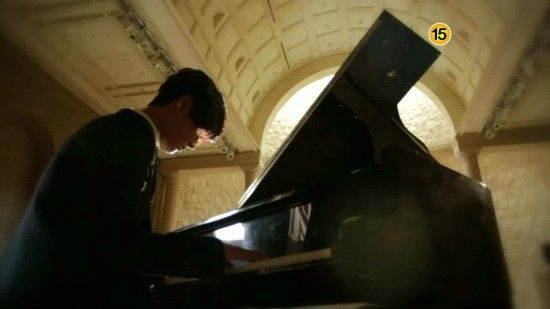 RELATED POSTS
Tags: Chae Shi-ra, Ji Chang-wook, Jo Min-ki, Joo Ji-hoon