Song Joong-ki stills from Nice Guy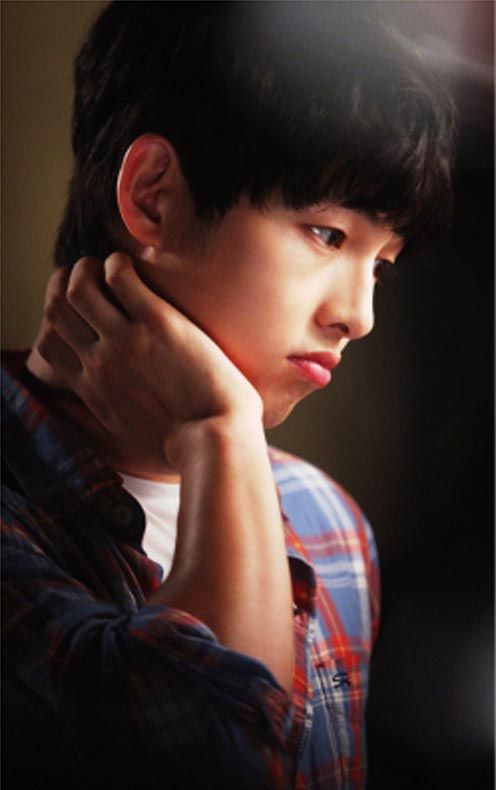 Song Joong-ki. Also, sweaty Song Joong-ki. There you have 'em: two reasons to post these new stills for KBS drama Chicken Man, urg, I mean Nice Guy, despite the fact that the stills are rather uninformative and unexceptional. Though I suppose there are a bevy of indignant fangirls and fanjummas ready to protest that the very presence of Song Joong-ki makes them automatically exceptional. Okay, I dare not protest.
Nice Guy—full title No Such Thing As Nice Guys—is the upcoming Wednesday-Thursday series from writer Lee Kyung-hee, who's a familiar name in the world of melos; she penned I'm Sorry, I Love You, Thank You, and the first drama to really put Song Joong-ki in the public eye, Will It Snow For Christmas.
The plot of this one kicks off when our "nice" guy gets burned by one woman (Park Shi-yeon) and then uses another one (Moon Chae-won) to get his revenge. Which strikes me as being the most roundabout revenge ever—I mean, who has the patience for that? Whatever happened to just slashing her tires, or throwing flaming dog poop on her doorstep?
Song Joong-ki's character starts out as a pure-hearted med student (hence the book-holding student pose) who "lives for one woman," but becomes a lady-killin' "homme fatale" and scam artist caught up in a fast-paced whirlwind life. That must've been one doozy of a heartbreak.
I'm all for actors changing up their images, especially when it's a fresh-faced actor making the first foray into darker, complex roles. (It's also why I'm curious to see how the similarly warm and approachable Ji Chang-wook will fare as a villain in Five Fingers.) I do think Song flirted with a less shiny type of role in Penny-Pinching Romance, where he was a bit of a loser and a scamp, but ultimately he retained his heart and likability, I thought.
I'm familiar with Song Joong-ki breaking my heart by being railroaded by his overbearing father, or harboring an unrequited love, or, you know, dying. But breaking my heart by being a dick? Eeeeek. That's a whole new level.
Nice Guy follows Gaksitaaaaaaaal and premieres in September.
Via Sports Chosun, Newsen
RELATED POSTS
Tags: Nice Guy, Song Joong-ki