The Thieves sets new box office record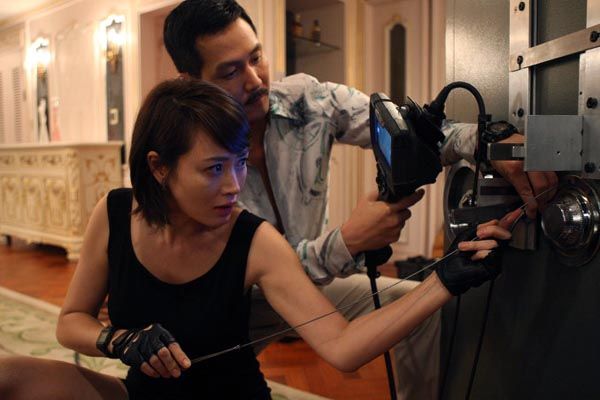 So, apparently summer + blockbuster + multiple A-list stars + caper + action = hit movie. WHO KNEW?
The Thieves opened on Thursday, July 25, and quickly racked up the ticket admittances, setting a new all-time box office record: its 436,628 ticket sales in Day 1 is the top Korean film opening ever, solidly taking over the distinction from the previous top film, 2006's sci-fi-thriller The Host, which had 395,951 admittances on its first day.
(By the way, who else finds South Korea's method of counting ticket admittances vastly more useful in calculating box office records, rather than sheer money grossed? Because I seem to recall a day when ticket prices didn't cost more than minimum wage, or sometimes double, and it's a lot more straightforward to count how many times the movie was seen when you're talking about all-time biggest movies. But sigh. I guess the bottom line is always about money in the end.)
The Thieves—starring a bevy of big stars like Lee Jung-jae, Kim Hye-soo, Kim Yoon-seok, Jeon Ji-hyun, and Kim Soo-hyun—sold out from the first morning screenings on opening day and benefited from word of mouth, according to distributor Showbox. It hit the 1 million sales mark on Day 3 and is well on its way to being one of the year's biggest hits.
To compare The Thieves' opening day sales with other movies in the 1 million club, we have Haeundae with 177,000, The Good, The Bad, The Weird with 386,880, and D-War at 387,468. Looking at 2012 alone, the previous top opener was Deranged, the Kim Myung-min disaster-thriller about hairworms (the movie's literal Korean title) that infect people and cause them to drown themselves. It opened with 190,000 tickets.
On its second day, it beat out Dark Knight Rises (which opened on the 19th), which sold 167,313 tickets for a total of 3,365,299 overall. The Thieves drew 410,192 ticketholders that day for a total of 862,663 admittances total.
July 27 was Day 3, and the film stayed in No. 1 position with 492,701 ticket sales, hitting a total of 1,355,342.
I don't expect The Thieves to reinvent the wheel or pull out something daring and unexpected—it's a heist movie with big stars. A blockbuster primed for summertime entertainment. And I'm cool with that, because who doesn't love a good fast caper? I just hope it delivers on its promise of zippy, Ocean's Eleven-inspired fun.
RELATED POSTS
Tags: box office, Jeon Ji-hyun, Kim Hye-soo, Lee Jung-jae