White Christmas: Episode 3
We've got the unlikeliest personalities working together to solve the same mystery that keeps compounding onto itself, revealing more and more unwanted secrets the closer our boys get. Everyone knows what they've done but not how to fix it, and this episode forces them to come face to face with their darker selves and, to a lesser degree, a murder. What does a young boy meet as he strays from the clear road? In this show, it's either dead bodies or avalanches.
SONG OF THE DAY
White Christmas OST – Mansun "You, Who Do You Hate?" [ Download ]
Audio clip: Adobe Flash Player (version 9 or above) is required to play this audio clip. Download the latest version here. You also need to have JavaScript enabled in your browser.

EPISODE 3 RECAP
It's day four of the Christmas break, and there's more snow and ice than ever, leaving everyone slipping and sliding if they try to walk outside. Kang-mo tells Moo-yul that Doctor Kim fell victim to the ice and hurt his arm, leading him to help the Doc put his injured arm in a sling.
Teach doesn't show up for breakfast, and no one thinks much of it as Young-jae decides to start the morning off right by ridiculing Yoon-soo for his breakdown yesterday. I don't know why he thinks this is a good idea, but he gets his comeuppance when Yoon-soo launches himself over the table and beats him until Moo-yul and Jae-kyu pull them apart.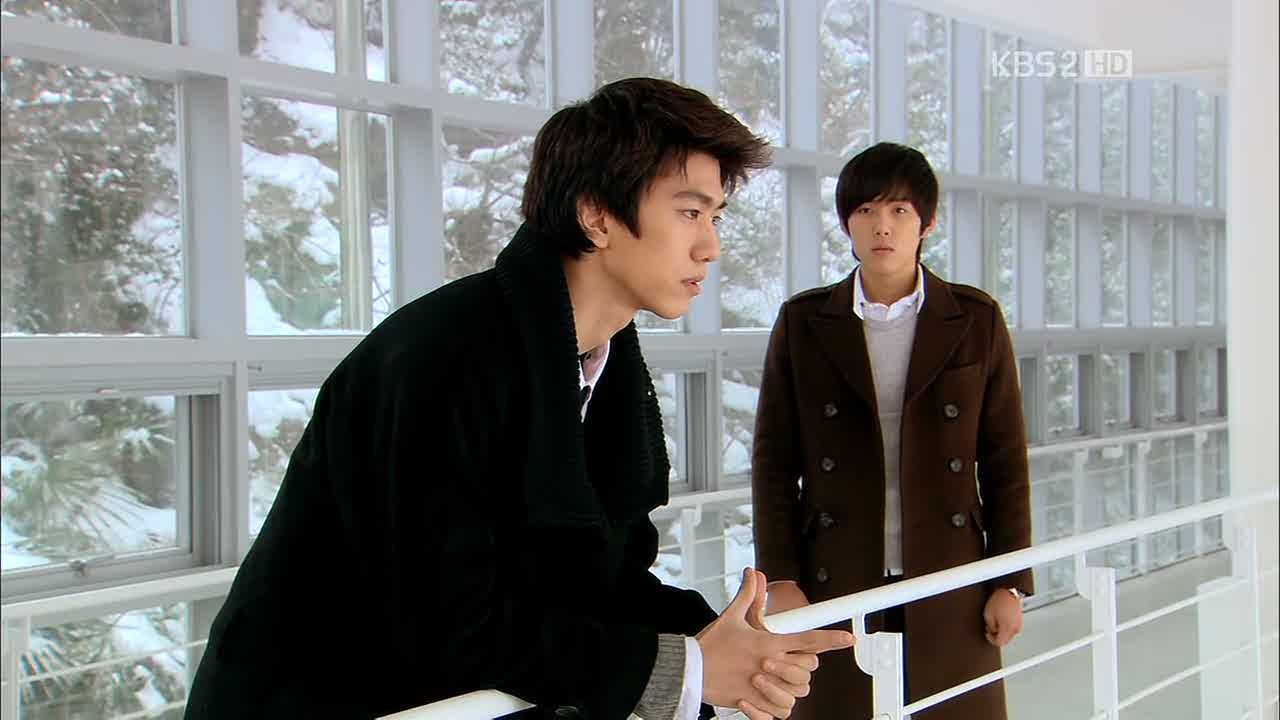 Yoon-soo doesn't seem to remember anything he said the day before, which Young-jae claims is due to his waning sanity and drugs. Moo-yul insists that Yoon-soo isn't on drugs because he flushed the rest down, which merits a curious reaction from Ji-hoon – if Moo-yul could tell when Yoon-soo was or wasn't on drugs, that means the teachers could too. Yet no one did anything.
Moo-yul and Jae-kyu turn up empty-handed in their search for Teach, and for that matter, Mi-reu. Moo-yul thinks Mi-reu just went home, but Jae-kyu knows he's still on campus since there were no footprints in the snow.
Cut to: Mi-reu trying to wedge the cell door open with a pen. He fails and rages impotently, until he spies the security camera and begins to flail in front of it, hoping that someone will see. Lucky for him, Moo-yul has gone to his room to look for him and turns on Mi-reu's laptop, flipping through the hacked security footage until he spots Mi-reu on screen.
They go down to the detainment area, and Mi-reu couldn't be happier to see them. However, Moo-yul doesn't seem keen on letting his new friend out when there must have been a reason for Teach to put him there in the first place, and doesn't seem satisfied when Mi-reu says he didn't do anything. Mi-reu even pulls up his shirt to reveal the major back bruise he's sporting from the judo throw in an attempt to garner pity.
Moo-yul is taking his goody two-shoes role a bit too seriously, since he leaves Mi-reu in the cell to check the CCTV footage, since Mi-reu said that Teach was up to something. But of course, Teach deleted all that footage from last night, so there's no evidence backing Mi-reu's claim that Teach threw him.
He's quick on the uptake though, and guesses that someone might have erased the footage. Ji-hoon arrives just at that moment wanting to talk to him, and they have a Smart Kids Meeting over the weirdness going on, which Young-jae overhears.
Poor Mi-reu stays locked in his cell like a zoo animal as Moo-yul, Jae-kyu, and Ji-hoon come to stare at him. They leave without a word, and soon Young-jae arrives in front of the cell, hilariously turning right back around when he confirms that it's Mi-reu locked inside.
Ji-hoon shows Moo-yul the student pamphlet with Teach's profile and points out something interesting; every permanent teacher at Susin High must have impeccable credentials and meet certain criteria, only Teach has none of those. He became a permanent employee not long after the school trip where Yoon-soo passed out, and at the recommendation of the school's chief donor – Yoon-soo's father.
Suffice to say, Ji-hoon believes that Teach was bought off by Yoon-soo's father after discovering him on drugs during the trip. Ji-hoon wants to break into the teacher's dorm, a thought which has the morally upright Moo-yul worried that they'll get in trouble. Ji-hoon displays no fear and calmly says he'll go alone if they're so scared.
Meanwhile, Doctor Kim throws back his fair share of painkillers due to his arm, watching Ji-hoon & Co. from bed as they pass the clinic. Ji-hoon takes a taser to the electronic lock guarding the teacher's dorm and goes inside, though Moo-yul takes a while to steel himself before doing the same.
They find Teach's room and two black letters – the one Moo-yul gave him, and the one he received on his own. They surmise that Teach's black letter sin is, "You silenced me." Or more specifically, "You kept your silence about the things you knew," meaning Yoon-soo's drug use.
Ji-hoon is quick on the uptake but so is Moo-yul, and they put the pieces together – Teach remembered who Yoon-soo was with at the trip once Moo-yul told him about the letter, so he called someone to confirm it (they don't have this detail right, since Teach had called the principle) and Mi-reu saw, which ended in Teach locking Mi-reu up.
Moo-yul becomes annoyed when Ji-hoon starts laughing, and Ji-hoon simply replies that it's all very amusing. Moo-yul is a bit more indignant, but Ji-hoon just shrugs him off as they all go down to Mi-reu's cell. At least this time Mi-reu is annoyed enough to ask them to pay money for their peep show.
They want to know what he knows about Teach's late-night phone call, but Mi-reu is wise enough to withhold the information that they want until they release him. Mi-reu smirks as he asks if this scene looks familiar, and it's Young-jae who points out that this is like a scene from The Silence of the Lambs. Ha. So Mi-reu is playing quid pro quo, only Moo-yul & Co. aren't offering anything from their side.
The meeting ends in a stalemate when Mi-reu won't give up the name he saw on the student record unless he's released, and for whatever reason Moo-yul & Co. won't let him out unless he tells them.
While Eun-sung finds herself unable to connect to the internet, Young-jae argues against letting Mi-reu out, claiming that he could be an accomplice to the letter writer or that he could have hurt the teacher. Moo-yul doesn't believe this last point since Teach practiced judo, and Ji-hoon finally puts Mi-reu's release up to a vote, with everyone but Young-jae raising their hands.
So Mi-reu is released by popular vote, much to Young-jae's dismay. They try to get Mi-reu to tell them the name he saw, which leads them all to the staff room and the student record book. Mi-reu flips through it until he finds Kim Jin-soo's page, the one that Teach had been looking at last night. He's able to recognize it not because he remembered the name, but because of the smudge he left on the page from the bread he was eating.
Mi-reu's interest in the matter doesn't extend any further, and he announces that he's going to head home before Teach returns. Ji-hoon sees Kim Jin-soo's page and realizes that he's the same year, even though he doesn't remember him. Mi-reu chimes in: "That's Choi Ji-hoon." Then he focuses on Ji-hoon specifically as he says cryptically, "Don't die on me."
He leaves, and Young-jae finally recognizes Kim Jin-soo as "Pervert Jin-soo," who Moo-yul remembers as being rumored to be gay because he hit on Yoon-soo once. The record shows that he took leave from school on the third of January, right after last year's Christmas break, where he'd been one of the two students that stayed behind.
Curiously, the record shows that an ambulance was called on Christmas Day, though the specifics aren't shown. He died on January 29th. That's when Moo-yul recalls the black letter, specifically the part that read "After eight days, walk up the path by the Zelkova tree. Under the clock tower, you will see someone dead." Moo-yul: "He meant that he would die. We didn't receive a letter, it was a suicide note. Last year's suicide note."
As for who sent the letter, Ji-hoon thinks it would have been Kim Jin-soo's closest friend… and the record shows that person to be Kang-mo.
Speaking of, we find Kang-mo very creepily printing out the photos he took of Eun-sung after she cut her wrists, while our boys discuss the likely reasons why Kang-mo would send the letter on Kim Jin-soo's behalf, and why he would want to wait till the school was empty on Christmas break to get revenge for his dead friend.
Moo-yul thinks he'd want to make it known that someone died because of them, and Young-jae considers the case closed. Even if it isn't, a beating or two would get the truth out of Kang-mo, right? Ji-hoon disagrees, since he'd witnessed how Kang-mo fought back against Mad Mi-reu when he'd smashed his camera once. No small feat, since he points out that Young-jae can't even look Mi-reu in the eye without cowering.
Ji-hoon goes off to think, with Moo-yul and Jae-kyu doing the same until Young-jae is left completely alone. Moo-yul uses Mi-reu's laptop to watch the CCTV footage, and Jae-kyu wonders aloud, "What's Choi Ji-hoon thinking about?" Moo-yul gives a sudden, aggravated answer unlike him: "How should I know?!"
He catches himself and apologizes, watching Ji-hoon on the screen as he says: "When I look at Choi Ji-hoon, I can understand Kang Mi-reu." Interesting, since Mi-reu hates Ji-hoon. Is it all jealousy over his intelligence?
Meanwhile, Ji-hoon goes to the clock tower and checks the dedication nameplate at its base to find that it was donated by Yoon-soo's father in March the year before. Young-jae finds Kang-mo in the meantime and begins to not-so-nicely question him about who his closest friends are – the kind of close that'd make him want to avenge that friend if he died.
Moo-yul comes in time to stop the situation from escalating, though Kang-mo seems suspicious. He warns Young-jae that they don't have any evidence against Kang-mo save for the fact that he used to be friends with Kim Jin-soo, so Young-jae says fine – but if something happens, Moo-yul will have to take responsibility.
Strangely though, Kang-mo doesn't seem to wise up that security cameras are following his every move and fiddles with the bookshelf in the recording studio he frequents, while Moo-yul and Jae-kyu watch through Mi-reu's laptop.
Speak of the devil, it looks like Mi-reu has really taken it upon himself to make it home even with the snowstorm, as he quite literally skis his way down the mountain. Moo-yul finds the books Kang-mo put away, flipping through them to see pages and pages of pictures, all of Eun-sung. Eek. Well, now his picture-taking of her in the snow makes a little more sense.
We find him watching Eun-sung as she tends to Doctor Kim in the clinic, as he's come down with a fever. Kang-mo tries to sneak a picture of her with the camera he always hangs around his neck, but the lens hits the glass door and alerts her to his presence.
Next we know, Kang-mo is at Moo-yul's dorm, claiming Eun-sung wants to see him. Young-jae closes the door after he enters and Kang-mo realizes he's being trapped, though he still acts innocent when Moo-yul tells him they found the black letter's writer – and his face falls once he hears the name Kim Jin-soo.
So Young-jae lays out the story as he believes it – that Kim Jin-soo and Kang-mo were best friends, and whenever Jin-soo was picked on, he'd go to Kang-mo. And then he died. It's this last detail that surprises Kang-mo as he asks, in what seems like genuine surprise, "Did Kim Jin-soo die?"
Eun-sung hears a noise from the clinic and finds Doctor Kim barely holding himself up, having knocked over furniture in an attempt to stand.
Back in the dorm room Young-jae urges Kang-mo to confess to sending the letters to avenge his friend, but Kang-mo paints a different story. Though Kim Jin-soo listed Kang-mo as his best friend in the school records, Kang-mo listed Kim Jin-soo as the person he disliked the most.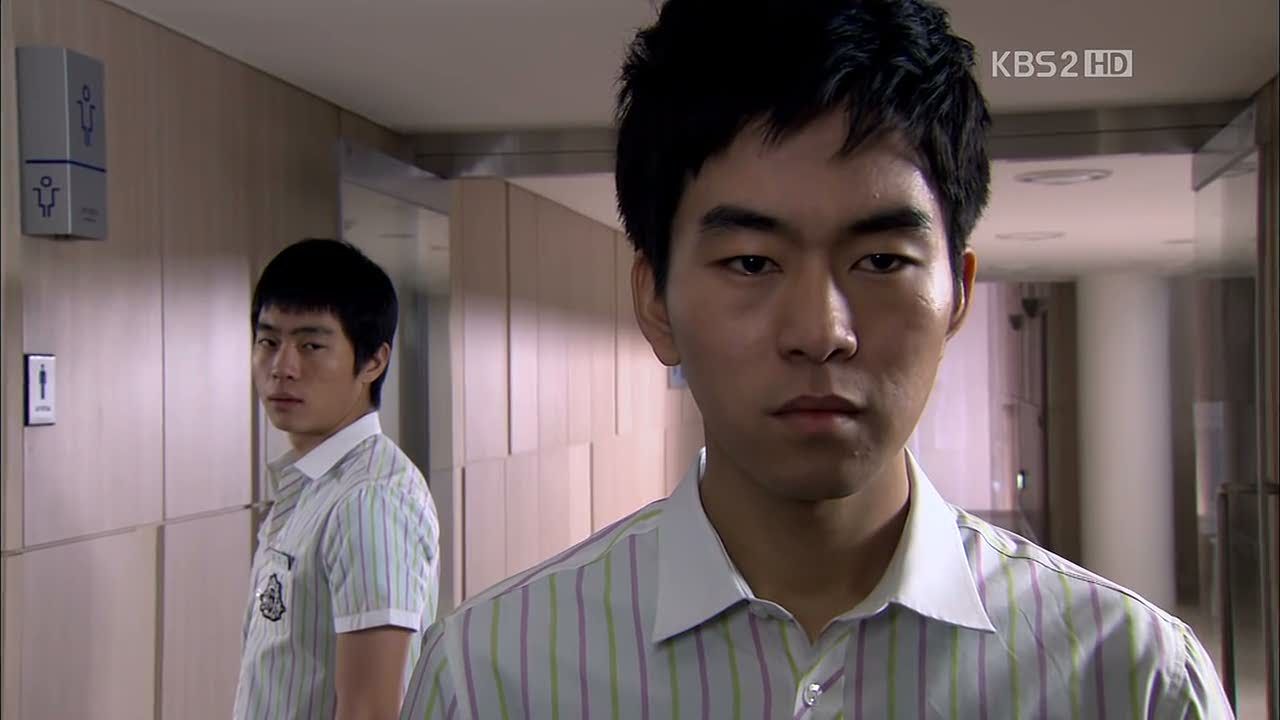 Moo-yul: "You didn't like Kim Jin-soo?" Kang-mo: "Of course I didn't like him. He was the only one who totally treated me like a disabled person." We see a flashback where Kim Jin-soo had told Kang-mo to be strong because of his hearing disability, pity that Kang-mo did not welcome.
"What was worse was that he felt he was superior to me," Kang-mo continues. "I know everyone else did too. But no one made it as obvious as he did." Even Young-jae, the school bully, notes that Kang-mo is being harsh to a dead person. Kang-mo doesn't seem to care, and says that he preferred Young-jae's bullying over Kim Jin-soo's presence, until the day he finally told Jin-soo to get lost.
Young-jae continues the investigation with the second piece of evidence – Kang-mo's photo collection of Eun-sung. Young-jae: "Even my mom didn't take this many photos of me." Kang-mo asserts that taking photos of Eun-sung isn't a crime, and if it is, then Young-jae should be implicated too. Kang-mo: "Often when I took photos of her… Very often, you were around."
This is the second major hint we've gotten that Young-jae secretly crushes on Eun-sung, and Young-jae doesn't take the implication lightly. Just as he's about to punch Kang-mo, Eun-sung enters to deliver the news that Doctor Kim is running a dangerously high fever, and the snow has blocked out the internet and the phone lines. They're trapped.
Kang-mo notes that Doctor Kim's fever will affect his brain functions if it gets much higher – his hearing impediment was caused by his mother running a high fever when she was pregnant. With the exception of Kang-mo they all head to the clinic, while Moo-yul gives Jae-kyu the order to stay behind and keep an eye on Kang-mo.
Through the CCTV, Jae-kyu watches as Kang-mo breaks into the main security office by getting past the most laughable electric locks, where simply pulling their batteries out opens the door. He tries to stealthily report this to Moo-yul as he's laying ice packs on Doctor Kim, but Young-jae knows Kang-mo's done something right away.
Ha – I love that Moo-yul hangs a lantern on the door lock deal, by asking Jae-kyu how Kang-mo got through and then noting: "So much for the latest technology." Kang-mo was only in the room for ten seconds, but there aren't any security cameras inside to tell them what he did there. Everything looks fine, but Jae-kyu seems oddly nervous and starts breathing heavily. Moo-yul goes looking for Ji-hoon.
Eun-sung and Young-jae are left tending to Doctor Kim, and the conversation gets more than a little weird when Young-jae implies that Eun-sung might be in danger trapped with six boys on a mountain, though she knows that he only means himself. Then it gets even weirder when it's implied that she shouldn't care either way since she tried killing herself.
Eun-sung: "Why? If I'm going to die, should you and I…?" She trails off, leaving the rest to the imagination as she asks Young-jae if he still likes her, which he scoffs at like a child. "Jo Young-jae, maybe you were born as a kind person too," she muses. "There's a reason why you've turned out this way. But I will never know what that reason is. You're just a loser to me."
He asks her to elaborate, and she gives a cryptic reply: "That's the tragedy between us. The tragedy among all human relationships." She leaves him with Doctor Kim while she tracks down Moo-yul, Jae-kyu, and Ji-hoon in the security room, thinking it funny that the smartest boy and the most obedient boy have broken in.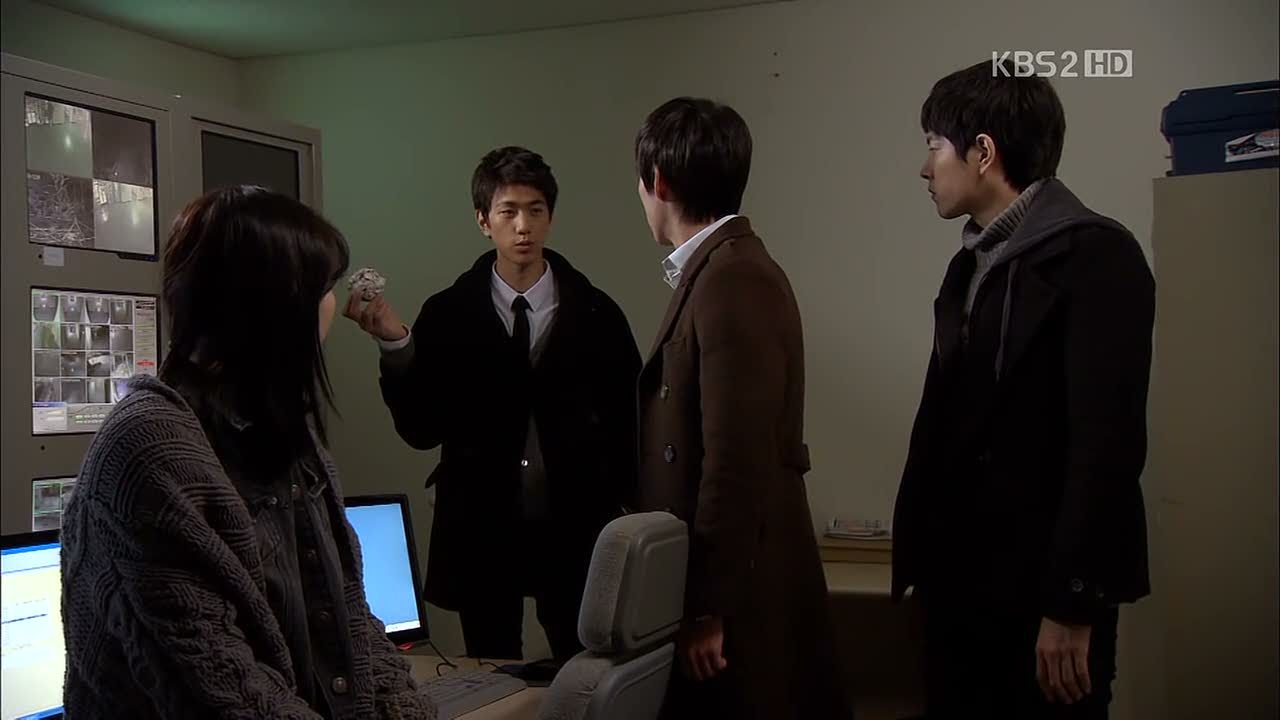 With Ji-hoon's help, they've found that the phone and internet aren't down due to the snow, but because someone intentionally sabotaged the communication mainframe. Even Ji-hoon doesn't know if it can be fixed.
Everyone (sans Kang-mo) convenes to discuss their suspicions about him being the one to mess with the mainframe, though Eun-sung points her suspicions toward their missing teacher. Their black letter sins are all small, but Teach's could get him fired or even jailed. Eun-sung: "What would you do if you were him? It's common. Tell a big lie to cover small ones. Commit a big crime to cover up petty crimes."
Meanwhile we find Mi-reu taking a traveling break in the middle of a snowy forest, kept company by some strange, beeping device. A GPS maybe?
Young-jae suggests that they leave the school, but Ji-hoon tamps down that idea when he knows they'd all freeze to death. Moo-yul suggests waiting till morning so that Doctor Kim's fever can drop, and votes that they all sleep together in the same room tonight.
Jae-kyu follows Ji-hoon as he goes to investigate a hunch, and Eun-sung goes to Moo-yul's room to see the pictures Kang-mo took of her. She acts like the photos don't affect her and wonders if Kang-mo masturbated to them, but soon she's ripping the photos out. Eun-sung: "He's crazy. I'm going to kill him."
Just then, Moo-yul spots something under his bed and pulls Eun-sung away, just as Kang-mo emerges from underneath. He tries to protest his innocence but drops a sharp object/weapon he was carrying in the process, only alarming Moo-yul more when he picks it back up, claiming it's only for self-defense.
He has a point since everyone is suspicious of him, though he tells Moo-yul that he'd realized the lines couldn't be down due to the snow because they're all underground, which is why he broke into the security room earlier, suspecting that someone broke the communications computers. He came here to warn Moo-yul, and after taking one look at Eun-sung, Kang-mo leaves.
Moo-yul makes sure Eun-sung's room is secure before leaving her alone, telling her to lock the doors until he returns. Just in case, he gives her a whistle, and promises that he'll come running if he hears it. Her normally sarcastic outer layer fades as she utters a genuine thanks.
We catch up with Mi-reu, who's finally able to see headlights from a road in the distance. His excited exclamation causes some of the nearby ice to crack. Uh oh. Avalanche?
There's something strange going on between Ji-hoon and Jae-kyu, as Ji-hoon looks back through teachers' memos about Kim Jin-soo while Jae-kyu follows him around. Ji-hoon: "Jo Young-jae tainted Kim Jin-soo and made him pitiful. Yoon-soo turned him into the monster in the corner. The teacher silenced him. Eun-sung ridiculed his false hopes. Park Moo-yul took the only thing he had and put it around his neck. He held out his hand and Yang Kang-mo let go. I deleted him from my eyes."
Then he levels a look at Jae-kyu, and asks him if he transferred to Susin High by taking Kim Jin-soo's place when he died. They're interrupted by the sound of Eun-sung's whistle as she stands outside, and all the boys start running toward the sound as we hear in voiceover:
I can confess that I had some expectations. Eighteen years. Not an adult or a child, an in-between age with desires of escape. It may not be as adventurous as Huckleberry Finn or Nanook, but I had some hope about escaping from reality. It was the last time that we could believe in adventure. Up until now, we were more excited than afraid. But we had forgotten – no matter how bright a voice you tell it in, breaking away from reality is dangerous. The boy must be cruel in order to survive. Huckleberry Finn and Nanook ended up meeting the devil too.
Everyone but Kang-mo finds her outside near the base of the school fountain, and she keeps blowing on the whistle with her eyes fixated on one spot until Moo-yul calls her name. "Over there…" she stammers out, her whole body shaking as she points to the base of the fountain. "Over there…"
And the camera pans to reveal first a human hand half-buried in the snow, before the wind comes and blows away enough snow to reveal Teach's face. They're all looking at his corpse.
And Mi-reu turns around just as he hears a rumbling sound, only to stand stock still as an avalanche barrels down the mountain toward him.

COMMENTS
This episode moved a little slower than those that came before it, taking its time to establish our characters, their allegiances, and their hidden sides as well. There's something special about Ji-hoon, whether it's the actor or the way everyone seems to trust him as the cool-headed genius with a good heart. He has a quality about him that instills trust in the others even when he never asks for it or relies on it.
That, I think, is one of the greater aspects of character displayed here – because we're not only being told that Ji-hoon is the capable smartypants, but we see it, and subtly at that. We can see why both he and Mi-reu are respected as alpha males for totally different reasons, and why Ji-hoon is the de facto leader everyone looks up to once Mi-reu is gone. The thing is, Ji-hoon doesn't have to try to be That Guy, which is why it chafes Moo-yul so much that he is, because Moo-yul tries very hard to be That Guy, only he isn't.
It's a weakness Young-jae exploited in the first episode when he called Moo-yul out on competing with Ji-hoon, the born genius, and you could almost say Moo-yul is the 'made' genius. Does that legitimize him any less? I love that it's a question the writer keeps posing through Moo-yul's own insecurities. It was just one line but it was incredibly telling, when Moo-yul snapped at Jae-kyu for wondering what Ji-hoon thought – telling because Jae-kyu had more faith in Ji-hoon's ability to work through the problem, and that Moo-yul realized it. You can tell that Moo-yul wonders why he isn't good enough and struggles with it, and there are times where he can't control that impulse to shake others by the shoulders going: "I'm the one here for you. I'm good enough. I'm capable enough."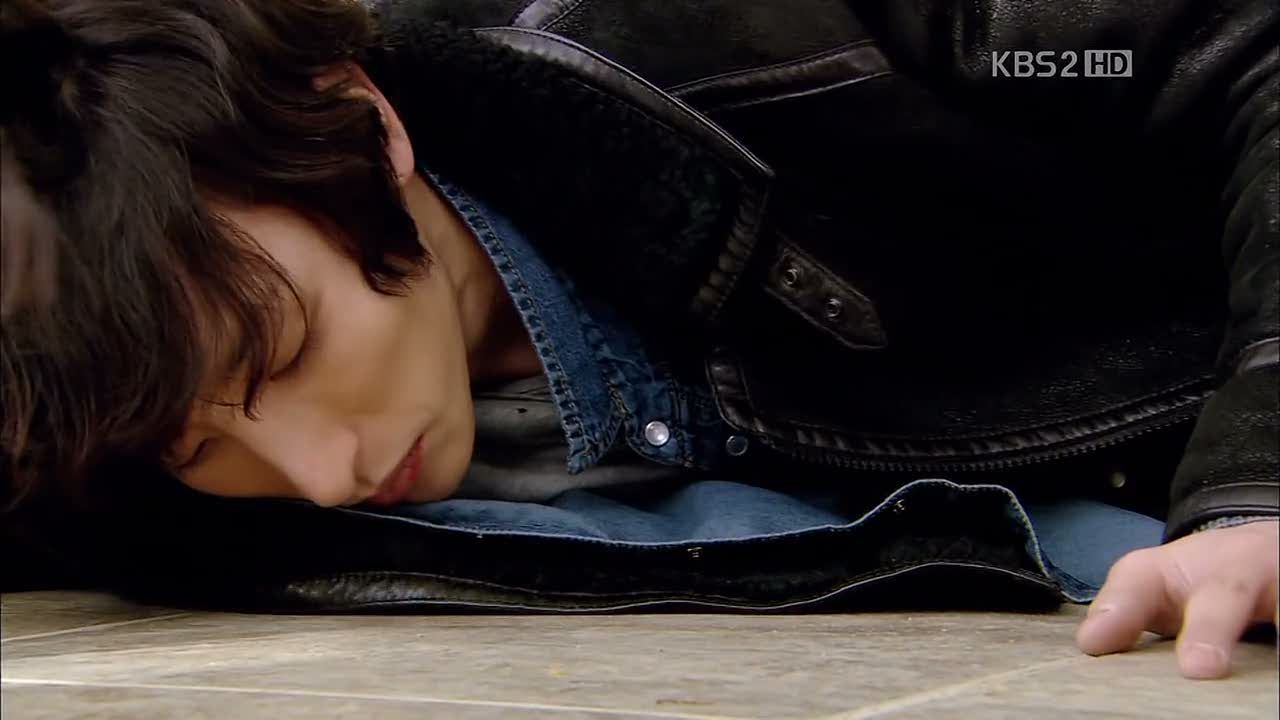 So in exploring Ji-hoon more we get a better glimpse of what makes Moo-yul tick, and that sort of snowballs into the other character moments we get this episode. The revelation that Young-jae likes Eun-sung isn't too much of a surprise because we got that impression before, though it's interesting to contrast Young-jae's almost toothless affection toward her compared to Kang-mo's very dark tendencies. Young-jae is a bully but a scaredy-cat, and deep down, maybe he's a good person. Eun-sung says as much. But the more we see of Kang-mo the worse he becomes, and there's that totally unapologetic quality to him, too. He hates others for looking down on him for being deaf, but in turn looks down on everybody. Sounds cheesy, but it is really a vicious cycle.
I do like that we've gone darker with this episode, with the black letter mystery still unsolved as we head into new territory now that everyone's discovered that there's been a murder. A small detail I really enjoyed was that we (and some of our characters) saw that pile of snow since the beginning of the episode, with no one aware until the end that they were laughing and talking feet away from their teacher's corpse. If that's not dark, I don't know what is.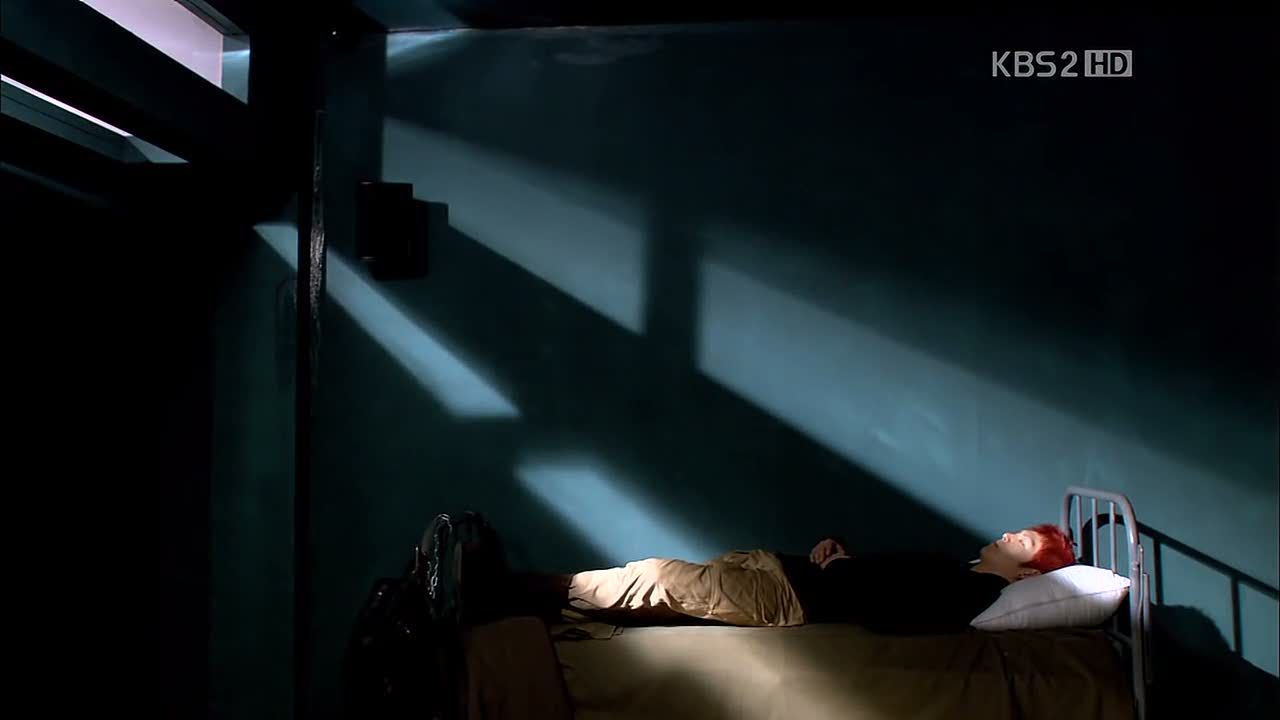 RELATED POSTS
Tags: Baek Sung-hyun, Drama Special, featured, Kim Woo-bin, Lee Soo-hyuk, Sung Joon, White Christmas