Arang and the Magistrate: Episode 5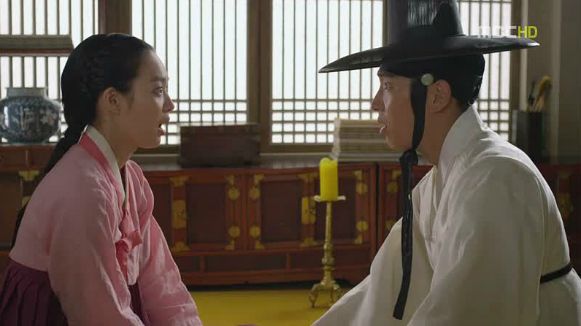 This show continues to rock my world. It's fantastically moody, so artfully designed, and directed with a flair for suspense that keeps me riveted. We get some major answers in this episode about who or what people are… only to raise a whole set of new ones about our heroine and what exactly might have been in the fine print on that contract with the king of heaven.

EPISODE 5 RECAP
After losing Arang in the big chase and seeing Joo-wal help her over the wall, Eun-oh wonders to himself if the guy really doesn't recognize his ex-fiancée. But he decides that was not a look of recognition on Joo-wal's face, and shakes it off.
Dol-swe comes running after master to know where he keeps dashing off to, and then kicks up a fuss when Eun-oh says he has to go do something else. He whines that they were supposed to leave town straightaway, and accuses him of making time with his new honey.
Eun-oh balks but Dol-swe says he can tell that's exactly what's going on, but his biggest heartbreak: "How could you not tell me?! What else don't I know about you?!" Oh you big lug.
Joo-wal walks away reeling, but he looks just as confused by the run-in as well. He doesn't seem to recognize Arang and yet there's a flicker of something… More importantly, she makes his Ring of Mystical Whoozit burn bright red. Not a good sign…
Eun-oh goes running back to his room where he told Arang to stay, and there she is, right where he left her. She's fast. He yells that he told her not to come to the funeral, but she swears she doesn't know what he's talking about.
He searches frantically for the clothes she must've changed out of, getting handsy and looking all around… and lifting her skirt thinking they must be there… only to find her bare legs. Hahaha.
She screams and SLAPS him across the face on reflex, and then they both freeze, stunned. She leaves a giant red handprint on his cheek to highlight his embarrassment.
She stammers, "I'm so-rry…" and he says "I'm… something similar…" and they scramble to get out of the awkward moment. He asks if she's really back to find out the truth about her death. He asks for the hairpin, and she says she left it in the afterlife—not by choice, since she was forced to come here naked.
He flares up in anger—she came here without it? She argues that it's not important anyway. Eun-oh: "That hairpin is far more important to me than a demon like you!" She looks at him with pained eyes, "Demon? How many times do I have to tell you I came back human!"
Eun-oh: "So what if your shell is a person. Do you know a person's heart?" She says defensively that she does, but even she's not convinced at her answer. He mocks her so-called beating heart at the sight of Joo-wal and says she sure picked up how to act like a person.
She glares, "You awful bastard." And then she gets him right where it hurts, eye for eye: "You were an awful bastard to your mother too, weren't you?" Ooooh. He gets up, trembling in fury and tells her to shut up.
She congratulates him on his quick wit and sharp tongue that knows how to pierce a heart. If he can say such words to her, what wouldn't he have said to his mother? "Is your mother really missing, or did she run away from you?" Ouch.
He runs out and the argument leaves them both reeling. Arang's eyes glisten with tears, and Eun-oh runs into the woods to scream and take his anger out on a tree.
Flashback to the moment he was separated from her as a child, when he cried and screamed for her but she never once turned to look at him. And then the last time he saw her, when he said it would have been better if he never had a mother.
Predictably, a wicked tongue. Arang wasn't wrong, which is of course why it cut so deep. He slumps down to the ground in tears, his hand bloody from banging it against the tree.
Arang sits up till nightfall, still sniffling back tears.
And Joo-wal sits staring at his drawing of Arang in her guard's uniform. Okay, clearly this is the guy you should've hired for the ghost sketching. And then he takes out a mysterious black cloth inside a mysterious box and looks at it mysteriously.
Eun-oh sits on the mountainside all night, and is still in the same position by morning. He makes his way back home clears his throat before opening the door. Arang is sitting up too, now with big dark circles under eyes.
She wonders if this is what happens when you're human and don't sleep, and he laughs, mollified by her equal suffering and funny face.
They sit far apart and she murmurs that she did go kind of far yesterday, and says they should just both say I'm sorry and move on with it. He remains stubborn about never saying "I'm sorry," so she says fine, they'll just both bury it in their hearts then.
He finally tells her that the hairpin was one he gave to his mother, and asks that they combine their efforts to find out what happened to Lee Seo-rim and to his mother, both missing and/or dead exactly three years ago.
She's not convinced that helping him will help her, but he says it's too much of a coincidence to be ignored, and the answer is locked away in her memory. She asks, "Is that why you helped me before…because of that?"
He says with his back turned, "Yes. I told you that I might be brave, but I'm not warm-hearted. Don't go around saying you know how to read people anymore." She storms out in a huff, wondering if she can trust him to keep his word.
The Bang Trio returns in good spirits, now that their days of being stuck between the magistrate and Lord Choi are over. Arang passes them in the courtyard and they jump, asking who she is.
She's like, "Me? I'm Arang." They meant more like who are you and who gave you permission to be here, and she sneers, "The magistrate! And why do I need permission to go somewhere with my own two feet?" Love her. She lurches at them like the thug that she is, and then goes on her merry way.
Dol-swe flips out at the news that they're staying longer than expected. He whines that he wants to go home, and demands the reason why they're staying.
"It's because of that woman, isn't it? How could that woman be more important than ME?!" Hahaha. Dol-swe, you have much to learn.
The Bangs drop their jaws at the news, as Eun-oh tells them he'll be staying for the time being, and so will the girl, who he says is his teacher's daughter.
Dol-swe searches his brain and realizes it can only be one teacher he means, that quack way up in the mountains. He reminds Eun-oh of all the trouble he went through to find him up there after a year, and Eun-oh says he did learn martial arts, after all.
He already resented Arang, but now that she's that master's daughter? He hrmphs that Eun-oh can do as he likes, making his disapproval clear.
Lord Choi is not happy at the news that the magistrate is staying, and sends his servant to his father's house to find out what Eun-oh's deal is.
Bang-wool wanders the streets aimlessly, and then happens to cross paths with Dol-swe, muttering to himself about his plight. She zeroes in on him, figuring until the day her shaman powers kick in, she'll have to make a living her usual way.
Dol-swe pours himself a drink and Bang-wool comes by, noting that she can sense his broken heart. "A woman is the problem." He nods—how'd she know? Okay, this cracks me up—he's heartbroken over master, but she assumes he's got lady troubles.
She says she's had a similar experience—they say they'll go but they just come back, go, back, go, back. Hee, she's thinking of Arang, and he's like, "Yes! That's what happening!" Now that he's hooked, she asks for payment, and then pretends to read her palm, saying that it's the full moon so her powers are at their best.
She tells him his worries are over—that person doesn't have long to live and will go to the afterlife. She laughs, asking if he doesn't feel great, assuming of course he's angry over an ex. He grabs her, "WHO DIES? My master?!" He shakes her in fury, and she hightails it out of there.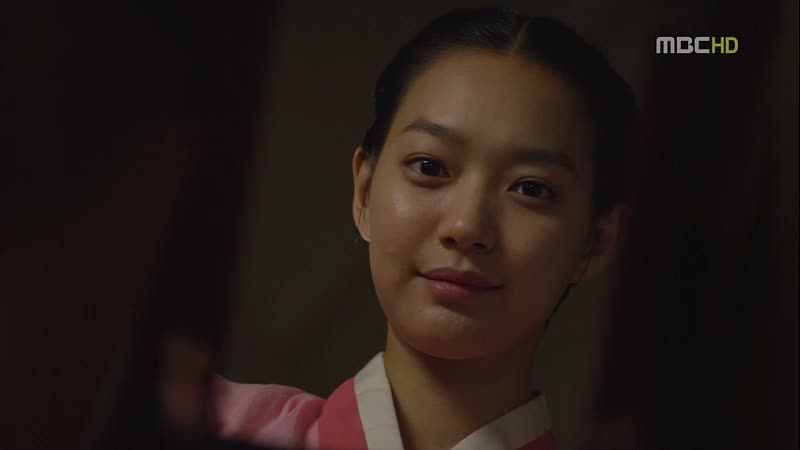 Night of the full moon. Trouble.
Arang sits in Seo-rim's room, thinking over Eun-oh's proposition. She tells herself it's not a bad deal, since she was going to ask for his help anyway. She looks in the mirror and asks Seo-rim, who smiles back at her. Okay, that creeped me out. I know it's just her smiling at herself, but still.
She finds Eun-oh pacing in the courtyard and agrees to his deal. He says their partnership has officially begun then, and offers up a pair of peaches to seal the deal. She shrinks back in fear.
He has to remind her that she's a person now, and holds it out to her. She shuts her eyes and slowly reaches out her hand. It hovers above the peach in a lovely moment as the music swells…
She touches it, and opens her eyes in surprise. No cuts, no scars. She really is alive.
The way she lights up just kills me. She grabs it in each hand just to be sure, "I'm really a person!" Eun-oh smiles and wonders how he believed her when she didn't believe it herself.
She takes the most delicious bite out of a peach ever, savoring the taste of being human.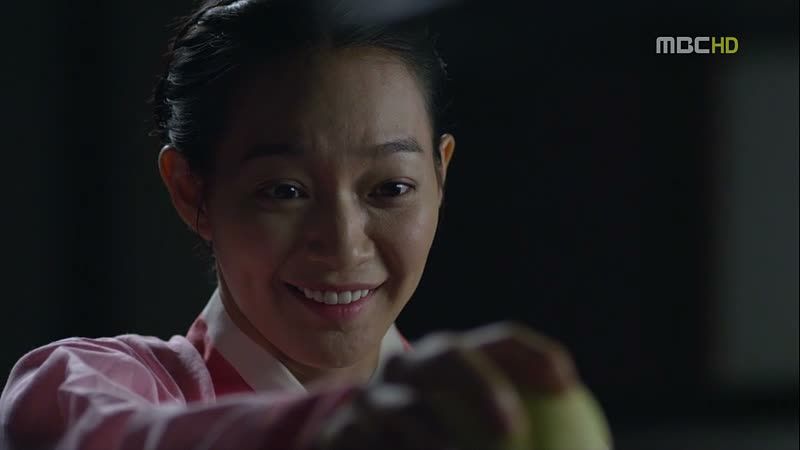 He goes to take a bite out of his when she asks, "How long have you been a mo-mo-dong-ja?" [Literally "mama's boy." HA] She says he's always like 'mommy, mommy,' kind of like an overgrown baby who doesn't want to stop breastfeeding. Hahahaha, are you really saying this as he's sucking on a peach?
He barely has time to get over his shock and yell, "HEY!" before she skips away, leaving him speechless.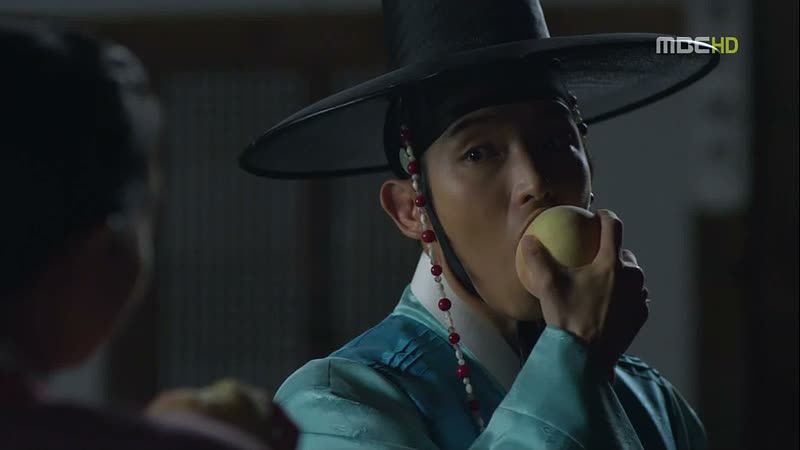 Joo-wal goes to see the mysterious gisaeng. The doors swing open on their own and she asks if he's prepared. She says she's anticipating whoever he's prepared this time. Interesting. Perhaps all of this is a sacrifice of some sort?
Whatever he's up to, it's not rainbows and kittens, 'cause he picks up a knife, and the music tells us it's a Knife Of Doom.
And then, we see Arang asleep in her bed. Uh… I don't like this…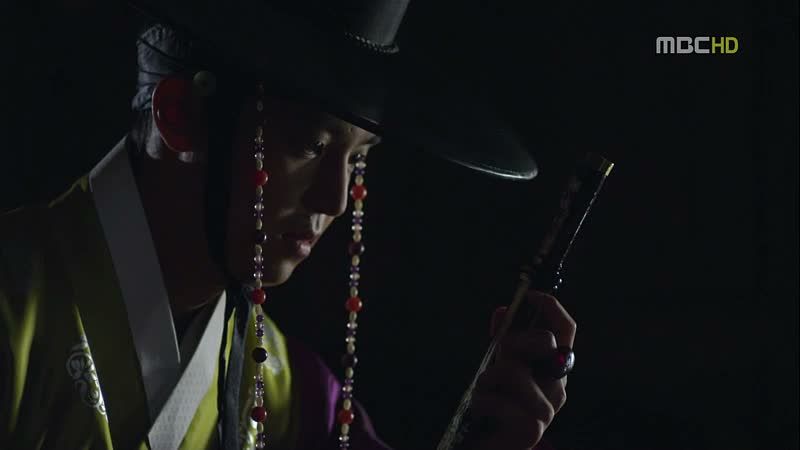 Eun-oh continues to pace in the yard, thinking over Arang's words. Another flashback to his youth shows us that his mother was always stoic, just shut up in that room. He ran to her one day and she said it was the memorial day of her entire family's death.
She said that they all died together, all except her, because of "him." She swears that one day, she'll get her revenge, and destroy him. Hm, so maybe her disappearance wasn't just about giving Eun-oh a better life, but her personal vendetta.
The full moon continues to rise over the dark clouds. A mysterious figure clad in black jumps over the wall and into the magistrate's courtyard… and right into Arang's room. Aaaaack!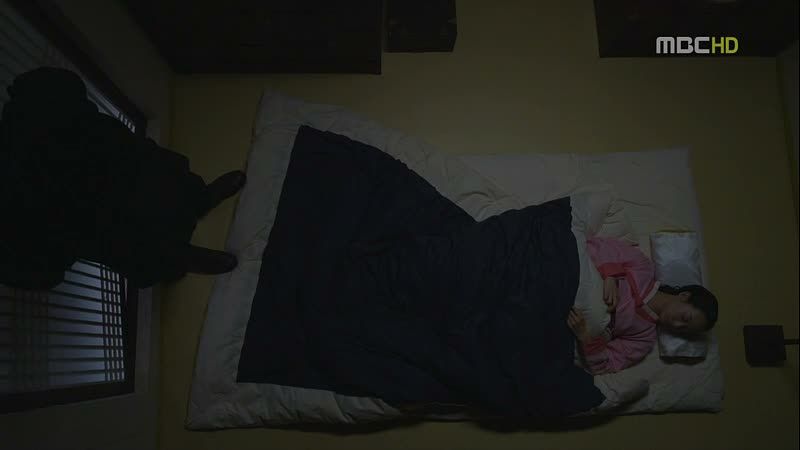 It's Joo-wal, who looms over her. HOW DID YOU FIND HER? Was it the ring? Or did you recognize her? Can you smell her? WHAT?
He inches closer and takes out his knife…
She turns in her sleep, murmuring about peaches, and he hesitates.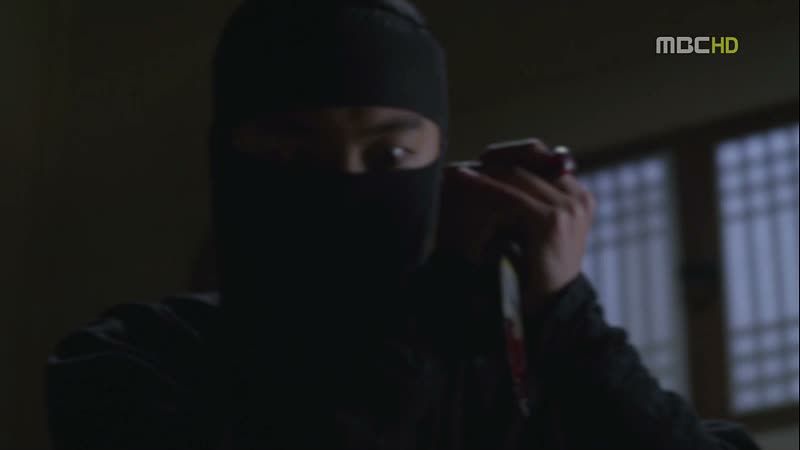 We zoom in on Eun-oh's back in the courtyard. Please sense something's wrong… Please sense something's wrong…
Joo-wal gathers himself, winces… and STABS her in the chest. She wakes with one pained cry.
Eun-oh turns. Did he hear it? Please for the love of peaches, tell me you have bionic hearing or something.
There is something so frightening about the close-up on her eyes, open and awake, her killer looming in her pupils.
Joo-wal pulls the knife out and waits, as she falls unconscious. He puts a talisman on her neck, and it disappears into her skin. WUT. And then he picks her up to carry her away.
Up in heaven, the Jade Emperor stops playing his gayageum, sensing something amiss. "It has finally begun." Hades sighs that he doesn't know if they did a good thing or not, and the Jade Emperor betrays a worried look. I don't like that look. What's that look for?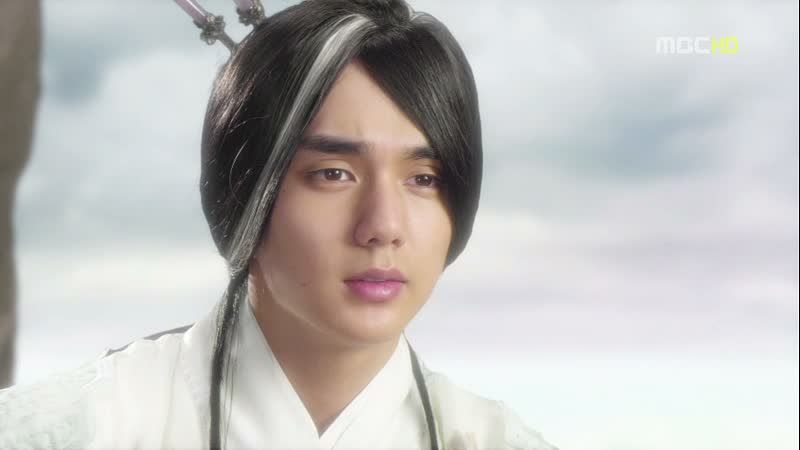 Eun-oh makes his way to Arang's room, moving so slow it nearly gives me an aneurysm. He finds it empty and scoffs that she still thinks she's a ghost, assuming she ran off somewhere.
He's just about to shut the door when his eye catches the pool of blood in her bed, and he goes back to get a closer look. Yep, blood. In her bed. So why are you still staring at it? RUN. RUUUUUUUUN!
He finally tumbles out and picks up the trail of blood from her body being dragged away, and takes off running. But the trail ends where Joo-wal picked up his horse, and Eun-oh stops in panic at the fork in the road, screaming, "AMNESIA~!"
Joo-wal rides into the woods carrying Arang's limp body, and stops at a tree marked with that black cloth. He carries her body into a creepy house, and lays her down at some kind of altar.
Okay, sufficiently creeping me out, guys.
He takes off his mask and lingers over her body. He reaches out his hand to touch her face, and then pulls away and runs out. Is it recognition? Did you kill her once before? Did you love her? Or do you just regret having to kill a pretty girl for your demon ritual?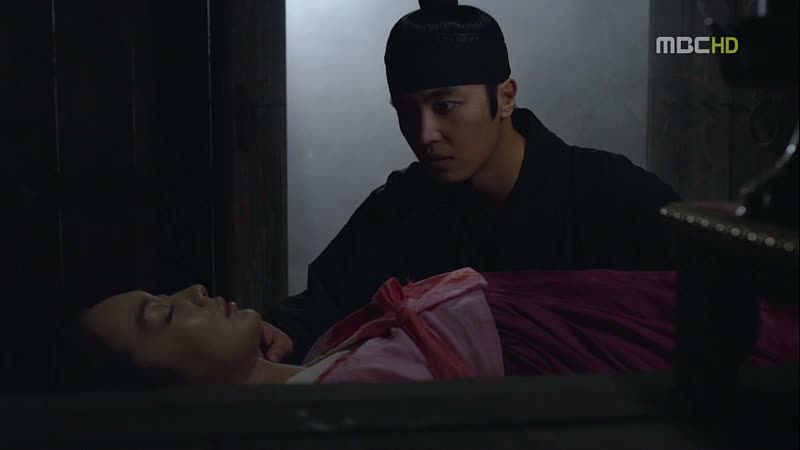 We finally get a flashback to his past, and some answers. The mysterious gisaeng approaches him as a child, and puts the ring on his finger. She tells him that from this day forward, he is Choi Joo-wal. Hm.
She says that every full moon of the leap month he is to bring a girl with a pure soul. The child asks how he'll know, and she says the ring will tell him. Dude, how many girls have you killed? Though I guess we still don't know if he actually kills them or just brings them to her, nearly dead.
Back to the present. The gisaeng approaches, shrouded in black. He bows and says it's done, and she lifts her veil…
IT'S MOM.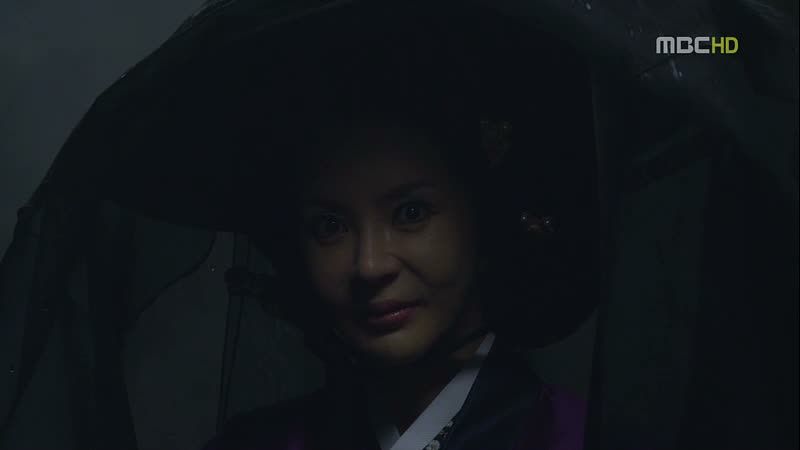 Well, now we know why Eun-oh's got supernatural powers. What the hell are you, Mom? She looks up at the full moon with a smile, saying she's waited a long time. And then she friggin' licks her chops in anticipation of seeing the girl. Omg, do you EAT THEM?
She says she's especially excited to see this one, and asks if she really has the body of one who was already born. Joo-wal says yes. So he does recognize her. This makes things more interesting.
He takes her to the altar, and Mom looks up in anticipation… as her face changes from smiling to angry. Eek, you do that really well. *chills*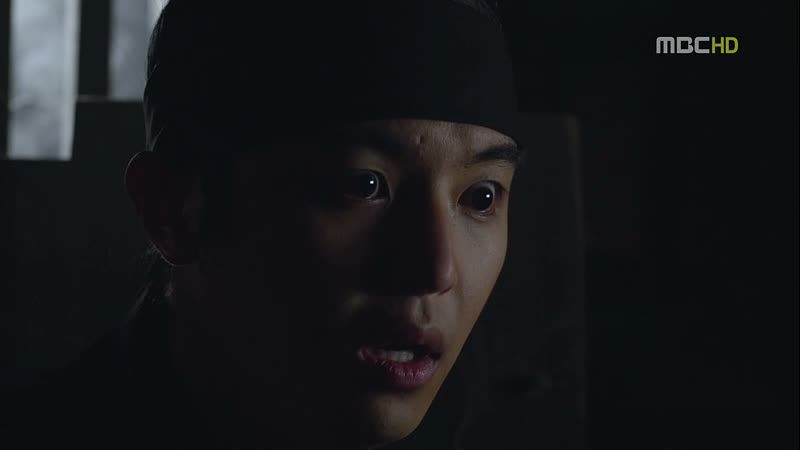 Joo-wal jumps out of his skin. The altar is empty. Ohthankgod.
Cut to Arang running through the woods, clutching her chest and gasping for dear life. This is terrifying. Flashback to minutes ago, when she woke up screaming in pain. Not dead yet, or dead and alive again?
She flees in terror.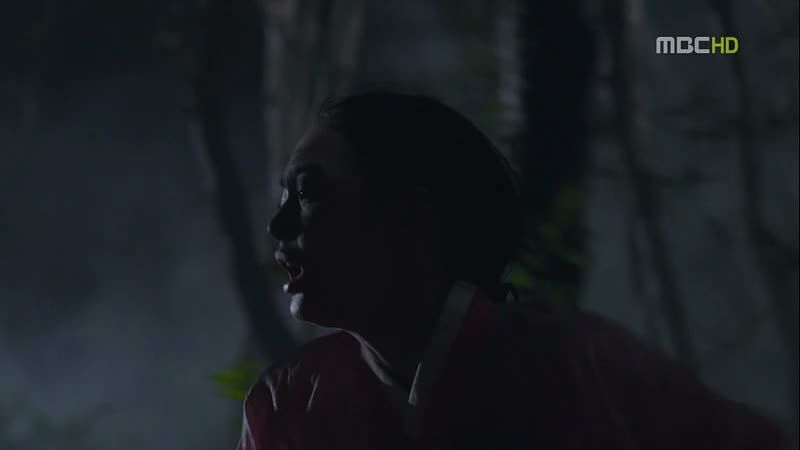 Mom asks what happened, and Joo-wal stammers that he left the corpse right here. Ah so you did think you killed her. Or… maybe you did? He goes running out after her, wondering how she's alive, panicking that this can't be.
Arang races through the woods, tumbling down hills and barely breathing. She finally gets to town and can't go on any longer, and pauses. Suddenly a hand clamps over her mouth and grabs her…
She screeeeeeeams bloody murder, hysterical and so frightened it chills me to the bone. But it's Eun-oh, grabbing her into the shadows. Oh I can finally breathe.
He tries to get her to calm down, but her legs finally give out once she sees that it's him, and she collapses in a heap. He asks what happened, and she can barely get out the words: "…someone stabbed me… I thought I died… left me in the mountains… I ran away… I ran away… I ran…"
She faints in his arms.
He carries her back to his room and lays her down. He looks at her bloodstained clothes and wonders what on earth happened to her.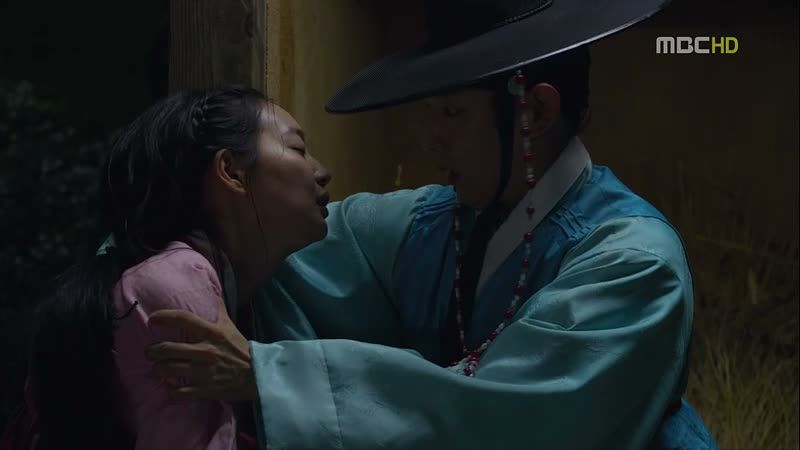 Mom waits by the altar, turning the purple ring on her finger inwards as Joo-wal returns. He stammers that she's gone, and Mom slaps him across the face, cutting him.
Bewildered, he swears that he killed her, and left her body right there. "I killed her. She was dead…" If he's that sure, then things are weirder than ever. Did the Jade Emperor give her nine lives? Is she un-killable in that body?
She slaps him again, demanding, "Where is my soul? Where is the soul I must have tonight?!"
Soul-eater it is. But why? He swears it'll never happen again, but she's beyond that, livid that he hasn't kept up his end of the bargain. She's given him everything—riches anyone would be envious of, and the life that he asked for, letting him "live like a person."
That wording is curious, 'cause like everything surrounding this guy, it could be metaphorical… or literal and beastly. He's seeming more human though, if what he really wanted was wealth.
She calls him golbi-danji, meaning roughly nothing-but-bones, and asks if he wants to return to that, which terrifies him. She calls him a useless bastard, and he falls to his knees, trembling.
Flashback to his past, as a young boy, so poor and hungry that he ate from the troughs of livestock. He had no name, so the other children taunted him, calling him skin-and-bones.
So he's human after all. Just desperate enough to be used for evil.
Eun-oh wakes up in the morning, having slept sitting up by Arang's side. He peels back her collar to check her wound, and finds it healed over.
He gapes, "What… are you?" A question we ask a lot around here.
Bang-wool sets out bright and early, planning to get a good spot today and have better luck, only to have set up her mat right where Dol-swe spent the night after drinking.
He chases after her again, asking if what she said was true, and gets doused with water by a nearby shopkeeper, mid-chase. Suddenly it turns into a slo-mo beauty moment, as he shakes the water off. Haha.
Bang-wool starts to see Dol-swe as some manly hunk, which cracks me up because mostly he just looks like a wet dog. But she gulps and watches him go, practically drooling.
The Bang Trio brings Eun-oh the only women's clothes they have on hand—from when there used to be female officers around. He asks about the mountain where Arang said she was taken last night, and they say it's the Abandoned Mountain, rumored to be filled with ghosts.
He leaves the clothes for her in the room and puts her shoes outside on the stoop, when Dol-swe comes home and sizes up the scene. He goes tearing past Eun-oh and into the room, and gasps to find Arang sleeping there in his master's bed, as suspected.
Eun-oh has to drag him back out to keep him from screaming, and Dol-swe blubbers, "D-d-did you sleep with her?"
Eun-oh just gives up arguing: "Yes." Dol-swe gaaaaaasps and says he's going back home this instant to tell on him (HA) and Eun-oh just snaps at him to follow.
They go up to the Abandoned Mountain, and he follows Arang's trail backwards, searching for clues. Dol-swe's still stuck on the other matter, and asks how far he's going to go with Arang.
Eun-oh: "Till the end," meaning his investigation, of course, but Dol-swe says that marriage is out of the question—doesn't he know his father?
But they come to a full stop at the sight of the mysterious house. They creep up cautiously, surrounded by dense fog.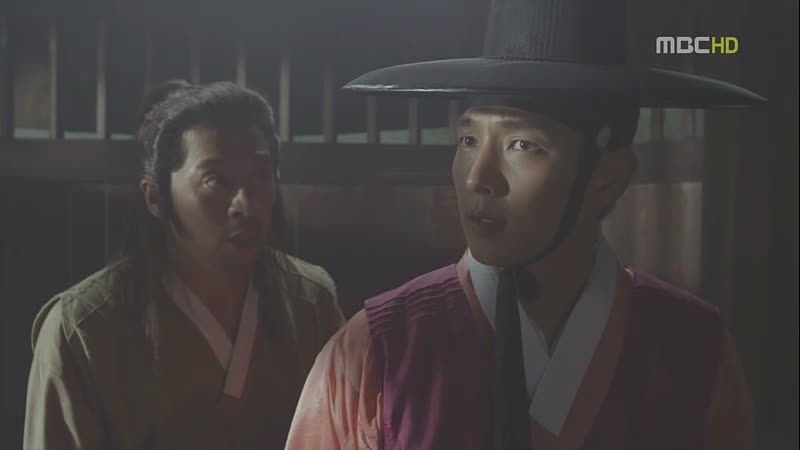 Eun-oh opens the door to find the strange altar, and sees the recent blood stain. This is where she was. Dol-swe begs him to leave this creepy mountain he's sure is filled with ghosts, but Eun-oh says that's what's weird: "There are no ghosts."
Okay, why does that freak me out?
Like whatever Mom is, she's so scary that ghosts are afraid to go near her.
He thinks to himself that none of this makes sense—why of all people would someone attack Arang, when she has no attachments to anyone here? He shakes away the thought that someone could have recognized her, and then something catches his eye.
He reaches into a corner to pick up something wedged behind a cabinet, and finds… his mother's hairpin.

COMMENTS
Well now I'm suddenly interested in the mom storyline, whereas before it was just weepy backstory that I didn't care about. Kudos for making her the big bad, 'cause the way they were pulling out all the stops for the Eun-oh sympathy, I didn't expect we'd end up here. I never even expected to get an answer as to why Eun-oh can see ghosts, but now there's so much to explore there—is his mother a shaman? A demon? Does she eat souls to stay alive? Powerful? Beautiful? For all we know she could be a thousand years old.
Now it seems clear he inherited her supernatural powers to some degree, but it's freaking me out that they might, yunno… be EVIL powers, 'cause then that's a whole new can of worms for him to deal with. Man, I love a show that keeps me guessing. I haven't had this much fun in a long time.
I found it hysterical that the drama calls Eun-oh out for being a mama's boy, 'cause he is strangely obsessed with his mother, and I thought it clever that Arang says what we're thinking out loud. Like dude, get over it. But now that we know Mom is evil and trying to eat Arang's soul, I'm all over this mom story. Let's go, mama's boy. Track that soul-eater down!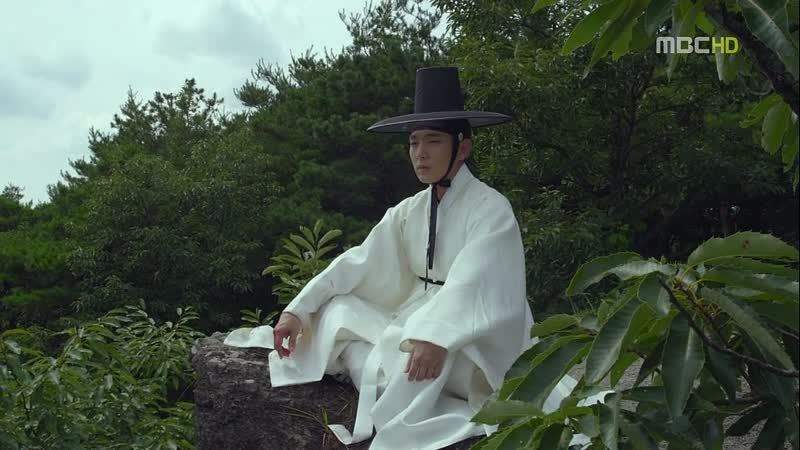 And how creepy is it that she sort of replaces Eun-oh with Joo-wal, raising him like half son, half minion of evil, to do her bidding? There's still the question of Lord Choi—was he just the conveniently nearest rich man around, or is there a reason he was targeted? How did she convince him to raise Joo-wal as his own? And he seemed aware of Joo-wal's full-moon obligation, which means he's in on it to some degree. Perhaps it was the promise of riches—they both benefit if Joo-wal keeps his end of the bargain?
But the kicker is, what the hell did Arang return as? Is she human or not? Human but immune to stabbings through the heart? I don't think so. But she ate the peach, so she's no longer a ghost, and not a reaper. (Did anyone else think of Buffy? YOU CAME BACK WRONG.) This is a twist that makes me suspicious of the Jade Emperor, because there's obviously a whole lot he's not telling us, or Arang, or Hades… He seems to be using her to uncover a bigger mystery, which I expected since it hardly seemed likely that he'd let her go back just because of Seo-rim's wrongful death. But I'm wary that it seems too good to be true—that she can't be killed. Because as Mu-young said, there's nothing in the world that is infinite.
So what… is she?
It's going to plague me, and you know what? I LOVE THAT.
RELATED POSTS
Tags: Arang and the Magistrate, featured, Lee Jun-ki, Shin Mina, Yeon Woo-jin