Arang and the Magistrate: Episode 6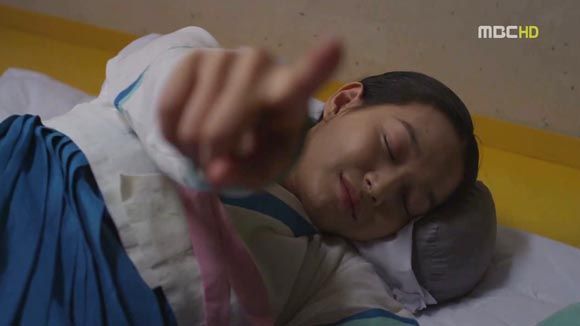 What I love about Arang and the Magistrate — aside from the obvious, that is, of a rich fantasy world with pretty visuals and funny leads and an intriguing score — is how deep its mythology goes. Already the initial premise is high-concept, but where most shows would stop and work with that single conceit, Arang goes on to twist its mythology further with every episode.
You think it's about ghosts… until she comes back to life. So then you think she'll remain human for the rest of the show… until she's killed. The gods seem nice enough… but are they working their own agenda? Then there's a missing mom… who's alive… and evil. The baddie seems to collect women… because he's a minion for Madam Evil.
Twist upon twist keeps you guessing; you can try to predict what's coming, but chances are the show will outmaneuver you and leave you puzzling it out, in the best of ways.
SONG OF THE DAY
Arang and the Magistrate OST – "놀라요" (It's surprising) by Kim Bo-kyung
[ Download ]
Audio clip: Adobe Flash Player (version 9 or above) is required to play this audio clip. Download the latest version here. You also need to have JavaScript enabled in your browser.

EPISODE 6 RECAP
Chez Choi, Joo-wal's still stunned at recent events, namely losing his corpse at a crucial moment. His father's voice cuts in to rub his nose in his failure; at least now we understand why these two men always seem to be sniping at each other.
Lord Choi says that the "wife" must be hungry since she didn't get her soul — so he does know the whole story. He chuckles that she must be mighty angry, since now she'll have to wait till the next leap month. (Fyi, a leap month occurs every three to four years; it's an extra month inserted to offset the difference between the lunar and solar calendars.)
Even MORE interestingly, Dad offers up a bit of wisdom "as your sunbae who traveled this road before you." OH OH OH. Has Mom been around for generations, then? What about her family's "memorial" day — is it actually from a different lifetime? Is Eun-oh even her son? Now I have visions of Mom luring in scores of men and piling their decrepit bodies in a creepy warehouse somewhere, The Hunger-style.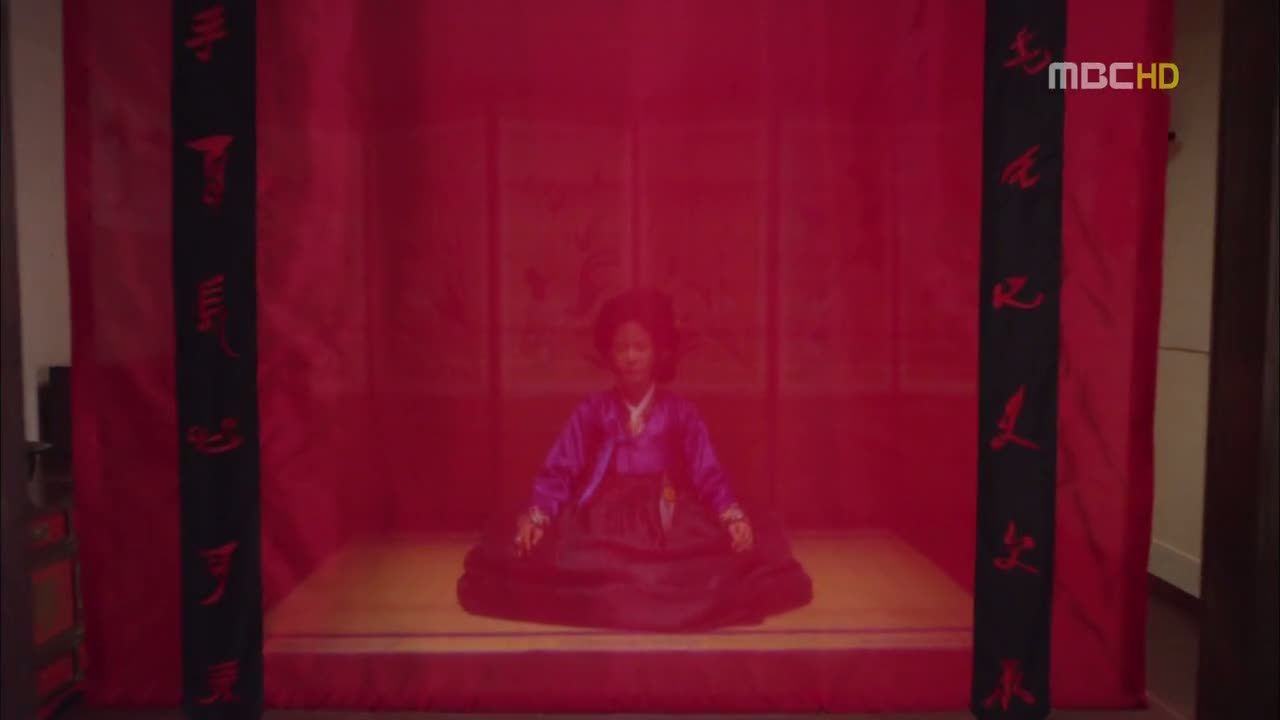 Dad asks, "Do you know what the wife does when the hunter fails to bring in prey? It's simple. She changes hunters." Lord Choi laughs that Joo-wal probably thinks he's different from old dad, but he'll see soon enough. And then, Lord Choi is hit with a sudden, painful headache. Hm.
Joo-wal makes his way to the isolated cottage and kneels before the front door. Inside, behind her red veil, sits Worst Mom of the Year (also possibly ever).
Back to Eun-oh, who finds Mom's hairpin in the serial killer hut on Abandoned Mountain and wonders why it's here. Dol-swe alerts him to a strange discovery outside: a large trapdoor sits in the ground, fading into the earth around it. They get to work uncovering the door.
Up in heaven, Jade Emperor's back at his gayageum. Hades is feeling smug, telling Jadey he seems to have lost his touch; he's sure those humans will fail and therefore urges Jade Emperor to take good care of that body. He offers to rest up his own, in preparation for the switch. Aw. As much as I would love to see the confident Jade Emperor lose a bet for once, I'm pretty sure Hades would be insufferable were his personality to be paired with those hottie looks. Though it's always possible he'd age Jade's body too, and then they'd look like real twins. And that's we'd call a Pyrrhic victory.
Back on earth, the men struggle to lift the trapdoor, not seeing the talismans laid across the entrance keeping it sealed. Eun-oh just about gives himself a hernia but manages to lift the wood, talisman be damned, and sends it crashing open.
It causes a supernatural disturbance, which is felt by Mom. As well as Jade, who decides he'll have to call in Mu-young. Why, is somebody dying?
With the covering removed, the men look down into the hole below. Dol-swe calls it a well, but Eun-oh spots something strange at the dry bottom. Are those… bones?
Eun-oh leaps into the hole and begins frantically digging through the rocks. Eep! I know you're worried it's Mom, but gahhh. He pulls out what looks like a bony hand, and that spurs him to dig even more madly… until he uncovers a skull. Shivers.
And then another. Double shivers.
Eun-oh tells himself it can't be his mother, and tamps down his fear to keep digging. Up comes a woman's shoe, a bracelet, a ribcage.
Mom bursts out of her house and tells Joo-wal, who's still dutifully kneeling at her front stoop, to go to "that place" immediately. It's a race to get there first, because Dol-swe speeds to the village to call in police officers to the crime scene.
Joo-wal arrives to find a crew of men excavating the pit, led by Eun-oh. Jumping to the conclusion that Eun-oh must know more than he actually does, Joo-wal wonders if he also stole Arang's corpse. "How did he know?!" The sheer volume of bones unearthed is enough to skeeve everyone out.
Arang finally wakes. Her eyes land on the dark silhouette looming above in the window — eep! Phew, it's just clothing hung there, but the sight sends a shiver down my spine nonetheless. Such a simple thing, made so eerie.
She wonders what happened– who would stab her? "Why would someone kill me—" And that word stops her short, kill. Because she was dead, for sure, yet she woke up in that crypt gasping in pain: "Did I come back to life?! How could I?" Good questions all.
Stranger still is the fact that her stab wound appears totally healed. She grabs a long stick and contemplates it. Oh no, please don't tell me you're about to test this theory out yourself.
She digs a cut into her arm with the stick, and wipes away the blood… to reveal intact skin. She shouts up at the sky, "What the hell, old fogey!? You send me here to find the truth, then leave me to die. Then I thought I died but then I'm back to life. What do you want from me?!" Most importantly, she wants to know if she's a person or not.
Mu-young arrives to see Jade Emperor, who remarks that it's been 400 years since the last time there was a death that wasn't "on the list." What a headache, he sighs, dealing with a death where the body and soul simply just… disappeared. Innnteresting. So somebody (or -thing) managed to slip past heaven's notice and get rid of a soul without a trace? What are you, Mom?
Mu-young blames it on his own failing. Jade Emperor tells him that bodies will soon come to light, and Mu-young will have work to do: "The time has come for things to be solved."
Mu-young asks Jade Emperor if he was the one who freed Arang from her red ropes. Aha! Things are starting to come together…. Jade Emperor doesn't confirm it, but his smile is enough of a tacit yes.
That evening, Arang ventures over to the room she'd been sleeping in when she was killed, and sees the bloodstained bedding still there. It's enough to make her panic, and she turns away in distress.
Eun-oh orders all the personal items from the mass grave collected, and roots through the stash. He doesn't find what he's looking for, anything belonging to his mother, and calms himself with that thought. But that doesn't answer the question of what the hairpin was doing in the hut, or what could have happened to her.
The Bang Trio is struck with new worries. This horrific case will put Miryang at the center of attention, and that means they'll find their own interests in danger. 'Cause they've been lining their own pockets on the sly, and if the world finds out, they're dead. They curse Eun-oh for stirring up all this trouble.
Eun-oh drags Arang along, needing her to return to the serial killer mountain, showing her the hairpin he found there. Since she woke up as a ghost with the hairpin already in her possession, and the hairpin was in the shack, this means… Seo-rim died there.
Returning there might stir her memory, and he impatiently pulls her along. Dude, did you trade in your sensitivity chip when you got those supernatural powers? 'Cause that seems the height of trauma-inducing.
Arang says she's scared and refuses to go — it feels like she'd die again if she returned. He barks, "If you die, you'll just come back to life, so what are you afraid of?" Gahhh, I want to smack him. She tells him he hasn't died, so he wouldn't know how frightening the moment of death is.
Arang: "Memory? Yeah, there's one thing I do remember. That terrifying horror in the moment of Lee Seo-rim's death — I remembered that! Even if the truth of my death lies there, right now I'm so scared I can't go. When I want to know, I'll go. Not you! When I want to know! That's when I'll go! But that's not now."
Joo-wal trembles before Mom and reports the grave's discovery. She asks if the magistrate saw everything Joo-wal did: "Kill him." Then he is to bring the body here, to prevent it being found as evidence. Then she'll decide what to do with him afterward, keeping him scared and on the hook.
Lord Choi mocks Joo-wal's predicament, beyond tickled that he's mucked things up so badly. He says their connection will end here, and they can stop the fake father-son act. He repeats Mom's pointed words, calling him useless.
Lord Choi enters Mom's inner sanctum laughing, only to be struck with crushing pain. He falls to the ground and gasps a plea to the wife, who just stares coldly.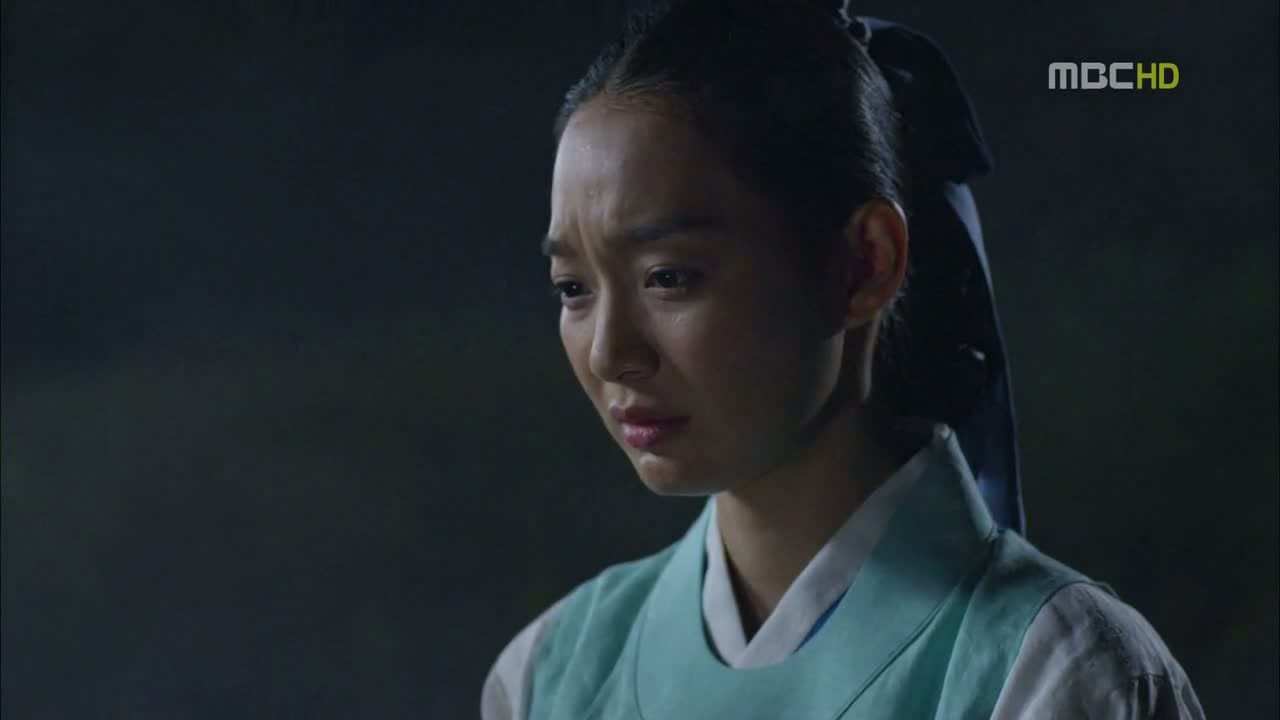 Arang runs off from the argument and stops in a meadow, where she talks aloud as though Seo-rim is another person, asking why she had to die in such a terrible place. And if she had to remember something, why did that have to be Seo-rim's death and not, say, her murderer's face?
But that starts the wheels turning in her head. If this is her first memory, does it mean she's started on the path of discovering the truth? With renewed energy, she races off vowing to get to the bottom of things.
Mustering her nerve, Arang goes to the murder shack after all. She approaches the altar where she'd been lying in her death, trembling in fear but forcing herself onward.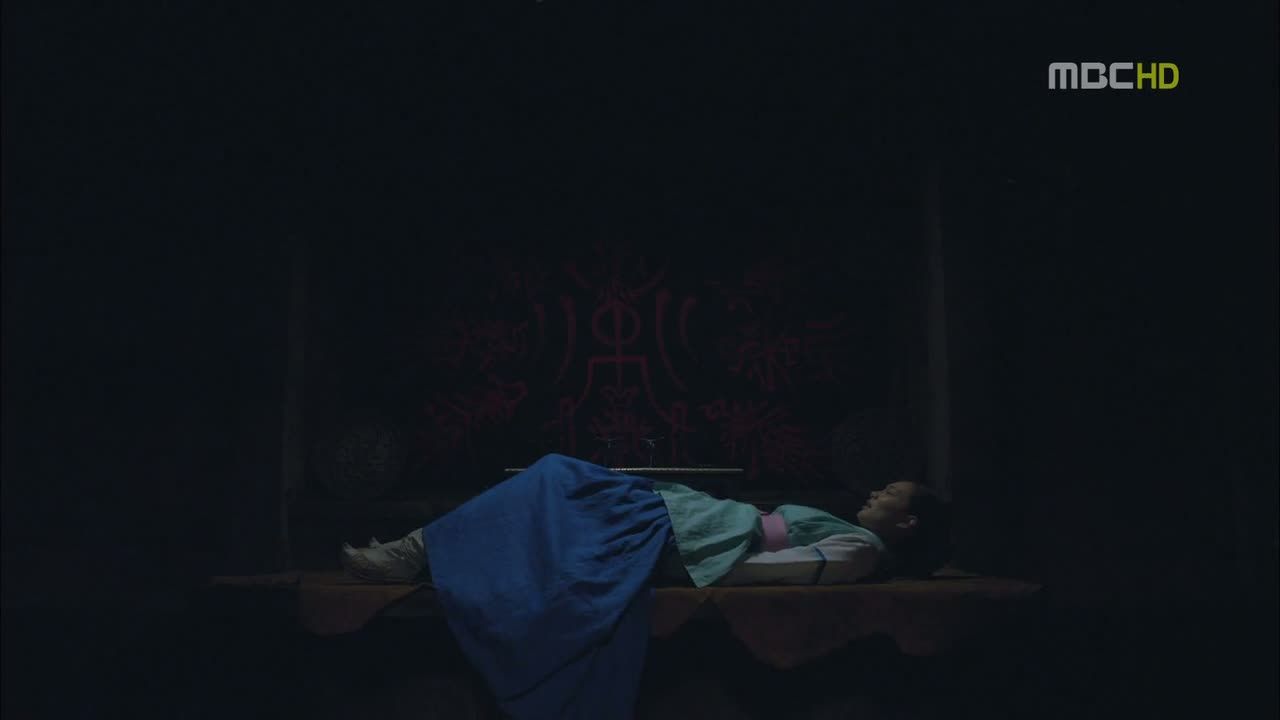 Then she actually lies down on it, in the same position that her corpse had been. Yeeeek! It's official, Arang has bigger balls than you or I.
She lies down and closes her eyes, waiting for…? A sign, a flash of memory, something.
Nothing happens. She yells up at Jade Emperor in frustration and gets up huffily — only to trip and fall. And that stirs a flashback, of standing behind a woman and pulling out the pin from her hair.
Joo-wal pulls out his killin' dagger that night, in preparation for magistrate-hunting. He ninjas out and skulks off to Eun-oh's home.
Eun-oh is still up, waiting for Arang. After spending the day brooding in regret, he paces the front yard and sighs, "Amnesia, I understand what you're saying. So come back now."
Eun-oh heads out to look for her, and Joo-wal follows. Eun-oh senses a presence lurking (oh thank god), but doesn't see anybody since Joo-wol's hidden up in a tree.
Joo-wal steels himself and tells himself this is the moment to strike… just as a voice calls out, "Magistrate!"
It's Arang, running toward Eun-oh excitedly, which has Joo-wal reeling — didn't he kill her?
Eun-oh does the faux-gruff thing of grumbling about her late hours, trying to hide his relief, though it's patently apparent. Unprompted, he offers that he totally wasn't waiting or looking for her, saying that it's natural to be curious about the dog that hasn't come home. Suuuure. Protest some more.
He brushes aside her attempts to tell him her big news, telling her to go home and sleep. She bursts out that she remembered why the hairpin was in her hand, and suddenly he's all ears.
Arang tells him of taking it from "some woman's" hair, and mimes the gesture. But she doesn't know what the woman looked like, having only seen her from behind. And she can't tell him why she took the pin, either. Or her emotional state at the time.
Exasperated, he's all, Then what did you remember? She retorts, "Taking the pin out of someone's hair!" Ha. They're so cute when they bicker nonsensically.
He says she should've taken him with her since she was so scared, and she says he wouldn't have been any help. He would've just pestered her the whole time, being the pesky Mama's Boy and all.
On the road home, they run into Joo-wal, now dressed in his nobleman's clothing. What, did you take costume changing lessons from Gaksital? He's here to confirm she really is the same girl, and stares slack-jawed.
Arang greets Joo-wal cheerily (a fact that has Eun-oh frowning, hee), remembering him from the wall incident. Eun-oh pulls her along, leaving Joo-wal even more confused than ever. If Arang didn't die, that means Joo-wal messed up… and messing up means Mom won't keep him around anymore.
Joo-wal heads for Mom's house, seeing Lord Choi's shoes still outside. She tells him his father is ill, and dismisses him.
Lord Choi sits in a stupor, looking half-catatonic in this unnervingly empty way. She tells him she's been thinking it over, deciding between saving either him or Joo-wal. Because there's no need to keep them both around when they're not useful, of course. She says Joo-wal is grown now and can fill Dad's shoes… but there are still things Lord Choi must do for her.
Lord Choi pleads, saying he'll do whatever she wants if she'll cure his illness. Mom smiles. She should never do that again. It's creepy as hell.
Joo-wal carries his father home. And even in this weakened state, Dad's not above a little goading, telling Joo-wal not to let his guard down because he'll have to face the same thing soon enough.
Arang sleeps in that morning, and in her sleep she sasses imaginary foes; I love that she uses "you peaches" as an epithet. It makes sense given the context, but it's just so adorably silly.
Dol-swe sulks in bed, thinking of a recent conversation with Eun-oh, where he'd clung to him like a sobbing, slobbering puppy and had to be forcibly shoved away by an embarrassed master. Dol-swe had declared Eun-oh "like a brother, and lover, and friend," haha. He'd vowed from the moment Eun-oh saved him from starving that he would protect this household, "Even if you are a son of a slave." Eun-oh had given him the side-eye for that, and Dol-swe added, "Well, half of you is aristocratic so you're not the same as me." Heh.
Now Dol-swe gives Eun-oh the cold shoulder, pouting and turning away. Eun-oh wants company to the mountain gravesite but gives up when Dol-swe doesn't answer — and the moment he leaves, Dol-swe leaps up, ready to follow his master after all. Then he stops himself. Then starts again. And stops. And starts.
Finally he decides he's not going, and huffily climbs back in bed.
The Bang Trio brainstorm over what to do with the magistrate (admittedly, they're not much of a brain trust), and bloodthirsty Hyung-bang proposes, "Bury him." The other two stutter in fear, but he says that this'll be what Lord Choi wants anyway. The more timid Ye-bang suggests they check in with Choi just in case, making Lee-bang the swing vote.
To Lord Choi's it is, only to find that he's ill and not taking visitors. Lee-bang runs into Joo-wal at the gate, who asks about the woman staying with the magistrate. He's told she's Eun-oh's teacher's daughter.
Arang counts off the days, tallying how much time she has left of the "three moons" allotment. She does some finger-math, which doesn't work out so well, and is irritated that the gods sent her back just before a full moon (technically giving her just two months' time).
The Bangs fear that Eun-oh might cause yet more trouble if they wait too long, and now Hyung-bang's murderous tactic starts looking more appealing. He argues that they can't even afford to wait till nightfall — they have to seize the first moment they find and off him asap.
Arang interrupts the powwow looking for Eun-oh, then darts off to ask Dol-swe. He can't hide his rancor and has to force himself to tack on the polite jondae endings to his sentences, though she doesn't take his pettiness personally.
She hears that he went off to the grave and grumps, "But we said we'd go together!" The word together has Dol-swe perking up in alarm, and despite voicing his very deep reluctance to go to that godforsaken place, he tags along behind her. Haha.
Arang ends up going alone, though, because the minute she asks Dol-swe if he's going with her, he huffs that NO of course he isn't! He storms off vowing to get rid of her somehow.
Hyung-bang declares that this is their chance — the magistrate is alone, and this'll make it easy to just, you know, shove him in and bury him in the dirt. Lazy AND convenient!
Dol-swe finds Bang-wool in the marketplace, trying to attract customers. She grimaces — a third bad encounter bodes ill — but then he looks at her face to face and she's smitten all over again. She tries to resist her attraction and squints extra-hard in concentration, but her lack of response just brings him even closer, getting nose to nose as he asks her for a talisman.
He gets her interest with a flash of coin, though, and clarifies that he wants the spell to get rid of a girl. Bang-wool assures him that she's up to the task, and asks how far things got with the girl — it'll cost 1 nyang if he's given away his heart, but if he's given away "other stuff," then "that'll get complicated and cost more."
He's all, Why would he give her anything? and gets offended — his young master is pure, got it?! Ha. He gets so worked up in his outrage that Bang-wool has to slam a pot lid into his head to get free of his grasp.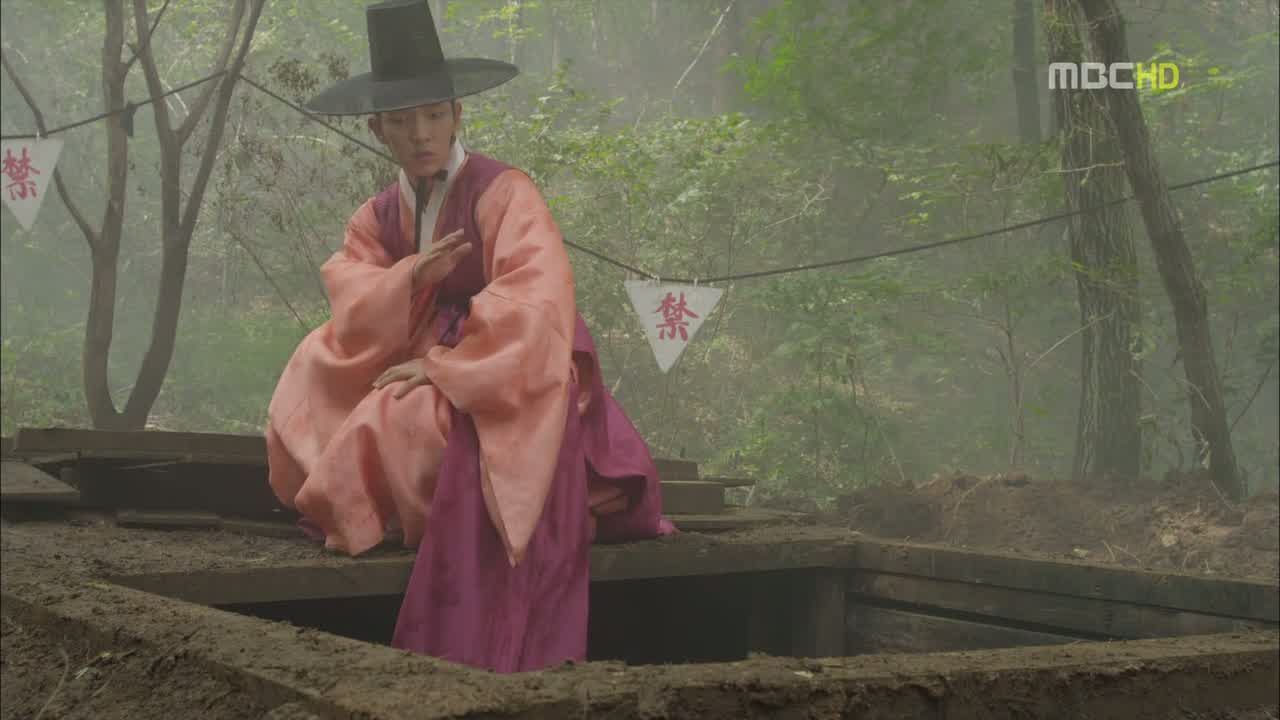 Eun-oh arrives at the gravesite and furrows his brow in confusion — he doesn't feel any ghostly energy at all. If people were killed here, wouldn't there be something?
He spies the flash of black at the edge of the pit — the talismans posted at intervals, protecting it. Eun-oh places them aside and feels the air for its energy, which leads him to uncover more.
He heads up the hill to scan the entire slope at a distance — but still, no ghostly traces. "Where did all those souls go? They won't have all gone on to the afterlife."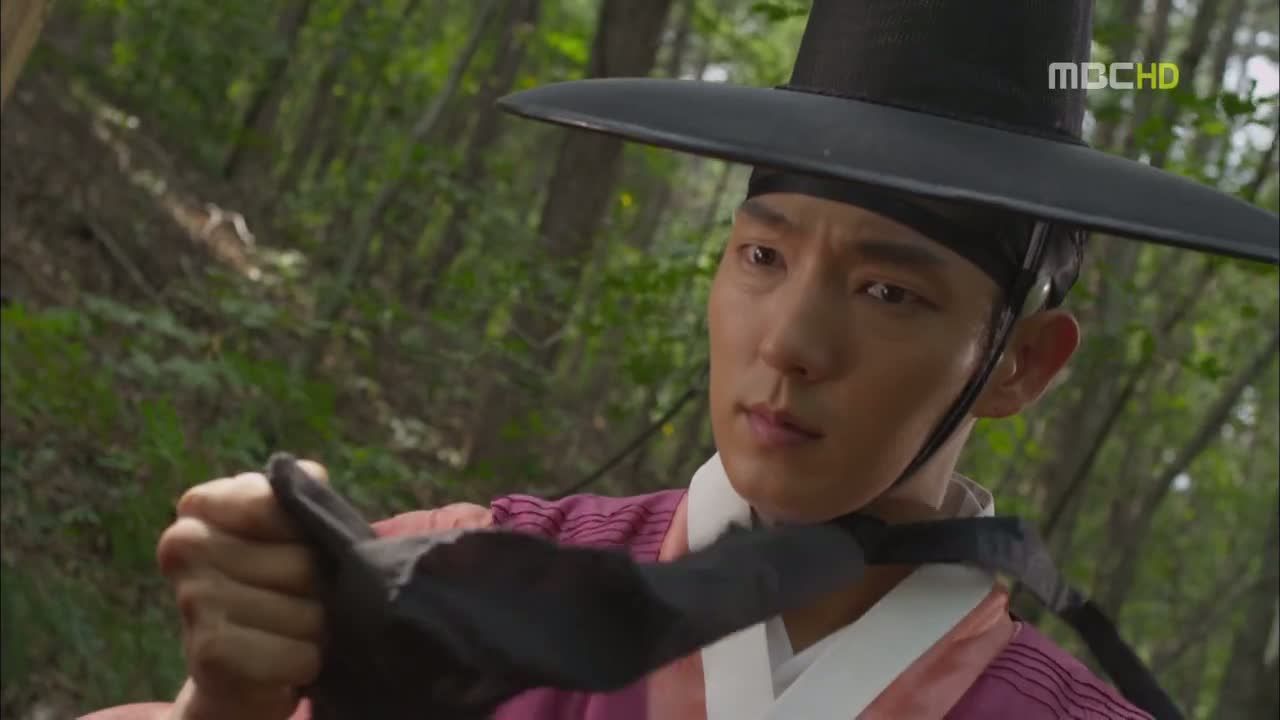 Looking around some more, he sees another talisman tied to a tree trunk. He pulls it off — and in her house, Mom senses the disturbance. Eun-oh must feel something, because he takes off at a run.
In heaven, the two gods and Mu-young gather around what appears to be a glass ball, looking intently into it. Waiting?

COMMENTS
The plot gets thicker and thicker. It's exciting to have a drama so in control of a complex mythology, revealing clues at a speedy pace but spreading them out just enough to keep you tantalized. Sometimes you watch a show trying to figure out where it's going — or, in cases of slow ones, seeing everything coming before it gets here — but it's refreshing to have one that satisfies you to sit back and watch unfold at its own pace. Because trying to get ahead of it is a bit like trying to huff alongside a marathon runner when you can barely manage a mile.
I appreciate that all three leads have mysteries of their own, which are (seemingly) full-fledged enough to each stand on their own. They have intersecting points and getting to one secret reveals others, but we'd have three full storylines had these characters never met.
I was really pleased with where they took Joo-wal's involvement, even if I was expecting something a lot more supernatural. Of him directly, I mean; he's still inextricably tied to a powerful mystical being. I'm not sure we've seen the full backstory with him yet, but it made sense to see the way he grew up, and the way he latched on to the first person who promised to save him. I don't think it mattered what she offered him, because I think he would have done it even without promises of riches and power.
When we see Joo-wal's desperation and fear in front of Mom, I can't help thinking he's like an abused child. Heck, he IS an abused child. She's withholding and charismatic, and she's made him into what he is. I don't know if he could find his way out even if he wanted, and I don't mean because she wouldn't just let him leave. It's more like he both loves and hates her, and is as afraid of being without her as he is of being with her.
In fact, I wonder if we're going to have Joo-wal confronting that later down the line — the inability to cut the strings because she has become the only mother he's ever known. Since Lord Choi has always rubbed it in his face that they're not really father and son, he got no semblance of a parental relationship there, either. So he's been shaped by the Mother of All Evil, and she's got some mighty powerful clutches.
Of course, that doesn't mean I'd justify his actions, because he still is responsible for the girls who died. Either at his hand, or by playing procurer and accomplice. After all, there's a limit to how much you can excuse with a crappy childhood. It's just that for being so far over into evil territory, I love the vulnerability we see from him and hope he'll grow stronger, to at least struggle and show more conflict.
Learning Mom's true nature makes Eun-oh's desperate search for her sad and, at times, even funny — all things considered, he had the better fate in being left alone, his soul not corrupted. I do wonder whether Mom had a particular rationale for abandoning him (other than the "Eh, I just felt like it" that seems so prevalent in Dramaland, particularly Makjang County) — did she want to spare him? Did she pick up Joo-wal because he was an expendable street rat? Or is that giving her way, way too much credit?
But I suppose what this all really means is that it doesn't matter if Mom is good or evil, because the love you feel is the thing that drives you. She was his mother, and therefore he needs to find her.
Arang, of course, is our key to everything, and I really like that the show isn't letting us pin her down — we still don't quite know what she is, aside from not-ghost and not-totally-human-either. What makes her so important? Why did the Jade Emperor pinpoint her to go free and start this whole chain of events? And why, if he's so powerful, does he need a mere human-ghost-being to solve his mysteries?
Drama, why so full of secrets? Won't you let me in on some of them?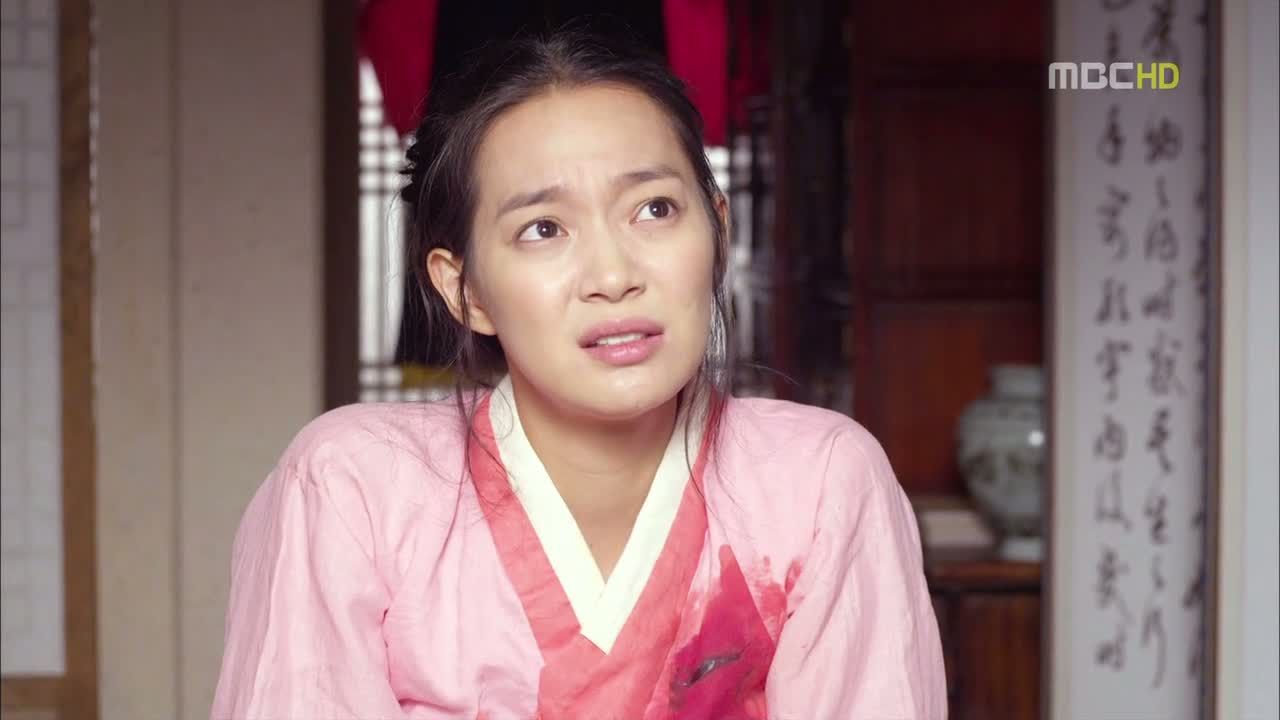 RELATED POSTS
Tags: Arang and the Magistrate, featured, Lee Jun-ki, Shin Mina, Yeon Woo-jin