Dr. Jin: Episode 20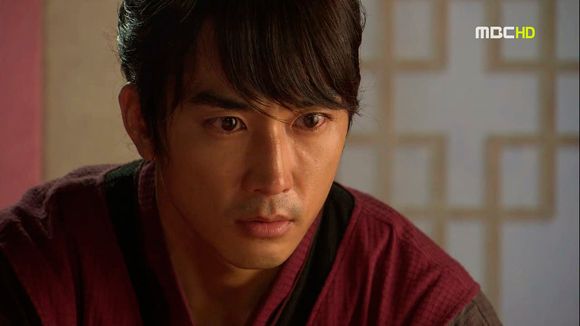 If there's one good thing to be said about Dr. Jin, it's that Stuff Always Happens. On the flip side, most of it doesn't make a lick of sense. History is royally screwed and there's only one man and his brain fetus to save it… Or is there? We definitely get a lot more questions than answers (as usual), so if there's one thing to look forward to as we head into the final stretch, it's that all this nonsense must have some explanation, right? I mean, it's not like Hyuk chose to dive off the hospital roof for that fet-… Oh, crap.

EPISODE 20 RECAP
Ha-eung explains his reasoning for stepping down, because he wants to protect the King first and foremost. Remember that time Hyuk accused Ha-eung of doing too much to keep his position? Well, neither does Hyuk, since he now argues that Ha-eung should fight even harder to keep his position.
And remember that time Ha-eung told Hyuk that stepping down and leaving the Andong Kim clan in power would be even worse for Catholics, and Hyuk didn't believe him? No worries, Hyuk doesn't either, as he tells Ha-eung: "What about the Catholics? If you back down now, Left State Minister will not stop the persecution. And they won't leave you alone, either." This entire conversation, at least from Hyuk's side, is a mess of contradictions and inconsistencies.
Ha-eung: "Did you say that they believe in the Lord? Like they are putting their lives on the line for their religion… I too will put my life on the line for this nation. This land of Joseon is like a religion to me."
While Young-rae and other Catholics are put in prison, Hyuk agonizes over Ha-eung's decision. After stating the obvious, Hyuk asks himself, "How did something like this happen? By chance… By trying to stop the Catholic persecution, did history get distorted?" Gee, you think so? Someone give this man a prize, we have a winner.
The Council of Evil convenes to laugh about Ha-eung's downfall and his upcoming farewell banquet, while poor Kyung-tak remains segregated from the main group. Minister Kim decides to hide the treaty in a separate office so it can't be stolen.
D'aww, and Ha-eung's grand feast is only attended by his most loyal followers, even though everyone was invited. He's prepared to get royally wasted, but notices Young-hwi's absence, since he's gone to visit Young-rae in prison.
He never knew she was Catholic until now, and urges her to deny her religion to save her life. Young-hwi: "Denying the religion won't make your inner belief disappear. Instead of showing it with death, protect it by living."
Kyung-tak tries his best to get Daddy to free the Catholics, but it's a no-go. For him, the Catholics are a great scapegoat to divert the people's anger away from the noble class, and they all laugh over how easy Ha-eung has made the persecution for them. Ooo, will this finally be Kyung-tak's turning point?
Hyuk finally arrives at the banquet, and Ha-eung is trashed. Hyuk is at his breaking point and tells Ha-eung, "You call me a friend. But do you even listen to me?" Hyuk, do you listen to you?
Ha-eung tries to say that he no longer has power to do anything, but Hyuk fires back, "Have you come this far because you had power before? I will not stand back and do nothing. I don't know from when what went wrong, but I will not just watch the history that I know get all twisted." Hah. Is it lonely up there on your pedestal of blamelessness, Hyuk? I bet it is.
He storms out. Chun-hong desperately tries to stop him, even going so far as to claim that she returned to this world to save and protect him. Hyuk thinks she's lying and won't fall for it, and dramatically runs out as he tells himself in voiceover that he must save Young-rae so Mina can also be saved.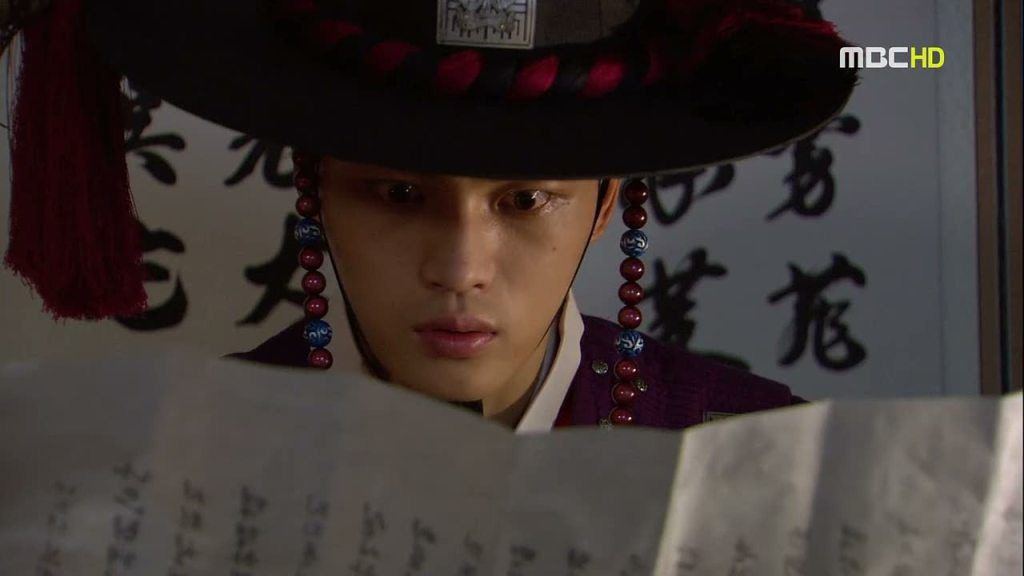 He finds Kyung-tak and asks him a favor we don't hear, since Kyung-tak beelines for his room to read Hyuk's stupid letter to Ha-eung detailing the Catholic massacre to come. Kyung-tak puts all the pieces together – the letter, Hyuk's appearance when they first met, what he'd started to say about being from the future that first time he was going to be executed.
Safe to say, he seems to have figured out Hyuk is from the future.
Hyuk uses Kyung-tak's favor to see Young-rae in prison, and urges her to deny her faith before the scheduled execution tomorrow. She asks him if he could abandon practicing medicine if his life depended on it, and he claims that he could, even though it would be cowardly.
But here's the rub: While urging her to deny deny deny, he's not just speaking in her interest, because he tells her, "Your fate may not only be yours." So he's trying to save his future girlfriend in the process, which kind of makes this a weird moment for him – he's not actively being selfish, but he's not being selfless either. He asks her to do it just for him.
Kyung-tak and his men are escorting Kim Byung-ok and the treaty, though Kyung-tak seems to be eyeing it suspiciously. All of a sudden they're ambushed on the road, with Kyung-tak taking an arrow to the arm.
Though their attackers wear masks, it's clear Young-hwi is leading the pack. Battle ensues. Kyung-tak and Young-hwi go blade to blade, and Kyung-tak urges Young-hwi to hurt him so that he'll be free from suspicion. Omo! Kyung-tak! You did it? You did it! (Unless this is another fake-out, which my poor heart might not be able to take.)
So this is all an orchestrated plan, and Young-hwi and his men away with the treaty after slicing Kyung-tak in the arm. An arrow wound and a sword wound? Dayum. I'm sure he'll be fine in the next five minutes. This is Dr. Jin, after all.
Dae-gyun is overseeing the Catholic execution, and the courtyard is filled with the sound of weeping women. He dumps a pile of crosses and bibles in front of them and declares that whoever steps on them will live. Some of them do, while others display their faith and are put aside to die. Young-rae remains in the middle, struggling over what to do.
This is actually a genuinely good scene, and even Hyuk doesn't ruin it when he tries (and fails) to get inside to save Young-rae. His earlier words give her pause, but in the end she whispers that she's sorry. "My fate… may only be up to here," she says, as she folds her hands in prayer and damns herself to die. Props for conviction.
Hyuk gets brain zapped as he tries to force his way inside, and is treated again to the vision of Mina flatlining. This only has him more desperate to save Young-rae, until a mysterious man on horseback arrives.
Young-rae is one of the first in line to be executed, and it's definitely jarring to see this group of people ready to die for what they believe in, all their hands locked in prayer as they wait to be beheaded. The executioners ready their blades as Dae-gyun readies the signal…
But they're saved at the last moment by a man bearing the King's Royal Decree who bursts through the doors and orders that all the Catholics be released. Furthermore, no Catholic can be captured, tortured, or interrogated from here on out. Dae-gyun blusters while Young-rae cries in relief.
Minister Kim and Dae-gyun are shocked when Ha-eung dares to shoo them away from meeting the King, but he's not to be swayed, nor is he abandoning his position. Their threats are useless now since they no longer have the treaty to threaten him with, which is something that Minister Kim only realizes belatedly.
Hyuk is waiting for Young-rae upon her release, and she apologizes for ignoring his earlier request. She wonders if the Catholic persecution was supposed to continue history-wise, but then assumes that Hyuk must have had a good reason to change history when he was so afraid of doing so before. Pfft. Fine, let's all start livin' this lie.
Hyuk: "I want to protect you as long as I am in this world. Of course, there may be other reasons too. But you're the most important person to me right now." She thanks him, he thanks her back, everything's gravy.
Kyung-tak fake-apologizes to Dad about losing the treaty. He's still suffering from the sword wound (go figure), and Minister Kim at least fusses over it. He worries that they've lost their card while Ha-eung still has his, but Kyung-tak's already taken care of it, and took the letter from Young-hwi as part of the secret deal.
He even cuts his hand so that the blood on the letter can look convincing enough for his dad to think he killed someone for it. Now Minister Kim and Ha-eung are without ways to blackmail each other, but Minister Kim isn't worried. Public outcry against freeing the Catholics will bring Ha-eung down.
Ha-eung burns the treaty and asks after Kyung-tak, noting that he used one of the Thirty-six Stratagems by inflicting injury on himself to gain the enemy's trust. Still, he's wary of Kyung-tak and his motivations, and tells Young-hwi to keep an eye on him.
He goes straight to Court to deal with the fallout, since the people won't be happy about the new decree. Minister Kim argues his case and asks for little King Gojong to rescind the decree, and just as Ha-eung is about to step up to speak for him, the little King finally speaks out.
Gojong tells Minister Kim that his mother is Christian and his father released Christians, so punishing them would make him an unfilial son. How could such a person be King? Ha-eung steps up not only to agree with him, but to implement Hyuk's plan of passing the new taxation law on noblemen to ease the public's outcry against releasing the Catholics.
Dae-gyun vents his frustration over the new law with Daddy Dearest, who's not convinced that random thieves would target Kim Byung-ok. Suspecting Kyung-tak as a possible rat, he orders Dae-gyun to keep an eye on him.
Ha-eung is all smiles when meeting Hyuk again, their BFF status officially restored on his end. Hyuk is a little more reluctant, especially when Ha-eung asks him about the future of the countries surrounding them, like Japan and China. he even tells Hyuk that he can write it down in another letter if he feels uncomfortable talking about it, which, HA.
However, Hyuk refuses – he can't change history anymore. Ha-eung argues that it's for the good of the country, and asks Hyuk, "Have you thought about your reason for being here? Perhaps you were meant to change the course of Joseon's history." We better hope not.
Kyung-tak is waiting for Hyuk outside, and makes an offhand remark that Hyuk spends more time doing secret work than being in the Royal Clinic. Hah. But what he's really there for is to show Hyuk that he has his letter detailing the future of the country.
Cut to: Hyuk using his bamboo stethoscope on Minister Kim. Whoa, did Kyung-tak use the letter as blackmail? Or not, but Minister Kim still calls Hyuk out on learning his medical skills from the future – and they've even got his personal effects to prove it. This is… sudden.
Also, this is confusing. Kyung-tak seems shocked that his father knows about Hyuk and yet not shocked. I can only imagine that he must have handed over the letter, but then his father asks him if he knew Hyuk's identity and why he didn't come forward with it if he did, which makes me think he didn't hand it over.
So wait, how did Daddy come to all these conclusions if it wasn't for Kyung-tak? Either way, Minister Kim now knows everything, and muses aloud: "So, you are a doctor from the future." Everyone is way calmer than you'd expect them to be with this news.
Meanwhile, Ha-eung grows suspicious when he finds out where Hyuk is, while Hyuk is forced to tell Minister Kim that he's not opening his mouth when it comes to the future any more, especially when Minister Kim wants to know the fate of the Andong Kim clan. Hyuk, it's pretty late for this kind of backpedaling.
After talking with Kyung-tak, Minister Kim understands that Hyuk worked with Ha-eung to prevent a war, and after sending him off, he calls for Kyung-tak to find Ridel and bring him back. Kyung-tak finds the priest in no time.
Ha-eung calls Hyuk into the gibang under the pretense of a casual meeting, but barely lasts two seconds before he asks Hyuk about Minister Kim. The air in the room grows tense as Hyuk tries his best to avoid the subject.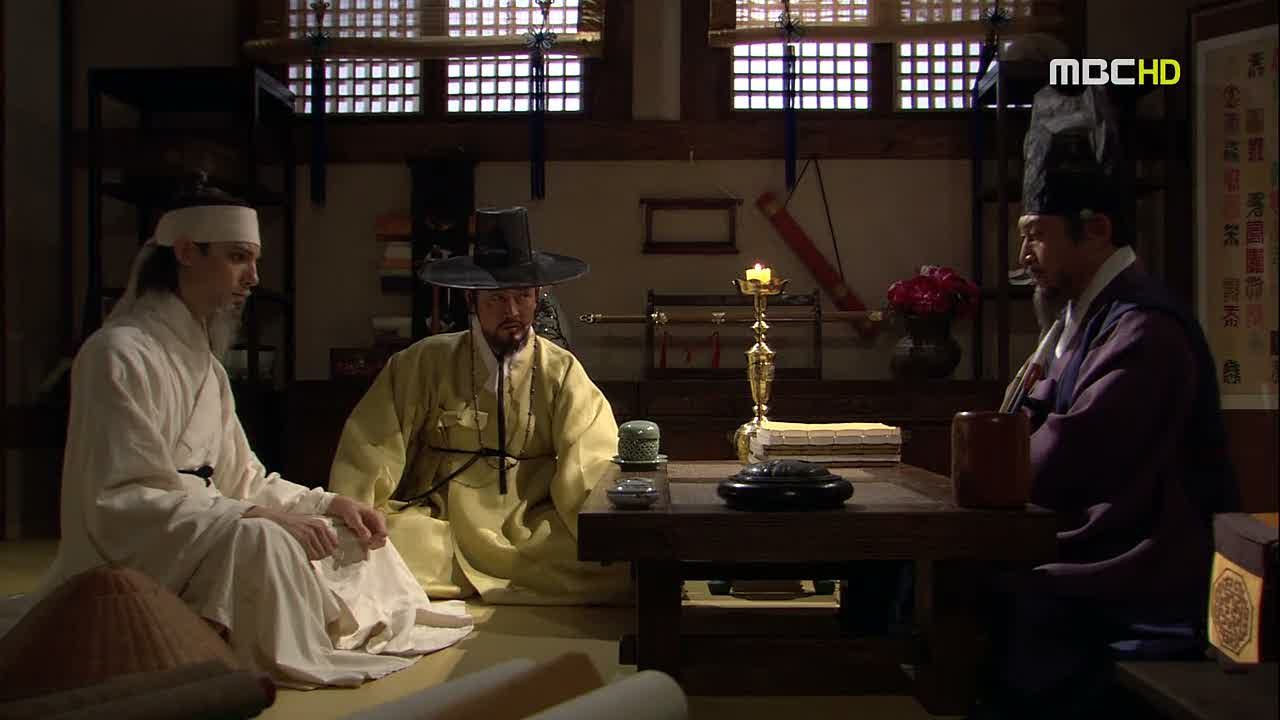 Ridel is brought in to see Minister Kim, and despite everyone and the undoubtedly widespread knowledge that the King's Decree saved the Catholics, Minister Kim leads Ridel to believe that the power to save or kill Catholics rests in his hands alone. If Ridel can speak Korean and has been living in Joseon, I find it really hard to believe that he'd fall for these lies.
Minister Kim uses that power over him… to ask him for a war? What? Yes, by threatening the future safety of all the Catholics in Joseon (never mind that their safety has already been guaranteed by the King), Minister Kim gets Ridel to think about convincing France to unleash its warships on Joseon shores. This doesn't make any sense.
Ha-eung has ordered Joo Pal and Minion to keep watch at Minister Kim's house, and they spot Ridel leaving.
Inside, Kyung-tak is the only one speaking sense as he wonders how war will benefit his father. Minister Kim claims it's the only way to oust Ha-eung, because the people will turn against him if he can't fend off a foreign attack. Even Kyung-tak doesn't quite get it, but Daddy sends him off to kill all the priests except Ridel, so that he'll hate them and decide to go to war.
Joo Pal gives news of the meeting to Ha-eung, who immediately sends them off to capture Ridel. He asks Hyuk what he discussed with Minister Kim in an accusatory manner and leaves in a huff, while Chun-hong holds her head and cries about the history that's changed and the history that's trying to return to the way it was are getting all twisted around, just like this entire story.
Naturally, she blames everything on Hyuk, and asks him if this historical craziness is what he wanted.
Ridel and his fellow priests have already set off in a boat by the time Kyung-tak's forces and Joo Pal's forces make it to the shore. Kyung-tak has an archer kill off the other two priests, and in doing so, has killed my hope for his redemption. We know he loves his Daddy, but starting a war even he doesn't understand? Line drawn, he passed it. Good luck, buddy.
Hah, and the boatman just keeps on rowing like it's no big deal. Two customers got shot – must be Thursday.
Hyuk suffers some seriously hurt feelings when he realizes that Ha-eung thinks he's betrayed him by telling the future to Minister Kim, and because his feelings are so hurt he decides to just not clear things up between them. (Also, glad everyone rose from their respective coffins to film today.)
He's been a downer since the beginning of the episode, and says sadly before he goes, "It would've been better if I did not know anything and if there was nothing to say. From the very beginning, I shouldn't have come to this world." Well, now you know, and knowing is half the battle.
Chun-hong meets with Young-rae to tell her about an event she'll influence in the near future. We don't hear what it is as we cut back to Hyuk packing up his stuff, which is where Young-rae finds him. With the threat of war looming, he's finally decided to cut his losses and bravely run away.
She tells him that she knows everything – the tumor in his head that grows every time he changes history, and that his existence could forever disappear. He knows Chun-hong told her and insists it's all a lie, claiming that saving her was the best thing he's done since he's come here.
He thinks that disappearing will solve all the problems he's caused, but Young-rae tearfully begs him to stay. She tells him that he's leaving her with an incurable disease – and by that she means love, not that other disease he cured.
Hyuk promises her that they will meet again and leaves, running into Chun-hong on the only road in town. He chastises her for telling Young-rae, and yells at her when she tries to speak. She wants to tell him what she couldn't tell him earlier for whatever reason, the last big secret, but he doesn't even want to know.
He thinks she's been manipulating him from the start to get Ha-eung in power, which kind of doesn't make much sense, considering it happened historically and he messed things up. So why wouldn't she want him to put things back?
Whatever the case, Hyuk says, "I will disappear quietly. As if I had never existed from the beginning, I will disappear forever." Okay. That'd totally work, if it wasn't the stupidest thing I've ever heard.
So she doesn't get to tell him the big secret, but she does notice that he's being followed by two shady guys. They attack him and try to kill him, but Chun-hong appears from nowhere, literally, and takes the fatal blow for him.
His assassins get chased off, so he hauls her into the gibang, because God forbid he ever does a surgery in the actual clinic where supplies would actually be on hand.
She's looking pretty bad, and she tries to eke out that secret she needed to tell him. He says it can wait because she needs surgery, and thinks back to all the mean things he just said to her. Also, the fact that she told him she came to this world just to protect him, which she did.
He puts her under and actually begins to perform open heart surgery, because her heart sustained a deep wound. (Double meaning! I get it!) Of course, having her chest cavity open to the world means it's the perfect time to talk, with Hyuk explaining to Heo Gwang and Young-rae that her life may not be able to be saved.
To successfully perform the surgery he needs an artificial heart machine, which obviously, he doesn't have. Still, he tells everyone that he'll try his best. As Hyuk gets a pep talk, Chun-hong's heart squirts blood periodically from the wound.
Hyuk: "This is not an easy surgery." Heo Gwang: "Since when did you only do easy surgeries?" So he takes a needle and thread to her heart and that's that… except her heart stops beating. And then, weirdly enough, the surgery is blurred once his hand goes digging inside her chest. How is only that too explicit?
Hyuk pumps her heart by holding it in his hand, and gets it to start beating again. He stitches her up, but she's still dying.
Everyone is sent away so she can give Hyuk her last words – that he can't save Young-rae according to her fate. While trying to save her he could disappear forever, so she came back to this world to protect him.
Chun-hong: "The world you left… that person there… is already dead." There's no competing over the dramatically operatic and totally overbearing track, and she dies.
Ha-eung arrives just in time to witness her passing, just as Hyuk keeps screaming, "No! No!" over and over again.

COMMENTS
Chun-hong had been on a steady phase out for a while, and with her death, so goes the secret to the universe. Now who will Hyuk get to ignore and be a complete tool to? Young-rae? Pfft. Here's hoping Chun-hong spilled more secrets to Young-rae than what we saw, seeing as we don't have anyone else in this universe who knows what's going on.
This is how I'd sum up just about every conversation Kyung-tak has with his Dad: Dad gives an order, Kyung-tak voices his moral or logistical opposition, Kyung-tak follows the order. There's only so many times I can watch him disagree with Dad before carrying out Dad's every wish before I'm just plain done. The whole secret plan with Young-hwi didn't help his cause much either, mainly because it was handled with all the finesse of a drive-by, and also didn't allow us to get a grip on the emotional undercurrent supposedly driving Kyung-tak's actions.
My only guess is that he wanted to save Young-rae and things just went back to normal afterward, even though we've gotten hints that that might not be the case – and when I say "hints", I mostly just mean the times when the show purposefully cuts a scene short and pretends to be a better, more thrilling experience. We never got to see what he said to Hyuk after showing the letter, but even if we were to have some dramatic reveal later, does it really matter when Kyung-tak followed Dad's orders to intentionally start a war? I can't figure out what goes on in that boy's head anymore. Same goes for Daddy Dearest.
And while Hyuk definitely isn't your go-to hero for a good time, having him spend an episode suddenly deciding he's not going to do jack squat is even less fun than your every day, garden variety Hyuk. It's hard to sympathize with him when the conclusion he finally comes to is one that's been staring him in the face – or talking in his face – for a good while, and especially not when he handles his problems like a child without thinking things through. Also: Damage is done, Hyuk. You broke history. Now you have to fix it.
The whole war story arc brought up one of the main issues I've had with this show, in wondering how much Hyuk's actions impact what's already fated to be, at least historically. Chun-hong made a big deal about the history Hyuk's changed and the history that's supposed to happen colliding, but where does one end and the other begin? There's no way he can un-cure cholera, or un-cure Young-rae's cancer, or un-cure the million other things he's cured. But there has to be a better solution besides Hyuk just removing himself from the equation, because if that fixes everything, what did we need him around for in the first place?

RELATED POSTS
Tags: Dr. Jin, featured, Jaejoong, Lee Beom-soo, Lee So-yeon, Park Min-young, Song Seung-heon