Gaksital: Episode 18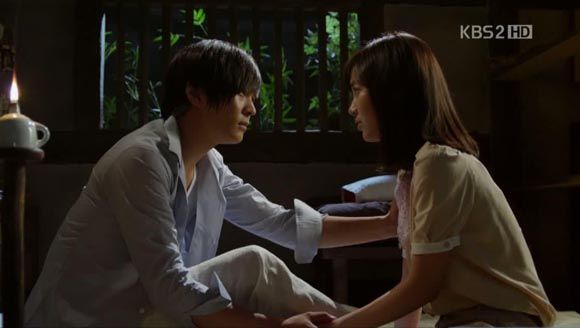 *Stops the withdrawal shakes* Is it finally Wednesday again?
This episode reached a series high rating, 18.0%. It must be noted that its drama competition, Ghost, pre-empted its episode for the Olympics, but I like to think that there was a little something else responsible for the jump, namely the squee-inducing cliffhanger at the end of last week's Episode 17.
Speaking of which, that cliffhanger was kind of a doozy, wasn't it? But part of me believes that if we hadn't had the Olympics pre-emption, the show might not have worked quite so hard to have such a juicy ending, so I will take that as consolation for the wait.
On the flipside of that coin, I was pretty worried that 18 wouldn't live up to the cliffhanger, that they spent all their dramatic firepower and would disappoint in the aftermath. But I think it's safe to say that Episode 18 has plenty of firepower of its own.
All right, let's get this show on the road.
SONG OF THE DAY
Herz Analog (solo musician Heo Sung-joon), with So Soo-bin – "살고있어" (I'm Alive)
[ Download ]
Audio clip: Adobe Flash Player (version 9 or above) is required to play this audio clip. Download the latest version here. You also need to have JavaScript enabled in your browser.

EPISODE 18 RECAP
We open on Shunji—augh! But what about Mok Dan? What about Gaksitaaaaaaal?
Shunji walks to Mok Dan's hotel room, a basket of flowers in his hand and a spring in his step. Now that's dissonant and creepy, how happy he is to be romancing his beloved/prisoner.
Instead, he finds his men knocked out and freaks out, which makes me wonder how he'll react to find out Rie went over his head and intended to kill Mok Dan. And by wonder I mean anticipate with way too much glee to be appropriate.
Shunji hears about the tall, mustachioed man in a black suit, which rings a bell. He bursts in on a meeting between Rie, bodyguard, and Chief Kimura, and can we take a moment to appreciate the very grimness of their mood? Three failures, sitting there in silence, not even able to trickle-down their rage to anyone else because they're all equally at fault.
Shunji pulls a gun on Rie, not even flinching when Katsuyama holds a sword to his neck. He growls at his father while glaring at Rie, "Father, everybody wants to protect something. I clearly warned that woman not to mess with mine. Why is it wrong to love a Joseon woman? Why is Kishokai interfering in my emotions?!"
Rie tells him he can have whatever Joseon woman he wants, but Mok Dan happens to be linked with Gaksital, and therefore protecting her means protecting Gaksital. See? It's simple math, says the transitive property.
Shunji: "To catch Gaksital with my own hands, I can't give up that girl, not even if I die. Do you understand?"
Rie tells him not to worry since his girl is bound to be safe—Gaksital took her away.
Annnnnnd we're back to the forest. Eeeeeeeee!
Mok Dan takes off Gaksital's mask and reels to see Kang-to's face. In tears, she's practically hyperventilating from the shock as Kang-to stirs and painfully dismounts, falling into her arms.
He collapses on the ground, head cradled in Mok Dan's arms, and despite the fact that he's sliced up and half-dead and she's completely distraught, it's an incredibly romantic moment. It's the sign of a great reveal, when you're so with the characters emotionally that you get swept up along with them.
Kang-to hands her the dagger he retrieved for her. The knife makes Mok Dan flash back to the time she told him he should have died and Gaksital lived. That breaks the dam and the guilt pours over her in waves now.
She sobs, remembering all the curses she hurled at him, the times he asked her to recognize him and she'd told him to die already. He cradles her face in his hand, wiping her tears away.
Mok Dan registers his arm wound and rips a bandage from a strip of her shirt. She wraps his arm, then sees the gash in his leg as well.
But when she reaches for a second strip of shirt, Kang-to stops her and pulls her in for an embrace instead. He cradles her to his chest, then after a moment he pulls back for a kiss.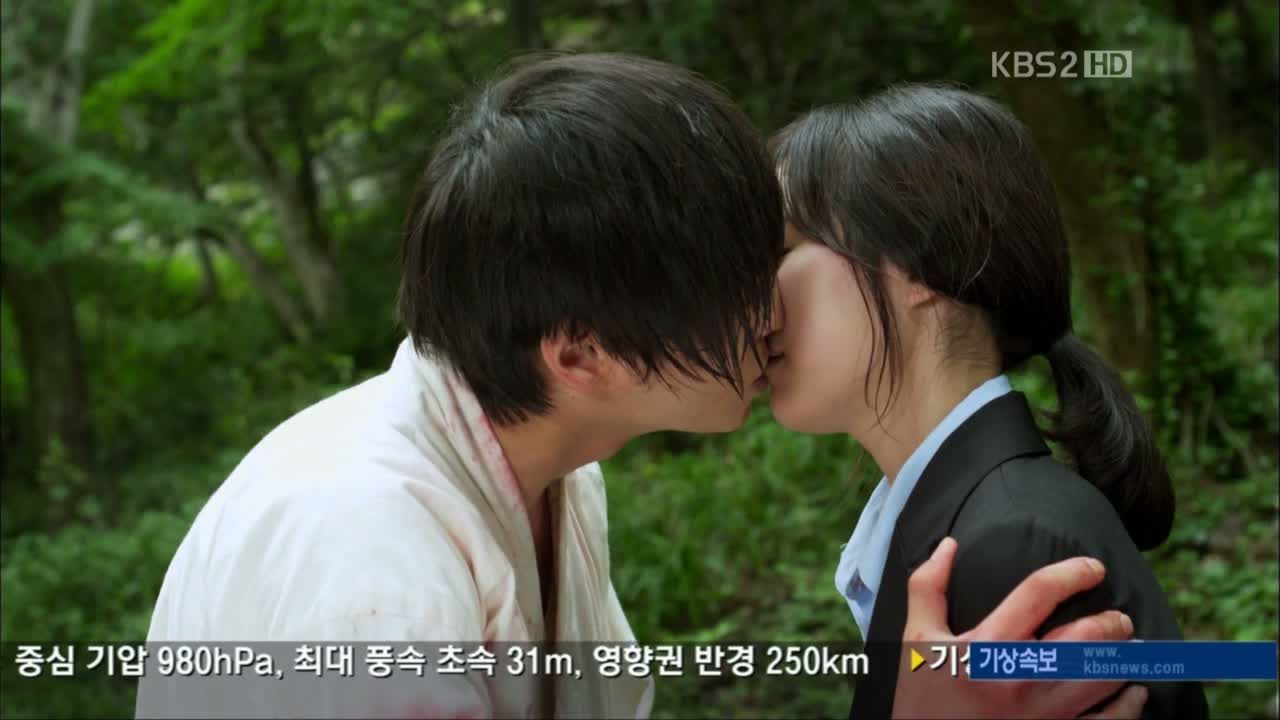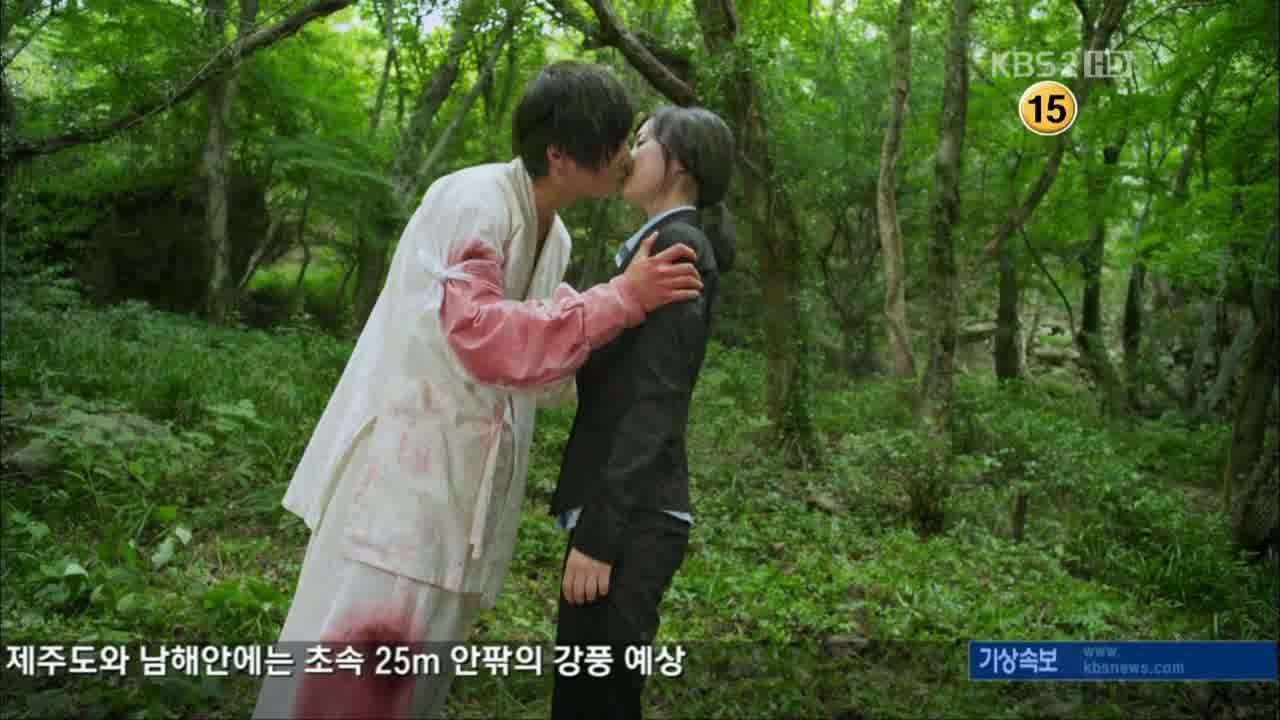 Sun-hwa wonders how the rat Kye-soon is coming up with all the money to buy fancy cosmetics. Finally somebody cottons on. Sun-hwa asks if Kye-soon's really friends with Shunji, and Kye-soon says smugly, "Of course, we're so close."
As if on cue, Shunji bursts into the room, beelining for Sun-hwa, and asks after Mok Dan. Kye-soon smirks that they should just chain her down, and Shunji slaps her across the face. Whoa. What's worst is how easily he does it, then turns back to Sun-hwa like it's no big deal; he's definitely easing into that evil skin. Promising that he'd never hurt Mok Dan, he asks Sun-hwa to come with him with any news.
Circus boss Jo decides to disband the circus, keeping his reasoning vague about wanting to rest and go traveling. Shunji bursts into his room next and dismisses Dong-nyun and Shin Nan-da so he can talk to Boss Jo alone, which, given their history, makes me nervous. It makes Boss Jo nervous too, as Shunji tells him to pass along news of Damsari's public execution to his independence pals.
Boss Jo says that they'll know it's a trap, but Shunji's no dummy—he expects Gaksital to know it's a trap but show up anyway: "He won't be able to ignore the hopes of the Korean people that he'll swoop in and save Damsari."
Shunji orders Boss Jo to look into news of Mok Dan. Jo refuses to cooperate, adding that he's persona non grata with his former comrades—they've marked him for execution in return for his betrayal.
Shunji smiles chillingly, "Who said you were to be executed? I'll protect you for the rest of your life." Shivers. Somehow Shunji's promises of protection aren't so comforting.
He calls a meeting of all his officers to prep Damsari's execution tomorrow, and notices Kang-to's empty seat. His thoughts whirl upon hearing Kang-to didn't come to work this morning: "Lee Kang-to didn't show up? Even though Mok Dan disappeared?"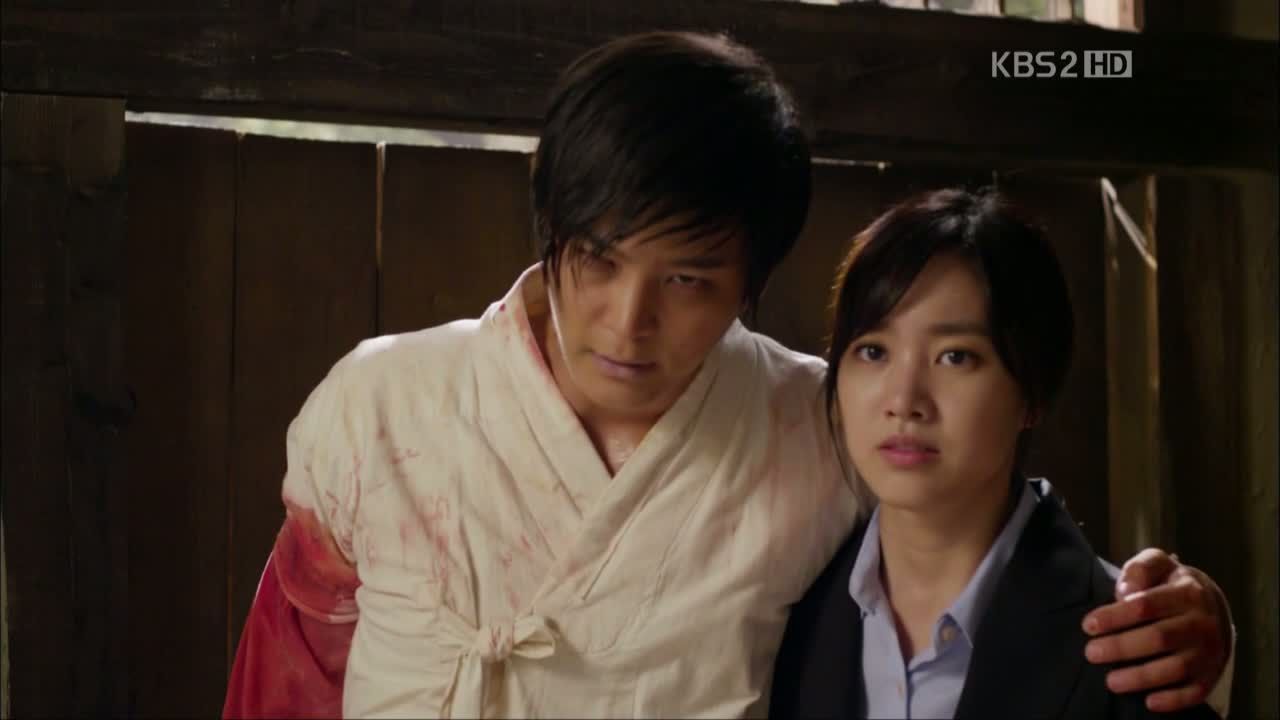 Speaking of whom, Mok Dan assists Kang-to into Gaksital's secluded hut, and Baek Gun treats his wounds. Afterward, the reunited lovers sit outside as Mok Dan confesses how she felt the first time she saw Kang-to, when her father was sentenced to death. (Now that he's cleaned up, I notice Joo-won's sporting a sharp new haircut, although surely it's not too obvious to ask: Is anybody going to notice that Kang-to and Gaksital simultaneously got new 'dos?)
Mok Dan asks how imperial policeman Kang-to, whom she found more frightening than the Grim Reaper itself, could have come to wear the bridal mask. We flash back to the fatal night as he narrates it: How Gaksital had been his brother, who'd been fighting Kenji to avenge his mother's death. And how he had entered the fray and shot his own hyung, not knowing that.
At first, he admits he wore the mask to finish the mission his brother hadn't been able to complete, to avenge their mother's and father's deaths.
Kang-to: "But now, even if I take vengeance on every one of my father's enemies, I don't think I'll be able to take off the mask. There are so many things to be done. Wherever I look, there are too many people in agony."
She takes his hand and vows, "You won't have to go alone. I'll follow you to the very end, rooting for you. Whether it's a thousand fathoms deep or through a fiery pit, I'll always go with you." It's a beautiful promise, although I worry that it may become all too literal.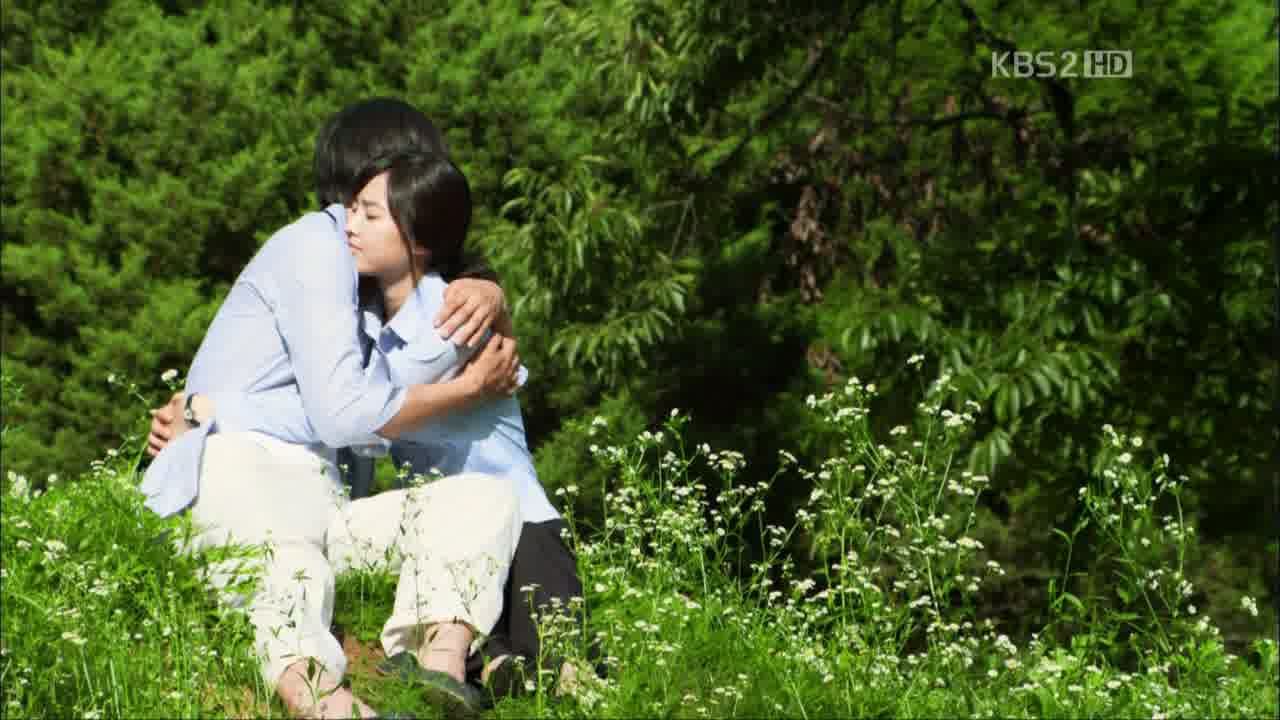 Shunji takes out his ire on Ishida and his lax idea of 24-Hour Kang-to Watch. "He's caught on! An idiot like you is supposedly competent?" His officers report that Kang-to wasn't seen at home or at the club last night, and Shunji tries to convince himself that Kang-to's absence has nothing to do with Mok Dan's. And who were you just calling idiot?
Still, he tells himself to wait it out—in two days he'll be able to get Gaksital for good.
While Kang-to sleeps, Mok Dan tells Baek Gun she's heading back to the hotel. Er, what now? She has a thought process, though: Since Gaksital was seen saving her last night, Kang-to's absence will cast suspicion on him. She needs to deflect some of that.
Baek Gun tells her of Kang-to's plan to rescue Damsari, and asks her to let the comrades know that he's injured and may not be able to carry through the mission.
Mok Dan finds the remaining comrades at their hideout and alerts them to Gaksital's condition. Her teammates decide to modify their plan and assure her they'll succeed, if only for the sake of their fallen comrade shot down by Shunji.
The male comrade vows that after Damsari is rescued, he will make sure to fulfill their lost comrade's mission to eliminate Lee Kang-to. Mok Dan blurts, "You mustn't! Do you know who Lee Kang-to is?"
In his office, Shunji role-plays execution day with a map and tokens labeled with the main parties, noting where to station his men. Rie calls him in a fit; he's ignored her summons. He replies that he's busy and hangs up on her, leaving her fuming in disbelief.
So Rie storms into the police station and interrupts a strategy session. Shunji keeps her waiting for an hour, sauntering in when she's at the end of her patience. He blocks her slap easily and tells her to get to the point.
The point: Chairman Ueno will be arriving. Point the second: They'd better not fail, because if something happens to interrupt Damsari's demise they lose their chance to remove Kono, who so adamantly opposed the execution.
Rie orders him to come running the next time she summons him, and he humors her with an "I'll try." She can't believe he has the nerve to treat her this way. Shunji: "And am I supposed to be submissive? Ah, because you're the chairman's daughter? Remember this—I joined Kishokai to catch Gaksital, not because I share your ambition."
She tosses back that Shunji's father, however, sure is chock-full of ambition. It'd be a shame for him to block Daddy's path. He stops smiling at that, and she notes, "So that shut you up. This is what power is—"
The phone interrupts her triumphant speech (ha), and Shunji hears Mok Dan has returned.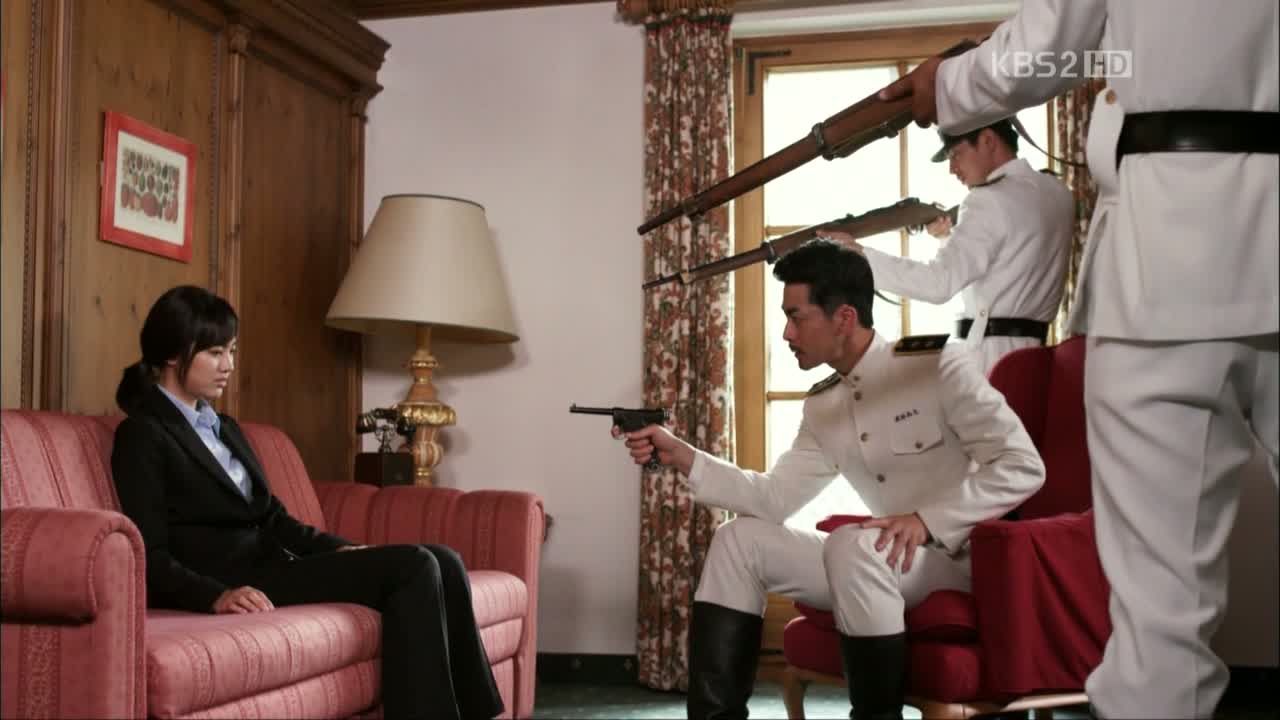 Sure enough, she's back in her hotel room, hilariously sitting at the end of several gun barrels. They're taking no chances this time.
Mok Dan has prepared an explanation, starting with the truth of being captured and almost killed by Lala. But Shunji already knows this and Lala as well, and she thinks quickly to cobble together a believable story: She escaped after Gaksital intervened, but fled alone while he was fighting the other man. She spent the night praying at the church.
Mok Dan plays to Shunji's protector wishes, acting like she's afraid Lala will come after her again. Smart of her to frame her flight as an escape from Lala, but not necessarily from Shunji.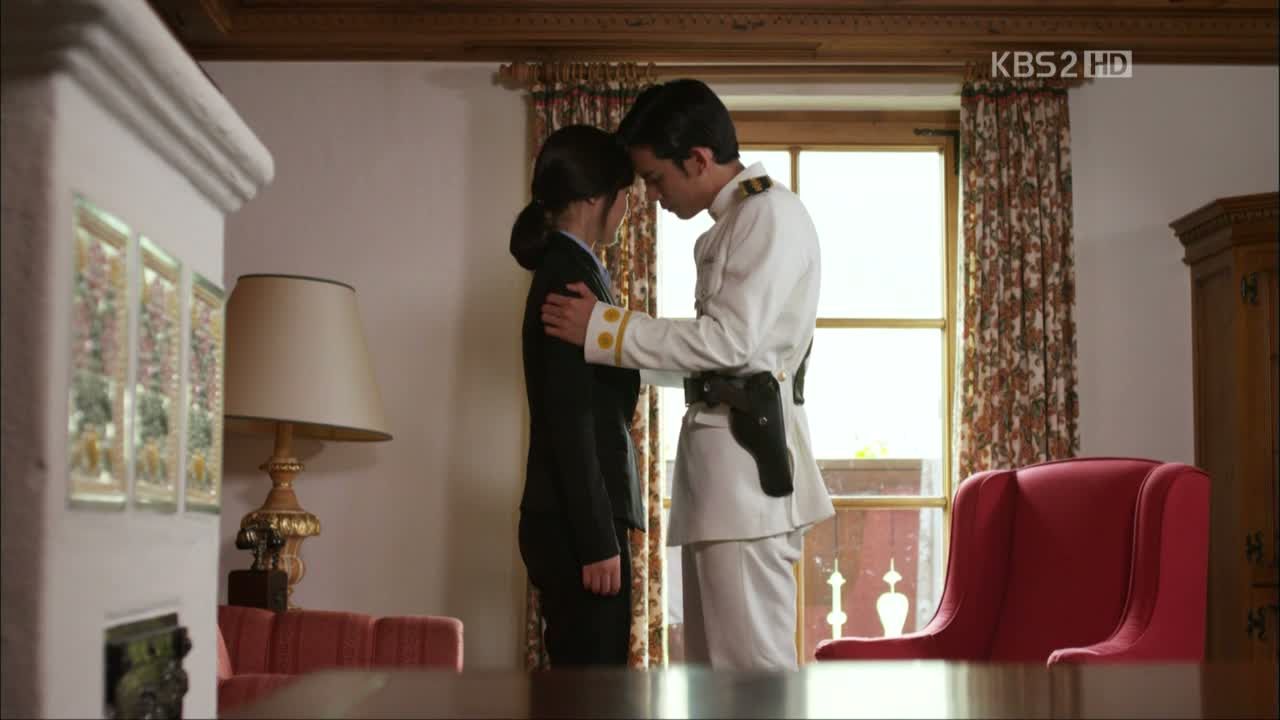 Shunji asks, "Why does Gaksital always show up around you?" She answers that she wondered the same thing; it's why she thought he was the Young Master from her childhood. However, she now thinks she was mistaken, given Gaksital's aloof treatment of her whenever they meet.
Mok Dan's not objectively a great liar, but she seems to say all the right things. Shunji approaches, getting way too close while her skin crawls. I'm assuming. He holds her close, and Mok Don does all she can not to recoil. Heck, I'm trying not to recoil here, even as I know this is a good sign for her sake.
He says she made the right choice, promising to protect her from here on out: "It's because of you that I wore this uniform. I won't let anything, anyone, hurt you." I hope he's including himself in that.
Now he's feeling adequately appeased to agree to let her spend her captivity at Sun-hwa's house. She's still under watch, but at least now she's among friends. Mok Dan reminds him of his promise to block her father's execution—he'll honor that, won't he? Shunji nods, "Yes. Trust in me."
Kang-to finally wakes, and tries to bolt out of bed when he registers the empty cabin. Hearing that Mok Dan (whom he's now calling Boon-yi) returned to the hotel, he argues that Baek Gun should have stopped her—she's gone back to the lion's den.
Kang-to knows enough now to suspect that Shunji and Lala are involved in something together, along with Chief Kimura and the corrupt judge. And that means they have something to do with the people who betrayed Kang-to's father.
That night, Sun-hwa offers the guards food and makgulli, and they're happy to partake, giving Mok Dan the opportunity to slip away unseen. She hurries back to the cabin and checks in on Kang-to, assuring him that Shunji doesn't seem suspicious of her story.
She tells him of the comrades' amended plan excluding him from Damsari's rescue. He fears that they have no chance of success without him, but Mok Dan replies that her father would be devastated if Gaksital came to harm rescuing him:
Mok Dan: "Because Gaksital must live. Because Gaksital is the light that must shine for the Joseon people who live in darkness. He wouldn't want that light to go out. You said there were too many people living in agony, that you had so many things to do. Don't go to the execution. You mustn't go."
He holds her close, but there's this look in his eye… He's gonna go, isn't it?
Back at Sun-hwa's two nervous guards try not to quake in their boots in front of Shunji, who's angry to have another missing Mok Dan situation. Ha. Is this a drinking game yet? Shunji asks Sun-hwa where Mok Dan went, trying to keep a lid on his temper as he says he's worried about her safety, not intending to harm.
The return of nice(ish), caring Shunji seems to weaken Sun-hwa's resolve (which frankly makes Shunji all the more devious, since he realizes this) and she starts to stutter a response. Thankfully, Mok Dan reappears just then, saying she went to the church to pray.
Shunji argues that the guards are there to protect her, not monitor her (yunno—potayto, potahto) and that she should take them with her. She fires back that she can't pray freely with guards hovering: "If you intend to have me monitored 24 hours a day, you may as well lock me up again in jail." Don't tempt him! Although, admittedly, her unapologetic, unguilty demeanor does at least deflect his suspicion.
Kang-to is absent from work the next day too, which Shunji notes as he debriefs his men. Among the precautions is a banning of spectators wearing white at the execution.
Shunji finds Kang-to's absence strange enough that he asks Mok Dan about it. She has her usual Why the hell would I know or care about that bastard? response, and he says he asked on the off-chance that the guy who professed to love her tried to contact her.
Shunji tries to soften his bad news by saying, "I'm sorry—really sorry. I had no choice. I did everything I could, but I couldn't avoid it. Tomorrow, Damsari will be executed in public at Kyungsung Station."
The count and countess rub elbows with more powerful people, chuckling agreement with the couple who call Damsari a public menace. This can only be setup for a future conflict; otherwise, it's not really relevant to this episode at hand.
They're in charge of an educational foundation, and ask the count to put in a good word with the governor general. They slide over a fat envelope to grease the wheels, which the count is happy to take. Why are rich people motivated by more money? You'd think it would be the one thing they're immune to, having so very much of it.
At the Angel Club, Madam Tasha accepts her manager's decision to quit Kyungsung to go back home. He was spooked by his trip to jail, and now with a public execution on the horizon, he's ready to live a simpler life on a fishing boat. He has an emotional parting with a waiter buddy and bids them all goodbye.
Watching with Tasha is Tamao, who grows more interesting by the day. They're both affected by the manager's departure, but Tamao covers his unease with jokes, suggesting the two of them run away together. Tasha just sees his cheeky grin, though, and disapproves of his carefree reaction: "But I suppose a hungry person and one who's full can hardly unite as one."
Tamao tries to shake off her scorn, but it rattles him.
The Kyungsung contingent of Kishokai assembles, led by Chief Kimura, and welcomes Chairman Ueno. Rie, Shunji, and the count are among the attendees. The Kimuras vow to capture Gaksital at tomorrow's big event.
Finally, the day arrives.
The courtyard of the police station is stationed with guards, with citizens lining the sidewalk and a hangman's noose placed front and center.
In his room, circus boss Jo dresses… in a white hanbok? What are you planning to do with that? Dong-nyun sees him and wonders at it.
Damsari is removed from the tiny box-like cell he's been locked in, just large enough to fit his body, like a coffin. Damn. There's a reason people don't eat veal.
Kang-to, meanwhile, treats his injured arm again, dressed in white. Of course he's going. He can't not go, can he?
The dead man walking is escorted to the courtyard while Shunji keeps his eyes peeled for any sign of Gaksital. Damsari falls in his weakened state, and Shunji whips him, to the crowd's horror. It's almost like he's trying to provoke Gaksital's appearance by being extra-cruel today.
Mok Dan prays at home, asking God to save her father, and to protect her comrades and Gaksital. Now God is her final hope…
…or so she thinks. Kang-to dons his white Gaksital outfit, readying for battle.
Then to the gallows.
Shunji announces Damsari's crimes and death sentence. All the while, boss Jo fumes, and when the final order is given, he bursts free of the crowd and past the first line of guards. He tears off his coat and yells, "Comrade Damsari! It's me! I'll go with you!"
Oh, that brings a tear to my eye. He gets kicked for his trouble and beaten by police, and that sight gets the crowd rumbling. Infuriated, Dong-nyun takes off her overcoat, revealing that she's also wearing white underneath. Aw, crap, now I'm just gonna be a blubbering mess, aren't I?
Initially I'd wondered if Boss Jo's choice of white was specifically a nod to Gaksital, but now this takes on other added meanings. It's white for death, as in preparing oneself for the shroud. But more importantly, it's white for defiance, because of the rule prohibiting the color.
And it's white for solidarity. All around, citizens are tearing off their outer layers, revealing that a whole contingent of them are wearing white underneath. They charge the police officers, most of them getting beaten but fighting back nonethleless.
Shunji instructs his men to try to restore order, but it's chaos. He pulls out his gun and fires a shot—straight into Dong-hyun's heart. Goddamn. Shunji finally learned to shoot, and makes Dong-nyun his first martyr. How is Mok Dan going to react when she hears you killed her mother-figure?
Boss Jo and the circus troupe race to her side. Shin Nan-da carries her on his back to presumably get medical attention, but frankly that blood is not looking good.
Some time later, the white-clad insurgents have been subdued and are lined up in the courtyard, kneeling before the gallows. Damsari looks out at them with a rueful smile—that look of appreciation just breaks my heart.
Shunji orders the execution. The police officers move… and from behind them comes a whoosh! Drop. Drop.
"It's Gaksital!"
Gaksital stands on the roof of the building and drops over the edge, one hand holding a rope tied to the rooftop. He drops to the stage and cuts the noose before anyone can interfere, knocking down cops left and right.
He takes a leap into the courtyard, and Shunji shoots… and hits him in the leg, GAH! He really has been practicing.
Limping, Gaksital gets up and finds himself encircled by at least 20 officers. All pointing their guns at him. God. Damn.
But then he turns to face Shunji, and it's… not Kang-to's face?!
He doesn't even flinch as Shunji shoots him again, in the shoulder this time. With almost a sneer, Notsital unwraps his tunic and reveals a string of explosives tied to his torso.
OH SHIT. Is this the comrades' backup plan, sans Gaksital? A suicide bomber mission sacrificing themselves? It's awesome and it kills me. There's just so much heart in these people, and thus so much heartbreak.
Comrade Notsital lights the fuse. Everyone gapes in horror.
He explodes. BOOM.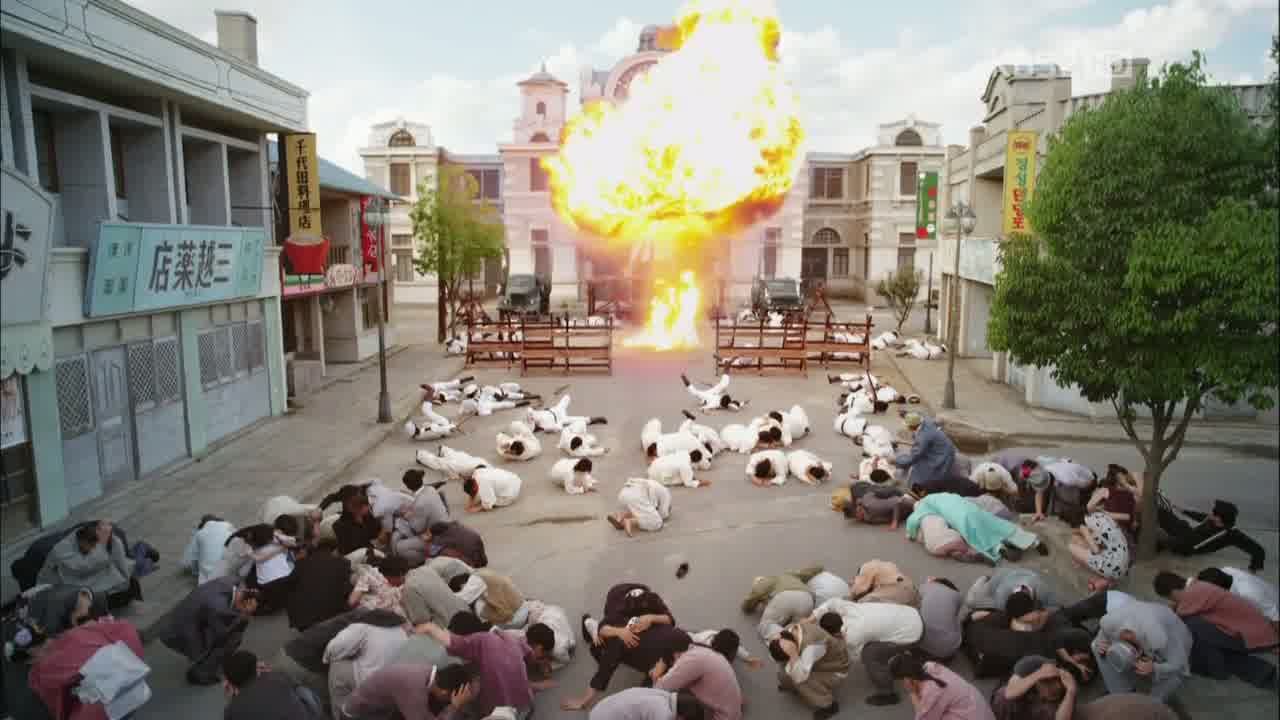 COMMENTS
ANOTHER WEEK? *Resumes withdrawal shakes.* See, that's the problem with addiction: just when you've got it out of your system, another hit takes you right back.
Let's talk about Shunji first, because he had quite a lot of screentime today, more than Kang-to. I'm seeing less and less of his feelings warring with themselves in a sincere way, but I'm enjoying the way he's playing them in seeming conflicted, for the sake of appealing to Mok Dan, or Sun-hwa. Basically he's losing his connection to compassion and arguably his humanity, but he's becoming much better at figuring out how to fake it believably. Which is just devious. When he holds Mok Dan close and she tries not to recoil—I was just about shrinking back in my seat in repulsion. Park Ki-woong has gotten well into character and done a really credible job making me believe him, and it's great.
That said, I love that it's Shunji's vanity that fools him in this episode, which makes me gloat a little at his expense for believing Mok Dan's cover story. He wants to believe Mok Dan prefers him to Gaksital's company, and thus she returned to him for protection in the end rather than escaping with him. And despite her steadfast faith in Gaksital all series long, he's so eager to believe that her connection to the hero is misguided that he buys her (frankly flimsy) explanation of Oh well, I thought it was that guy I loved, but it's not. Oops. It's satisfying.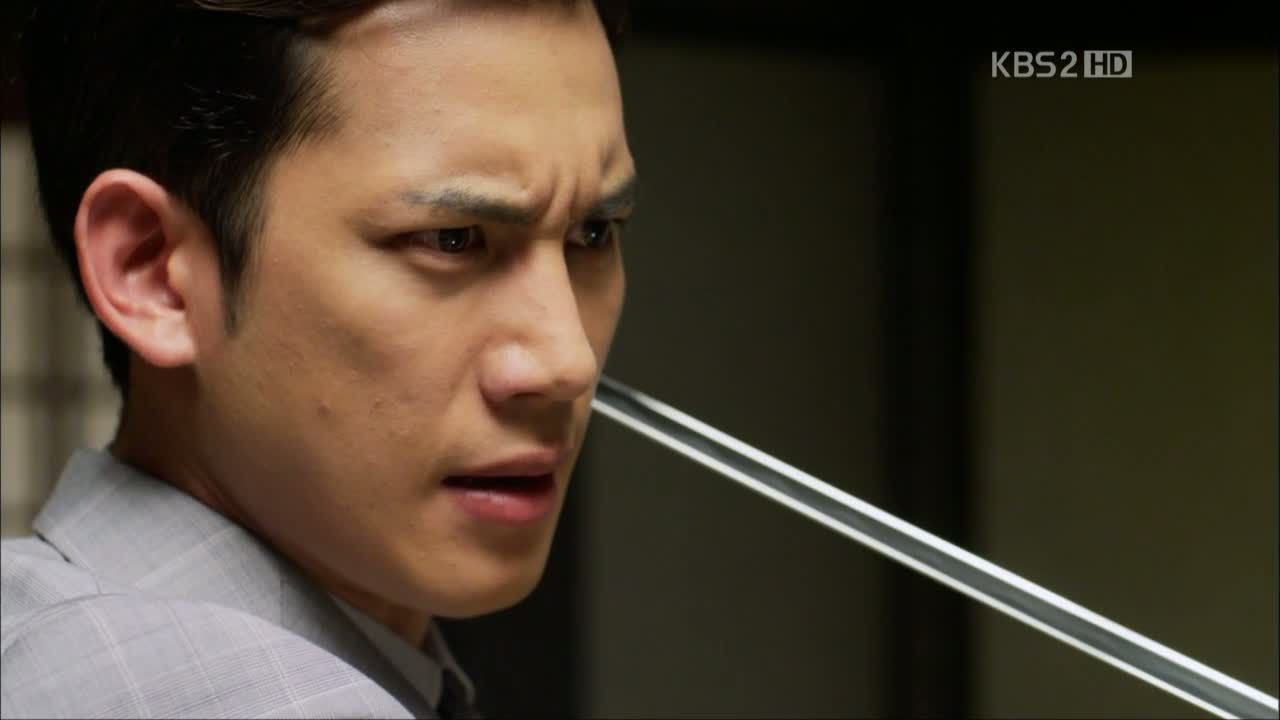 You'd think an episode this light on Kang-to and Gaksital would be disappointing, but on the contrary, it's pretty epic, and on a grander scale. We've been building to this point where Kang-to comes to reconcile his personal revenge with justice at large. Now he gives voice to that dilemma, and he seems to be willing to shoulder that burden—or perhaps more accurately, he doesn't see it as a choice but an inevitability. In the face of what he can do to fight the injustices he sees, there's no question of turning away.
If it's surprising that his hero turn comes in such a quiet, small moment, I think it really works on a macro level, because just as Kang-to makes that realization about himself personally, we see it directly play out in the final scene. I freaking loved when everybody took off their coats and revealed that they were wearing white underneath. Not directly in support of Gaksital, per se, but as a bold act of defiance standing up for what Gaksital fights for. Which is them.
So they fight right back, even though it's frankly an unwinnable battle in the courtyard. But the odds don't matter, and that's what makes it so moving, that they didn't organize this big, complex revolt and synchronize their actions to buoy a specific goal. What matters is the spirit of the act, and the solidarity. Gah, that whole sequence had me in tears, from Boss Jo's cry of comradeship with Damsari to every last commoner who joined in.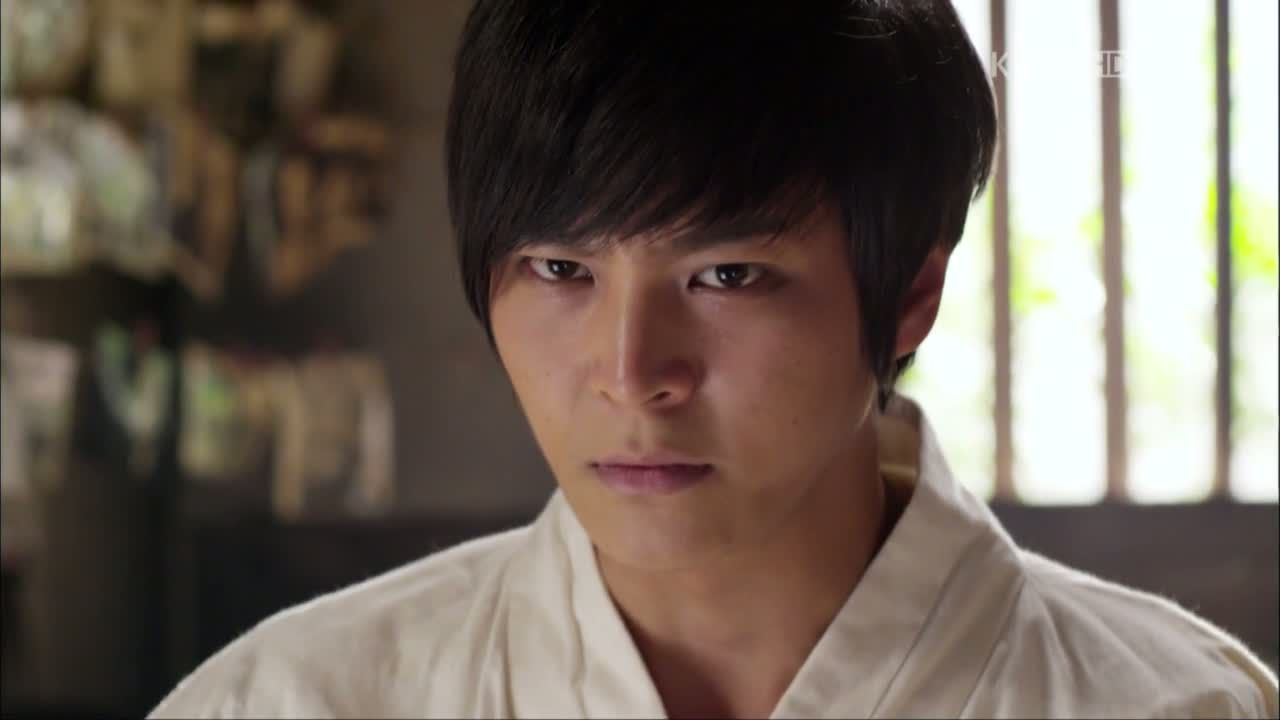 Already Gaksital has become more than himself. He's irrevocably become part of the fighting spirit, whether it's as the literal masked man engaging in combat, or the ideals he represents. It's why the comrade in the end is able to mobilize the same response in the people although he's not technically THE Gaksital. Although I… have no idea what to expect of the reaction to his self-sacrifice. Will everyone pat themselves on the back for finally destroying Gaksital? Or… uh… is the action literally too explosive to frame in a happy, propagandistic way?
(As an aside: I love the inadvertent conflict that Episodes 17 and 18 dropped in Kang-to's lap, although I'm not necessarily convinced it was meant to be that deep—that Gaksital is put into direct conflict of choosing to save Mok Dan or Damsari. His rescue of the girl directly impeded his ability to save the father, which was a nice way to depict a clash we knew had to be coming at some point.)
To bring it back to our main characters, will it ease the heat off of Kang-to? One thing I loved about Mok Dan's discovery, aside from the obvious (smoochies!), is that now Kang-to has a confidante. Aside from being able to unburden his worries with somebody who's completely on the same page as he is, WE have a reason for them to talk out their inner thoughts more, when before we had to make do with tortured silences and longing looks. Narratively, it's a nice development.
RELATED POSTS
Tags: featured, Gaksital, Han Chae-ah, Jin Sae-yeon, Joo-won, Park Ki-woong