Gaksital: Episode 20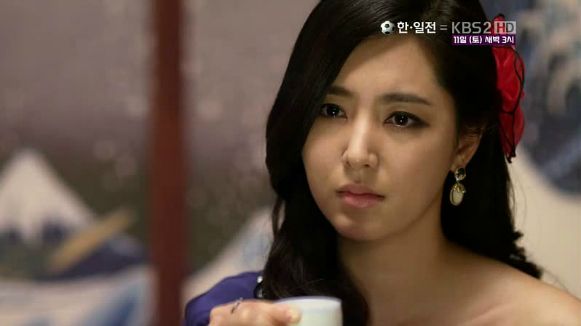 There are no words to describe the awesome. Scratch that—there are expletives, most of which I probably use. I love that Gaksital doesn't shy away from the dark moments in history and the dark side of human nature, both in hero and villain alike. It's a jaw-dropping, terror-filling hour, but I promise you'll come out the other side cheering. Also crying. But cheering still.

EPISODE 20 RECAP
As his first order of business as the new station chief, Murayama fires Kang-to for his no-shows, his inability to catch Gaksital (um, then you'd have to fire everybody), and the kicker: because he's Korean.
Kang-to stands his ground and argues that he can't accept the orders and asks that he change his mind. He can't be fired for being Korean.
But Murayama is not your average, shall we say sane, bear. He rips into Kang-to with a crazy fury, kicking and punching him bloody for daring to defy his orders. He screams that a Joseon person cannot be trusted and points Kang-to's own gun at his forehead.
Alarmed, Shunji intervenes and holds Murayama back and tells the others to drag Kang-to out. They toss him to the curb. Murayama now understands why Kimura said Kang-to couldn't be tamed, and gives the order that Kang-to is not to step one foot inside the station.
Koiso happily follows Kang-to out to taunt and gloat, and says he can't ever come back here… which Kang-to ignores by coming right back in here. Ha.
He comes in with officers hanging off his limbs trying to hold him back, and screams for Shunji to repeal the order. Shunji just turns his back and shuts the door. Ouch. And a poor blubbering Abe cries, clutching Kang-to's hat. What will the puppy do without his master?
Koiso comes in to share his happy moment with Shunji, finally admitting how much he hated Kang-to. I don't think that's quite the confession you think it is. He says that he's only telling Shunji now because Kang-to is out: "Kenji killed Kang-to's mother." Eep! Why are you telling him that?
Shunji can't believe it and asks why. Koiso says Kenji thought Kang-san was Gaksital, but that would be ridiculous. Yes! Ridiculous! Stop barking up that tree!
And then the bastard laughs that the locals lit their house on fire and conveniently covered up Kenji's crime, leaving Kang-to none the wiser. Shunji gapes and asks if Koiso is sure Kang-to doesn't know.
Koiso: "Of course he doesn't. With that temper of his, would he have left it alone? He'd have stormed in here and killed Kenji twelve times over." That immediately flashes Shunji back to the moment he saw Gaksital murder his brother.
Oh. Crap. Is there never a day of rest for the secret identity? I know, it's a good thing. But my heart can't take it!
Shunji makes the connection right away and thinks to himself: "It can't be… the Gaksital who killed Hyung… was Lee Kang-to?" He gets up with alarm and thinks: if Kang-to knew about Kenji and then pretended he didn't all this time…
Double crap. He tells Koiso to capture Kang-to at once, and goes tearing out of the room. Thankfully by now, Kang-to is nowhere to be found.
He's knocking on Rie's door, where he's greeted by a non-hostile Katsuyama today. (Okay, so his nice face is the same as his mean face, but any exchange without swords is a successful one.)
Kang-to tells Rie that he was fired today by the new station chief, and she fumes to realize this was Kimura's retaliation for wanting to bring Kang-to in. She tells him it won't matter because she's on her way to ask the chairman for his entry into Kishokai.
Kang-to thinks to himself, "Kishokai. So that's the name of your organization." It's nice when the baddies feed you clues. He wonders what he can do as an unemployed nobody, and Rie asks where all that ambition went to.
He says he's got plenty of that, if nothing else, and she says that's the one thing the chairman wants. Kang-to asks what kind of man he is, and Rie says he's someone who values desire more than ability—he's sure to like Kang-to.
He asks when he can meet the man, and Rie runs her hand down his chest, "Soon." Rawr.
He walks her out and she invites him to dinner at the gisaeng house to hear how her meeting went. I just love the hairy eyeball from Katsuyama while the two lovebirds are exchanging pleasantries. It's kind of making my day.
He's so wrapped up in it that he forgets to close the car door for a second, eliciting an annoyed look from Rie. I would love a Zeppo episode for Katsuyama—him pining for Rie while he has to pick up her dry cleaning and assassinate the people he's told to, with Gaksital running past in the background to save another day.
Kang-to leans in to give Rie a smooth smile as he sends her off.
Shunji tells Dad what he found out, and Dad reels—if Kang-to knew about Kenji killing his mother this whole time but pretended not to, it's likely he's Gaksital. Shunji says he's not sure, but that's why they can't kick Kang-to out of the police force now, because he has to keep him close to find out.
Kimura and Murayama get called in by Chairman Ueno, where Rie takes them to task for firing Kang-to as soon as she mentioned bringing him into Kishokai. But Kimura says there's a distinct possibility that Kang-to is Gaksital, which enrages Rie.
She totally DOES have a blind spot for Kang-to. Love it. She argues that Shunji himself swore that it wasn't possible. Murayama of course argues that he can't abide a Joseon person being an imperial officer or a member of Kishokai.
Ueno quickly dismisses Kang-to's entry into Kishokai, leaving Rie fuming in silence. He turns his attention to the war in China and the importance of not failing the empire at this crucial time. He charges the police with the task of fulfilling the empire's request… for comfort women. Oh. My. God. We went there. I'm impressed.
Rie goes straight to Shunji to ask for his help in getting Kang-to into Kishokai. But Shunji shuts her down right away, which surprises her—isn't Kang-to his friend? She reminds him that he's the one who insisted Kang-to couldn't be Gaksital.
He says he's found out some new things that put him back in suspicious territory, and wonders why she's so intent on making Kang-to part of Kishokai. What, you're the only one who gets to have an inappropriately controlling one-sided crush?
She asks what the new evidence is, but he condescends: "You don't need to know." She warns that she wants to kill Gaksital as much as he does and wonders what he'll do if she catches him first. Well I don't like the sound of that.
Kang-to gets his wounds treated by Baek Gun, who says getting fired is a good thing, but Kang-to just makes him worry even more by saying he needs to get into Kishokai to get to the chairman.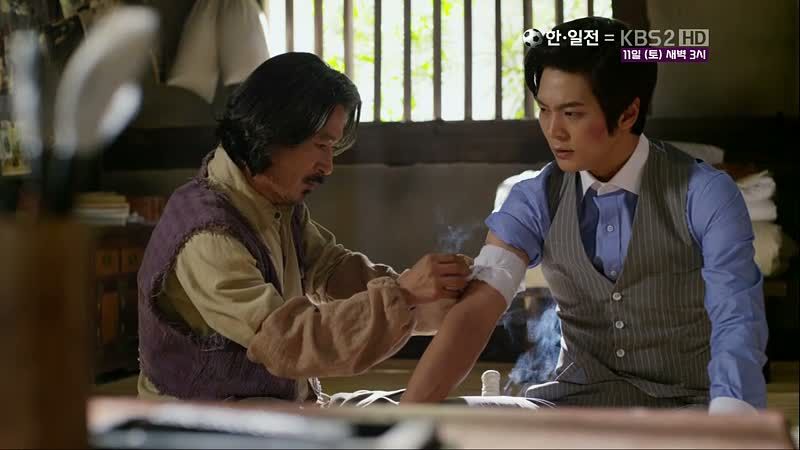 Baek Gun worries that he can't take on all those people alone—what could he possibly gain by joining Kishokai? Kang-to says he's got to get into the lair to cut off the head of the beast, which he does mean literally. He sighs. The poor Alfreds of the world. Always cleaning up after your superheroes.
Rie ponders Shunji's words, and then asks Katsuyama: when he fought Gaksital at the gisaeng house, where did he injure him? "Right arm and right thigh." She repeats the words. I can't be the only one thinking this: is she planning to get him nekkid to check? *sits up straight in chair*
She dopes up his drink to speed along the process and waits for him to arrive at dinner. He gets escorted in by Masako, the gisaeng he romanced to get to bank president Jo, and she adorably pouts at him for going to meet Rie. He just smiles at her, and I'm kind of amazed that he's working two angles at once.
She breaks the news right away that Kishokai isn't prepared to accept him with open arms just yet, and he sighs in disappointment. She tells him to wait a little longer while she convinces the chairman, and he guesses that the man who adopted her is the chairman of Kishokai—how else could she be in such a position of power?
She's taken aback and gets defensive, wondering if it's her Kang-to is curious about, or Kishokai. He answers that it's both, and she asks disbelievingly how he could be curious about her when he didn't remember who she was. Besides, his heart is filled with Mok Dan and Mok Dan alone.
He suppresses his surprise and says nothing.
Rie: I'm a woman who lost her parents at the age of nine and walked in to become a gisaeng on my own two feet. I can know what a man is thinking by the look in his eye. I know you approached me because of Kishokai. But that you want to know me, that you're curious about me—don't tell me those lies.
Augh I love her. It's that amazing duality of a woman so sharp and jaded that she knows it's a lie… but the delivery tells me she wants to believe it. So. Good.
And Kang-to matches her line for line, with those sincere eyes. He apologizes for ever making her think that way, and says he really was curious about how that gisaeng became Lala.
Kang-to: "If the same circumstance five years ago happened today, I would save you again. Whether you were Lala or that gisaeng."
That's it. That's the thing that breaks her, and you can see it in her eyes. Her lip starts to quiver ever so slightly, and her eyes brim with tears.
But she swallows it back with a breath and then holds up her glass for a toast. He downs his shot (No!) and she sips hers just barely holding back a tear.
He gets droopy-eyed in no time and slumps over in a happy sleep. She takes a breath and then walks over to him. As she pauses over his unconscious body, she says aloud:
Rie: If you are Gaksital, you would have seen me try to kill the woman you love. If the same thing five years ago happened today, you'd save me again? That obvious lie… why do I want to believe it so?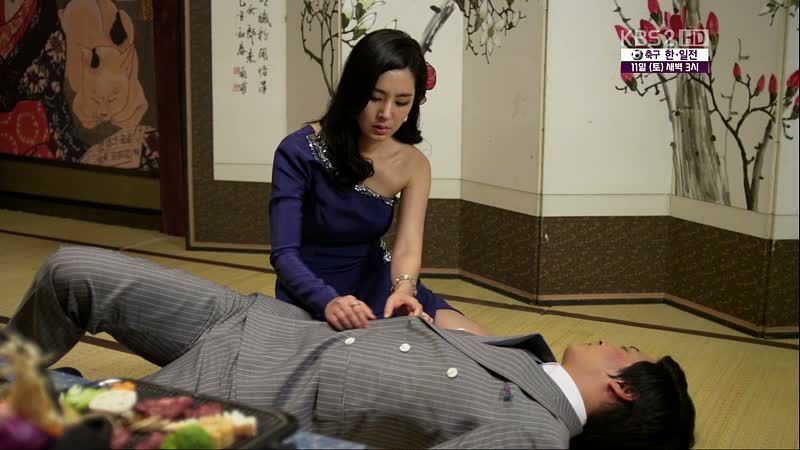 She braces herself and starts to unbutton his jacket…
I'm so nervous! Where's the interruption fairy when you need her? She pulls up his shirt sleeve…
And reels to see the bloody bandage on his arm.
HOLY. Omg she knows! Aaaaaaaah! AAAAAAAAAH!
Tellingly, her first instinct is to cover it back up in a panic. She stumbles outside and tells herself to get it together—Kang-to is Gaksital, so what is she waiting for? She can't hesitate now!
She calls Katsuyama over… Oh no! Ohgodohgod…
He waits for the word. She balls up her fists. "Bring Masako over." Oh phew. That means Kang-to's safe, right? No kill order means she's going to keep the secret, right? It's still making me a giant nervous wreck, but I think we're in the clear for now at least.
General Wada calls the police officials in to tell them the latest turn in the war is going badly, and that the biggest problem for the Japanese army isn't the attacks of guerilla warfare, but venereal disease.
Kimura says what they need to do is round up "clean and healthy" Joseon girls to send to the troops as comfort women.
Fuck.
Wow, there are no words. Appalling doesn't do this scene justice. I'm seriously about to lose my lunch. Why do I always get the episodes where I need twenty showers after?
Murayama actually smiles as he says that he'll task the police with rounding up the women. Wada reminds them that the great empire can in no way have used government officials in the act of supplying comfort women, and Kimura assures him that no one will ever find evidence that the government was responsible.
Wada tells them to make sure there are no traces, and Murayama says that he'll be sure to find poor and healthy girls. My skin is crawling so badly right now.
They laugh. And smile. And clap. I'm feeling violent.
A man and woman come by the circus to recruit young women to be nurses to tend to the troops. They show the announcement in the paper saying that the government will pay a monthly salary to anyone who signs their name to the roster.
The girls look up with hopeful smiles at the promise of regular wages for what sounds like an easy job. Don't do it! Boss Jo ushers them out, insisting that they will not be nurses to Japanese soldiers, but the girls eye the newspaper announcement with excitement.
Kang-to finally wakes up in the gisaeng house and asks Masako what happened last night. She says Lala left as soon as Kang-to fell asleep and left him in her care. He only remembers having the one drink and can't figure out what happened.
He storms over to the hotel and pounds on Lala's door, calling out her name over and over. She sits inside, sipping her tea and not moving a muscle. Katsuyama tells her about the time Kang-to followed him here, and warns that he's clearly got an ulterior motive in getting close to her.
She assures him that she knows, but doesn't betray any more than that. She calls Shunji to ask him to remove Lee Kang-to from the hotel.
Kang-to finally gives up and heads outside, where Shunji catches up to him on the street. He plays the concerned friend SO WELL it creeps me out—he tells Kang-to he's been looking everywhere for him and that it took some doing, but he got him reinstated. Kang-to looks surprised and they head to the station.
Boss Jo worries that with the nurse recruitment offering such a hefty salary, they'll lose all the girls. Mok Dan (having actually been trained as a young nurse) says it's weird that they'd be offering untrained girls so much money—it's more than professional men in that field make.
They decide it's weird (OHTHANKGOD) and agree to look into it.
Kang-to comes back to the station and puts on his uniform, though he's on his guard—there's something weird going on here too, and I'm just glad our good guys are getting the suspicious bug when it matters.
The score is going to a creepier place too, and I like it—it fits my creeped-out mood.
He gets a call at his desk from Mok Dan, who tells him about the nurse recruitment. She asks him to look into it to see if it's legit, and he promises that he will.
Shunji calls everyone to attention as Murayama addresses them. That little sneer he gives at Kang-to's reinstatement is very satisfying.
He announces that they'll be tasked with the mission to recruit young Korean girls to be sent as comfort women to the troops, and that the police's involvement must be kept a secret at all costs.
Kang-to and even Shunji betray looks of surprise. Well, I guess you didn't need to look into that nursing thing after all. On the other hand, welcome to the skin-crawl club.
For good measure, Murayama gives the announcement on Director Kimura's orders that Koiso be promoted, and Kang-to (he pointedly doesn't use Sato Hiroshi as his name, choosing to call him Lee Kang-to) has been demoted. He yanks off Kang-to's stars.
Everyone congratulates Koiso except for Abe, and Shunji puts a reassuring hand on Kang-to's shoulder and invites him into his office.
Shunji then plays good cop, saying that Murayama is a man who won't listen to reason, and that he had to play along yesterday, and pulled strings above his head to get Kang-to reinstated. Damn, you're getting way too good at this.
Kang-to thanks him, and then Shunji takes a call from Mok Dan. Kang-to makes a move to leave but Shunji tells him to stay. So he can watch you and be heartbroken? He ends the call and says that Mok Dan wants to see him. "You drive." Urg, you bastid!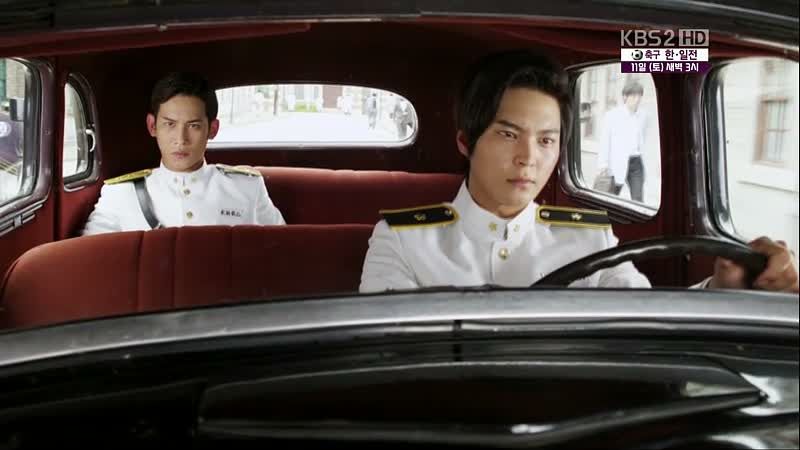 In the car, Kang-to and Shunji play nice, all the while on red alert in their heads. Kang-to knows Shunji had him demoted so he could stick to his side—why? Is he suspecting him again?
Shunji in turn thinks to himself, "Lee Kang-to, if you're really Gaksital, wait and see… I will make you take that mask off."
They pass a pair of girls from the circus signing up to be nurses. Kang-to pauses, knowing what they're really in for. When they get to the circus, Shunji's shocked to find his sentries pointing all their rifles at Mok Dan. Is this going to be her recurring Bugs Bunny gag? It consistently cracks me up how much firepower is required to keep this girl in check.
The officers argue that the circus keeps trying to put on a show, while Mok Dan argues that they have to put on a show to eat and live—how long is he going to keep them on watch like this?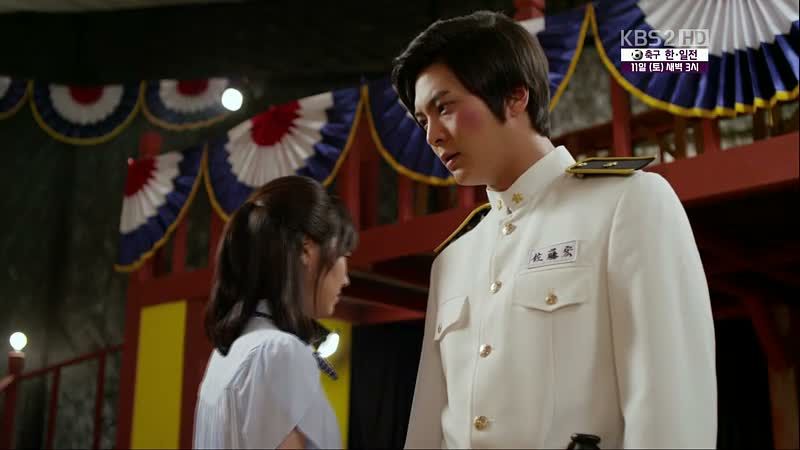 Shunji tells the men to stand down and says he won't guard them anymore. He asks to speak to Mok Dan alone. He walks out and she follows, passing by Kang-to ever so slowly, and he uses that split second to whisper that she needs to stop them: they're not being sent as nurses, but as comfort women.
Her eyes grow wide and she nods. She understands.
Shunji walks with her a while, as Kang-to trails behind them. Then he purposely looks back at Kang-to and grabs Mok Dan in a hug. Evil! But brilliant.
Kang-to looks away and Shunji holds on as Mok Dan squirms uncomfortably. He tells her that he trusts her and won't keep her under watch anymore. "But in return you have to give me some of your heart."
IT DOESN'T WORK THAT WAY.
She's just as creeped out as I am and tells him to stop, struggling to free herself from his grasp. Kang-to actually has to close his eyes to keep from blowing a gasket.
Shunji just grabs her tighter and all the while looking straight at Kang-to, growls in her ear, "Is there anything you're keeping from me?" Her eyes dart in fear and she stops struggling.
He tells her that if she is hiding something, he'll find out whatever it is and snuff it out. He finally lets her go.
Okay, I'm officially scared. That crazy look in his eye, at just the thought that Kang-to and Mok Dan might be hiding a love affair (not to mention the secret identity part) is so intense.
He calls out for Kang-to to follow him and walks off, leaving both of them scarred in his wake. Kang-to walks up and pauses next to Mok Dan for just a moment, and grabs her hand in his.
He lingers there, just as long as humanly possible, and doesn't even turn to face her. And then he pulls away from her grasp as she sheds a tear.
Aw, okay. That was bee-yoo-tee-ful. I could really do with an entire love story for them that's all about the secret and what cannot be. The stolen glances and secret handholds are heart-wrenching and lovely.
On the drive back, Shunji decides to poke the bear a little and asks Kang-to why he hasn't sought out his mother's killer yet—if it were him, he'd have stopped everything to do that first. He vowed to kill Gaksital because he killed Kenji, so why isn't Kang-to doing the same?
Kang-to screeches the car to a halt and pulls Shunji out of the car by the collar. He screams at Shunji to tell him what he knows—does he know who killed his mother? Shunji calmly tells him that he doesn't know anything, and that he'd have told him right away if that were the case.
He apologizes for stirring up old wounds and gets back in the car. Kang-to stands there, catching up with increasing alarm.
He thinks to himself: "Kimura Shunji, have you found out that your hyung killed my mother? Fine. Let's go." Oh hell yeah. *fistpump*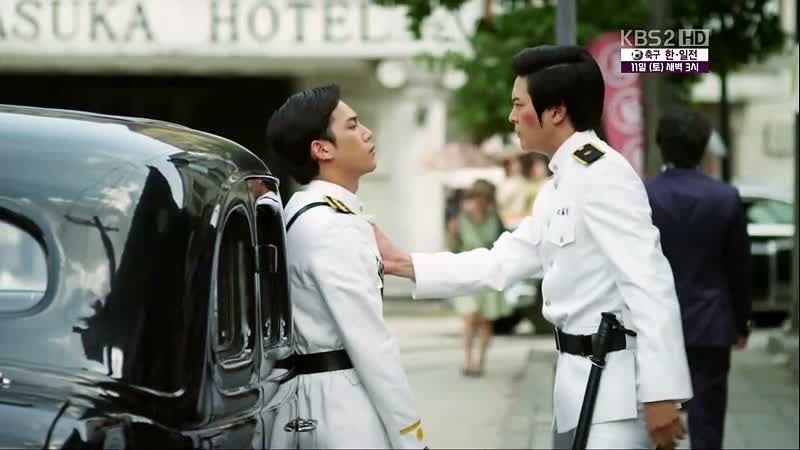 Chairman Ueno tells Rie that his right-hand assassin recognized Kang-to as the man who saved her life five years ago. Oh, you mean the samurai who makes my blood curdle? He's so frightening.
Rie quickly says that's not the reason why she nominated him for Kishokai, but he doesn't look convinced. He puts her in charge of the comfort women to be sent overseas. Okay, now this I love. Because there's just no friggin' way she's going to carry out this task without facing some massive questions about herself, right?
The count and countess do their part to recruit girls, meeting with the couple that runs the girls' school. No, you wouldn't. They tell them it'll be a great opportunity for the students and they agree to send as many as they can. You are! Horror.
They cheer and have a drink, as one such student tells her grandmother that only the smartest students were chosen, and it's a great opportunity to study abroad. She says that she's going to study medicine one day. Grandma gives her a hug, and then they get up as a car arrives…
It's Kimura. Oh wait, Grandma is Shunji's nanny? Dude. She introduces her granddaughter and says that she's been chosen to join the nursing program. She asks Kimura if she should send her.
He pauses and looks at the sweet innocent girl who can't be more than fifteen… and tells Grandma that she can rest assured and send her.
*GASP* You sir, are the devil. HOLY FRAK!
The circus troop waits on pins and needles and Mok Dan arrives to say she's found a way to get the girls to safety. They have to leave town now. But as soon as they get up to go, officers (dressed in plain clothes) come to take the two girls who signed up.
Mok Dan stands between them and says they were duped into signing up and taking them by force is the same as kidnapping. But they're not here to reason, and simply brute-force their way into the room to grab the girls.
They put up a fight and in the fray, they grab Sun-hwa too. NO! They head down the hall with the three girls and Mok Dan runs after them to fight back, earning her a severe beating.
Nanny says goodbye to her granddaughter, who gets into a truck. Somebody stop her! Nanny comes running after her to wave a tearful goodbye and she waves back with a happy, hopeful smile. Ohgod. I'm a blubbering mess right now.
Rie and Katsuyama wait at the checkpoint where the trucks will convene. She orders the recruiter to check the names. Sun-hwa's truck arrives and the girls look at each other worriedly.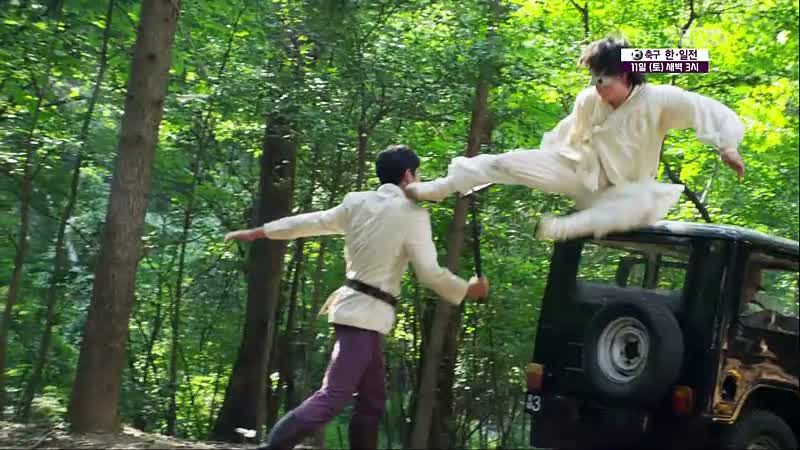 More and more trucks head down the road in droves.
And then! Gaksitaaaaaaaaaal! I have never been happier to see you. WHAT TOOK YOU SO LONG?
He stops truck after truck, beating the officers down with one amazingly satisfying blow after another. Gunfire alarms everyone at the checkpoint and everyone scrambles.
Kang-to gets to Sun-hwa's truck and beats the officers down, and as one reaches for his gun, she bites his arm and screams for the girls to run, telling them where they're really headed.
Kang-to sees the head recruiter weasel hiding in the car and drags him out. He delivers two blows to break his arms and then another right at his neck, and he falls dead instantly.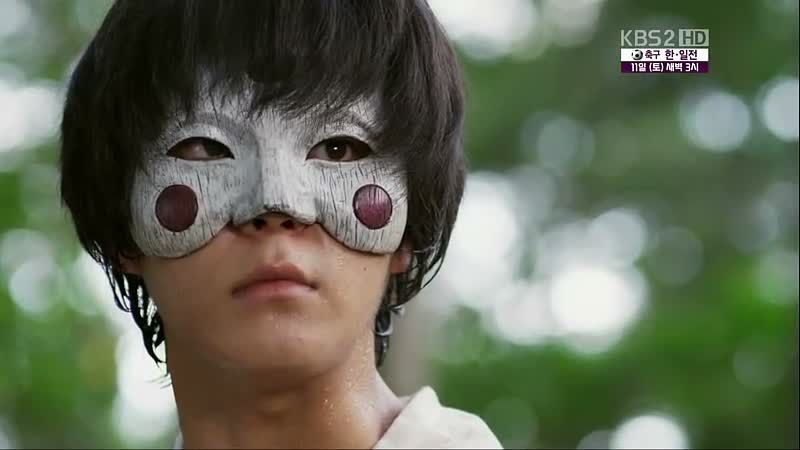 But then a shot rings out, missing Kang-to and hitting a tree behind him. Uh-oh.
He looks up… at Rie, pointing a gun straight at his chest. Holy smokes!
She thinks to herself: "Please, don't make me regret letting you live."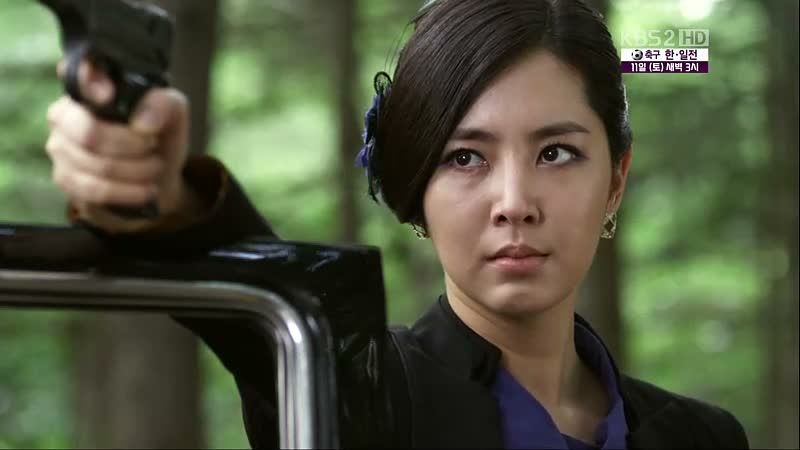 COMMENTS
Oh man, how much do I love where we're going with Rie? Her Kang-to/Gaksital conflict is the perfect mirror-opposite of Mok Dan's (it's the man she loves and the mask she hates). And still there's so much more to explore. I can't believe she found out, but I love that she knows, because it throws her into a much more precarious position: Does she follow her heart and protect Kang-to? Or does she follow her orders to kill him? Mok Dan finding out the secret identity is very different in that it ends the conflict for her—she just chooses Kang-to, which introduces a fraught secrecy to their romance, but loving him was never a question for her. Rie, on the other hand, gets turned upside-down by knowing the truth, and it's great to watch.
I really hope we take her conscience for a ride, because no matter how much she says she's cut her ties to her roots, how can she stand by and watch as Joseon women, girls who know nothing of the world, get carted off as comfort women? There's SO MUCH for her to identify with, as the girl who walked into a gisaeng house at the age of nine. It's a fantastic setup for her character, and I really hope this isn't the last of the comfort women storyline, because more than Kang-to, there's a redemption arc for her in this story thread. Just as she knows Kang-to's words to her are lies that she wants to believe, there's an entire identity that she's shaped in the same way, and I think loving him despite all that will start to wear her down and make her question fundamental things.
I feel like they've finally figured out the perfect hero-villain balance when it comes to Kang-to and Shunji outsmarting each other and catching on to the other's suspicions faster. Kang-to was frustratingly trusting before, but now he's meeting Shunji lie-for-lie and it makes every interaction between them charged with murderous tension. When Shunji hugged Mok Dan entirely as a show for Kang-to just to see his reaction, knowing what he knows? That was sick and kind of genius. Now I look forward to their cat-and-mouse games, because it's more like cat-and-cat, and someone's going to lose an eye.
I figured they'd find a way to back out of Kang-to losing his job, because I can't fathom his character out of uniform. It would have been nice to have a couple of episodes with him floating about jobless like Kimura, and a little more desperate, a little less connected. There could be a lot gained from breaking out of the formula, but it doesn't look like they're confident enough to go there. At least the demotion is another obstacle for him, though really the big one is Murayama, who I have to hand it to, is worlds better as a big bad than the blustering men of so-called power before him. He's great for the story, not so much for my blood pressure.
I do think the show took a misstep in wasting a huge opportunity with Damsari. When they closed that arc I was waiting for the big official reveal—when either Damsari would know for certain that Kang-to was Gaksital, or when he'd say that he's known all along since so-and-so. The moment Damsari sees Kang-to fighting on his side was so epic and I was chomping at the bit for them to show me the big one, but they skipped it, which boggles my mind. Admittedly, this show consistently drops my jaw and delivers in ways I didn't expect. But once in a while there are key hero moments that are left by the wayside, and at times I just wonder why that ball was dropped. If they were going to put Damsari in hiding and bring him back later, I would rather he not know, to save the big moment for the end. Sigh. I know; you give me a feast and I'm complaining that I didn't get a cherry on my sundae. It's just… I want you to be perfect! It's only because I love you!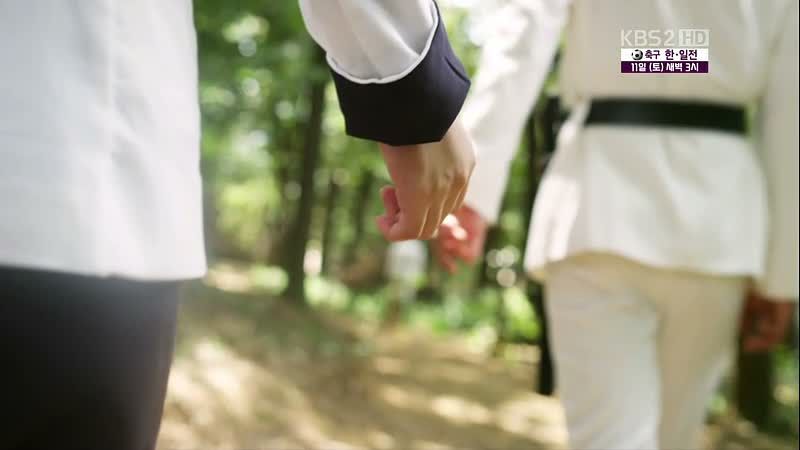 RELATED POSTS
Tags: featured, Gaksital, Han Chae-ah, Jin Sae-yeon, Joo-won, Park Ki-woong