Gaksital: Episode 23
With the revelation of some secrets, it's time for the cat to play with mouse… or is it cat pretending to be mouse, playing with cat? It's a merry-go-round of feigned ignorance and false senses of security… and my nerves are at a fraying point.
It's also time for the grand plan to be revealed, as forces are drawn together and the independence ups the ante. And here you thought the stakes couldn't be upped any further.
SONG OF THE DAY
Epitone Project – "Terminal" [ Download ]
Audio clip: Adobe Flash Player (version 9 or above) is required to play this audio clip. Download the latest version here. You also need to have JavaScript enabled in your browser.

EPISODE 23 RECAP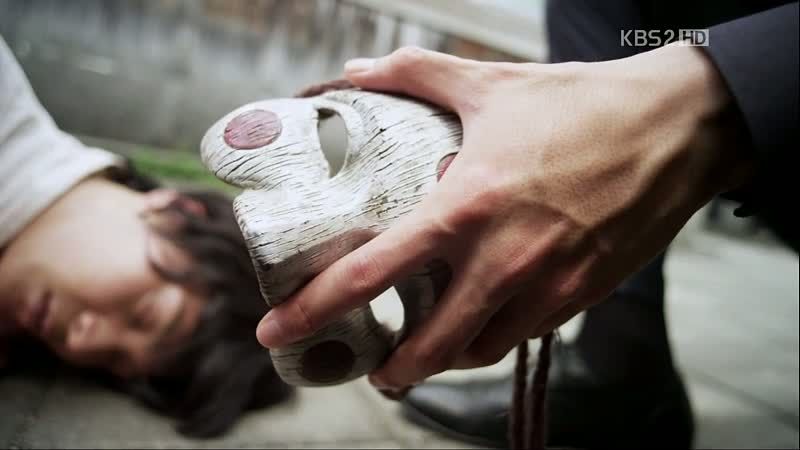 Gaksital rescues Reporter Song from police imprisonment, not knowing this is a trap: Kishokai's scary samurai assassin attacks, injuring him badly enough that he collapses… giving Shunji the opportunity to confirm his suspicions.
Off comes the mask. Shunji: "So it was you after all. Lee Kang-to, it was you."
He thinks back to all the times Kang-to deflected suspicion, seeing those encounters in a new light. Oof. I know Shunji doesn't really get to play the betrayal card here in light of his own catalogue of misdeeds, and yet, the fact remains that his best friend lied to him, over and over, and made Shunji feel he was the crazy one. Not an intentional Gaslighting, but an effective show of mindfuckery all the same.
Shunji practically vibrates with hurt and rage: "How could you…?"
He thinks back to Gaskital murdering his brother, and holding his father hostage… What a dangerous thing a memory without context is.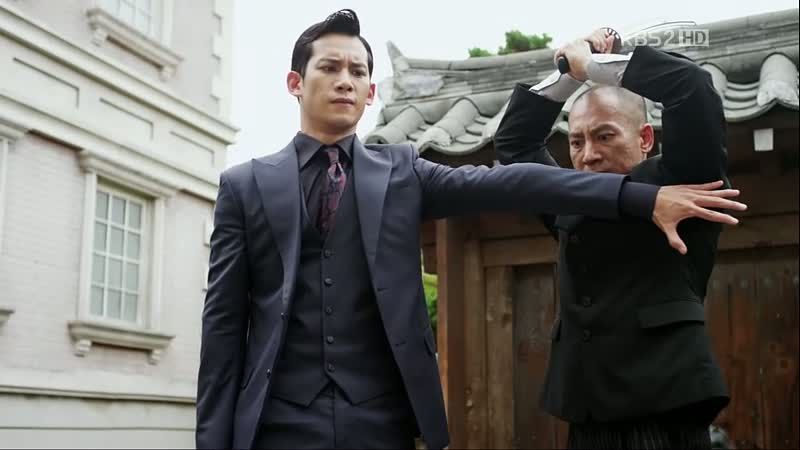 Samurai Assassin joins Shunji and raises his sword for the deathblow. But Shunji does something more ominous than stepping aside: He puts the mask back on Kang-to's face, and stops the assassin.
Mok Dan paces in her room at the inn, worried sick at the lack of an "All clear" phone call. Boss Jo tells her to be patient, and she tries to tamp down her uneasiness.
She steps out into the hall and stops short at the unexpected visitor. Rie.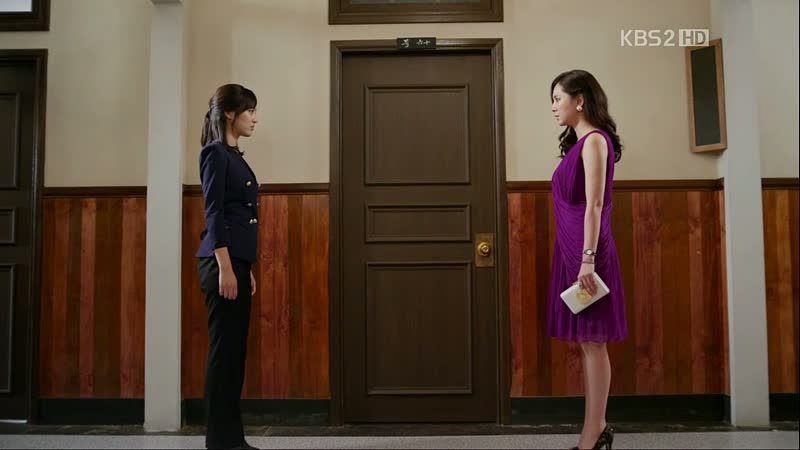 Rie doesn't look murderous today — could this mean… a change of heart? She gives Mok Dan a set of passports and tickets, along with a stack of cash. Citing the Japan route as the safest, she urges her to flee on a boat there, then onward to refuge in the West — with Kang-to.
Altogether now: Awwww. I love this.
Mok Dan is understandably suspicious: Why? Rie admits, "It's ridiculous, but I've fallen in love with Lee Kang-to." She can hardly believe it herself, and she expects to be ordered by her organization to kill Kang-to directly. "For the past two days, all I've thought about was whether I would be able to kill him. That is why I've come to this decision."
The admission shocks Mok Dan — could Rie know that he's Gaksital? She isn't going to tip her hand, so she says coldly, "Why are you telling me this? What do I care about Lee Kang-to?"
Rie's stunned at that reaction. She asks, "Don't you want to leave with him? With this money and these tickets, you could live happily without worries."
Mok Dan thinks to herself, "He says he cannot take off the mask, because of the suffering he sees all around him. That intention, that will—I support and love it." She tells Rie she understands how she feels, but asks her to leave.
Rie leaves reeling.
Shunji reports to Chairman Ueno, confirming that Gaksital is Kang-to. Nooo! And this is what we call a point of no return; you just don't get to backtrack from here. Samurai Man confirms that Kang-to is the Joseon officer who saved Rie five years ago, which suggest that Rie knew Kang-to's identity and hid it from them. The chairman muses, "Lala is a Korean after all."
Shunji's surprised to realize Rie's Korean, but it explains why the chairman wasn't angered by his request to kill his daughter — which he admits to himself that he'd expected the chairman to balk at.
Chairman Ueno asks if Gaksital was killed. Shunji explains that killing him on the spot would have made it impossible for them to track down Yang Baek. And if Yang Baek remains alive, the people's spirit will live on. It's an answer that impresses Ueno and says proudly, "That conviction is the future of the great Japanese empire."
He tells Shunji not to tell Rie about him knowing Gaksital's identity. Shunji asks for a promise in return: "Permit me to be the one to take Lee Kang-to's life with my own hands."
Mok Dan slips out to the hospital to see Kang-to, where Comrade Ahn brought him after finding him in the street. I don't know if it's worse that she's seen by Shunji from across the street, or that she looked and still missed him. I mean, at least if she were careless I could understand; but to just be that terrible at watching your back? It's a wonder you're still alive.
Mok Dan takes over Kang-to Watch while the comrade exits… and is spotted by Shunji. Damn damn damn.
Comrade Ahn clocks his follower, however, darting out of sight and losing his tail. Phew, crisis averted. For now.
He returns to the hideout in a backroom of Club Angel, where they treat Reporter Song's injuries. Tasha uses a mirror disguised as a door to return to the club, just in time to greet Shunji loudly and usher him to a room.
Tamao arrives moments later and gives a chipper hello, only to be ignored by Tasha. Aw. You'll need more than that to make up for your drunken assiness the night before.
Tamao joins Shunji in his room, either disregarding Shunji's dark mood or trying foolishly to lighten it with chatter. He nostalgically reminds them of the old days when he, Kang-to, and Shunji were a tight trio of friends. Shunji cuts him off to order him out.
There's this fleeting look that crosses Tamao's face that kills me — this lonely look of a guy who misses his friends and doggedly tries to revive that memory, even though Shunji is clearly nearing the end of his patience.
Tamao pushes aside the emotion and continues with his story. Shunji leaps up, enraged, and slaps him across the face.
As if that's not enough, he picks up his pistol and levels it at Tamao's forehead. "This son of a bitch laughs? Friend? Me, with a damn Korean?"
Shunji storms out in a fury. Tamao slumps in shock, and Tasha — with Tamao still in the room — knocks on the mirror-door, telling her comrades the coast is clear. Whoaaa.
The comrades look sharply at him, but Tasha says pointedly, "You do not have to worry about him." Awesome! What a sign of trust, and just when he was feeling the most lost.
Mok Dan tends to Kang-to, who finally stirs. He's uneasy about recent events and wonders why Samurai Man showed up — is Kishokai out to get him?
Mok Dan informs him that Lala stopped by and offered them help to flee the country. She wonders, does Lala know he's Gaksital? And despite their history, she could feel the sincerity of Lala's feelings for Kang-to.
Kang-to tells her of saving Lala's life — and that she's actually Korean. He thanks Mok Dan for rejecting the offer, and she reminds him that they'd travel this path together.
Rie is summoned by her father… who tells her he's decided to accept Sato Hiroshi into Kishokai. What in the WHAT. Ohhhh crap.
Rie protests, saying that she was too hasty in recommending him. Chairman Ueno smiles like a cat toying with a mouse before the kill, and asks why — does she agree with Chief Kimura that he may be Gaksital?
Katsuyama, with his hand on his sword, sees Samurai Man slowly preparing his own. Both bodyguards tense, waiting to strike.
But Rie shocks them all by saying yes, that she is now suspicious of Kang-to being Gaksital. Therefore the matter needs further exploration.
It's enough to make Ueno back down, and he tells his man, "It is not time yet." Samurai Man releases his sword, as does Katsuyama. Oh phew. Not to say the samurai clash wouldn't be thrilling. I'm just not ready for Rie to face her doom yet.
Comrade Ahn and Reporter Song reunite with Teacher Dong-jin, who welcomes them back. He is eager to make contact with Yang Baek and find out what large-scale plan is in the works.
The comrades listen closely to an American radio report of the war. They believe that more Western powers — the U.S. and U.K. among them — will soon join the Pacific conflict, which will mean Japan's defeat. Dong-jin: "This means the time of our independence is drawing near."
(History note: The drama began in 1932, so we're still 13 years off from Korean independence. But Japan's imperialistic aggression was decades in the making, and the Sino-Japanese War would officially break out in 1937.)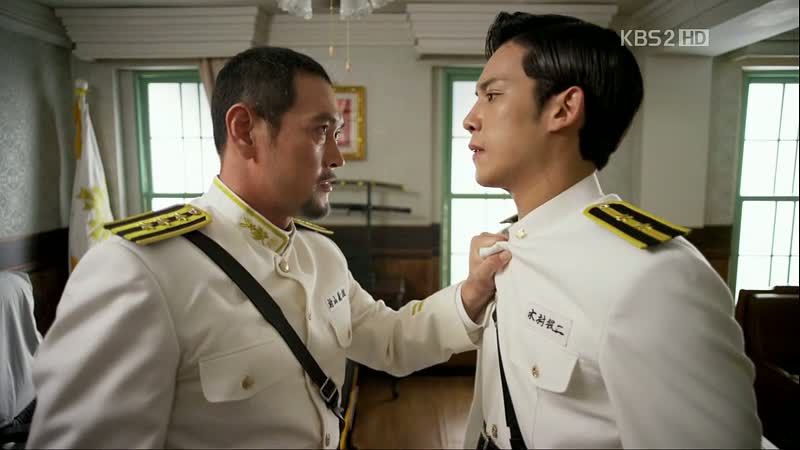 Shunji reports to Chief Murayama, who is furious at the failure to capture Dong-jin. Not generous with patience to begin with (or, face it, sanity), he demands that Shunji reveal his larger plan now.
Shunji actually looks bored, which strikes me as incredibly ballsy. He gives his regrets — he won't spill. Murayama punches him in the face and threatens him. Only to get Shunji's warning, "Don't do something you'll regret later."
Shunji declares that he'll catch Yang Baek, Dong-jin, and Gaksital and hand-deliver them all to Murayama in due time: "How will you look me in the face then, treating me like this now?" Guh. Did you really say that?
But the thing about such confidence is that it's convincing. Murayama backs off, asking if he's that sure of himself. Shunji answers yes, that there's a time to kill and a time not to: "But a prepared strategem can kill even the enemies who are invisible." And this is why you are the smart Kimura.
Koiso reports that Kang-to hasn't shown up today either — can't they fire him? Shunji tells him not to be so harsh, since they're all one family. Understandably, Koiso is confused at the leniency.
When Kang-to reports for duty, he apologizes to Shunji and cites an accident yesterday that gave him minor injuries. Kang-to doesn't mention Gaksital's interference yesterday, so Shunji informs him about it — hadn't he heard?
Kang-to feigns surprise, and Shunji plays along, and all this acting and hiding is doing a number on my nerves. Shunji draws the conclusion that Gaksital is connected to Dong-jin, and says, "Instead of working separately, we'll have to investigate this together."
Did your heart just drop into your stomach? 'Cause mine just did. They both act pleased to be working together, and Kang-to says it'll increase the odds of catching him.
Murayama calls his officers together, instructing them to ferret out the sources of groundless rumors sweeping through the Korean populace. He declares that the loss of Dong-jin's disciple (Reporter Song) to Gaksital is a result of the officers being lax in their "Japanese spirit."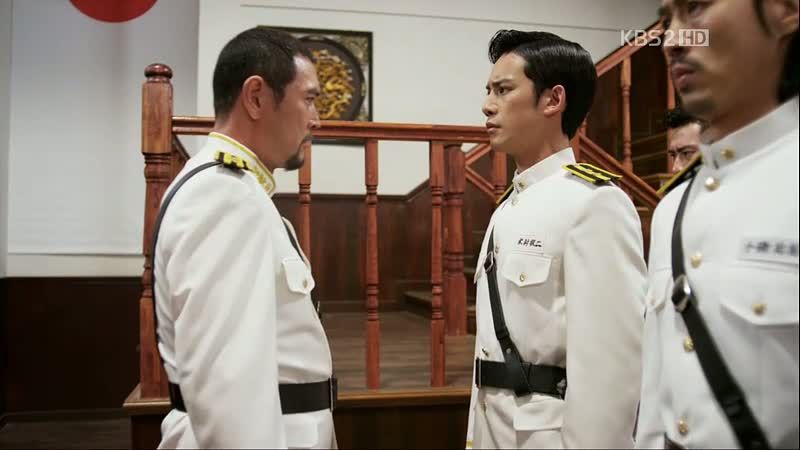 To everyone surprise, Shunji interrupts to contradict the boss: Who could develop loyalty to a system that demotes or promotes without grounds? It's only right, he argues, that Sato Hiroshi be re-instated to his rightful rank.
Murayama clocks Shunji in the face. How dare he challenge him?
Kang-to offers Shunji a hand. Aghhh, why is he so crafty? What better way to earn Kang-to's trust than to stand up for him and be punished for it?
Murayama reports this to Kimura, who's alarmed to hear it. Murayama refers to Shunji's own nepotism-based promotion, and asks Kimura to remember the line between personal and professional.
Nanny hesitantly approaches Kimura to ask after her granddaughter Soon-yi — she's okay, right? Ack, what a question. She shows a letter that was sent to the wrong place, so now she's worried about Soon-yi. Kimura barks at her, and she meekly removes herself with an apology. I hope she never finds out what happened to the girl, poor thing. Sometimes the truth sets you free, and sometimes you really just can't handle the truth.
The pressing concern for the empire now is the escalating conflict between China and Japan. Kimura proposes the use of Korean soldiers — something Murayama violently protests: "You mean to give those Koreans guns?"
Kimura argues that it takes years to grow and develop soldiers, and in the meantime their Japanese soldiers are dying on the battlefield. The answer: "Refashion those Koreans into imperial soldiers." Governor Wada approves this idea, and gives his officials the go-ahead.
Kimura shares Operation: Brainwashing with his usual cronies, the count and countess and the parliamentarian couple. Suggestions: set up Shinto shrines and force the Koreans to worship, and outlaw the use of the Korean language. Most of all, they must begin teaching Japanese history in earnest, to get them to forget their own Korean history.
The countess brings up the rumors of Yang Baek's return to Korea, which is an unpleasant surprise for Kimura and Murayama — the people know this too? She takes a little dig at the police chief, asking how they'll handle this when they've let Gaksital slip through their fingers so many times. Murayama growls that spreading baseless rumors is an arrestable offense, and that has her glaring at him. Innnteresting. A fracturing in the Council of Evil?
Yang Baek tells his comrades of the empire's plan to enlist Joseon men, and warns that soon they'll be drafted by force. He desperately wants to spare the lives of their young men and keep them out of the enemy's hands.
Shunji sits in a strategy session with Kang-to, both pretending to know far less than they do. Shunji's argument: Yang Baek, Damsari, and Gakistal are all related, but since they don't know who Gaksital is, the key to unlocking the secret is… wait for it… Mok Dan.
Shunji makes a show of sighing that he'll have to pressure Mok Dan for info, which will be difficult given how tough she was before. He asks Kang-to for his opinion on what'll make her talk: "We have to find a way to make her cry out in manseh for the emperor."
Kang-to calls the inn to warn Mok Dan of Shunji's arrival, urging her to evade him. She argues that running away will just endanger others, and stays put.
Enter Shunji. The thinks of a previous conversation where she'd lied that she was mistaken about Kang-to being her Young Master. Now he asks, "Shall I find him for you? The young master you want to meet."
She tells him to forget it: "I don't want to be indebted to you."
Shunji: "Because of him, you can't give your heart to me." Well, technically I suppose that's one reason… though maybe a lot less of one than you suppose. Mok Dan says incredulously, "Do you think you can buy my heart?"
He gets that ugly look on his face and moves in close, hovering over her: "I can't give you up, not even if I die. I can't give you up to anybody."
Later that evening, Mok Dan joins Kang-to in a trolley bus, telling him that all is fine; Shunji merely asked after her father. He takes her hand, which, ack! You're in public! What did I tell you? Mission, then hormones!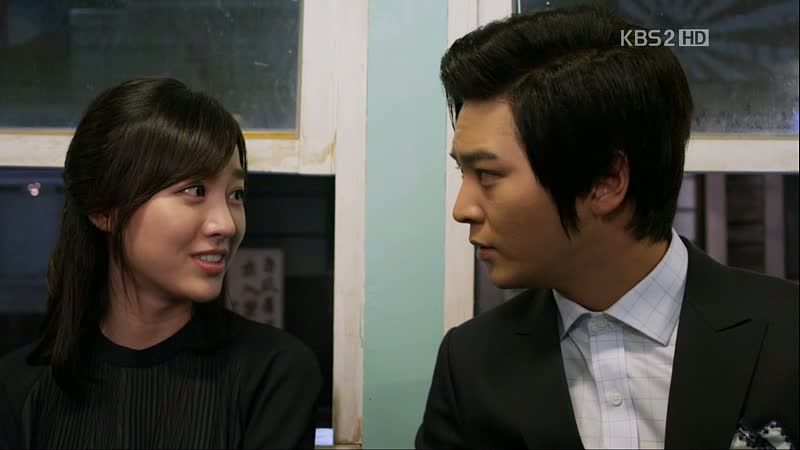 He gets up to exit at the next stop… and a fellow passenger follows him off. Kang-to senses his pursuer right away and darts in front of the trolley, gaining him enough time to escape. I don't recognize his face, but since he turns out to be a police officer, I trust that Kang-to knows who he is.
Kang-to hails a cab to the tailor's shop, so I guess they're clinging to the illusion that Kyungung isn't a single street of backlot. Ha.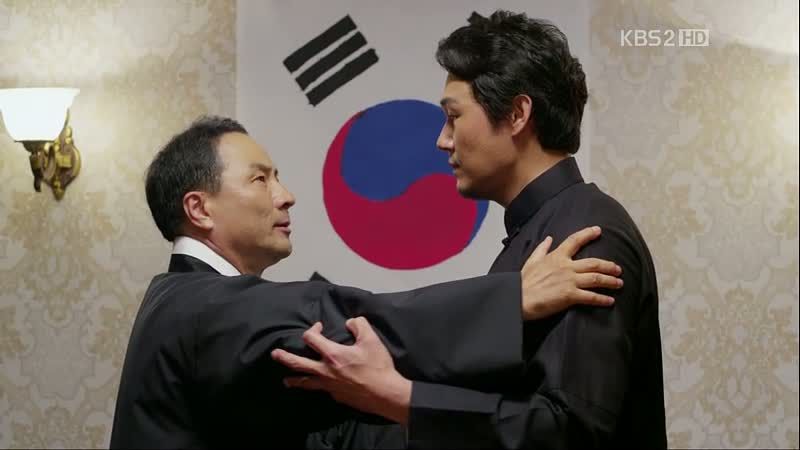 He joins his comrades for the momentous meeting as Dong-jin enters, accompanied by Reporter Song and Comrade Ahn, and offers his bow to Yang Baek. The older man envelops him in a warm hug.
Chairman Ueno addresses Kishokai regarding the growing crisis: Japan's clash with China is escalating. He orders them to begin form a private agency and Kimura promises a central agency, with regional outlets, all to promote patriotism to the empire. They'll enforce Japanese as the national language, in preparation for a draft.
Yang Baek recounts being a part of the March 1 Movement (a nationwide uprising in the name of independence that occurred in 1919). He finally reveals his reason for returning to Korea: to engage another movement of its kind. But this one will be bigger, systematically organized, hitting every part of the country. They're beyond peaceful protest now: "We will fight in armed battle."
The sheer magnitude of what he proposes is weighty, but they are all with him to hasten the day of independence. Even now, Dong-jin is training and gathering more followers into his death squads all across the country.
They're both aware of the ticking clock before their young men are dragged off to fight Japan's war. Thus it's even more crucial that they stop the draft, because those are young men needed in the revolution. But how will they resist such a thing?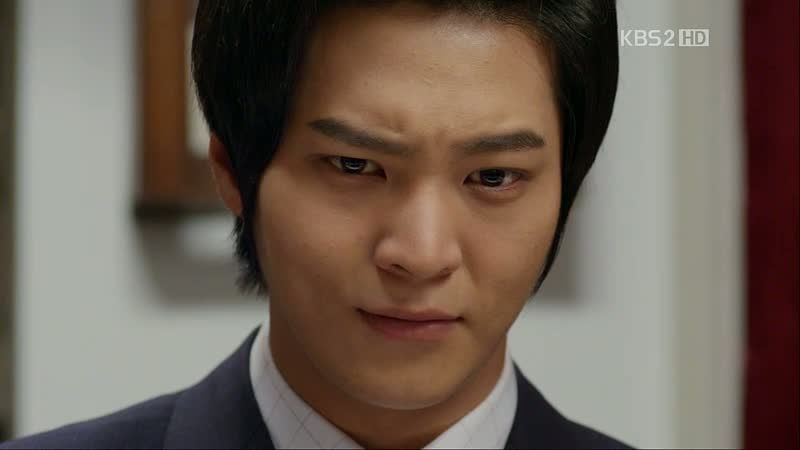 Kang-to speaks up with a solution: Burn the family registers. Eep! Not just individual ones, but all court records and government registries — if the empire can't identify those they intend to draft, they'll stay one step ahead of them. Dong-jin will take the lead on that, and Damsari volunteers to join him.
Then Kang-to adds, "I have a good idea. While we're at it, how about we send the enemy into more chaos?" Yes, go chaos fairy, go!
They're swift in implementing the plan, because the next day Koiso bursts in to report that Gakistal has been seen, and he's burning public records.
Shunji bolts out of his office… and comes face to face with Kang-to, innocently holding cleaning supplies. Whaaaa? I love the blank look on Kang-to's face, contrasted with Shunji's confusion.
Abe mans the ringing phones and reports that Gaksital is at a government building, burning it up at this very moment. Another call reports the same thing, at a different office. There's one office that's not burning, and Shunji directs them all to move out asap. Kang-to included.
When they arrive, Comrade Gaksital is already at work hurling firebombs at the building. The officers jump in to fight him, and Shunji orders Kang-to into the fray.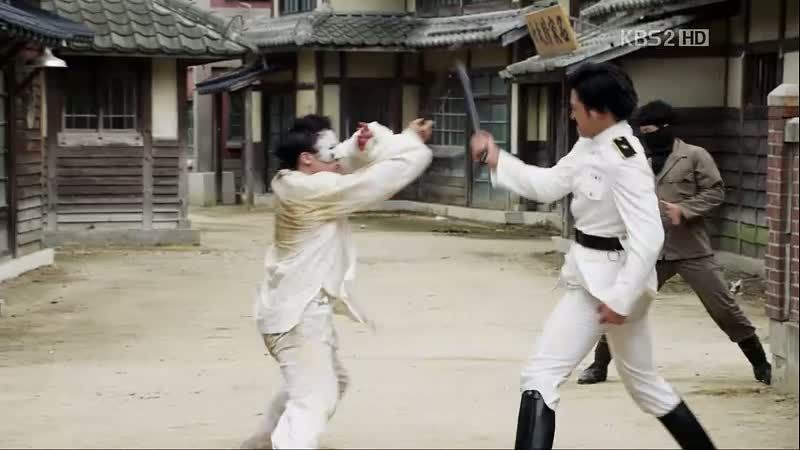 Kang-to complies, leaping at Comrade Ahn, though he carefully misses and strikes a split-second too late. Then a few masked death squad members join in to hurl daggers into officers. Shunji fires at them, sending them scattering, then chases.
Shunji catches up to Village Hothead, who's no match for him. Shunji grabs him by the throat and takes the mask off, revealing his face. He has the chance to kill him easily, but that isn't what he wants; he grabs Hothead by the hair and shoves him back to the scene of the fight — just in time to see Gaksital knocking Kang-to down.
Shunji fires at Gaksital, who flees safely. And there Kang-to is, lying unconscious.

COMMENTS
No, I don't suppose Shunji is back on the uncertainty train because of this latest twist — he saw him wearing the mask, and there's no doubting that. But it rattles him; he thinks he's got the upper hand, only to realize he doesn't have the truth after all. I do enjoy when his smug of satisfaction turns to confusion, because in the absence of being able to take him out physically, a good old mindfuck is just the thing.
One of my favorite things in this episode was Rie's turnaround: we've seen her struggling with the truth, but she's kept it bottled up till now. This is the first time she takes action, and I loved seeing her urge Mok Dan to flee with Kang-to — it's the very opposite reaction to Shunji, who belongs to the "If I can't have you, no one can" school of love.
His version of love is jealous and territorial, more about possession than affection or sacrifice. Whereas Rie's big concern is to save his life, whether or not he's hers to have. She has reason enough to hate Mok Dan without her being Kang-to's sweetheart, but her care for Kang-to encompasses the rival as well. That's such an awesome turn for Rie.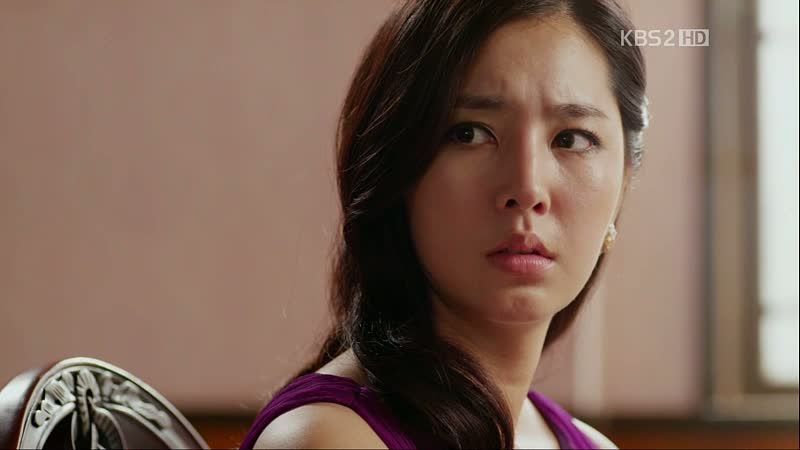 She's not ready yet to renounce her identity, but her change is happening by degrees, which makes sense. I do fear that her gradual turnaround may be too slow to save her own life in the end, which is a sad prospect since she's probably my favorite character. But if she's got to go, I don't doubt she'll do so in spectacular fashion.
I do wonder what that'll mean for Katsuyama, whose devotion to Rie is so apparent in every look he shoots her way that I'm amazed she remains oblivious to her. It's very Sandglass-esque, this dark swordsman bodyguard who speaks little in words but so much with eyes, as he protects his headstrong young mistress. I'm steeling myself for the possibility of a similar ending, and wondering how that figures into the whole motif of cross-cultural love running through the drama.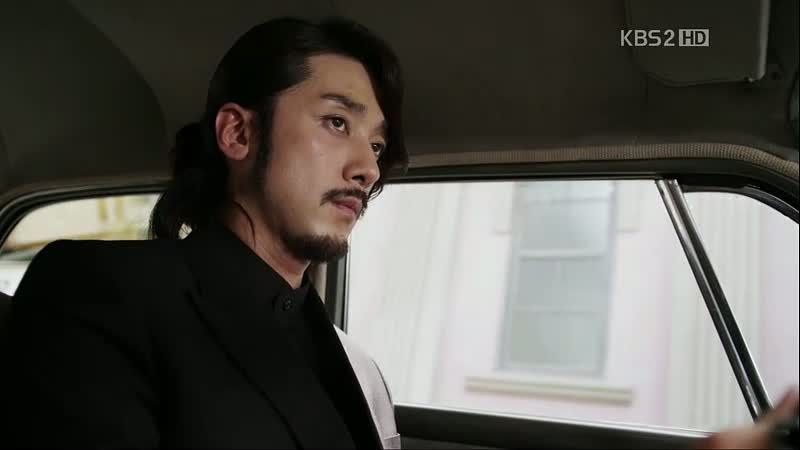 Nationalism actually has a degrading effect in Shunji's love; it goes from a pure adoration to this ugly, violent desire to claim. In Rie's case, it's the key to recovering herself. Initially she can't abide the thought of falling for a Joseon man, presumably because it's a step down for her, the refined Japanese lady. But I think it's just as much about a fear of reconnecting with her own Korean roots; she's severed ties and can't afford to taint her new identity with the old one. Yet that's the thing that causes her allegiance to Kishokai to crumble, as Kang-to asks if she's doing this for herself or for the chairman — the man who sees her more as an expendable puppet than a daughter.
Tamao's scene was my other favorite, because HOLY COW was that a huge leap of faith Tasha took, letting him in on the secret. We're starting to see cracks in the facades of the Count and Countess, who are just as obsequious to their Japanese overlords but starting to display signs of unease and wariness. I've been itching for more Tamao development ever since he began voicing misgivings about the status quo, and seeing his hurt at Tasha's dismissal of him as a privileged, Japan-loving playboy.
I've always thought he had it in him to connect with his fellow Koreans (Tamao, it was noted early on, is of Korean birth though he chose to use his Japanese name); he just needed a hand to lead him in the right direction and show him how. So he's been made aware of the comrades operating right under his nose, and all but accepted into their midst by Tasha. Now it's time to see what he's made of.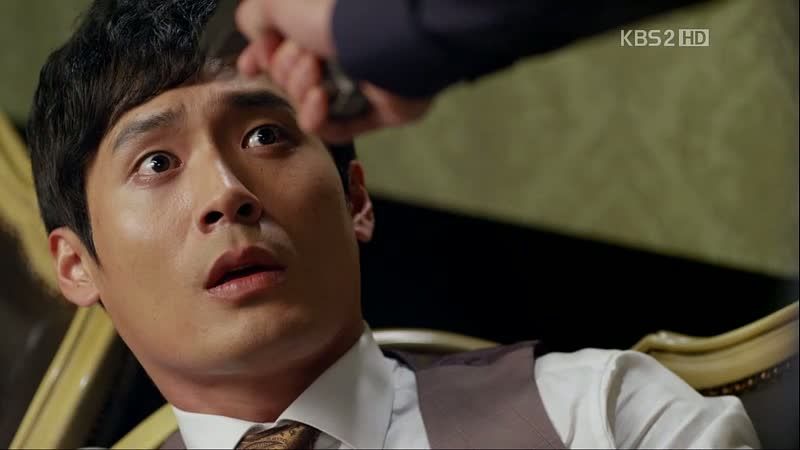 RELATED POSTS
Tags: featured, Gaksital, Han Chae-ah, Jin Sae-yeon, Joo-won, Park Ki-woong