Gaksital: Episode 24
This show takes dark to some new heights. Is there a black blacker than black? A black hole of evil so dark that it makes you question whether your eyes are open or closed? I can't promise happy things. But you will be moved. To what end, I can't even say. Plot-wise, it's an episode that sets up stuff for the future, but character-wise, we get some gut-wrenching turns, including a glimpse into the mind of our villain. Hint: It's not pretty in there.

EPISODE 24 RECAP
The simultaneous attacks on government offices are in full swing by the time the police catch up to the last comrade dressed as Gaksital, and Shunji captures one the death squad soldier—Village Hothead—and returns to the fray just in time to see Gaksital knock Kang-to out.
In the aftermath, Shunji ices the back of Kang-to's head back at the station, saying (outwardly): "Are you okay?" and (inwardly): "You son of a bitch." Shunji does secretly surly so well.
He asks Kang-to why Gaksital is suddenly a group of people and not just one. He wonders to himself: Have you figured out that I've unmasked you?
Kang-to says it's been this way all along—that Gaksital is not one man, but an organized syndicate. Shunji disagrees: "No, the one who killed my hyung, the real one, is just one man." He says it with laser beams burning from his eyes.
Kang-to asks to interrogate Village Hothead himself, saying that he's pretty sure this is the guy who killed his mom and brother. He just didn't have the evidence, but doesn't want to lose this opportunity.
Shunji agrees and watches curiously, as Kang-to kicks and beats Village Hothead in a fury, screaming in a rage that he killed his family. The man admits to setting the house on fire, a little triumphantly at that, but insists he killed no one.
Shunji deduces from the show that Kang-to doesn't know that Shunji has unmasked him after all, and walks away, confident with that assessment. Damn.
Kang-to pulls Hothead up into a chair and asks where Dong-jin is. He shouts back a mantra: "No Name, No Trace, No Mission!" You do not give up who you are, where you've been, or what you're doing—it's what they learned from Teacher Dong-jin. Impressive.
Kang-to asks if he's willing to be tortured and die. Village Hothead: "It's to recover our country. How can it be done without being willing to die?"
Kang-to turns to his fellow officer in the room and says this man likely killed his family—he might take the torture a bit far and accidentally kill him. Is he okay being witness to that (and therefore partially responsible)? Takeda scrams pretty quickly.
Once they're alone, Kang-to takes out the "Solidarity" note from Yang Baek. "Thanks to you, I was able to show this to Teacher Dong-jin."
Cue biggest shockface ever. "What?!" He starts to put it together… Gaksital? Aaaah, so great. We can see his brain exploding in real time: Lee Kang-to… is Gaksital?!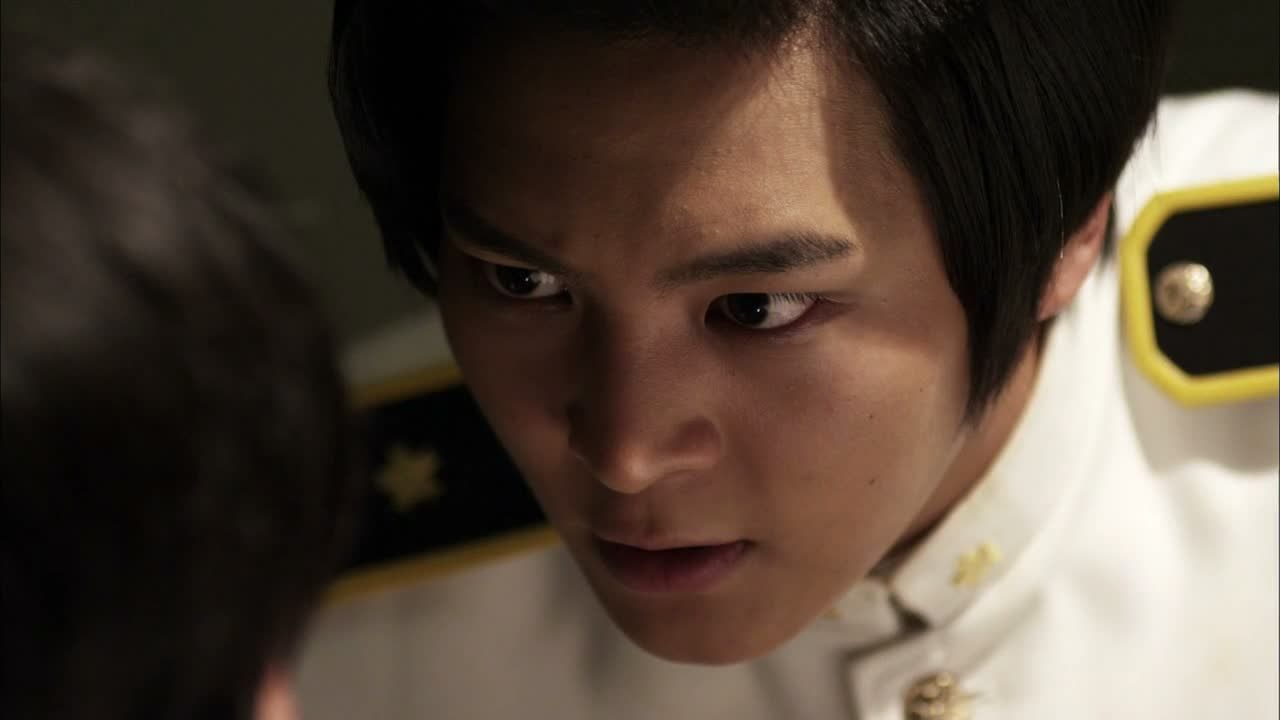 Kang-to just barrels ahead and asks if he can help him, Yang Baek, and Dong-jin. But Hothead is still reeling: "Waitaminute…" He asks if they met each other before going to see Dong-jin.
Kang-to not only tells him where, but what he said—that he loved Gaksital, that he didn't know if it was a dream. Mind. Blown. I love this!
Kang-to literally has to slap him out of it to say there isn't much time. They have to disrupt the investigation if they're going to be of help to the others. This is a Gaksital fanboy's dream. He gets to help his hero?
He says that Shunji will torture him for information on the death squads… and he has to act like he breaks and give them false leads. Kang-to warns, "Kimura Shunji must believe you." *shudder* I'm so scared for you…
Shunji marches in and notes with alarm that Takeda is standing outside the interrogation room. He bursts in to find Kang-to strangling the man and screaming that he killed his family. Phew. Shunji orders him moved to the torture room, and holds Kang-to back. He'll handle this.
Governor Wada rips everyone a new one for the latest Gaksital attacks, and fears what'll happen if all the Koreans rise up in revolt. Murayama says they should just kill them all to keep that from happening.
Kimura disagrees entirely—they should be put on the front lines of battle, and die serving the Empire. So basically, Murayama is for genocide while Kimura is for indentured servitude and humans as war supplies. Gee guys, you sure do make it hard to pick a side.
Governor Wada agrees with Kimura and plans to go ahead with drafting Koreans into the army, which leaves Murayama stammering in disbelief. They realize they can't force them to fight for Japan, so they'll work on propaganda—like popularizing a term for the citizenry that doesn't distinguish between race (effectively wiping out the idea that they are Korean), and focuses on being people of one Empire.
Teacher Yang Baek says their next move is to warn the Joseon people not to put their names on any new registries, and Mok Dan volunteers the circus to spread the word. Their plan is to keep Koreans from ending up as bullet-shields on the front lines, and instead recruit them to be trained by the Dong-jin squads in secret.
The biggest need then, is capital—they have to find a way to fund their operation if they're going to succeed on a large scale. Tasha suggests the empire's defense funds.
The count and countess get a grand ceremony in honor of the plane they've donated to the army, and the governor assures them the day has come when Koreans will be duly rewarded for their patriotism, and share in the empire's prosperity. They applaud, thinking their choice has finally paid off.
Torture room. Shunji hot-pokers Village Hothead with this utterly bored and indifferent look on his face, even as the guy screams and screams in pain. He asks, barely lifting an eyelid, "Why did you start the fire?"
At first I think he means Kang-to's house, but it must be the government offices he's asking about, because I can't fathom why he'd care about Kang-to's house burning down at this point.
The smoke circles around him as his clothes and skin burn. And then as he screams, the image changes to Kang-to, strung up and being tortured in his place.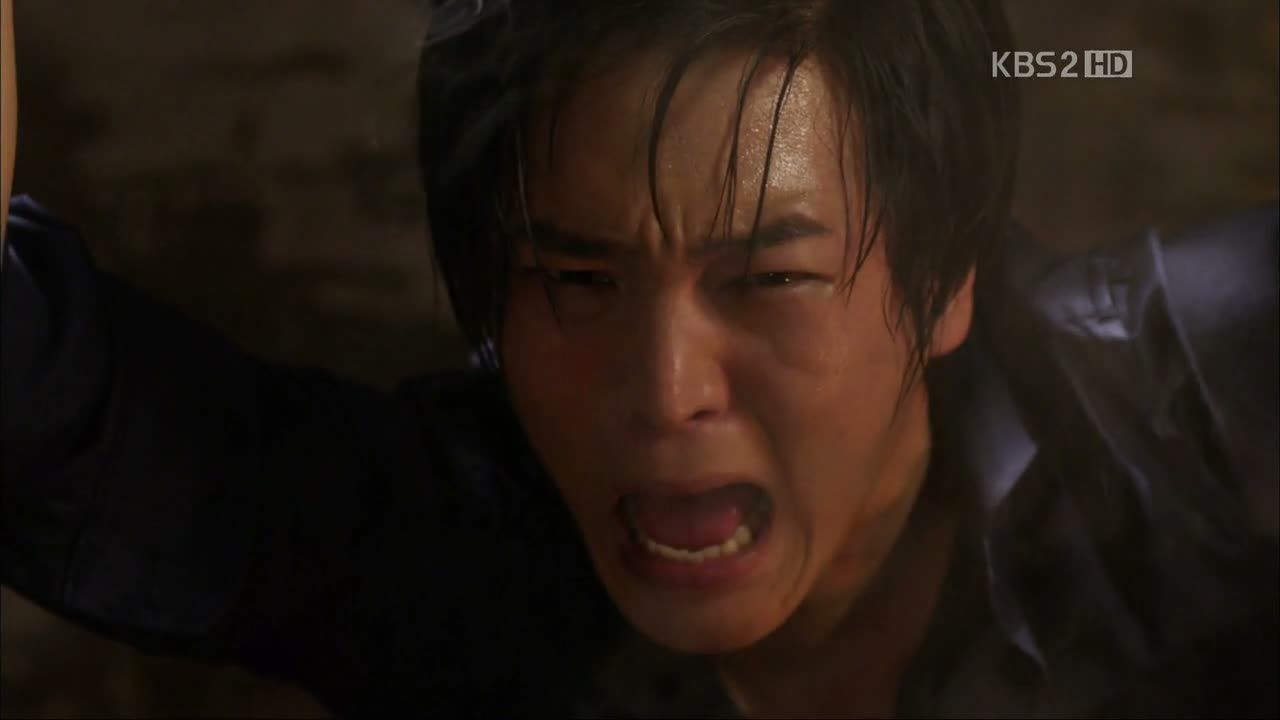 Ohhhhhhh, is this what Shunji is envisioning? That is just… wow, well-played, Show. I'm pretty sure I never want to be in Shunji's head ever again, but that was brilliant.
Kang-to screeeeams in pain as the smoke from his burning skin sears his eyes. Shunji's eyes change to hate as he envisions Kang-to looking back at him. *shiver*
And then we switch back to Village Hothead, who finally breaks, "I'll talk, I'll talk…"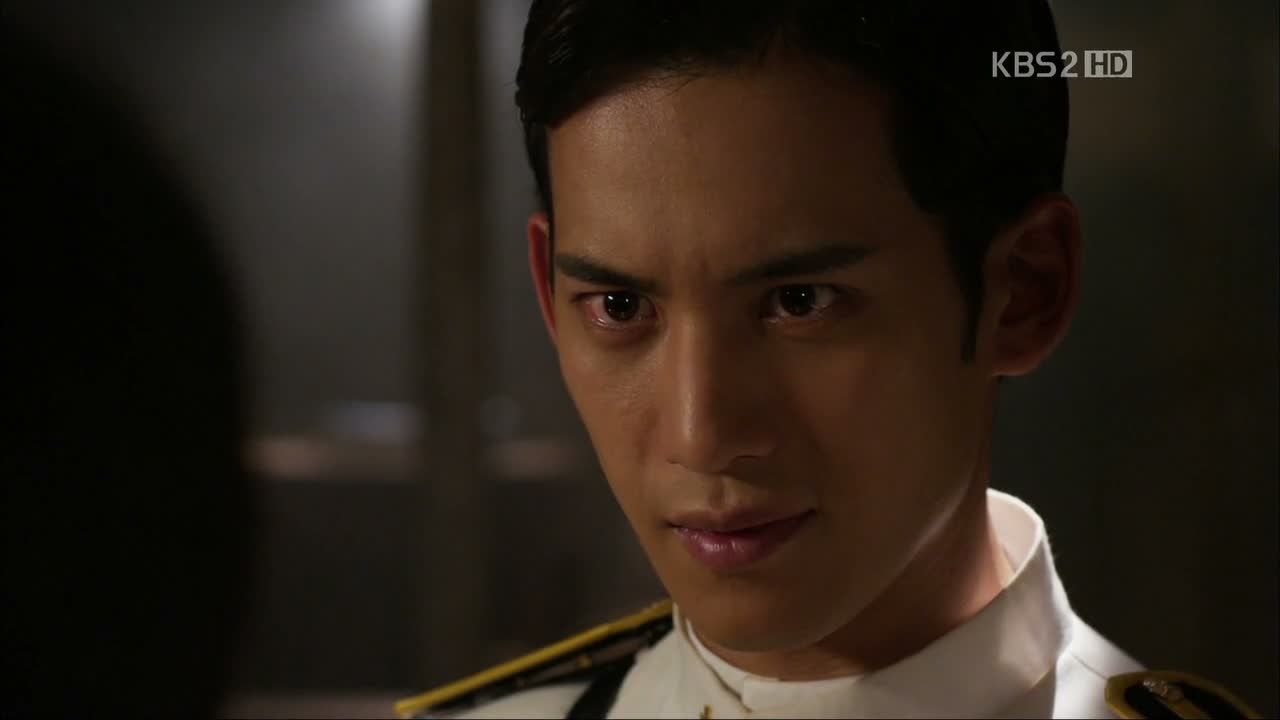 He says he doesn't know where Dong-jin's headquarters are, but he does know that the big plan with Yang Baek is to blow up the government general—Wada's central headquarters.
Kang-to waits nervously and Shunji calls him to the torture room… just so he can show off what a good job he did in torturing the guy. He says he got no useful information from him, but Kang-to ought to be satisfied that he caused a bunch of pain.
He orders Takeda to move him to holding, and Kang-to cringes at the burn marks. But Village Hothead just gives him a smile, indicating that he's succeeded with his mission.
Shunji reports to Kishokai and Dad backs up the believability of the information—Damsari failed in an attack on the government general not long ago, so now Yang Baek and Dong-jin must be planning a large-scale attack, to blow the entire building to the ground. Ueno orders them to guard the building carefully.
They cross paths with Rie on their way out and Shunji stops her with a hand to her wrist, and drags her into a room. He asks if she remembers when he called her a pathetic woman, and says he didn't know then just how pathetic she really was.
He calls her out on her bald-faced lies, saying he had no idea how childish she was, insinuating that he was blinded by his love for a Korean woman when she herself has been in love with a Korean man.
He taunts her for how difficult it must have been when he accused Kang-to of being Gaksital. "You derided me for loving Oh Mok Dan, and you love a Korean? Do you think that bastard can protect you?!"
She reels and he takes a step closer, "If you need a place to run to, come to me. I'll take you in." Why so creepy, Shunji?
That's enough to break her silence. She scoffs, "Kimura Shunji, what the hell are you that you'd take ME in? You arrogant little… I am Ueno Rie. Ueno Rie!" Her entire body shakes as she says her name.
He just looks at her like a pitiful little thing and says he didn't know just what a weak woman she was and walks out, leaving her trembling in rage and fear. Okay, Shunji wins that round.
Kang-to gets on the streetcar and sits down next to Mok Dan. He takes her hand again, but this time it's to pass along a note. Well, I suppose if you're going to just willy-nilly hold hands in public, might as well get some spy mileage out of it.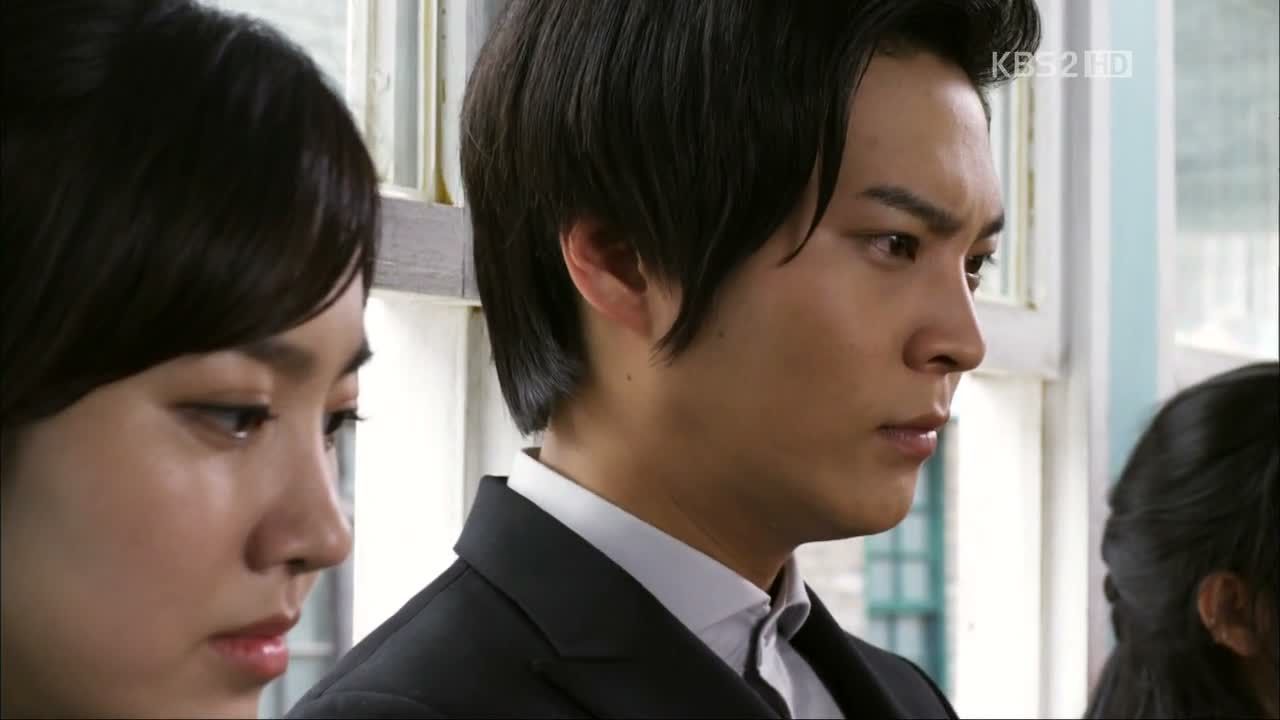 Mok Dan gives him the note and gets off, and sees an officer on Kang-to's tail, about to get on. She blocks his path and pretends to be happy to see him, asking after Abe and saying the circus is well… just long enough for the streetcar to leave without him. Nice move. Can you be like this all the time? This time Kang-to sees the guy on his tail.
Dong-jin gives his men a rousing speech: "We may have lost our country, but we did not give them our hearts!" They vow to be seeds until the day of independence, and he leads them in a roaring chant: "Our home! The strength of unity! Our home! The strength of unity!"
You can see how this man raises armies, fuels an entire movement.
Gaksital rides into the camp and once alone with Dong-jin and Reporter Song, Kang-to takes off the mask. Song thanks him for saving his life, calling him comrade. He's here to deliver a letter from Yang Baek.
In it, Yang Baek offers all of his support for Dong-jin to raise an army, with the goal of stopping Japan from drafting Korean soldiers, and in planning for the second manseh movement. The first thing they need to do is raise money, and he offers everything he has to back Dong-jin.
Kang-to tells them about Village Hothead and the false information they fed to the police. Dong-jin asks why they leaked false info. What, sir, do you not watch any movies?
Kang-to explains that there's a giant load o' money headed to Kyungsung because the government is collecting funds to shore up their military defense. Dong-jin says that's the very thing they need—if they can intercept that money, they can fund their mission.
Kang-to says that security will be extremely tight when the funds arrive by train… but he plans to leak the information that the bombing on the government general is set to happen that very same day, diverting all their attention that way.
Dong-jin thanks him with a handshake and a huge smile. Aw, he got a smile! From the gruff general! I don't know why but that feels so hard-earned and worth it. Dong-jin says he'll just trust in Kang-to.
Shunji reports to governor Wada that the last time there was an attack on this building, Damsari used the police's own weapons against them. That's news to him and he demands to know who's responsible. Kimura, the man who let Damsari slip through his fingers that day, has the gall to blame it on Kono.
Wada wants to call in the military to defend the building, but Murayama insists that the police can handle it. Wada asks Shunji if he can find out when the attack is set to happen. Well funny you should ask…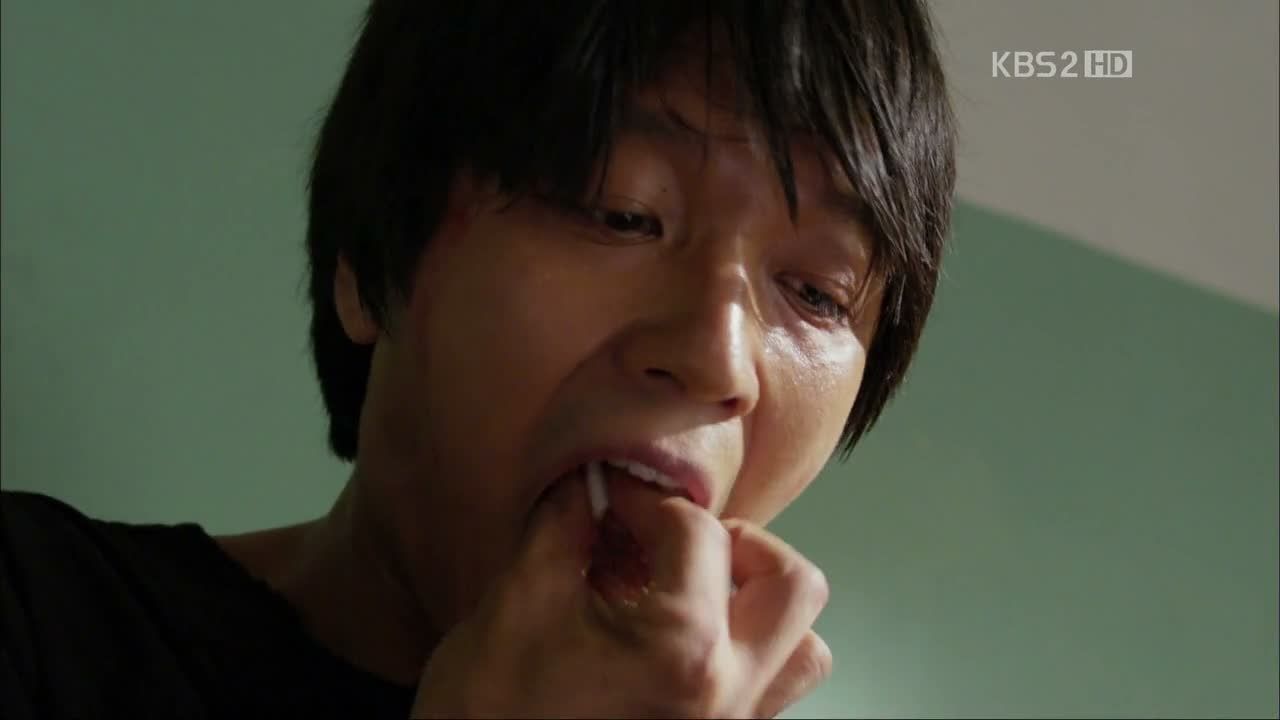 Kang-to comes into the holding area with package in hand. He gets to Village Hothead's cell and calls out, "Hey, Kim Deuk-soo!" Great scott, he has a name! Look at that!
Deuk-soo shouts back, calling Kang-to a mutt, and Kang-to taunts him with rice cakes that his mother pleaded with him to deliver. He hands one to Takeda who's standing guard, and the other to Deuk-soo, who scrambles to the corner to open it.
Inside the newspaper wrapping he finds rice cakes and a tiny note, instructing him that they'll ask when the attack will take place, and he should ask to be released so he can be their informant and find out. Deuk-soo takes a bite with the note and swallows it whole. Nice.
Shunji calls him out to feed him, and asks the expected question. Deuk-soo says he'll find out if they let him go, and Shunji wonders if the death squad won't suspect him. But Deuk-soo says that's not how it works—Dong-jin communicates with each comrade directly, so no one knows who the others are.
That's convincing enough for Shunji, who agrees to let him loose, and warns him not to try anything stupid. Deuk-soo in turn asks him to do something about Lee Kang-to, and swears he didn't kill his family. Shunji tells him not to worry about Kang-to.
Abe starts a donation box for the movement to recruit volunteer troops (the same money collected across the country that the independence is planning to take), and asks that they all give their support.
Koiso sneers, but Kang-to drops some money in and tells Koiso he should donate; didn't he get a raise with that promotion? Touché. Abe runs over to Shunji and asks him to give too, saying that so far Kang-to's the only one.
Shunji looks over at Kang-to with the most derisive look and throws some money in too. And then he calls the officer tasked with tailing Kang-to into his office. Kang-to, please be suspicious!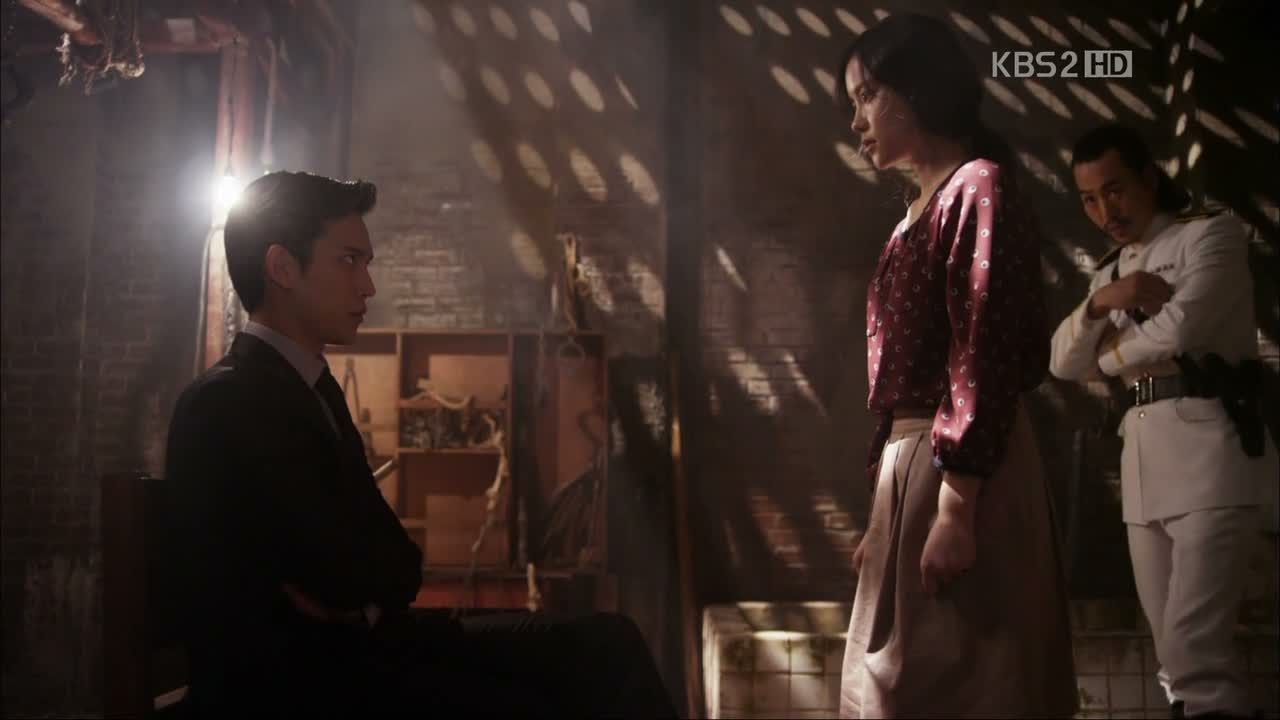 Shunji asks where Kang-to went, and the guy meekly says he followed him to the streetcar… but got cut off my Mok Dan. Shunji fumes and has Kye-soon brought in for questioning.
He sits calmly in the torture room and asks if Mok Dan has been meeting Kang-to lately. Stammering, Kye-soon says no. He growls, "Again." She shakes even more, but gives the same answer. He says, "Again," growing more and more terrifying each time.
She gives the same answer, and then he finally breaks into a rage, screaming that something like her dare lie to him, and throws her head into a tub of water.
"It's not enough to have those two fooling me, but you're lying to me too?!" You're seriously starting to scare me more than I thought possible.
He drowns her again, his face breaking into this horrifying grimace as he thinks back to Mok Dan, and how she swore she didn't know who Gaksital was, but was on his side because he was Joseon's hero, who saved her father twice.
He screams this horrifying, ugly rage, as Kye-soon splashes and struggles for her life. I'm seriously scared he'll kill her, and in Mok Dan's place at that.
He finally lifts her up out of the water and she gasps for her breath. And then he raises his gun…
"You saw me kill Dong-nyun, didn't you?" Her entire body shakes. He cocks the gun and presses it to her temple. This is scaring me shitless. It's worse than anything he's done before—it's brutality, power, misogyny—the ugliest we've ever seen him.
"Do you want me to kill you too? Shall I kill you?" He phrases it like he'd be doing her the favor. He uses the barrel of the gun to gently sweep the hair out of her face, which is possibly the creepiest thing ever. "If you lie to me again…" and tells her to watch Mok Dan carefully.
As if that weren't bad enough, he leaves Koiso alone in the room with her to leer and try to touch her. She pushes him away and runs out, and I finally get to let out a giant sigh of relief. Please, skip town. I hated you, but nobody deserves that. No one. Please be safe.
Mok Dan hands out stacks of Yang Baek's solidarity notes to her circus friends to help spread the word for people not to sign any new registers with the government, and to let them know Teacher Yang Baek is in country.
Shin Nanda bursts in worried about Kye-soon—he's never seen her this way before. Mok Dan goes to check on her, and finds her sobbing in bed. She asks what happened, and Kye-soon cries that she's scared for her life.
She confesses that she became an informant because of the money. She has nine people to feed at home, and just did it because it was easy money. But now… now she's scared she'll probably die, and then who'll feed her family?
Mok Dan calms her down and asks her to tell her everything, from the beginning…
I can guarantee you don't want to know. Though to Mok Dan's credit, the first thing she does after Kye-soon tells her the terrifying tale is head straight over to the station, to confront the bastard herself.
She braces herself and we flashback to Kye-soon recounting Shunji's words that it's not enough that the "two of them" were fooling him, but her too. OH. Does this mean she'll know first—that Shunji knows who Gaksital is? Man, I didn't even think of that!
She marches into the station, which throws Kang-to for a loop. Even more so when she asks to see Shunji, with no explanation. He takes her to Shunji's office and then leaves them, watching through the window with worried eyes.
She tells Shunji to stop getting Kye-soon to tail her—and in exchange she won't go anywhere, and she'll try to accept his feelings. What? Don't do that! I know you don't mean it for real, but even the illusion of him getting what he wants through that disgusting display makes me furious!
He looks at her in surprise, and then challenges her by taking a step closer with his arms outstretched. She instinctively shrinks back in disgust. Okay, that's more like it. Even Shunji knows she's lying.
But then she asks him to close the blinds, which he does while staring out at Kang-to. That of course leaves Kang-to reeling in panic.
And then Shunji has the nerve to say that he's having a crazy hard time, barely hanging on. To your sanity? Or your soul? 'Cause I think those ships have sailed, my friend.
He reminds her of what he swore—that if she were hiding something from him, he'd uncover it and destroy everything—"Do you remember? The anticipation of what face you'll wear in that instant… is the only thing that keeps me going."
That confirms it for her, and she thinks to herself that he knows that Kang-to is Gaksital. He tells her to leave and stop coming here, and I'm just screaming at her to get the hell out before he changes his mind.
She walks past Kang-to without a look or a word, and Shunji peers out from behind his creepy-ass blinds. He and Kang-to exchange an awesome stare-down.
Tamao pours himself a drink and Tasha comes in the room and tosses today's paper on the table, featuring his parents, and their generous gift of a plane to the military. She apologizes: "I never loved you."
He laughs, already having guessed the truth—that she pretended to love him for information, like his father's schedule. He chuckles that Dad is still obsessed with how Damsari ever found out his travel plans to insert himself into the count's inner circle. Ah, so Tasha was the one who provided that info.
She thanks him and he tosses back this childish smile that kills me. He's trying so hard to cover up his hurt. He asks now what she meant by the words that he's "someone they don't need to worry about."
Tasha: "Because you're someone who won't do anything." Ouuuuuuuch. Ow, that hurts my heart. Poor Tamao. Just when you're hoping that someone will give him a chance. She meant literally that he wouldn't ever get off his ass to do anything in life.
He takes it in while letting out a long breath, like a deflating balloon. Voice shaking, he says, "I have a conscience too." He says sometimes it hurts him more than a toothache, and she says she's happy to hear it.
She points out how much his parents have taken from the people and given to Japan, and suggests bitterly that they ought to donate some planes to their side too. He's on the verge of tears but fights them back and puts on his sarcastic façade, asking if she's short on cash these days, and empties out his wallet on the table and walks out.
Aw, somebody hug him. Also, I really hope this actor gets more work. He's doing an amazing job.
He stumbles home drunk and passed out, making Dad cluck in worry, calling him by his Korean name, Hae-seok. Mom and Dad discuss plans for his future, and Mom says first priority is getting him into Kishokai.
She plans to collect the donation funds collected from around the country and hand them over to Chairman Ueno to earn some brownie points. She figures if it all ends up being used for the military, what's the difference?
They celebrate, and then Tamao opens his eyes, having heard it all. Yes! Please, do something!
Tasha gets a phone call—it's Tamao, who feeds her the information. Awesome. She thanks him, and calls Mok Dan, who then calls Kang-to at the station.
She tells him that the military donation money will be handed over to Kishokai at the gisaeng house tomorrow night at eight. She adds that she thinks Shunji knows that he's Gaksital, repeating what he said to Kye-soon.
Kang-to says he understands and then asks for a favor. She passes a note (the time and place of the money hand-off) to Deok-soo, so he can match his story. He comes to inform Shunji that the bombing is scheduled for tonight at eight.
Shunji sees Kang-to and thinks to himself that Gaksital must know what Yang Baek and Dong-jin are planning too, and that perhaps they'll meet tonight.
Not to be outdone, Kang-to throws down his own interior monologue challenge: "Kimura Shunji, have you finally discovered who I am? Let's see who wins tonight. Shall we begin?"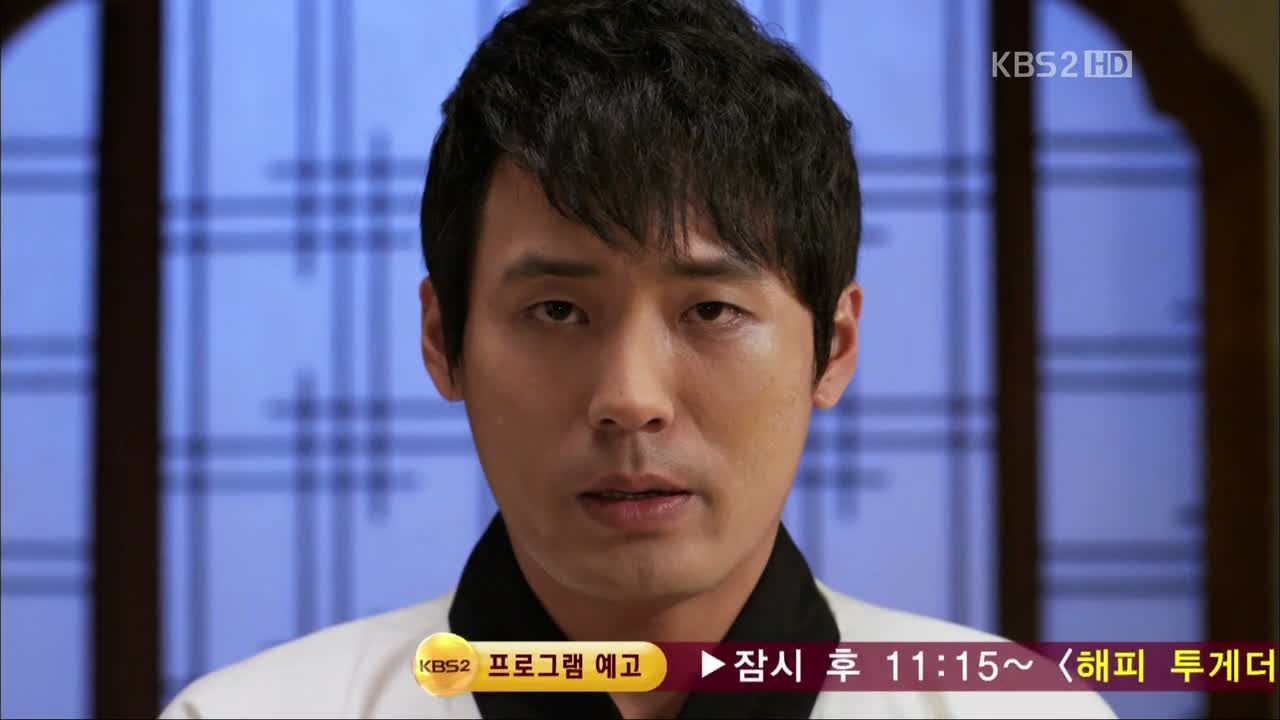 Kishokai holds a ceremony that night to induct two new members: Reporter Park, and Tamao. OOH, do the good guys now have an informant on the inside?
Shunji takes his men to the government general, while Kang-to and his comrades run toward the gisaeng house.
The countess arrives with the military defense donation money, and hands it off to Chairman Ueno. At the same time, Tamao quietly slips away. A few minutes later, a note gets slipped to the count.
Tamao writes to his father that the money will end up going to the Independence. We cut to him in another room of the gisaeng house… staring down at a gun. NO!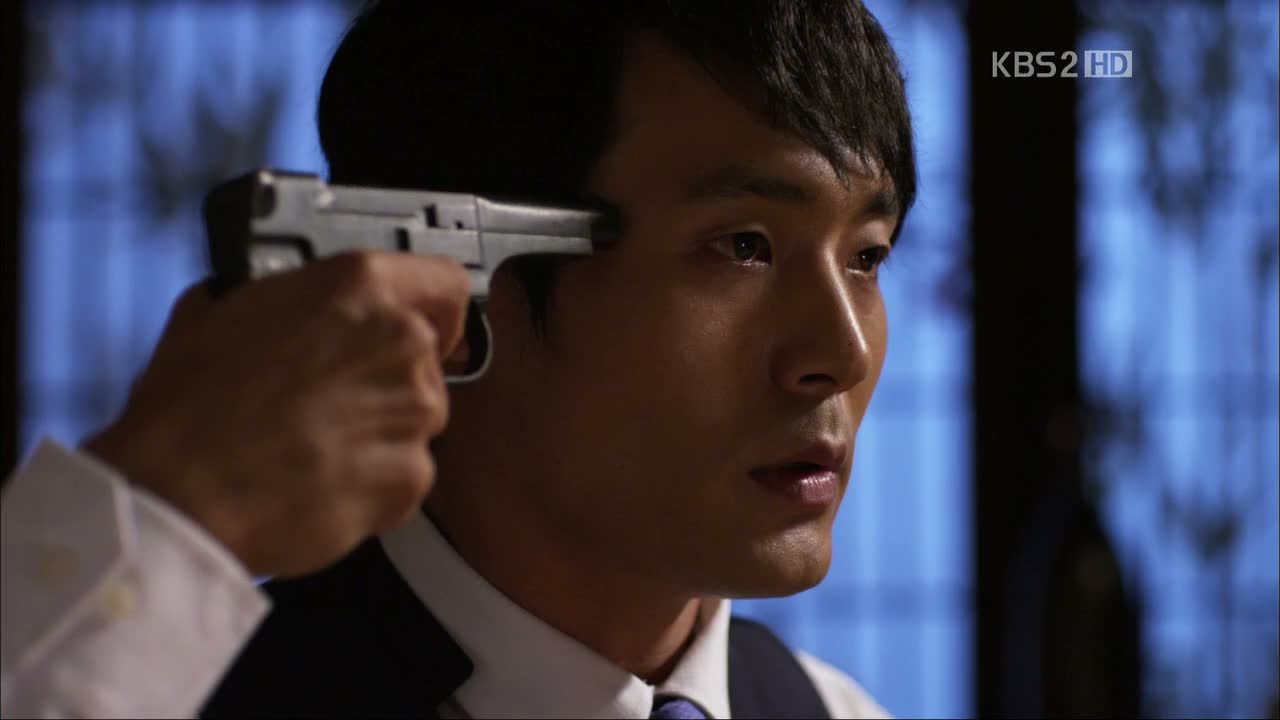 The letter continues: "I was ashamed to be born your son…" He cocks the gun. "…But I love you, Father."
He raises the gun to his temple. "Please forgive me, for lacking the courage, for only knowing to handle it this way…" Ohgodohgod, don't do it!
Dad reads the letter, trembling, and then the shot rings out, making him jump.
I… can't… believe it…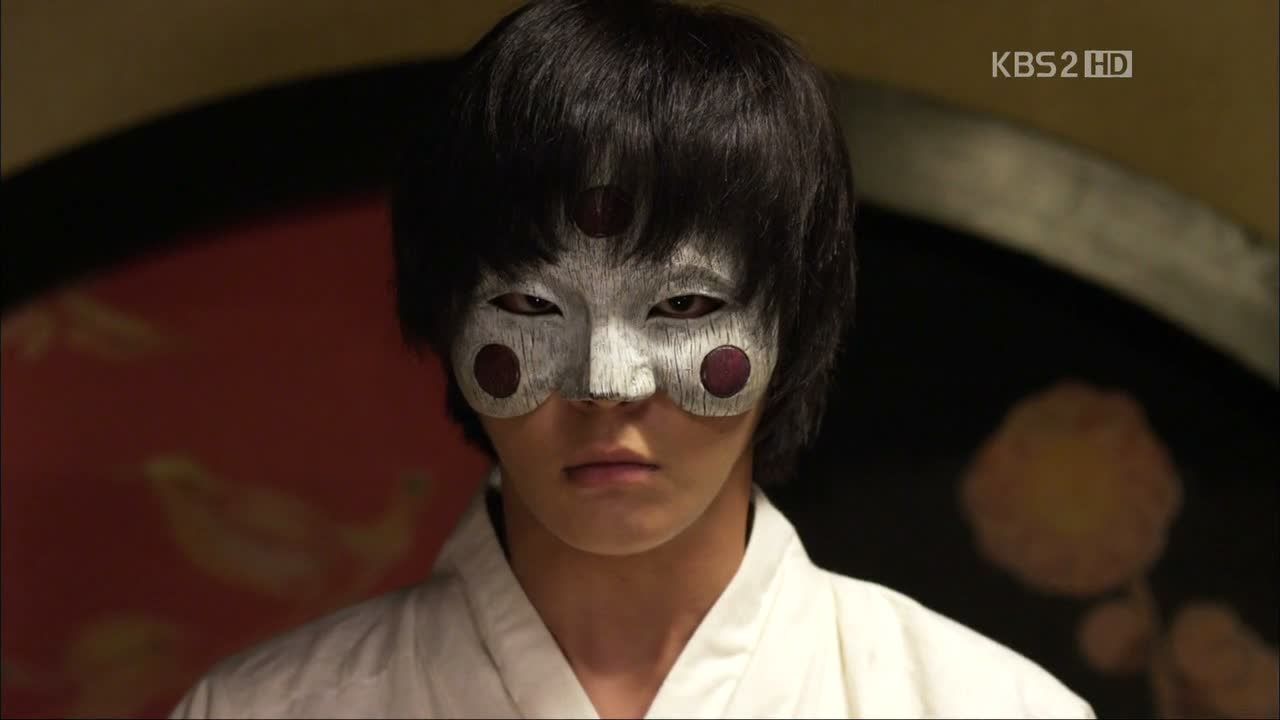 Dad screams his name, "Hae-seok-ah! Hae-seok-ah!" and gets up, but then a familiar dagger lands right in front of him. It's Gaksital!
He stares right at Ueno, who waves his assassin to get to work. Crud.
The two (only two?) comrades who came with him burst through the side to steal the bag of money, and Rie and Katsuyama run after them. They surround the pair with swords at the ready, and Comrade Ahn battles Katsuyama unarmed. People! Weapons!
At least the lady has sticks, though against Rie's sword, I'm a little concerned.
And outside, Gaksital runs and runs, drawing Scary Assassin Kinpei away from the fray. And then… he stops. Ah, WHY?
He turns. Kinpei draws his sword and points it at Kang-to, with a murderous gleam in his eye.
Oh. Crap.

COMMENTS
Okay, that's an effective cliffhanger for me, 'cause that guy scares the beans outta me. Though compared to last week, of course, it packs less of a punch—it's hard to compete with the outing of the secret identity.
I… still can't believe that Tamao killed himself. I loved him so. He was so pathetic, but had so much room to grow, change, make up for who he had been. His loneliness was already at the brink, and then to be told by Tasha that she never loved him, that her expectations for him amounted to zero? I know it broke his heart, but I hoped that it would trigger a change in him to try and make something of himself. Why wasn't there anyone to tell him that he wasn't his parents, and that he could've made it right? What a terrible, tragic, waste of a young life.
I was so looking forward to his transformation, and he's been building up to such an interesting conflicted character. It made it all the more heartbreaking to think he was on the path to redemption, and then have him give up like that? AUGH. Such sadness. I have to say, I wouldn't have cared nearly as much if it wasn't for Choi Dae-hoon's performance. He had those perfect tiny nuances of vulnerability, shame, loneliness, and all under this big bravado and devil-may-care attitude. Many of the side characters are one-note and just functional, but he did amazing things with such a small part.
And then SHUNJI, aaaaack, his torture of Kye-soon crossed a line that blew me away. I'm still kind of reeling from it. It's been building with him over time—the way he began to treat Mok Dan like a possession he had to have, the way he creepily invaded her personal space all the time, the way he talked down to Rie when even his father would bow to her. And yes, he's already snapped, tortured so many independence agents, and even Mok Dan. But that was for information, because they were soldiers on the opposite side. It was still horrific, but felt different.
But Kye-soon is not a soldier—she's just a girl. She has no cause, no allegiances. She's in fact on his side, as long as he pays her. And he tortured her for kicks. To get his rage out. To punish her in Mok Dan's stead. That… is so powerfully… so hugely… WRONG. Just wrong. I would almost applaud the show for taking him so dark, if I wasn't so horrified by it. I wasn't planning to forgive him before or anything, but now I might be dissatisfied if Kang-to shows him mercy in the end. I don't need his redemption. I don't even want it.
I am glad that Shunji's one weakness—Mok Dan—proved to be useful and that she could use it to figure out what Shunji knows about Gaksital. They glean that one major bit of information from Kye-soon that changes things, so I'm glad that at least Kang-to knows the score. I do think it was great to put us in Shunji's head and show us Kang-to being tortured in Deok-soo's place. It's a way to get at Shunji's feelings about the betrayal in a way that's simple and direct, but doesn't need them to out each other's secrets. That's a face-off I'm dying to see, and now that we're barreling toward the end of the series, I feel like a kid waiting for Santa. Want. Epic. Battle. Now.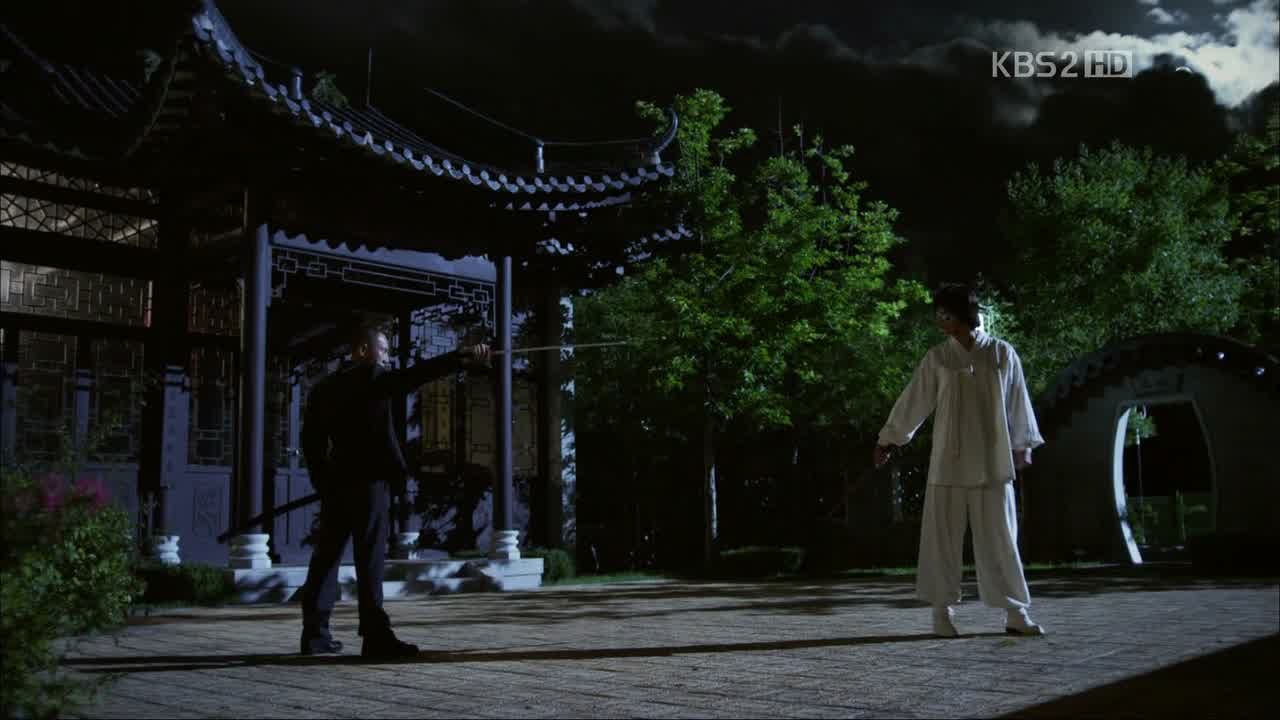 RELATED POSTS
Tags: featured, Gaksital, Han Chae-ah, Jin Sae-yeon, Joo-won, Park Ki-woong