Gaksital: Episode 26
Is it safe to open my eyes? After yesterday, I'm a big ol' scaredy… What if they hurt Kang-to again? Or worse? This close to the finale on a drama like this, I'm pretty much just clutching my heart and waiting for the other shoe to drop. Why is loving a hero such a painful thing? It's the question of the day, and it's on a collision course with our heroine, whether we like it or not.
As the tension ratchets up, so do the ratings, reaching yet another series high for the fifth episode in a row, clocking in at 21.4%.
SONG OF THE DAY
Gaksital OST – Joo Won "Love and Love" [ Download ]
Audio clip: Adobe Flash Player (version 9 or above) is required to play this audio clip. Download the latest version here. You also need to have JavaScript enabled in your browser.

EPISODE 26 RECAP
Comrades Jin and Ahn break into the police station with their death squad elite, and free Kang-to from his box. Even from the tiny window to his standing coffin prison, nobody gives stare-down like Kang-to.
Shunji and Koiso go down, and they manage to barely make it to the getaway truck. Kang-to says they have to get the tailor out too, but they argue that there isn't time.
They're right, 'cause Shunji is nipping at their heels, and shoots as they load Kang-to onto the truck. They have to dodge bullets, but manage to get away.
Whew. I'm amazed they succeed, but mostly I'm just relieved they got him out before I had to recap any Kang-to torture. *whimper*
Shunji screams in their wake: "LEE KANG-TOOOOOOOOO!" Haha, now that we've unmasked him, are we changing the yell?
Thankfully, they were smart enough to bring Kang-to up into the mountains, where Dong-jin and Reporter Song tend to him. They worry about Yang Baek making it out of Kyungsung, because they're clamping down on security—no one leaves the city, on account of the Gaksital jailbreak.
Shunji has of course moved on to his next target, and stands by as Koiso beats the living crap out of the tailor. And that's not even a euphemism this time, because Shunji gets close to question him, and finds that he's already dead. Damn.
Koiso worries that they got nothing out of him (Really, this is what worries you?) and Shunji decides to head to the tailor shop himself. Uh-ohs. Please tell me you guys moved somewhere else in the night…
And you're SITTING RIGHT THERE? Arrrrgh. The good guys on this show sometimes! This is no time to be calmly packing your suitcases like you're goin' to the Poconos!
Comrade Ahn returns from his stakeout to say that getting the tailor out is impossible now. I hate to add useless, but you guys need to leave the dead behind and haul some ass. They worry that they're sitting ducks, and Damsari is the first to speak up: he'll divert them, while they get Teacher Yang Baek out.
It's actually a good plan, because clumped together, they're not getting far. Mok Dan looks over at Dad with worried eyes, and Comrade Ahn says he'll go too. Circus boss Jo even says he'll go in his place.
But Damsari argues that they have to protect Yang Baek, and he has to be the one to go, to give them the best chance. He's right, which makes me really sad. I know Damsari is good, but alone against all those cops?
Yang Baek refuses to let him go, with tears in his eyes. But Damsari says when he was imprisoned at the age of nineteen and starving to death, Teacher was the one who sneaked him food, carrying it in his mouth like a mommy bird. "I was already supposed to die then, but you saved me."
He says because of Teacher he got to live, have a beautiful daughter, and fight for the Independence. Okay, why does everything start sounding like a death speech when we're this close to the finale? Stop making me so nervous!
Mok Dan turns to Dad, but he reassures her with a big smile, talking about it like running from the cops is a hobby of his, and he'll punch his Break Out of Jail card for an even ten. She does the best thing she can do, and matches his positive attitude: "Of course. You're the Independence General Damsari."
He asks Yang Baek to be allowed to go, "And I'll follow right behind you." Crap. Daaaad! Don't die! Or Gaksital's girlfriend will never forgive you!
He gets up to bow to Teacher, who grabs his hand to say goodbye. This is bad… very bad…
Comrade Ahn insists on going with him, which is a huge relief. They prepare to go, and then Mok Dan runs in to give Dad a tearful hug. He tells her to hurry and go—someone's waiting for her. He says Kang-to will need her care now more than ever, and she asks again, "You promise to return, right?" STOP ASKING THAT. The more times you say it, the more my stomach falls towards my knees.
"Boon-ah, I want you to be safe, and comfortable. The reason I fight to reclaim my country is for you. So that you can live freely and happily." They embrace one last time, and Dad fights his tears.
Shunji arrives just outside the tailor shop… when Damsari and Comrade Ahn zoom past them in a car. They scramble after him. Trap set.
Mok Dan and the others lead Yang Baek safely out, disguised as two wealthy women and their servants.
But things start to get dicey for Damsari really fast, as Shunji catches up to him on a mountain road, and shoots his tire to stop him in a tunnel. They try to make a break for it, but Shunji shoots again, and Damsari gets hit in the leg. Aaaack!
He tells Comrade Ahn to go and leave him here. What? They argue, but Damsari tells him his job is to take Teacher Yang Baek to safety, and Ahn can't argue with his general. He goes.
Shunji and his men come around the car with their guns raised. He lifts Damsari's hat…
He laughs, "Because of you, I will have lied to Boon-yi." Dad, don't say that! Why are you saying that?
Damsari: Do you think this hide-and-seek will end if you capture Yang Baek and Dong-jin, and Gaksital? In Joseon, there are countless Yang Baeks, and Dong-jins… and as many grains of sand as there are on a beach, there are Gaksitals.
Oof, nobody's speeches make me cry like Dad's. He tells Shunji he's wasting his effort, but Shunji sneers back at him that they're the ones wasting their time dying for a ruined nation. Damsari just laughs with his knowing smile…
And then he raises his gun to his temple. WHAT. Dad… no…
He shoots and falls dead at Shunji's feet.
Noooooooooooooooo!
Couldn't you have waited… till they came back for you… which I know they can't…. aaaaaaaugh. Damnit.
Mok Dan turns back one last time and lingers, but the others urge her onwards. They arrive at Dong-jin's camp safely. Well at least they managed that.
Deuk-soo takes Mok Dan to see Kang-to, who's up now, but can't move without buckling in pain. She rushes to his side and he says he's fine, and Deuk-soo tattles that he's not fine—he pretty much died and came back to life. He toots his own horn, saying that he's been tortured too, yunno, and I just love that he gets to be friends with Gaksital now.
Kang-to even sends him on a personal mission, to go retrieve Baek Gun. Thank goodness someone remembered him.
Mok Dan urges Kang-to not to pretend he's fine around her—if he's in pain, he should say so, because he can just lay it all down when he's with her. I half expect him to just be like, really, 'cause I can't feel my ass, but he's a big ol' hero and says he really is okay.
He says his body's in some pain, but his heart feels free now that he doesn't have to worry about keeping his cover all the time, always looking over his shoulder. He asks after Yang Baek and Damsari, and she says Dad's on his way.
He hugs her and says he was so worried for all of them, and she doesn't betray her fears.
Shunji and his men storm into the tailor shop looking for clues, and they discover the secret door, left ajar. As he steps down into the room covered with Korean flags, Damsari's last words ring in his ears.
He shakes them out, "No, no, no, if I just catch the three of them, it ends. Yang Baek, Dong-jin, Gaksital. If I just kill them, it ends. It ends!" He tears the room apart, ripping the flags down in a rage.
Dong-jin finds out how they escaped the city, and they worry as they wait for Damsari's arrival. Comrade Ahn finally arrives at basecamp, head hanging low. Yang Baek stands up in anticipation.
Comrade Ahn delivers the news—Damsari got shot, pushed him to go on, and then shot himself once he was captured. They stumble in shock. Boss Jo turns to Yang Baek, "How… will we tell Mok Dan?"
But she comes right into the tent with Kang-to… and one look at their faces tells them everything. Oof.
She stands there, numb, taking it in. Kang-to turns and hugs her before the tears come, like a shield. It's so moving, that one gesture. She falls apart and cries on his shoulder.
Shunji kneels before Chairman Ueno, who is so livid with another failure that he immediately calls for Kinpei to draw his sword. But Shunji, balls of steel that he is, refuses to apologize or admit any fault.
He says he's always done his best, and everyone gapes. Kimura urges him to beg for his life, but Shunji won't, even with that samurai blade grazing the hairs on the back of his neck. Damn.
He simply says that he's found Yang Baek's hideout, and he's the best man they have for the job. Ueno can't really argue, and he gives him another chance, adding that the cost of failure will be his life. And that's different from the past how?
I really do love that Shunji doesn't give a rat's behind about Kishokai. They're as much a tool for him as the other way around, which makes their dynamic really interesting.
Rie finds him afterwards and says he's a surprising man, to go up against the chairman like that. She asks how a person can find courage like that.
She suggests that perhaps it's time they both give up. She tells him about Mok Dan coming to her for help, and that she offered her passports to run away with Kang-to.
Rie: "I didn't understand why she turned me down, but then when I saw the woman who knelt before me, I knew. That woman not only loves Lee Kang-to, but Gaksital too."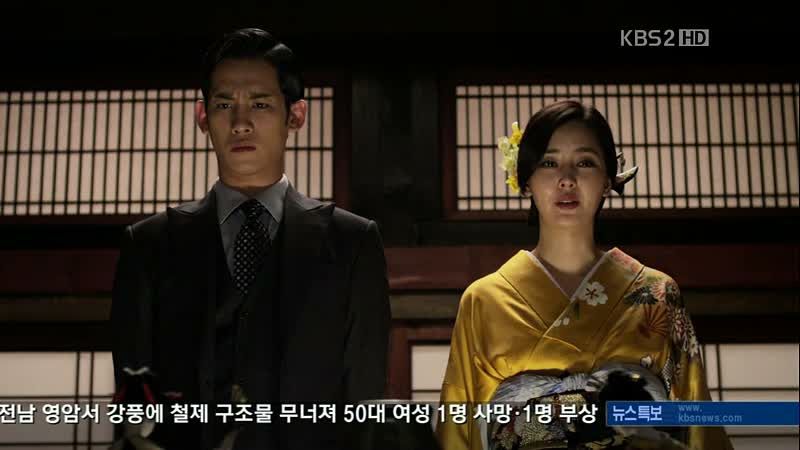 Well duh, she actually loved Gaksital first, technically. Though I guess it goes more like Young Master, then Gaksital, then Kang-to. So many loves, for just the one man.
She says she only loved the ambitious policeman Lee Kang-to. Shunji: "What if in the end I can't catch the two of them? And Yang Baek, and Dong-jin? What if… my life were to end in wasted effort?"
She turns to him, surprised, and I wonder if maybe there's a sliver of a chance in hell that they might walk away from this… but he shakes it off, convincing himself that a life dedicated to the Empire isn't futile. He swears to end them. It's like he's still fighting Damsari from beyond the grave.
Shunji meets with Kimura and Murayama to discuss their next move. They start by putting a price on Kang-to's head. Kimura guesses that the two leaders have joined up at Dong-jin's headquarters, if Yang Baek's camp was cleaned out.
Murayama starts putting all the pieces together—the burning of records, the money, the weapons—they must be planning an armed demonstration, which he calls a terrorist attack. Shunji guesses that the family records are being destroyed to stop the drafting of Koreans, which… I thought they already figured out.
Kimura says all they need to do is draw Yang Baek and Dong-jin out. Yes, but how? He says they just have to spread the word that if they don't show themselves by a certain date, they'll slaughter every single person who's blacklisted. So anyone who has anything to do with the independence will get hauled out for a massacre. Whoa.
And then in the meantime, Kimura meets with the count's friends—the ones who run the university—in order to fill the draft roster starting with registered students. Oh crud.
It goes into effect immediately, because Kye-soon goes to see her little brother, who says he got a scholarship this semester and wanted to buy his noona a meal. And then he delivers the news… that he's been drafted, and so has every Korean at the university.
They're already keeping the students under surveillance, and he says as brightly as he can that he'll come back alive. He's so young! Kye-soon tamps down her tears, as she says he was their family's big hope, but what will she tell Mom and Dad?
He takes her hand and promises to return safely, and that he'll graduate and get a great job, and give noona a comfortable life. He leaves their family in her care while he's gone. I… can't stop crying.
They can't even afford more than one bowl of soup, and Kye-soon tells him she's not hungry so he can eat. He calls her a liar and pleads, "I just want to buy the noona who's going to take care of our family in my place, one bowl of soup." Now I'm just a blubbering mess. Must you have all my tears, Show?
Wanted posters go up all over town with Kang-to's face on them, offering a reward for a tip-off. The townspeople are happy to help with Kang-to's demise. But Deuk-soo shows up and shouts, "Lee Kang-to isn't a bad person!" They all look at him like he's crazy, as he rips the notices off the wall.
He sees Sun-hwa passing through and runs after her with a huge smile, but she turns away, frightened by everything. He looks down at her little brother, who's sporting bruises on his face.
He finds out that the kid's new teacher hit him because he wouldn't change his surname (therefore putting him back in the official registry) and said he couldn't go back to school unless he changed it.
Deuk-soo stops them, insisting that all they'll do is send him off to war when he's old enough. He tells the kid he doesn't have to go to school anymore, and Little Bro declares his approval of Deuk-soo, making Sun-hwa blush.
He tells her Mok Dan wants to see her and they skip away. He brings them up to camp and Mok Dan hugs Sun-hwa brightly.
Kang-to and Yang Baek watch from a distance and wonder how Mok Dan is keeping it together. Kang-to says he doesn't know how to offer any comfort, knowing that she's now lost both her parents. He worries that if something happens to him, she won't be able to endure it. "I wonder if she'll be better off if I leave her."
Oh no you di'n't. Kang-to-ya! Imma slap you!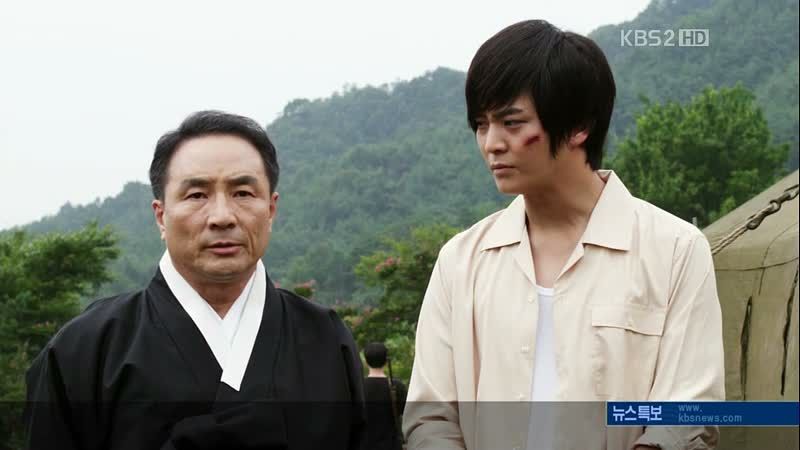 Yang Baek: What do you think is the one thing in a grown man's life so precious that he must protect it with his life? I believe it's love. I love Joseon, I love my hometown, I love my mother, my wife, my son. Watching those that I love be violated by the Japanese, how could I not feel rage? If you truly love Mok Dan, you put your life on the line to stay by her side and protect her, and fight the ones who would torment her.
Goddamn, that's a moving speech. And thank ye drama gods for someone who tells the hero that noble idiocy is for idiots.
Teacher turns to Kang-to to say that his wife was dying in a hospital not ten minutes from where he was, but he couldn't go to her because of the Japanese. He swore he would never let his children, and the young people of Joseon suffer the same fate.
"And that's why I fight to the death. But to hear you say such weak words…" Kang-to hangs his head, eyes brimming with tears, "I'm sorry, Teacher." He pats Kang-to on the shoulder with a warm smile.
Mok Dan keeps her brave face on, but suddenly starts to cry and runs into a tent to hide. Kang-to follows her inside and sits down next to her, taking her hand in his.
He turns her words right back on her: "In front of me… you don't have to pretend you're not hurting, that you're not having a hard time." Damnit, will I ever stop crying?
She says she knows she can't be weak, not now, but doesn't know if they can do it anymore. Her resolve finally starts to break. Can they really fight Japan and win?
He repeats what her father once told him—that an egg can break a rock, and that a rock, no matter how strong, is dead and will turn to dust. But the egg is alive and someday will hatch a chick to walk upon that dust.
Kang-to: Be strong. You have to be strong. My strength to fight comes from you.
Beautiful. Ten points for Apt Pupil Boy. I'm crying again, by the way.
He holds her close.
At the station, Koiso beats poor Abe, accusing him of being in on Kang-to's secret identity. Abe swears he didn't know, raising his arms to yell, "Bansai! Bansai!" to the Empire.
Koiso asks where Kang-to sleeps, and Abe says sometimes here, and other times at a relative's house in the mountains, but he doesn't know where. But they get a tip-off from someone else who saw Kang-to leave a mountain house, and Koiso runs out to chase the lead.
Abe crumples in tears as soon as they leave. Aw, poor sweet pathetic Abe.
Deuk-soo marvels at his superhero's hideout, as Baek Gun packs herbs for Kang-to's recovery. Of course as soon as they're ready to walk out the door, they hear someone approach.
Baek Gun grabs a chair and hurls it into the window, and they leap out head-first. I just hope that's not a cliffside house.
Shunji and his men burst in just behind them, and they give chase. Shunji stops to look inside the house, and his eyes narrow at the Wall of Baddies, strung up with familiar faces. He flashes back to each of their deaths.
He brings everything to Dad, who finally puts the last piece of the puzzle in place: "Ah, so Gaksital is the son of Lee Sun."
Seriously, I almost forgot about that storyline 'cause things had gotten so big. Shunji looks at him quizzically, as Kimura says it won't be long before Gaksital comes for him. I'll admit; it's certainly in my calendar under "Things I'm Looking Forward To."
Dong-jin says he has about 70,000 men trained in death squads around the country, at the ready. Yang Baek proposes that after the first armed uprising, he'll go back to Shanghai and gather forces overseas.
The plan is for Dong-jin to work his way out from within and Yang Baek to work his way in from the outside. "Let's rewrite an unlikely history."
Everyone's in good spirits except for Reporter Song, who hides a worried look. He finds an excuse to speak to Kang-to alone, and tells him what he found out: that if Yang Baek and Dong-jin don't turn themselves in by the month's end, Kimura has ordered the slaughter of every blacklisted comrade they have in custody.
Reporter Song knows that the teachers won't stand idly by to let their comrades die in their place, but doesn't know what to do to keep the news from them. Kang-to: "The time has come for me to deal with Kimura Taro." Awwww yeah.
Reporter Song gasps—he's going to take out the director of police? And how does he know that they won't kill the independence agents anyway? Kang-to says that governor Wada doesn't have the stones for this kind of thing—it's Kimura who's pulling the strings.
Deuk-soo arrives with Baek Gun, and Kang-to ribs him sarcastically, "You sure did bring him quickly," and Deuk-soo shoots back, "I brought him, didn't I?" I do love their friendship so.
Ajusshi asks if Kang-to's okay, and has some bad news—Shunji has found their hideout, meaning he knows that Lee Kang-to is Lee Young. He worries that they'll come after him. You mean as opposed to the coming after they're already doing because he's Gaksital, or Lee Kang-to? I think being pursued for all three identities doesn't work cumulatively, which is frankly a relief.
Kang-to says he has to fight: "This was always a fight to the death, whether them or me." Stop with the jinxy death talk!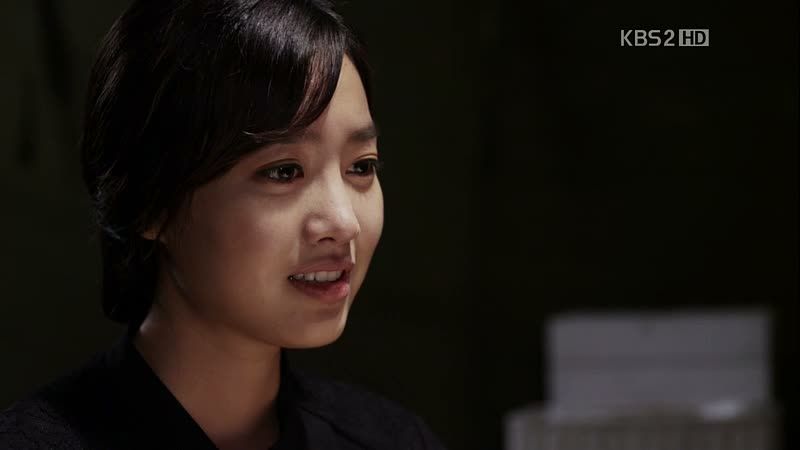 Baek Gun tells him not to argue because from now on, he's going to follow young master like a shadow. I like that idea. Reporter Song chimes in that he wants to help too. But Kang-to tells them both that he'll go it alone. BAH. WHY? This is no time to play lone ranger.
Mok Dan tells Boss Jo that she's okay, and he suggests that any time she and Kang-to want to run, they should. She tells him about Rie's getaway offer and her refusal. "But when I heard that Father died… I regretted it. What if we're fighting a losing battle? What if we all die this way? I should have said I'd leave… I should have left. But now, I've folded those thoughts. Father knew he might die but went anyway. And even if we lose, even if we have no chance of success, I too will live right here and do everything that I can."
The next day, Deuk-soo jumps in to introduce Sun-hwa to his mother (aw) and tells Mok Dan to stop Kang-to from going into the city. It's a death trap if he goes.
She sighs and walks up to him, and he says he's just going to make a quick run into the city. She asks cautiously why, and he just says, "There's something I have to do."
Urg, first Dad, now you too? I guess this is what happens when you date someone who's just like your father. I just want to like, tie him up, for her sake.
But she puts on her bravest smile and tells him to go. "I'll wait for you." She asks him to be back by dinner, and he promises. He gives her a kiss on the forehead and she watches him go with a stricken look.
Kimura gives Murayama and Shunji the full backstory, and says the same thing as Kang-to: "Whether him or me, this is a fight that ends in death." Shunji tells him he's put his two best swordsmen on protective detail, and Dad rests assured.
Governor Wada bursts in and kicks up a fuss about Yang Baek operating right under their noses, and Kimura just treats him like the pompous puppet that he is, noting that it's not like anyone who works for the government went to tailor shop regularly, and never caught on. Ha. Wada blubbers and they walk out, ignoring him.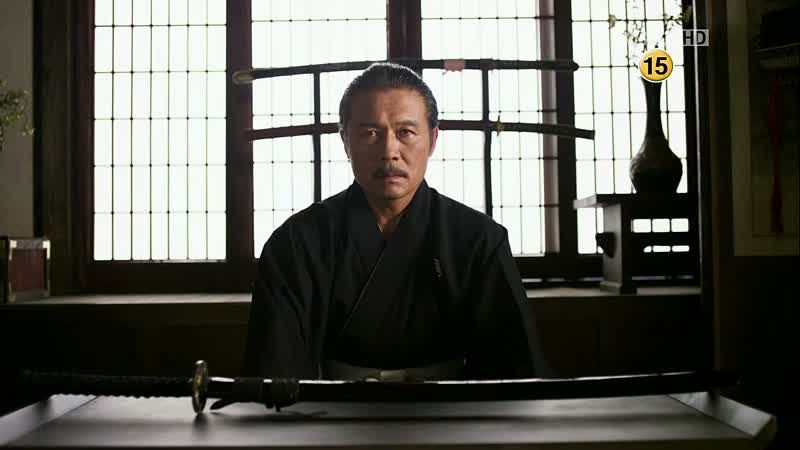 Kimura goes home and just sits stoically in front of his sword, preparing for battle. Kang-to hops the wall and sneaks into the house, and Kimura lowers his hand to his sword…
The doors open, and Kang-to approaches. But Kimura isn't about to fight fair, and the two bodyguards appear on either side of Kang-to, swords drawn. He fights them with his throwing daggers, and quickly disarms them.
The last one goes down, and then Kang-to is left holding his sword. Nice. Properly armed Gaksital!
At the same time, Shunji races home…
Kang-to takes out the final punishment dagger and walks up to Kimura, who draws his sword and readies for battle…
The end. Aw, damnit, I wanna see the fiiiiiiiiiight!

COMMENTS
Augh, I can't believe I have to wait another week to see Kimura meet his grisly death! That is what's going to happen, right? RIGHT? I'm scared that Shunji will come home in time to muck it up, but with two episodes left, Kimura has to die. I feel like they're doing the right thing in having the personal vendetta end with him, because the finale has to be about the larger movement, and not about avenging the family. By now it's actually sort of a loose end rather than a driving force for the hero, which makes me feel like maybe they mishandled the whole revenge aspect of the story. But in the end it's the less important thread, so I won't cry over it, but I do feel like there's a lot left to be desired in the father-hyung-Kang-to family honor vendetta because mostly, we're left to fill in the pieces ourselves. It's an aspect of Kang-to's character that gets fleshed out the least, though I certainly wouldn't trade it for any of the A-mazing nine thousand other aspects of the character that do get explored.
Let's face it: we knew Damsari wouldn't make it out of this drama alive. There was just no way. If there's one thing they really got right with this character, it was his heroic speeches at pivotal moments in the story—he embodied the mission and the hope of the country in a way that brought Kang-to out from his very small world and into the bigger picture. And he was inspirational till the very end, even making Shunji question what he was fighting for all this time. To see Shunji's moment of crumbling self-doubt was great too, because even till the bitter end we see the flicker of humanity that he purposely tamps down.
I do wish they had done a better job with Damsari's chase, which to me seemed too quick and easy, and not befitting the death of an independence general. I wanted more fight from him, and I wish they could've plotted the getaway more intricately. It's one of the show's bigger flaws that maneuvers are very direct and lacking in twists and surprises, or heck, even some much-needed logic. But what they do get right is the big picture—he sacrifices himself for his teacher, for the movement, and gets to tell his daughter that he does all this for her.
I nearly throttled my screen when Kang-to mentioned being a noble idiot to save Mok Dan the grief of losing him too, and was SO relieved that he still has a good teacher in Yang Baek. Because can't you imagine Damsari just turning over in his grave, all I died to send my daughter to you and that's your friggin' answer, boy? I love what Yang Baek tells him—that love extends from your family to your country, and you have to have that attachment in order to keep fighting.
A hero detached from everything is just one step closer to losing his humanity and becoming a monster, and I'm glad that what Yang Baek teaches him is that HE needs Mok Dan, and not the other way around. It's a beautiful way to look at the relationship between a hero and the woman he loves—yes, you could see her as just the bait who gets used by his adversaries, and he could be noble and forsake his love. But the idea that she is the source of his fighting spirit, and the reason he goes on—the same way Damsari saw Mok Dan as his sole reason for fighting—when he understands that, it feels like we're watching him mature in leaps and bounds on his hero's journey, and it gives me hope that there's future to be had for them. Ya hear me, Universe? A future! A long one! With babies! Or Damsari will never forgive youuuuuuuu!
RELATED POSTS
Tags: featured, Gaksital, Han Chae-ah, Jin Sae-yeon, Joo-won, Park Ki-woong