Giveaway hootenanny: CDs and OSTs!
It's a giveaway! It's a hootenanny! It's a giveaway hootenanny!
Here's the shortened version of how this giveaway came to be: gummimochi says, "Hey, I have this CD I want to give away to fans to celebrate my anniversary with Dramabeans," and we says, "That's a great idea, let's steal it and give away LOTS of stuff, because as we know, more is always better!"
So we're giving away OSTs, one from each of us, just to say thanks for being you, and for sharing our neverending love of all things kdrama.
Rules:
Leave a comment here (with your real email address!), explaining why you'd like to win the CD of your choice. Maybe this was your favorite drama EVAR, or maybe you really want that disc to use for dart practice. Whatever floats your boat. You may enter for any or all of the CDs (separate comment per entry, please), but be sure to specify which particular one you are addressing.
Note that winners will NOT be picked in a random selection; each of us will choose one winner, to be announced next week. Meet back here on Sunday, August 12, for results!
SHINee's "Sherlock"
gummimochi:
This time one year ago, I could never have imagined that I would be able to share my everlasting love for variety, drama, and pop music to a beautiful you. Putting all those together, I've chosen SHINee's new mini-album, "Sherlock."
Min-ho will be headlining the upcoming drama, To the Beautiful You, where he needs to be clued in that a he might be a she. Not like it takes Sherlock Holmes-esque detective skills to figure that out though, but hey – this is kdrama-land.
You've Fallen For Me OST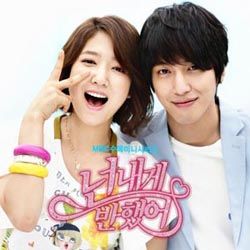 kaedejun:
Time flies when you're having fun! It feels like yesterday when I wrote my first recap, and I can still remember that experience. 12 recaps and 2 years later, I'm still living through that experience – which I'll never forget – thanks to Dramabeans, where discussion, fan-girling (or fan-guying), and sharing flow through like streams of consciousness during the lazy days of summer. Speaking of summer – this is why I've chosen the You've Fallen For Me OST. Its OST makes me think of sunshine, happiness, sunflowers, and daisies. Really. And it features CN Blue's Jung Yong-hwa and Kang Min-hyuk, which is one of my few favorite bands (second to the almighty Big Bang). So I hope you enjoy it as much as I have, and live this summer out as carefree and happily as the students of You've Fallen For Me. I'll see you at the beach!
Chuno OST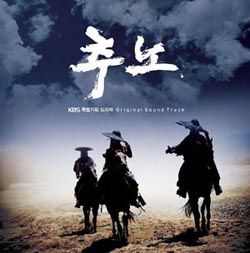 HeadsNo2:
This is a soundtrack near and dear to my heart, not only because Chuno will always remain one of my all time favorite dramas, but because it also represents one of my favorite aspects of dramas and Dramabeans – the ability to bring people together. By melding history with modern sensibilities, it's a drama that broke ground and appealed to a mass audience, whether they were seasoned sageuk lovers or complete newbies to the genre. No matter what our favorite genre is, we all look for stories with the ability to move us, to transport us to another world, to be thought-provoking, to give us a reason to want to gather and share our thoughts, our experiences, and our love of community. One hundred posts later, I've definitely come to treasure the discussion that happens here and all the wonderful insights I've learned from our time together, and hope you can enjoy a soundtrack that moved and inspired me as much as I did, if not more. Oh, and ♥ ♥ ♥ ♥.
Shut Up: Flower Boy Band OST
javabeans:
There are a lot of reasons for me to single out Shut Up: Flower Boy Band, like the fact that it remains, more than halfway through 2012, the drama that touched my heart the most this year. Other dramas had the big twists, the high drama, the epic conflicts, and the quirky high concepts—but Shut Up, despite its small world and small stories, had for me the sincerest connection with emotion and angst. The people felt real and the drama was fueled by that pounding, aching, fluttering and sometimes raging heart that drove its characters.
But you know what? All that aside, Shut Up: Flower Boy Band had awesome music. It had the deftest way of working its music into the plot, effectively making its soundtrack a running storyline like it was a character of its own. So there.
The King 2 Hearts OST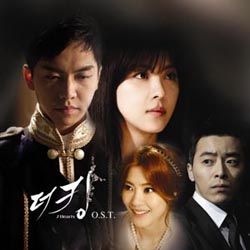 girlfriday:
An epic drama that managed to steal my heart in an epic way. The King 2 Hearts swept me up in its tense action, side-splitting comedy and sweet romance at every turn, and the score played a big part in keeping me enraptured in that world. It's also a drama that reminded me of the fervor of fandom — you guys made the crazy train fun (also crazy), and I was happy to come along for the ride. This OST probably marks those few months in time — the OMG WHAT HAPPENS NEXT crack addiction — as much as the drama itself. Here's to love in the DMZ, and sharing good dramas with friends from around the globe. Cheers.

Tags: featured, giveaways, soundtracks