Haeundae Lovers: Episode 2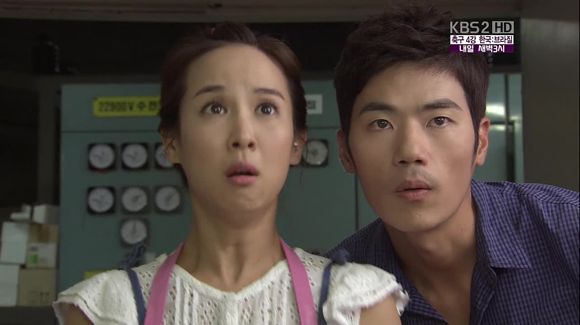 Haeundae Lovers! This dorky, cheesy little drama lifts me way out of the darkness that I've been engulfed in the past several months, which is a good thing. In a nutshell, I think that if you approach this drama seriously, you're not going to enjoy it. If you take it at face value and don't think to hard, and stare at the pretty all hour, you'll enjoy it.
Thank goodness Jung Suk Won is easy on the eyes.
Sora's high kick meets Tae Sung's hands; clearly she's flexible. She gives him a good kick on the head and bolts out of the room. Tae Sung screams down the hall: "I'VE NEVER FELT THIS WAY BEFOREEEEE!" Oh wow – if only every confession were like this…
Tae Sung gets the call that Boss Oh Jung Chul is leaving out the back door. That's weird – if Sora is his girlfriend, why is she leaving out the front? But he runs after Jung Chul instead and meets him at the stairwell. Once again, Jung Chul thinks his henchmen can handle a measly prosecutor. Wrong. Tae Sung is much more agile and stronger, and he takes down the two men easily. He chases Jung Chul through the parking lot, while his investigators chase after the henchmen.
He manages to finally pin down Jung Chul, and gives him a good beating. However, they're in the way of an incoming car; the driver and his girlfriend stare at the scene before them, shocked, while their puppy in the back smiles. Yummy boys! The puppy jumps out and starts barking/flirting with Tae Sung. But wait…could it be…? Is Tae Sung… scared of dogs?! Jung Chul takes advantage of Tae Sung's momentary loss of cool and kicks him right in the gut before running away.
Meanwhile Sora runs out to her truck – she and Kwan Soon need to leave, asap. But just as she drives off – she hits Jung Chul! Freaking out, they take him to the hospital, while Tae Sung gasps in pain, barely able to walk out of the parking lot to catch them.
Crazily enough, once they arrive at the hospital and get the doctor and the nurses to come out, Jung Chul is already gone from their truck. He did leave his cellphone behind though…
Tae Sung is ordered to stay away from his investigation on the drug boss. Clearly he can't handle it, and his distrust of the police investigators has led to the police all protesting for his dismissal. It doesn't help that he thinks so lowly of them. Tae Sung also has that maddening personality of "I have to complete my job, no matter what!" so he swears to capture Jung Chul – even if it's by himself and done while he's on "vacation leave."
He puts on his mask, and walks right out of the bureau, knocking shoulders with the protest leaders of the police bureau. This guy doesn't even know how to catch a break during his "honeymoon."
What's worse is Tae Sung's father, who is completely disgusted with him. Not only did Tae Sung ditch his wife in the hospital, but he didn't even catch Jung Chul, and he gave prosecutors a bad name. "You're not even my real son. I think I burdened you with too much." Dad's disapproval is the final blow.
Flashback to when Tae Sung was a little kid in an orphanage. Dad had been a prosecutor then as well, and had been at the orphanage most likely for business. He was on the phone with someone regarding a meeting time and place, but after he hung up he promptly forgot it. Tae Sung – then five – had overheard the whole thing and memorized the time and location. He was also quite smart, and wanted to catch thieves when he grew up. Dad recognized his smarts, and adopted him soon after.
To his sleeping wife, Tae Sung apologizes that he needs to finish his job. His father had given him everything – including respect – and he doesn't ever want to let him down. He needs to be his father's son first before he can be her loyal husband. Se Na grasps his hand gently, indicating that she was awake the whole time. She gives him her blessing, and he promises to return in four days. Somehow I don't think that's possible…
In another hospital at Busan, the head of Haeundae Hotel President Yang Man Ho has fallen into cardiac arrest. Tam Hee puts on a good show of being distressed, but she's already planning out his funeral garb and casket. (Un)Fortunately, Man Ho is revived, and Tam Hee goes back into his room, cooing over how happy she is that he's alive. I'm glad Granny can see right through Tam Hee, and calls her out for it.
Man Ho struggles to speak: he wants to see his son. He had been searching for 27 years but to no avail. Now, since the end is near, he wants to see him for the last time. No way… are you telling me… his son is Tae Sung!?
This is too freaking good to be true. Tam Hee isn't too thrilled to hear this, as she doesn't want the son to be found. Lose the inheritance? No way!
Thing is, Tae Sung's closer to her than she'd like! He arrives in Busan and starts asking around for Uncle's Fishery, Sora's business. He knows that they have Jung Chul, when he last saw him in Seoul. The local people tell him about the history behind the fish store. It's operated by Go Joong Shik and his former White Beach Gang members. They used to operate Haeundae Hotel until Joong Shik's second-in-command, Man Ho, ousted him and took over. The shock led to Joong Shik's condition, and they opened their fish store, quickly taking control over the Jagalchi fresh seafood market. If they sneer at you, you have to buy. Their skills with the knife make them the fastest at cleaning fish and making sashimi.
Kwan Soon wakes up from a very persistent caller – it's her boss at the nightclub. Now he wants $5000 in damages for the broken liquor bottles and the mess Sora made after her failed geisha performance. If she doesn't pay up, he's sending people down to collect. Kwan Soon tries to ignore him and muffle his calls, but her father comes storming in and finds out what kind of mess she's in.
He's irate that Kwan Soon has gotten into so much trouble, but has already told the other uncles that if people do come "visiting," they'll be prepared to meet them – with baseball bats. What they don't notice is Tae Sung being all super spy, watching from the trees through his binoculars. *SNERKGIGGLE* He looks ridiculous. Anyways – he's wondering if the White Beach Gang joined forces with the "geisha" Sora and Oh Jung Chul, because that's what it looks like to him.
Tae Sung jumps to their front door and asks if they have a room available for rent. Everyone eyes him suspiciously – is he the one to collect money? After a few minutes of staring, Sora recognizes him as the muscle man from the night club and kicks him in the crotch. He bends down, and she aims for his head. He catches her leg again, then shifts into tango position, wrapping her leg behind him.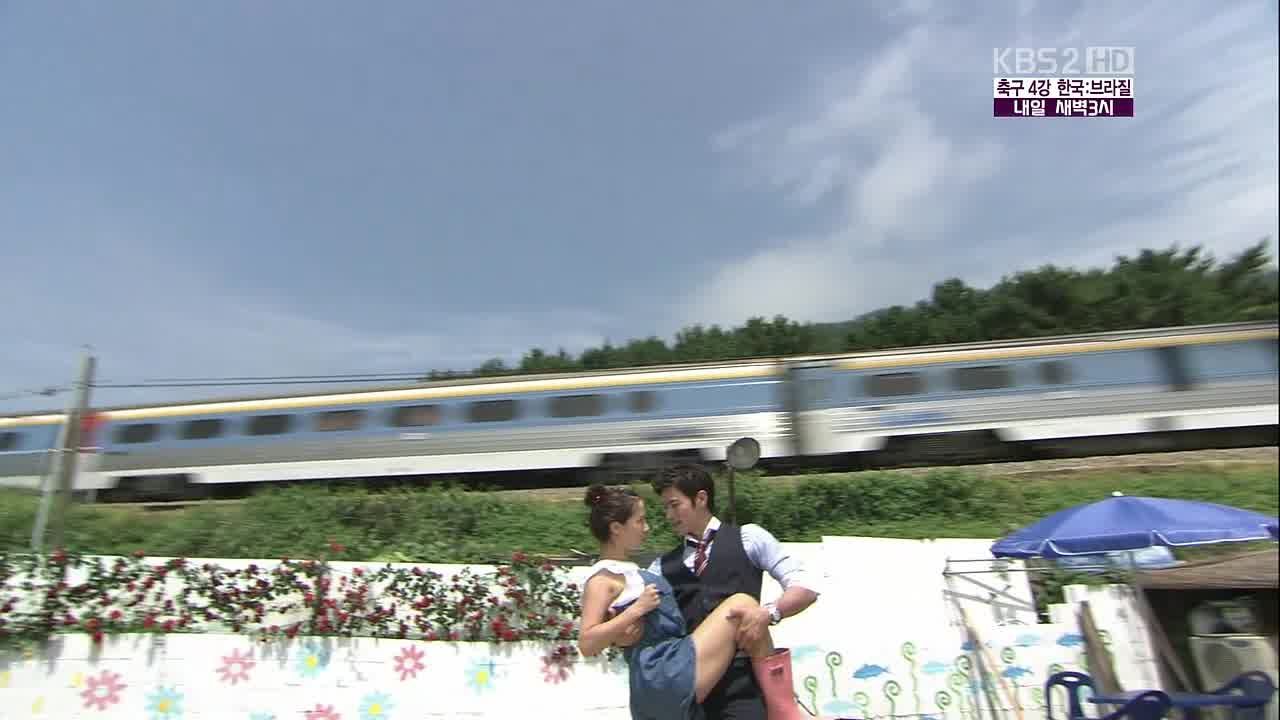 UHM. YOU'RE MARRIED. THIS IS AWKWARD. Whut? Even the uncles can see the sexual tension. And in case we don't see it, there's a nice long pan around the two of them in this position, with a totally unromantic train chugging in the background.
He throws her back unceremoniously, and she falls on to her uncles. He just wanted to rent a room! He'll pay in cash – and hands over a huge wad to Kwan Soon. (Not wise.) He warns Sora to stop kicking him in the head, because they just may start liking each other. Whoa. Did he literally just call out a rom-com trope?! No way!
Before they'll let him take a room, Uncle Soon Shin wants to know what he does for a living first. He's not a prosecutor, is he? Since Sora knows him as a muscle man, he says that he's a body builder. Oh yeah? Prove it! Dong Baek hands Tae Sung a metal tray to bend in half. With no choice, Tae Sung has to – and somehow he does it! It even shocks him that he was able to do it. Then Yong Do hands over his favorite comic book collection that's as thick as a phone book – rip it in half! This is harder, but Tae Sung does it! Soon Shin shows his baseball bat – how about this one? And Tae Sung kicks it, shattering it into pieces.
Satisfied, the uncles let him stay. He also tells them that his name is Nam Hae. Sora volunteers to take him to his room, which raises the uncles' eyebrows. It seems that she knew him from before, and he seems to be a respectable fellow… maybe some matchmaking is in order?!
Once inside the room, Sora confronts him – is he here because he really fell in love with her? Well it's too bad for him because she already has a boyfriend she's going to marry. Tae Sung gets curious, wanting to meet him since he thinks it's Oh Jung Chul. He also can't believe that Sora is so dimwitted to think that he really likes her, because if she's Jung Chul's girlfriend, shouldn't she know that "I've never felt this way before" is the secret code?
Sora apologizes for that day in the nightclub though. When her skirt dropped she thought it was because he tugged her; instead she found a nail in the skirt afterwards that had been stuck on the door, and had tugged at her skirt. She hopes he'll forgive her for the misunderstanding, and to not mention the night club incident to her uncles.
Sora finds Kwan Soon happily painting her nails after having received so much money from Tae Sung. She's no longer worried about the money collectors because she just remembered that she wrote a false address on her resume. Kwan Soon also adds that she thinks Tae Sung is a player – based on the fact that he has a tight butt.
At Haeundae Hotel, Tam Hee is having a meltdown. Their hosting a special food event, and all their expensive mackerels are dead. Tam Hee is ready to fire the head chef, but thankfully Joon Hyuk steps in with his level-headed coolness. He promises to give Tam Hee an event that would land on the front page and be worth something to be lauded about. As soon as she agrees to hand over the reins, Joon Hyuk requests Joo Hee to call up Uncle's Fishery and get their mackerel at 5x the usual price. He wants Go Sora to come herself as well with her acupuncture needles.
Of course, the thought of Sora in her hotel flips Tam Hee out, but she no longer has a say in the event!
Joo Hee calls up Sora (and it turns out their friends too!), and when the uncles hear that it's Haeundae Hotel that wants their fish, they immediately say no. Heck no are they going to help those thieves! But Joon Hyuk gets on the phone and he convinces Sora. A guest from Japan is coming back after 20 years. He's dying of cancer, so this is his last family trip, and the last thing he wants to eat is the fresh mackerel made for him by Go Joong Shik. The only person who knows how to anesthetize mackerel and then revive them is Sora. That's why he needs her and her fish.
Sora makes the good business decision to agree to Joon Hyuk's terms. Of all people Yong Do – or Uncle Hello Kitty – is the most sensitive to Sora's "betrayal" in helping Haeundae Hotel. But she relays the same sob story, and says that this guest still holds good memories of her father, so they should all help in preserving that memory. (Especially since her father is no longer right in the head.)
They pack up the delivery truck, and Sora adds that she'll be visiting her boyfriend after the delivery is over. Tae Sung's ears perk up – she'll be seeing Jung Chul?! He quickly jumps into the passenger seat, making the excuse that he wants to go to the hotel and try to apply for a job at the night club there.
Back in Seoul, Dad is trying to get Se Na to 'fess up on where Tae Sung is, but she won't say. Rather, she promises that wherever Tae Sung is, he's out there because he wants to be a good son to his father. Likewise, she wants to be a good daughter-in-law and wife to him. How I hate that her happy bubble will soon be burst.
The security at the front gate won't let Sora and her truck through, after having learned his painful lesson the day before. A quick call to the kitchens confirms his presence, and he begrudgingly lets her in. Tae Sung wonders why she's not more angry with him, since he was being a bit of a jerk to her in not letting her come in. It's all a matter of perspective, she says. To his employers, he's the best employee ever.
They head to the freight elevator, only to see that it's closed for repairs. The kitchen is on the 19th floor. Tae Sung offers to help her since the night club is still closed. He picks up a few of the boxes and they head to the front door of the hotel. The stench of mackerel pervades the classy hotel, but what can they do? At that same moment, Joo Hee and Tam Hee are coming down to the lobby, but Tam Hee sends the assistant back to fetch her sunglasses. Whew – Joo Hee avoids seeing Tae Sung this one time.
As soon as Tam Hee lays her eyes on Sora and Tae Sung, she flips a lid again. How could Sora come in with her stinky fish and rubber boots?! She thinks that Sora is just trying to ruin the reputation of Haeundae Hotel, which is known for being so expensive that only idiots would pay the exorbitant prices charged here just so they can show off their wealth. Sora argues that she has no choice – the mackerel will die if they don't get them in water soon. Tam Hee: "So take the stairs!"
Nineteen floors?! Even Tae Sung gets pissed at Tam Hee's arrogance. "We said we'd deliver to the hotel, never said we'd bring it to the kitchen. Tell them to come down and get it." He refuses to get on the elevator anymore; if the freight elevator is broken and hasn't been repaired yet, who's to say that the guest elevators are safe too?
Sora is tired of fighting, and she doesn't want the mackerel to die. She'll go up the stairs. Just this once, Tam Hee wins. They take the boxes and leave… and Joo Hee just misses them when she arrives to hand over the sunglasses. Tam Hee tells Joo Hee to be smarter about who to side with – she shouldn't just follow orders from the Vice President and call up Sora if he orders it. Joo Hee grimaces when Tam Hee's back is turned; I'm sure she doesn't want to side with Tam Hee at all!
Tae Sung quickly tires after climbing several floors, but Sora just plows in, barely breaking a sweat and refusing to stop for a break. Anger is fueling her momentum right now. By the time they reach the nineteenth floor, they're guzzling down glasses of ice cold water.
Joon Hyuk comes and thanks them profusely for coming through. But they think it's all an act – how could he make them climb nineteen flights of stairs!? Did he know that the elevator was broken, and thus invited Sora to come over just so he could humiliate her again?! Joon Hyuk's sincerely surprised about the elevator, and he immediately calls for the maintenance team to fix it. He apologizes again, and says that the story he told was true. It wasn't a gimmick to get her to come.
Sora doesn't care. She'll just wake the fish up and get paid. But… Joon Hyuk actually wants her to wake the fish up somewhere else…
During the special event that evening, in front of that Japanese guest as well, Sora is dressed in a special chef outfit and wakes up the mackerel with her acupuncture needles one by one in front of them. The method seems simple – stick a needle by the fish's head – but it's a precise practice that only she and her father know, and it really looks like a magic trick. Everyone applauds, and clearly it's a fulfilling moment for her.
They serve the Japanese guest fresh sashimi, and he relishes in the fresh taste that is exactly the same as 20 years ago. He unfortunately could not bring his late wife back here to try it, but will pass along the taste to her in heaven. Since it's said in Japanese, Sora is kindly befuddled, but Tae Sung translates for her. (May I add that suddenly Joon Hyuk looks curious about their relationship?) Sora is impressed that a bodybuilder knows Japanese, so he fibs that he used to work in Japan. Besides, in a modern society, shouldn't people know more than two languages now?
Their obligation done, Sora sneaks off to the rooftop. She screams like a happy child and suddenly I feel like Sora is an oversized 6-year old. She's so happy to be back on the rooftop, especially since it used to be her playground until her father was ousted from the hotel. The view of Busan is the same – still spectacular – and her little treasure bucket of toys is still hanging by a rope over the edge of the roof. No one found it, amazingly.
She invites Tae Sung to play hopscotch but he politely declines, wondering if he's looking at a 6-year old or not. Sora draws out a hopscotch area with her chalk and relives her memories with her father, playing on the roof. She tells Tae Sung to stop sneering at her, since it's very hard for her to come back to the hotel, and now to leave it.
But Tae Sung thinks she has another job – one at a nightclub. As a geisha? Sora gasps – no one is supposed to know about that! But in her mind, it turns out she moonlights as a geisha in local nightclubs… cutting sashimi like a samurai. HAHA – she really does work at a nightclub! Her uncles aren't supposed to know though, since they think her clientele are sleazy men. Tae Sung's not surprised, since he thinks she's the type of geisha who undresses…
Sora gets a call, and Tae Sung overhears Sora's conversation with her boyfriend about putting "stuff in a safe place" (drugs!?) and "renting a boat" (to smuggle drugs!?). She puts her toys away (since she knows she'll take back the hotel and retrieve them later), and they drive off. Tae Sung's hoping that she'll take him along, but instead she drops him off in an area with a lot of night clubs. Go find a job!
And she drives off.
Tae Sung is desperate to catch her, since she may be meeting Jung Chul! He stops a delivery man in his moped and throws him $50 to go after the white truck. The delivery man hands his metal box for Tae Sung and they go speeding off.
Hold on tight!
Comments:
After watching episodes 1 and 2, I'm still feeling a tad indifferent to the drama, and I think it's because of the uneven tone of the story. There's plenty of laughs, and plenty of cheesy moments. You just know the drama is going for cheese. It reminds me a bit of Spy Myung Wol, but I'm hoping that it'll be a better story. The romance is the huge puff ball, even though it's very much like Romeo and Juliet; the actual plot line is very serious and melodramatic, and helps ground the drama. Mobsters battling it out, daddy issues, power struggles – dark stuff. However, I'm expecting something like Spy Myung Wol mixed with the disappointment of Big – how can you justify a married man falling in love with Sora, and have me be ok with it? Even though I'm not as fond of Nam Gyu Ri as I am of Jo Yeo Jung doesn't mean I'm going to like it when he chooses Jo Yeo Jung in the end. I'm hoping that the story will tread carefully around this; though I bet it'll end up with Se Na saying "I'll let you go, oppa."
I dislike some of Tae Sung's actions towards Se Na as he can be very selfish. However she's equally at fault because she's so passive. It's nice she supports her husband, but she let's him walk all over her. It makes Sora a great foil to her because she can defend herself and stand her ground. She can tell Tae Sung how it is, and he needs the challenge. He needs to stop being a daddy's boy and man up. It's a testament to Kim Kang Woo's acting that he can play quite the ass, and yet be comical at the same time.
Busan is also one of the smallest worlds ever in this drama. Sora is classmates with Tam Hee, who's married to Yang Man Ho, who's the father to Tae Sung, who's married to Se Na, who's friends with Joo Hee, who's also friends with Sora and works for Tam Hee. I almost want to say Tam Hee is Jung Chul's girlfriend on the side? That would REALLY tighten this ship.
I may sound like I dislike this drama, but I actually don't. It's more like my way of keeping expectations low, because the payoff feels much better. It's insane in a good way, and it's meant to be campy and cheesy and fun. It can't be taken seriously. If it can keep up the cheesiness with a straight face, then I am really going to enjoy this bit of lighthearted romance.
RELATED POSTS
Tags: featured, Haeundae Lovers, Jo Yeo-jung, Jung Seok-won, Kang Min-kyung, Kim Kang-woo, Nam Gyuri