Jeon Woo-chi drama enters pre-production, courts cast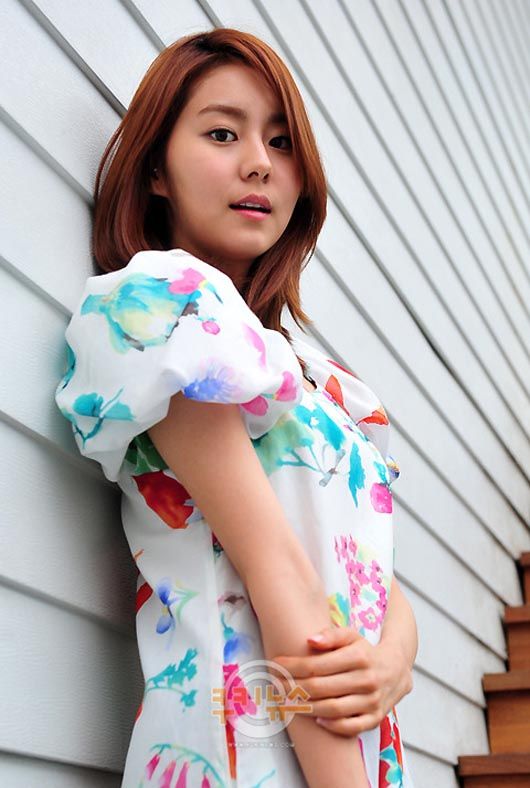 Here's a bunch of news about Jeon Woo-chi the drama, all at once. First of all: There's gonna be a Jeon Woo-chi the drama?
Yes, this is news that has been around, literally for years; we first heard rumblings of said drama two years ago, and then nothing. But now the drama is revving up for real, hurtling into pre-production with a bunch of casting possibilities. None of the following are final decisions, but they're all suddenly in the headlines, which can only mean the producers are in full media blitz mode.
First off, UEE is being courted as the leading female. Cool.
Secondly, Taecyeon is maybe a contender for the lead male role, but also maybe not. Erm… not as excited about him.
Thirdly, Shin Ha-kyun is also being linked to the show, albeit in a probably-can't-fit-it-into-his-schedule capacity. To which I say, huh? Two young idols and a serious heavyweight in the same casting notice? Weird.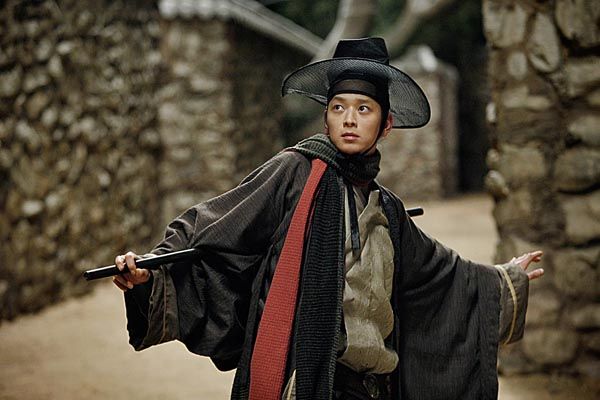 Kang Dong-won in 2009's Jeon Woo-chi
So, the plot. This story is based on a fantasy novel/folktale, so it's not necessary an adaptation of the 2009 film bearing the same name. Same source material, similar aspects, but a different angle.
For those of you unfamiliar with the film, the plot revolves around a Taoist wizard (dosa) named Jeon Woo-chi (played by Kang Dong-won) who has been locked in a magic scroll for 500 years. Then the seal is broken and the impish Woo Chi is released into the modern world, where he fights goblins and monsters. And wreaks a little havoc of his own.
The drama sounds like it's hewing closer to the original story, where Jeon Woo-chi is an inhabitant of Yuldo, a (fictional) ideal nation established by righteous bandit and Robin Hood, Hong Gil-dong. Woo-chi is a dosa who initially gains his powers by swallowing a gumiho fox bead. He travels to Joseon on a revenge mission, but when he sees the plight of the people there suffering under tyranny and famine, he develops into a hero. Sweet.
It'll be a fusion sageuk, so no time-traveling or modern-day Seoul. Woo-chi's character is trouble-making and mischievous, and the producers have stated their intention to include all kinds of colorful characters from the "bottom" of Joseon society: con artists, bandits, gisaengs, and more.
UEE's camp has confirmed that she received the offer, but has not decided yet. She did recently say in an interview, "I think I'll be doing a new drama this fall." Her side stated that Jeon Woo-chi is just one of several possible projects, however.
I like UEE's acting style so I'd be happy to see her sign on; she's very cute without getting overly so, and has a nice approachable vibe. Plus, of the many idol-actors of her generation, she's had one of the better track records, with solid performances in Birdie Buddy and Ojakkyo Brothers.
Taecyeon seems a less likely possibility; there are some articles declaring him a contender, but also several denials by his management company. So I wouldn't get too attached to the idea of him signing on, although it's unclear what character he'd play. Without additional information, I find both him and Shin Ha-kyun odd fits for Woo-chi, so I'm interested in seeing how the cast list shakes out. (They're not up for the same role, just to be clear — now that would be bizarre — they'd be up for two separate characters.)
I'm indifferent on his acting so I'd prefer a different, more engrossing actor be cast, frankly. Taecyeon has the charm and the presence (he was cute in Cinderella's Sister and had his moments in Dream High), but he never feels like he's IN his roles; he's projecting emotion on the surface rather than feeling it. I'd rather get an actor who feels it.
Shin Ha-kyun's management also confirmed receiving the drama offer, but stated that it's likely that he won't be able to fit it into his schedule. He's currently shooting the movie Running Man, and that plans to keep filming through early November. Jeon Woo-chi is aiming for a mid-November premiere, so that'll probably be too tight.
Attached are PD Kang Il-soo of Kingdom of the Wind and Emperor of the Sea; writer is Jo Myung-joo of King Gwanggaeto — so, lots of sageuk experience up in here. In any case, sounds like an interesting project with a fresh premise. I'll be keeping an eye out for this one.
Via Review Star, TV Report, Newsen
RELATED POSTS
Tags: Jeon Woo-chi, Shin Ha-kyun, Taecyeon, UEE