Scenes from campus rom-com To the Beautiful You
SBS's youth rom-com To the Beautiful You (aka another Hana Kimi remake) kicks off next week, and above are the latest posters from the show, featuring our lead couple Min-ho and Sulli, as well as the doomed-to-fail (I assume) secondary pairing of Sulli with Lee Hyun-woo.
My anticipation for this show is pretty evenly divided down the middle: interest versus dismay, hope versus cynicism. And that's probably mostly due to the production team: PD Jeon Ki-sang did Boys Before Flowers (which was a hit despite the terrible directing) and writer Lee Young-chul wrote the High Kick series (which brimmed with heart and cute relationships). The actors in this bunch include a lot of idols, which tends to make lots of viewers wary, particularly when they're in the leading roles. But there are enough more-experienced castmates in supporting roles, so it's not a total crap shoot.
Plotwise, I feel like you can basically tell the whole story in six pictures:

There! Done!
Oh wait, you mean you want more? Okay, fine. So the awesome genius high jumper, Tae-joon (Min-ho) suffers some kind of incident, right? And now he doesn't jump anymore. And the heroine was sad.
Heroine Jae-hee (Sulli) decides, I KNOW! I'll pretend to be a dude, go to his school, and cure his psychological trauma by taking my stalkerism to a more intimate level. Because you know, that works.
So she does, meeting all the guys at her new boys' high school in the process. Also some girl.

One day she meets a dog. The animal, I mean. Not a value judgment! He happens to come with an owner, our very own depressed genius athlete Tae-joon.
I'm guessing that meeting doesn't exactly get off on the right foot, because I've seen this story before in every other drama. But there's this other student at school, whose terrible haircut must mean he has an awesome personality. (Because we know Lee Hyun-woo's gonna rock it, don't we?) This is Eun-gyul, who seems pretty friendly.
And yet, the encounter leaves him scratching his head. There's something about that girl… I mean guy! Guy! There's something about that guy! Wait… does my Freudian slip know something I don't?
Eun-gyul is pretty good at soccer. Maybe he's not a genius like the hero, but at least he can multi-task!
…or maybe not.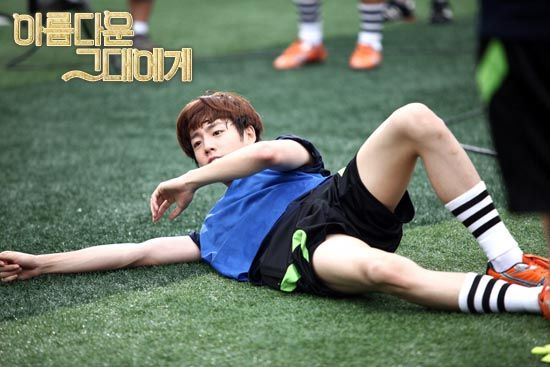 Is she taking cross-dressing-infiltration tips from the girl-dude of K-Pop Ultimate Survival? 'Cause… that didn't work out so well there, although I suppose she got her man eventually. Yet, inasmuch as people generally don't appreciate being stripped in public, Jae-hee's integration as the new kid in school does not get off on the right foot.
Hot bod alert! Wait, this is a high school drama, right? Must check to see if I should feel guilty about this…
Oh phew, Seo Joon-young is 25. Ogling sanctioned. As you were.
He plays Seung-ri, the head of his dorm who's determined to make his dorm first place. What, like Gryffindor? Then again, if that requires activities like painting shirtless, by all means do what you must.
Enter the rival. Hanna (Kim Ji-won) is a rhythmic gymnast, which seems appropriate since Korea's just about obsessed with that these days. Hero Tae-joon has been her friendly oppa since early childhood and they're both repped by the same sports agency. She's got it all: looks, wealth, background, talent…. except one thing. She doesn't get to shack up with her crush like some enterprising (some might call fanatical) young ladies, and you know what they say: presence makes the heart grow fonder. Oh wait, that's not a thing. It should be.
But sad. Someone dies! That's not a fun way to end this post about a hilarious school romance.
So here you go. Have a bromance palate cleanser:
The end. Which is really just the beginning.
To the Beautiful You premieres next week on SBS. Catch Episode 1 on August 15.
Via TV Report
RELATED POSTS
Tags: Lee Hyun-woo (2), Min-ho, Sulli, To the Beautiful You