The Thieves breaks more records, climbs all-time charts
Turns out if you cast enough bandits in your movie, they'll run away with the bank. New summer heist movie The Thieves has reported numbers for its second weekend, breaking another set of box office records in Korea. In Week 2 the film has sold nearly 7 million tickets — 6,884,220 admissions in total by Day 12 of the film's release. The press is having a field day with the box-office-record-breaking movie, and why not? There's nothing like a homegrown blockbuster to make you happy to do the math.
Over the weekend the film broke the 5-million-by-Day-10 record, a small club for some of the highest grossing films in Korea, both foreign and domestic (The Host previously held the record at 5.1 million at Day 10). But more interesting is the fact that it's well on its way to topping the all-time box office charts for domestic films, if it keeps up this insane rate of growth.
In twelve days it reached 14th in all-time box office admissions for domestic releases, topping total gross ticket sales for movies like Shiri, Ajusshi, and The Good The Bad The Weird. Director Choi Dong-hun's own Tazza held the 14th spot until this weekend, when his new film The Thieves broke it in just twelve days. Is it more or less consolation if it's your own film beating out your other film?
It's reportedly earning an estimated $39 million gross (for those of us counting in dollars), and seems poised to break into the 11-million ticket range where the top five all-time domestic films live (Silmido, Haeundae, Taegukgi, The King and the Clown, and of course at number one: The Host with 13 million +).
Is there a new top dog on the horizon? It's still early, but things are looking up for Popeye and his merry band of thieves.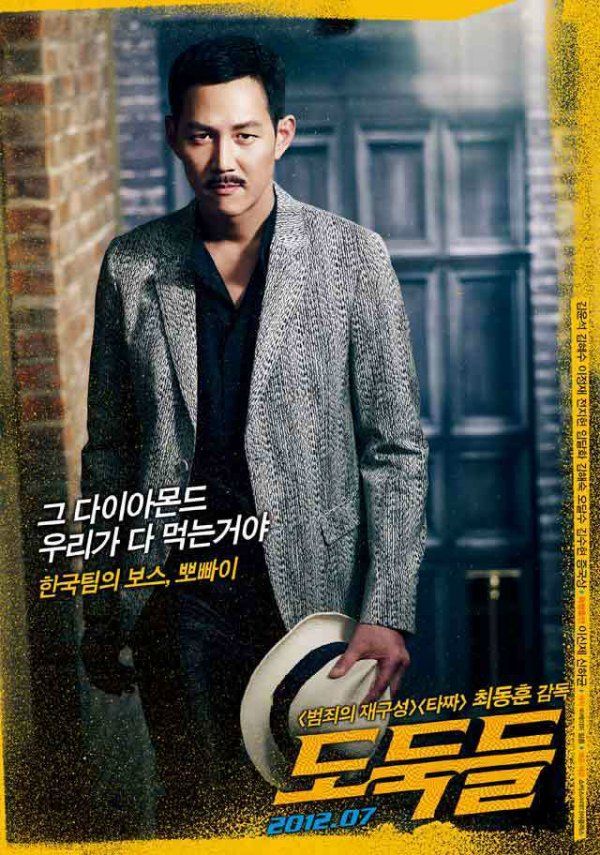 Via Hankook Ilbo, Hollywood Reporter
RELATED POSTS
Tags: box office, Jeon Ji-hyun, Kim Hye-soo, Lee Jung-jae