White Christmas: Episode 8 (Final)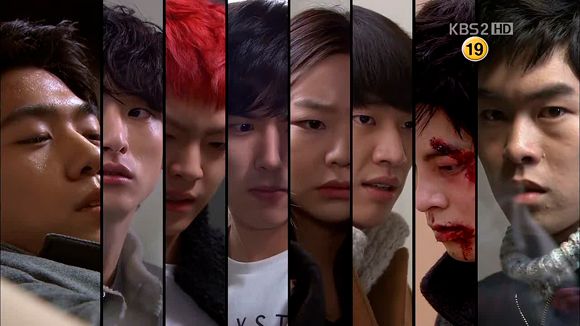 The end has finally come, and what an end it is. The question this series has been toying with all along – are monsters born or made – does finally get an answer, though you might not like the result. It depends on how you like your heroes, and if you don't like them with a side of murder, you might end up going hungry.
But all told, this was a pretty satisfying end to a show that I wish would never have ended at all. White Christmas, flaws and all, still stands at the very top of my ultimate favorite can't-live-without-it list of drama awesomeness. It's just one of a kind.
SONG OF THE DAY
Joseph Arthur – "Stumble and Pain" [ Download ]
Audio clip: Adobe Flash Player (version 9 or above) is required to play this audio clip. Download the latest version here. You also need to have JavaScript enabled in your browser.

FINAL EPISODE RECAP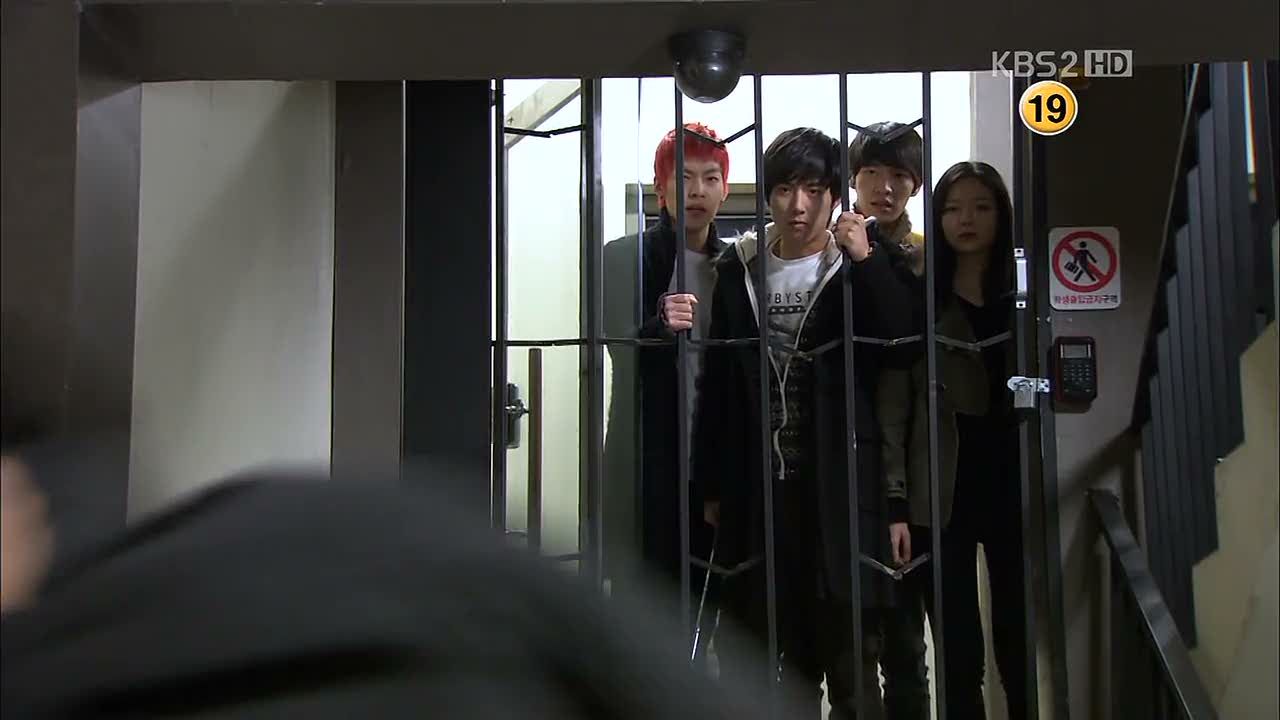 At the regional police station, officers piece the clues together from Moo-yul's call on Christmas Eve to Ji-hoon's call earlier that morning, claiming that a serial killer with a scar on his left palm is at their school.
The police know immediately that it's Doctor Kim and his patient, Jung-hye, and are able to pave their way through the previously-blocked roads to the school by following an enormous snow plow.
A gunshot rings out the moment they reach the gate, which we see as the shot Jung-hye took at the plexiglass. We cut to Doctor Kim as he levels an angry look at the boys who almost bested him before dragging Jae-kyu away.
The police set up camp outside the school gates, while one officer uses a megaphone to address Doctor Kim.
Doctor Kim uses the school's PA system to communicate back, and explains that both he and Jung-hye have a gun but all eight students are safe.
Meanwhile, Jung-hye tries uselessly to break the bulletproof glass, while Kang-mo outside sardonically reminds her that if Mad Mi-reu couldn't get out, then she doesn't stand a chance.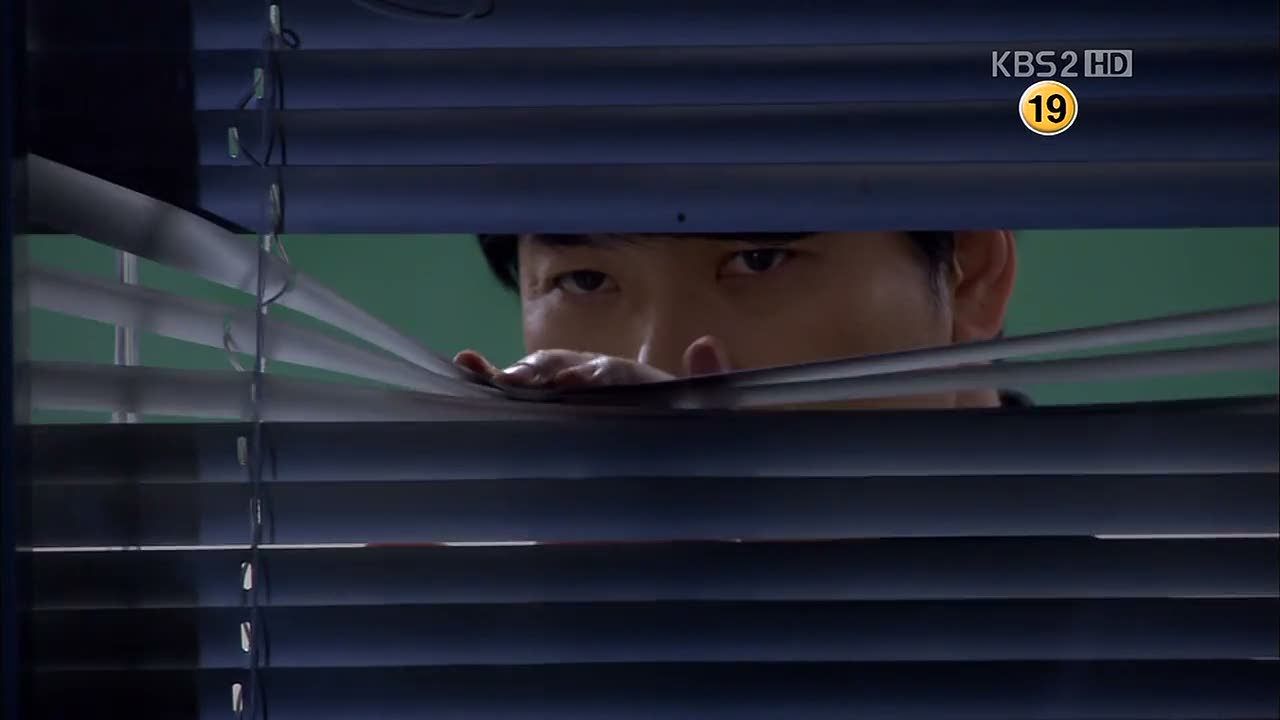 Doctor Kim responds to police questioning with his list of demands – he wants to be able to finish the students' counseling sessions and be able to speak to their parents. After that's done, he'll set them free.
So the police begin a mad scramble to get all the parents to the school gates, and helicopter in swat teams and snipers to the roof. Yoon-soo's parents are the first to arrive.
Before Doctor Kim comes in, Yoon-soo has a vision of him as a child being held close by his mom(?). Outside, the police coach his parents on what not to say.
They get to hear Yoon-soo's voice, but Doctor Kim isn't going to let them off that easy. He wants to test whether they really are Yoon-soo's parents, and suggests a pop quiz. "Yoon-soo's mother. Tell me how you make pancakes."
She grows nervous, and the police officer beside her does a quick internet search on recipes while Doctor Kim explains their significance to Yoon-soo, and how he'd told him that he was happiest in life when his mother would make pancakes for him. And even now, he misses her when he smells pancakes.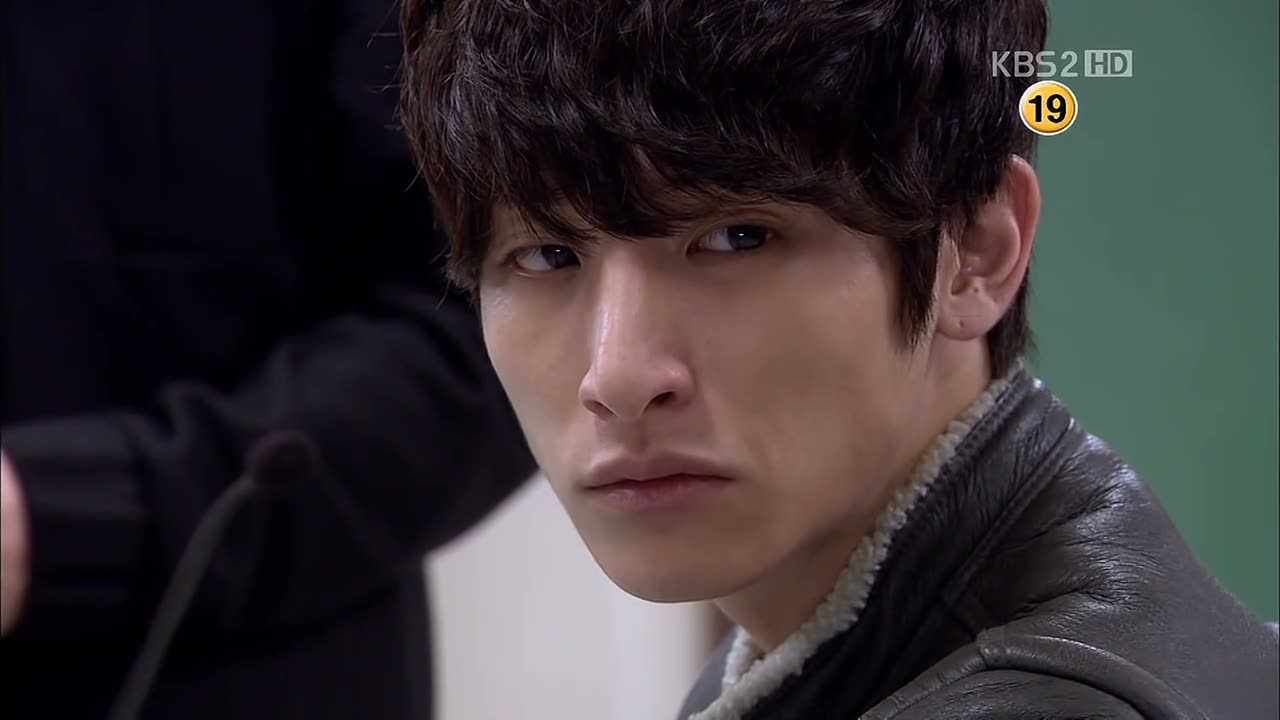 So he asks one more time: "How did you make your pancakes?" She seems extremely nervous as she speaks into the microphone, and lies as she uses the online recipe. Yoon-soo's memories are black and white, as we see him hugging the legs of a woman who can't be his current mother.
Doctor Kim even calls her out, and says that it sounds like she's reading from a cookbook. Mom loses her temper and demands to know what the point of all this is, as Doctor Kim explains that he was able to prove something. "You just proved that you really are Yoon-soo's mother. I will return your son to you."
Yoon-soo couldn't look unhappier about it, and we flashback to his memories to reveal him smiling and playing with the warm woman who took care of him. Or… not. The boy playing with her is the Monster in the Corner.
Ji-hoon's been burning up with fever this whole time, caused by an infection in his leg. Moo-yul prepares an icepack and reassures the shivering Ji-hoon that Doctor Kim is keeping his promise and letting them go, so he just has to hang in there long enough to get out.
As Doctor Kim leads him out, Yoon-soo asks how he knew that the woman he talked about wasn't his mother. Doctor Kim explains that he just realized it now, and we flashback to reveal police storming into his black-and-white memories to arrest the woman, who had apparently kidnapped Yoon-soo.
This part is honestly confusing because there are two boys, one with blue and one without, but the feeling I'm getting is that it really was Yoon-soo holed up in the closet, and the boy with blue was his imaginary self. But there's also the chance that it's another boy. I'm waiting for clarification on this one.
Now, Yoon-soo wonders why he thought that woman was his mother. Doctor Kim seems sincere when he tells him: "Memories sometimes work in funny ways. Some truths ruin people. Do you still want to know the truth?"
But Yoon-soo doesn't, and walks away. As he heads toward the police camp a sniper gets spooked and accidentally shoots. No one's hurt, but the sound alarms everyone. Especially Doctor Kim, who loses his composure at what he feels is a betrayal by the police for placing snipers.
The negotiator explains that it was a small mistake, and Doctor Kim fires back, "Mistake? Should I make a mistake? We could shoot by mistake too." And with that, he has the police eating out of the palm of his hand. And by the looks of it when he closes the blinds, the anger thing was all an act.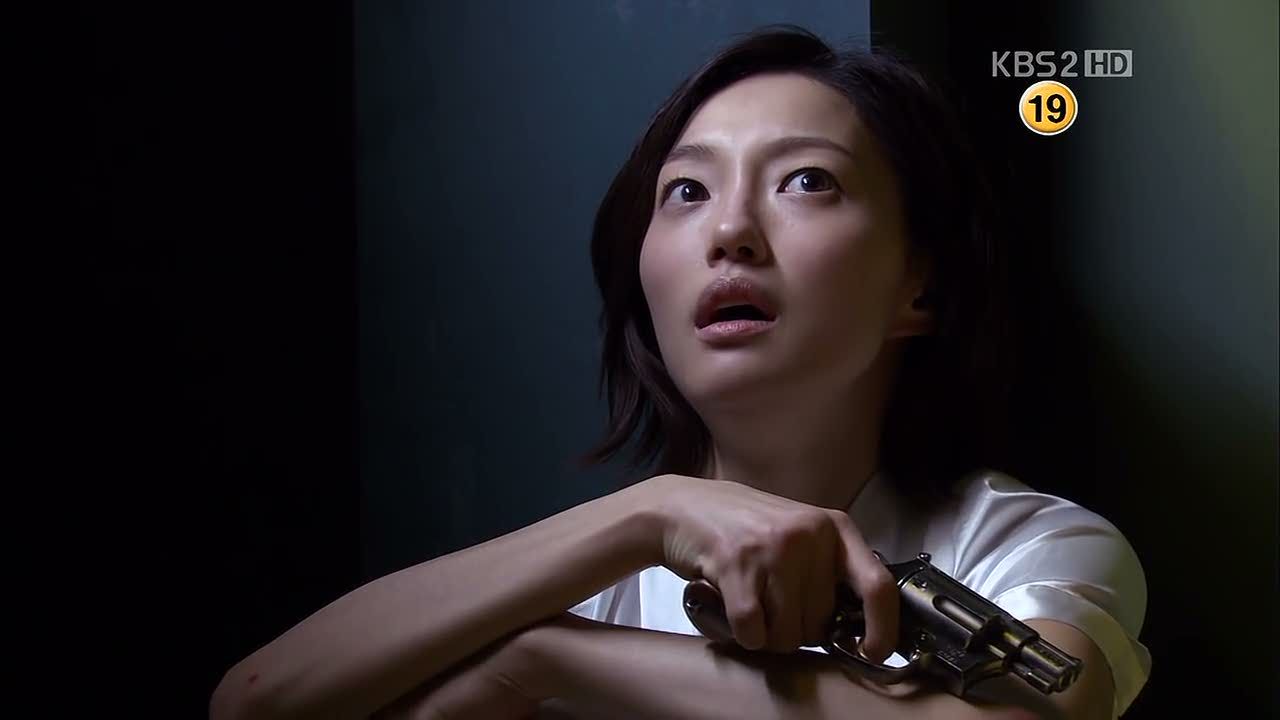 Jung-hye is in the midst of a panic attack in the cell, and looks at the two bullets left in her hands when she hears Doctor Kim explain his location.
The police question Yoon-soo about the situation inside, but he can't offer anything helpful since he was separated from the others in the clinic.
Jung-hye dismantles one of the bullets and wraps the gunpowder in paper, which she then stuffs into the door's lock. She has two matches, and uses one to light the paper while she steps back. We're all waiting for the big bang, but nothing happens.
Meanwhile, Doctor Kim sets the PA system to blast some haunting operatic music.
Even though Kang-mo can't hear he understands what Jung-hye is doing, and urges her against it since she'll get hurt too. She ignores him and lights the other match, and this time it works. The door erupts in flames.
Kang-mo watches in horror as she emerges from the door, looking unscathed from the explosion. She calmly gives his hearing aid back and walks away… but he notices the trail of blood she's leaving behind her.
What a chilling sight it is to see her back stained with blood, indicating that she'd turned away from the blast but something hit the back of her head. By the time she heads up the stairs her torso is all but covered in blood. It's so frightening in ways I can't describe.
The visuals in this show! I swear, chills are going up my spine. She stumbles through the glass-enclosed bridge where dozens of sniper laser sights follow her every move while Mozart's Requiem plays over the PA system. There aren't enough words about how poetic this scene is.
She barely makes it to Doctor Kim, who looks shocked when he sees her covered in blood. She hands the gun over and collapses, with him to catch her. Interestingly enough it's the first time I've seen Doctor Kim look frightened, as though he's realizing that he truly did create a monster in Jung-hye. Or the monster he's losing.
She smears blood on his cheek by accident, and in her hurry to wipe it off, she only spreads it more. She smiles till the end, cries tears of blood, and dies in his arms.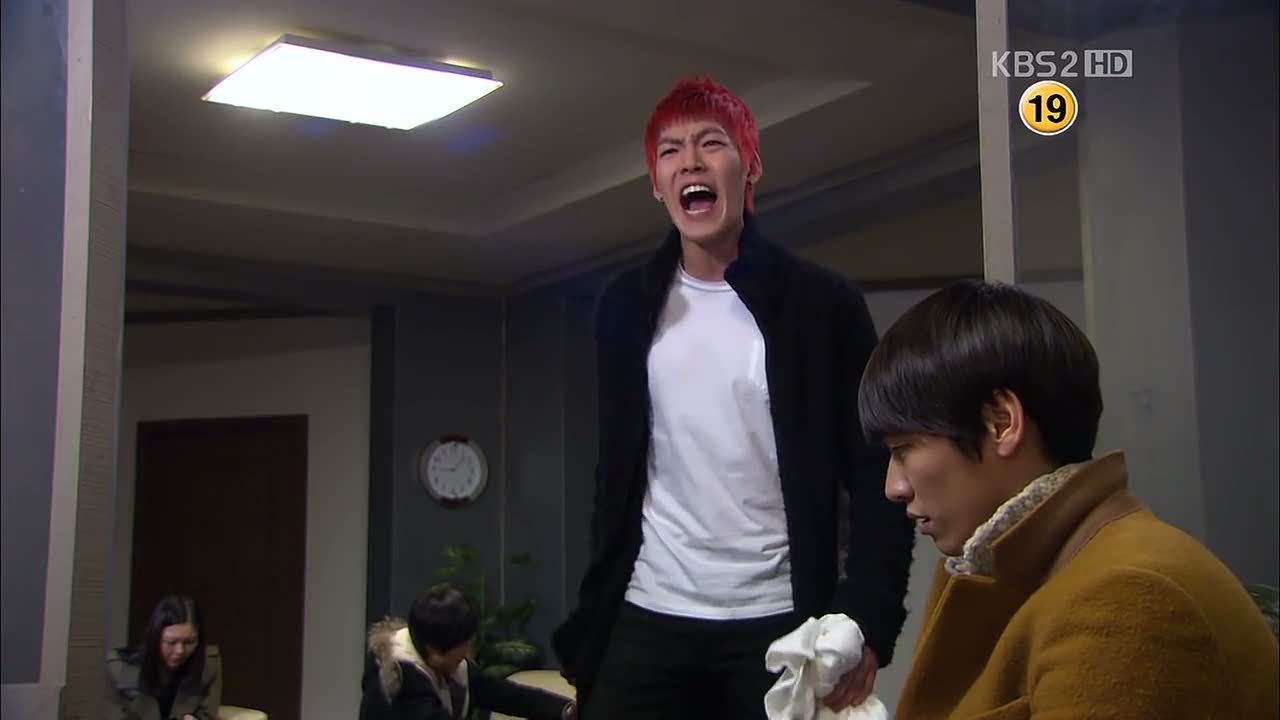 Ji-hoon starts seizing due to the fever, and Mi-reu finally loses his cool, screaming out uselessly for the police to hurry up and force their way inside.
Eun-sung's parents are next to arrive, and Doctor Kim comes to collect. She nervously sets her gaze on Moo-yul, who offers her a pat on the shoulder and a reassuring smile. "I'm relieved that you get to go out first."
While Eun-sung heads up to the broadcasting room, Kang-mo tries his hearing aid on, only to find that it doesn't work. Eun-sung's mom can hardly contain her emotions, so her dad takes over instead. Strangely enough, Moo-yul hears the exchange and clenches his fist.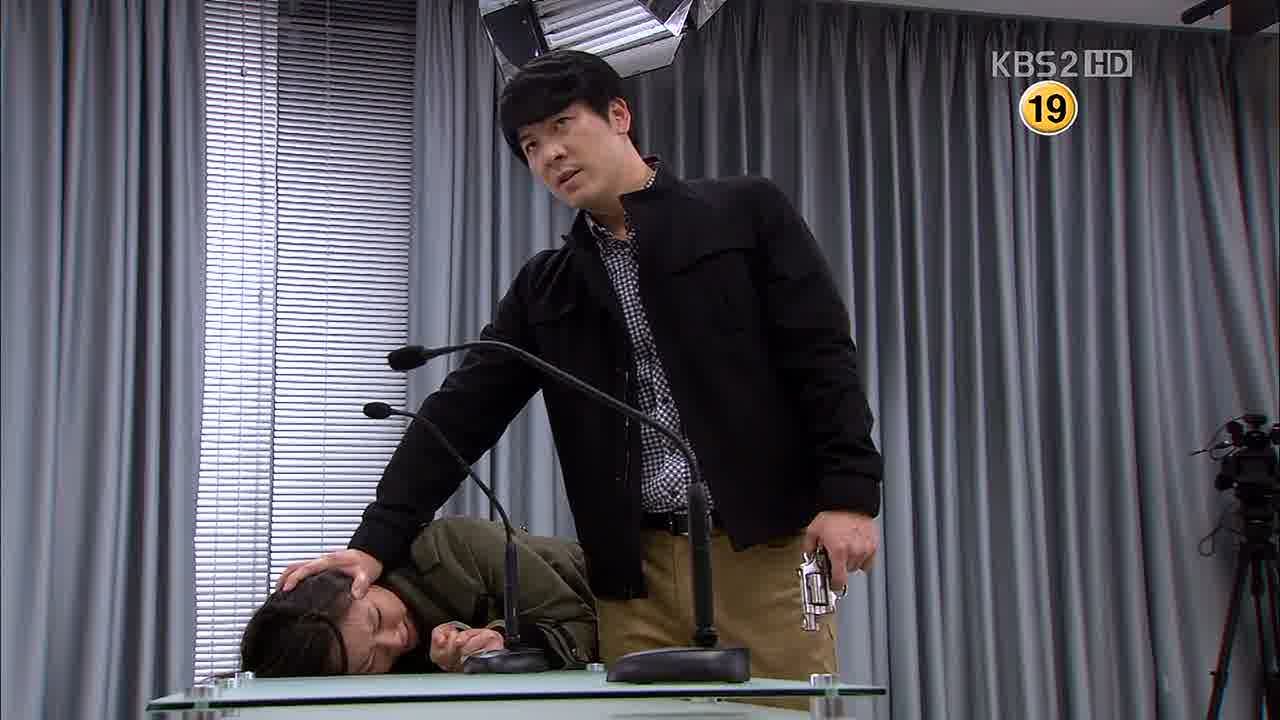 Doctor Kim wants proof that Eun-sung's parents are who they say they are, and Mom is eager to oblige… until he tells her to confess her greatest sin. "Confess the most shameful sin that you've committed, then I will return your daughter."
This sends Eun-sung into a rage, as she lunges at him with her hands in cuffs, kicking and screaming, calling him a devil. He slams her head down onto the desk and holds her still, practically cooing the words, "See how far your mom goes to save you."
This puts Eun-sung's mom in a precarious situation, and the few glances we've had of her driver are enough to tell us what's really going on here. (Eun-sung talked to Doctor Kim about her mother's affair before.) The negotiator urges her to lie, since Doctor Kim wouldn't know what her sin was anyway.
While Mom starts going through a litany of her business-related sins, Kang-mo sneaks through the halls, staying away from windows. Doctor Kim eventually stops her: "I need a confession that will prove you're her mother. The first sin you thought of when I asked you to confess."
And Eun-sung, knowing what it is, cries pitifully. In the room with the rest of the boys, Young-jae murmurs, "He's trying to ruin us. Totally ruin us."
Doctor Kim wonders aloud to Eun-sung whether her mother will pick her daughter, or herself. He gives Mom till the count of ten, and as the numbers climb higher Mom grows tearful and nervous, but can't bring herself to speak.
He reaches the end, and Mom still hasn't answered. He tells the PA system that he's left with no choice, and looks to Eun-sung as she cries, knowing now that her mother chose herself over her life.
As he begins to lead her out, Doctor Kim admits that he'd wished for her mom to choose to save her daughter, but explains that Eun-sung's mom is just selfish. He seems to be reassuring Eun-sung that though there are some parents who'll sacrifice for their kids, it isn't the norm.
Doctor Kim: "Don't feel upset about it. You'll never slit your wrist again because of your mom, right?" Weird. Once again, it's like he's doing all this craziness to help them, in a weird, twisted, and sick way. Eun-sung spits out: "I hope you die."
He affectionately pats her on the head, and sends her on her way. Mom runs out to meet her, and Kang-mo watches from the CCTV laptop. There's a strange moment where Doctor Kim looks at Teach's snow-covered corpse in the courtyard.
Eun-sung's mom sobs over her, and she looks less than enthused to be in Mom's embrace. The police probe her for information, and she claims that there can't be more than three bullets left.
More parents arrive. The Negotiator plans on letting Doctor Kim continue the counseling, but Eun-sung desperately grabs his arm: "No! This isn't counseling, it's an experiment. He's experimenting to turn us into monsters." But the Negotiator tells her that as long as Doctor Kim keeps his word, they have to keep going.
While Kang-mo finds a hiding spot next to Jung-hye's corpse, the loudspeaker announces that Young-jae and Moo-yul's parents have arrived. Young-jae jumps to his feet and locks the cage door with a bicycle lock.
Doctor Kim is pretty laissez-faire about the lock, and tells them that they can stay in there as long as they realize that Jae-kyu will die in their stead. (We haven't seen him yet this episode, but presumably Doctor Kim has him locked up as his trump card.)
"I hope you make the most of your time from now on," Doctor Kim shrugs. "Especially seeing as you sacrificed a friend for your own lives. Moo-yul, you should know. You're used to living that way."
This is the line that gets Moo-yul to unlock the door, causing Doctor Kim to smile to himself like he's won.
However, Kang-mo wasn't hiding out in the broadcasting room for the hell of it – he manages to rig the laptop CCTV feed to the school's jumbotron, so that the police can see whatever he does – and one shot is of the dead Jung-hye. Smart move, Kang-mo. You're earning some serious cool points.
The police can't figure out how to enter the fortified school until Eun-sung tells them about the window where Mi-reu outlined the secret passage. In no time at all, SWAT team members are crawling through the air ducts.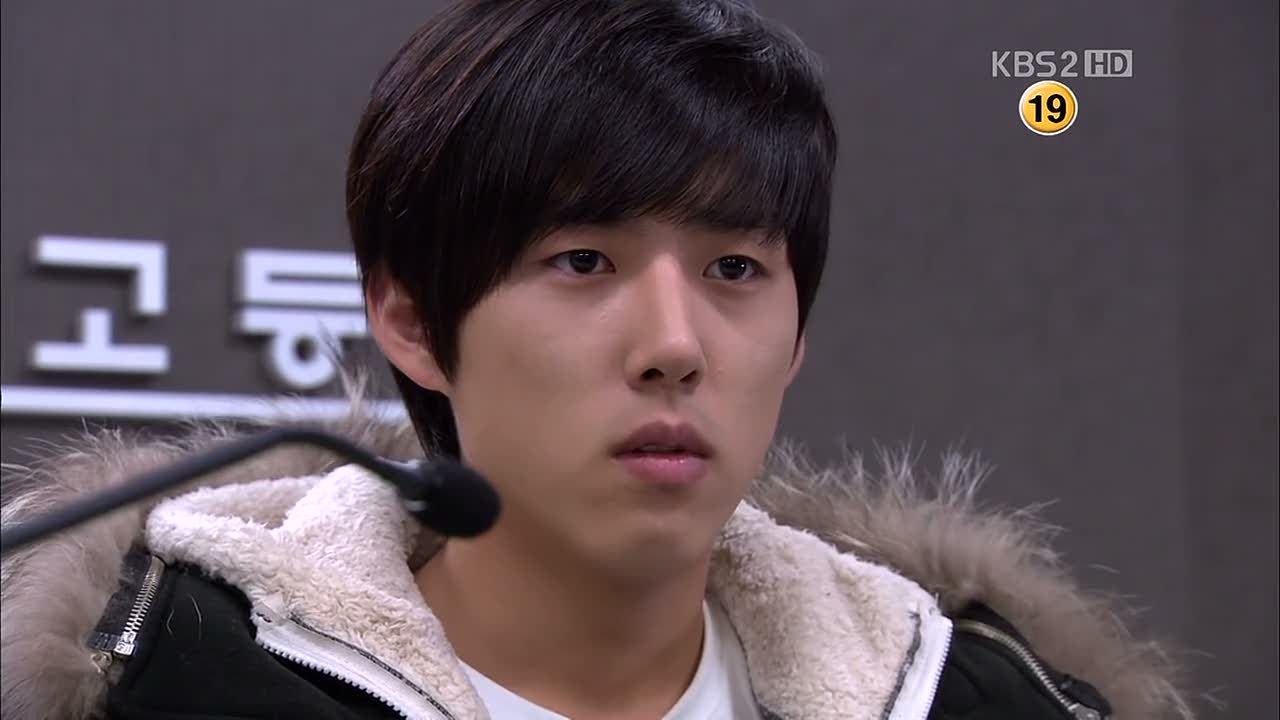 Kang-mo hides under the desk in the broadcasting room while Doctor Kim hosts his free counseling session with Moo-yul's dad, congratulating him for raising a wonderful son. "I was confused at one point," he admits. "But he's the true leader among the students here."
However, he thinks that Moo-yul's heroic behavior points to a yearning for death, and knows that Moo-yul must feel guilty because he lived instead of his mom. He asks Dad if he raised his son to think that he had to grow up great in place of his mom.
"Sir, I really like Park Moo-yul," Doctor Kim admits. "So please convince him. Tell him not to be so attached to death. Tell him not to think about dying for another person."
The cop tells Dad to talk to Moo-yul like he normally does, but Dad is so flustered he can barely stutter. He's shaking like a leaf as he speaks into the microphone: "Park Moo-yul. I never asked you for any favors. This is the first favor that I'm asking you as your father: Don't die. Whatever you have to do, make sure you don't die. Even if it's cowardly, don't die. That's my wish."
This scene really gets to me, because we see his father breaking down into tears and how it affects Moo-yul. And then, Young-jae's mother shoves him aside to scream into the microphone – where's HER son? (Like mother, like son.)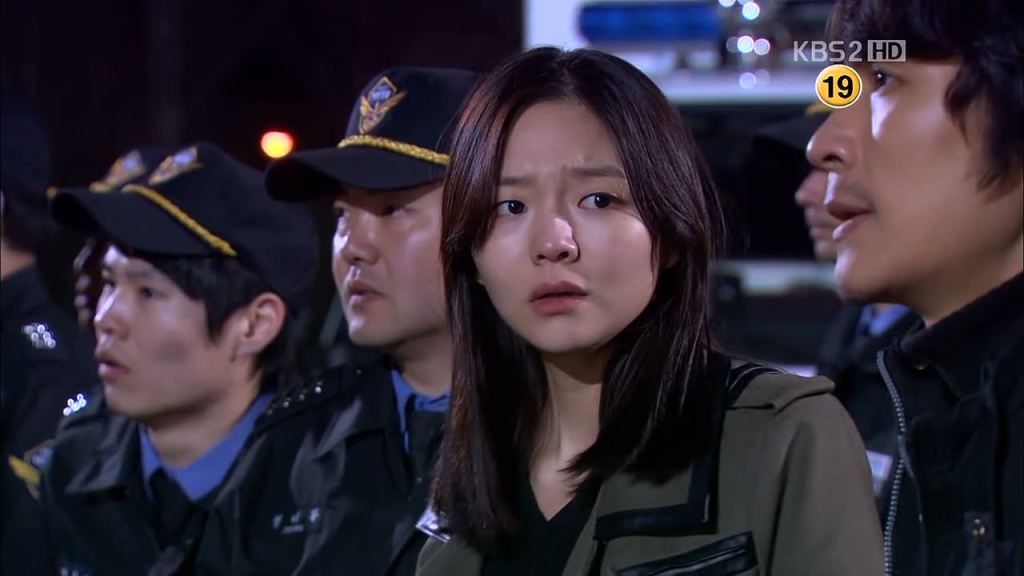 She screams about being unable to see her own son while she can see everyone else's, which clues Doctor Kim into the fact that he's being watched by the CCTV.
Only the sound of heavy breathing is heard as we cut to the SWAT teams closing in – saving Jae-kyu and Young-jae, while parents and police wait anxiously outside. Doctor Kim moves Moo-yul up to the rooftop, and we hear the sound of a gunshot.
Eun-sung breaks down, thinking that Moo-yul is dead. And Moo-yul lies still on the rooftop, clutching someone's pant leg, though we can't see who. I guess we're to assume it's Doctor Kim.
There's an interesting shot where Moo-yul is mostly surrounded by darkness, where we can't tell if he's alive or dead as different news reports flood us with varying stories – the criminal has committed suicide, and the students are now being treated.
Slowly but surely, light floods the room and we discover Moo-yul in a hospital bed, attended by this father. He goes to check on the others, with Mi-reu and Kang-mo drawing on Ji-hoon's shiny new leg cast. D'aww. Moo-yul is all smiles when he sees them.
Moo-yul must've been hit in the back of the head, and all the boys ooh and ahh over his head lump. Ji-hoon even gets out of bed to see, and when faced with curious glances, he's all, "I can't touch it? I've never felt a bump before." Aww, Ji-hoon is learning how to be more sociable! Wuv.
The Negotiator comes in to congratulate them on being alive, and delivers some news: Their teacher is alive and being treated at the hospital. No one believes him since Teach was in the courtyard for several days.
But this is where the Negotiator gets to be incredulous – they didn't find anyone in the courtyard, they found the teacher on the roof. Ji-hoon then asks if the doctor killed himself with a gun in his mouth. This seems bad, whatever it is.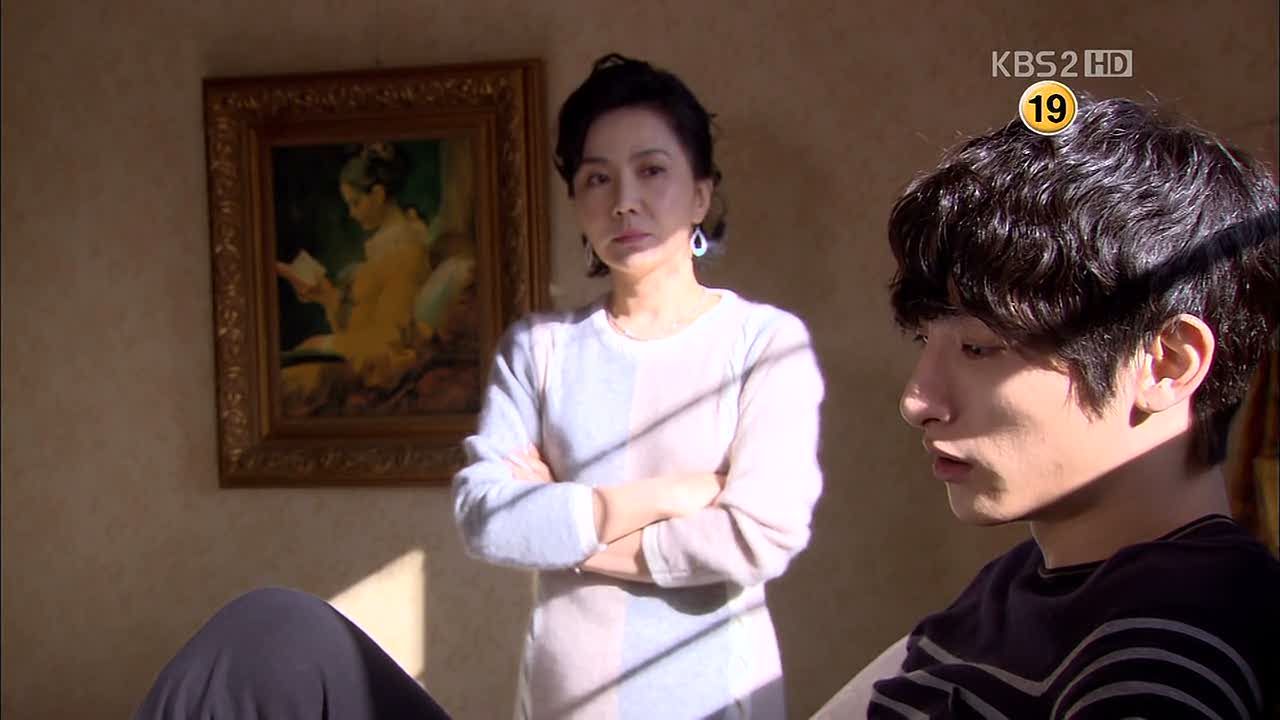 Yoon-soo gets treated at his fancy home instead of the hospital, and asks his mother why his caretaker kidnapped him as a child. Mom explains that she fired her, "Because you thought she was your mom. You gave her the Parent's Day carnation instead of me. You probably think that mothers don't get hurt by their children."
She leaves Yoon-soo alone in the room.
Police have set up checkpoints outside the hospital to make sure Doctor Kim doesn't escape. (I know, roll with it for now.) The boys wonder if he really is trying to escape, but Ji-hoon comes up with another conclusion: "If I were him, there'd be only one thing I'd want. To confirm the results of my experiment."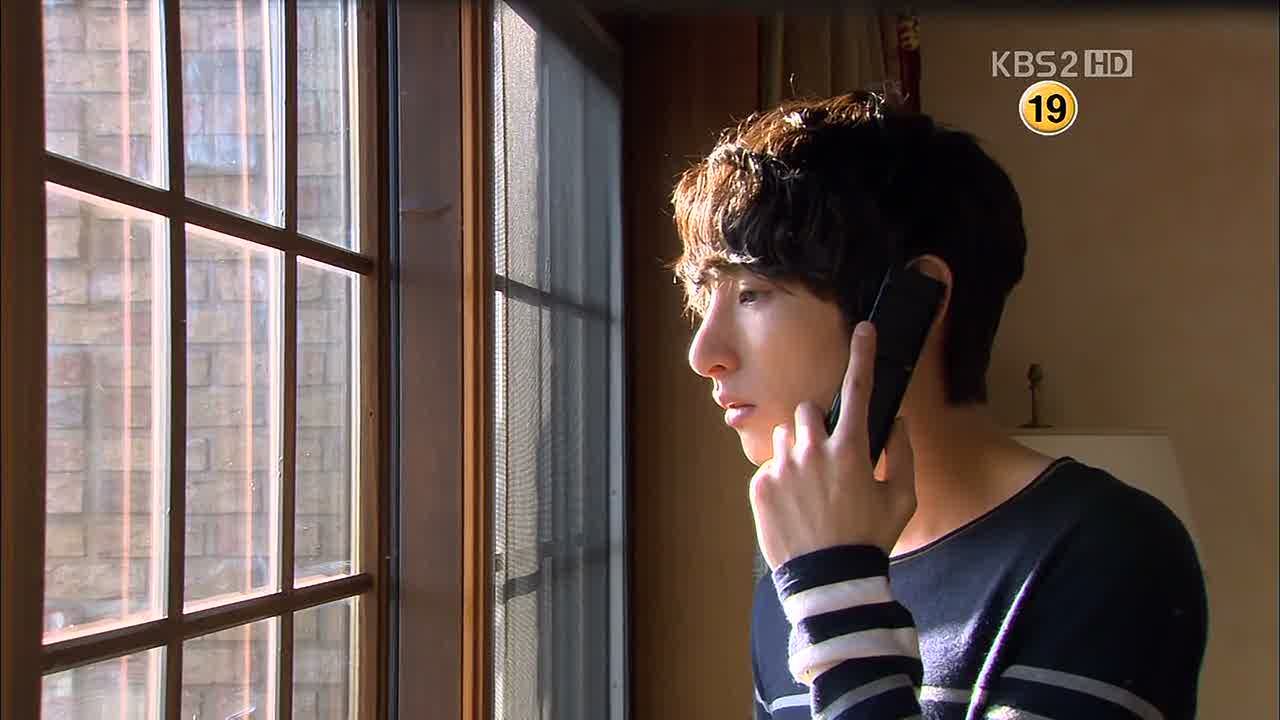 Yoon-soo sees the blue-faced boy, the Monster in the Corner, and avoids him by listlessly roaming his enormous house. He gets a call from Moo-yul, only the voice on the other end is Doctor Kim's, as he counts up to ten. Is this another hypnosis method?
"Is hide-and-seek over now?" Doctor Kim asks, and the Corner Monster begins to count to ten in the corner, his back turned like he's playing hide-and-seek.
Now we see the full scene of his flashback, where the police found him in the closet. His caretaker ran to what was probably her son first, the boy with blue on his face. All the more heartbreaking because young Yoon-soo thought she was running to him.
"Why did I lie?" Yoon-soo ruefully asks the Corner Monster, when he's really asking himself. "Because she hugged you instead of me. I must've wanted to be you."
And as he heads up the stairs, the Corner Monster follows him. Once in his room, he slowly shuts the door on the Corner Monster. Why is this shot so frightening?
Armed guards stand watch around Yoon-soo's house, and are all startled when they hear a gunshot from inside. Oh no.
Strangely enough, a young man working at a gas station stares up at the clouds. When we see his full face, half is covered by a faded birthmark… So this must be Yoon-soo's Corner Monster, all grown up.
All the boys (and Eun-sung) are gathered together in the hospital, but both she and Young-jae are lost in their own worlds. The Negotiator comes in with a grim face, and tells the boys that Yoon-soo committed suicide. Whoa.
The shock of this settles in with everyone in the room. We cut to Yoon-sung's house, where a hunting rifle lies next to Yoon-soo's body, with blood seeping out of his head. And half of his face painted blue. Oh my god. Oh my god. Please make this stop. I didn't expect them to show the body, but it really brings it home in a bad way.
The officer tells them that Yoon-soo left a short suicide note: "The egg's about to crack." Young-jae recognizes what that means as he murmurs, "The monster's egg."
They know Yoon-soo received a call from Not-yul, and tell the boys that all outside contact is banned. Moo-yul wonders what it is Yoon-soo could have heard, and he and Ji-hoon lock eyes to hatch a plan.
The police station gets a call from Doctor Kim… only it's not him, and it's Ji-hoon's voice. The police don't know better (we'll have words about this later) and think it's really him, so Doctor Ji-hoon claims he's finished with his experiment and is done with the kids.
After the phone call, Moo-yul throws the cell phone out the window. The police scramble away from guarding the boys, and we find Doctor Kim in plain sight, dressed as a doctor.
Mi-reu holds back the two remaining guards so that Moo-yul and the rest of the gang can go free.
In another part of the hospital, Eun-sung's mom dogs her and follows her every move, until Eun-sung finally snaps. The first thing Mom does, of course, is look around to see who is judging her.
Mom claims she's worried that Eun-sung might get captured again, and she fires back, "If I was so precious, why didn't you answer?" Mom asks what she means, and Eun-sung says her greatest sin. Mom's caught wide-eyed and red-handed, and has no retort to give as Eun-sung storms off. Well deserved.
The police are on a wild goose chase for Doctor Kim, and eventually stop a random truck for no reason when they think Doctor Kim's inside. However, we find him on the hospital roof where Eun-sung has gone.
She turns to him and tells him: "You lost." The camera pans around to reveal all the boys behind Doctor Kim on the roof. This was all part of their plan, since the police end up hunting down the cell phone they used in the garbage truck, miles away from the hospital.
Doctor Kim seems to gloat in the fact that Yoon-soo isn't among them, and sarcastically claims he just said 'Hello' on the phone, "As well as the final keyword to awaken the monster." I want to punch that smug look right off his face.
Eun-sung steps forward, reciting this: "The white laundry moves with the wind on the line. The rooster windmill goes round and round the neighbor's roof." This strikes fear into Doctor Kim as he asks her how she knows.
She continues, "It's bad when it rains. The laundry must be collected." Doctor Kim yells at her to stop, but she continues. She's using the words he'd murmured feverishly in the clinic.
Doctor Kim lunges at her, but the boys all grab him and push him toward the edge of the roof. She tells him that he's lost – the monster didn't wake up. He asks how she's so sure.
Eun-sung: "Yoon-soo is dead. Want me to say it again? Yoon-soo took his own life instead of becoming a monster. You wanted us to become monsters. You wanted to say that you weren't the only monster, but you're wrong. We won't become monsters. Whether monsters are born or raised, you're still evil. You're the evil one. You're the only one who's dirty!"
The police arrive back at the hospital, and start rushing up to the roof. Doctor Kim regains his composure and reminds the group that one failed experiment (Yoon-soo) doesn't mean the hypothesis is wrong. His experiment isn't over yet, because what of the remaining boys?
Moo-yul leaves the group quietly, and as the police arrive, he locks the door to the roof with a chain. "It's all over," Moo-yul says, his eyes not quite focused. Doctor Kim seems surprised that Moo-yul would do this, and suddenly Moo-yul's eyes become like daggers as he tells Doctor Kim, "You're finished."
All the boys, sans Eun-sung and Ji-hoon, grab Doctor Kim and throw him over the edge of the roof. He's holding onto the edge with his hands, and looks into the faces of the group staring at him. A smile comes over Doctor Kim's face, like he's proud. Like he's won.
And then, he lets go, and falls to his death only moments before the police break through the door.
Jae-kyu sits in a police interrogation room, and the officer asks him to explain once more what happened on the roof. He starts with this story, and we get a nifty montage of all the group telling what must be meticulously rehearsed stories about how they got to the roof, why the door was locked, etc.
Until finally, we stop at Moo-yul, who seems oddly vacant when he tells the officer that Doctor Kim just fell off the roof before the police came, and that he wasn't able to do anything. The officer seems dubious but has no choice but to accept the story.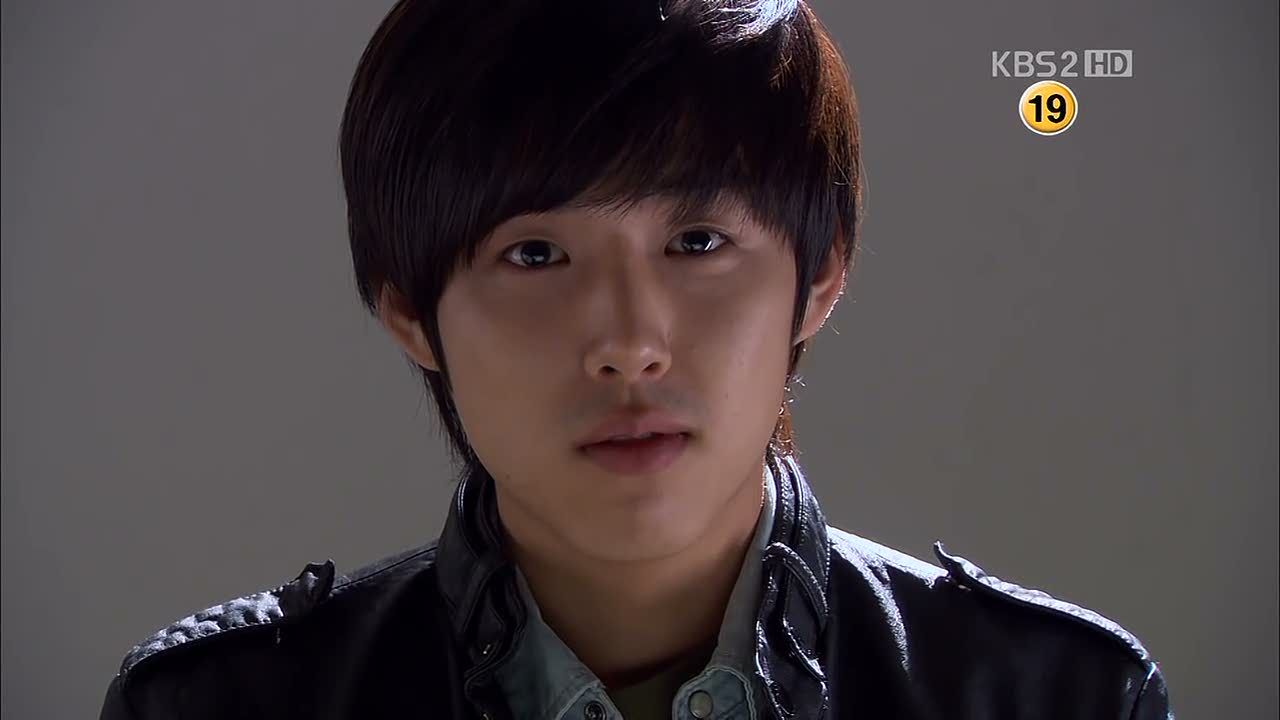 He asks Moo-yul one last question: Did Doctor Kim say anything before he died? We cut to a flashback of him hanging off the edge of the roof, smiling. "I won," Doctor Kim had said, the moment before he let go.
But Moo-yul looks straight into the camera as he lies, "No. He didn't say a thing."
He's freed, and the rest of the group joins him outside. Together they walk down the long hallway as the lights go dark behind them.

COMMENTS
This finale is a really confusing case, because I like the conclusions the episode got to, but not so much how it got to them. The scenes we got were emotionally and narratively fulfilling, but there was some serious glossing-over going on that affected my ability to purely enjoy the show.
Most of it is technical, and has to do with suspension of disbelief. Everyone's meter is different, but I think we can all agree that a police force should be able to tell the difference between Teach's body, which was frozen for eight days prior, and a supposedly freshly-dead Doctor Kim. That's already hard to buy, but let's say we did and moved on – if Doctor Kim shot Teach in the mouth to masquerade the body as a suicide, wouldn't an autopsy or just a regular once-over reveal Teach's week-old stab wound? That'd raise some suspicions, right?
So even if we bought the idea of a blind forensic pathologist, there's the whole reason Doctor Kim killed Teach in the first place: Because his picture was released by news agencies, and Teach had a TV. It wouldn't take a seasoned eye to hold a picture of Doctor Kim up next to Teach's face and decide that they're not the same person. The pieces just don't fit, unless the police officers used their investigation time to make moonshine.
I can't even say it's a small flaw in the scope of things, since it's a pretty gaping flaw, which impacted how the episode moved forward and how it ended. I can see why we needed Doctor Kim out of jail for those scenes to happen, but I'm still scratching my head over this one.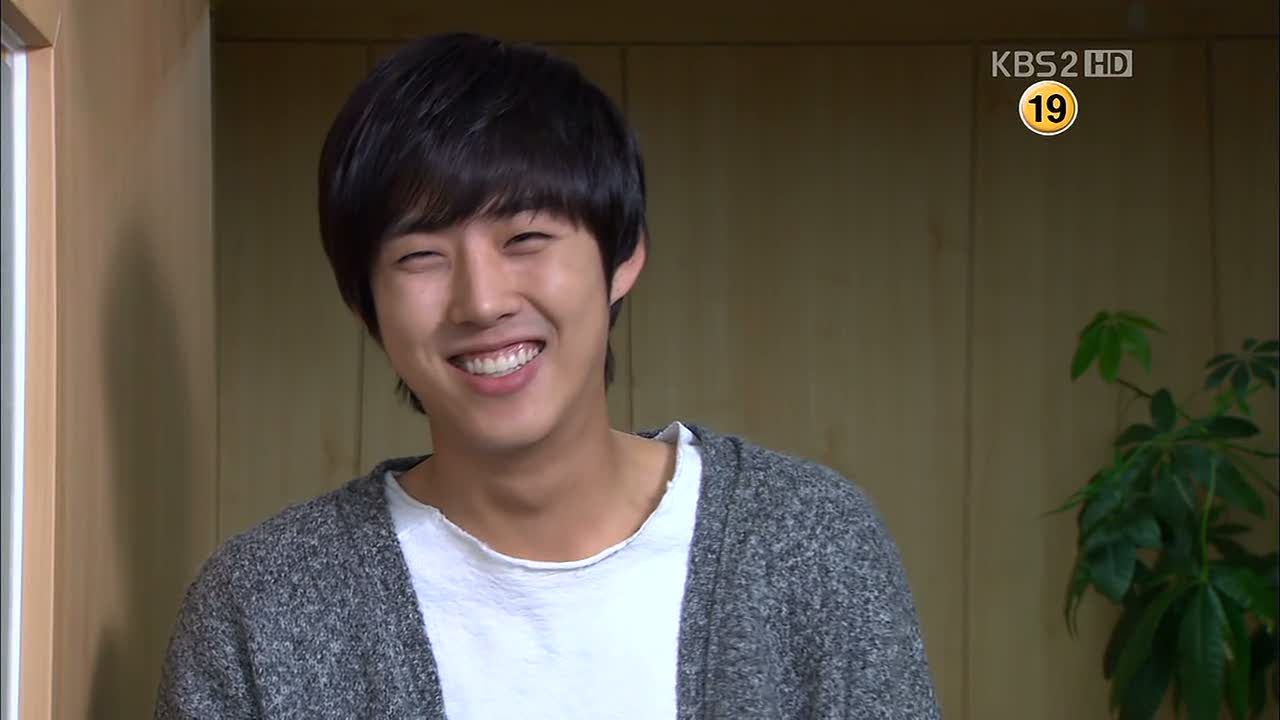 That aside though, this episode was amazing. What I especially liked, and what I wish we could have gotten more of, was Doctor Kim's parent confrontations. It speaks to a weird dichotomy I found in him where sometimes it seemed like he was genuinely working for the group's well-being, even though he was holding them at gunpoint.
Like with Eun-sung and her mom; I was horrified when she didn't speak up to save her daughter's life, but at the same time, it was something Doctor Kim orchestrated to free Eun-sung of her mom-related issues. Eun-sung saw it as part of Doctor Kim's monster experiment, but the forced parent/child conversations actually seemed like real counseling sessions (minus the guns and police and coercion). What I mean is, apart from Yoon-soo, Doctor Kim was helping to free Moo-yul and Eun-sung from the different guilts that had haunted them through the years.
I found Doctor Kim a fascinating character up until the end, where it seemed as though there was a mad dash to cement him as eeevil in case we'd forgotten, so he acted out of character for the first time while lashing out at Eun-sung. It's believable that he'd react strongly to Eun-sung reminding him of his past, but I'm still pretty iffy. Something about his sudden change seemed cartoonish.
The situation with Yoon-soo was interesting, and I mostly wonder at Doctor Kim's involvement. We all knew Yoon-soo was teetering toward the brink with more frequent occurrences of the Monster in the Corner, and we also knew that Yoon-soo reacted poorly to hypnosis. When Doctor Kim called him a failed experiment, everything fit together.
What I assumed was that Doctor Kim tried to 'activate' Yoon-soo's monster by using hypnosis, but just like before, Yoon-soo woke up and decided to stop. Only this time, the only way he saw to do that was to kill himself, which was equal parts surprising and terrifying. It's a sad end for Yoon-soo, and one that could have been prevented if Doctor Kim had never entered the picture. Or not. Who's to say?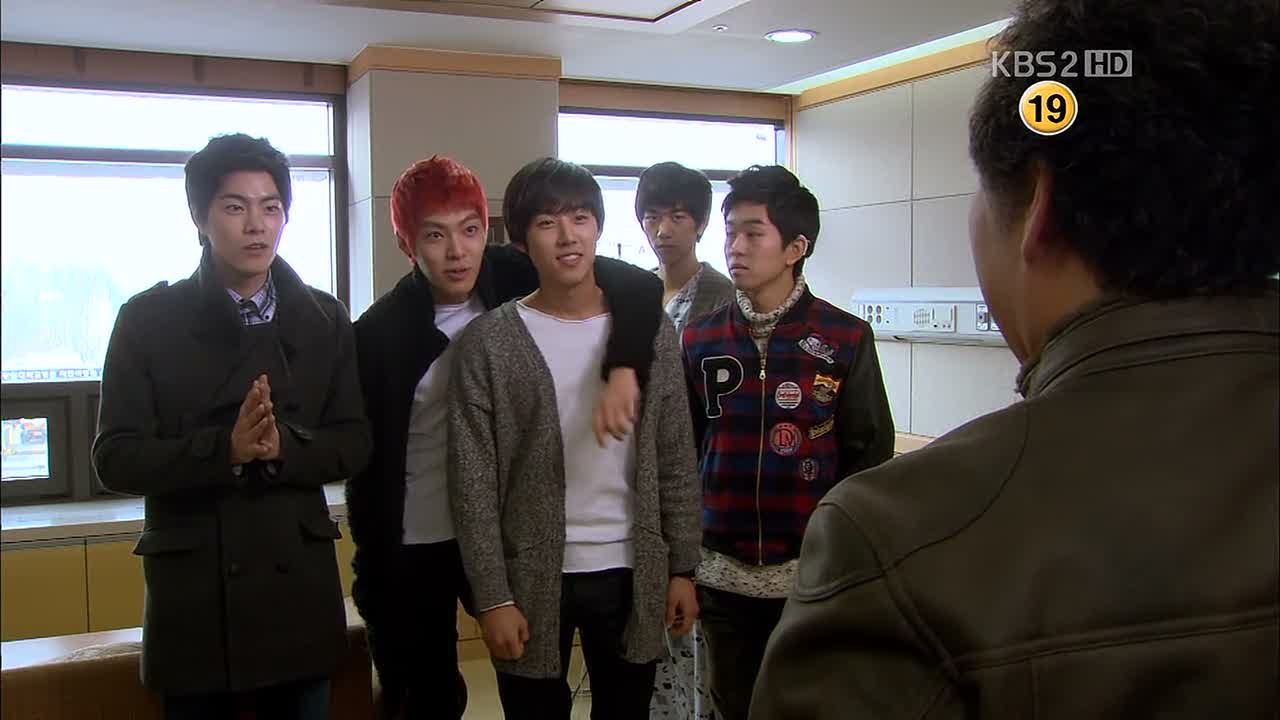 So now we reach the question of the series, the big enchilada: Are monsters born, or are they made? The answer to that will vary from viewer to viewer, and to really dig deep into the nature vs. nurture debate, we'd need a whole lot more space. But for what it's worth, and in the scope of this show, I don't think Doctor Kim was entirely wrong when he claimed he won.
We head into some murky waters with the technicalities of his death, namely that the boys threw him over the edge but he chose to let go. But, intent counts for a lot here, and I don't think they threw him over expecting him to survive – they were honestly trying to murder him. With the police right behind them and Doctor Kim without a weapon, they weren't being actively hunted or harmed. They could have let the police capture him (although with that level of police ineptitude, I can see why they were hesitant), but instead, they each made a cold, calculated decision to take his life.
However, depending on your favorite school of philosophy, I say Doctor Kim only half-won because human beings aren't meant to be broken down into 'monster' and 'not a monster'. Nurture plays a part in everyone's lives but it doesn't automatically preclude free will, and it's important that we got to see our boys make that choice, and even more chilling to see them lie about it later. The interrogation scene was amazing, and the look in Moo-yul's eyes was honestly chilling.
So while the act they committed was monstrous, it doesn't make them all monsters. You can't reduce people like Moo-yul down to that moniker easily. I will admit though that while it was satisfying to see their solidarity, what they did was wrong wrong wrong, no matter the reason behind it. And I suppose it works to bring people like Moo-yul, Mi-reu, and Ji-hoon to the point where they could kill a person. They became monsters to fight a monster. Does that make it right?
I'm inclined to think no, because the long and short of it was that our leads got away with murder. And while that's endlessly fascinating from a narrative standpoint, part of me wonders if the murder would have been more fulfilling if Doctor Kim hadn't died thinking he'd won. Because after all these trials, you end up hoping that good will prevail over evil. But it's never that easy, is it?

RELATED POSTS
Tags: Baek Sung-hyun, Drama Special, featured, Kim Woo-bin, Lee Soo-hyuk, Sung Joon, White Christmas