Answer Me 1997: Episode 16 (Final)
It's the end of the road for our journey back in time to the '90s, and the goodbye is bittersweet. We get rewarded with some answers and even some new surprises, as we close the chapter on first loves and find out how everyone grew up—along with, in spite of, and because of them.
The finale set a new record for cable programs: average 6.22% ratings on tvN, a combined 7.55% (with all four networks that aired the episode), and an episode high of 9.47%. Hot damn.
SONG OF THE DAY
Kim Gun-mo – "Beautiful Goodbye" [ Download ]
Audio clip: Adobe Flash Player (version 9 or above) is required to play this audio clip. Download the latest version here. You also need to have JavaScript enabled in your browser.

EPISODE 16: "The Reason First Love Can't Be Realized"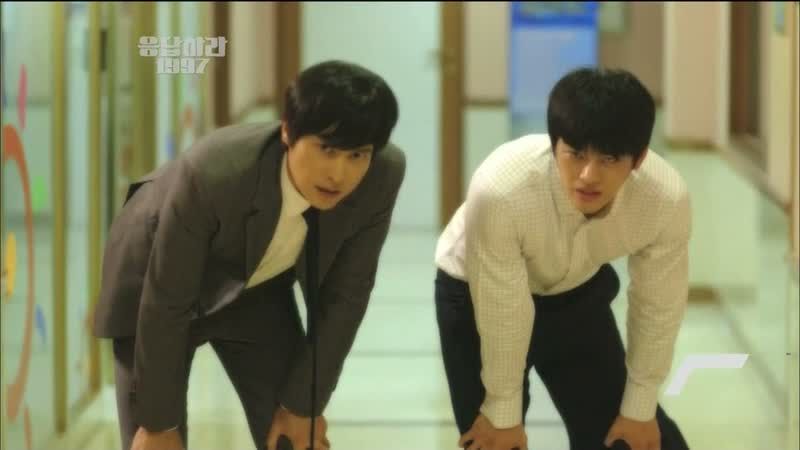 We open the same way we ended Episode 15: Shi-won's parents wait outside the maternity ward in 2013, as the doctor comes out and asks, "Who's the husband?" Yeah, get in line, lady. Some of us have been waiting eight weeks for that answer.
Both Tae-woong and Yoon-jae arrive, huffing and puffing.
Fall 2005. Yoon-jae goes out for dinner and drinks with his coworkers, and his boss points out what a nice couple he'd make with the colleague next to him. She's a classmate from college and admits coolly that she tried for four years, but Yoon-jae never budged.
Another guy says it's because she drinks too much, but Yoon-jae says he likes it when a woman can drink…
Cut to: Shi-won, downing a giant beer with her coworkers. Her sunbaes wonder if her boyfriend doesn't mind her drinking like a fish, and she laughs, "He doesn't know!"
Aaaand, Yoon-jae is standing right behind her. Ha. He came to pick her up after his dinner, and joins them. Here he gets asked the same question, and he growls, "It's the thing I hate most in the world!"
He mutters at Shi-won that if she drinks and sleeps at the station again, she's dead meat, and refuses to pour her another beer. Aw, but look at her pout! Give the girl her beer!
Once they're alone, it turns into a bigger fight, with Yoon-jae naming all the times she slept at the station, got carried in by some other guy, or caused a giant scene with her fanclub friends.
She mocks his awesome memory and scritches his puppy chin, and he runs his hands down her face. Some things never change. He screams, "I'm not kidding! If you do this one more time…"
But that's as far as he can go, and Shi-won knows it. "What? Then what?! WHAT? You gonna kill me?" She knocks her head into his chest, challenging him to a fight. Pfffft. Don't do it. She'll kick your ass.
He backs down immediately, "…then I'd get… really mad." He whines like a little kid that her boyfriend doesn't like it, so can't she just stop drinking so much? She has a demand of her own—can't he stop with that annoying Seoul accent of his? He immediately changes it back at her request.
He tries to follow her up to her apartment for "coffee" again, and gets denied. He argues that they practically lived together their whole lives, and she points out how different now and then are.
He can't resist, "Why, do you see this oppa as a man now? Does your heart race when you see me?" She kicks him in the shins and calls him a cab before she heads inside, and he sighs that he's so close.
He gets in the cab and it drives away… and then zooms right back. Awww yeah. He falls all over himself to run up the stairs, but then gets stumped at her door, wondering how to proceed.
Omg, are you trying to unlock her door without ringing her doorbell? Dumbass. I hope she kicks you where it really hurts. He tries his birthday, her birthday, and then wonders, "Nah, it couldn't be…"
He looks up Tony oppa's birthday and tries it… and the door opens. Ha. Once a fangirl, always a fangirl. She gapes to find him walking through her door like he owns the place.
He sits down and demands freshly brewed coffee, and she snaps back that he can shove whatever she gives him in his face. Pfft. He asks if she's gained weight, and she points out that he asks that every time she ties her hair back. Well that answers that question.
He drinks his coffee and she tries to rush him out, and he desperately searches for ways to bide his time. Finally she's shoving him towards the door, and he agrees to leave… if she gives him one kiss.
She agrees just to get him out the door, and backs him up against the wall. She grabs his face and gives him a little peck on the lips.
He lets out a sigh and chucks his jacket on the floor, "Are you kidding me?" and slowly starts to back her up against the kitchen counter. Rawr.
She's practically lying down on the thing by the time he goes in for the kill. Swoon.
They come back up slowly, still kissing, and we fade to black.
Back to the hospital in 2013. If we have to watch this scene one more time, I will hurl something. Tae-woong and Yoon-jae run up, and Yoon-jae stands, barely breathing, "I… I'm the husband."
Well of course you are! Huzzah!
He hands Tae-woong his stuff, and Hyung gives him a pat of encouragement before he goes in. Mom and Dad wonder how Tae-woong found the time to come by, and urge him to go back to work.
He says he just stopped in to name the baby—Yoon Seung-ho—and rushes back out. Dad figures that since the husband is here, they can go grab a bite to eat, but Mom has a hard time leaving, worried for "our baby."
Dad says she'll be fine, but Mom means Yoon-jae: "She'll pull all his hair out, the poor thing!" Dad: "That's his lot in life. It's his fault for marrying a gangster." HAHAHAHA. I luff Dad, so, so much. They run off like a pair of teenagers playing hooky.
Inside the delivery room, things are going exactly as predicted. Shi-won expends most of her energy yanking Yoon-jae's hair out, screaming, "THIS! IS ALL! YOUR! FAULT! You son of a bitch!"
They're crying, and he's apologizing, and I'm dying of laughter.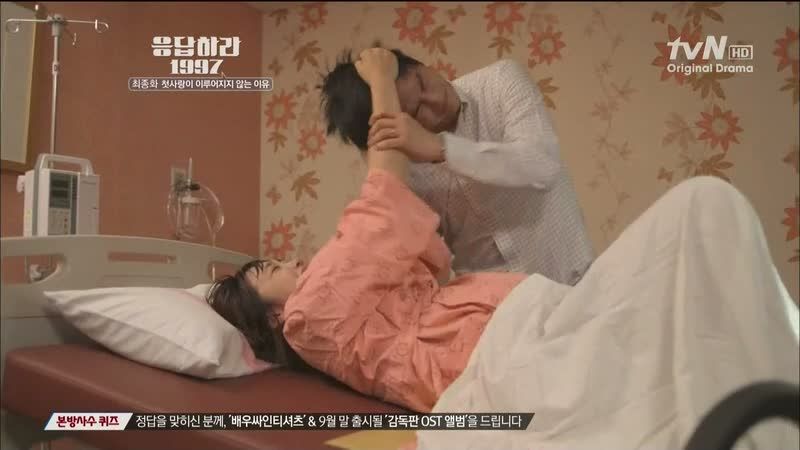 Back to the reunion in 2012. By now, Yoon-jae is a judge in Daejeon, and he and Shi-won are a weekend couple. Their friends tease them about when they had time to make another baby (Whaaa?), and worry that Yoon-jae will have a hard time making it up to Seoul when she's due.
Shi-won says she can do it without him, and Hak-chan tells him it'll be better that way—he'll just get his hair pulled out and get cursed at up and down. Shi-won: "I wouldn't do that! What am I, some gangster?"
Their friends all wonder how they were when they were dating, and Shi-won swears they were just like any other couple, with the coyness and the push and pull. Yoon-jae just stares blankly and completely contradicts her.
Back to 2005. Shi-won's getting better with the goodbye kisses after each date, and Yoon-jae does his adorable fist pump after she's closed the door. Why so geeky?
He sends her cute little text messages, wondering what she's up to, and she sends back replies like: "Pooping." And "You crazy bastard."
He sits around getting no attention while she plans fan events for Tony oppa, and he grumps at her to show him half the love she has for Tony. She calls her love for Oppa pure, while Yoon-jae only has a one-track mind.
He stammers, "Wh-wh-what, like I was the only one who liked it?" Ha. He argues that her head is filled with nothing but Tony, and says he'll crash and burn, calling him a monkey bastard.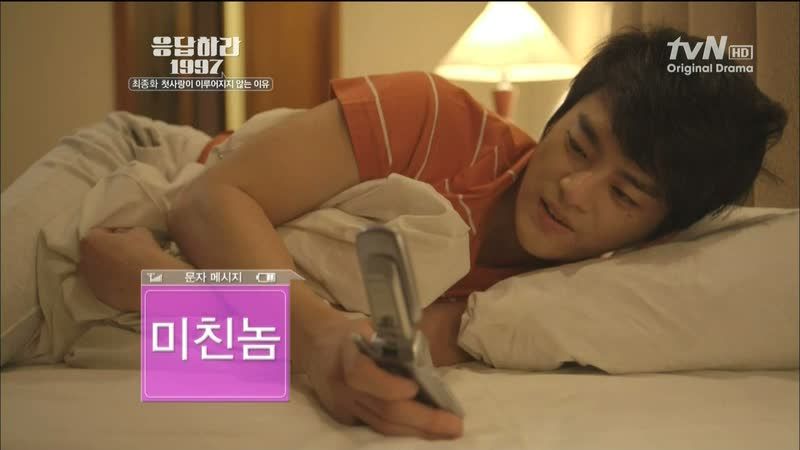 Shi-won yanks his hair and they go at it like little kids, punching and screaming. Yoon-jae narrates:
Yoon-jae: Locking a wild lion up in a zoo doesn't mean that overnight it'll give up raw chicken for carrots. No matter how much an environment changes, a lion is a lion, and a rabbit, a rabbit. Sung Shi-won is Sung Shi-won, and Yoon Yoon-jae is Yoon Yoon-jae. We met, and dated, and loved, in our own way.
Shi-won visits Yoon-jae's apartment for the first time, and they share a plate of mandoo sent by Mom. I love that he eats the filling and she eats the cover.
He asks casually if she thinks this is okay for a newlywed apartment… but gets no response from her. It starts to make him nervous, "Wait, are you planning NOT to marry me?"
In their usual manner, she remains completely silent while he jabbers on nervously that he's not asking but he's just asking, yunno. After a long pause, Shi-won asks, "Is this… a proposal?"
He swears it isn't, and then gets upset, wondering if she plans to marry some other guy "after making me like this." Ha. Or maybe she has a special proposal she wants to receive? But she tells if he does some stupid romantic and mortifying proposal, she'll kill him and then die of embarrassment.
That gives him the courage to ask now, "So then you're going to marry me, right?" He uses her own move back on her, and gives her till the count of three to answer, or he'll kiss her ten times.
He inches closer as he counts: One… Two… Three…
Shi-won: "Okay." She says it like an answer to Mom nagging her to clean her room.
He smiles and tells her to say it to his face, so she turns and yells it over and over. He leans in to kiss her and she jerks back, "What? I answered!" Haha. He tells her that this is what people in love do, and kisses her.
She looks around the apartment while he does dishes, and stops at a picture of Joon-hee and Yoon-jae. She asks if he's been to Joon-hee's new place (he has) and if Joon-hee said anything when he was leaving.
Yoon-jae hesitates, and says no. Shi-won sighs.
Back to the weekend when Joon-hee moved out, right after the big dinner date switcheroo by Tae-woong. Joon-hee marvels at Tae-woong's honesty—the fact that he was able to be honest about his feelings for Shi-won and not sweep them under the rug, even telling him the winner could tease the other about it. Otherwise they might've spent the rest of their lives feeling awkward about it all.
Joon-hee sighs that it's better to be ridiculed for something than to keep secrets. Aw, Joon-hee. Yoon-jae says he knows Hyung better than him, and suggests Joon-hee go into psychiatry and look into people's hearts and help them out.
Joon-hee: "But I don't know my own heart. Maybe after I figure mine out." It kills me that he can't say it, and that Yoon-jae knows it already. He packs up the rest and the mover tells him to check one last time to make sure he didn't forget anything. He goes back up and lingers in his room.
Yoon-jae comes out dressed for work, and asks if it's so bad if he leaves something behind. Aw. He says he'll come visit the new place. The only thing Joon-hee can manage to say is to do well on his test at work and buy dinner if he gets a promotion, and with a hand to Yoon-jae's arm, he just says, "I'm going." But then Yoon-jae calls out after him, "Joon-hee-ya…" Eeeee!
He stops by the door, but doesn't let himself turn around. Yoon-jae walks up behind him, and backhugs him (awwwwww) and just stands there without saying a word. *tears*
It's such a bittersweet moment, and done so perfectly without words. Joon-hee smiles, and Yoon-jae says they should have dinner soon. He just pats Joon-hee on the shoulder, still holding him, as we fade out.
A few months later. Shi-won and Tae-woong chitchat over ice cream, and he teases that he's better looking and taller and richer than Yoon-jae, but she still likes him better?
She nods with this goofy grin and says in her totally honest way that she never had sparks with Tae-woong, but does with Yoon-jae. She says that she didn't feel it before even when they kissed, but now, she's happy just seeing his face. Aw.
Yoon-jae arrives at Hyung's office to find them giggling together and immediately pouts, "What were you doing?" Shi-won says "date," while Tae-woong spills the beans that she was telling him how much she liked Yoon-jae.
He immediately changes his tune and sidles up to her, saying she should tell him that to his face. He wants the three of them to go out to dinner, but Hyung says he got roped into going to some concert, complaining that his students are crazy fangirls. That elicits a defensive rant from Shi-won about the merits of fangirldom.
He leaves and they wonder whose fangirls they are. Cut to Tae-woong rolling his eyes as he drives a group of his students singing along to DBSK. His students insist he has to attend, and hand him a pair of tickets, asking him to be the contact for a member of their fanclub, since they'll be too busy screaming.
He waits near the concert venue and then the ticket owner calls to find him… and it's the doctor. She's embarrassed to be caught in full fangirl mode, but he surprises her by (quoting Shi-won) and saying that she must've used her fandom passion to succeed in other areas of life.
She's impressed that he gets it, and he smiles and says he's got pretty long history with fangirls. Heh.
Shi-won and Yoon-jae go to eat, and she orders the exact same way she did when they were in high school—loads of food for her, nothing for him.
She whines for him to let her have one drink, which connects her to the same request to "jagi-ya" at the reunion, where the boys all tell her no. And this time we see Yoon-jae specifically answer her no, and to think of the baby.
Then we see Tae-woong introduce the doc to Yoon-jae and Shi-won, and he calls Yoon-jae "the brother I love," and starts to introduce Shi-won.
That connects him to the reunion, where we heard him introduce Yoon-jae the same way, and then we get to hear him finish this time: "and the sister-in-law I love."
Back to introducing the doc, where Shi-won arrives to the table with a tray of two extra-whip iced mochas and regular coffees, and Yoon-jae reaches for his, wearing his couple ring.
And then to the reunion, where we see the same hand reach for the mocha, and Yoon-jae bop down for a mouthful of whipped cream. He complains that she wears that couple ring because she lost her wedding band not one month after they were married. Ha.
Back again to the meeting with the doc (Show, you're giving me whiplash here). Tae-woong's wife-to-be insists they don't have to cut in line to get married first, but Yoon-jae says Hyung should be first, and they can take their time.
Shi-won agrees wholeheartedly, "and besides, we could break up." Yoon-jae scowls. Doc says it would delay their baby-having though, and Shi-won gapes, "Baby? Why would you say something so scary?"
She swears up and down that they have ZERO plans to make babies anytime soon, and Yoon-jae scowls again.
The very next morning, Shi-won comes out of the bathroom utterly peeved, and screams at Yoon-jae to wake up, waving a pregnancy test in his face. Hee.
She beats him silly with the nearest stuffed animal, "I TOLD you to be careful! You careless ass!"
Pffft. He doesn't even know why he's being pummeled.
Reunion, 2012. A little girl runs up to the table calling for "Mommy," and runs into Shi-won's lap. And then Daddy swoops her up in his arms. Aw. She came with the grandparents, who come bearing sacks of food (of course).
They wonder how Tae-woong found the time to come, and he says he wanted to see everyone, and anyway he's here to give Shi-won his car.
Shi-won tells her parents it's past Daughter's bedtime, but Mom says she's glued to the TV these days, staring at her new idol crush, and running around saying that she'll marry him.
Dad says that's right—where you plant beans, you get beans, and where you have one fangirl, she'll give birth to another. Hee. He tells Shi-won to deal with it, like it's payment for the hell she put him through.
Yoon-jae says that stuff doesn't matter to him, and Dad admits now that he always thought Yoon-jae one marble short for marrying Shi-won. HA.
Mom still fawns over Joon-hee, asking if he's married yet and still wishing he were her son-in-law. Cute. Dad still berates Sung-jae, and smiles at the news that Hak-chan and Yoo-jung are getting married… and then asks if they aren't getting married after making an accident baby like those two over there. Hee.
Yoon-jae swears they were going to get married on that day anyway, but Mom asks if he thinks them idiots, knowing full well they hijacked Tae-woong's wedding because of the pregnancy.
Before they head out, Dad turns back to tell them to make good memories, because there's nothing better (that doesn't cost a cent) in all the world. He sighs happily, thinking of his memories with Tae-woong and Yoon-jae's dad.
Tae-woong smiles warmly and says he'll be home soon so they can play Go Stop tonight. (Awwwww, do he and his wife live with Mom and Dad? So sweet.)
The reunion comes a close and everyone streams out of the restaurant and into the rain. Sung-jae stands in the doorway between Hak-chan and Yoo-jung talking about where to go on their honeymoon, and Yoon-jae and Shi-won cuddling.
He stares back and forth between them, growing increasingly agitated, and finally blows up, asking if they don't feel sorry in the least. They're all like, why?
He reminds them of all the teenage tears and recriminations, and sighs, "They say first love doesn't can't be realized, but you guys are amazing." Yoo-jung responds by inviting him along on their honeymoon, and he storms off in a huff. The funnier part is, she wasn't kidding.
Yoon-jae says that if Hak-chan and Yoo-jung get married, they'll have attained their first loves, but Yoo-jung corrects him—Hak-chan wasn't her first love. Uh, awkward, since clearly this is the first that Hak-chan's hearing of this.
He asks who it is, but Yoo-jung just glosses over it. He pulls her old line, "Let's break up," and runs into the rain. She shouts that she doesn't even remember who it is (and betrays a tiny glance up at Yoon-jae) and runs to his side, saying, "Who cares about first love? The person next to you now is what matters!" And they walk off arm in arm.
Yoon-jae (voiceover): First love. The reason everyone's first love is beautiful is not only because the love was pretty. At the time of first love, there was a youthfulness that didn't know how to be wise, a me who was pure to the point of cruelty, and a you whose fire I couldn't handle. It's because I already know that I can never go back to that youthful, innocent, passionate time.
Yoon-jae says the weather is nice ("Because I'm with you," awww) and Tae-woong and Joon-hee come out to join them.
Yoon-jae (voiceover): First love is reckless. Without calculating, it throws everything in with pure passion, and inevitably fails. But that's why it's dramatic—the reckless tales wrapped up in experiences or feelings that you can never have again.
Joon-hee comes out and Shi-won offers to drop him off on their way. He says someone's coming to pick him up. Yay! She smiles knowingly.
Yoon-jae looks at him in surprise, and they just smile at each other. I'm so happy Joon-hee found someone. He's the last to leave the party, and there's something so bittersweet about that.
He waits in the rain, and a car pulls up. We don't see who picks him up, but Joon-hee smiles as he gets in the car.
Yoon-jae (voiceover): First love is a time. Once it passes, it's gone. Now you have to give a new love and a new time a chance. It might not be the experience or the purity of first love, but out of that scar is a love that grows and becomes a little more mature—you have to wait for an adult love. Only those who wait can dream of love.
We see the fateful moments that we thought were Tae-woong's first encounters with the doc, but then a flashback shows that they actually ran into each other the day he went into the record store to buy H.O.T. CDs for the first time.
Back to 2012, as Shi-won drives the brothers home. Yoon-jae asks what kind of medical seminar is keeping Hyung's wife in Japan over the weekend, and he sighs that it's not a seminar—it's a DBSK concert. Haha.
Apparently she also became the entire fanclub's president, which is hilarious, for the two very different reactions it gets from the front seats. Yoon-jae sighs that Hyung's gonna have a hard time spinning that as a presidential candidate, while Shi-won is freaking out that their family finally has someone important in it.
She grumps that Busan chapter president is as high up as she could get, and blames the city she was born in. She and Yoon-jae bicker the rest of the way, and as Hyung gets out, he tells them not to fight.
Yoon-jae's like, that's not fighting. Shi-won (still calling him Oppa), says that when they actually fight, cops have to be called. They drop Tae-woong off and then the rest of the car ride gets dicey, as they start to argue.
Yoon-jae (voiceover): When romance passes, life comes. Purity gets dirtied, passion freezes over, and youth turns to shrewdness as you age. That innocent era's first love becomes fatigued and exhausted daily routine… and is why first love appears to be something that can't be realized. Because those who succeed at realizing their first love… don't tell you.
Yoon-jae says he hasn't asked in a long time, but if he and Tony oppa fell in the water, which guy would she save first? She vaguely remembers being asked this before, but he says (quite nervously, which cracks me up) that some things have changed since then.
This time her answer is: "You. Just you. Who else would I save before my husband?" He beams, calling it his life's great reversal. Hee. But then when she says she loves him, he calls her out on being the mother of two and still going to visit Tony's mother's store. Well clearly, the girl's loyal. You should know.
Yoon-jae (voiceover): Succeeding at first love is nice too. There's comfort that's even better than your favorite sweater, but also an excitement that you can find when you're tired of that comfort. As childhood playmates, as first loves, as lovers, and as husband and wife, we live through the same times, share the same memories, and grow old together. A familiar excitement. It's nice.
As they drive away swearing at each other, we see the license plate on the car: Live forever 1997.
And then the final flashback, to 1997, when the group gathered for a photo in the park. Hak-chan sets up the camera, and Shi-won berates Yoon-jae for ruining her once-in-a-lifetime signed t-shirt from Tony oppa, when he used it to sop up some spilled soy sauce.
Sung-jae says he's lucky to have walked away with his life. As the camera timer starts to wind down, Shi-won asks if he's really sorry and feeling repentant, and waves a fist in his face…
And then just before the shutter goes, she opens her hand and he leaps back, terrified at the frog sitting in her palm.
Yoon-jae: "I think I broke my arm!" Haha, so that's what landed you in the hospital?
Yoon-jae (voiceover): It was fiery and pure, the time I long for. Do you hear me? If you hear me, answer, my '90s Me.

COMMENTS
I feel the same way about the finale as I did about Episode 15—that the show is better when it's shorter and tightly edited, without letting conversations meander indulgently. But by the last two episodes we've come to love these characters so much that we indulge the excess, which probably helps to ease our goodbyes to the show as well. Overall I'm happy about the finale and it delivered exactly what I wanted—a satisfying resolution for everyone and some nice contemplative reflection on what it's like to be young, told from the perspective of characters we've watched grow up over the course of the series.
I would have liked to get Shi-won in on the voiceovers in the end, or even let each character have one that fit their endings, though I don't mind that Yoon-jae had the job of wrapping up the story for everyone. I think the finale rests entirely on the strength of the past episodes though, in that it made us nostalgic for the young versions of the characters as if we'd known them for years, and not just a few weeks. For me, everything past the time jump (post high school to 2005 and beyond) doesn't hold a candle to the early years—it's as if the show is on the same trajectory as its characters, with a fiery passionate youth that blazes so bright… that it can't help but wane and cool as it gets older. It was still fantastic in the later years, but didn't have that incredible spark it did when the adolescent rollercoaster was in full swing.
But when it was, man was this show amazingly accurate about the highs and lows of being young. I appreciated everything about the heart, the humor, the gut-wrenching tears, the utter humiliation, and the moments of self-discovery. And of course the attendant soundtrack, which made me feel all the more like I was reliving my own youth along with them. What I loved most was that each character was written as a full person—as if they were the stars of their own dramas. It's not often that characters are written this way, to feel like real people, no matter how little we might see of them. And despite some conversations rambling on forever, the ones that mattered—the powerful emotional beats—were delightfully sparse, sometimes silent. It's a two-way street with good writing and good directing, to give a scene the space to breathe, and to direct it so that the moment and the breath matters. This show had that perfect combo in spades.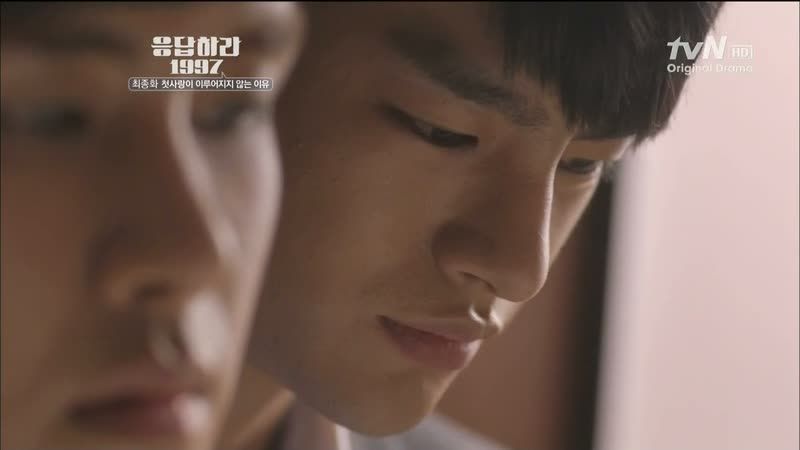 There were certainly times we all grew tired of the baby daddy mystery, but it certainly laced the show with enough crack that it scored a new ratings high for cable. What the show did right within that overarching story was its whimsical (and sometimes very complicated) use of flashbacks, flash-forwards, flash-forward-and-back-within-a-flash-somewhere. It played fast and loose with narrative time, and built an emotional throughline across decades, days, and minutes between different sets of characters, all converging on a similar idea. Those were the strongest episodes, in a series full of strong episodes.
In the end it was always the family that really got me—the one that Mom and Dad cobbled together out of the rubble when each of the two core families suffered such massive loss. The brother relationship, what it meant to them to have surrogate parents, and how Shi-won couldn't lose either of the boys from her life because they were family to her—no matter which two characters you paired out of that family, there was something so amazing to come out of it. Dad and Shi-won were a sentimental favorite, but of course the heart of the show is Shi-won and Yoon-jae.
I love that theirs is a relationship that survives not because of some idealized version of first love, but because they acknowledge that first love is beautiful because it's a moment in time, and is as much, if not more, about who you were in that short burst of time. That you stays in the past, because you have to grow up. It's the idea that even people who end up with their first loves have to give up on the notion of First Love, as if it's some magical ideal. Life goes on, passion fades, but love can always change and grow. Their happy ending is not in realizing their first love, but in finding someone to grow up with.

RELATED POSTS
Tags: Answer Me 1997, Eun Ji-won, featured, Hoya, Jung Eun-ji, Lee Shi-un, Seo In-gook, Shin So-yool