Arang and the Magistrate: Episode 10
I love today's moodier, contemplative vibe. We still get our dash of humor and our advancing of the Mom-demon mystery, but emotional development is really the focus of the episode, and there's a lovely air of poignancy about it. Because what's the use of falling in love when you're doomed from the start, right? If only the heart listened.
SONG OF THE DAY
I.S. – "Miryang Arirang." Love the fusion-jazzy vibe, and apparently the director does too; he used most of I.S.'s first album to score The Story of Hyang Dan. [ Download ]
Audio clip: Adobe Flash Player (version 9 or above) is required to play this audio clip. Download the latest version here. You also need to have JavaScript enabled in your browser.

EPISODE 10 RECAP
Eun-oh's conscience picks an inconvenient time to rear its head, with Arang leaving with Joo-wal as the little boy begs for his help.
As they walk along, Joo-wal asks what her relationship is to Eun-oh, and Arang fumbles for an answer. She gets all the words mixed up in the wrong order: "Uh, the teacher is the daughter, and temporary left in his care. I mean, the magistrate's teacher is supposedly my father—I mean, IS my father."
He says they seemed pretty chummy. She answers that Dad traveled a lot and owes the magistrate money, yeah that's right, a debt! So she's here as collateral. They're not friendly at all.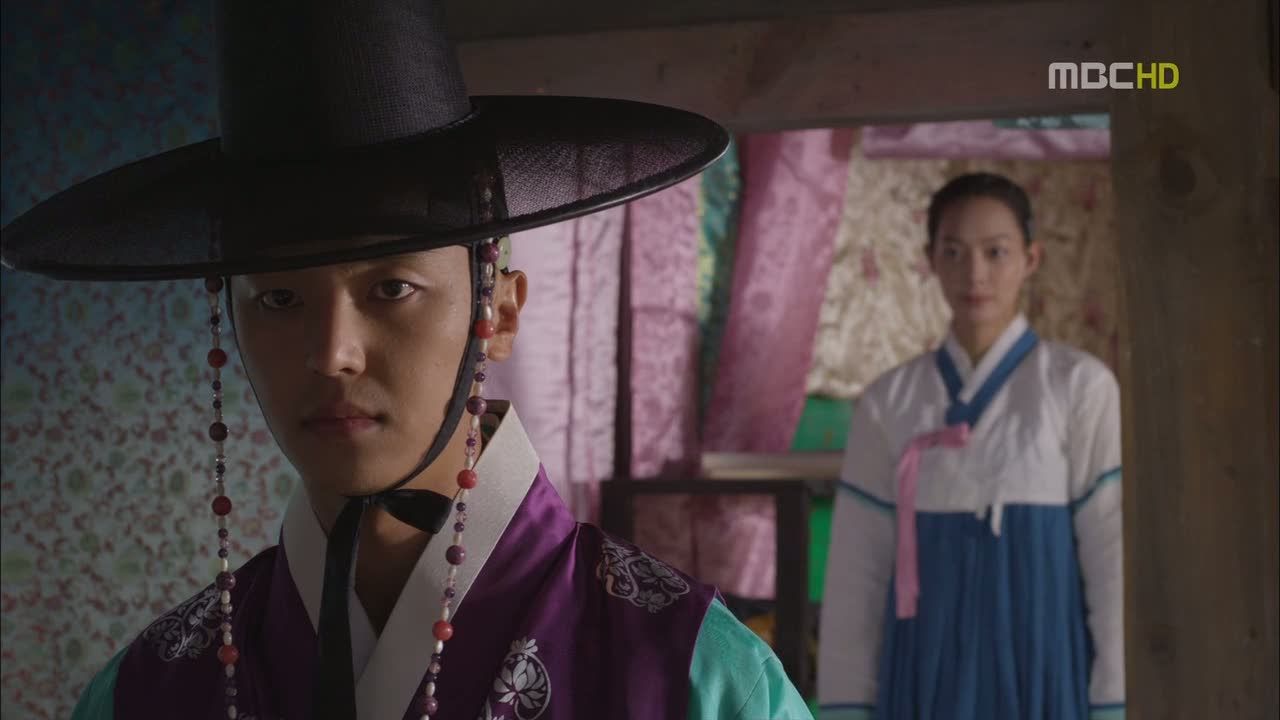 Joo-wal's request for help lands them in a clothing shop, where he says he needs her help in knowing her measurements. Ha, sly and also kinda sweet. Although, yes, working for Mother of All Evil. Must remember that.
Arang is touched at the gesture, but surprised. As the shoplady takes her measurements, she thinks back to Eun-oh doing the same and sighs at the irony of how hard she worked to get that change of clothes—in order to impress Joo-wal—and today this comes so easily.
The shoplady wonders at Joo-wal buying a woman clothing for the first time ever, saying that it might be pity, or it might be romantic feeling motivating him. But it's Eun-oh she pictures taking her measurements, and Arang jerks back momentarily, thinking him real.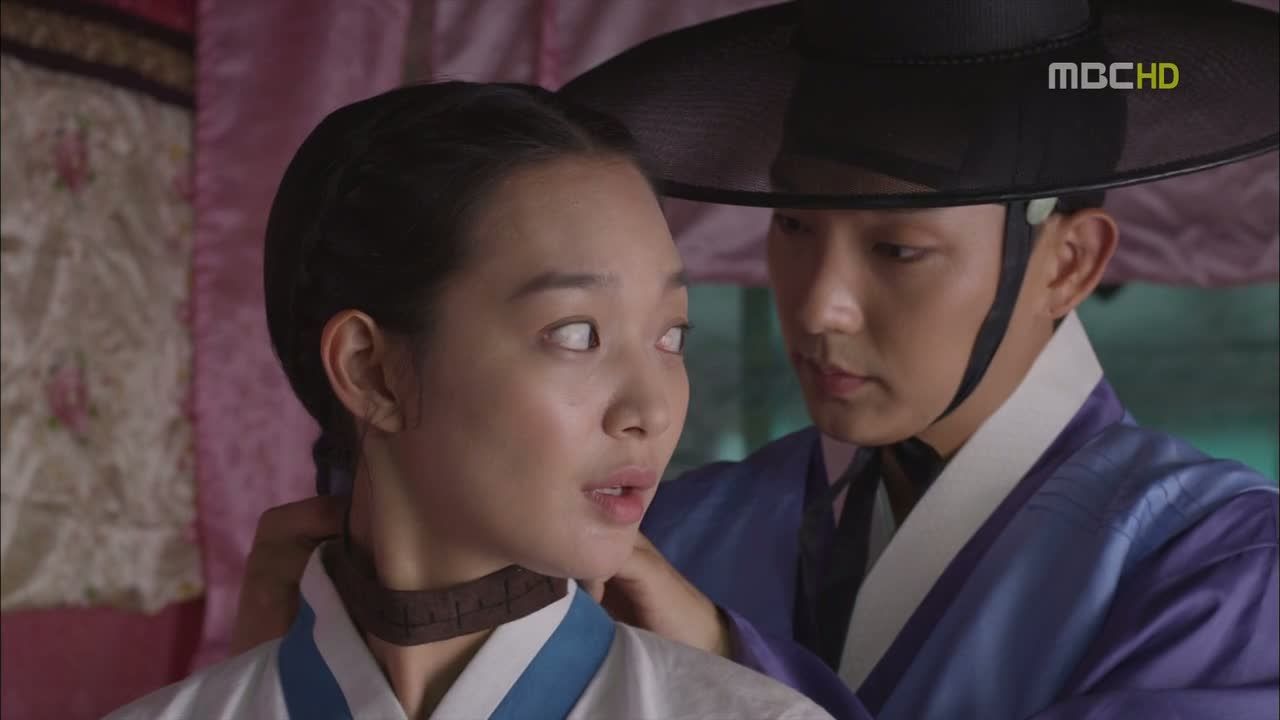 Then it's off to the marketplace to make a date of browsing the various stalls. Joo-wal offers to buy her a snack, and Arang grabs one of everything and stuffs her face.
Eun-oh has a heart after all, and heads back to don his magistrate's clothing and take care of the matter. He grumps along the way that it's all Dol-swe's fault if anything happens, and Dol-swe asks smugly if he means Arang and Joo-wal getting close. He may as well be sing-songing about them sitting in a tree, k-i-s-s-i-n-g.
Eun-oh arrives at Lord Choi's home to demand the imprisoned man be handed over into his custody. Lord Choi scoffs that he has no place here, but Eun-oh begs to differ. He's on the job, responding to a missing persons report, and the case has led him here.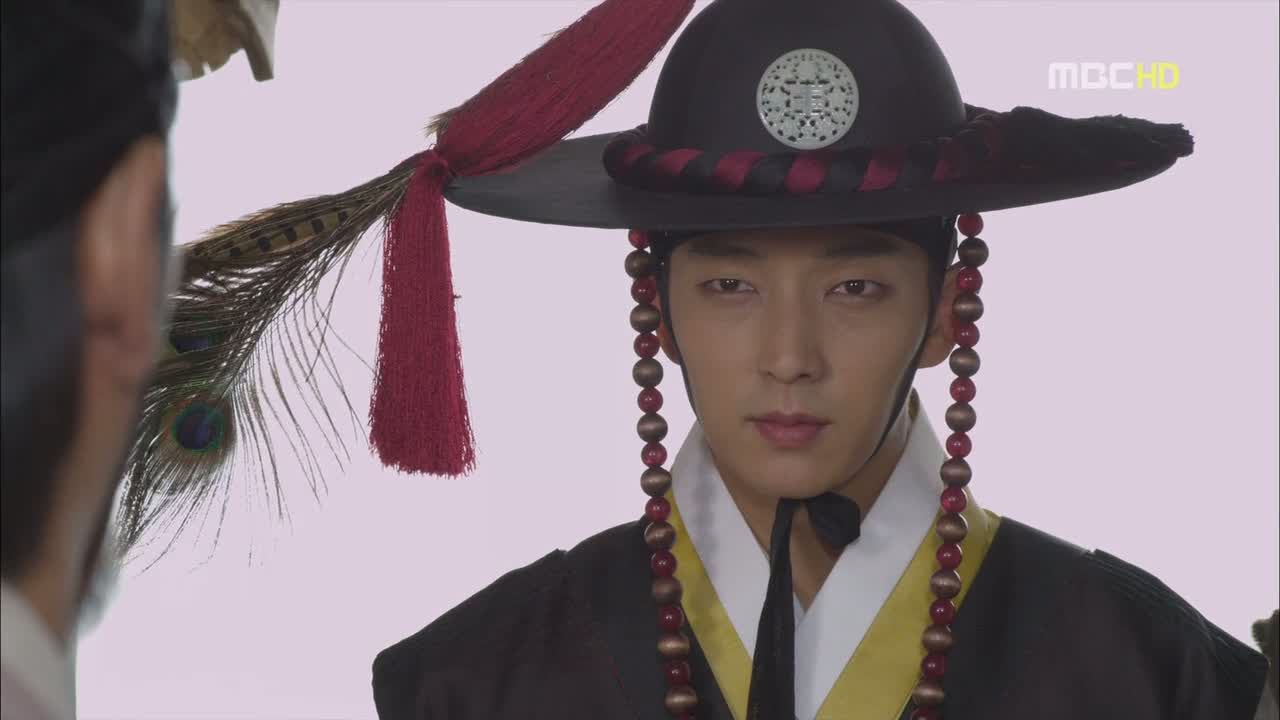 Lord Choi argues that the man is being held until they sort out the details of his crime, but Eun-oh points out that such work is the purview of his office. If Lord Choi continues to obstruct his job, he'll be in violation of the king's own law.
Lord Choi fumes, but he orders the man released. Round 1 goes to Eun-oh, but I wouldn't be feeling smug about it yet, given the way our murderous Bang glares at Eun-oh's back. As Eun-oh leaves, he mutters under his breath about Eun-oh's slave blood, and Eun-oh decks him one. Yeah, that's satisfying.
He delivers a loaded warning that he's not to be messed with. Lord Choi sends him off with a smirk saying that playing the magistrate won't be easy.
Lord Choi rips into Hyung Bang for creating this mess, then instructs him to empty out the storeroom at the government office first thing tomorrow. Just in case Eun-oh should do something with his stash.
Dol-swe recognizes the released father as the man who'd been waiting outside the office the other day, asking for the magistrate's help. Lord Choi has been paying the people's national tax for them up front, then charging exorbitant interest. The people have been wondering whether the new magistrate might be more sympathetic, but hadn't worked up the nerve to challenge Lord Choi by asking.
Eun-oh thinks back to Lord Choi's taunt about playing at being magistrate. He directs Dol-swe to have the people spread some rumors.
Next thing we know, the storerooms are opened and the people allowed to claim their sacks of rice. Dol-swe protests that it's Lord Choi's storeroom—it's their payment for the taxes he paid. Eun-oh waves them through, saying that he set aside the exact amount in taxes to go to the nation. It's the extra he's giving back.
Dol-swe sputters, "You know [what'll happen], don't you? YOU KNOW, but you're still doing this! What happened to the young master who ignored injustice? Don't get involved and cause headaches! Don't mess with Lord Choi!"
The Bangs arrive for work in time to see the crowds carrying off sacks, and gasp to realize where they're coming from. Behind them, Bang-wool comes rushing up the road, hoping she's not too late. Too bad, I'm pretty sure she's too late. Will she never catch a break?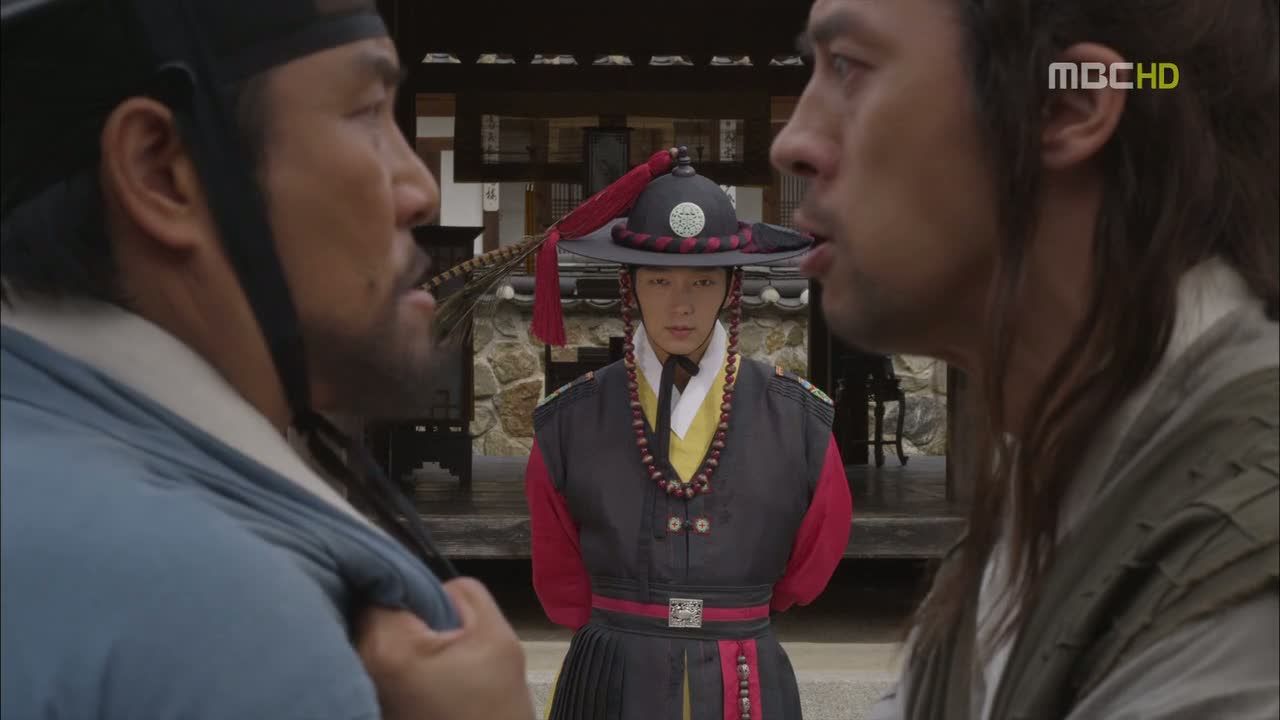 The Bangs find the sheds completely empty, and Hyung Bang smears Eun-oh's name in outrage. That brings out Dol-swe's protective Mama Bear anger, and they call him a slave of a slave too.
Eun-oh appears before fists are thrown, stopping the fight momentarily. It appears the constant reminders of his base birth aren't exactly rolling off his back, and he returns to his room with heavy heart.
Dol-swe pummels the Bang Trio and declares that the word he hates most in the world is "slave's slave." He shouts, "You can insult the young master all you like, but I will not tolerate you insulting ME!"
It's the opposite of what you'd expect him to say, but a flashback fills us in on some backstory:
A young Dol-swe endures a beating, his nose bloody from a fight. Standing over him is a haughty nobleman with three peevish boys (scratched up from a fight), and the man scolds the slave's slave for daring to lay a hand on the boys. He also sneers at young Eun-oh.
Dol-swe rages that his anger isn't about his master (so don't talk down to him), and that he hates being called a slave's slave. Picking up tiny Eun-oh, he tells the nobleman to take it up with Lord Kim if he's got a problem with it.
Now, huffy Dol-swe finds Eun-oh and demands they pack their things and leave immediately. Eun-oh waves him on, telling him to take care of his business, then heads off on horseback.
Bang-wool gets chased off the premises again, and Dol-swe's furious enough at Hyung Bang to jump in and confront him. Which, of course, just makes him that much dreamier in her eyes. Haha.
Eun-oh rides off with his mind in a turbulent state, thinking of Lord Choi's words of his mother being a traitor's daughter, and his own childhood spent crying for her while she vowed revenge. His wandering takes him up a mountainside, where he broods for a good long while.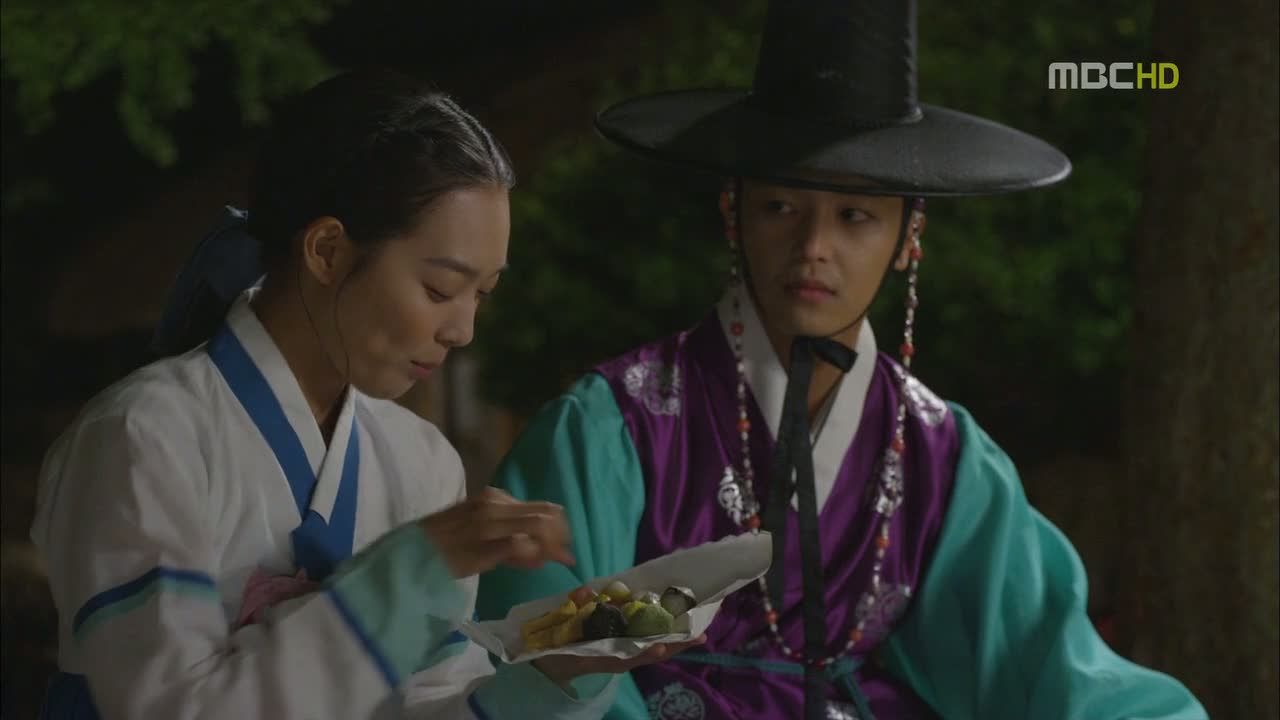 Arang and Joo-wal continue their snacking adventures. What, you're still out? Have you been eating for hours? Joo-wal marvels at her impressive appetite, and as they sit down, a beggar sidles up to Arang, hands out pleadingly.
She holds out a rice cake… which to Joo-wal looks odd, since he can't see that the beggar's a ghost. Ha! It's doubly funny because Arang offers it not to the pushy ghost at her side, but the meeker one behind him—so Joo-wal watches in confusion as she dodges air, and holds out her cake out to more air on the other side of that air. Aw, she's feeding the skinny cat first. Then she gives another one to the first ghost, and waves as they scamper off. She's adorable.
Then she remembers who she's with and pulls back the wave. Lucky for her, he's not about to make an issue of it (which you'd think should strike her as odder, wouldn't you?).
Joo-wal comments on her insatiable appetite, and Arang explains that she got used to eating while she could, because she never knew where her next meal was coming from. She sighs sadly about how back then there was never enough to satisfy her hunger… and that gets a keen look from him. Oh, he knows that pain all too well, though in an entirely different context.
She tacks on the story that it was a long time ago when "Dad" was wandering the country. Plus, yesterday she didn't eat at all because of Eun-oh: "That magistrate! If he's not hungry, does he think nobody else is?"
But that reminds her that Eun-oh hasn't eaten either, and she worries that he might be suffering now.
On their walk back, she asks why Joo-wal bought the clothing for her, and he answers, "I just wanted to." Aw, that's sweet. False, but sweet.
She says she came today to ask him several things, but isn't yet ready to say the questions. She assures him she's not usually so shameless to just take and take all day, though, and promises to pay him back with interest.
Joo-wal doesn't mind, since he's enjoying the company, and says it's too bad night has fallen because he wanted to show her the flowers. Arang says the experience is best at night, but remembering Eun-oh distracts her again, and she worries that he might've collapsed from hunger.
In rides Eun-oh, returning from his day of brooding. He's weary and lacking energy, sighing to see the two of them together. He offers her a hand up, and they ride off together as Arang calls back her thanks to Joo-wal. Hm, is that look on his face real jealousy, or is it just that his get-into-her-confidence plan has hit a bump?
Eun-oh doesn't head immediately home, saying he wants some air. He asks if she got her answers from Joo-wal, but she says no. He bought her clothing ("What?!" Eun-oh asks sharply), and she was afraid that asking one question would lead her to ask less friendly ones, like, "Why are you doing this when you didn't for your fiancée?"
Arang finds it frustrating, and Eun-oh agrees, "With you feeling jealous of your own self, I can see why." Heh. She figures she'll ask next time, and Eun-oh balks at the idea of a next time—does she have no pride, to ask those things of a man who doesn't even remember her? Arang returns, "Lee Seo-rim is Lee Seo-rim, but I'm me."
She's pleased to deduce that Joo-wal must like her, though, since that'll make her job easier. That gets a sharp retort from Eun-oh, but he covers it with the excuse of being worried; he's sure Joo-wal isn't being sincere.
Arang asks why Eun-oh's worried about her, and prods, "Do you… like me?" Haha, trust her to bring it up first, and just like that. Eun-oh stutters, "W-w-what?"
He informs her that worrying doesn't equal liking. She advises him not to like her (he assures her he won't), because she only has two moons left. That's news to him, and she explains the Jade Emperor's deal: If she can't find out the truth of her death in two months, she's off to hell. But if she succeeds, she gets to go to heaven. In any case, whether she finds the truth or not, she has to leave.
She keeps her mood chipper, but that's quite a blow for Eun-oh. NOW will you admit you like her? Time's tickin'!
She walks off, leaving him behind as he absorbs the shock. Then he dashes off after her and whirls her around to demand why she's only telling him now.
She says it wasn't important, so she didn't tell him. He scoffs, "Not important? Does it really not affect you at all?" She answers that it's her business, not his.
Joo-wal has a surprise visitor that night, when Mom shows up in his room unannounced. She says she was expecting he'd come by, but since he didn't she got curious for news. She's in her sympathetic mode tonight, which frankly makes her scarier to me since I (and more importantly, Joo-wal) don't know what tiny thing will get snap her back into devil mode.
Mom says that the girl must be harder to woo than expected—is she ignoring the advances of such a young, handsome man? Is there another man in the picture?
Joo-wal answers that he doesn't think so, which is an interesting choice; one word from her and she could probably have Eun-oh vaporized in an instant. Then again, maybe not, seeing his prowess with his mystically stamped fan—but point being, she'd try. Mom asks Joo-wal to hurry.
At the magistrate's office, Dol-swe and Bang-wool wait for Eun-oh to come back so she can claim her share, sitting in terribly awkward silence like teenagers with their first crush. She asks why he's suddenly speaking to her in honorifics (he'd previously talked plainly), and he admits, "Actually… that time… I… your lips…"
Bang-wool shoots up in awkward panic, choosing to leave rather than confront her embarrassment. But she forgets her book and turns back, just as Eun-oh and Arang arrive.
Eun-oh's in a dark mood and heads inside without a word. Arang sighs to Dol-swe in sympathy, saying he must have it rough with such a bad-tempered master—Eun-oh could probably subsist for years on his crankiness. I love that she's siding with him, but he still huffs in defense of young master.
Bang-wool catches a glimpse of Eun-oh as he comes in, and thinks that he looks familiar. "Nah, it couldn't be," she decides.
Then she looks out at the courtyard where Dol-swe is pestering Arang, asking, "What do you mean by that?" Her mouth drops in outrage—that hussy! Then she thinks belatedly that her voice sounded familiar…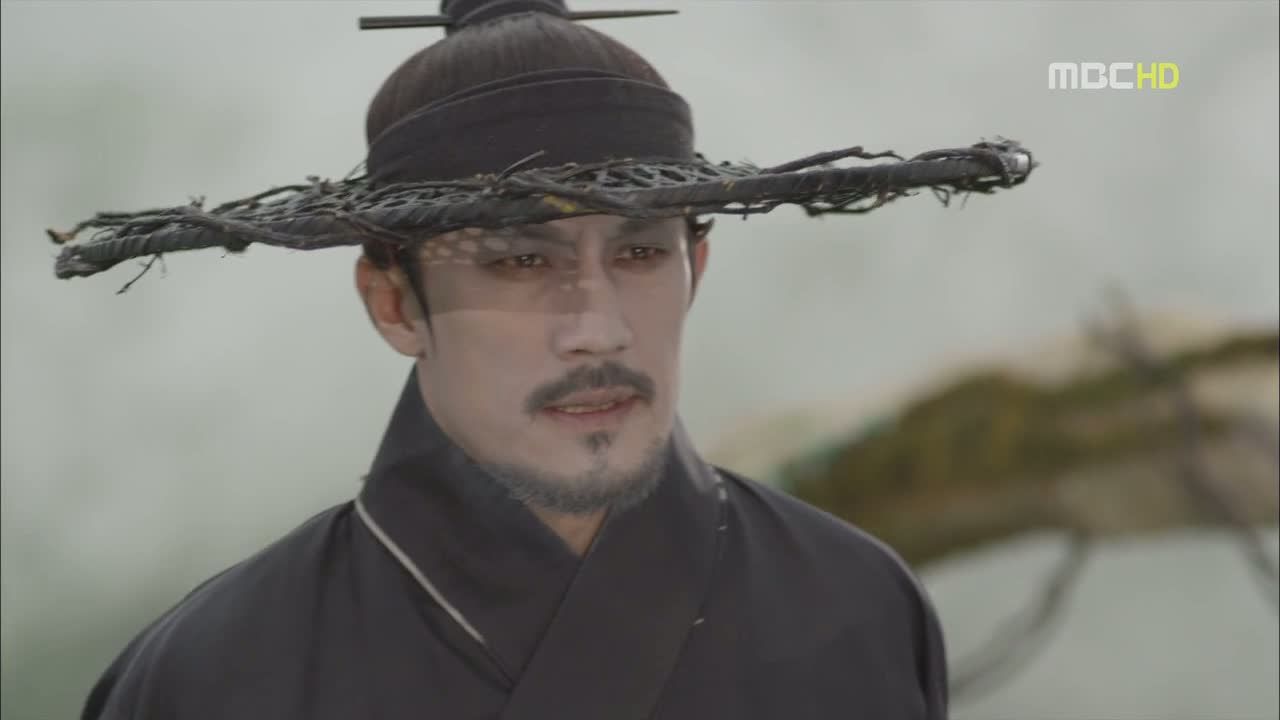 Up in heaven, Mu-young paces with a new puzzle on his hands—how in the world was Eun-oh able to fight off those demons? What is that fan, that allows a human to do damage to beings only heaven should be able to handle? The symbols on the fan are the key, he decides.
Lord Choi receives word of Eun-oh giving away his stash, which he does not take well. Hyung Bang says they're trying to hatch up plans for sending Eun-oh packing, but that won't satisfy his bloodlust now: "Bring me his head!"
Eun-oh's still cranky in the morning, as Dol-swe presents him with his mended clothes from his fall from the cliff, and the curious talisman that was found inside. He also asks Eun-oh to reopen the storeroom for the one last villager, but Eun-oh curtly dismisses him. Dol-swe cries, hurt, "How… how could you do this to me?" Heh, and here I thought this would be standard operating procedure with Eun-oh.
Eun-oh rouses Amnesia from sleep and orders her up.
The Bangs wonder at the unusual quiet these days, on edge for the other shoe to drop. Shouldn't Lord Choi be raging after the storeroom incident? And the saved villager? This must be the calm before the storm, they're sure of it.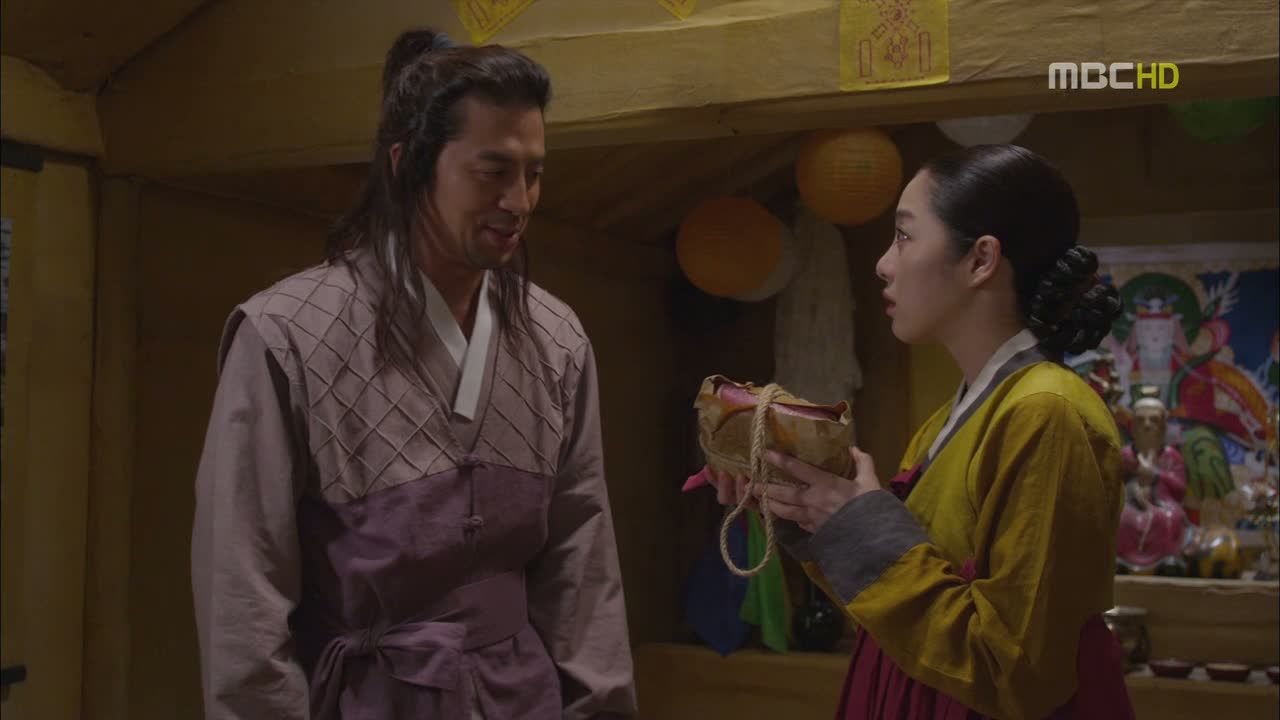 Bang-wool tries to place the voice she heard last night, thinking it familiar but not quite making the connection.
Dol-swe drops by unexpectedly to give her the sack of rice, and also a package of pork. It's just the thing to appeal to meat-loving Bang-wool's heart, since she's always so disappointed to have nothing to eat but kimchi. Yet it's also puzzling; she asks why he's being so nice to her, and tells him not to.
Disappointed, Dol-swe asks, "Do you dislike it?" She exclaims that she does, and tells him to stop speaking "up" to her.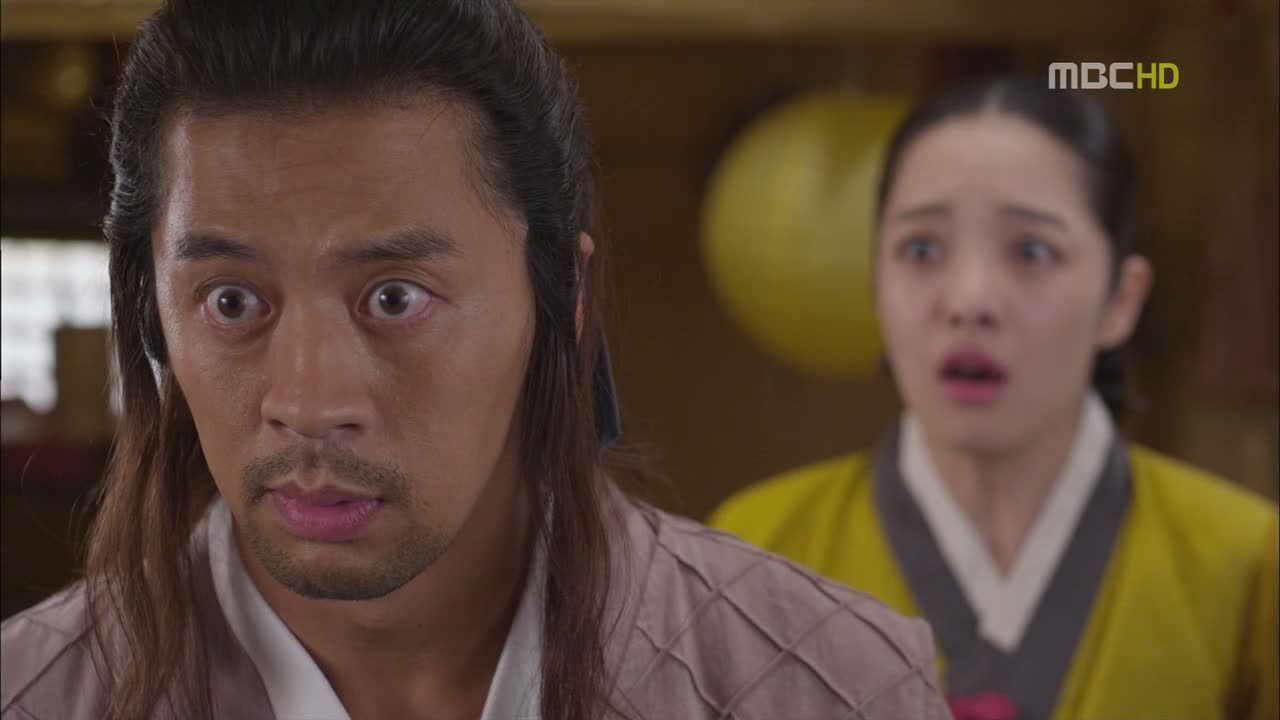 Crushed, Dol-swe agrees to leave her alone, the poor dumb lug. Head hanging, he turns to go, and Bang-wool bursts out that he's doing it again, and yells, "Just act like you were before! Be crude and rough!"
Omo, is it because you don't find him attractive when he's being nice to you? And here he is, just trying to impress you. I know the bad boys are appealing, but honey, you've got issues.
He turns back. What did she just say?
She slaps a hand over her mouth and says never mind, but the smile's back on his face and he puffs up with confidence. Ha.
Up in heaven, Jade Emperor tries to persuade a fairy to increase the fire she's tending, because a healthy up-and-down, push-and-pull dynamic is what you need to make the fire more effective. I love how she declines his advice dourly, content to keep her fire on low heat, while he applies game theory to the situation.
Jade Emperor says it's this lack of understanding that explains why she has no reaper courters, which, HAHA. Then he asks if she added his goat flowers (the ones growing from its back) into the fire, and the fairy tells him he's mistaken in his belief that they have any effect.
Hades arrives to asks when Jade Emperor is going to tell "it" to Mu-young. His face looks troubled, and the only thing to worry him so much is Mu-yeon: "Just tell him! The one killing so many humans and stealing souls to keep itself alive at one time was your younger sister and a fairy of heaven! Mu-yeon!"
Finally, confirmation. It's what we deduced, but it's a relief to have that cleared up and in the open. Also, I'm starting to think Hades got the brains in this operation while Jade got the looks.
Hades says that Mu-yeon is stealing the souls bound for hell and turning them into demons. What's worst, though, is that they know what's going on but can't do a thing about it.
Jade Emperor says they can't act, while she's in a human body. Interesting. So that's why she must covet the immortal Arang, who is human in body but not killable; there must be a (super)natural law that keeps the powers of the afterlife from meddling in human concerns.
Hades points out that Arang is moving awfully slowly, distracted with other matters, and at this rate she'll run out of time. Jade Emperor counters that, though, saying that she's doing a good job.
Arang is back at the seamstress's shop… this time directed by Eun-oh. Omg. Are you so jealous that you had to butt in, so Joo-wal wouldn't one-up you? That's adorable.
Eun-oh's a more meddlesome customer, though, telling the seamstress how to measure Arang like he's totally familiar with her body. The seamstress takes her aside and asks what's up with the two men, while Arang glares at Eun-oh for his demanding behavior.
Ha, this is what he dragged her out of bed for, and he tosses extra money at the shoplady to insist that the clothing be ready by tomorrow. Let me guess: So she wears your dress before Joo-wal's?
She points out that she already has new clothes ordered, and he says pointedly, "So what if he has them made? You're not going to wear them."
Arang's all, That's for ME to decide. So Eun-oh storms back into the shop to toss more money at the lady to cancel Joo-wal's order. LOL. I do love the pettiness of his response, but poor girl! Who only gets to have one outfit at one time?
And then he melts my budding irritation at his high-handedness by telling her, "I'll be the one sending you to heaven." That's (bitter)sweet. He couches that in his usual gruff way, telling her not to go around ensnaring men who'll just be left pitiful later. I'm not sure he realizes that he's not talking so much about other men, even as he's scoffing at the poor soul who'd fall in love with a ghost with less than two months left to life. The denial is strong with him.
Eun-oh leads Arang up the mountainside, explaining, "I said I'd send you to heaven." That's all he'll say, and she asks if he's going to abandon her in the woods because he's sick of her. He's all, "Will you even stay lost? You'd come find me again anyway."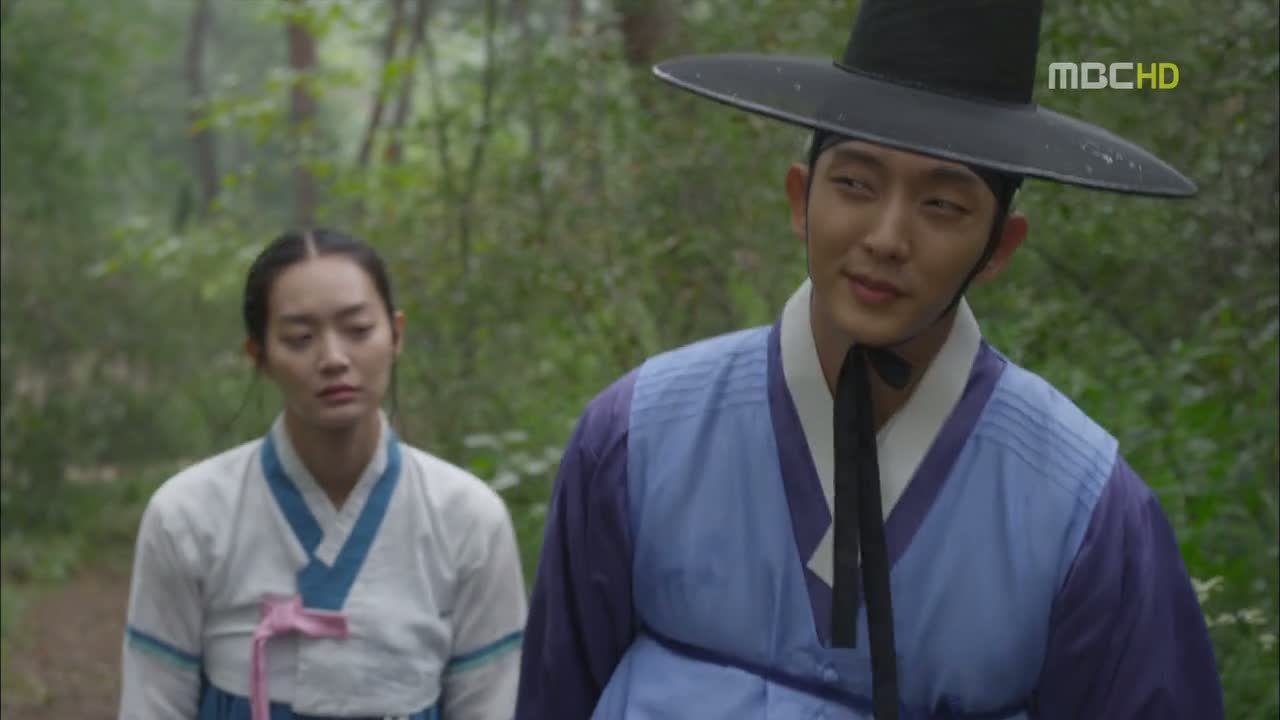 Arang finds this trek reminiscent of her journey to the afterlife, peaceful and pleasant, which was at one point so nice she thought that dying might not be so bad. It was this world that was so difficult, after all. Truer words.
But that was just a fleeting moment, she clarifies, explaining falling down the waterfall and meeting the skeleton guard to the underworld. Then there were the two kings of heaven and hell, who give and take away on endless repeat: "They must be perverts." Haha.
Next time, she'll ask to take a different path, she decides.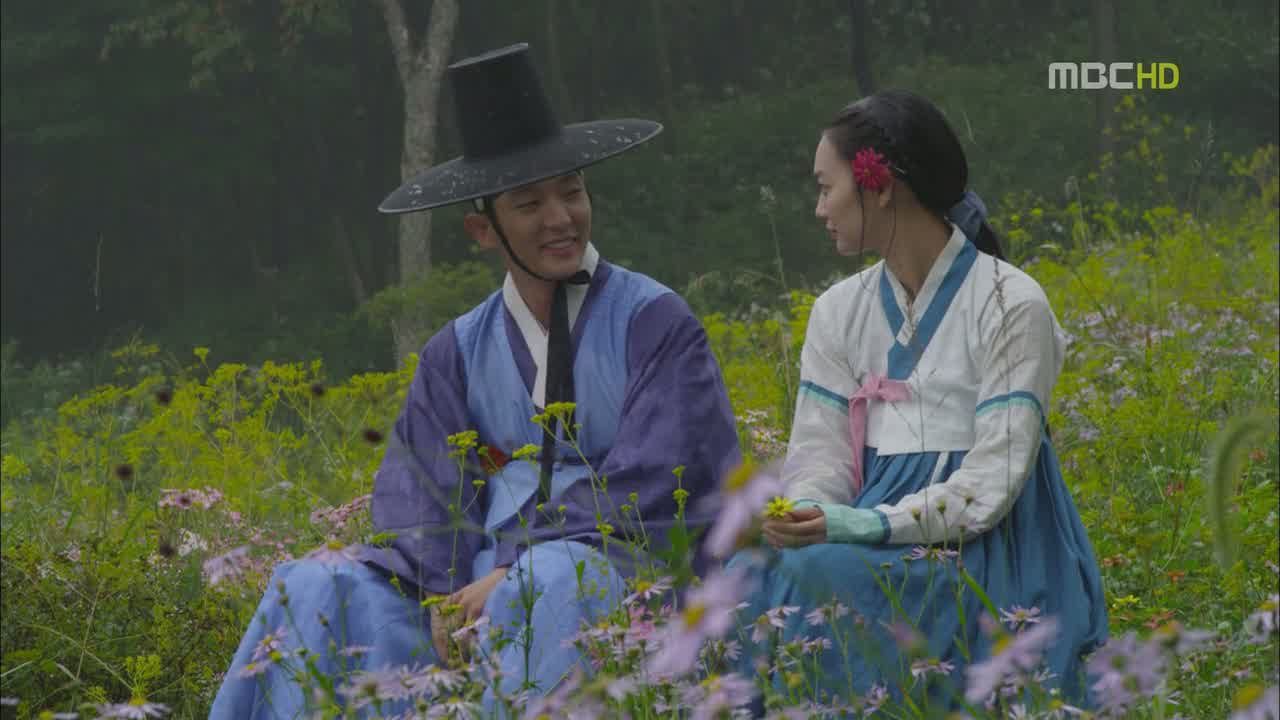 Finally they arrive at "heaven." It's a field of wildflowers. Altogether now: Awwwww. He remembered her love of flowers! He tells her to remember the sight well, so she can tell those old fogeys to reincarnate her as one of them, as she wanted.
Sitting in the field, Eun-oh chuckles at the sight of Arang with a flower stuck behind her ear. (Which happens to be shorthand for: She's crazy.) He says there was a girl who used to go around with a flower in her hair ("She kind of reminds me of you"), and he always found himself responding to her requests.
But one day, he realized she wasn't around anymore. Then she came back as a wandering ghost and stuck to his side, saying she was a virgin ghost.
Arang asks how long he's been able to see ghosts. He answers that he was sick as a child, so ill that he almost died. Afterward, it was like something had opened up, and he could see ghosts. At first he was so scared, he did everything they asked. But that led to strange rumors in the village about the boy—no, the illegitimate concubine's son—who could hear ghosts.
His father threw around some weight to quash the rumors. He even entered Eun-oh into his family registry, and Eun-oh says he was quite thankful for having such a father. Strange, then, that his voice sounds so blasé about it all.
Arang is quiet through his story, and he tells her not to feel pity for him. Then she asks, "Is that what a father is? Does he block everything bad? Why wasn't Lee Seo-rim's father able to block that?"
Arang: "When you find your mother, what will you do?
Eun-oh: "I'll ask her what I meant to her."
Arang: "That's all?"
Eun-oh: "We'll go far away, and live together just the two of us."
Arang: "Just you two?"
Eun-oh:Arang: "When you find your mother, I'll probably be in heaven, won't I?"
Eun-oh: "You'll probably be in heaven."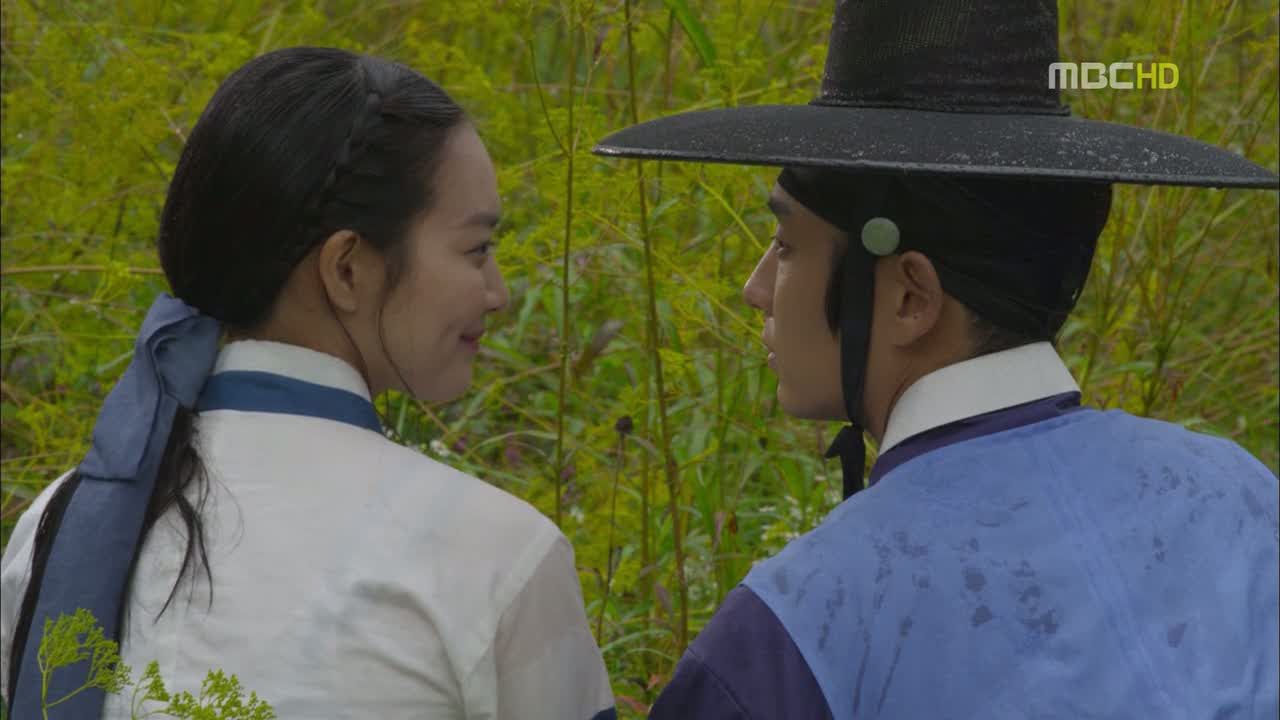 COMMENTS
I love the touch of melancholy running through both characters at this point in the story—just before you think they're heading into a breakthrough where they might, just might, stop dancing around the issue and address their growing attraction, they're reminded of why that's a bad idea.
I don't doubt that Arang truly didn't think it would be a big deal to leave out that little detail, seeing as how hell-bent Eun-oh was to remain detached from her (and everything, for that matter). Plus, even now they're skirting around their feelings, so if you were to take everything at face value, it seems logical that she'd spare him all the tedious details. Of course, that's not how things shake out, so it's understandable why Eun-oh is angry that she didn't tell him. But I really appreciate that they moved past anger and into bittersweet acceptance, because that gets me a lot more on an emotional level.
It was a surprisingly thoughtful gesture to send her off to heaven, I thought, and also tinged with such sadness. I like the meaning of Eun-oh wanting to dress her for the afterlife, because it's the sort of thing you do for your loved ones, sending them off with respect. So what starts out as a joke and jealousy-bait turns into something really quite poignant; he'll make sure the ghost with no memories gets her final send-off properly. Just like he was the one to give her the funeral in the first place.
It's also his way of making sure they have a proper goodbye, which totally brings tears to my eyes. Of all things, Eun-oh's great fear is being abandoned, suddenly, and spending the rest of his life searching for that missing soul. It seems so blindingly obvious to us that I have to remind myself that Arang can't know this, that she's not privy to his inner thoughts, because goodness knows he's not forthright with them. The fact that he works past his anger rather quickly suggests that he's aware on a conscious level that he values her, because he wants to make better use of their time before she's gone.
The mystery: Humans are untouchable? We've had lots of hints to that effect, but now we know for certain that there's a fundamental… rule of the universe, or something, that makes the gods literally unable to meddle. I figured it was true at least on a metaphorical level, where they refused to step in on principle. But now we know that there could be a soul-eating demon on the loose and the gods are literally powerless to do anything, as long as her shell remains human. It's a nice touch, adding a sanctity to human life in this universe where you'd assume the opposite were true, given how many non-human beings roam the earth willy-nilly.
So Arang is the bait, being both human and unkillable. What does that make Eun-oh, then? I like that Mu-young's starting to question things, and he realizes that there's something odd about that magistrate. I just hope Eun-oh's big secret isn't something heart-crushing like he's the only one who can kill Arang's body (with Mom's soul inside?). 'Cause once was enough, and after Buffy I don't think I could take that again.
RELATED POSTS
Tags: Arang and the Magistrate, featured, Lee Jun-ki, Shin Mina, Yeon Woo-jin