Arang and the Magistrate: Episode 13
Okay, this episode made me change my mind about wanting all feelings out in the open, because our hero's achy breaky heart just kills me. It's. So. Sweet. It's a great example of when angst can be so good when it's motivated by larger-than-life conflict, and when trying to hide your bleeding heart can be just as romantic as putting all your cards on the table.
SONG OF THE DAY
K. Will – "Love Is You" (Arang and the Magistrate OST) [ Download ]
Audio clip: Adobe Flash Player (version 9 or above) is required to play this audio clip. Download the latest version here. You also need to have JavaScript enabled in your browser.

EPISODE 13 RECAP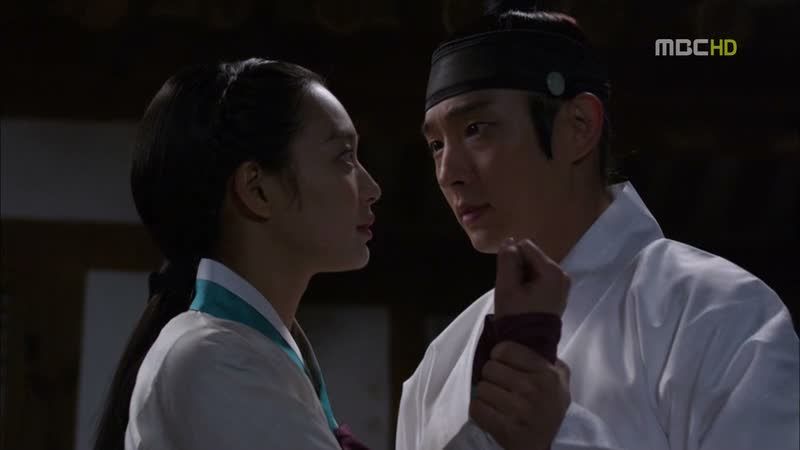 We finally return to the confession (Man, what a long week) as Eun-oh says he doesn't know why he's like this, "But I'm going to like you, Arang."
She tells him not to, and he reminds her that she's the honest one, who said she was going to live doing and saying what she really felt. But she looks up at him now, "What use is that?"
She says she doesn't feel the same, and turns to go inside. He grabs her wrist and pulls her close, "This is the last time… Is that how you honestly feel?" His pleading eyes kill me.
He searches her face, and she returns a quiet "Yes," though her eyes start brimming with tears. He lets go and sighs with a little smile, accepting that it was he alone who struggled with his feelings. No!
Arang shuts the doors and swallows back her tears, because she's a lying liar who LIES. Grar! Eun-oh spends the whole night pacing in the yard and sighing up at the moon.
He gets up in the morning and stands outside Arang's room, and then goes to the marketplace. All the local townspeople bow to him now, calling him Magistrate and thanking him for what he's done.
He stops by the shoe vendor and picks out a pretty pair for Arang (awww) and the man thanks him for changing this town—not just giving them rice, but a place they can go to when they need help.
Arang stands outside Eun-oh's room, worrying that he went out last night and never came home. He returns to find her standing there, and tucks away his wounded heart to greet her with a cheery smile.
He presents her with the shoes and sits her down to place them on her feet. She pulls her foot back from his grasp for a moment, and he lowers his gaze, "Don't worry. I know what you're thinking. But I said I'd send you to heaven, and that's the only thing I'll do." What? That's not what she's thinking at all! Waaaaaaaah.
He tells her that she has to look pretty when she goes to heaven, and asks if there's anything she wants to eat, have, or do before she goes. "This oraboni [oppa] will do it all." How cute. At least her going to heaven gives him an excuse to do everything he wants for her.
Her two requests: peaches every day, and for him to eat three meals a day, because they don't even bother to give her food if the magistrate doesn't eat. He asks if that's really it—all food? She nods, saying that even a ghost who died while eating is always hungry.
Dol-swe gives them the stink-eye, and Eun-oh tells her to ignore it. They head out to check on Bang-wool's progress, and don't see Lord Choi's minion snooping on them. He gapes to find the girl he killed… very much alive. Joo-wal heads in as well, a minute too late.
Bang-wool clutches the book she was looking for happily, and apologizes to Arang for opening her big mouth around Dol-swe. She's figured out the talisman—it's not for blocking ghosts, which is more like a side effect of sorts.
The talisman is to block out heaven; ghosts are just included in that package deal. Arang and Eun-oh look at each other curiously. Arang remembers the liver-eating demon in the cave and says that must be what Mu-young was talking about: A soul gets trapped somewhere and gets twisted and turned until it's unrecognizable.
Bang-wool confirms that whatever keeps ghosts out also keeps them in. Arang never saw any ghosts on that property though, and Bang-wool guesses that whoever made the talisman is doing something with them.
Lord Choi stews at being ordered around and left out of the loop, and wonders why Mom would want that girl to be untouched when she's already dead. But that triggers a memory—him as the young hunter, and Wife in a different body—telling him that she believed that such a being existed, and if she could have her, she could live forever.
He gets confirmation from a confused Evil Junior that the girl is alive and well, even after he made sure she was dead. Lord Choi still feels like he remembers her face from somewhere too… and then recalls having seen Seo-rim when he went to see the magistrate years ago.
He laughs, finally caught up to speed on what Joo-wal and Mom are up to. "It has come! It has come!" He's even more amused to hear that Joo-wal stopped by looking for Arang too, as Evil Junior shares his suspicions that the young master is in love with her. Lord Choi cackles in glee.
Joo-wal waits and waits outside Arang's room like a lovesick puppy, as the Bangs note his strange behavior.
Back at Bang-wool's, Arang sighs that finding out the truth about her death scares her now. Eun-oh tells her she has nothing to be afraid of; he'll find out the truth and send her to heaven, like he promised.
Bang-wool says the counter-talisman will take a while, so Eun-oh gets up and says that Arang was right all along. The fastest way in is to just hop the fence. He has a pretty good guess too… where suspicious activity might be going on in that creepy house.
Mu-young tells the Jade Emperor that he has it wrong. Uh, pretty bold for a grim reaper. He swears that he's ready to do what is necessary, but Jade hesitates—how could he possibly have come to a conclusion already? Doesn't he need to think, weigh his feelings, figure things out?
Mu-young reminds him that becoming a heavenly being meant cutting all those ties and living without any of those human conditions (and connections). But Jade actually disagrees, thinking that the process is necessary to be sure of one's heart.
But Mu-young insists that's for humans, and he's the grim reaper. "What do I have to do?" Jade finally relents and presents him with a dagger. He says it must go in the heart, and can only be used once. Seriously? You couldn't have made a spare?
Mu-young asks now what the reason is—why he's the only one who can do this. Jade: "Blood. Only the strength of the will to cut the ties of blood can kill her." I knew it.
Goddamn, fate's a bitch. But it also means that Eun-oh's got a chance too, right?
Mu-young gets straight to work and goes after another of Mu-yeon's demon reapers. She can sense his disruption and fumes, breaking the jar and killing her own soldier so he can't be used to track her down.
Back up in heaven the kings resume their usual badook game and Hades gloats that he was right about Mu-young all along. He never once rebelled when Jade kicked his sister out of heaven, and before that he even chased her down and brought her back when she escaped. Interesting.
Hades puts up a side bet that Mu-young will capture her successfully, and offers a hellfire barbeque. Hee. Jade asks what he wants, and then quickly adds, "But not my goat." Ha.
Eun-oh tells Arang to wait a safe distance away while he scopes out the House of Horrors, and she laments not being able to jump rooftops like she did in her ghost days.
Mom heads out as Eun-oh gets closer, and she senses something… Arang? She decides to go take a peek at her face, and just misses crossing paths with Eun-oh. He makes his way inside to the house with the trapdoor to her lair…
Mom wears her black veil and makes her way down the road, but then stops in her tracks when she senses something else entirely. Is it Eun-oh? She whirls around. Oh, it's Mu-young!
His face changes immediately as he recognizes her, and she smiles, "It's been a while. Four hundred years?" She says she looks a little different, but whadduya gonna do; it's the price of being human.
Mu-young: "Is that why you're living like this? To be human?" She calls him oraboni and actually says this is all his fault—if he had helped her up in heaven, she wouldn't have had to do any of this.
She knew that the Jade Emperor had a way of making her human, but Mu-young tells her it was wrong. "That's why I found my own way, but you ruined that too!"
Flashback to Mu-young taking away a young woman's soul after she died. Mu-yeon has followed him there, and once he leads the soul away, she sneaks in and lies down in the dead body, possessing her first shell.
She flashes an evil smile. But as soon as she steps foot outside, Mu-young chases her down and knocks her out of the body, kicking and screaming. She wails that she doesn't want to go back there, but he ties her with the red rope.
Back in the present, she asks bitterly how he felt, giving her up to the Jade Emperor. Was he relieved when she was kicked out of heaven too? He sighs that rather than suffer in hell, he thought she'd be better off.
Mu-young: "But living like this for four hundred years, hopping from body to body… not human, not ghost… I never imagined you'd live this way."
She thinks it's impressive what she's managed to do, but he warns that she's possessed with ambition, feeding into that one deepest of human ambitions—to live forever. She wonders why that's such a bad thing, and he has to spell it out, that in order for her to do so countless innocent people die.
He takes out the dagger. Mu-yeon actually moves closer, like she's daring him.
She puts her hand over his and pulls the dagger right up to her heart, calling him oraboni and telling him to stab her in the heart and prove to them that he's a blameless heavenly being. Oh, she's good.
He freezes, his hand trembling in hers. And then we see that this whole time, it's Mu-yeon's face he sees looking back at him. She smiles and says she was too hasty because she wanted to see Arang's face, and asks him to tell them that she is indeed good bait. She says they'll meet again, and walks away. Mu-young stands there holding the dagger, shaking.
And up in heaven, Hades reels. Jade sits silently, having known this would be a bigger dilemma for Mu-young than he cared to admit.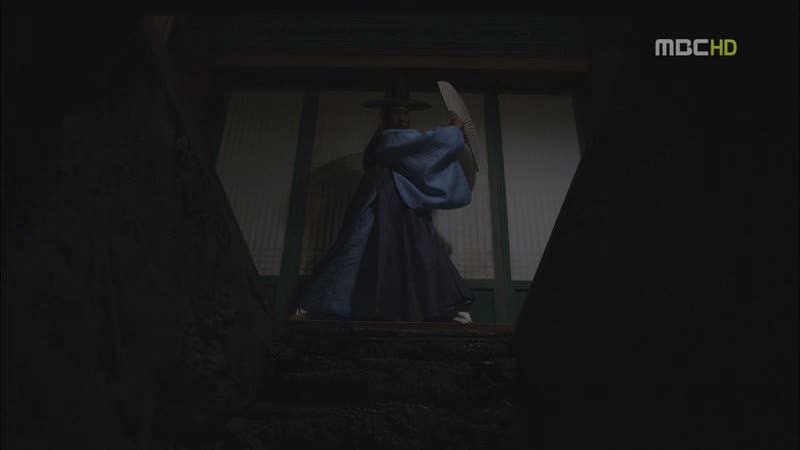 Meanwhile, Eun-oh hasn't found anything suspicious yet, but then his demon-killin' fan starts to shake in his hand. Okay, that's creepy.
He flares it open, and it causes the trapdoor to crack ajar. Whoa. He tries to push it open the rest of the way, but it won't budge. The fan still shakes with some kind of mystical energy in his hand, so he stands back and swings it at the door… and it slides open. Nice.
He makes his way down and wonders what the hell these people are up to. He tries to pry open one of the jars, but it won't budge, so then he just carries one out with him. Yessss! I love a practical hero. Just take that jar home!
Arang waits outside, but it's Joo-wal who finds her first. He says he waited for her to come home and warns her not to come around here, his voice trembling.
But it's too late, and Mom's voice rings out as she approaches. He quickly moves in front of Arang, holding her hand with a vise grip. He tells her to stay behind him.
Mom finally gets a peek at Arang's face and smiles at the pair of them. She introduces herself as Joo-wal's aunt, and says she was just out to meet someone, and that at night, things you can't see during the day appear more clearly.
Joo-wal can barely contain his terror, but holds it together as she heads inside. She turns back to compliment Arang's figure, which is so creepy because you know she's sizing her up like her next outfit. *shivers*
Arang tries to get Joo-wal to loosen up on her hand, which he hasn't even registered that he's holding.
But Eun-oh walks up just then, and sees them holding hands. Aaaaaah, the pain, the stabby pain!
Joo-wal finally lets go and tells her to go home safely, and heads inside. Arang watches him go with a wistful look, and Eun-oh's heart sinks even more. He asks her what she's doing, and she doesn't tell him about Joo-wal, which just makes the whole thing worse.
Joo-wal finds Mom waiting in his room. She wonders why he brought her here—is it because he's changed his mind? She lights up at the thought of having Arang's body, making her even more anxious to get rid of this tired old meatsuit she's been wearing.
She says she gave him a second chance because his ambition was unlike others, and he wanted so desperately to live as a human being. His ambitions were simpler than any she'd known before—to have a home, and food, and a mother. But she warns that there are plenty more where he came from.
Arang touches the jar and feels a weird, cold energy from it, but doesn't know what it could be or how to open it. Eun-oh just shoves it aside, clearly not the first thing on his mind right now, and lies down. He says he'll take it Bang-wool in the morning.
She wonders what help a shaman who can't even see ghosts will be, and adds that she couldn't even hear other ghosts besides her.
She gets up to go to her room and he calls out with his eyes closed, "Arang, I will somehow endure you not looking at me. But you looking at someone else… isn't so easy to endure."
Awwwwwwwwwwwwwwwww.
She doesn't say anything in return and lingers outside his room instead. He opens his eyes once she's gone and lets out a sigh.
Mu-young returns and asks for another chance. Did you learn nothing the first time? Jade shuts him down right away and Hades just stalks away without a word, and Mu-young bows his head contritely. Jade warns that the bad mood will last a while this time.
Mu-young finally asks about Eun-oh—he had the Jade Emperor's things in his possession. What is he? Is he the contingency plan? Jade: "Yes." A direct answer? It's a miracle!
Mu-young asks about the blood tie then, and guesses correctly another time: that the body Mu-yeon is wearing is Eun-oh's mother.
Eun-oh heads out early the next morning and brushes past Arang coldly, telling her to stay home. He brings the jar to Bang-wool, and asks if she can't feel the weird energy from it. She can't and pitches a fit that he's showing off, and then quickly apologizes for her outburst.
He tells her to figure it out because there isn't much time. I don't see why you wouldn't do the same thing you did with the mass grave—just tear those suckers off and pry it open.
The Bangs offer Arang a special tonic, and she eyes them suspiciously, but figures it won't matter if they poisoned it anyway and drinks. Heh. It turns out they're being nice because they want to know which ship she's on: Joo-wal or Eun-oh.
But she runs off in the middle of their question when she sees Dol-swe, and he shrinks back when she touches his arm. She apologizes sincerely and asks him not to be so hard on Eun-oh, because he really depends on Dol-swe.
She says that it's not what he thinks, and Eun-oh is just helping her with something. Dol-swe argues that that is the troubling part—his master isn't the type to care an ounce about anyone else's problems, but look at him now. Look what she's done to him.
Arang just offers the only word of comfort that she can—that she'll be returning to the afterlife soon enough, and he can have his master back. Dol-swe turns around to find Eun-oh standing behind him.
Eun-oh sits him down and tells Dol-swe who Arang really is, and calls her the agasshi he guarded with his life that night. "H-how does a person become a ghost, and then a person?"
Eun-oh says she's a person and he's helping her with something. He admits that he's someone who never once cared for another living soul, muttering that Dol-swe seemed to describe him eloquently to Arang, heh.
"But like you said, I've changed." He says for the first time in his life, he was worried about someone else. "I've felt something lately too… that you, Dol-swe, are a hundred times better than I am."
He says that Dol-swe guarded Seo-rim with his life without ever once having met her, but Eun-oh is just starting to care about the plight of others. He muses that someone like Dol-swe really ought to be the magistrate.
Dol-swe calls it nonsense, but Eun-oh means it, and says that rather than those who are born to noblemen and have nothing but that in life, people who can be kind to others ought to be the magistrates of the world.
Dol-swe promises to stop being mad and picking on Arang, and then wonders to himself as he walks away how long Eun-oh has seen ghosts, and if that means those rumors when he was a child were true.
Eun-oh sits the Bangs down and asks about Lord Choi, acting like he intends to become better acquainted with the man and be on friendly terms. The Bangs say that he wasn't from Miryang, but came about twenty years ago, from Hanyang.
They note now how interesting it is that every nobleman who lives in that particular house does really well for himself. Ya don't say.
Lord Choi was pretty famous for offing any political enemies and getting anything he wanted, but it was Eun-oh's father who ousted him from public office. That's news to Eun-oh, and hopefully a lead that'll send him digging into his family's past.
Meanwhile Lord Choi's doing to same, and sends his minion to find Eun-oh's mother and bring her back here.
Joo-wal just sits in his room brooding, and stares at the table of food sitting in front of him. Mom's words that all he wanted was warm food and not to be ridiculed by others sting, and he overturns the table in anger.
Arang sits in her room as well, and then decides that she can't just sit here thinking about Eun-oh, and tells him she's going to Lord Choi's house to look for those ghosts who were supposed to help out, but went missing.
Eun-oh tears out of his room and blocks her path, and tells her not to go there. She declares that she's going, and Eun-oh shouts at her to just listen to him for once. She shouts back, asking why he's been avoiding her all day, why he won't look at her or talk to her.
Eun-oh: Because I don't know! I don't know what to do. I promised that I'd put your heart at ease, but that's not so easy to do. I barely pushed it all down, but you… you were looking at him. When I saw that, the heart I had pushed down started to quake, everything turned upside-down, and I couldn't keep it at bay any longer. That's why… I began to regret that night.

Even if you said we couldn't, I should have argued. When you said you didn't feel the same, I shouldn't have believed you so easily. Even if you said that was how you honestly felt, I should've ignored it; I should've convinced you! But… I can't do that. I promised I'd send to you to heaven, so how can I lose face and turn back now?! That's why… because I don't know what to do. Damn it. Why is it so complicated!?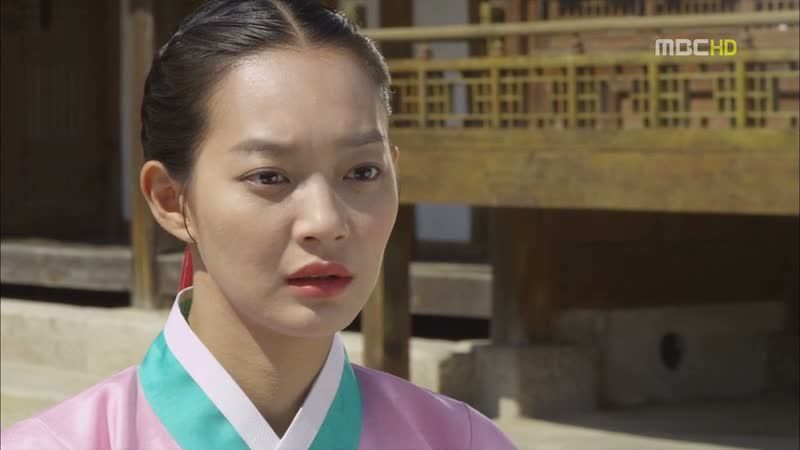 Oof. I died about three times over in that speech.
He storms off leaving Arang spun around… and of course Joo-wal chooses this moment to come for a visit. Eun-oh seethes as Joo-wal bows and says he's here to see Arang. If there were lasers in those eyes, Joo-wal would be a mound of dust.
Joo-wal apologizes for not escorting her back last night and asks for some of her time, to accompany him out. She looks up at him…
But Eun-oh interrupts, "I can't [let you] do that." Joo-wal says he was asking Arang, but Eun-oh gets up in his face. Oh, it's go time.
They stare each other down, and Arang looks back and forth between them. Eun-oh repeats that he's not going to let that happen, "So get out!"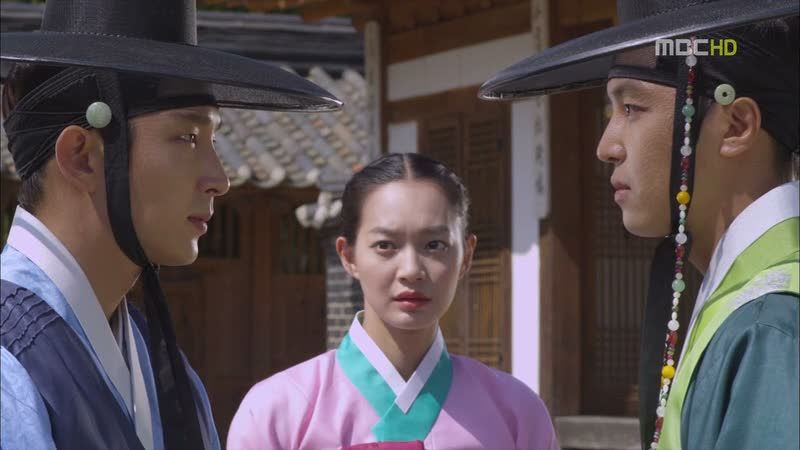 COMMENTS
The confrontation between the boys isn't so much of a climax since it's a conflict that already exists, but the confession was. Such a great outpouring of honesty from Eun-oh, who has taken some huge leaps as a character in the last few episodes. Arang's denial is frustrating in the sense that I want to see her hurry up and embrace the life she's been given no matter how short, but I love that for the time being, it has the effect of making Eun-oh struggle with his heart.
The one refreshing thing about this particular denial situation is that Eun-oh knows all the reasons why she's denying her feelings. That's why it works well as a source of angst and doesn't feel like a cheap drama-driven Big Misunderstanding. Here it's the laws of heaven and earth, life and death, that keep them from acting on their feelings, and they each know that. Eun-oh is just the first to realize that he can't control his heart, even if it's on a crash course, and a cruelly short one at that.
It's nice to have Mu-young's conflict come to the foreground, especially because he illustrates the interesting dynamic between heavenly beings and humans in this universe. He was so convinced that he had left all his humanness behind, and yet there's a line he can't cross because of his human connections, no matter how old. I'm fascinated by Mu-yeon's backstory, and love that her conflict is at the core, the same as Arang's—they both desperately want to be human.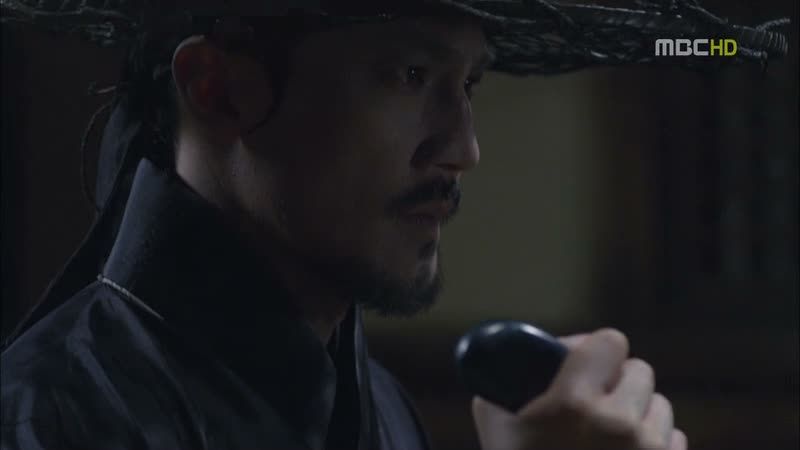 The simplicity of that adds a surprisingly sympathetic dimension to Mu-yeon—not in a you're-not-evil way, of course, but more like we get the why in the thousand years of death and destruction. Agents of chaos, evil for evil's sake, someone who just wants to defy the gods because she can: scary, but not so interesting. A supernatural being who just desperately wants to be human again: suddenly verrrry interesting.
Now I find myself curious what life is really like up in heaven, because she makes the Jade Emperor sound like an overlord and heaven like a prison. Was she unhappy? Bored? Did she simply desire something she couldn't have? If she always had that streak of evil, how in the beans did she end up in heaven? There's something I really like about her in that basic conflict though: She knows the difference between just existing, and living. Her problem lies in the very nature of life though—that it ends. It sets up Arang and Mu-yeon to be two sides of the same coin—accepting death gives one life, and clinging to life brings the other death.
All we need now is for Arang to wake the hell up and start living. There's eternity for thinking, but very little time left for smooching!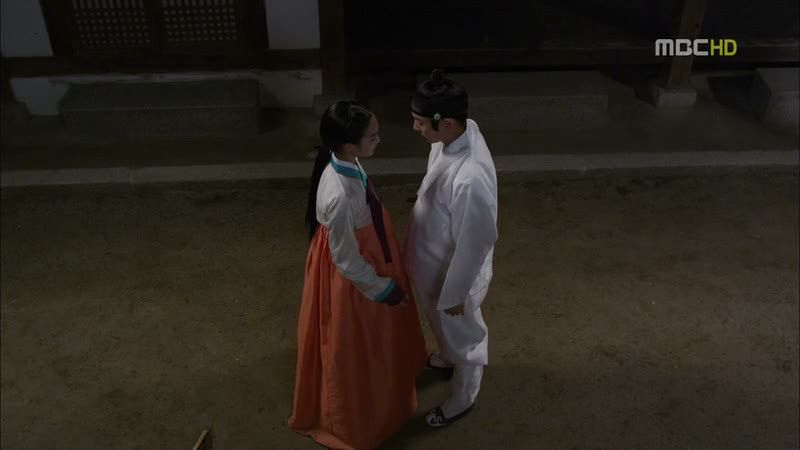 RELATED POSTS
Tags: Arang and the Magistrate, featured, Lee Jun-ki, Shin Mina, Yeon Woo-jin